The InWin GRone is a great-looking case that has potential for being a great chassis. Let's take a deeper look to see how this full-tower chassis is built!
Cases are getting bigger and bigger nowadays. One of the new ones is the InWin GRone. This chassis comes with an amazing laundry list of features.
Among the main selling points of the GRone include the ability to switch fans out in various configurations. The case supports both 120mm and 140mm fans in various locations throughout the chassis. Also adding to the value of the chassis is the ability to add a SATA hot-swap hard drive. The case also supports two USB 3.0 ports. The case retails online for about $140-160.
Features and Specifications
Features
Specifications
Name
GRone
Case Size
Full Tower Chassis
Material
0.8mm SECC Steel
Drive Bays
External 5.25" x 3
Internal 3.5" x 8 or 2.5" x 8
M/B Form Factor
E-ATX (12" x 13") / ATX / Micro-ATX
Power Supply
ATX 12V, PSII Size and EPS
I/O Expansion Slots
PCI-E / PCI / AGP Slot x 8 (Supports up to 365mm)
Front Ports
1. USB 3.0 x 2 (Internal Connector)
2. USB 2.0 x 2
3. HD/AC'97 Audio
4. Fan Speed Controller
Top Ports
3.5"/2.5" SATA HDD EZ-Swap x 1
Thermal Solution
*Cooling Fan
Supports up to Total 120mm or 140mm Fan x 10
(Different Regions May Carry Different Specifications)
1. Front: Supports up to 120 or 140mm Red LED Fan x 2
2. Rear: Supports up to 120 or 140mm Fan x 1
3. Side: Supports up to 120 or 140mm Fan x 1
4. Top: Supports up to 120 or 140mm Fan x 3
5. Bottom: Supports up to 120 or 140mm Fan x 2
6. HDD Cage: Supports 120 or 140mm Red LED HDD Fan x 1
*Water-Cooling
1. Top: Supports Water-Cooling Radiator up to 360mm
2. Bottom: Supports Water-Cooling Radiator up to 240mm
(Bottom HDD Cage Must be Removed)
3. Rear: Water-Cooling Hole Ready
Fan Technical Data
GRone Metallic Grey
14cm Red LED Fan (140*140*25mm)/ 1200RPM ± 10%/ 23 ~27.8dBA
14cm Black Fan (140*140*25mm)/ 1200RPM ± 10%/ 23 ~27.8dBA

GRone White
14cm White LED Fan (140*140*25mm)/ 1200RPM ± 10%/ 23 ~27.8dBA
14cm White Fan (140*140*25mm)/ 1200RPM ± 10%/ 23 ~27.8dBA
(Subject to Regional Specification)

Dimensions (H x W x D)
562 x 245 x 593mm (22.1" x 9.6" x 23.4")
A Closer Look at the InWin GRone
The case looks great from the outside. Its aqua-blue tinted window allows a good view of the inside components. The case itself is huge, and takes a considerable amount of force to move around when fully loaded. The metal construction feels very sturdy to us, and we can see that this case can take a few knocks and still protect the sensitive hardware inside.
Here we can see a number of interesting features of the case. Firstly, the entire drive installation for this case is tool-less, which we'll go into in more detail below. In addition, the case comes with a built-in USB 3.0 20-pin header. It also comes with SATA data and power cables for the hotswap bay. We're not sure if that hotswap bay supports SATA 6Gbps, but from our testing, it maxes out just above the limit for SATA 3Gbps. The case has a lot of room behind the motherboard tray for cable management, and has large holes for the PSU cables. This is good, because most PSU cables (like ours) are thick and sleeved, and require a lot of room for maneuvering.
The case also has room for a fan in front of the PSU, which we took advantage of in our build. Additionally, you can see the three front fans: two between the front panel and drive rack, and one behind the drive rack.
This case really does have a great number of features. In the first picture, we can see the tool-less hard drive and optical drive bays. The hard drive bays have a slide-out tray mechanism, allowing for easy installation and removal of hard drives. Each tray also allows installation of a 2.5″ hard drive or solid state drive via the screw holes. InWin really put a good amount of thought when putting this case together—the storage drive bay rack is cooled by four 140mm fans. Two fans from the front pull cool air in from in front of the case, and one fan blows hot air out behind the drive rack. The position of this fan is adjustable, and you can also install a 120mm fan in this location in case you want to move this 140mm fan somewhere else. This fan also comes with red LED's included on it. This was a bit of a surprise to us, as our system has a blue color scheme. However, this is a purely aesthetic matter, and the combination of the red and the blue isn't bad by any means.
The top of the case also has a wire mesh through which air can be taken in or blown out. The top supports three fans, either 140 or 120mm. This is very good, as it allows a considerable amount of versatility in terms of airflow. The case also supports water-cooling, with four holes drilled into the back for cooling tubes.
The case is also very roomy, and is definitely a pleasure to work with. This not only allows comfortable cable management and better airflow, it also makes working with hardware inside the case easier, as there is ample room to maneuver. This is something we noticed with our old mid-tower case: though the case had decent cable management, it didn't have enough room for us to comfortably tinker around with hardware inside the case. The GRone has lots of cable management slots, and tie-down locations for cables in the back of the case. The case also comes with the standard spate of accessories, including the motherboard speaker, zip ties, cable hooks, a manual, and screws.
With this case, InWin provided fan filters built in for most locations in the case. The front and bottom fans all have filters. The top fans don't come with filters, but the mesh on top of these acts as a crude filter to keep debris out of the fans. We were very pleased with the fact that InWin included these filters, as it saves us from having to scrounge up our own.
We also liked the cable management they have done with the numerous pre-installed fans, as it keeps us from having to re-route all the cables they installed in the case. We can also see here the SATA EZ-Swap docking bay on the top of the case. This hotswap docking bay is designed to hold 3.5″ and 2.5″ drives, though it is a tad too low, and we had some trouble fitting our SSD into the port.
Installation
Installing our hardware in this case was very easy. The case had a lot of fans included, and we realized that there really wasn't much rearrangement we needed to do. The inclusion of the front 140mm fans meant we didn't have to tinker with that aspect of the case, and could directly install parts in the interior of the case.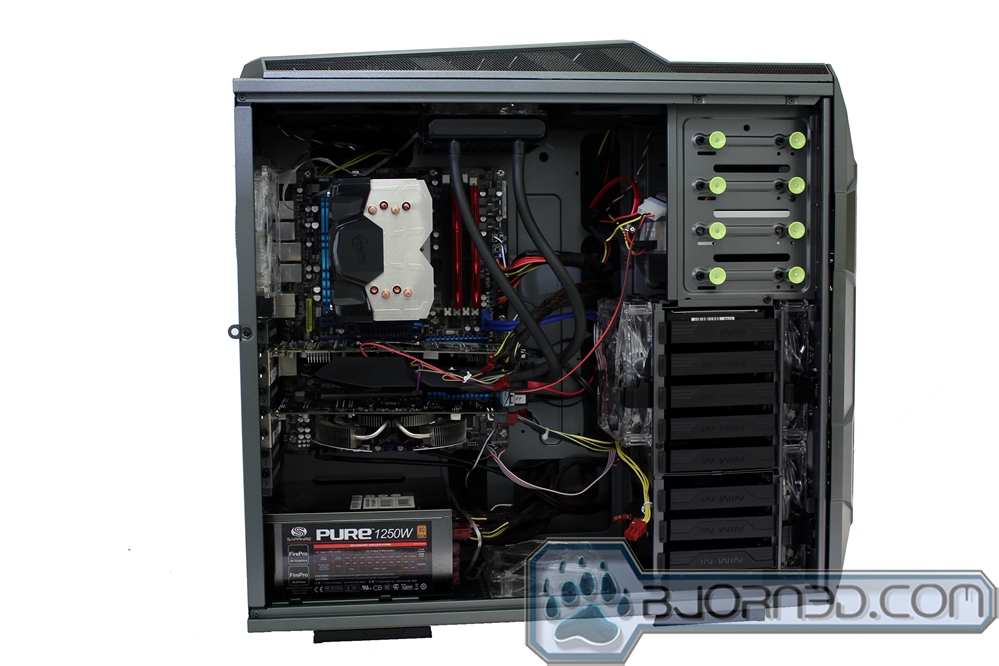 Next we added the power supply and got all the power cables straightened out through the rear of the case. After that, we added the drives. Finally, we added in the main hardware: the motherboard, CPU, GPU, and memory. The one concern we had with installation is that the size of the window's interior bezel can obstruct the installation of some coolers. For instance, our Arctic Accelero Hybrid's radiator would not fit over the rear fan slot, as it would come into contact with the side window's interior. We had to resort to putting the radiator above the hardware, which affects performance as you will see below.
All in all, however, putting our hardware into the InWin GRone was a very easy experience. As with most cases these days, the side panels swing closed (like a hinge), rather than slide closed, as we have seen on some older cases. This makes it much easier to secure them.
Testing & Results
Test Setup
To test the InWin GRone, we conducted full load testing of both the CPU and the GPU to ensure our system was stressed to the max, and let the system run for about 5 minutes, then recorded load temperatures. We had all our fans at the maximum speed. To record idle temps, we let the system sit on the desktop for 15 minutes, then recorded temperatures.
 
Test Rig

Case
InWin GRone

CPU
Intel Core i5-2500K @ 4.2GHz
Motherboards
ASUS P8P67 Deluxe Motherboard
Ram
G.SKILL TridentX 8GB (2x4GB) DDR3 2133MHz 9-9-9-27
CPU Cooler
Arctic Freezer i30 CPU Cooler
Hard Drives
WD Caviar Black 1TB HDD
SSD
Kingston HyperX 160GB SSD + OCZ Agility 4 SSD (EZ-Swap)
Optical
ASUS DVD Burner
GPU
MSI GeForce GTX 660 Ti + Arctic Accelero Hybrid Cooler
MSI GeForce GTX 650 Ti (Dedicated PhysX)
PSU
Sapphire PURE 1250W Modular PSU
OS
Microsoft Windows 7 Ultimate (64-Bit Edition)
Temperature Testing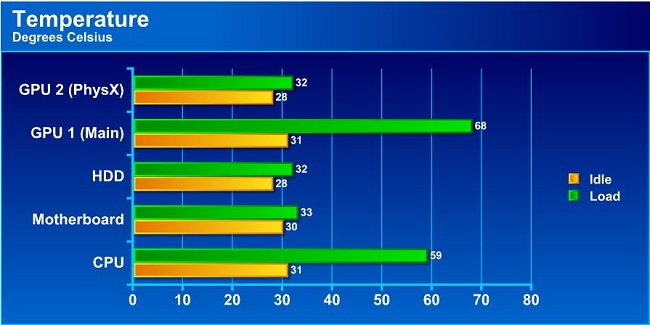 The system performs well in this test. The GPU temperature is rather high under load for a closed-loop water cooler, though this might be attributable to the fact that we could only put the radiator on the top of the case, where hot air from our CPU exhausts. However, the benefit is that the CPU, motherboard, and hard drives remained remarkably cool.
A side note about noise–this case is very quiet. We never heard the noise of the fans, and were amazed at how well this case blends in acoustically with its surroundings.
EZ-Swap Throughput Testing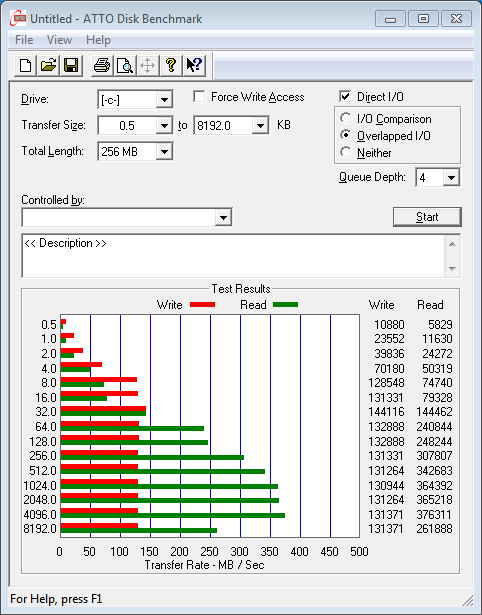 We tested the EZ-Swap bay on the top of the case. The label only says "SATA", and gives no indication as to the bandwidth. We connected the EZ-Swap port's data cable to a SATA III port run by our chipset, ensuring that the motherboard would not be the limiting factor. We also used a SATA III capable drive–the OCZ Agility 4 SSD. By our testing, the EZ-Swap maxed out at around 376 MB/s, which is just above the SATA II theoretical maximum of 375 MB/s.
We're not sure if the EZ-Swap port is SATA III compatible, but our testing revealed it doesn't cross the limit of SATA II, even when connected to a 6Gb/s capable SATA III port. Though InWin only lists this port as a hotswap feature for hard drives, we would like to see improved throughput in the future, as SSD's are becoming ever more popular.
Conclusion
The InWin GRone is a great full-tower case. We were eager to see how this case performed, especially as its design and appearance give it the impression of a beast ready for battle. The case itself was very quiet, and performed great. It kept our hardware clean, in good condition, and kept temperatures well in check. In addition, the case was very easy to use and install. Our only point of concern in this area is that the thick interior bezel added on the case window can force users to relocate their coolers or do some rearranging during installation.
The case's versatility with airflow is also underscored by the fact that it can hold different sizes of fans; it can fit 120 and 140mm fans, and the fact that many of these fans are pre-built in the drive cage is excellent. We also liked the fan filters that InWin included all over the case. The USB 3.0 ports are nice, and the EZ-Swap is a great addition, though we were somewhat disappointed that it did not seem SATA III capable. The overall build quality of this case is excellent, and we can see it is a very sturdy chassis. This case is very clearly a good case, and though its price tag of $160 is not cheap, it is par for high-end full-tower gaming cases. There is no reason why we cannot recommend the InWin GRone.
OUR VERDICT: InWin GRone
| | |
| --- | --- |
| Performance | 9.5 |
| Value | 8 |
| Quality | 9 |
| Features | 9 |
| Innovation | 9 |

We are using a new addition to our scoring system to provide additional feedback beyond a flat score. Please note that the final score is not an aggregate average of the new rating system.

Pros
Cons

Great performance
High level of versatility with airflow
Very sturdy construction
Fan controller on front panel
Can fit a large number of fans
Fan filters included
Very quiet
EZ-Swap port included

Case window can block some coolers
EZ-Swap port is hard to connect to drives easily
EZ-Swap port incapable of 6Gb/s transfers
Summary: This case is ideal for anyone who wants a high-quality build. It has a large assortment of fans, excellent utility, and a spate of other great features. For its good performance and overall feature set, the InWin GRone earns the Bjorn3D Golden Bear Award.