ASUS has a very rare addition to its MATRIX series offerings. MATRIX cards are always of a special build quality, including hand picked components and usually some very unique features not seen on any other card. Today we have the ASUS MATRIX HD 7970 Platinum. Let's see what it has to offer, and can it take the top honors for performance and features.
Introduction – ASUS MATRIX HD 7970 Platinum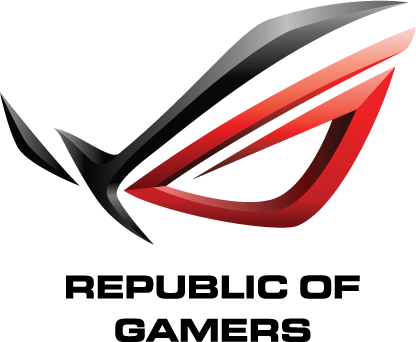 The ASUS MATRIX HD 7970 Platinum is the cream of the crop when it comes to HD 7970 model cards form ASUS. It carries a hand-picked GPU to ensure maximum overclockability along with an absolute boatload of features for the extreme enthusiast to be able to tweak and tune every last ounce of performance from it. Add to this the 20-phase DIGI+ VRM, and you start to see this is no ordinary monster. This is the type that can rip apart the competition piece by piece.

The ASUS MATRIX HD 7970 Platinum comes to market at about $489.99 MSRP, which is high for most users. However, when considering what you get for the price and the fact that the MSI HD 7970 Lightning is still 10 dollars more it looks like it could easily be justified. Let's take a closer look and see if this holds true.
Key Features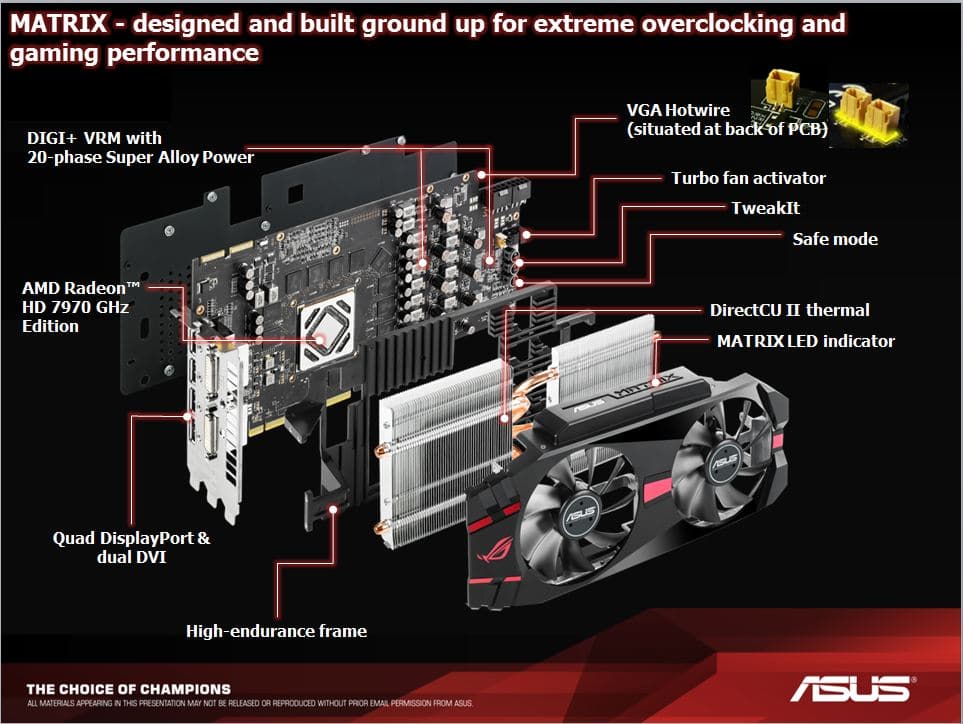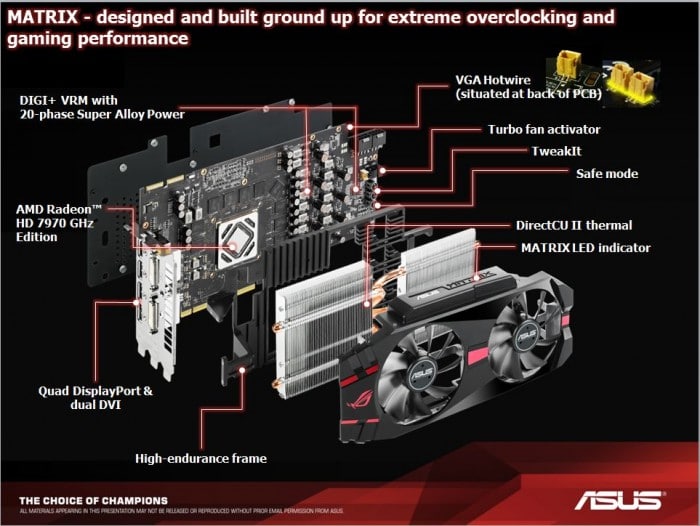 Here we see an overview of the many key features that make a MATRIX card so special. ASUS has added many features to this card, starting with the basics: the HD 7970 MATRIX has a huge PCB.
MATRIX Load Indicator


One feature we observed on the last MATRIX card is the MATRIX LED load indicator. The top of the card has a matrix logo cutout with fogged transparent plastic filling in the letters. This plastic is backlit by an RGB LED set that changes color depending on the loading conditions or how heavily the card is stressed. The initial loading is green or light blue, which signifies minimal GPU usage. Under extreme stress it turns red, which means extremely heavy load.
Enlarged Power Plane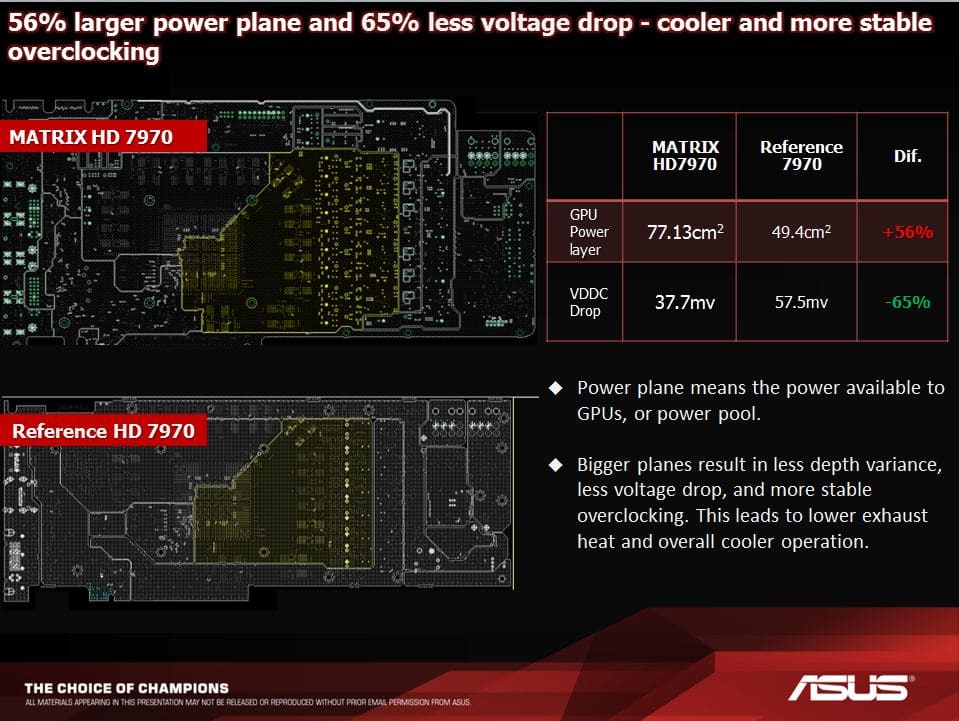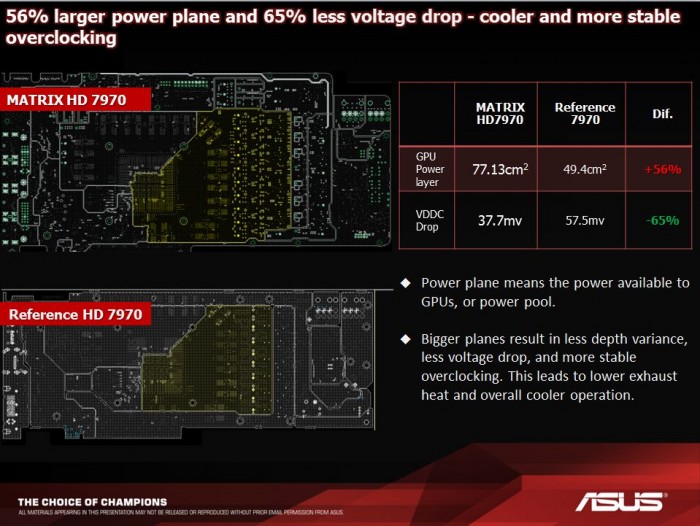 Here is some ASUS-provided data showing PCB layout information, especially focusing on the GPU power plane. The MATRIX series of cards has a much larger GPU power plane area for more consistent loading and voltage to the GPU, even under the heaviest of benching conditions. This kind of thing really can shine during LN2 benchmarking sessions where the cards are pushed well past their intended power levels. One thing to note here is how much larger the MATRIX PCB is compared to the reference PCB. We will demonstrate this soon when WE compare the MATRIX PCB to another ASUS DirectCU II Card with a standard height PCB.
Extreme Mod Points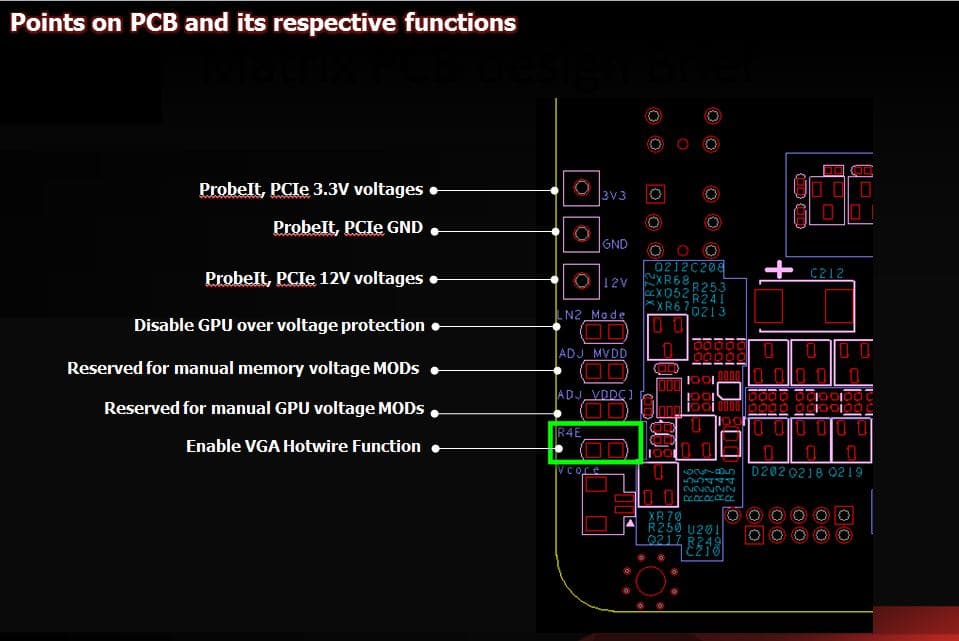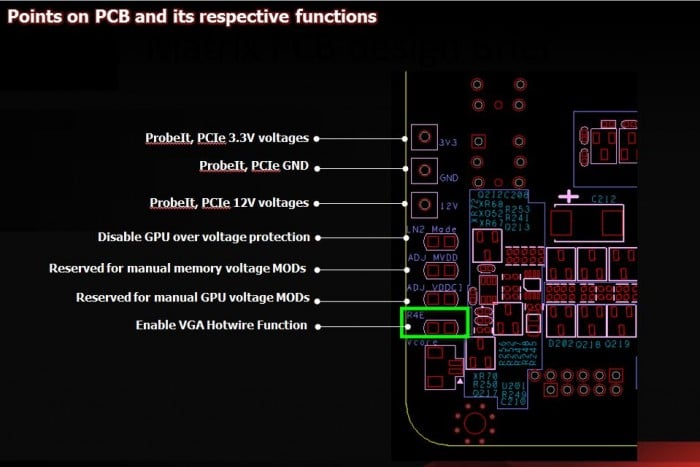 The MATRIX LINE makes it no secret that most of its design philosophy is based around those who push cards to the limit, not for gaming but for breaking world records in benchmarks. Normally in order to eliminate overvoltage or clock protections on a card, you would have to find ways to bypass the protection circuits during a loaded bench run. ASUS knows this so they have solder pads at the ready to bypass these protections for extreme benchmarking runs. This eliminates the concern that these protection circuits will enable during the wrong time, and ruin a worthwhile benchmark run. Also on this area, there are spots to connect trimmers in case you like to adjust the voltage the old fashioned way. Similarly, if you do not have a VGA hotwire compatible board, you can hook up a trim pot to these spots for an easy mod and direct hardware voltage control.
SAP (Super Alloy Power)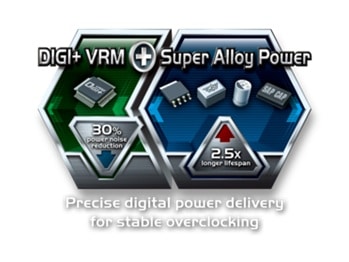 ASUS has great pride in the components they infuse into their graphics offerings very much like the motherboards we have covered previously. ASUS has whats called SAP or Super Alloy Power which covers the components in the very VRM we are discussing. The components are hand picked for quality and performance based around not only power delivery but efficiency as well. The components in the SAP solution are super durable for a rated lifespan of up to 2.5x what reference cards would offer and also with the DIGI+ controller your talking ultimate precision which means better voltage stability, better overclocking potential and overall better power efficiency clock for clock.
Here we see the VRM Chokes, MOSFET/driver assemblies and the solid state caps which make up the SAP components, or to simplify, the super strong and efficient VRM.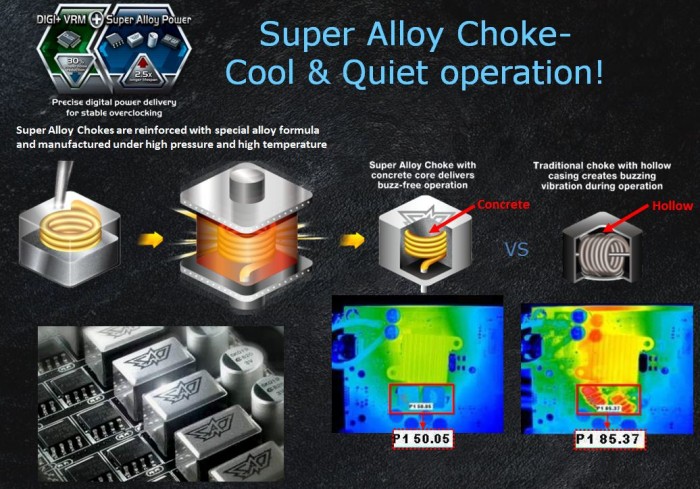 Here we have some good detailing directly from ASUS showing the improvement of the SAP choke component and how it is superior to other designs implemented presently. Other model chokes can make a whine or screeching sound due to the coil vibration, something we're sure many enthusiasts and overclockers have heard before. The ASUS design has a sealed/filled core to inhibit vibration, which means noise free operation under extreme loading conditions. Another thing to remember is movement makes heat and friction, so less movement will mean cooler running components.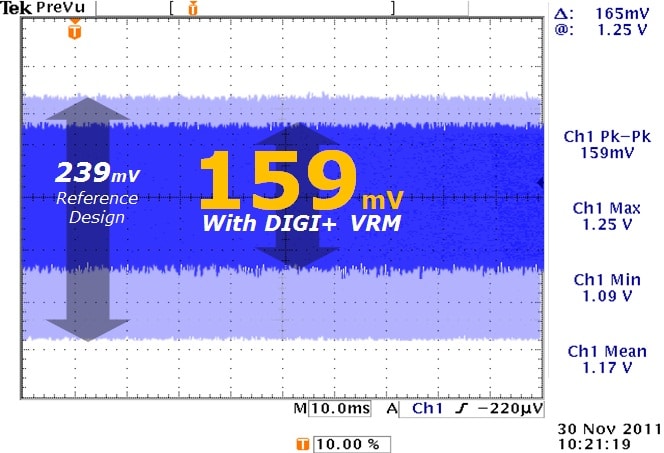 Here we see what makes the difference for the DIGI+ solution which has to do with the accuracy and efficiency of the Digital controller in comparison to the analog VRM control we see on many other solutions. This level of control allows for unprecedented voltage accuracy, along with lower signal noise and overall more overclockability due to the tighter stability offered by the DIGI+ digital controller.
DCII (Direct CU II)

ASUS DirectCU II coolers are the ASUS way of saying maximum cooling and plenty of quiet with one naming scheme. DirectCU II coolers are direct touch heatpipes to the GPU surface ensuring the heat is wicked away from the GPU and up into the cooling fin array as quickly as possible. From there the custom shrouded dual fans push air through the fins effectively but most important quietly to keep the GPU as cool as possible so hopefully it will never hit a temp to need a higher or noisier fan speed. The air pushing through the fin array also helps cool board components and the VRM cooler as well which is a nice little added bonus to this style cooler since we all know cooler components tend to run stronger, longer and with better efficiency.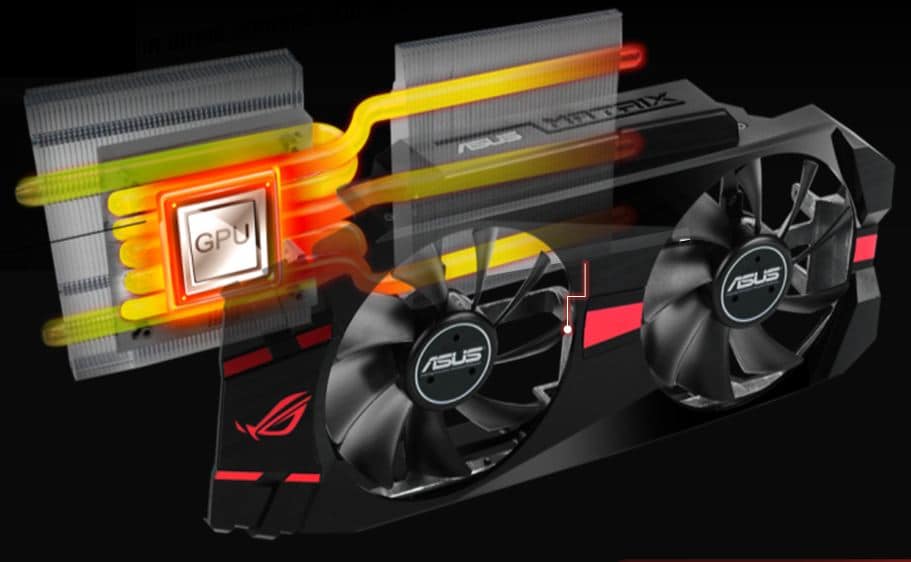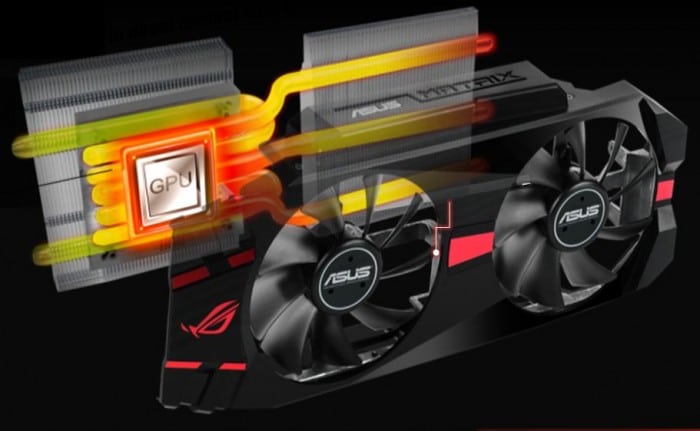 As you see above the heatpipes on this cooler are massive and they are configured in such a way that they maximize the cooling efficiency of the fan airflow from the DirectCU II Cooler.
Hardware Level Tuning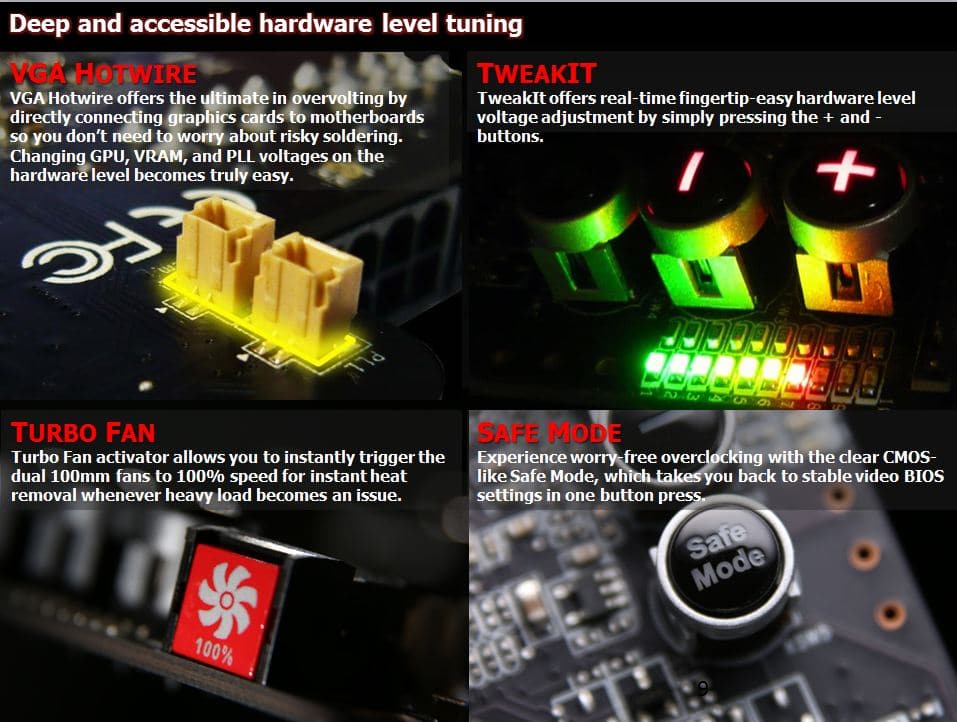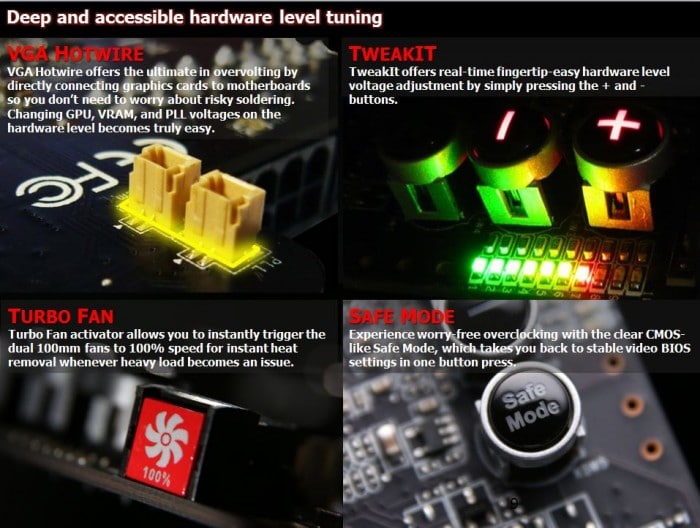 ASUS put special attention into the tuning aspect of this card so that every last tiny bit of performance can be exploited.
VGA Hotwire used to require soldering to the graphics card in order to connect it to a VGA hotwire-enabled board for voltage control without needing to fumble with trimmers. With the MATRIX the wiring for VGA Hotwire connectivity is simply a plug and play affair, as there are plugs rather than solder points which allow direct voltage control with a VGA Hotwire enabled motherboard.
The Turbofan Button enables full speed fan for maximum cooling along with voltage tuning and optimizations to the boost clock settings and other TweakIt options.
The buttons at the board's far edge of the board are for Voltage adjustment on the fly, directly on the card which can help if the card needs a small bump during a specific heavy loading point of a benchmark.
The Safe mode switch allows quick and easy clearing of the BIOS settings on the card should it have a bad crash during an overclocking sessions. This allows for a lot less worry should issues pop up.
Dust-proof Fan Technology
Everyone knows that one of the number one fan-killer is the dirt and dust the fan comes into contact with. Many fans simply are not sealed in such a way that they can keep dust out. Some aren't even sealed, and you can see the sensitive winding area clearly exposed just by looking at the gap.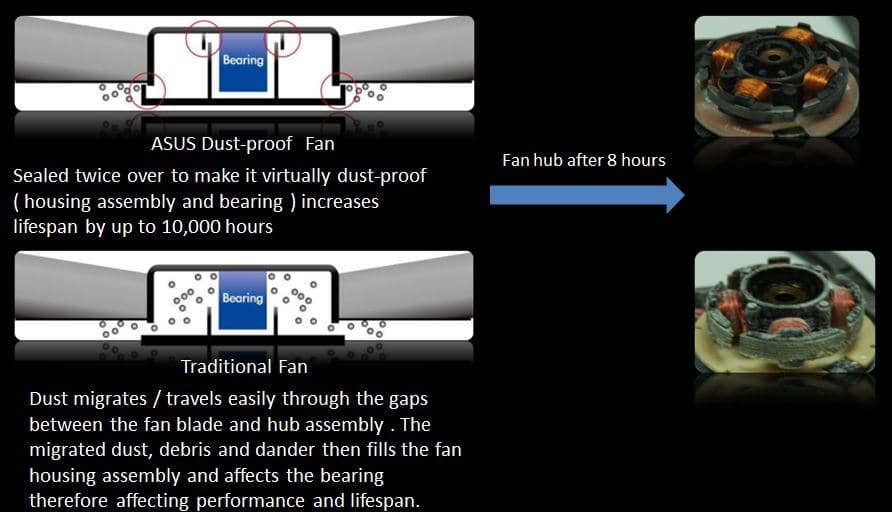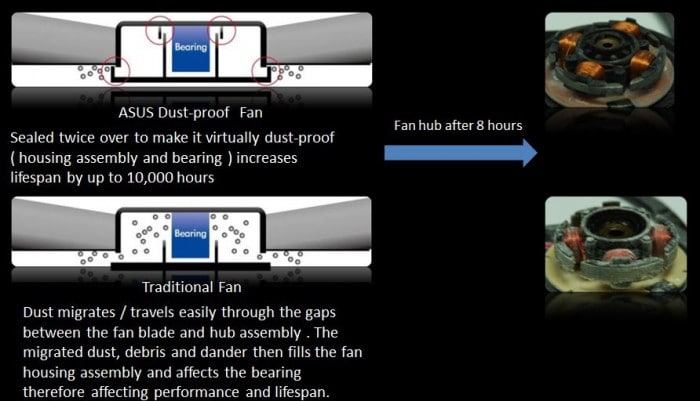 The ASUS solution is not just sealing the hub from dust but having 2 levels of sealing which means that over the lifespan of the cooler you can expect a much lower likelihood of grinding or fan failure caused by unprotected fans. This is definitely important, as we have lost count of how many times a perfectly good card or cooler has become useless just because the fans died.
GPU Tweak
ASUS offers its own software utility and its functionality has grown with generations just like the cards it supports. Of course the card can be overclocked, but voltages can also be tweaked. Within the GPU Tweak app we can even launch the GPU info utility which is a full custom version of GPUz. This is a really cool feature and especially beneficial to benchmarkers who we can definitely see using this card with some of the awesome tweaks we will discuss in the card overview.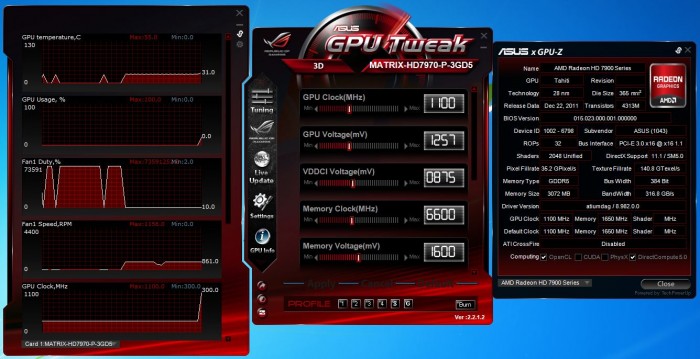 There are many tools within the GPU Tweak menus some a little more hidden than others. First off, directly form the GPU Tweak utility itself you can check for BIOS updates and even update from within the program. Anyone who's ever updated a vBIOS before knows that having a tool that can do this in a mere few clicks is really handy.
The charts besides offering real time monitoring can also be setup to log thermals, voltages and clocks so that after benchmark or gaming runs you can see if there was any thermal issues or throttling that may have affected performance.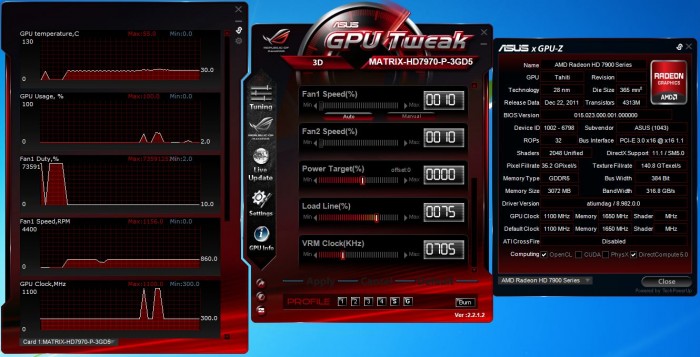 One thing to note is the many different settings available for the MATRIX model card. This is one of the only cards we have ever seen with a Load Line Calibration setting to allow the card to be loaded with less voltage droop. VRM frequency, VDDCI voltage, memory and GPU frequencies are also adjustable. This card has a lot of versatility built in and it should net a huge benefit to overclockers and benchmarkers.
PCI-E Power LEDs
One really cool feature is that there are status LED's on each PCI-E connector, which help you recognize that power is actively being sent to each connector of the card.
The dual greens seen above indicate everything is working well. However if the PCI-E cable is not active or is not installed at all, it will show the red light which tells you something is wrong. We could definitely see some value in this when diagnosing multi card setups or even single card issues. A dead PCI-E power cable could cause users to pull their hair out, as it would show no outward indication of the defect, and users would have no way of knowing.
PCI Express Gen 3 Capable
ASUS wants to ensure everyone is aware that PCIe 3.0 is here and ASUS is ready with not only cards such as this but boards to support it as well.