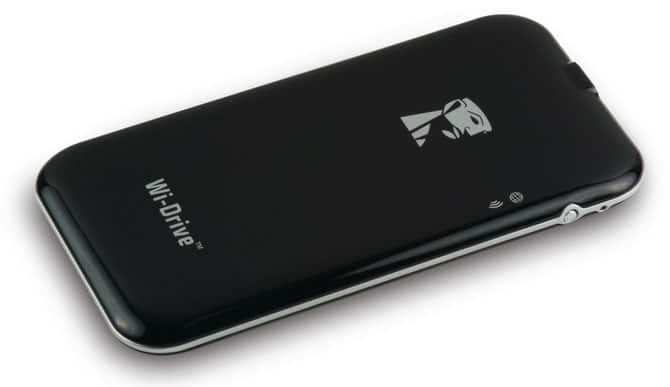 Earlier this year, we released a review of the Kingston Wi-Drive. Since then, Kingston has made a few changes to the Wi-Drive, including adding support for a wireless browser, and even greater capability. Check out exactly how well the new Wi-Drive performs!
The last time we reviewed the Kingston Wi-Drive, we found some good things and some points that could use improvement. One of our biggest problems with the first Wi-Drive was the low capacity. The original Wi-Drive had only 16GB of storage space, less than the iPad's built-in memory. This, combined with poor Android support, earned it a rather mediocre features score. However, the multi-device streaming support, good design, and overall potential earned it our Seal of Approval.
Now let's take a look at how well Kingston has capitalized on that potential. The new Wi-Drive comes in a much higher capacity of 64GB, and Kingston has increased the support for Android devices as well. The new Wi-Drive retails for about $150, a great price for a wireless flash-based drive. Though there are alternative options that have greater space, we are still definitely glad that Kingston released a new drive increasing the storage size.
Features & Specifications
Features
Portable, wireless storage
Works with iPad, iPhone, iPod touch, Android devices, Amazon Kindle Fire
Share your data with 3 users simultaneously
Specifications
Capacities: 16GB, 32GB, 64GB
Dimensions: 121.5mm x 61.8mm x 9.8mm
Wireless Network Interface: Wi-Fi 802.11g/n with wireless security (WPA/WEP)
Rechargeable Battery: up to four hours of continuous use
Cable: MiniUSB to USB cable included, user can upload files and content from their PC/Mac to the Wi-Drive using the USB cable
Operating Temperature: 32°F to 122°F (0°C to 50°C)
Storage Temperature: 14°F to 158°F (-10°C to 70°C)
Convenient: pocket-sized for easy transportability
Guaranteed: one-year warranty, free technical support
Configurable APN (access point name) and Key functions to connect to Wireless Access Point (Internet Connection)
User selectable Wi-Fi priority list when there are multiple APN/Key available
File Support: Wi-Drive can store any file type, but playback and viewing are Based on the files supported by the mobile device.
General file format support:
Audio: MP3, WAV
Video: m4V, mp4 (H. 264 video codec)
Image: jpg, tif
Document: pdf
The Kingston Wi-Drive
The Kingston Wi-Drive comes in a nice box, and is well protected. The drive has the same great design—not much has changed. The one thing we did notice is that after a period of usage, the Wi-Drive gets very hot, so be careful what kind of surface you place it on.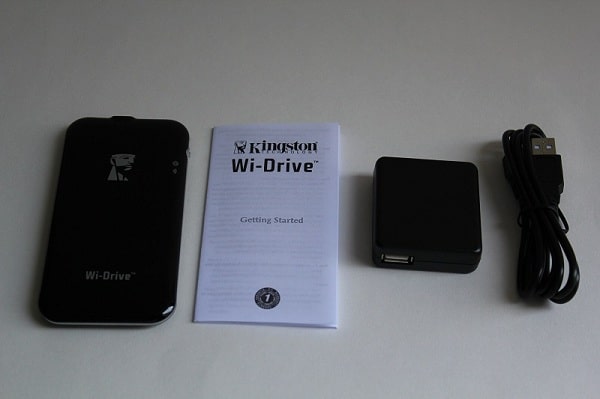 As we can see, the drive is pretty same, and it has the same affinity for dust and fingerprints. Like the original Wi-Drive, the new iteration is still formatted FAT32, so unfortunately the same file size restriction applies, and you cannot transfer files over 4GB. We tested this drive with both an iPad 2 and a Samsung Galaxy Tab. When the Wi-Drive was originally introduced, Android support was still in beta stage. Since then, Kingston has updated the Wi-Drive to provide full Android support.
Here we can see the fully developed Wi-Drive client for Android (the client for iOS has not changed much in terms of interface, so you can refer to our original review for those). We were extremely happy that Kingston put forward a full Android client. In our experience using a Samsung Galaxy Tab, we found the Android client very easy to use, and set up similar to the iOS client, making it convenient for anyone transitioning from iOS to Android. Additionally, Kingston has thankfully improved upon the problem of slow transfer rates. The original Wi-Drive could not break about 5MB/s. This new drive achieved around 20-25MB/s when transferring files to the drive.  We also could not use the bridge feature on either the iPad 2 or Galaxy Tab.
We tested the Wi-Drive playing music and video. The drive was able to handle playback of both smoothly,  and we also had no problems streaming HD content. We did experience problems playing back video that was based off codecs other than H.264: the video would freeze, but the audio would keep playing. However, Kingston does state this as part of their device specifications, so we advise that you check that your clips are encoded properly before you start transferring them to the drive. We also loved the ability to stream content up to multiple devices.
Conclusion
Overall, Kingston has definitely listened to our concerns and improved upon the original product. The biggest issue with the original Wi-Drive was the low capacity: it was somewhat senseless to use an external storage drive with lower capacity than the tablet it would work with. Thankfully, since then they have increased the capacity. They have also increased the tremendously slow transfer speeds, allowing us to put movies and multimedia content onto the Wi-Drive much faster than before.
We also liked the new Android client, and found it easy to work with. Adding full Android support to this product will definitely be helpful for those who have multiple mobile devices as we do. Along the same lines, the ability to host multiple devices on one Wi-Drive is great for productivity and entertainment, as the drive can stream to multiple devices at once. Overall, we're glad that Kingston has taken suggestions to heart and come out with a better product. We would happily give this our recommendation for anyone who is looking for a quick and easy form of mobile storage.
OUR VERDICT: Kingston Wi-Drive 64GB
| | |
| --- | --- |
| Performance | 9 |
| Value | 8.5 |
| Quality | 8.5 |
| Features | 8.5 |
| Innovation | 9 |

We are using a new addition to our scoring system to provide additional feedback beyond a flat score. Please note that the final score isn't an aggregate average of the new rating system.

Pros
Cons

Sleek design

Has no problems streaming to 3 devices at the same time

Good price

Increased USB transfer rates

Good Android support

Very portable and has good battery life

No way to charge while streaming

We could not get network bridging to work

FAT32 formatted – files 4 GB+ cannot be transferred
Summary: The new Kingston Wi-Drive carries the old design but with some new improvements. Kingston added some significant new features, most importantly full Android support. It earns the Bjorn3D Silver Bear Award.