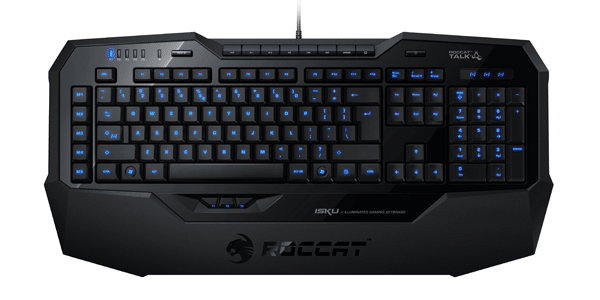 The ROCCAT Isku combines flash with features. It's got a nice color scheme and the product's description claims it is "the world's smartest gaming engineering", but will the actual product deliver? For a keyboard, it comes at a rather steep price: the lowest we've seen is around $100 online, and the highest around $140. Keep reading as we check out this keyboard.
The ROCCAT Isku seems to be an interesting product, and we were eager to review it. The Isku comes with the tagline, "Act Faster, Conquer More" as a nod to its ridiculous number of macro combinations. To be clear, the Isku is not a mechanical keyboard, which we were somewhat disappointed with. However, most mechanical keyboards have a limited features list, and the main selling point of mechanical keyboards is the mechanical key switches. However, you can't have it all, and the keyboard does have a nice tactile response despite using conventional rubber-dome switches. The only thing we didn't like was the squeaky spacebar.
Features & Specifications
Features
BLUE KEY ILLUMINATION with 6 brightness levels
3 Easy Shift[+]™ Zones for easy key duplication
36 easy-to-reach Macro Keys including 3 Thumbster keys
Macro Live! Recording with dedicated M-Rec button; 180+ macros in 5 profiles
8 CONFIGURABLE MEDIA & HOTKEYS 25+ assignable functions
Medium-height keys with an optimum keystroke & pressure point; advanced anti-ghosting; 1000Hz polling rate
ROCCAT™ DRIVER + MACRO MANAGER incl. Sound Feedback;  Macro Presets for games, multimedia and office apps
Extra-large GRANULAR wrist rest with special surface texture
Integrated cable channels for better device organization
Non-slip base with lock-on keyboard feet
Ultra-fast profile switching
5 Profile-Status LEDs
ROCCAT™ TALK© – SET BONUS by combining products
Technical Specifications
Illuminated keyboard with 123 keys
Enhanced anti-ghosting capability
3 programmable Thumbster Keys (T1-T3)
5 programmable Macro Keys (M1-M5)
20 additional Macro Keys (Easy Zone)
5 Profile-Status LEDs
3 Status LEDs (Caps Lock, Easy Shift[+]™, Num Lock)
1000Hz polling rate, 1ms response time
2m USB cable
Dimensions
24.7cm x 50.9cm
System Requirements
Windows® XP, Windows Vista® 32/64-bit, Windows® 7 32/64-bit
Internet connection (for driver installation)
USB 2.0 port
Package Contains
ROCCAT™ Isku – Illuminated Gaming Keyboard
Isku Driver CD  
Quick Install Guide
ROCCAT™ ID Card
The ROCCAT Isku
The ROCCAT Isku comes in a catchy black and blue paper packaging, with a sleek black cardboard box inside it.
The keyboard itself is also wrapped in an anti-static bag. Although it's a nice touch, and does protect against any (theoretical) static discharges during shipping, we're not exactly sure why it's there.
This keyboard looks great. The blue light scheme simply looks awesome, and the brightness of the light is variable by a key at the top-right hand side of the keyboard. It also has the media keys at the top, which is something we always look for in keyboards (this is purely a matter of personal preference). The lights at the top left also display which of the five profiles is currently active, and users can quickly switch between profiles with the "Thumbster" keys at below the spacebar. We found this keyboard fairly easy to use during normal productivity. However, this is a gaming keyboard at heart, and we really wanted to test its versatility with macro functions.
This is the driver for the ROCCAT Isku, where all the magic happens. Just by looking at the five main tabs of the driver, we can already control a wealth of features on the keyboard. In the first screen we can control the five Macro keys on the left, as well as the Caps Lock key, which doubles as ROCCAT's "Easy-Shift [+]" key. The ability to use this EasyShift key in combination with the other macro keys is invaluable, increasing the amount of macros available. The second and third screens allow us to assign macros to the "EasyZone" keys and F-keys respectively. The EasyZone consists of the following keys: 1 to 5, Q to T, A to G, and Z to B. These are used in conjunction with the EasyShift key, as are the F-keys. Without the use of the EasyShift key, they are normal alphanumeric keys.
The use of EasyShift can be enabled or disabled in the first screen, and can vary by profile. For instance, in the first screen, you can see that we've disabled EasyShift for Profile 1 (our designated Windows desktop profile). Speaking of profiles, we can see at the bottom of all the screens the Profile ribbon. This strip allows us to create, save, and assign specific profiles to specific programs. We assigned Profiles 2 and 3 to Age of Empires 2 and Crysis WARHEAD respectively (we had to create the Age of Empires 2 profile ourselves, as it is an old game). You can also designate a "Windows Profile" which we did to Profile 1. Another great feature is that the keyboard will auto-switch to the designated profile once the program is started.
The "Macro Manager" key above the profile ribbon allows you to set macros in more detail, and to create your own. We found this to be an invaluable tool for games like Age of Empires, which have no set profile or macros. Above are some shots of the Macro Manager itself. Here you can select your game from a drop down list (you can also select macros for non-game programs), and edit or create new macros. For instance, we selected the pre-included macro set for Crysis WARHEAD, and created a macro that allows us to do a more powerful jump more quickly. One of the best features is the ability to set delay times between key presses. This allows you to time your macros better, and also ensures that the game responds to macro inputs that might not otherwise be picked up if they all happened together. This is an invaluable tool for games like Crysis WARHEAD, where switching suit modes takes mere milliseconds with macros, a time that could never be mimicked by human inputs. The advanced macro editor shows the same thing as the basic editor, just in timeline format. Another extremely useful feature is the live-recording macro ability. The "Rec" key next to the profile lights at the top allows users to record impromptu macros. You can live record while in-game, and the keyboard will speak the instructions to you through the computer speakers, so there are no annoying popups.
Testing & Results
When we tested the keyboard for a period of weeks in both gaming and desktop use. The keyboard responded excellently, and the use of macros really improved our gaming experience. It took a bit to get used to macros, but once we had, the quality and ease of our gaming experience improved drastically. We really loved the tactile response of the keyboard, and found that it was a durable product as well. The only problem was the squeaky spacebar.
We found the ability to assign multiple profiles, to create macros live, and to set time delays in between key presses to be extraordinarily helpful when playing games.
Conclusion
The market for gaming keyboards is full of mechanical keyboards, with only a limited feature of macros. ROCCAT has gone the other way, and rather than using mechanical switches has used standard rubber dome switches, but included an almost ridiculous level of macro versatility. With over 30 available macros per profile, the list of possible combinations is staggering. Its impact on your gaming experience should be equally staggering.
The rest of the keyboard's features are equally exciting. This is definitely a feature-rich product: it has so many different and versatile features that it would take too long to list in this section. The sheer level of versatility and capacity of this keyboard makes this a product we would recommend for any dedicated gamer.
OUR VERDICT: ROCCAT Isku Gaming Keyboard
| | |
| --- | --- |
| Performance | 9 |
| Value | 8 |
| Quality | 8.5 |
| Features | 10 |
| Innovation | 9.5 |

We are using a new addition to our scoring system to provide additional feedback beyond a flat score. Please note that the final score isn't an aggregate average of the new rating system.

Pros
Cons

Media control keys

Dedicated M1-M5 Macro keys

EasyShift allows huge number of macro combinations

Multiple profiles with quick switching

Ability to record macros in-game

Good tactile response

Squeaky spacebar

Not mechanical
Summary: The ROCCAT Isku gaming keyboard has an extraordinarily level of features. It has a large number of possible macro combinations, and is extremely gamer-friendly. It's made for the dedicated gamer, and for its rich features, it earns the Bjorn3D Gold Bear Award.