Corsair Gaming K63 Compact Mechanical Keyboard
The latest edition to Corsair's extensive keyboard lineup comes in the form of the K63 compact mechanical keyboard. Aimed at the gaming crowd, the K63 is an entry level keyboard hitting the market at a price point of $80. Now, you may be asking yourself: Doesn't Corsair have multiple budget-based options like the K65 or the K40? What about the K55 with RGB capability? Why should I be interested in the K63? The K63 shines in comparison to the other budget options with it's bed of 100% Cherry MX Red mechanical switches, compact tenkeyless design, red per-key LED backlighting and support for Corsair's CUE software. The K63 is the only option in Corsair's budget lineup to offer this combination of features. That also makes the K63 the cheapest option from Corsair to come with genuine mechanical switches. We have nicknamed the K63 "The Essential Keyboard" because it has everything you need and nothing you don't. As always we will take a quick look at the spec chart and packaging and then get on to some photos. Thank you for choosing Bjorn3D.com.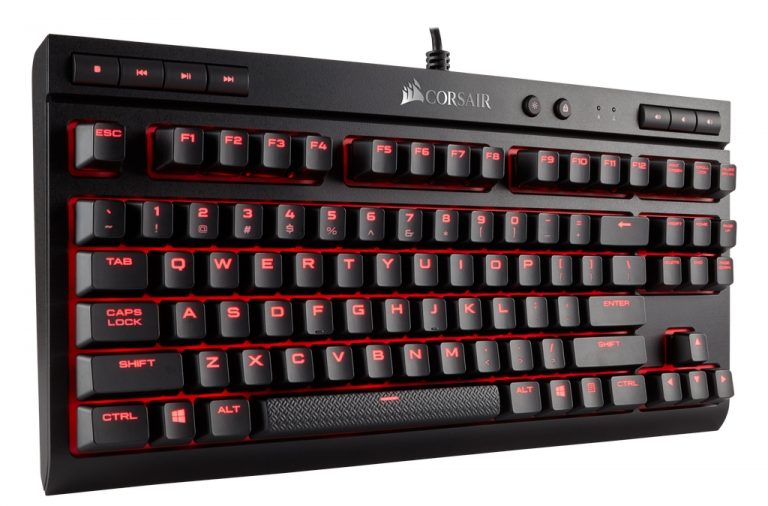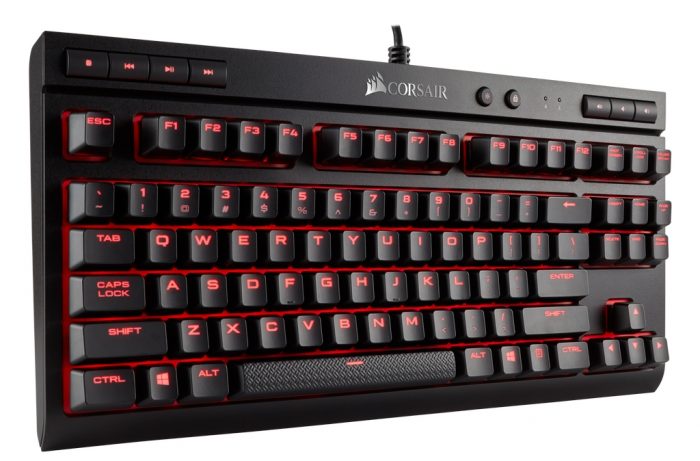 Specifications / Features
100% CHERRY MX Red mechanical keyswitches
Per-key red LED backlighting and large font keycaps
Compact tenkeyless design
Dedicated volume and multimedia controls
100% anti-ghosting with full key rollover
CUE Support
Windows Key Lock mode
Corsair K63 Compact Mechanical Keyboard
Switches
Cherry MX Red, mechanical, 45g actuation force, 2.0mm actuation distance, rated at 50M operations, gold cross-point contacts
Backlighting
Red – Individually lit and per key programmable
Macro Keys
All Keys
Matrix 
100% anti-ghosting with full key rollover
Media Keys
Dedicated multimedia and volume controls
Windows Lock Key 
Dedicated
CUE Software 
Enabled
Cable 
Tangle-free rubber
Dimensions
365(L) x 171(W) x 41(H) mm / 14.37"(L) x 6.73"(W) x 1.61"(H)
Weight 
1.12 kg / 2.47 lbs
Warranty 
Two years
MSRP
$79.99
Packaging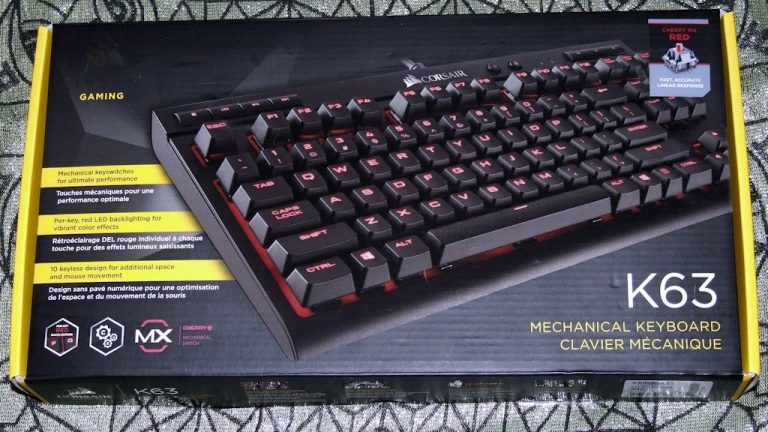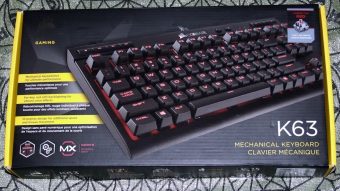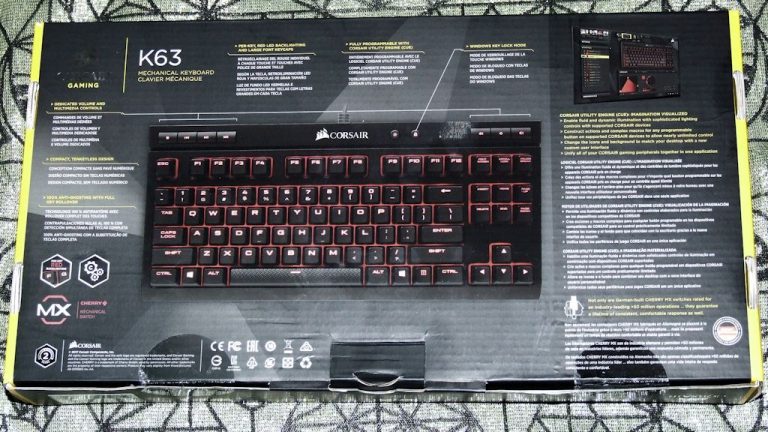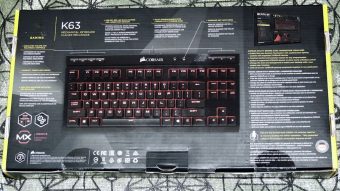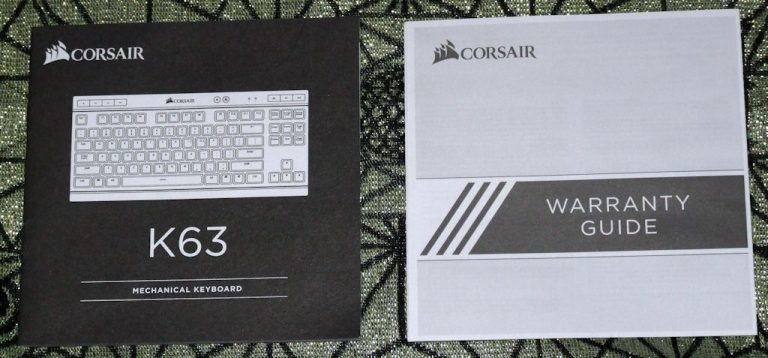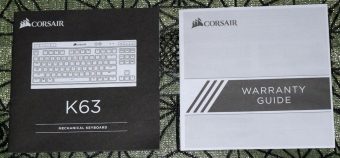 The packaging of the K63 is par for the course for Corsair. A brief rundown of the products key features and a spec list can be found. Inside the box, the only additions besides the keyboard are a manual and warranty information.
Looking Closer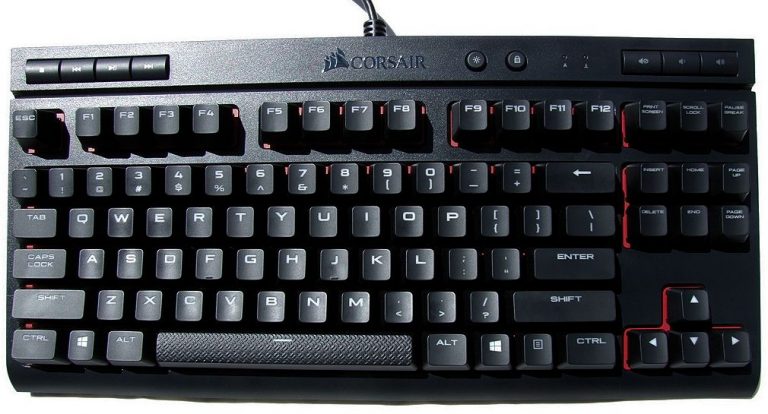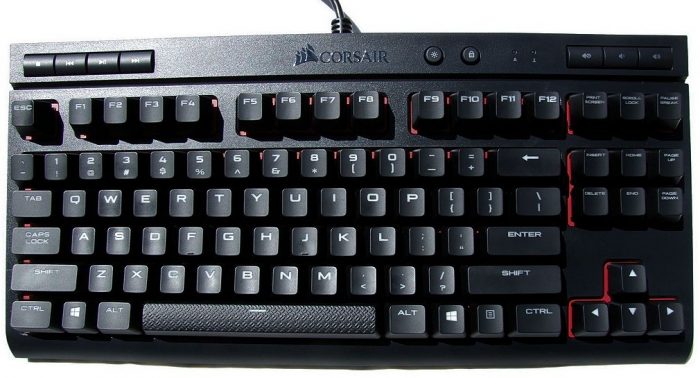 At just over 14″ in length, the K63 doesn't take up much space on a desk. The K63's small form factor is due to the tenkeyless design, allowing users to get a full-size set of switches and save a decent amount of space. We'd wager a majority of readers rarely use the ten key portion of a keyboard, or not at all. As a budget gaming-aimed keyboard, we don't see the lack of keys as a drawback at all. The body of the K63 is made entirely of plastic and does not feature a metal top plate. However, the plastic material chosen feels solid, and the K63 comes with all the Corsair quality users have come to expect.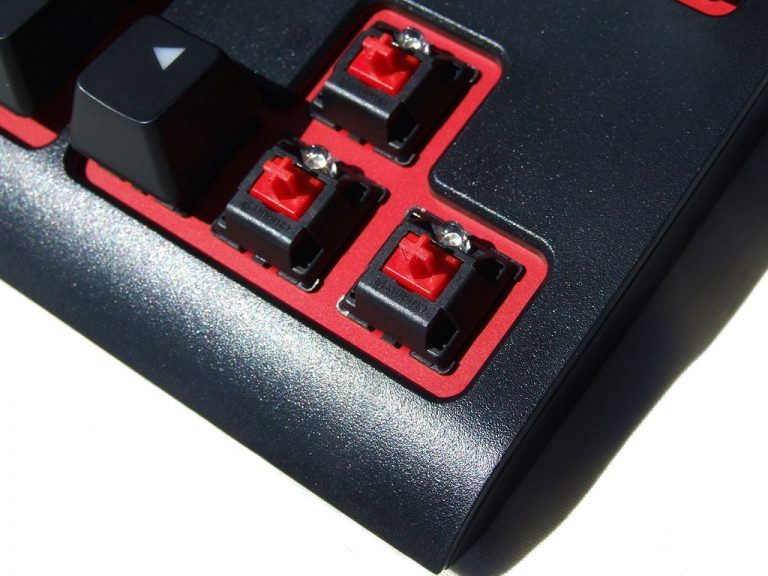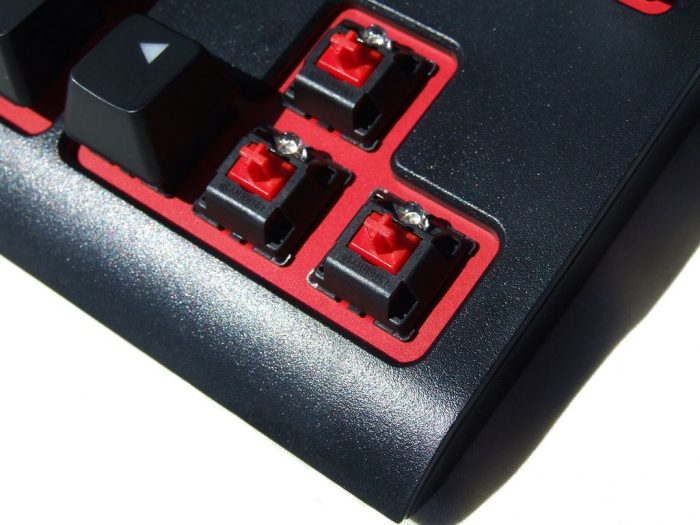 The K63 features a full loadout of genuine Cherry MX Red Switches. These switches feature Gold Crosspoint contacts and are guaranteed to withstand 50 million clicks. Cherry MX Reds feature 4mm travel with a 2mm actuation point, 45g actuation force, and linear action. These switches are light, fast, and perfect for gaming. Every single key on the K63 has anti-ghosting, not just certain keys like the WASD section as found on some keyboards. The term "ghosted" refers to the keystrokes that are not detected and then drop off (for example, when someone presses D-C-U and only sees D-C, the U has been ghosted). Above we also get a good look at the red background found behind all the keys.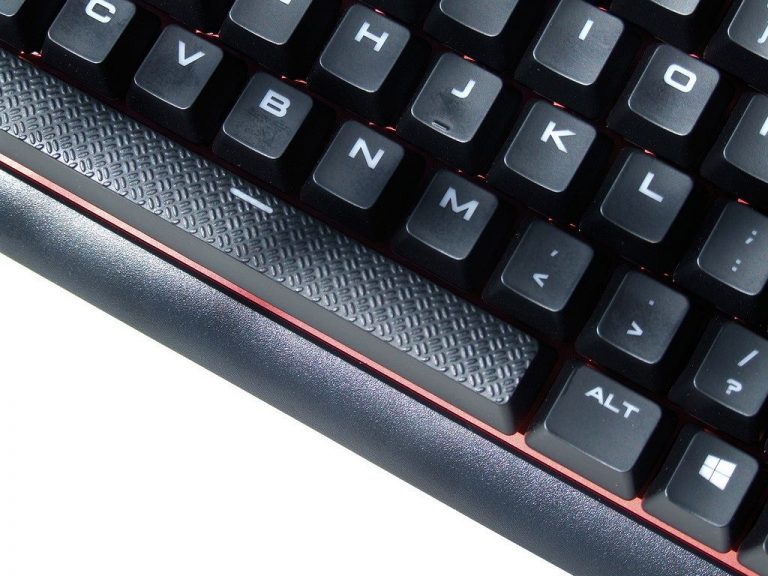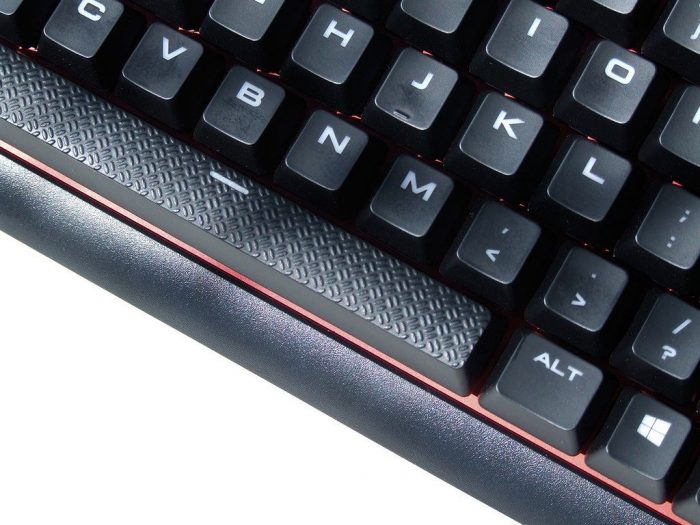 The K63 also features full key rollover. Full key rollover terminology simply refers to the number of simultaneous keypresses that can be recognized by the keyboard. Since the K63 can recognize all of its keys being pressed simultaneously, we refer to this as "full key" since no specific value is a limitation. The keycaps on the K63 feature an extra large font which, combined with bright LEDs, makes for great visibility. On the space bar, we find a textured design which isn't a huge feature but it looks and feels nice.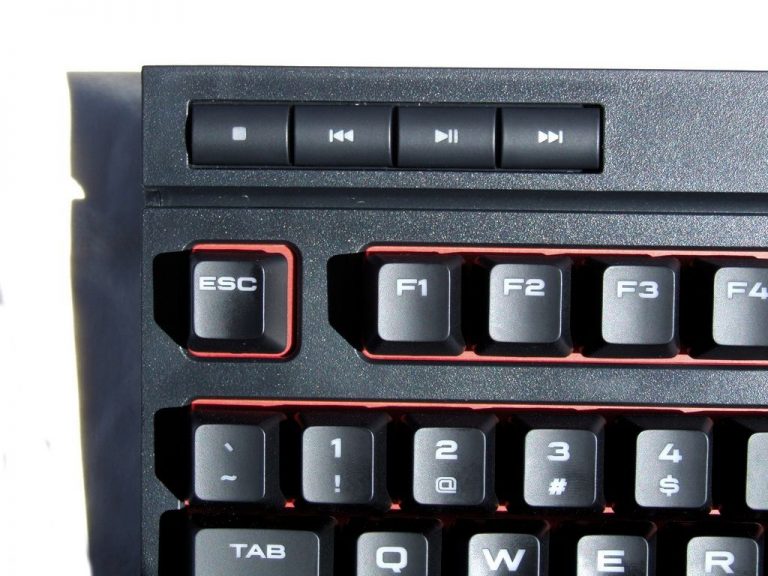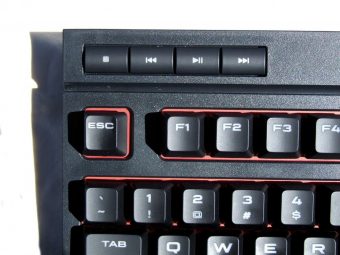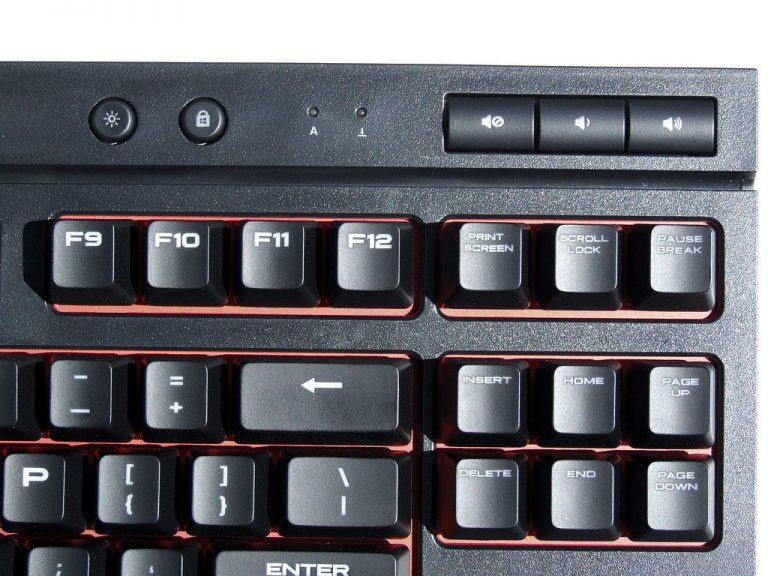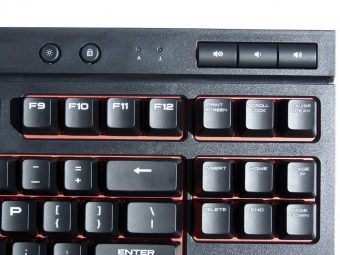 On the top left of the K63 we find the dedicated media control keys. On the top right we find from left to right: LED control button that toggles between three brightness settings or turns LED off, Windows Lock Key, caps lock indicator light, scroll lock indicator light, and finally volume controls. We find volume and media control to be an essential feature of a keyboard and wouldn't consider buying one without them. The K63 has a basic design but isn't lacking anything essential.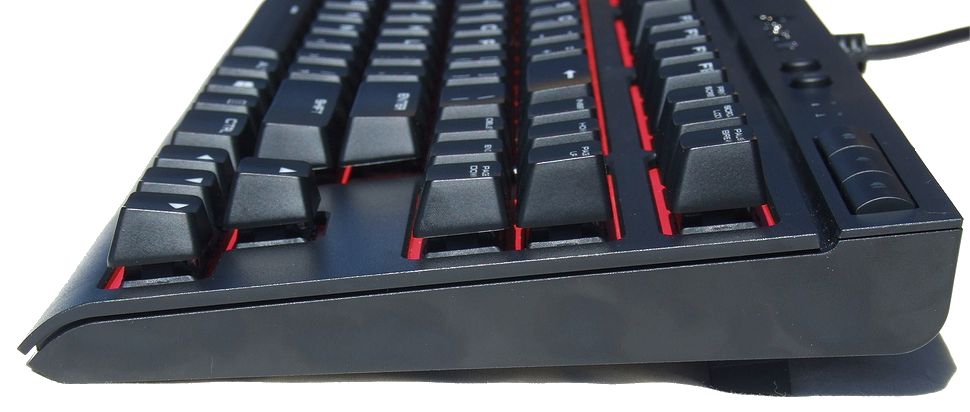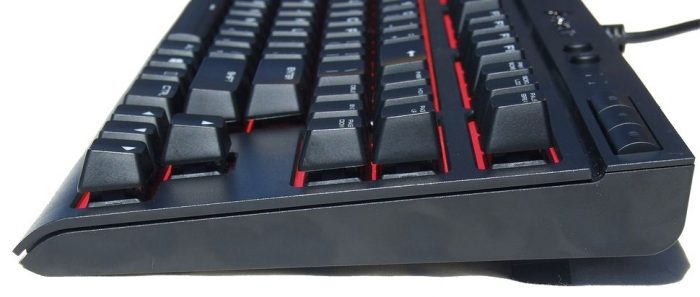 With the riser feet extended the K63 stands just under 1.5″ tall, keeping a pretty sleek profile. Here we see the K63 has a slight curve to the key bed. The option for a wrist rest is available but does not come standard. Users who type with a resting wrist will want to consider the wrist rest. The typing angle may be slightly abrupt for some, for us the sizing/design fits and types just fine without the wrist rest.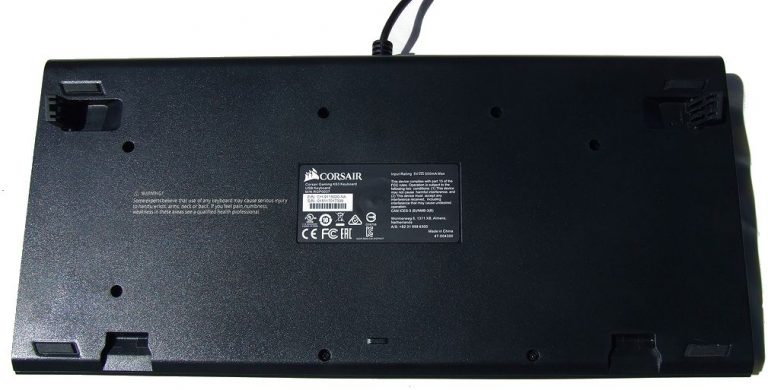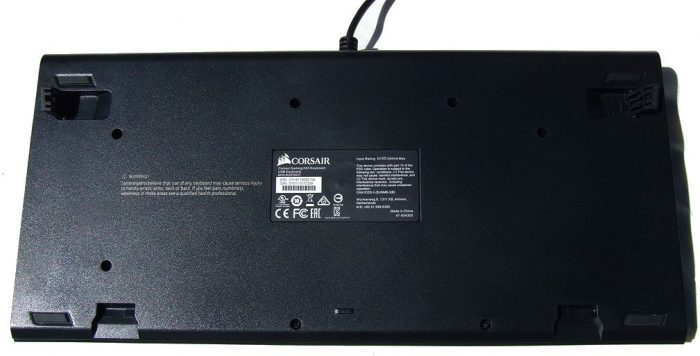 The back of the K63 holds few surprises. We find four non-slip pads and two riser legs, along with some various info and health warning.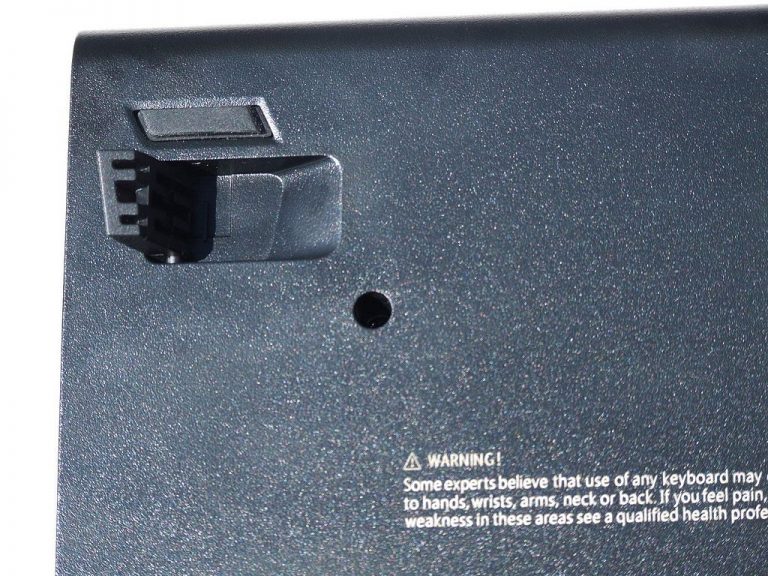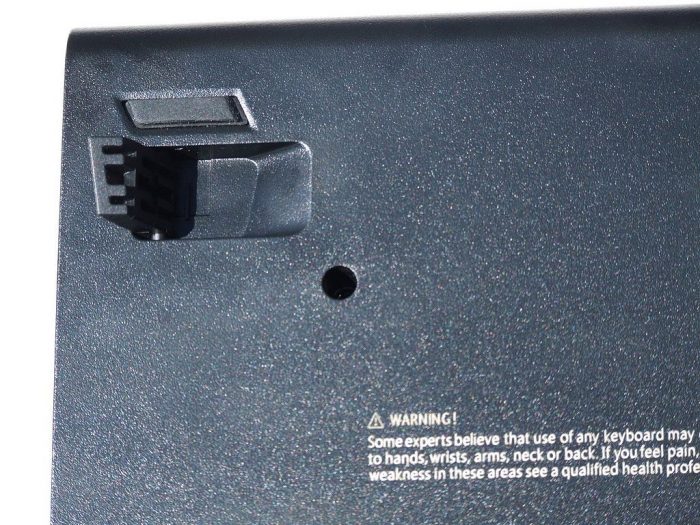 Above we see a closeup of the non-slip pad and riser. The small pads are fairly dense and do a good job of staying in place. The riser feet are a simple flip-out design and feel sturdy.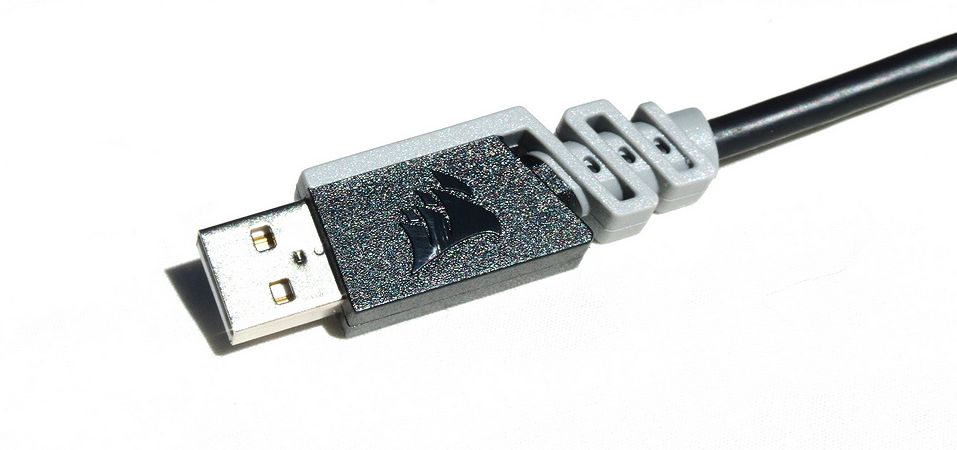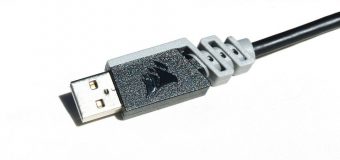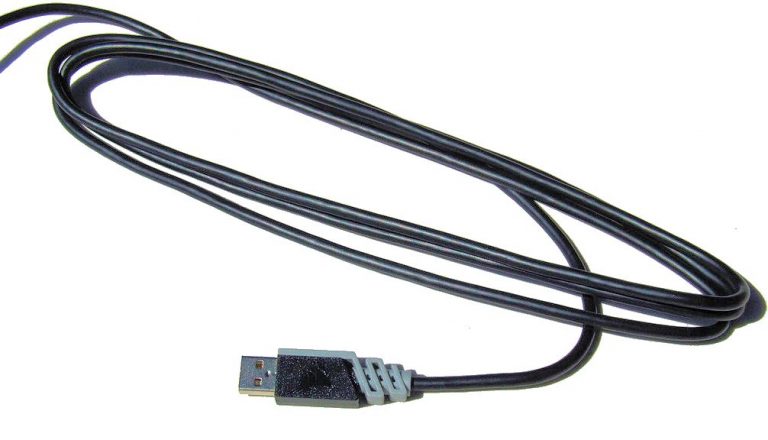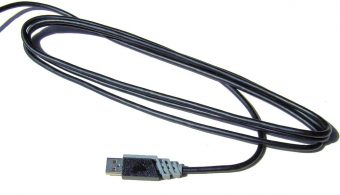 The cord of the K63 has the Corsair standard gray and black plug with logo. The cord is a tangle-free smooth plastic as opposed to a braided design we see on some applications. The cord is just under 7′ in length.
Corsair Utility Engine
"The K63 is one of the many peripherals that uses the powerful CORSAIR Utility Engine (CUE). The software will allow gamers to create actions such as double macros, remappable key assignments, timer countdowns, dpi adjustments, and more. The software will also allow gamers to create multiple color profiles as well as different modes that will enable separate lighting and action configurations based on the game or application. Users will be able to export and import profiles/actions/lighting to share with one another on CORSAIR forums and elsewhere so they can share and collaborate on lighting schemes."  -Corsair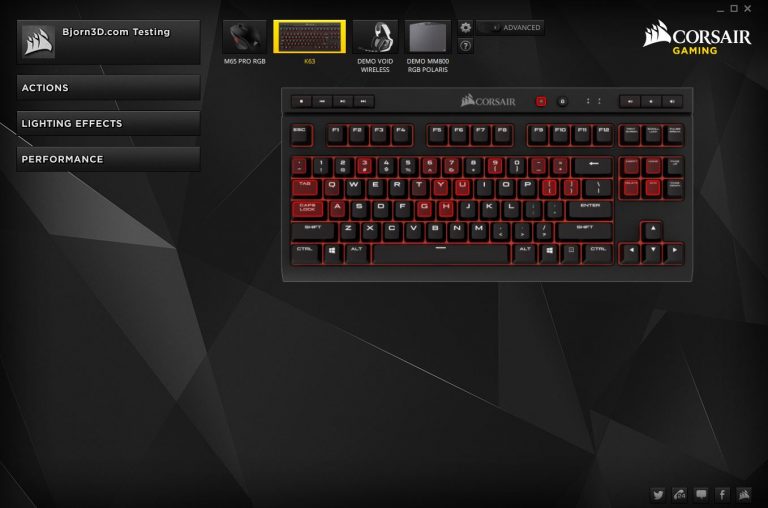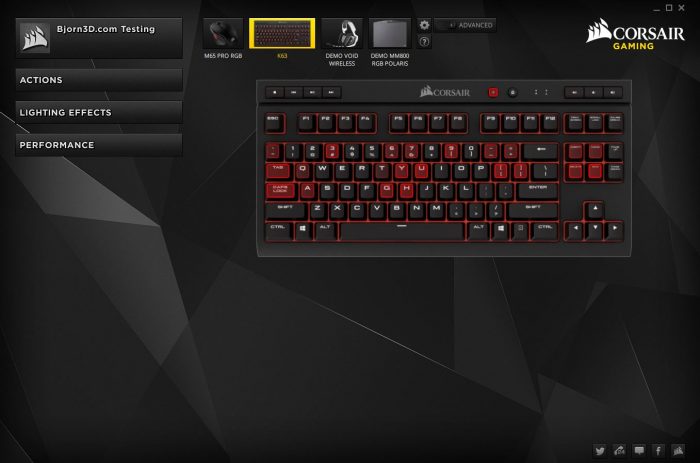 CUE will also give users the ability to:
Enable fluid and dynamic illumination with sophisticated lighting controls with supported Corsair devices
Construct actions and complex macros for any programmable button on supported Corsair devices to allow nearly unlimited control
Change the icons and background to match your desktop with the new custom user interface
Unify all of your Corsair gaming peripherals together in one application
Below you will find a gallery of the tabs and various options you will find waiting for you with the K63. CUE lets you get the most out of the K63's red LED keys.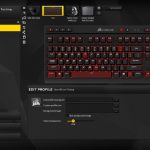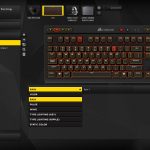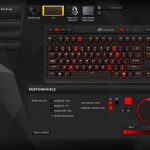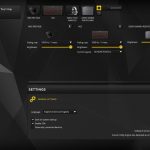 The following predefined lighting effects are available on the K63: Visor, Type Lighting (Ripple), Type Lighting (Key), Wave, Pulse, Rain and Static Color. The various options for each effect can be seen below.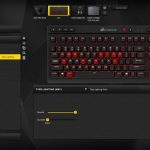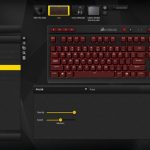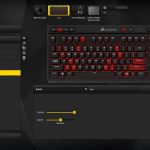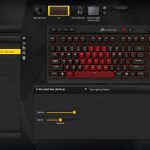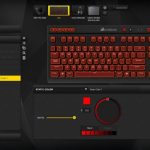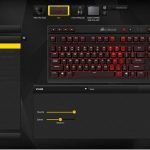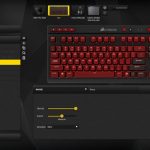 Testing
Upon plugging in the K63 the brightness of the keys was surprising. The lighting is quite bright thanks to the large key font that lets a good amount of light through the top of the keys. Behind the keys, the red backdrop looks brilliant and gives the keys a kind of floating in lava look to them, the effect looks great. After eyeing the K63's beauty and test clicking a bit the next stop was to head into CUE and play with the settings to get an idea of what exactly the K63 can do. While the K63 is limited to one color, having CUE on your side means you can do quite a lot with that one color. After going through each lighting mode and playing with the variables of each we found the look of Pulse layered with Rain to be pleasing. When the Pulse effect dims out we are left with the rain effect. With the K63's onboard LED Controller you can layer and customize effects on each, single key if you desire, the hardware and software combo gives a great amount of control. The experience is much different than having a choice of some colors and a few effects that apply to the keys as a whole or to a "zone" of keys, the K63 with CUE offers true customization power.
Corsair's Utility Engine – In the past, we have seen great hardware get its thunder stolen by clunky or flat out irritating-to-use software. It's a shame when this happens. We bring this topic up because that is not the case in any way with CUE. We find CUE to be just as simple and just as complicated as it needs to be. The software is easy to navigate and responsive. Changes made to your device are shown in real time and the software doesn't lag, have application issues, or saving issues. All in all, CUE makes the entire K63 experience a pleasant venture and doesn't hold the hardware back in any manner. Good job Corsair.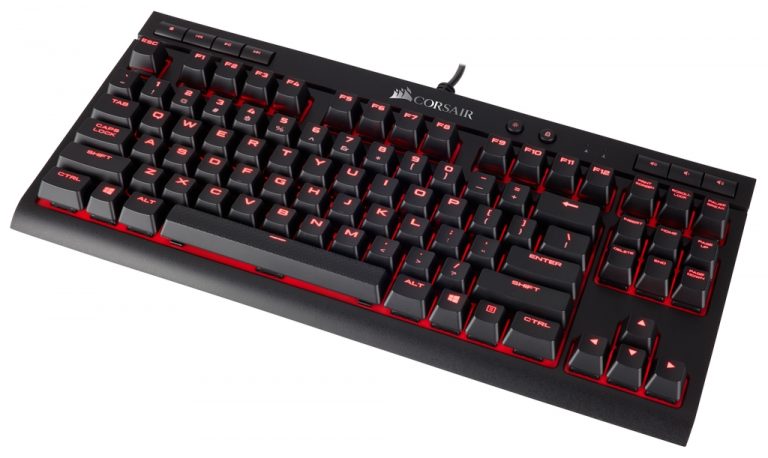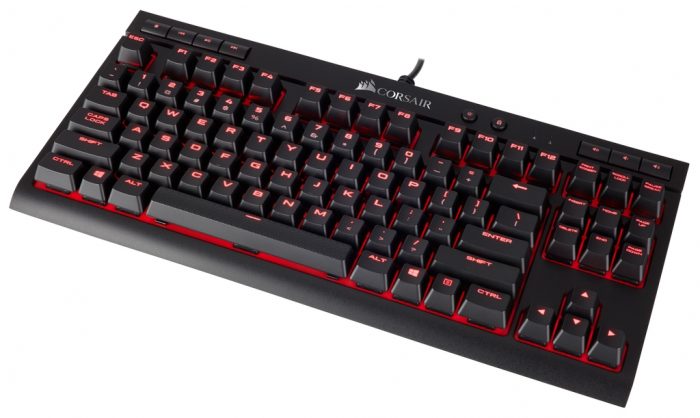 In the performance department, the K63 is everything you would expect a Corsair Cherry MX loaded keyboard to be: Brilliant. There is a reason Cherry MX switches are world renowned; simply put, that reason is that they are damn good. As this is a gaming keyboard, the first logical thing to do was see if we can spot any anomalies while gaming, check macro and various functions, and make sure the K63 does everything it claims to do with no hiccups. We put in as much gaming time on the K63 as time would permit, the whole time listening to music and loving the dedicated media control keys, as stated earlier music is of huge importance and we will not use a keyboard without media control keys. During our time there was never a moment when the K63 was the cause of any mishaps. All functions and claims of performance are spot on. From the keys to the design to the features, everything is flawless on this entry level $80 frag machine. The construction feels really solid and as much as we tried to find something lacking or wrong on the K63 we just couldn't. Gaming and general performance on the K63 has the feel of a more expensive keyboard.
Conclusion
To some users, the K63 may seem basic or feature-light. When getting down to brass tacks there is nothing essential that has been omitted here. The K63 has every feature a gamer needs to get the job done. We personally enjoy the straight forward simple design. The K63 does exactly what it was designed to do, nothing more, nothing less. There is beauty in simplicity, the K63 is a beauty indeed.
Thanks to the K63's size we can see this keyboard being the perfect companion for an on-the-go gaming laptop allowing users to have a full rack of Cherry MX switches that will most likely fit into your current laptop bag. All around the smaller TKL design is a win. We didn't miss the ten key section while reviewing but we definitely enjoyed the extra desk space. We think gamers will agree that for gaming oriented usage the ten key portion is hardly ever utilized. Every single PC user can always use more desk space though. There are a few luxuries we wouldn't have minded having such as USB passthrough, a detachable cord, or a volume wheel instead of a button, but these are just that, luxuries, not essential. Next up we must mention again our feelings on choosing a single color for a device, it limit's market potential due to the whole people liking colors thing. Furthermore, does everything have to always be red? It's 2017 we feel like nothing should be a single color today. Not because everything has to be RGB, but is at least two colors asking too much? If Corsair adds a white backdrop to the keys and just a few colors to choose from we think this keyboard will go platinum hits status quite fast. As always we acknowledge color preference/aesthetic choices as subjective. What really matters is the hardware. Let's recap: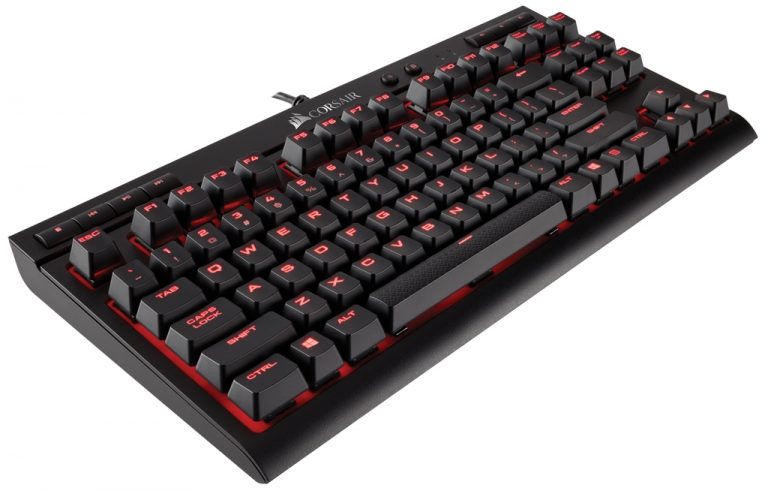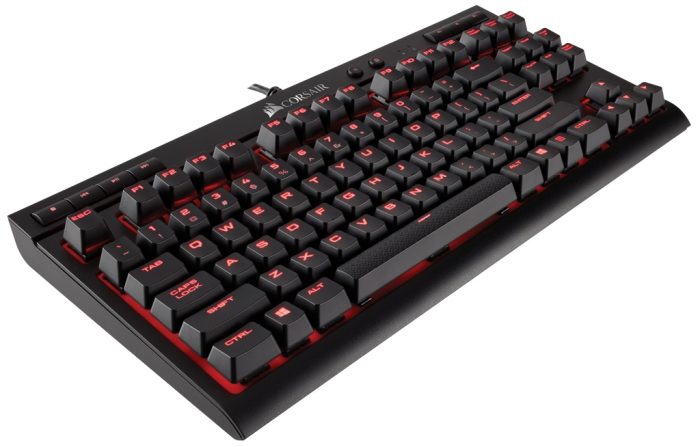 $80
100% CHERRY MX Red mechanical key switches
Per-key red LED backlighting and large font keycaps
Compact tenkeyless design
Dedicated volume and multimedia controls
100% anti-ghosting with full key rollover
CUE Power
Windows Key Lock mode
The K63 earns the Bjorn3D.com Seal of Approval for being "The Essential Keyboard", giving gamers a good option to get Cherry MX switches at a decent price, with the power of CUE.

We are also awarding the Bjorn3D.com Silver Bear Award for being a finely executed, logical, quality product.

Corsair K63 – Pros

Corsair K63 – Cons

Cherry MX Red Switches
LED Controller / CUE
Bright, per-key LED
Dedicated Media keys
Compact Size
Corsair quality

No color options
No switch type option (Brown, Green, etc.)