Today we take a look at an 8GB high performance memory offering from G.SKILL. These modules are designed with a super fast speed of 2400MHz in dual channel mode with the new extreme hybrid heatspreader design.  These are G.SKILL's newest line of extreme performance memory, dressed to impress. We can clearly see it has all the right moves, but can it keep up with expectations?
Introduction
As insane as 2400MHz from 4GB density DIMMS may sound, it is a reality, and a rather promising one at that since the strength of the new Ivy Bridge IMC's are showing that they can push such speeds rather well. G.SKILL has a whole new memory series to go along with their ever expansive offerings of memory. G.SKILL offers such models as the multiple Ripjaws lines, Sniper and Aries series, and the TridentX which we're reviewing today. The TridentX is shaping up to be about the most awesome models in the group with some really extreme heatspreader designs made to wick away heat from the IC's in a quick fashion. The TridentX line comes in a few flavors from 2400MHz (where the line starts) to 2600, 2666 and even a 2800MHz kit which we have seen rumored but not released or found on retail yet.  These kits are clearly for the most extreme enthusiasts who will be pushing all of their hardware to the limit and so need the headroom in the memory to do so.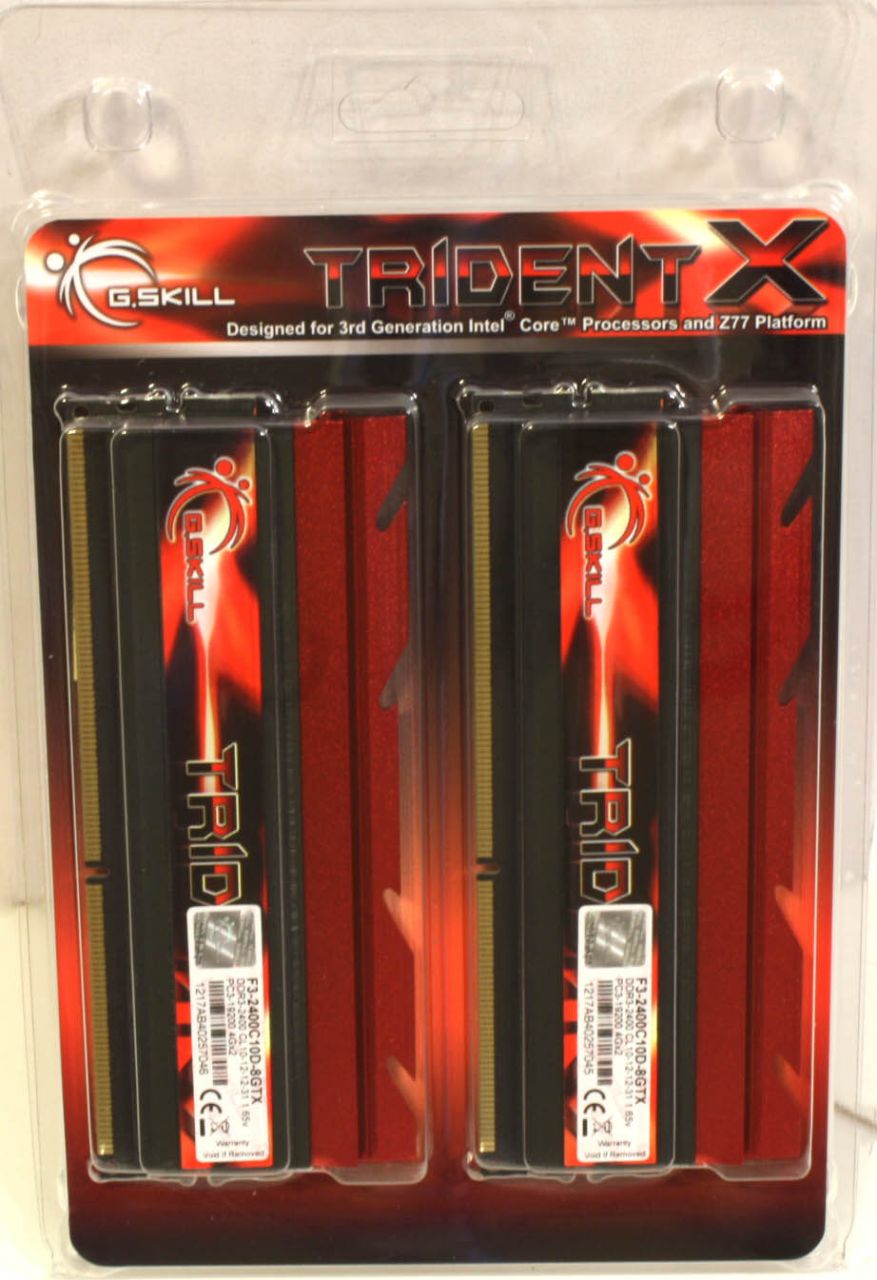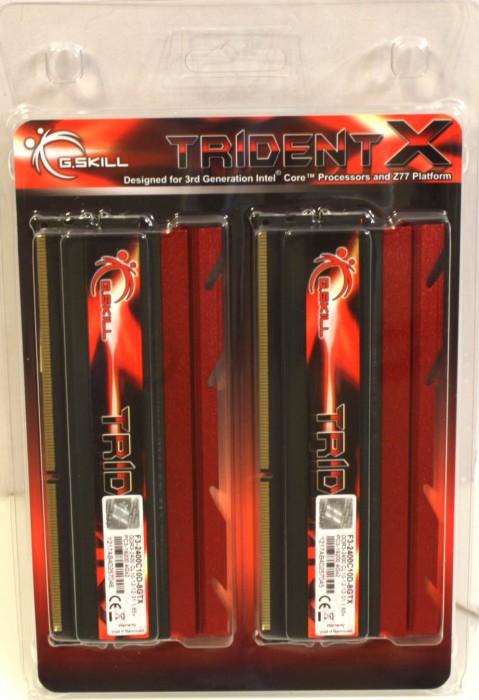 Here it is in all of its packaged glory. The TridentX kit comes in a standard blister pack which is fine as it keeps the module safe, and you see the awesome looking modules with little money wasted on fancy packaging. These modules presently sit on the market at the time of writing at $94.99USD via Newegg.com and I have seen some deals recently where they can be had for even less with a little searching.  with all of that said and done lets take a look at the modules and what makes them special.
Pictures & Impressions
Click Image to Enlarge
The modules come packed in a standard blister pack style clamshell.  Some may look and think this is cheaply done but we prefer a simplistic package as it cuts cost to the end user, and allows either a lower price point or more money be available for components of the product.  All in all, if the product looks good and is protected, then you have an effective packaging design and once you see these modules you'll understand that a clear enclosure is not a bad thing.
Click Image to Enlarge
Looking at the modules removed from the pack we can see as I mentioned previously that they really look pretty damn cool.  The Black/ref heatspreader combo will go nice with many current boards as the trend as of recent seems to be this very color scheme so it should fit quite nicely.
Click Image to Enlarge
One of the awesome features of the TridentX series is the fact that the heatspreader is a hybrid design which is a huge blessing to anyone who has ever tried to use a larger CPU cooler with higher performance DIMMs.  It never made sense to us why these always had such issues but we are very happy to see G.SKILL step up and supply a way to eliminate some of these clearance issues.  The way it works is there is a screw on each end of the top fin. Removing one side allows the upper red fin to slide off which drops the maximum heatspreader height from 54mm down to a much more cooler friendly 39mm.  Of course we cannot say that with certainty every single air cooler will be fine but for the most part this should make fitment much more probable.

Click Image to Enlarge
Looking at the side we see the previously mentioned retention screw for the top fin.  Also you get a pretty good idea of the shape and styling of the heatspreaders on the TridentX along with being able to see the very good contact the heatspreader has with the memory ICs.
| | |
| --- | --- |
| M/B Chipset | Intel Z77 |
| CAS Latency | 10-12-12-31 |
| Capacity | 8GB (4GB x 2) |
| Speed | DDR3-2400 (PC3 19200) |
| Test Voltage | 1.65 Volts |
| Height | 54 mm / 2.13 inch |
| Height w/o top section | 39 mm / 1.54 inch |
| Registered/Unbuffered | Unbuffered |
| Error Checking | Non-ECC |
| Type | 240-pin DIMM |
| Warranty | Lifetime |
| Features | Intel XMP 1.3 (Extreme Memory Profile) |
These modules are listed as rated for 2400MHz which is the lowest bin for the TridentX modules. However, we're betting there has to be some headroom in them as G.SKILL has a history of making overclocking-friendly memory kits.  As we have seen with many higher frequency modules these also show some higher timings. While the CL10 is nice, the others are forced a bit looser to ensure stability. This is where you need to look at the benchmarks you will be running to see if you would use a kit like this or whether the benchmark or app you are using is going to prefer a lower speed kit with tighter timings to benefit some performance.
Testing & Methodology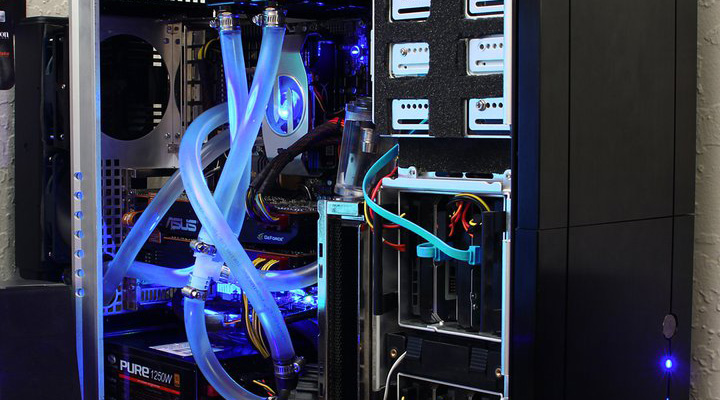 Memory testing can be tough at times as most look at a number (the frequency) and think the higher the better, but in our testing experience we do know that many times there are other numbers at play such as the timings and subtimings which can have anywhere from a minimal to drastic affect on what kind of performance we see from the system when tweaked to the max. Also price can be a determining factor as well and this is why we will run through a few benchmarks to see how this kit affects system performance compared to some of the other kits we have at our disposal and we get a good idea of exactly what kind of value the end consumer can expect for their money.
Overclocking
Previously we had tested a 2400MHz kit from Kingston, with 2GB per module in comparison to these 4GB modules.  This left us a little worried as those modules were not very flexible.  Luckily upon firing up the rig and getting some time with them they clocked rather well and with some tweaking we were able to get them to around 2500-2550MHz with very good stability but settings did have to be tweaked such as relaxing the timings a bit to 10-12-13-34 along with 1.67Vdimm and a little bump to the imc voltage as well.  This is not necessarily the ideal situation as we all know Intel recommends no more than 1.65V for Vdimm but in reality when overclocking we tend to push things a little.
We would recommend around low 2500's with some love from the BCLK just to ensure full stability.  Of course the modules are like anything else and you could get some that clock way better than mine or even worse, but the fact that they run at such a high speed with a XMP profile and can be tweaked to over 150MHz higher in itself is really cool to me.
CAUTION: Overclocking can damage components, void warranties and cause all kinds of other unforseen issues.  Perform at your own risk and understand the settings I may list are from my own testing risking my own hardware so it is in no way a guide on how you shoudl overclock your system or components.  (silly I know but I dont want someone jumping up and down on my head because they messed something up)
Test Rig
Test Rig

Case
Open Air Test Bench
CPU

Intel Core i7-3770K

Motherboard
ASUS Maximus V Gene
RAM

8GB G.SKILL TridentX F3-2400C10D-8GTX (2x4GB)

16GB G.SKILL F3-17000CL9Q-16GBZH (4x4GB) *Half kit

CPU Cooler

Swiftech H20-320 Edge HD

Hard Drive
Western Digital Velociraptor 300GB
SSD

Corsair Force GT

Optical
ASUS BD-ROM
GPU

ASUS GTX 680 DCII TOP

Additional Cards

N/A
PSU

Thermaltake Toughpower XT 1475W Gold

Mouse
Tt eSPORTS Black gaming mouse
Keyboard
Tt eSPORTS Meka G1 mechanical gaming keyboard
Test Suite
We will use the following applications to test the performance of the memory. Benchmarks
SiSoft Sandra 2011
Cinebench R11.5
3DMark 11
SiSoft sandra 2011
"SiSoftware Sandra (the System Analyzer, Diagnostic and Reporting Assistant) is an information & diagnostic utility. It should provide most of the information (including undocumented) you need to know about your hardware, software and other devices whether hardware or software. It works along the lines of other Windows utilities, however it tries to go beyond them and show you more of what's really going on. Giving the user the ability to draw comparisons at both a high and low-level. You can get information about the CPU, chipset, video adapter, ports, printers, sound card, memory, network, Windows internals, AGP, PCI, PCI-X, PCIe (PCI Express), database, USB, USB2, 1394/Firewire, etc."
Here we see that the bandwidth rises almost like stairs from 1333, 1600 to 2133. From 2133 to 2400, however, you will only see a net benefit if the rest of your system is capable of handling that kind of raw throughput. The latency shows similar fashion and we think that this shows these modules are more specifically targeted at the overclocking and extreme crowd as some extra system bandwidth would definitely make a difference here.
CINEBENCH R11.5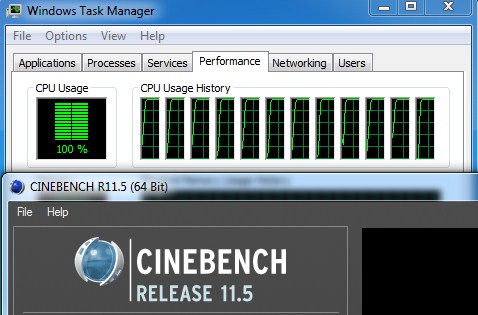 "CINEBENCH is a real-world test suite that assesses your computer's performance capabilities. MAXON CINEBENCH is based on MAXON's award-winning animation software, CINEMA 4D, which is used extensively by studios and production houses worldwide for 3D content creation. MAXON software has been used in blockbuster movies such as Spider-Man, Star Wars, The Chronicles of Narnia and many more. MAXON CINEBENCH runs several tests on your computer to measure the performance of the main processor and the graphics card under real world circumstances. The benchmark application makes use of up to 16 CPUs or CPU cores and is available for Windows (32-bit and 64-Bit) and Macintosh (PPC and Intel-based). The resulting values among different operating systems are 100% comparable and therefore very useful with regard to purchasing decision-making. It can also be used as a marketing tool for hardware vendors or simply to compare hardware among colleagues or friends."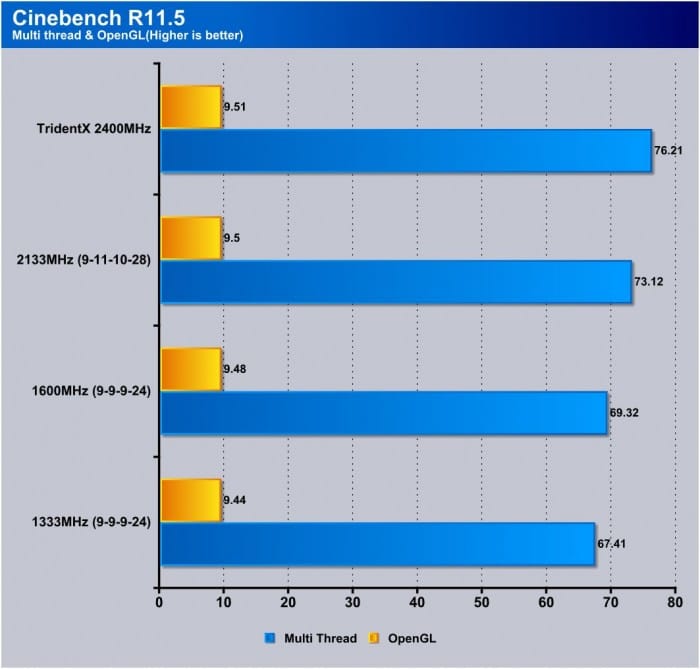 Cinebench 11.5 tests not only the multithreaded CPU performance but also has an OpenGL render benchmark which helps us test graphical performance as well. The multithreaded bench shows some definite scaling across the speed range which bodes well for CPU bound tasks but on the OpenGL tests it nets little benefit which tells us that the limit is not on the memory and is somewhere else in the system.  So unless you are playing an extremely CPU/system bound game 2400MHz just simply looks like its not gonna net mush for most gamers at default settings.
3DMARK 11

3DMark 11 is the newest in futuremark's suite of benchmarking utilities. Its a fully capable DirectX11 benchmark which also stresses and analyzes the system performance as a whole to simulate a heavy rendering environment such as a high end game or other app the end user may run. This benchmark was run with Performance settings 5 times and all runs were averaged for the result below.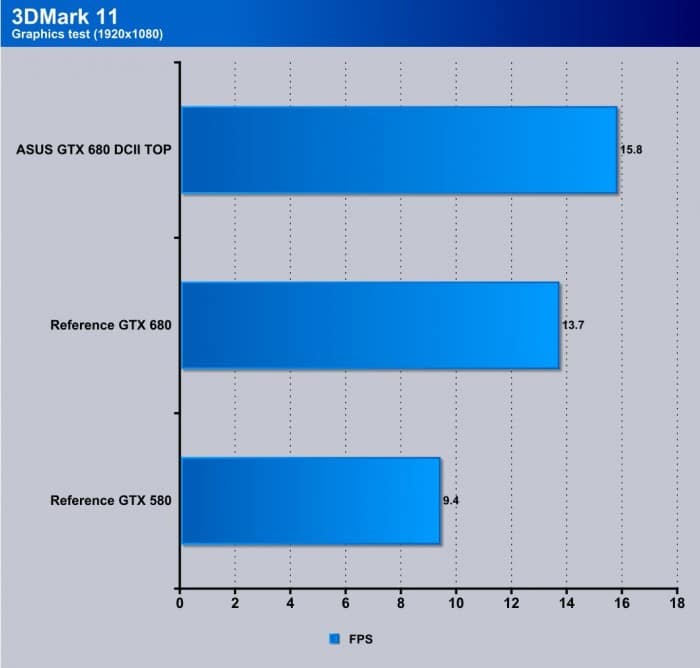 3DMark 11 is a great representation of what can be expected in a gameplay environment but easily repeatable by a preset benchmark.  Though the results aren't the best, the potential is still there.  We simply have to uncover it by speeding the rest of the system up to get it in lockstep with what the memory can do. This once again is where the proof is in the pudding here these modules need and are designed for the extreme overclockers out there who can push the system to the limits and see the great performance they are looking for and these modules can deliver.
CONCLUSION
The G.SKILL TridentX kits are designed for a purpose and to understand that purpose helps you understand its place in the market.  These modules are made for the highest end, the user who is not afraid to get their hands dirty and really push their systems to the max and then some to get the performance they desire.
G.SKILL has many offerings for many different classes of enthusiasts from basic users to gamers with the multiple different memory models.  Gamers can easily slip in some Sniper or Aries series and get some awesome performance at a nice price point.  then we have the Ripjaws of multiple flavors for different chipsets to kind of bridge the gap from the gaming enthusiasts to the overclocking enthusiasts and to top them off we have the TridentX which are only available at 2400MHz + and targeted at those who will be running at extreme speeds all the time.
This is not to say that the TridentX wont work for a gaming rig but more about using the right tool for the job.  If you game some and overclock alot then the TridentX can be a dual purpose monster just dont expect an explosion of FPS from your gaming rig as these are not what these modules are about.  They are about squeezing every last possible point out of a benchmark and at a pretty reasonable price.
OUR VERDICT: G.SKILL TridentX F3-2400C10D-8GTX
| | |
| --- | --- |
| Performance | 9 |
| Value | 8.5 |
| Quality | 10 |
| Features | 9 |
| Innovation | 9 |

We are using a new addition to our scoring system to provide additional feedback beyond a flat score. Please note that the final score isn't an aggregate average of the new rating system.

Pros
Cons

Super high speed high density DIMMS

Nice price point for the clock speed

XMP makes setup a breeze

Has some but limited overclock headroom

Removable heatspreader top fin

Larger air cooler compatibility

Great performance waiting to be unlocked

Performance in most configurations will be small gain

Similar performance can be had from cheaper lower speed kits
Summary: The G.SKILL TridentX 2400MHz kit is not for everyone as gains will be seen mostly on super overclocked rigs, but for those the performance is amazing especially for the price. For this the kit earns the Bjorn3D Silver Bear Award.