The mobile device market is booming, and more and more users want a bit more space to store movies and video for their tablets or smartphones. These two devices should do the job well!
INTRODUCTION
One of the main complaints we have with iOS products is that they do not have expandable memory. 16 GB might sound like a lot when first buying the cheapest iPad 2, but it doesn't take too many apps, movies and music to fill that up. Android devices usually have some expansion capabilities but even here we are seeing more and more devices with no support for expandable memory. This is where the two products we are reviewing today come in. Both the Kingston Wi-Drive and the Seagate Go-Flex offer phone and tablet users the ability to wirelessly expand storage. In addition to offering more storage they also have the ability to allow more than one user to connect to them at the same time, allowing users to share files with multiple devices simultaneously.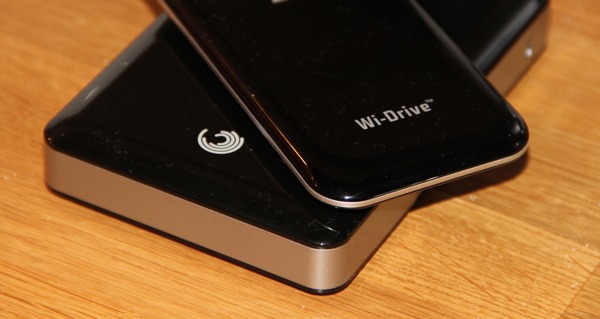 THE KINGSTON WI-DRIVE 16 GB
Features and Specifications
The Kingston Wi-Drive comes with 16 or 32 GB of flash memory. The version we are testing is the 16 GB version. Inside the small drive we also find 2 WiFi antennas which support Wi-Fi 802.11g/n with wireless security (WPA/WEP). A rechargeable battery keeps the drive running for up to 4 hours of continuous use. The 16GB model of the Kingston Wi-Drive retails for about US $60-100.
Closer Look
The Kingston Wi-drive does look a lot like an older Apple iPhone from the 3G/3GS-era. Since Kingston originally targeted Apple-users only with this drive (the Android client is in beta) it is not hard to understand that they wanted to make it look as close to a old iPhone/iPod as possible. It is actually a very nice looking little product.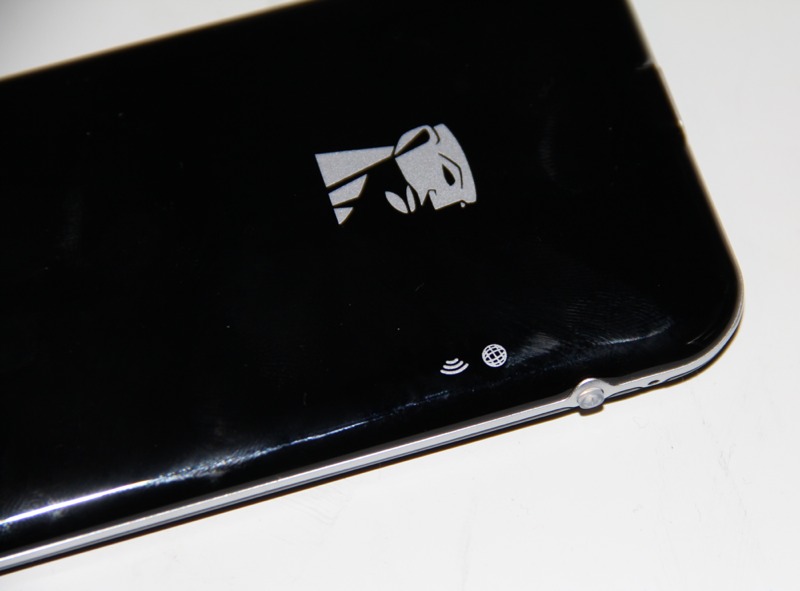 There aren't many buttons or lamps on the drive. On the side we find a power LED which also doubles as a on/off button. There is also a small LED showing WiFi activity. Unfortunately, as evident in the photo, the drive has a tendency to attract fingerprints.
The drive is charged over mini-USB. While the drive is connected to a computer, users can move files to it. The drive only supports USB 2.0 so transferring larger files takes a while. We managed to hit around 3-3.5 MB/s transferring the files.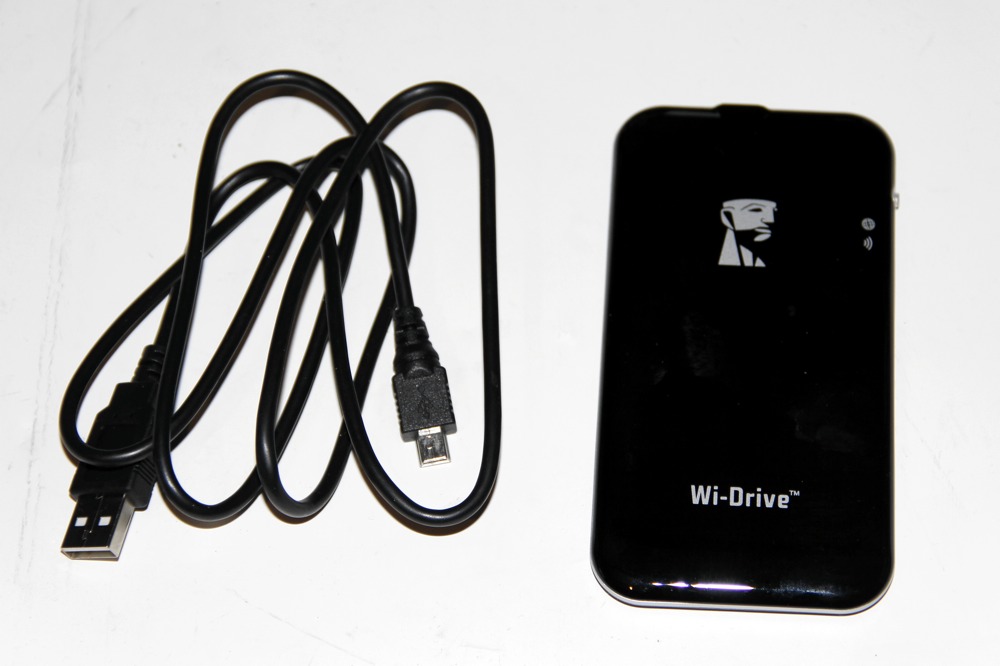 All we get with the Wi-Drive is a micro-USB-cable.
Usage
The Kingston Wi-Drive has its own WiFi network that users can connect to. Users cannot access the internet from their device while they are connected directly to the Wi-Drive. However, the drive also has a bridge mode that allows users to connect it to another network so they still can use the Internet.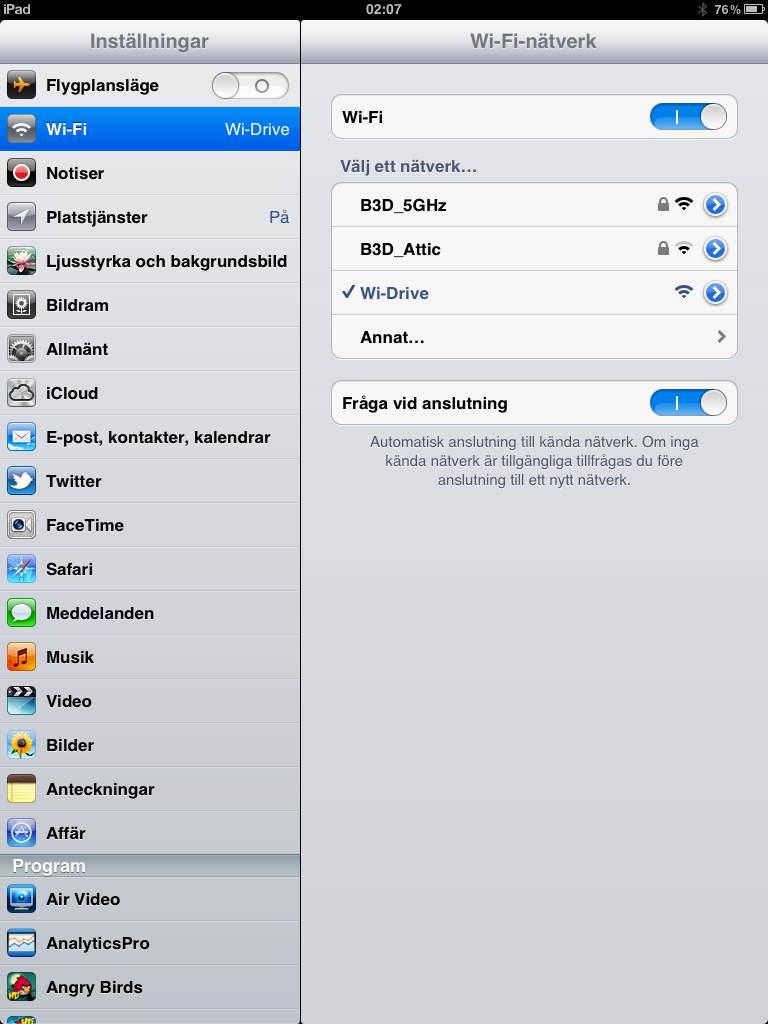 Once connected, the software (for iOS or Android) allows users to change WiFi settings on the drive and access the files on the drive.
The first time the drive is accessed, users need to connect to its WiFi network. This will be open so we recommend changing the configurations so that file access is restricted. What is interesting is that the app itself actually just is a webpage running on the drive. We actually could access the files on the drive using a local web browser on the devices and connect to the IP of the drive (which never changes). We do not get the special file list that the apps have, but none-the-less we had no issues playing all the media from the drive.
So how does it work?
On our Apple iPad2 we had no problems connecting to the drive via the free Wi-Drive App and start browsing through the files. We also could play all the files that the iPad2 natively could play but any files that wasn't supported, for example mkv, could not be played.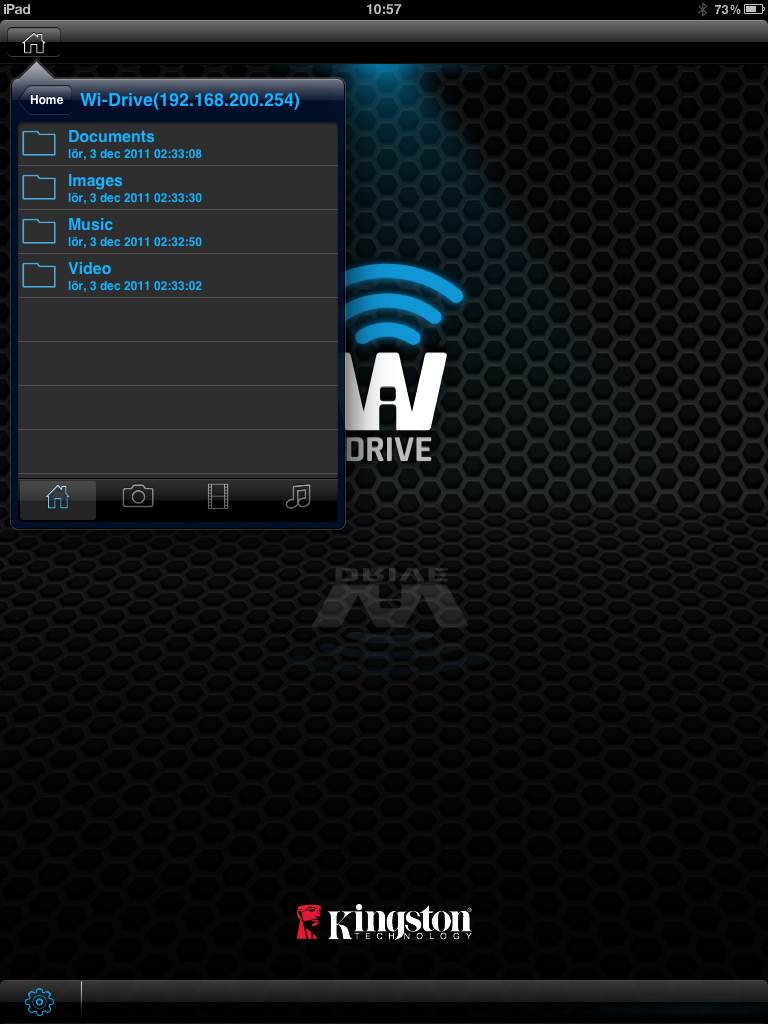 Using the beta Android app things were not quite as rosy, at least when it comes to connecting to the drive. Though Kingston says it is currently only supported on tablets, we were able to download it to a Samsung Galaxy SII and a Galaxy Nexus. On our Samsung Galaxy SII it worked pretty well even though it took a quite some time for the app to find the drive. We could stream all sorts of video from the drive and everything played fine as long as we had a player that supported the file. In our testing we mainly used Dice Player. Our Galaxy Nexus running Ice Cream Sandwich (Android 4.0) could start the app but never found the drive. Here it worked well accessing the contents of the drive through the web browser and again we could play all sorts of media with the right player.
We could not get the bridge feature to work on any device, iOS or Android. We connected the drive to our own network and then connected to the drive, but we still could not get any Internet access. We have seen other people claim it works, so maybe it just doesn't like the two networks we tested it on (one with a Linksys E4200 router and one with a Netgear WNDR4500 router).
Another negative point we noticed was that we also could not use it for copying files from a device to it. The only way we could put files on it was through the USB connection to a computer.
Music playback works, but again it only supports the file types supported by the mobile device. It is possible to play m4a files and also view the album art that is included in the file but there is no support for sorting music by genre, artists, or albums.
SEAGATE GOFLEX SATELLITE MOBILE WIRELESS STORAGE
Features and Specifications
The Seagate GoFlex Satellite™ Mobile Wireless Storage comes with a lot more storage that the Kingston Wi-Drive. The 500 GB provided is enough to store a lot of movies and other files. As the name implies this drive also has a wireless radio that supports 802.11b/g/n. Instead of the regular USB 2.0 connection, we get a USB 3 connection, and it is even possible to buy new interface-adapters for FireWire 800 or eSATA. A rechargable battery gives us up to 5 hours of battery time. The Seagate GoFlex drive (currently only available in 500GB) retails for US $199.
Closer Look
The GoFlex Satellite looks like a regular external hard drive. That is not so strange as the GoFlex Satellite uses a regular hard drive while the Kingston Wi-Drive uses flash memory, making it smaller and lighter (and also lower capacity).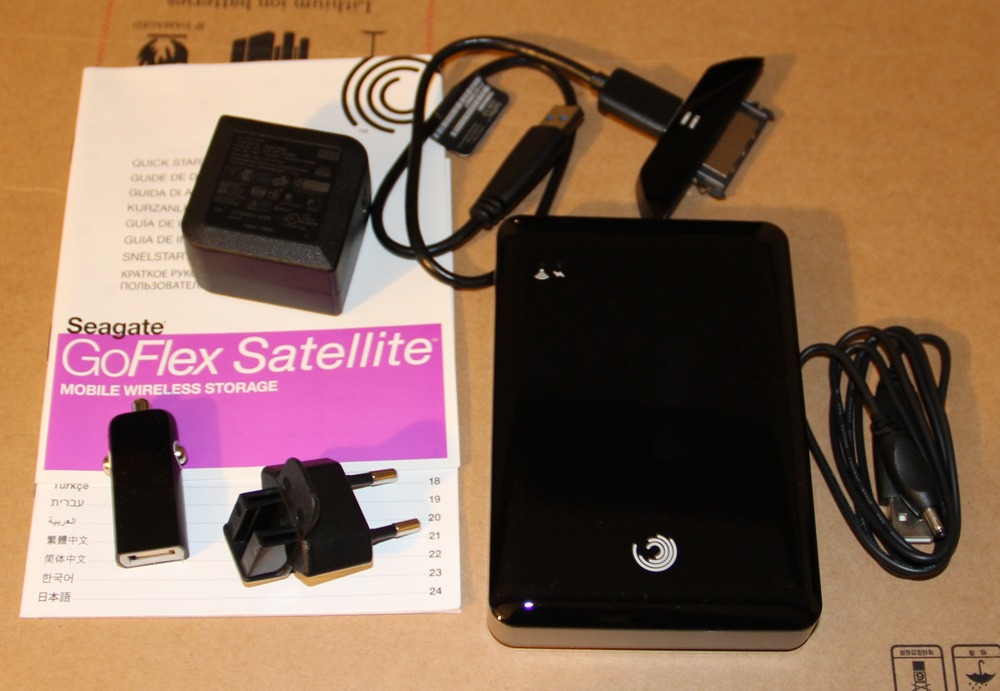 On the side of the drive we find the on/off-switch which only needs to be used when using it to stream to other devices. The drive comes with a USB 3.0 adapter which can be removed when it is not needed. Seagate also sells other adapters for USB 2.0, eSATA and FireWire 800.
While Kingston doesn't really give us anything extra with the Wi-Drive, Seagate has included a lot of nice goodies with the GoFlex Satellite.
In addition to a USB 3.0 cable we also get a wall charger, a car charger and a nice little pouch to put the drive in. We are especially happy for the car charger as it means it is possible to bring this drive on longer trips, and use it to stream movies and music to people in the car without having to worry about the battery. Even better is the fact that users can keep streaming while charging the drive, something the Wi-Drive does not support. 
Usage
Just as with the Kingston Wi-Drive we need to connect to the drive using WiFi. The WiFi network that the drive uses is open by default but can be protected using WPA. We definitely recommend doing this. The GoFlex Satellite does not support any WiFi bridging so as long as users are connected to it, the mobile device will not be internet accessible.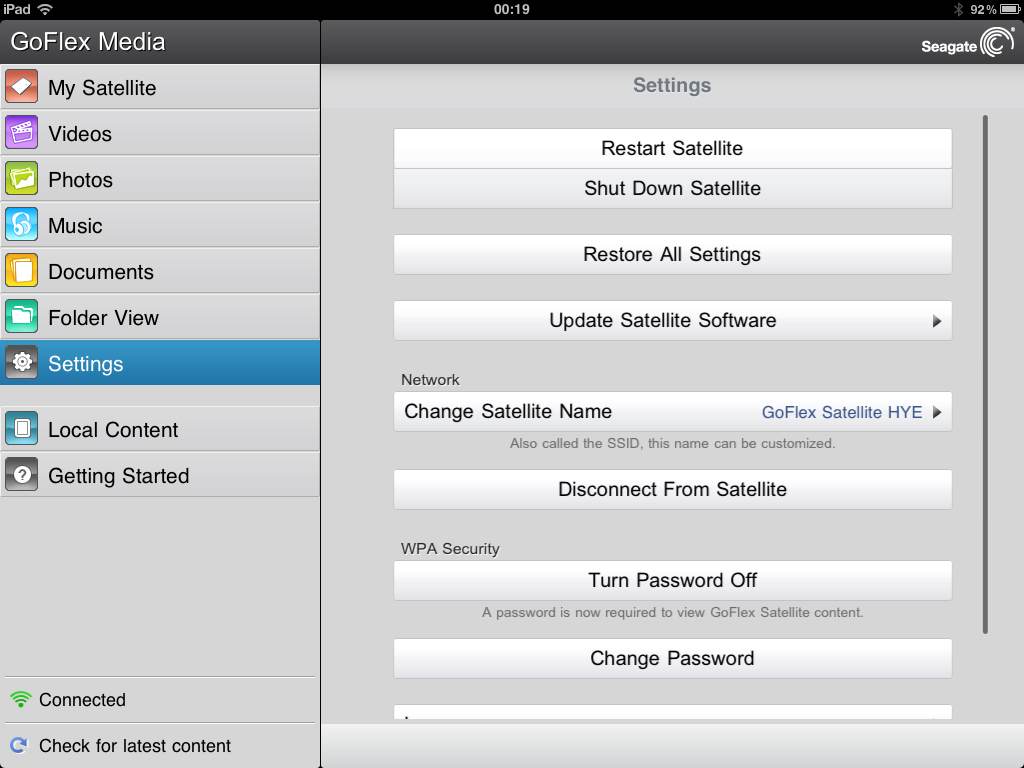 Seagate has released apps for both Android and iOS that allows us to access all the content of the drive. The fact is though that we can also access everything using the web browser, and not just from a Android or iOS-device. Even a laptop can access a similar web GUI when connected to the drive. In fact, when connecting to the drive with our Galaxy Nexus, it automatically started the browser and connected to the web GUI of the drive.  The iOS and Android apps work better than using the web browser. For example, in the browser, we had an issue trying to see file names when using the folder view. The file names got cut off after just a few characters. That problem is not present in the apps.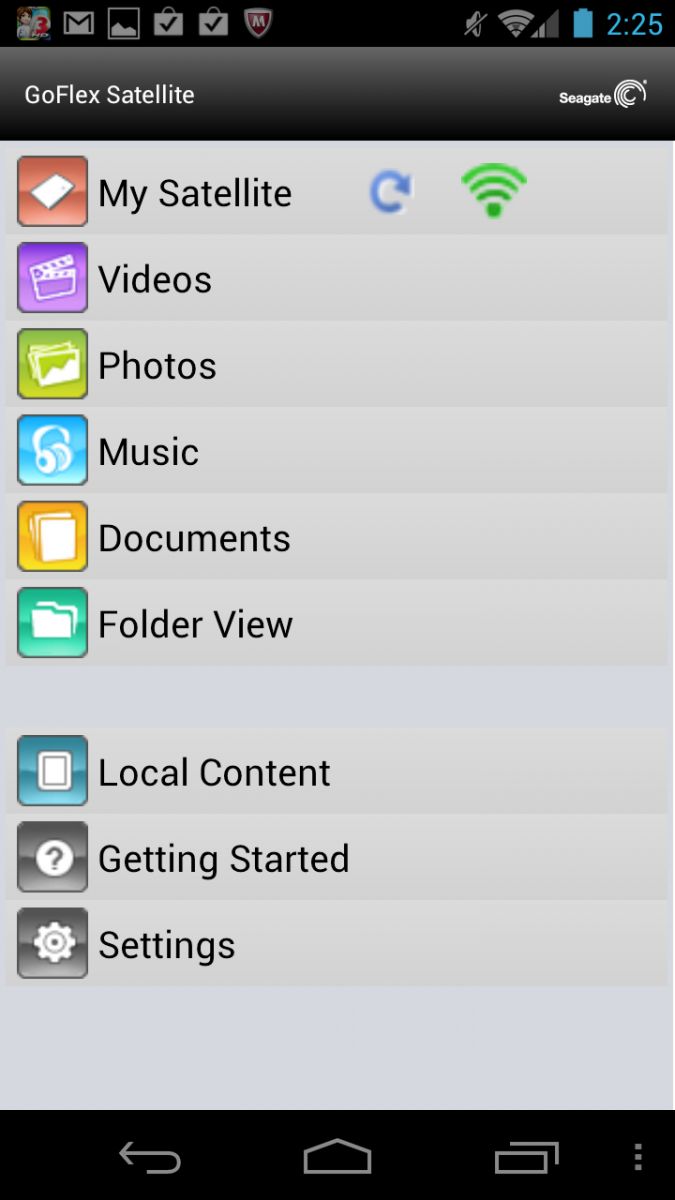 So how does it work?
Regardless if we use one of our Android phones (Samsung Galaxy SII and Galaxy Nexus) or an iPad 2 we had no problems connecting and streaming media from the drive. We have read reports from other users and reviewers that they had connection issues but either we were lucky or one of the latest firmware updates took care of this as we did not have any issues staying connected to the drive.
Just as with the Kingston Wi-Drive the playback of files depends on if the device supports the format, so we could play a lot more stuff using Dice player on our Android phones than we could with the iPad 2. It was however cool to stream a 720p mp4 video to both an iPad 2 and a Galaxy Nexus at the same time and noticing that neither device had any problems with the playback.
One nice feature is the ability for us to choose to download a file instead of stream. This makes it possible to download some files locally if we do not want to have the drive on all the time.
Music playback also is a lot nicer with the GoFlex than on the Wi-Drive. We can sort music on artists, albums and genre and even use playlists. We could play m4a files from iTunes, but the app does not seem to be able to take out any meta-data from them so they end up being "Unknown".
The GoFlex Satellite also doubles as a DNLA Media Server and we could therefore connect to the drive with a DNLA player. In this test we used SoftMedia Player but a program like Qualcomms Skifta also works well. We had no issues playing mkv files, even with subtitles, but separate subtitles did not work. Strangely enough, our m4a music files were categorized and named correctly over DNLA so it seems it is just the Seagate app that has problems with them. 
Similar to the Kingston Wi-Drive, the GoFlex Satellite does not allow users to transfer files from a phone or tablet to the drive. However, users can download files from the drive to the phone/tablet. 
CONCLUSION
If your phone or tablet has the ability to accept memory cards it is of course much cheaper to just buy one of those and pop into the phone. However, if the phone or tablet does not support external memory cards or if you plan to travel and need to stream to multiple devices at the same time, these external drives are perfect. 
Kingston Wi-Drive
The Wi-Drive is the most mobile option of the two drives we have tested, at least when it comes to weight and size. It slips easily into a pocket or bag and adds almost nothing in weight. For iOS users it also works well and plays up all supported file formats without a hitch. The Android beta app unfortunately is not as good and we would at this time not recommend it to Android users.
There are a few things we do not like about the drive though. First of all 16 GB, and even 32 GB, is not nearly enough for storing movies or music. Second, the drive does not work while we charge it even if we try using a USB car charger. This means we have to recharge it every 4 hours or so during a trip if we want to keep using it. 
This drive recently has seen a price drop to around $60 for the 16 GB version. At this price it is almost a steal and even with the few things we do not like about it we definitely can recommend it.
Seagate GoFlex Satellite™ Mobile Wireless Storage
Even though this is a bigger drive we still feel that it is quite mobile. While the Wi-Drive might be easier to bring for a shorter trip the GoFlex Satellite feels like the perfect companion on a longer journey, especially in the car, thanks to the included car charger.
It is nice to see that Seagate has apps for both iOS and Android that actually work well (although they are quite ugly) while retaining the access for other devices through the web browser.
It would have been nice with the ability to bridge a network. On the other hand the inclusion of USB 3.0 means we can transfer large files to the drive very quickly.
The GoFlex Satellite is pricier at $180+, but the added storage and the added features make it well worth its price and our preference between these two drives. 
OUR VERDICT: Kingston Wi-Drive 16 GB
| | |
| --- | --- |
| Performance | 8 |
| Value | 8 |
| Quality | 8 |
| Features | 7 |
| Innovation | 8 |

We are using a new addition to our scoring system to provide additional feedback beyond a flat score. Please note that the final score isn't an aggregate average of the new rating system.

Pros
Cons

Sleek design

Has no problems streaming to 3 devices at the same time

Good price

 

Low capacity

No way to charge while streaming

We could not get network bridging to work

Android app still in beta and not very stable

FAT32 formatted–files larger than 4 GB cannot be transferred

 
Summary: The Kingston Wi-Drive 16 GB is a sleek little external flash drive that adds valuable storage space to any iOS device. Android users should stay clear for now. 
OUR VERDICT: Seagate GoFlex Satellite 500 GB
| | |
| --- | --- |
| Performance | 9 |
| Value | 9 |
| Quality | 9 |
| Features | 8 |
| Innovation | 8 |

We are using a new addition to our scoring system to provide additional feedback beyond a flat score. Please note that the final score isn't an aggregate average of the new rating system.

Pros
Cons

Lots of storage space (500 GB)

USB3.0 interface

The ability to buy other interfaces too

Has no problems streaming to 3 devices at the same time

iOS and Android app works very well

Can be accessed by any wifi-capable device over the  webbrowser

Comes with car-charger and can stream while charging

ntfs-formated so it supports files larger thant 4 GB. Mac ntfs-driver is included

Heavier and bigger than the Wi-Drive

Cannot bridge to your existing network

iTunes m4a music files can be played but no meta-data is displayed

 
Summary: The Seagate GoFlex Satellite might be a bit bigger and heavier than the Kingston Wi-Drive but makes up for it with lots more storage space, a nice bundle, and software that works on both Android and iOS.