Check out Rosewill's Thor V2 or Blackhawk cases, their latest laptop cooling solutions, or even their Cherry MX Switch Mechanical Keyboards at CES 2012
Rosewill's latest Goodies and Gadgets at CES 2012
At the end of last year, Rosewill released  a few very interesting products for us computer users. Some of the most exciting releases include the Thor V2 White and the Blackhawk Ultra chassis. Both of these cases are designed specifically for the extreme PC enthusiasts. Just a quick look at both of these chassis reveals many features the case has to offer. However we cannot say for sure how the quality of these products is or how durable and sturdy they actually are until we are able to review the cases. At the first glance products seen at  CES 2012 do look befitting to complement any high-end computer system.
Click Image For a Larger One
Click Image For a Larger One
White chassis seem to be quite popular at the moment, we've seen NZXT show off their white Switch 810 case, along with Thermaltake also showing off their Level 10 GT Snow Edition. The White Thor V2 is a new addition to Rosewill's cases this year at CES 2012. You might be familiar with their previous black edition Thor V2 which has the same specifications as the white Thor V2, but Rosewill also noticed the trend and wanted to give back to their customers by offering the Thor V2 in white as well. A few key features of the White Thor V2 chassis include support for up to XL-ATX Motherboards, 10 expansion slots, plenty of fans, including a 230mm fan in the front, side and top, and one 140mm fan in the rear, as well as  many more optional fans can be installed. A dual fan speed control knob can support up to 6 fans, making it possible to control all entire air cooling in the system depending on the hardware you are using. Finally it has a large motherboard cutout making it possible to install CPU coolers with backplates without needing to remove the motherboard, and plenty of cable management grommets all over the motherboard tray to making it easy to hide cables behind the motherboard tray allowing for better air circulation and cooling inside the system.
The Blackhawk Ultra is another really massive case. It not only supports XL-ATX motherboards, but also E-ATX and HPTX motherboards. It comes with the same key features as the Thor V2, except for the fan controller. It also comes with plenty of fans, including two top 230mm fans, one 230mm fan on the side and two front 230mm and a second front layer of two 140mm fans. Additional 120/140/230mm fans can be installed on the side panel, and the case can be modified to use water several water cooling options. If needed, due to the massive size of the case, it allows the user to install two Power Supplies, making it easy to use two lower wattage power supplies that make it cheaper to get plenty of wattage at a lower price.
Click Image For a Larger One
Finally, we saw a very unique small mid tower chassis at the Rosewill Suite at CES 2012. This is the Rosewill Ranger. It comes with a very slick red interior along with a front red 120mm fan, and one 120mm and 140mm fan on the rear and top respectively. These chassis supports front USB 3.0, making it a great low budget gaming mid tower PC case.
Click Image For a Larger One
Now if we take a look at the Notebook side, Rosewill introduced two unique laptop coolers. The RLCP-11002 is a fairly light aluminum notebook cooler. It comes with a 200mm to cool down your laptop, but the one we're really interested in is the RMND-11001 notebook cooler. The RMND-11001 does not only serve as an excellent notebook cooler, but it can also be used as a small table. It's easy to use hinges on the side make it possible to balance the table in different positions, making it fully customizable to fit your comfort.
Click Image For a Larger One
The RMND-11001 comes with two 80mm fans on the bottom and it also has three additional USB ports to extend the possibilities of your notebook even further with external devices or peripherals.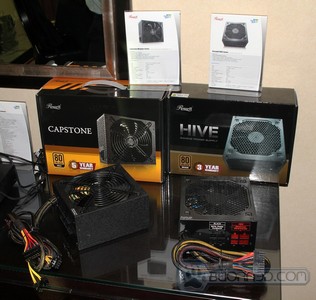 Click Image For a Larger One
Rosewill also showed us two of their new Power Supplies, the Capstone and Hive series PSUs. Rosewill explained to us that their Lightning series power supplies are made especially for their enthusiast and high-end users, but they wanted to extend their power supply line with more mid-range PSUs that would be cheaper for customers to buy and would provide plenty of power at great efficiency to their customers. The Capstone PSUs will come under 4 different wattages: 450W, 550W, 650W, 750W. While you do not get modular cables with the Capstone series, it does come with 80Plus Gold Certification, making it a very efficient power supply. The Hive PSUs are quite similar, but it will only come in 550W, 650W and 750W models. However, the Hive power supply is somewhat modular, which means that you don't have to necessarily use all the power supply cables in your system. This can help maintaining a better airflow inside your chassis and it will also look less cluttered. This specific power supply does have its downside, because you will only get up to 80 Plus Bronze Certification with the Hive series Power Supplies.
Click Image For a Larger One
Next up, Rosewill also showed us their new mini USB Wireless adapter. This new mini usb wireless adapter is rated to work up to 300Mbps in 802.11n, while Rosewill's previous mini usb wireless adapters could not do this. Its fully compatible with Windows based systems, and even Linux and MacOSX, and comes with most high level security protections including 64/128-bit WEP, WPA, and WPA2. Finally, the RNX-N600UBE Dual Band Wireless USB Adapter is a much larger wireless adapter but can provide extended coverage in areas where connecting to wireless networks might be difficult due to low signal. It is also rated up to 300Mbps but requires a USB cable to connect to your system.