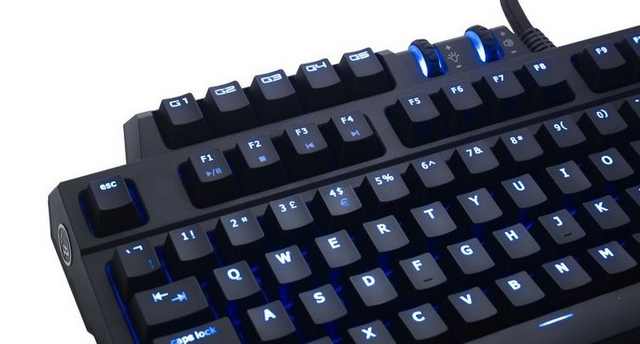 Gigabyte's Aivia Osmium gaming keyboard is a very slick looking and attractive peripheral to have displayed as part of your entertainment setup. But is it worth it?
Introduction
The Aivia Osmium is one of four Gigabyte gaming keyboards and seems to be one of their best featured and longest lasting ones. It's won a few rewards including Editor's Choice Reward by Tech Power Up and a Silver Award by Hardware Secrets. This gaming keyboard feels wonderful to the touch and retails at $130; it seems like we should be getting our money's worth and we will find out in the next few minutes.
Features & Specifications
| | |
| --- | --- |
| Specifications | Gigabyte Aivia Osmium |
| Interface | USB 2.0 + USB 3.0 |
| Activation | Cherry Red Mechanical Switch |
| Switch Life | 50 million times |
| Key Profile | Standard |
| Activation Distance | 2mm to actuation point |
| Cable Length | 6.5 feet |
| Dimension | 18 in(L) X 10 in(W) X 2 in(H) |
| Support OS | Windows XP/ Vista/ Windows 7 |
| Peak Force | 45G |
| Audio | Microphone-in/ Earphone-out |
Product Overview
Click Images to Enlarge
This keyboard comes in a very large and surprisingly heavy box. It's easily removed from the packaging and the keyboard itself comes in a thick protected box with foam. There are extra keys which you can replace with your macro keys for customization, making it easier to tell which keys are for which game or type of macro which you've created. The keys are very easily removed because of the extraction tool. It doesn't come with any detailed manuals, but it does come with a cheat sheet of how to install it and quick overview of the software. This sheet can also be found here: http://download.gigabyte.us/FileList/Manual/keyboard_manual_osmium.pdf
Click Images to Enlarge
When pulling this out of the box, the very first thing we noticed was how heavy and huge it was. Most people probably wouldn't have any problem with the weight because it keeps the keyboard from sliding around, but the width and height of it may be a problem for people with shallow keyboard tray space. The stands also might make it too tall, depending on the height of your keyboard tray and you might scrape the tops of your fingers along your desk if the tray gets moved around. The good news though, is that the wrist rest is removable so more room can be made, if needed.
The USB 3.0 and sound and headphone jack on the sides was a very convenient and nice touch. Users won't have to reach all the way down to their towers in order to gain access to these ports, but it would've been even nicer if it was on the left side so it doesn't get in the way of most right handed mouse users. The USB 2.0 on the top could be convenient, although it was strange it was at the top instead of the left side. There are dials at the top that control the volume and brightness of the back light, which can be pressed down to mute or completely turn off the back light. The cords are also very thick and braided which protects from any chance of ripping or tearing.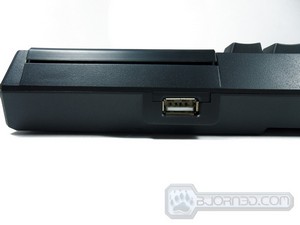 Another very aesthetically pleasing feature is all the different colors that represents which macro profile you are on, although the brightness of these lights couldn't be adjusted, but you can change between profiles by pressing the button. There are 5 different colors representing 5 different profiles and each of those profiles have 5 different macro sets. Each of those 5 sets have 9 different settings you can have. That is an amazing amount of macros, which should be more than enough for most gamers
Click Images to Enlarge
Software
The software, which can be downloaded here: http://www.gigabyte.com/products/product-page.aspx?pid=4179#utility, is pretty straight forward but has an abundance of features and settings. As pictured above, you can switch on or off the colors or also add a breathing effect onto them. You can also just fully wipe out the memory of your settings completely and start with a clean slate with just a press of a button.
As mentioned earlier, there are 5 profiles which contains 5 macro buttons and each of those buttons have 9 settings you can assign to each button which makes a whopping 225 different ways of creating a macro. There are 40 basic buttons you can set it to which include browser favorites, media player, double click, etc. With the more advanced macro, you can record a macro and customize one to a mouse click, the position of the click, how long the delay should be before executing it, how many times to do it and of course which keys to press. You can also save it and import it later if you need to. Pretty impressive!
Testing Methodology
Test Rig
Case
Windows 7 Home 64 bit
CPUs
Intel i7 2600k @ 3.4Ghz
Motherboard
MSI P67A-G43
Ram
Patriot Gseries DDR3 1600MHz 4GB
GPU
Nvidia GeForce GT 220 1GB GDDR3
Monitor
Asus VK222H 1680 x 1050
This was tested with World of Warcraft, Diablo 3 and just general typing and everyday use.
This gaming keyboard felt very nice to the touch and most people would love the clicky clacky noise that it produces. The keys were very easily activated… almost too easily. It felt a little sensitive due to the cherry red switches and because of that, it was very easy to make typing mistakes. The different type of switches can be read here: http://www.daskeyboard.com/blog/?page_id=1458#keyswitches. I also noticed that the keys were activated pressed about half way down and to my unpleasant surprise, once in awhile would actually stick (even though the button didn't look like it was pressed down) and would have to be tapped again to be unstuck.
The key extraction tool was a nice little touch and because it fit the width of all the keys, you can easily remove any of them so you can get to the bits of junk that might've fallen into the keyboard. In case you're wondering, the way to use the tool is by holding the ring and pressing the prongs downwards so the little hooks catches the key and you can easily pull it upwards. Due to the matte coating of the keys, if there is any excess oils on your hands, it would easily be picked up, which was extremely annoying.
As far as how the macros performed, they all performed exactly as programmed, but there is a huge flaw in the design: the macro keys are way too far away, making reaching for the keys in a critical life or death moment of a character extremely stressful and half the time actually dying.
Conclusion
The Gigabyte Aivia Osmium is a pretty good gaming keyboard all around with more than sufficient features and it looks absolutely wonderful for your entertainment system. The extra USB 3.0 port, sound and mic jacks on the side, being able to adjust the brightness and change the macro profiles on the keyboard are greatly convenient. The feel of typing is smooth, although sensitive and the software is very detailed but for $130, it's definitely one of the higher prices to be paying for a gaming keyboard and if you're the type of person to be paying that much for a keyboard, you might want to check out some other keyboards or wait for this one to go on sale.
OUR VERDICT: Gigabyte Aivia Osmium
| | |
| --- | --- |
| Performance | 7 |
| Value | 8 |
| Quality | 9 |
| Features | 10 |
| Innovation | 9 |

We are using a new addition to our scoring system to provide additional feedback beyond a flat score. Please note that the final score isn't an aggregate average of the new rating system.

Pros
Cons

Fun to type on
Buttons to adjust the brightness of the LEDS and also to switch to different macro profiles on the keyboard itself
Very aesthetically pleasing
Weight kept it from sliding around
Changeable keys in order to remember the different macros
Macro settings are very detailed

Macro keys too far
Easy to make typos
Keys stuck once in awhile
Gets dirty easy
Summary: The Gigabyte Aivia Osmium is a all around keyboard and has an abundance of features, but it takes a hit to performance due to the ease of making a mistake and the macro keys being too far away. Despite this, its quality and feature set earn it the Bjorn3D Seal of Approval.