Batman: Arkham Asylum was a hit in 2009 so in our review we look to see if the sequel, Arkham City, has hit the mark again. Read on to find out.
Batman Arkham City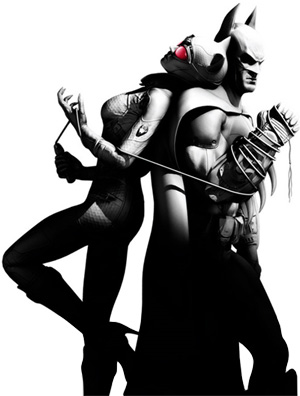 Batman: Arkham City is a dream come true to anyone who has ever even had a passing interest in comic books. No game has ever made the player feel as true to character as the latest entry from Rocksteady Studios. The only comic game that has ever come close to the level of polish of Arkham City is its predecessor, Arkham Asylum. 
The game is not without flaws, but they are so completely outshone by the rest of the game that the few missteps become inconsequential. This fact becomes apparent as players move through the rather lengthy single-player campaign; any niggling complaints that we had at the beginning of the game about enemy awareness, movement controls, or combat mechanics simply melted away as the game added more and more layers and continued presenting new challenges.
The game was released on October 18, 2011for Playstation 3 and Xbox 360, and the PC release occurred on November 22, 2011. Widely praised for its graphics, the PC version of the game was able to bring the visual complexity of Arkham City to new heights, which meant that the system requirements for the game did not leave room for the weak of heart or small of budget.
Story
We first find our hero as Bruce Wayne protesting the creation and continued implementation of Arkham City — an experimental superprison that occupies a large chunk of Northern Gotham and houses all of Gotham City's worst criminals. Even worse, Arkham City is currently being run by Dr. Hugo Strange, who should be immediately familiar to the Batman faithful.
After a quick conversion from Bruce Wayne to Batman, the player is ready to soar over and across the rooftops of Arkham City in search of adventure, excitement, and many thug bones to crack. The city, as one might expect, has been divided into different 'gang zones' that are controlled by some of the major villains Batman has put in Arkham Asylum over the years.
Each different group of villains offers up varied challenges and dialog for Batman as well as plenty of canon fodder for the player to wade through as they make their way to the boss fights scattered throughout the game. One common complaint among reviewers and players alike has been that the boss fights are far too easy and sometimes pale in comparison to the complicated maneuvers that need to be pulled off during combat with regular enemies.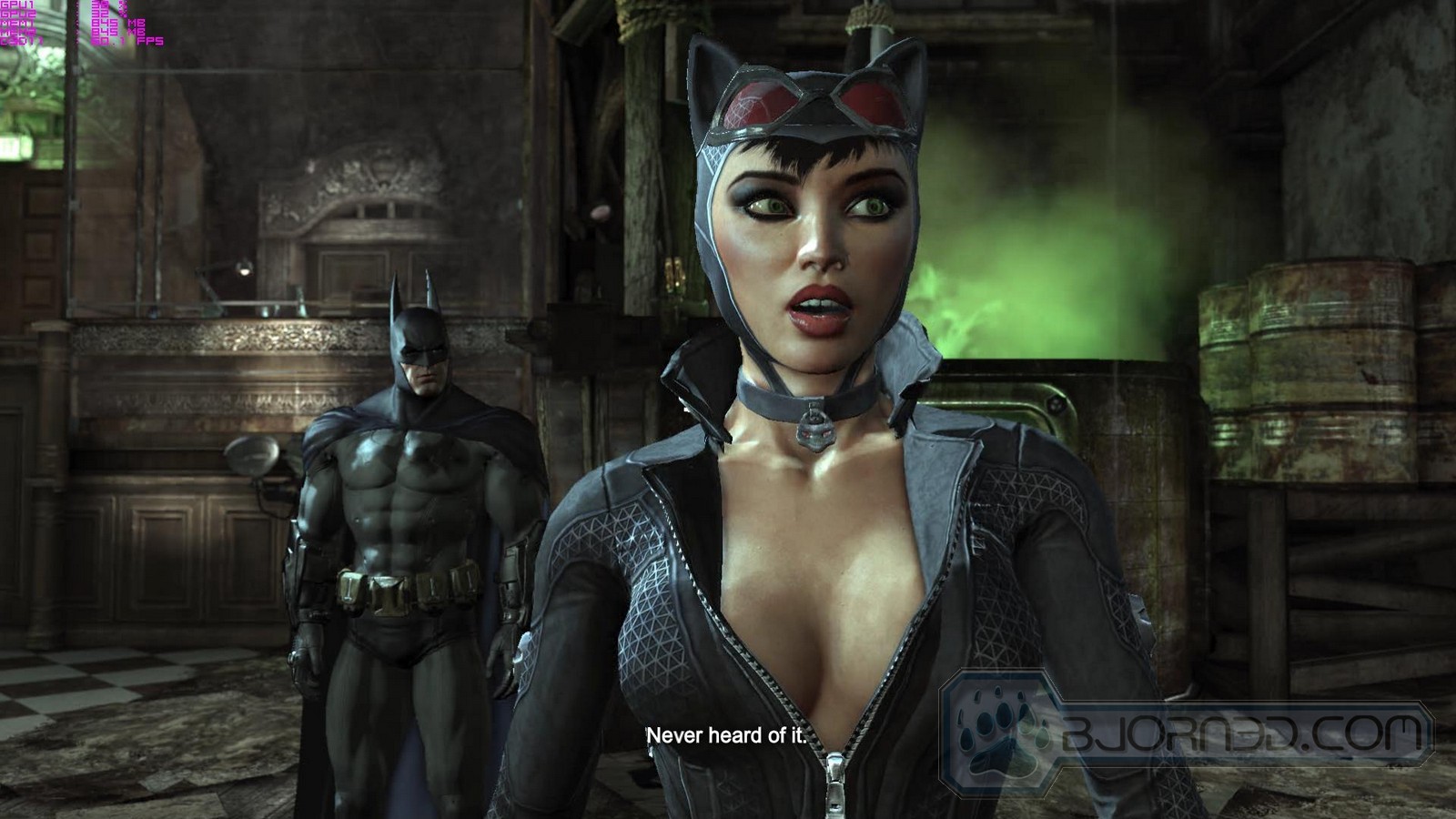 The game is difficult to a certain degree but no enemy or situation truly seems to be Batman's match. Regardless of how many enemies might be piling up or how lopsided the odds seem to be, Rocksteady has managed to always make the player feel that in the end Batman will prevail — and that is a very odd feeling.
Overall the story is cohesive, interesting, and was unpredictable enough to keep us guessing until the Joker played his final card. The cast of characters is brilliant and works both as tremendous fan service to those who have been along the ride with Batman for all of these years and those who have only had a passing interest in the storyarc. The only complaints we could levy at the game might be that there are too many villains, which can sometimes make the game seem like nothing more than fan service, and that the Catwoman sequences seemed largely unnecessary and actually left us feeling like we were somehow missing out on some quality time being Batman.
Gameplay
Movement
One of the big difficulties many game studios have with the Batman IP is creating a style of gameplay that manages to both make the player feel like Batman and remain challenging in some respect. This struggle between being a superhero and being a video game is evident at times, but overall they manage to maintain balance and come up with a game which has some of the most satisfying combat and movement of any game in recent memory.
Click Image For a Larger One
To begin with, Batman is a large man, but he moves with a grace and speed that belies his size, just as he should. His default speed is a very slow, dramatic walk that is incredibly satisfying to use when approaching large groups of thugs. He can also quickly sprint around and move at a speed somewhere between walking and running while crouched, which is how we spent most of the game.
Another satisfying aspect of the game is soaring through the skies of Gotham via grappling hook, zip line, or cape. Players will spend the vast majority of their time in Arkham City using the grappling hook to get from place to place, which feels as good as it did in the first game. This time, however, there are far more places to actually grapple to and from, as the city is far more open and buildings are taller.
Click Image For a Larger One
Combat
The fighting system in Batman: Arkham City is similar to the first game in that it is extremely easy to understand and use. It actually reminds us of the God of War combat system in that it is exactly as complex as the player wants it to be. Players could get through God of War by button mashing just fine, but for those who really spent time learning and working with the combat system, the payback was tenfold.
Click Image For a Larger One
At it's simplest the combat system in Batman requires players to left-click for an attack and right-click for a counterattack. Players can make it through the game with just these two buttons. However, a double-tap of the space bar here and there adds a catapulting move, and a double-tap of certain action buttons enables players to take advantage of Batman's many gadgets.
In a fashion similar to the first game, Batman will gradually look more and more like he's been having a rough night as the game progresses. With the hundreds of enemies players will face before the credits roll, it's hard to blame him for taking a hit or two here and there. 
Click Image For a Larger One
System Requirements
 
Minimum System Requirements

Operating System

Microsoft Windows XP, Vista, or 7
CPU
Dual-Core CPU @ 2.4 Ghz
RAM
2 GB
Graphics Card
Nvidia 8800 or ATI 3800 with 512 Mb of VRAM
Sound
Microsoft Windows XP/Vista or 7 compatible sound card (100% DirectX 9.0c-compatible)
DVD-ROM
Quad-speed (4x) DVD-ROM drive
Hard Drive
17.5 GB free disk space
Input Devices
100% Windows XP/Vista or 7 compatible mouse and keyboard
 
Recommended System Requirements
Operating System
Microsoft Windows 7
CPU
Dual-Core CPU @ 2.5 Ghz
RAM
4 GB
Graphics Card
NVIDIA GeForce GTX 460 or ATI Radeon HD 6850 with 768MB+ of VRAM (DirectX 11 compatible)
Sound
Microsoft Windows XP/Vista or 7 compatible sound card (100% DirectX 9.0c-compatible)
DVD-ROM
Quad-speed (4x) DVD-ROM drive
Hard Drive
17.5 GB free disk space
Input Devices
100% Windows XP/Vista or 7 compatible mouse and keyboard or X-Box 360 controller for Windows
X79 Test Rig
System Specifications

Case
Cooler Master Storm Trooper
CPUs

Intel Core i7 3960X (Sandy Bridge-E LGA2011) – Stock Settings

Motherboards

ASUS P9X79 Pro Motherboard (X79 Chipset)

Ram
Kingston HyperX Genesis 32GB (8x4GB) DDR3-12800 1600MHz 9-9-9-27 Quad-Channel Memory
CPU Cooler

Noctua NH-D14 Air Cooler

Hard Drives
2x Western Digital RE3 1TB 7200RPM 3Gb/s Hard Drives
SSD
1x Kingston HyperX 240GB SATA III 6Gb/s SSD
Optical
ASUS DVD-Burner
GPU
2x Nvidia GeForce GTX580 Video Card (2-Way SLI)
Audio
ASUS Xonar Xense
PSU
Cooler Master Silent Pro Gold 1200W PSU
Mouse
Razer Imperator Battlefield 3 Collector's Edition
Keyboard
Razer Blackwidow Battlefield 3 Collector's Edition
BENCHMARKS AND RESULTS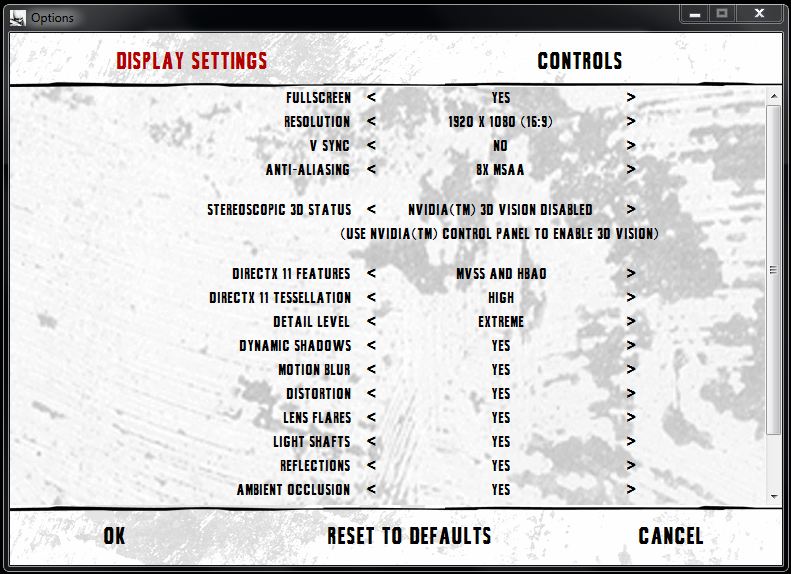 (Max Settings used Breakdown – Physx set to High)
| Resolution/Settings | X79 System (Average FPS) |
| --- | --- |
| 1920×1080 – Max – High PhysX – 8xAA | 46FPS |
| 1920×1080 – Max – 8xAA | 82FPS |
| 1680×1080 – Max – High PhysX – 8xAA | 48FPS |
| 1280×720 – Max – High PhysX – 8xAA | 53FPS |
| 1920×1080 – Max – High PhysX – 8xAA – 3D Vision | 37FPS |
| 1680×1080 – Max – High PhysX – 8xAA – 3D Vision | 39FPS |
| 1280×720 – Max – High PhysX – 8xAA – 3D Vision | 43FPS |
| 5760×1080 – Max – No PhysX – FXAA (High) – Surround | 58FPS |
| 5760×1080 – Max – No PhysX – FXAA (High) –  3D Vision Surround | 32FPS (Not Playable) |
The results for this game look mixed and random for each test. One factor to note is that while using high PhysX settings, the results are definitely way lower than without PhysX. PhysX is all the interaction within the world that happens, including people running across leaves and papers that interact with the objects, or smoke effects, or even cloth and other destruction effects. These tasks are very CPU and GPU-intensive, which is why they take away so much performance from the game. For players running multiple high-end GPUs or an overclocked CPU, this should not be a problem. There is a low PhysX setting which we have not tested, but we assume it would be somewhere in between the high and no PhysX settings.
Now if we look at 3D Vision testing, we were actually surprised that 3D did not have that much effect on performance at all. We were getting 37FPS at 1920×1080 with high PhysX, 8x AA in 3D Vision, while the 2D equivalent got 46FPS. Usually, 3D frame rates are half the original 2D mode. This does not seem to be the case with Batman: Arkham City, and that's actually great news.
Click Image For a Larger One
Now if we take a look at Surround, we have disabled PhysX and also set AA to FXAA (High), due to the amount of VRAM being utilized in Surround mode. With no 3D, we received a very smooth playable average framerate of 58FPS, while in 3D Vision and Surround mode at the same time we received 32FPS. However, there was a problem. With both 3D Vision and Surround enabled at the same time, and even with no PhysX and AA set to FXAA, we were exceeding the 1.5GB limit on our video cards. Regardless of the multi-GPU setup, the performance would still suffer due to the VRAM available on the cards. This means that the GPU needs to dump and reload textures and information all the time, causing major lags during gameplay. Even though the average FPS was at 32, the game was unplayable due to the number of times the GPUs needed to reload the game's textures.
Nvidia's 3D Vision, and Surround Options
Nvidia 3D Vision works wonderfully with Batman: Arkham City. From the day of the release, the game was fully 3D Vision compatible and there are no limitations to graphics. In previous games we reviewed, there were always very minor 3D issues where reflections or certain graphics settings would cause wrong depths or confusion during gameplay in 3D mode. Batman: Arkham City does not have these problems and players can fully enjoy the whole game with the 3D quality at a level that Nvidia 3D Vision was designed for. Performance wise, we recommend using a system with at least one powerful up to date high-end video card, or at least two mid-range video cards in SLI/CrossFireX to get payable framerates. Do remember that 3D could use up to twice the resources of a standard 2D setup, meaning that systems getting 40FPS in 2D mode could get around 20FPS in 3D.
Click Image For a Larger One
Players planning on using Nvidia Surround will need to upgrade to a 2-Way SLI system since Surround is not available on a single-GPU card. It is possible to use a GTX 590 dual-GPU video card for Surround. Nvidia Surround is also quite amazing with Batman, and the combination of 3D Vision and Surround is the best possible experience players can have with Nvidia hardware, though it will also require users to upgrade to a 3GB video card, since the standard reference 1.5GB GTX 580s will run out of VRAM very quickly at 5760×1080 resolution and 3D enabled on maximum settings. One way to still enjoy the game is to lower the texture quality and turn AA off, as these have a huge effect on VRAM usage along with resolution. If we had to recommend any video card for people interested in setting up a Surround system, we would have to recommend cards that have at least 2GB of VRAM, preferably 3GB. Most high-graphics games released in 2011 can easily use up 1.5GB of VRAM just on a single Full HD monitor with maxed out settings and maxed out AA. This is why a 3GB card is required when 3 monitors are used, and especially if players want AA and high texture resolutions.
Conclusion
The latest effort by Rocksteady studios is certainly a pleasant surprise. We expected Batman: Arkham City to be a good game, but following Arkham Asylum is an extremely daunting task, and one that not every developer would be able to live up to. 
Arkham City is a polished and satisfying game. The combat feels fresh and interesting despite being a refinement of their previous formula; the puzzle-solving is intriguing without being terribly difficult; and the portrayals of the denizens of Gotham City are varied, interesting, and spot on. The art behind the game is also beautiful. The scenery of Arkham City is vibrant, and the locations are varied throughout the game.
As we are reviewing the PC version of the game it is important to note the graphical quality and performance of the game on our test system. Overall, Batman: Arkham City should be playable on a fairly old system, but for users who are planning on running this game maxed out with high PhysX at Full HD resolution, we recommend a system running a GTX 570/HD6870 or higher. For users interested in 3D gaming on max settings, we recommend running a system with two video cards (preferably two GTX 500-series cards) due to the higher graphical demand of the game. For the surround gamers, a 2-Way SLI system will be plenty, though players might have to sacrifice AA to keep the running smoothly without running out of video memory. At 5760×1080 running maxed out with 2x AA, we were easily pushing 1.5GB of VRAM.
OUR VERDICT: Batman: Arkham City
| | |
| --- | --- |
| Performance | 8 |
| Graphics | 9 |
| Gameplay | 9 |
| Fun Factor (Overall) | 8 |
| Story | 8 |
| Length of the Game | 8 |

We are using a new addition to our scoring system to provide additional feedback beyond a flat score. Please note that the final score isn't an aggregate average of the new rating system.

Pros
Cons

– Wide array of well-done characters

– Satisfyingly bone-crunching combat

– Player movement is incredibly smooth

– Suspenseful and interesting story

– New Game+ offers many benefits

– Enemy AI seems a bit slow at times

– Catwoman sequences seem to slow  up the game a bit

 
 
Summary: Batman: Arkham City improves upon its predecessor in a number of different ways while retaining the integrity of the original series. For its realism and gameplay, Batman: Arkham City earns the Bjorn3D Silver Bear Award.