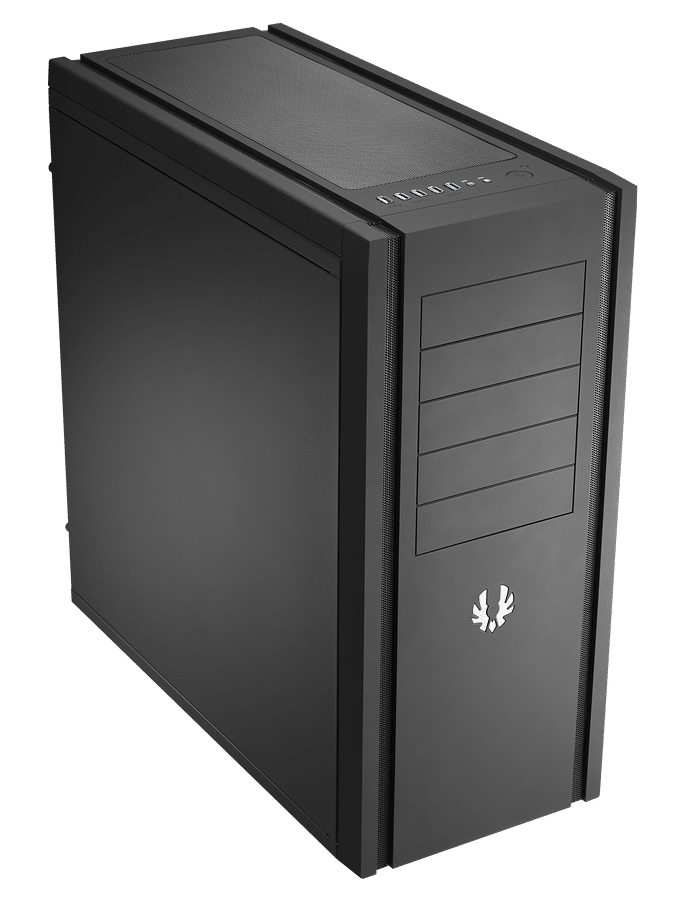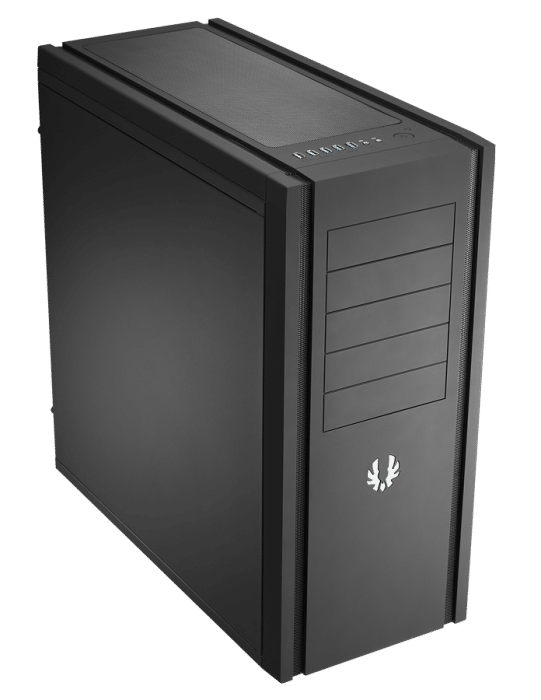 Earlier this year, BitFenix introduced the Shinobi XL case. A full-tower version of last year's Shinobi case, the Shinobi XL has a number of features making it a great choice for a gaming system. The most important feature we found was the ability of this case to fit a stunning number of fans. With a sleek appearance, the BitFenix Shinobi XL looks like a great case. Let's see if it can deliver an experience worthy of its $160 price tag.
Features and Specifications
We've taken our battle-proven Shinobi design and expanded it, creating a roomy, feature-packed full tower enclosure that will not only turn heads, but take them clean off. The larger size enables you to outfit your Shinobi XL with the latest fear-inducing hardware, including XL-ATX motherboards and the longest graphics cards. Shinobi XL can accommodate up to two 360mm radiators, making it ideal for water cooling enthusiasts. Four SuperSpeed USB 3.0 ports and the all-new BitFenix SuperCharge™ port keep your peripherals and mobile devices ready for battle, while the BitFenix FlexCage™ hard disk rack adds to the Shinobi XL's nimbleness. With three included Spectre™ fans, tool-free drive locking, filtered intakes and signature BitFenix SofTouch™ Surface Treatment, Shinobi XL is the chassis you need when vengeance is not enough.
Classic BitFenix Shinobi Styling
The lineage is undeniable – Shinobi XL comes with same ventilated mesh fan vents and brushed aluminum logo of the original Shinobi for a clean modern look. The understated yet bold BitFenix design shines through with Shinobi XL, offering a bold chassis that shows you mean business.
Superior Water Cooling Support
The stealthiest warriors need to have ice running through their veins. Designed with water cooling in mind, Shinobi XL delivers the flexibility to outfit it with a large variety of watercooling setups. It supports a triple radiator on top, a triple radiator in front, or a dual radiator on the bottom out of the box, making it an ideal chassis for the watercooling enthusiast.
XL-ATX Compatibility
The bigger they are, the harder they hit. Sporting plenty of room and nine PCI slots, Shinobi XL accommodates even XL-ATX motherboards with ease – perfect for building a monster rig that obliterates anything in its path.
BitFenix SuperCharge™ Port
Quickness is the key to survival, which is why Shinobi XL comes with a BitFenix SuperCharge™ Port. This latest innovation from the BitFenix Labs supplies up to 2.5A of current for charging your mobile devices, including phones, portable consoles, and even tablets – up to 5 times that of USB 2.0. With BitFenix SuperCharge, your mobile gear is always charged and ready.
Four SuperSpeed USB 3.0 Ports
Pioneered on the BitFenix Raider, Shinobi XL also comes with four SuperSpeed USB 3.0 ports, delivering blazing fast file transfers and plenty of connectivity for your SuperSpeed devices. And if your motherboard doesn't have two internal USB 3.0 headers, these ports can also be used as USB 2.0 with the included 9-pin headers.
BitFenix FlexCage™ Hard Disk Rack
Shinobi XL is equipped with the new BitFenix FlexCage™. This hard disk rack can be rotated for a parallel hard disk configuration, or removed entirely to make room for water cooling equipment. Whether you're looking for increased airflow or space for extreme liquid cooling, Shinobi XL adapts.
BitFenix Spectre™ Cooling
Shinobi XL comes loaded with three BitFenix Spectre™ fans. Two 230mm Spectres adorn the top and front, and a 120mm Spectre provides exhaust in the back. With Shinobi XL, you get premium cooling right out of the box.
BitFenix SofTouch™ Surface Treatment
Shinobi XL also comes coated with signature BitFenix SofTouch™ Surface Treatment, which lends a premium matte finish and a luxurious soft feel. Resistant to fingerprints and scratches, SofTouch™ keeps your Shinobi XL looking great.
Hassle-Free Installation
Rubber grommeted cable holes and over 3cm of space behind the motherboard tray offer superb cable management, while the tool-free drive locking mechanisms help you get your rig up and running quickly. Add to that dust filtered air intakes, a 5.25″ drive bay adapter for additional hard disks or card readers, and a large CPU cooler cutout, and Shinobi XL could be the easiest, most pain-free build you've ever experienced.
Specifications
| | |
| --- | --- |
| Materials | Steel, Plastic |
| Color (Int/Ext) | Black/Black |
| Dimensions (HxWxD) | 570 x 245 x 557mm (ATX Full Tower) |
| Motherboard Sizes | Mini-ITX, mATX, ATX, XL-ATX |
| 5.25" Drive Bays | x 5 |
| 3.5" Drive Bays | x 7 |
| 2.5" Drive Bays | x 8 (using 3.5″ drive bays and 5.25″ adapter) |
| Cooling Front | 1 x 230mm (included), or 3 x 120mm (optional) |
| Cooling Rear | 1 x 120mm (included), or 1 x 140mm (optional) |
| Cooling Top | 2 x 230mm (x 1 included), or 3 x 120mm (optional) |
| Cooling Bottom | 2 x 120mm (optional) |
| PCI Slots | 9 |
| I/O | 1 x SuperCharge™, 4 x USB 3.0, HD Audio |
| Power Supply | PS2 ATX (bottom, multi direction) |
| Extras | Superior watercooling support, FlexCage™, SofTouch™ Surface Treatment, filtered intakes, tool-free drive locking |
| Maximum CPU Cooler Height | 181.1mm |
| Maximum Expansion Card Length | 334mm (with HDD cage) / 487mm (with HDD cage removed) |
| Maximum MB Tray Clearance (rear) | 32.5mm |
A Closer Look at the BitFenix Shinobi XL
The BitFenix Shinobi XL is large, and it came in a large and rather unremarkable cardboard box. It was well protected inside with large styrofoam pads, though we did notice a scratch on the window. The case comes with several accessories we'll show later. The front of the case has a black matte finish and a rather strange, almost fabric-like texture to it (this is the SofTouch technology mentioned in the Features).
The sheer front panel of the case has a stylish and smooth appearance and it makes the case look very sleek. However, this leaves only two small strips on either side of the front panel for ventilation. We found this to be a bit confusing, especially as BitFenix left room for up to three 120mm fans on the front panel. With room for this many fans, logic would dictate that the front panel mesh should be bigger. However, the case does have plenty of other ventilation options too. It comes built-in with two 230mm fans (one on top and one on the front), and one 120mm on the back. The entire top of the case has a mesh to provide for ventilation, and the space under that mesh can fit a plethora of fans (we'll take a look at this later). The top also has four USB 3.0 ports, a SuperCharge port, the audio ports, and the Power and Reset buttons. We were particularly pleased that the case had all USB 3.0 ports on the front, as this speeds up transfers considerably when using USB 3.0 flash drives. We were a bit intrigued by the SuperCharge port, which claims to deliver a whopping 2.5 A of current to quickly charge any device. However, when we tried it with our iPod, the port would not charge.
This case has a number of interesting points. We can see clearly the four holes drilled out for liquid cooling tubes in the back of the case. The standard 120mm fan in the rear next to the I/O area is also present. Underneath the PSU mounting area in the back, we can clearly see a little tray on the bottom. This is actually the PSU fan filter, a removable fan filter that simply slides out for cleaning. This is excellent as we have seen many cases without fan filters, and the resulting mess of dust can be horrendous. The left side of the case has a large plastic window through which the interior can be seen.
This case really does have an amazing number of spaces for fans, and the configurations can be rotated so the case is very versatile. At the top, we can see room for two 230mm fans (one is included). Alternatively, users can remove the pre-installed 230mm fan and fill the top with three 120mm fans. These fans can, of course, be arranged in any configuration of exhaust and intake. To the left of the top 230mm fan is the rear 120mm fan. At the bottom, we can see the inside of the front panel. The inside has a hard drive cage, which we removed in the second picture. The cage is study and well secured, but the trays inside are a bit flimsy, and fall out of the cage easily. Behind the cage is the second 230mm fan provided by BitFenix. For those of you who want to change things up a bit, you can remove the front 230mm and put three 120mm fans in its place. In addition, behind the front 230mm fans is room for two 120mm fans that can suck air in (or blow it out) of the bottom of the case. Clearly, despite the front panel having little mesh space for airflow, the rest of the case is well designed, with extreme versatility when it comes to fan configurations.
We also see in these pictures the cables for the front headers of the case. One thing we liked is that the USB 3.0 headers are also USB 2.0 compatible, so in the event your motherboard only has one USB 3.0 header, the other two USB 3.0 ports will not go totally to waste.
BitFenix also provided more fan filters than we have ever seen included. The case has fan filters included for the front 230mm, the two bottom 120mm, and the PSU fans. We've included a shot of the front 230mm fan filter above, as well as a shot of the front with the filter removed. This definitely shows forethought on BitFenix's part, as fan filters are an important part of keeping a computer clean. We can also see on the front that there are holes spread throughout the inside of the front panel. These are for users (like us) who wish to remove the 230mm fan from the front and affix 3x 120mm fans instead.
Here we have another shot with the top of the case removed, as well as a shot of the case's underside, showing the fan filters. Note that to install a second 230mm fan on the top as we did, you have to actually unscrew the first fan, screw it it into the second slot, and screw in the other 230mm fan where the first used to be. We tried to get the second 230mm fan directly into the second slot without removing the first, but the 5.25″ drive bay and the thickness of the 230mm fans makes this impossible.
Here we can see the interior of the case. The inside is very roomy, and has more than enough space to work with. This not only allows comfortable cable management and better airflow, it also makes working with hardware inside the case easier, as there is ample room to maneuver. This is something we noticed with our old mid-tower case: though the case had decent cable management, it didn't have enough room for us to comfortably tinker around with hardware inside the case. The Shinobi XL has spaces that allow cables to be routed through the rear of the case, and has lots of little places on the back side where we can tie down errant cables. The case also comes with the standard spate of accessories, including an adapter that allows 3.5″ and 2.5″ drives to be placed in the 5.25″ bay (note that this will obstruct installation of a fan in that spot). Other accessories include the motherboard speaker, zip ties, cable hooks, a manual (not shown), and screws.
Installation
Installing our hardware in this case was very easy. We started by rearranging the fans. We put both 230mm fans at the top of the case as exhaust fans, since hot air rises vertically. We also put three 120mm fans in the front as intake fans, and a 120mm at the bottom as an intake fan. We flipped the rear 120mm around so it was an intake fan as well, ensuring plenty of air flow into the case. Not all of these fans are included—we cannibalized a few from an old case we had laying around for better airflow. Doubtless there are other configurations that may work for you, but this is the one we found most convenient.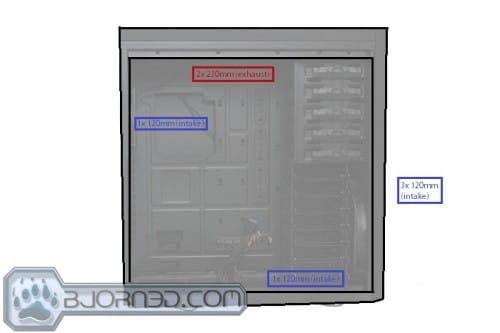 Next we added the  power supply and got all the power cables straightened out through the rear of the case. After that, we added the drives—we only kept two trays in the drive cage as we only had two storage drives. Finally, we added in the main hardware: the motherboard, CPU, GPU, and memory. All in all, putting our hardware into the BitFenix Shinobi XL was a pretty quick and painless experience. One thing we love about this case is that the side panels swing closed (like a hinge), rather than slide closed, as we have seen on some other cases. This makes it much easier to secure them.
Temperature Testing
Test Setup
To test the BitFenix Shinobi XL Window, we conducted full load testing of both the CPU and the GPU to ensure our system was stressed to the max, and let the system run for about 5 minutes, then recorded load temperatures. We had all our fans at the maximum speed. To record idle temps, we let the system sit on the desktop for 15 minutes, then recorded temperatures.
| | |
| --- | --- |
|   | Test Rig |
| Case | BitFenix Shinobi XL Window |
| CPU | Intel Core i5-2500K @ 4.2GHz |
| Motherboards | ASUS P8P67 Deluxe Motherboard |
| Ram | 8GB (4x2GB) DDR3 2133MHz 9-9-9-27 |
| CPU Cooler | Arctic Freezer i30 CPU Cooler |
| Hard Drives | WD Caviar Black 1TB HDD |
| SSD | 64 GB OCZ Synapse Cache SATA III 6.0Gb/s |
| Optical | ASUS DVD Burner |
| GPU | Nvidia GeForce GTX 560 Ti |
| PSU | Sapphire PURE 1250W Modular PSU |
| OS | Microsoft Windows 7 Ultimate (64-Bit Edition) |
Results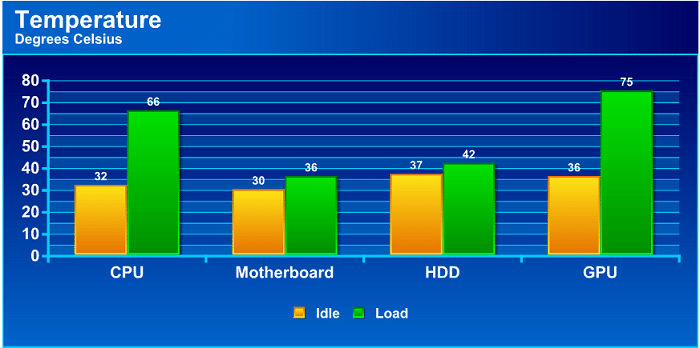 As we can see, the system performed admirably. Noticeably cooler were the CPU and GPU temperatures. In our old mid-tower case, the CPU averaged about 78-85 degrees on load and the GPU averaged about 85-90 degrees on load. The increased number of fans and greater space in the case allows for greater airflow and definitely brings down temperatures.
Conclusion
The BitFenix Shinobi XL Window truly is a full-tower case that delivers. We were a bit skeptical of the case at first, especially after seeing the lack of meshing on the front panel. However, the abundant airflow in the other parts of the case more than makes up for it. With the room to fit up to ten 120mm fans, this case is sure to remain well-ventilated. In addition, its steel and plastic construction is sturdy and will not fail. However, this makes the case very heavy once a system is installed inside.
The case's versatility with airflow is also underscored by the fact that it can hold different sizes of fans; its ability to fit both 120mm and 230mm fans is a great advantage for those who want good airflow for their components. Its four USB 3.0 ports are a welcome sight, and the general build quality of the case is excellent. There are a few points of concern (namely that the SuperCharge port did not work for some devices), but they are not the end-all. This case is clearly strong, and though its price tag of $160 is not cheap, we would say the investment is worth it.
OUR VERDICT: BitFenix Shinobi XL Window
| | |
| --- | --- |
| Performance | 9 |
| Value | 8 |
| Quality | 9 |
| Features | 8.5 |
| Innovation | 9.5 |

We are using a new addition to our scoring system to provide additional feedback beyond a flat score. Please note that the final score is not an aggregate average of the new rating system.

Pros
Cons

Great performance
Extraordinary versatility with airflow
High quality components and sturdy construction
USB 3.0 on front panel
Can fit a large number of fans
Fan filters included
Side panels swing closed

Must remove top 230mm fan to install second fan
SuperCharge port does not work with some devices
Front panel has a strange texture
Summary: This case is ideal for gamers and normal users alike. It has a plethora of fans, ample space, and a great build quality. For its extraordinary versatility and great airflow, the BitFenix Shinobi XL earns the Bjorn3D Golden Bear Award.