ASUS has pushed many new models onto the playing field with Z77, and with the P8Z77-V Premium, we now see the first solution Intel-certified for Thunderbolt, along with many other technical and feature advances that push ASUS even further in the forefront for the Z77 offerings.
Introduction – ASUS P8Z77-V Premium
The Z77 chipset has bee

n opening many new doors for computer builders. We have already looked at a few Z77 boards, and the prevailing trend has been that the CPU is the limitation, and the performance from board to board (regardless of manufacturer) is extremely similar. This is great for budget builders, as this means that when running air or water the performance will be roughly the same with the same chip.  With that we have proven this to be very accurate as the boards we have tested from top to bottom scale ever so slightly with minute efficiency differences but overall performance difference is miniscule and within the margin for error. However, this board is a little different when it comes to performance. The P8Z77-V Premium is yet another step forward for the ASUS engineering team, as the board is not only the first to carry Intel integrated Thunderbolt, but also a few other cool features as well.
ASUS does not release a "Premium" model board for every chipset; instead, they reserve the Premium branding for when thy have something special on their hands.  The Premium models always have the best of the best ASUS can offer on a PCB and the P8Z77-V Premium is no different.
The P8Z77-V Premium features numerous cool additions such as:
Thunderbolt port integrated
20 Phase VRM w/ Smart DIGI + power control
USB 3.0 boost with blazing fast UASP support
Lucid Virtu MVP
ASUS SSD Caching II
Wi-Fi GO
Bluetooth
Integrated mSATA port with included 32GB mSATA SSD (Upgradable)
The Z77 boards no longer scale to huge performance improvements when overclocking as they all overclock similarly and are limited by the CPU for the vast majority of users. This has left motherboard manufacturers in a features race as each manufacturer tries to offer more and better features or functionality improvements to coerce you into buying a board with their name on it.  If this board carries even half of the capability we have seen from previous ASUS boards we see no reason why you should not consider it.
Because of this trend, we will be looking at features in detail in this review. Let's take a dive into the top line premium offering and see what makes this board shine above the rest and worth the whopping price of $439.99 on Newegg.

Key Features
Thunderbolt
ASUS with the P8Z77-V Premium is the first to offer onboard Thunderbolt support which is fully certified by Intel.  This may not seem like a very big deal, but this tells us that ASUS works very closely with Intel to get such a jump ahead on this offering.  If ASUS works with Intel so closely for a add on component such as this it can only mean good things and great compatibility for the board as well as for the end user.
We will go deeper into the Thunderbolt technology a little later in the review but we can confirm it uses a  full 10Gbps interconnect to ensure no bandwidth issues or slowdowns will be seen from the Thunderbolt interface.  The Thunderbolt does carry both a data stream alongside a DisplayPort stream to ensure seamless integration of up to 6 devices in a daisy chain configuration along with a DisplayPort monitor at the end of the line all from a single connection on the board.
APS (ASUS Premium Service)
ASUS Previously offered the APS service on ROG boards, but starting with the X79 series they have extended the service to cover much more of their full board models in the standard channel line. This is nice to see as the APS service allows an advanced replacement or a board to be shipped to the user which in turn means less down time for the end user. More on this service can be seen on the ASUS website HERE
Windows 8 Ready
ASUS has been hard at work prepping for Windows 8 the new revolutionary OS from Microsoft. With this comes a new bios CAP file which is said to improve features and fucntionality integration for better compatibility with the new OS. Also other cool features are faster boot up times and optimized settings for a smooother Windows 8 working environment and the OS is not even officially on sale yet. Im sure the features available for this upgrade will scale larger as the OS matures and becomes available so keep a look at the asus site for updates found HERE
Wi-Fi GO!
ASUS offers the Wi-Fi GO feature as a very interesting feature which I could see being widely underused and mis understood as mist will simply not understand the technology or the capabilities of the implementation. Just some of the usages are as follows:
Wi-Fi hotspot – This allows for the unit to be used as a router or access point sort of device for other Wi-Fi capable devices.
DLNA media server function – This allows for media streaming to your household network for effortless media playback.
Remote desktop – Users can take control of the desktop remotely via a tablet or smartphone.
File Transfer – easy and convenient file transfers wirelessly from a mobile device through your network.
This is just some of the ways the onboard Wi-Fi GO feature can be used but we're sure that users will discover many ways to utilize it although most will likely just use it for wireless network access. But just be aware there are many capabilities to this system if you are willing to explore them.
BIOS Flashback
ASUS offers the BIOS Flashback utility, which is actually a multi-facet tool and has many capabilities which some may not be aware of. We have had many times where a motherboard did not support a CPU, and we had to frantically search for a supported CPU just to flash the BIOS (ex. Gulftown CPU support on X58). ASUS has eliminated the worry of these kinds of issues by allowing the BIOS flashback procedure which does not require a CPU or memory to flash the BIOS. All that is needed in order to flash the BIOS is to have the desired firmware ROM file on a USB thumb drive and insert that into the BIOS Flashback USB port. Subsequently depressing the BIOS Flashback button for 5 seconds will start a flashing LED which indicates the firmware is being updated and once the update is complete the flashing will stop. It really is that easy and ensures no matter the condition the firmware can be flashed even if the newest CPU is not supported without the previously mentioned hunt for a compatible CPU.
This may seem like an odd feature but many may buy the newest and greatest CPU on the market while the board could have been shipped with the older firmware which in most cases would leave the user stuck without an option.  As for our usage we have found this useful in quite a few experiences where running a LN2 cooled system not necessarily in the most stable conditions and a BIOS had gotten corrupt, but with the BIOS flashback it was remedied as quickly as we could copy the Rom file from our laptop to the flash drive and get it flashing.
USB 3.0 Boost
Turbo USB is a new feature we have seen from ASUS as of recent and it allows for a speed increase from older USB 2.0 thumb drives or storage devices when the Turbo mode is enabled on that device through the ASUS AI Suite II software.
One thing that not many have publicized is the fact that this boost also supports a protocol names UASP which supports a much higher transmission rate via the ASMedia controller. ASUS included with the motherboard a Thermaltake BlacX 5G USB 3.0 capable external docking station along with a Corsair Force GT SSD to allow for testing of this feature. We went ahead and tested multiple different drives and combinations to see how the functions actually plays out in real world scenarios.
Here we see standard performance from the ASMedia controller under its "Normal mode" which is rather good and plenty fast for an external storage device.
Here we see with the UASP mode enabled, that the speed is increased massively by over 100MB/s throughput which put some serious speed into the equation.
Also with Z77 one of the features is the new inclusion of Intel native PCH USB 3.0 ports. With this ASUS has found a way to enable faster speed via the AISuite USB boost control for these ports as well. The Intel USB 3.0 does not support UASP protocol so only Turbo mode can be enabled as of this time.
Here we have the stock results for the Intel controller. So far, the results are really good, so we definitely see the Intel inclusion of native USB 3.0 support as being an advantage.
Here we have the result with turbo mode enabled which nets some very extreme results!  This is very impressive and should be noted that with UASP support the results may improve even further, but we will have to wait and see how that goes
Keep in mind that this is not just for external docks, as any USB storage device can possibly be sped up via the USB 3.0 boost. Even USB2.0 thumb drives may grab a small advantage from being plugged into the USB3.0 port and having the boost enabled.
For more information please see the ASUS USB 3.0 Boost landing page here
Included mSATA SSD for Smart response/Rapid Start functions
ASUS has went above and beyond when it comes to the mSATA department.  mSATA ports they have offered before amongst many manufacturers but ASUS decided with the Premium board they wanted to make sure the user had something special so in the port comes a 32GB SSD preinstalled which means right out of the box you can have a cached drive ready to run.  This may seem like small peanuts to some but in reality a 32GB SSD can make quite a large difference in performance when coupled with Intel's Smart Response feature.  Also one not so mentioned feature comes as the Rapid start technology which caches the Hibernation data on the quick access SSD to ensure when waking from a hibernation state it can be done quickly and seamlessly with no intervention from the user.  Another cool feature of the integrated mSATA port is that it can be upgraded with any size mSATA SSD up to 240GB+.  This means that even though the pre-installed drive is primarily a cache drive, a sufficiently large replacement could serve as a primary system drive.
ASUS SSD Caching II
ASUS as offered its SSD caching option which we have covered on many occurences now but now they have expanded it for the SSD Caching II feature.  The previous gen ASUS SSD Caching allowed for a single SSD to be cached to a connected drive with no capacity limit for the attached SSD.  Now ASUS has pushed the limits further by having 4 total ports on the SSD caching controller to allow a number of combinations including caching of a single drive with up to 3 attached SSD's for insane levels of performance or even dual HDD's cached by SSD's.  This allows for a wide range of options and scalability to match multiple applications or usages.  With the array configured as triple SSD's caching a single drive you can expect speeds of up to 700MB/s+ which means you can configure a large capacity hard drive with a decent sized high speed caching volume to give SSD speed with the massive capacity of the platter drive.  In comparison to the Intel SRT solution, this has many advantages:
– No size limit on the SSD's for the ASUS solution (Intel solution limit is 64GB Cache volume)
-ASUS solution allows multiple SSD to cache a single drive (Intel solution allows single SSD caching a single platter drive)
-ASUS solution is scalable to multiple cached arrays or a single super fast cached array (Intel solution allows a 1 to 1 ssd/hdd cached array)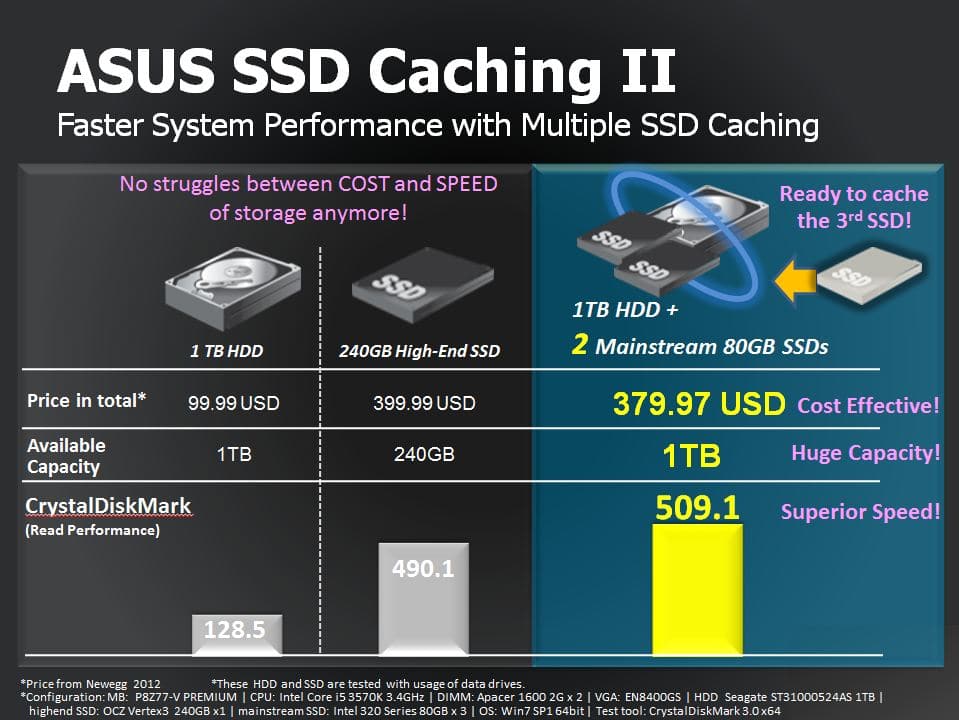 These are not the only advantages but rather some of the key ones we saw with the ASUS SSD Caching II solution.
 Here is an overview of settings up a 1 to 1 SSD cache: as you can see it is very simple single click to initialize the drives for a caching operation. Also note above we show triple SSD's ready to cache a single platter drive for the ultimate performance configuration.
Lucidlogix Virtu MVP
ASUS, like all other manufacturers offers the Lucidlogix Virtu MVP support for their Z77 line. The Virtu MVP technology is a very interesting improvement over the previous Lucid Virtu we had used before. This version of Virtu MVP does all of the same functions that the original could do but is better optimized, and now adds some new 3D enhancement features to the mix that make for a very interesting possible implementation. Virtu MVP offers HyperFormance which allows for rendering to be offloaded to the iGPU, and in turn allows the discrete GPU to do the grunt work it was designed for, while the iGPU does the light frame renders to ensure better frame rate. The frames are pre-rendered in place and any duplicate frames are not rendered by the discrete GPU. This keeps the discrete GPU processing only frames which are new or different from the previous.
Also included in the MVP package is Virtual Vsync which allows for the tear-free quality of Vsync display without being limited to the display refresh rate; this will ultimately allow for smoother performance and playback. This is accomplished by the same method of pre-rendering frames and dropping partially rendered frames before they get to the discrete GPU to avoid from partial redraws which will cause the undesired tearing affect we have seen before.
Further in this review we will do some game testing to find what exactly we get from Virtu and whether the performance is worth the hype.
Fan Xpert 2
ASUS has always had Fan Xpert technology as part of its AISuite utility chest but its always been used for manual adjustments and profiling of the system fans.
The Fan Xpert 2 now comes with a automatic profiling system which we will attempt to demonstrate in the following.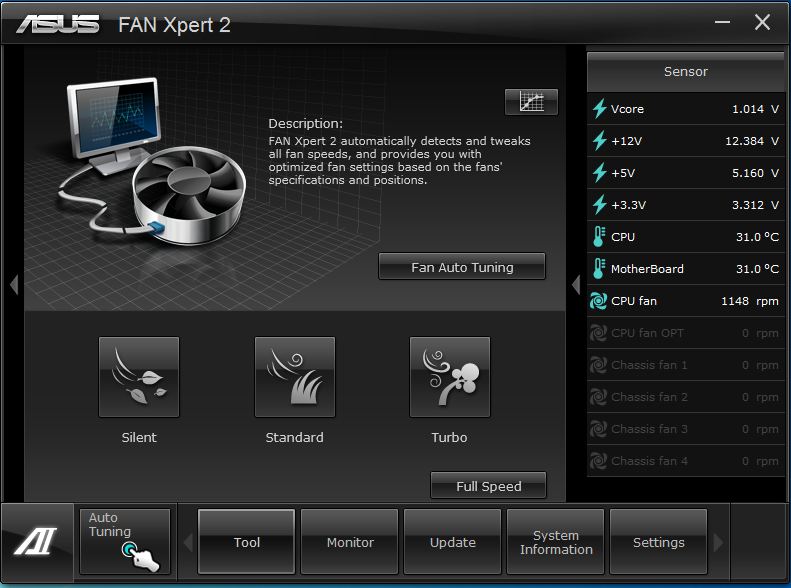 Here is the main screen where you can select between custom fan profiles such as Silent which spins down all fans except the CPU cooling fan. then standard which is standard throttled fans depending upon temperatures, and lastly we have the Turbo mode which throttles every fan up for maximum cooling when needed.
Pressing the "Fan Auto Tuning" button will start the motherboards intelligent learning process which we see below.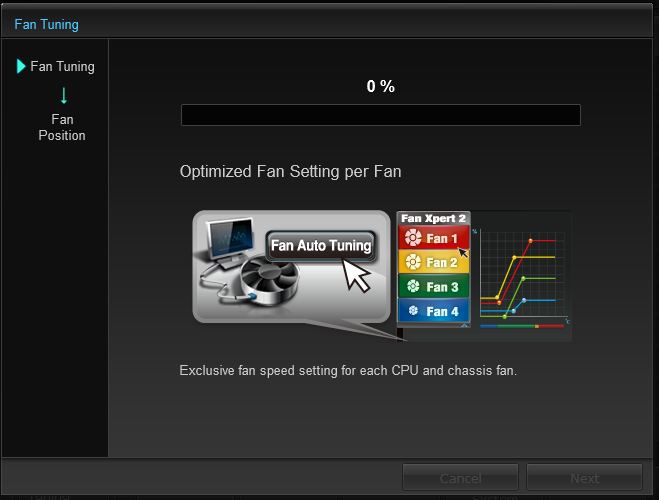 Here we see as the fans are proceeding through the automatic tune process. The fans are ramped to maximum then gradually ramped down to stopping at which point the motherboard knows where the stop and start point for every fan connected to the motherboard would be and this helps the motherboard better tune the system for an optimum airflow/noise ratio.
After the analysis is complete the fan Xpert 2 screen moves to the next and final step which is where you select where each detected fan is on the chassis. if you are not sure you can always click the "Search" button to the right and the system will spin all fans down and it will spin the selected fan only up to maximum speed so that you can identify its position and even name it.  This as well will help with the cooling setup and how the system throttles each fan independently.