The CyberPower PC Gamer Xtreme 2000 SE is a very fairly priced and professionally built gaming desktop PC. It offers the latest technologies, including the latest microprocessor from Intel—the Core i5-3570K 3.4 GHz overclocked at 4.5 GHz—along with AMD's Radeon HD 7850 Graphics card. With the combination of the latest Z77 chipset and Lucidlogix's Virtu MVP technology, this system can combine the performance of the CPU and the GPU to create a smoother gaming experience. The Gamer Xtreme comes with many other features which we'll take a look in this review.
Introduction
There are many gamers out there that understand the basics of computer hardware, and know which hardware they need for their gaming system. However, many do not have the time (or the knowledge) to assemble their own systems, and would rather purchase a pre-built system. CyberPower PC is a company oriented at building professional gaming desktop and laptop PCs. Whereas other companies like Dell, HP, and Compaq mostly build mainstream systems for the average user, CyberPower PC specializes in gaming systems. Today we are taking a look at the CyberPower PC Gamer Xtreme 2000 SE gaming desktop PC. This system is CyberPower PC's latest promotional system aimed for the average gamer at a very reasonable price of $1199.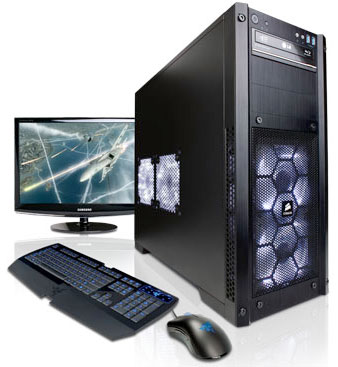 Those moving from cheaper computers must understand that gaming systems tend to be slightly on the expensive side due to more powerful hardware, but the extra money spent on the computer does show its performance increase and also increase in gaming quality. This system comes with Intel's latest microprocessor (Core i5-3750K), running on the Ivy Bridge microarchitecture, which is overclocked to 4.5 GHz for blazing fast performance. This processor comes with integrated graphics, so the system can be used without a dedicated video card. However, gameplay at higher intensities generally requires a dedicated video card. Motherboards with the new Z77 chipset (such as the one used on the Gamer Xtreme 2000 SE) come with Lucidlogix's Virtu MVP technology, which allows gamers to use both the efficiency of the Core i5-3750K's integrated graphics and the performance of a dedicated graphics card. This is exactly what we will be testing today with the Gamer Xtreme 2000 SE. The system also comes equipped with a 2GB AMD Radeon HD 7850 DX11 graphics card and 8GB of DDR3 1600MHz memory. While the system could be built for about $100 less if you were to build it yourself, the additional money spent on a CyberPower PC is well worth the professional job they will do building the system, setting it up, and the 3 year warranty you will be getting along with lifetime technical support. So without further ado, let's dive into a detailed overview of what hardware this system actually comes with, the build quality, and the performance we'll be getting out of this system in a gaming and working environment.
Features & Specifications
CyberPower PC Gamer Xtreme 2000 SE

Case
Corsair Carbide 300R Mid-Tower Gaming Case w/ front USB 3.0
CPU
Intel Core i5-3570K 3.40 GHz 6MB Intel Smart Cache LGA1155
Motherboards
ASUS P8Z77-V LK Intel Z77 Chipset DDR3 ATX Motherboard w/ ISRT, Lucid Virtu MVP
RAM

Corsair Vengeance 8GB DDR3 / 1600 MHz Dual Channel Memory
CPU Cooler
Asetek 510LC 120mm Water Cooler
Hard Drives
1TB SATA III 6.0Gb/s 32MB Cache 7200RPM HDD
SSD
60GB Corsair Force Series SATA III 6.0Gb/s
Optical
LG UH12LS29 12x Blu-Ray & DVD-RW Combo Drive
GPU
AMD Radeon HD 7850 2GB 16x PCI-E 3.0 Video Card
PSU
Corsair CMPSU-750TX V2 80 Plus Power Supply
OS
Microsoft Windows 7 Home Premium (64-Bit Edition)
Lucidlogix Virtu MVP
Lucidlogix Virtu MVP is supported on all Z77 motherboards. This version of Virtu MVP does all of the same functions that the original could do but is better optimized, and now adds some new 3D enhancement features to the mix that make for a very interesting possible implementation. Virtu MVP offers HyperFormance which allows for rendering to be offloaded to the iGPU, and in turn allows the discrete GPU to do the grunt work it was designed for, while the iGPU does the light frame renders to ensure better frame rate. The frames are pre-rendered in place and any duplicate frames are not rendered by the discrete GPU. This keeps the discrete GPU processing only frames which are new or different from the previous.
Also included in the MVP package is Virtual Vsync which allows for the tear-free quality of Vsync display without being limited to the display refresh rate; this will ultimately allow for smoother performance and playback. This is accomplished by the same method of pre-rendering frames and dropping partially rendered frames before they get to the discrete GPU to avoid from partial redraws which will cause the undesired tearing affect we have seen before.
Further in this review we will do some game testing to find what exactly we get from Virtu and whether the performance is worth the hype.
Packaging and Accessories
Click Images to Enlarge
CyberPower makes sure your PC arrives in one piece. If anything does manages to break in the package, which is possible even with the best packaging method, they will replace the system for you. The following pictures just show how much time and effort CyberPower puts into packaging a single desktop system. The first picture shows the actual shipping box which will include the box for the chassis your system will be built in. When the package is opened up, you will have two layers of 1 inch-thick foam on the bottom of the package, with two thicker (and harder) foam fillers on the side along with the motherboard box which includes all the accessories, driver CDs, etc. for your system.
Click Images to Enlarge
Once the chassis box is lifted out of the shipping box, there are still plenty of other shipping materials protecting the system from damage during shipment. Inside the box, the system comes in its original chassis Styrofoam padding, which prevents the system from shaking during shipment and potentially damaging any parts of the case. We'll have more on how the actual hardware inside the system is protected from shipping damage, but before we get into that, let's just look over the accessories that come with the Gamer Xtreme 2000 SE gaming system.
Click Images to Enlarge
Inside the shipping box, you will receive the original motherboard box installed in the CyberPower Desktop PC. This motherboard box contains all your accessories to your case, power supply, video card(s), motherboard, and any other hardware you might have put in your specific gaming system. The first set of items we found were the instruction manuals and driver CD for the AMD HD7850 graphics card installed in this system.
Click Images to Enlarge
Going from the first image on the top from left to right, we find a power cable for the Corsair CMPSU-750TX V2 Power Supply, a Hard Drive or SSD cage for easy storage installation inside the Corsair Carbide Series 300R chassis, a CrossFire bridge for the AMD Radeon HD 7850 graphics card if you decide to add an additional video card for a CrossFire configuration, three display adapters/converters, including a Mini-DP to HDMI converter, an HDMI to DVI converter and a DVI to VGA adapter. There are also additional screws included with the Corsair chassis for additional hardware. The picture below the main accessories shows the driver CDs, and a Windows 7 Home Premium SP1 Genuine Installation disk. There is an additional sticker included which can be put on your chassis.
Click Images to Enlarge
Once the actual system is taken out of its box, there is a warning paper attached to the case explaining that there is additional shipping material inside the case that needs to be removed before the system is turned on. This shipping material is made out of anti-static material to ensure your hardware stays in good condition even after shipping. The neat feature about this shipping material is that it automatically expands inside the case and stiffens to make sure the hardware components stays in their correct position even when the package is thrown around. We've heard of many incidents in the past when this air pack was not included inside a gaming system, and certain hardware like the CPU cooler or video cards would get damaged during shipping. This air pack protects the hardware from moving around.
Closer Look at the Computer System
Click Images to Enlarge
The Gamer Xtreme 2000 SE comes in many different forms, but this particular system is built inside the Corsair Carbide Series 300R mid-tower chassis. In a nutshell, this particular chassis comes with all the main key features all new up to date desktop PCs should have, including USB 3.0 ports, a headphone and microphone jack, plenty of ventilation holes and areas to mount fans, and lots of customizability for a water cooling solution, SSDs, and easy cable management for all the cables inside the system. This mid-tower chassis is good enough to handle even really high-end systems, but since mid-tower cases are mainly best suited for mid-range to high-end systems, this is a perfect fit for the Gamer Xtreme 2000 SE gaming system. Let's take a closer look at why. 
Click Images to Enlarge
As we can tell the Corsair Carbide Series 300R chassis has two 120mm side ventilation holes. CyberPower went ahead and included two side fans with this build to make sure the video card and other components like the motherboard and CPU stay cool inside the system. Just by looking at the back of the system, we can see it's a compact chassis. However, on the bright side, there is still plenty of space for upgrades, as the system can handle up to a 3-way SLI or CrossFireX configuration. Other than that, the system's appearance is not too outlandish, which is perfectly fine with us, because we actually prefer a simpler look instead of some crazy design (this is purely personal preference).
Click Images to Enlarge
Here we have a few more angles of the chassis. Here we find another 120mm fan installed at the back of the system. The back also has a few pre-drilled holes for water cooling, but as far as we can tell, the holes still need to be punched out to actually take advantage of outside water cooling. Around the expansion slots there are additional ventilation holes for the video cards, and the expansion slot covers are also designed to have ventilation holes. The power supply gets installed on the bottom, which is a great design as the power supply's fan will only suck in cool air from under the chassis through the honeycomb holes. The bottom of the case has a filter which will prevent the power supply from getting too dusty, especially because it tends to get very dusty if your system is on the ground. Unfortunately, the side fans do not have filters, so it is a good idea to open up the system a few times throughout the year and make sure all the dust is blown out of the system. The top of the chassis is ready to hold a 240mm radiator for the CPU or other hardware; there is the possibility to also install two 120mm or 140mm fans, which are not included with this system to exhaust hot air or to blow down at the motherboard's VRM to cool the system off. We find it a better option to actually exhaust hot air from the top of the system as hot air tends to rise up.
Click Images to Enlarge
As mentioned, this system comes with two USB 3.0 ports, a headphone jack, and a microphone jack in the front of the chassis. The other side includes a power and reset switch along with a hard drive activity LED. The system is powered on when the power switch glows. Below the power and reset switch and the other ports, we can find an LG UH12LS29 12x Blu-Ray & DVD-RW Combo Drive. This is a great addition to a gaming and entertainment system. We assume that it won't be long till video games will actually be put on Blu-ray disks, as some games like Max Payne 3 are 33GB in download size through Steam, and not everyone can afford a fast enough internet connection to download that much data without an extended delay. Though for now Blu-Ray drives are an excellent choice for those that have plenty of blu-ray movies laying around and would like to watch them on a high-definition monitor. This system would have no problem playing back blu-ray videos, especially with the included CyberLink PowerDVD software. The bottom front of the chassis has yet another 120mm fan to cool down the hard drives and any other storage devices like SSDs inside your system.
Click Images to Enlarge
Now we actually get to check out what's inside the CyberPower PC Gamer Xtreme 2000 SE gaming system. The system is extremely well built, and all the cables are our out of the way. One great advantage of buying from a company like CyberPower PC is the fact that you get a professionally built gaming system. They run stress tests and set your PC up properly before they ship you any products. If anything doesn't work out the way it should, they have a 3 year limited warranty with lifetime technical support, which makes it an easy buying decision when thinking about the support and warranty you will be getting for your parts. With a professionally built system with proper cable management, like we can see in the CyberPower PC Gamer Xtreme 2000 SE system, there are no airflow restrictions inside the case, making it a great setup for overclocking and also making sure your hardware will stay properly ventilated throughout the years. This system comes with higher-RPM fans on purpose, therefore this system is slightly louder than what you will actually receive, unless you end up going with an overclocked system like this one. The side fans make a slight noise along with the fans installed on the CPU water cooling radiator. This system is overclocked to run at 4.5 GHz from the stock setting of 3.4 GHz, but if that's not a necessity, the system should be fairly quiet during operation.
Click Images to Enlarge
Laying down the PC gives us a better perspective of how the power supply is installed in the system. There is not too much to it, but now we can actually see how the ventilation holes line up with the bottom of the power supply, providing better air circulation for the power supply. The video card seems to be a reference design AMD Radeon HD 7850, which is a very nice mid-range graphics card for an average gamer. This card should have no problem playing most of the latest video games on 1920 x 1080 resolution. There are currently two 4GB memory modules installed in the memory slots, for a total of 8GB of DDR3 1600Mhz memory. There are two additional memory slots available on the motherboard, making it possible to upgrade to 16GB if you end up going with the same Corsair Vengeance 4GB memory modules. Do keep in mind though that these memory modules are tall and they are also close to the CPU socket, so an all-in-one water cooling solution, like the one installed in this system is a perfect choice. Having to install a large but powerful air cooler might be difficult due to clearance issues with the memory modules.
Click Images to Enlarge
Looking at the ASUS P8Z77-V LK motherboard, we can see that there are plenty of unused ports that could be utilized for future upgrades, including two additional SATA II ports for storage or optical drives, some USB 2.0 ports, and a fan header. We can also see that the power supply included in this system is not modular, meaning that you can't detach any unnecessary cables from the power supply if they are unused, but this should not be a problem, because CyberPower did a great job hiding all the cables behind the motherboard tray, where airflow is not necessary. We can also see that there are additional Molex, SATA and PCI-E connectors available for future upgrades. This is what makes CyberPower PCs so nice. They use aftermarket products and brand names with good reputations, instead of just using lower quality hardware that we've seen other companies sell. This also makes it very easy for future upgrades and prevents compatibility issues in the long run.
Click Images to Enlarge
Finally, installation of new hardware into the Gamer Xtreme 2000 SE is very simple. Here we can see a demonstration of the hard drive taken out of the storage cage inside the chassis. The hard drive itself is placed in its own small hot-swappable cage, which makes it easy to install any storage device, including SSDs into your case without having to mess with screws inside the case. While its hard to see, a 60GB Corsair Force SSD is installed into one of these hot-swappable cages. This SSD is used for Windows and all the main necessary applications that need a fast loading time. The 1TB Hard drive can be used as a storage device and for much larger applications, like video games. The 5.25″ optical drive bays also have a very nice quick connect and disconnect setup. The clips at the end of the bays allow the user to connect or disconnect the optical drives or any other device from the 5.25″ drive bays. Now that we have a basic overview of the hardware inside this system, let's take a look at how this system actually performs with LucidLogix's Virtu MVP technology and the new Ivy Bridge processors.
Testing & Methodology
We've expanded our testing suite considerably since the Z77 chipset release, and will continue to use the same methods for most of the motherboards and CPU's we test. In the interests of thoroughness and accurate results, we run each test at least three times, and some tests more than that. We average the total of all the tests from each benchmark then report the average here.
The OS we use is Windows 7 Pro 64bit with all patches and updates applied. We also use the latest drivers available for the motherboard and any devices attached to the computer. We do not disable background tasks or tweak the OS or system in any way. We turn off drive indexing and daily defragging. We also turn off Prefetch and Superfetch. This is not an attempt to produce bigger benchmark numbers. Drive indexing and defragging can interfere with testing and produce confusing numbers. If a test were to be run while a drive was being indexed or defragged, and then the same test was later run when these processes were off, the two results would be contradictory and erroneous. As we cannot control when defragging and indexing occur precisely enough to guarantee that they won't interfere with testing, we opt to disable the features entirely.
Prefetch tries to predict what users will load the next time they boot the machine by caching the relevant files and storing them for later use. We want to learn how the program runs without any of the files being cached, and we disable it so that each test run we do not have to clear Prefetch to get accurate numbers. Lastly we disable Superfetch. Superfetch loads often-used programs into the memory. It is one of the reasons that Windows occupies so much memory. Vista fills the memory in an attempt to predict what users will load. Having one test run with files cached, and another test run with the files un-cached would result in inaccurate numbers. Again, since we can't control its timings so precisely, it we turn it off. Because these four features can potentially interfere with benchmarking, and and are out of our control, we disable them. We do not disable anything else.
Test Rig
| | |
| --- | --- |
|   | CyberPower PC Gamer Xtreme 2000 SE |
| Case | Corsair Carbide 300R Mid-Tower Gaming Case w/ front USB 3.0 |
| CPU | Intel Core i5-3570K 3.40 GHz 6MB Intel Smart Cache LGA1155 @ 4.5 GHz Factory OC |
| Motherboards | ASUS P8Z77-V LK Intel Z77 Chipset DDR3 ATX Motherboard w/ ISRT, Lucid Virtu MVP |
| Ram | Corsair Vengeance 8GB DDR3 / 1600 MHz Dual Channel Memory |
| CPU Cooler | Asetek 510LC 120mm Water Cooler |
| Hard Drives | 1TB SATA III 6.0Gb/s 32MB Cache 7200RPM HDD |
| SSD | 60GB Corsair Force Series SATA III 6.0Gb/s |
| Optical | LG UH12LS29 12x Blu-Ray & DVD-RW Combo Drive |
| GPU | AMD Radeon HD 7850 2GB 16x PCI-E 3.0 Video Card |
| PSU | Corsair CMPSU-750TX V2 80 Plus Power Supply |
| OS | Microsoft Windows 7 Home Premium (64-Bit Edition) |
Test Suite
Game Benchmarks
Battlefield 3
Diablo 3
Max Payne 3
The Elder Scrolls V: Skyrim
Metro 2033
Batman Arkham City
Crysis 2
Just Cause 2
Lost Planet 2
H.A.W.X. 2

Synthetic Benchmarks
3DMark Vantage
3DMark 11
HD Tune Pro
Cinebench R11.5
Game Benchmarks
You can find all the game settings we have used for testing in the following gallery:
Game Settings:
The game settings can be downloaded from here: LINK
And here we have the actual results after are testing: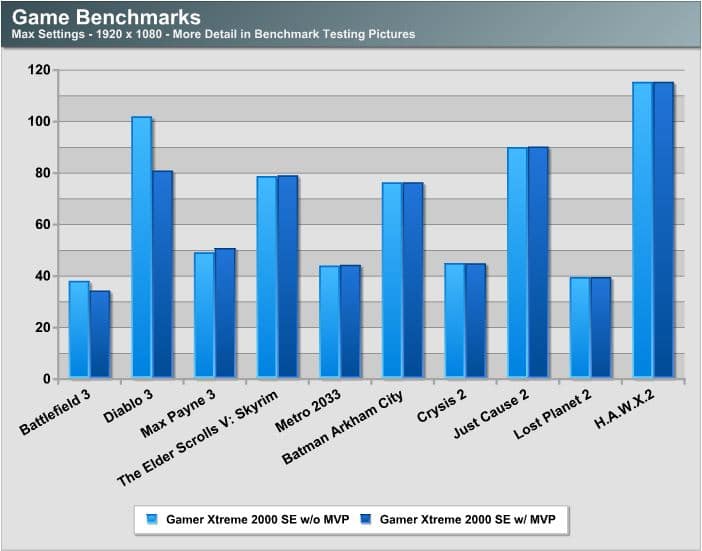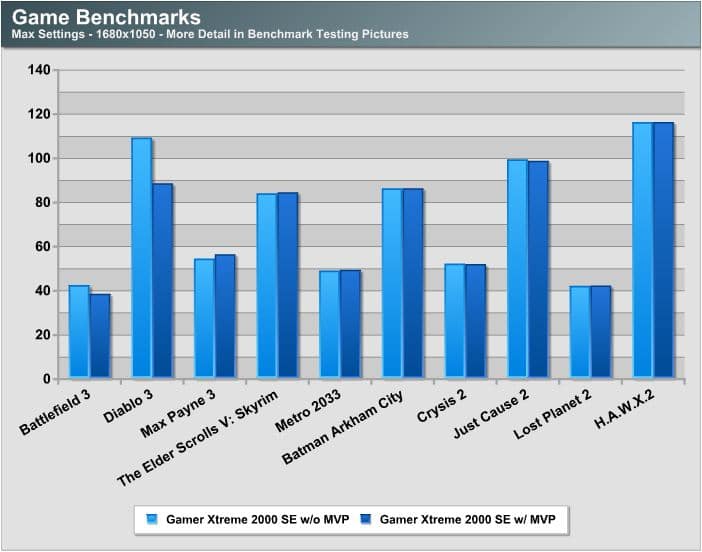 Looking at the tests we ran on some of the most played titles like Battlefield 3, Diablo 3, Max Payne 3 and Skyrim, the CyberPower Gamer Xtreme 2000 SE is capable of easily maintaining a playable frame rate of 40+ at lower resolutions, and about 38+ on 1920 x 1080 resolution. Do keep in mind that all the games in these charts have been fully maxed out, as we wanted to see the actual performance of the latest games maxed out on the Gamer Xtreme 2000 SE. While Battlefield 3 was the lowest scoring game in these tests, it is still playable at a fairly nice frame rate. All the other games should be smoother and should not cause any performance issues.
We did test LucidLogix's Virtu MVP technology and the new features like HyperFormance and Virtual VSync, however, we cannot really recommend it, unless the game is fully supported and automatically set to take advantage of the feature. If not, the tests we've done about manually setting up HyperFormance in games (ex: Diablo 3), would only result in a performance loss, instead of a performance increase. Max Payne 3 did show a performance increase on the other hand.
Synthetic Benchmarks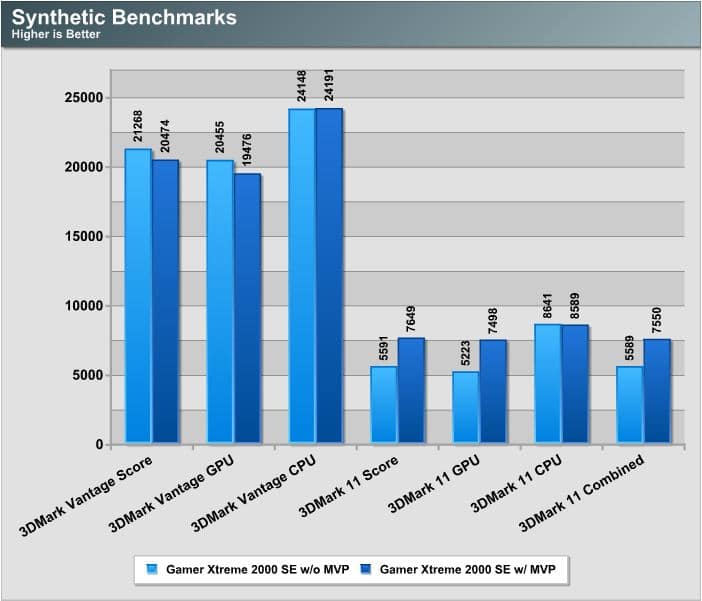 The same tests on synthetic benchmarks showed a similar view at Virtu MVP. While 3DMark Vantage showed a decrease in performance when we enabled Virtu MVP, 3DMark 11 actually had a huge increase in graphics performance. So for those benching systems, this is a great option when running 3DMark 11.
HD Tune Pro
Click Images to Enlarge
Here we have an overview and benchmark results of the two different storage devices installed in the Gamer Xtreme 2000 SE. The one on the left is the 1TB hard drive, which is mainly designed for as a storage device. The image on the right is showing the performance of the 60GB SSD. As we can tell, the access time on a hard drive is 14.1ms, and on an SSD, its only 0.1ms. This means that the files can be accessed at much lower times than what they would be accessed at on a hard drive. This results in a much higher average read and write speeds as we can see from the benchmarks above.

Cinebench R11.5
Click Images to Enlarge
For those interested in 3D Modeling, Animation and Rendering 3D or videos, Cinebench allows us to take a look at rendering performance for 3D. Here we can actually see how much performance Ivy Bridge (3750K) can really bring to the table. It gets extremely close to a 12 core AMD Opteron processor, even though Intel's i5-3750K is only a 4 core processor. We can also see a few other Intel CPUs compared to the 3750K, from the older Core i7 generation, and the 3750K just blows them out of the water.
Stability Testing and Noise
To measure the temperature for the system, we used EVGA's Precision X and ran the Metro 2033 benchmark in a loop to find the Load temperatures for the video cards. The highest temperature was recorded. After looping for 10 minutes, Metro 2033 was turned off and we let the computer sit at the desktop for another 10 minutes before we measured the idle temperatures. For the CPU load temperatures we ran Cinebench R11.5 about 10 times in a row to see what was the highest CPU temperature we could reach at 100% load.
To get our power consumption numbers, we plugged in our Kill A Watt power measurement device and took the Idle reading at the desktop during our temperature readings. We left it at the desktop for about 15 minutes and took the idle reading. Then we ran Metro 2033 for a few minutes minutes and recorded the highest power usage.
| | | |
| --- | --- | --- |
|   | Idle | Load |
| Temperatures | | |
| Power Consumption | 90 Watts | 265 Watts |
The system is very cool during idle operations, however there doesn't seem to be an automatic fan control set up on this particular system. If the fans get connected to the motherboard, it is possible to set up automatic fan control options, which would lower the RPM of each fan inside the system when the temperatures drop inside your system. Do keep in mind that CyberPower decided to add higher RPM fans in this particular system, because it was overclocked to 4.5 GHz for 24/7 use. A system with lower clocks will have lower RPM fans, which means that noise won't be as apparent as on this particular system we are testing.
Other than that, the temperatures for the CPU and the GPU both stayed cool even at 100% load, and the power consumption was very reasonable as well. We were actually surprised with how little power the system actually consumes at idle, which is a definite plus.
Conclusion
Obviously, today we were not looking at a system that will be breaking world records, but a fairly priced desktop gaming PC, which is able to play all the latest games at high resolutions and graphics settings. As always, the key points we look at when it comes to complete systems is the ease of initial set-up, the performance of the system, the fun factor, the additional features and advantages (including support) you get when buying from a particular company, and of course the price of the product.
Well we can tell from the point we laid our eyes on the CyberPower Gamer Xtreme 2000 SE, that we were going to be dealing with a fairly nice system. A brand new Intel Core i5-3750K 'Ivy Bridge' based processor, factory overclocked by CyberPower PC to 4.5 GHz from 3.4 GHz default, running on the latest Z77 chipset motherboard with LucidLogix's Virtu MVP technology. The pure power of the i5-3750K combined with a mid-range AMD Radeon HD 7850 2GB DX11 based dedicated graphics card for a great gaming experience. And of course the nice addition of a 60GB SSD for booting purposes and to have much faster loading times for the most used applications.
On the other hand, there are a few concerning points we would like to point out on the Gamer Xtreme 2000 SE. According to our tests, we did not see too much performance increase from the Virtu MVP technology. This technology was suppose to gain extra performance during gameplay, however in most cases, the games either stayed at their standard performance, or the performance actually slightly dropped. There were only a few occasions where Virtu MVP actually provided extra performance during gameplay. Also, going with a highly overclocked system, it is likely that the system will be quite audible in a working environment. During gameplay this should not be a problem, as must users will either wear a headset or have speakers that will be turned up loud for best gaming experience.
Overall though, the CyberPower PC Gamer Xtreme 2000 SE is a fantastic system, which comes already set up with Windows 7 Home Premium SP1 and all the main necessary applications. CyberPower PC does not thankfully include any applications that serve as advertisement or any other applications that might slow your system down. The system is easy to set up, ready to go the moment you take it out of the box and remove all the packaging content, and should be an enjoyable system for the years to come at a reasonable price of $1199.
OUR VERDICT: CyberPowerPC Gamer Xtreme 2000 SE
| | |
| --- | --- |
| Performance | 8 |
| Value | 9.5 |
| Quality | 9 |
| Features | 7.5 |
| Innovation | 7.5 |

We are using a new addition to our scoring system to provide additional feedback beyond a flat score. Please note that the final score is not an aggregate average of the new rating system.

Pros
Cons

3 Year Warranty with Lifetime Technical Support
Excellent gaming performance for a good price
High Quality components, and easily upgradable
Easy system customization at CyberPower's website.
Low Power Consumption
SSD for Booting

Highly overclocked system will run slightly on the louder side.
Virtu MVP HyperFormance might hurt gaming performance in some games.
Summary: We don't often give away our Bjorn3D Golden Bear Award. We try to keep this award for the high-quality products that also have great performance that won't disappoint the buyers. Thankfully, the CyberPower PC Gamer Xtreme 2000 SE desktop gaming system is one of the systems that deserves our Golden Bear Award even though it's not the highest performance system CyberPower PC offers.