SilenX says their latest 120mm fan can produce good cooling with virtually no noise. We say they are going to have to prove it and head into the labs to find out if it can meet this claim.
Introduction
It seems like over and over we look at one type of cooling or another. With the obsession enthusiasts, gamers and overclockers have with cooling that's not likely to end soon. Today we are looking at fans, one of the most important–and yet often overlooked–pieces of hardware in a modern PC. Many companies offer them as a sideline or after-thought. However, some companies have built and staked their reputations on them. One of the latter is SilenX, who have added another low decibel fan to their lineup: The 120mm EFX-12-12, with claims of low noise and decently moderate airflow. How does it stack up against the competition? Stay tuned and find out as we put it head to head with several other fans making similar claims.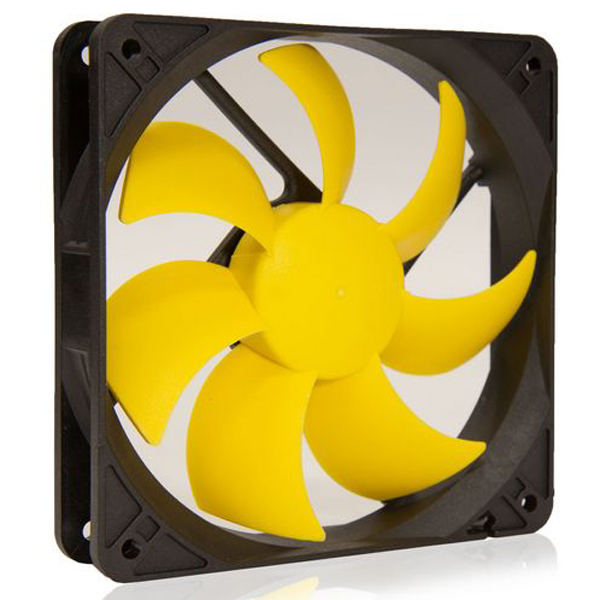 Available for $9.99 USD at TigerDirect.
Features & Specifications
There's not much to say about the features of a fan. A quick peek at the new SilenX site (not live yet, so don't ask us for the URL) got us the specs (below) and what they have to say about the abilities of this product, which boils down to the following.
It comes in three colors, red white, and yellow, they feel it has the best available balance of airflow to noise due to a "Smaller, domed motor hub, larger, more dramatic fan blade sweep area", and it uses "Japanese fluid dynamic bearings for ultra long life and reduced vibration". During testing we'll see if it lives up to these claims.
specifications
| | |
| --- | --- |
| sku | EFX-12-12 |
| rated dba | 12 |
| dimensions | 120x120x25mm |
| rpm | 1100 |
| cfm | 44 |
| operating voltage | 8-12v |
| current draw | 0.09A |
| power consumption | 1.08w |
| bearings | 3rd generation fluid dynamic bearings |
Pictures & Impressions
The sample provided by SilenX is a 120mm fan with a black frame and a bright yellow blade. The packaging is simple, as most fans are, consisting of a molded plastic container holding the fan, a few accessories, an instruction pamphlet, and a placard printed on both sides.
The front shows off the fan to good effect and informs consumers the the fan pushes 44 CFM for airflow while producing 12 decibels. The rear of the package gives quite a bit of information on the design, features and abilities of the fan in four languages English, French, German, and Spanish. It gives users a friendly reminder to check what size fans their case can accept, list the contents of the package, and informs us that it has a three year warranty.
After removing the fan, a quick inspection shows that the frame is a conventional injection molded design similar to many other fans, while the blades are a bit different than most. It is hard to see in the images above but when held, the curve of the blades has a pitch unlike the average fan.
    The blades are easy to remove and replace for cleaning, while remaining sturdily attached unless the are removed on purpose. The dual power connectors allow this fan to be used with molex connectors from the PSU or the fan headers on a motherboard.
The accessories are simple consisting of four screws, and in the case of this sample, five rubber nails which will act as vibration damping and noise reduction. We don't know if the kit was supposed to have five to give users a spare or if it was just a fluke that five were in this sample. The instruction guide is included for those that are just starting out in the DYI arena, or have never used the rubber nail method of mounting a fan.
Testing
To test the SilenX EFX-12-12 it, and the fans it was tested against, were mounted to an Evercool Transformer 3 in an open case. This kept the variables constant across the testing period. The AMD Phenom 9500 CPU was overclocked from the stock 2.2GHz to 2.5GHz. To generate as much heat as possible we ran a Prime95 torture test consisting of In place large FFT's, maximum heat, power consumption, some RAM tested, which places a 100% load on the CPU.
Each round of testing was accomplished by allowing the system to idle for 20 minutes, reading the temps, and then run at full load for 30 minutes and reading them again. Temperatures were obtained from HWiNFO64. Ambient temperature was kept at 23.3°C  (74°F)
The fans used for comparison are the Thermaltake Silentcat, the Enermax TBSILENCE fixed rpm UTCB9, and the stock fan included with the Transformer 3. Specifications for these fans are listed below.
Test System

Case

COOLER MASTER HAF 932 ADVANCED

Processor

AMD Phenom II X4 9500 (Agena)

CPU cooler
Evercool Transformer3

Motherboard

Asus M3N-HT Deluxe (bios 3401)

Memory

4 GB Patriot 8500EL series PC2-6400

Drive(s)

WDC WD5000AAKX-001CA0,
 Maxtor 7H500F0, WDC WD 1600BEVT

Graphics cards

Video Card 1:  Nvidia GTX 480

Video Card 2:  Nvidia GTX 480

Video Card 3:  Gigabyte GTX 560 oc

Power Supply 1
Antec True Power Trio 550w

Power Supply 2

XFX 750W BLACK EDITION

PSU switching controller
Add2PSU
Operating System
Windows 7 Ultimate 64bit SP1
Fan controller
NZXT Sentry2
Case fans
Total 5, Two 230mm, One 140mm, Three 120mm
Tested fan specifications
 
Rated RPM
Rated CFM
Rated dBA
Thermaltake Silentcat
1600
62.2
16
Enermax TBSilence
900 ±10%
42.11
11
Transformer3 stock
2200 ±10%
Unspecified
<35
SilenX EFX-12-12
1100
44
12
    The following chart shows the results of the tests.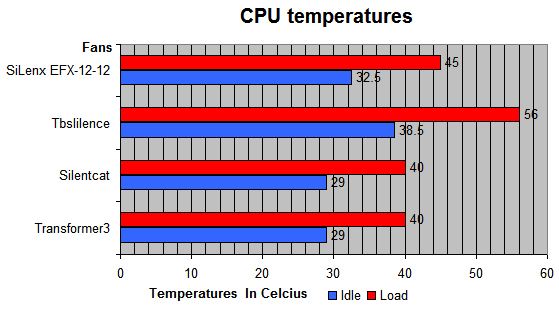 We can see that the faster, louder fans did keep temperatures lower, however the SilenX EFX-12-12 performed better than we expected considering its CFM rating. As for the dBA ratings, from a distance of one foot the Transformer 3 stock fan is the loudest of the group, easily noticed. The Thermaltake Silentcat is barely noticeable. The TBSilence and SilenX EFX-12-12 are virtually silent at this distance.
Conclusions
Many system builders–whether professional, enthusiast, or regular consumers–are on the look out for products that can do the job well without breaking the bank. The SilenX EFX-12-12 is just such a product. It is well constructed, very quiet, and inexpensive. As can be seen from the test results it performs better than one would expect given it's RPM and CFM ratings. If looking for a silent replacement for a CPU cooler fan, or an aftermarket fan to improve airflow in a case this fan is definitely worth consideration.
The included mounting hardware gives consumers a choice between screws and anti-vibration mounts, while the power connectors allow installation into any existing setup. The fan comes in 3 colors which may or may not clash with a user's overall scheme in a given rig.
OUR VERDICT: SilenX EFX-12-12
| | |
| --- | --- |
| Performance | 10 |
| Value | 9 |
| Quality | 9 |
| Features | 7 |
| Innovation | 7 |

We are using a new addition to our scoring system to provide additional feedback beyond a flat score. Please note that the final score isn't an aggregate average of the new rating system.

Pros
Cons

Quality construction

Good performance

Virtually silent 

Only color choices are red, yellow, and white.

 
Summary: The SilenX EFX-12-12 is a solid fan which performs better than its specs would lead one to believe. It is silent, effective, and available at an good price. For its performance and quality, it earns the Bjorn3D Seal of Approval.