NZXT 's new Havik 140 looks like it could rival some of the best in the cooler market. Let's see how it performs.
introduction
NZXT is a company that, in the past, has had a huge focus on computer cases targeted mostly for gamers. NZXT also offers fans, fan controllers, case accessories and other miscellaneous computer accessories. Earlier this year, NZXT announced their entry into the CPU heatsink market. The announcement of the Havik 140 got us excited to get the cooler into our labs for testing to see how well it performed compared to the many other heatsinks already available.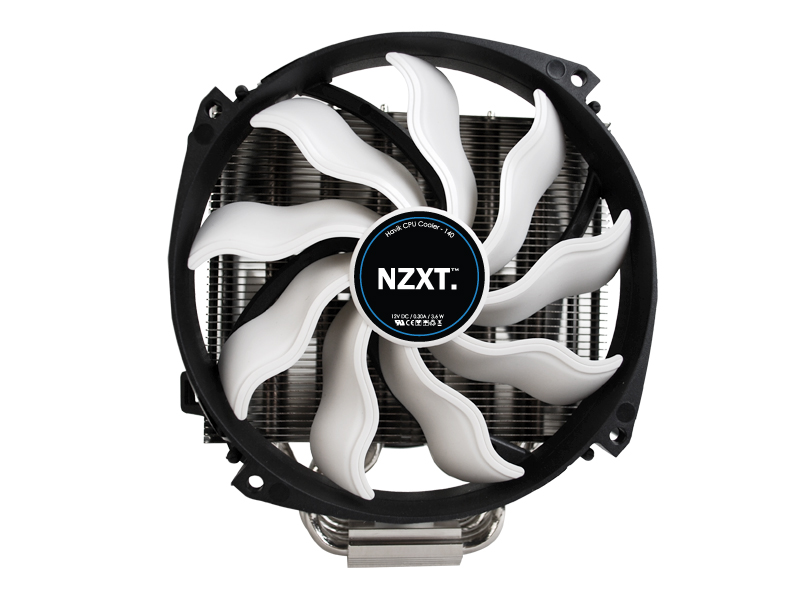 With a price tag of $60 on Newegg, the Havik 140 is priced at the low end of other heatsinks that boast 140mm fans and right in the middle of most 120mm options. Let's continue on to the features and specifications of the cooler and see what NZXT has put into their first heatsink offering.
Features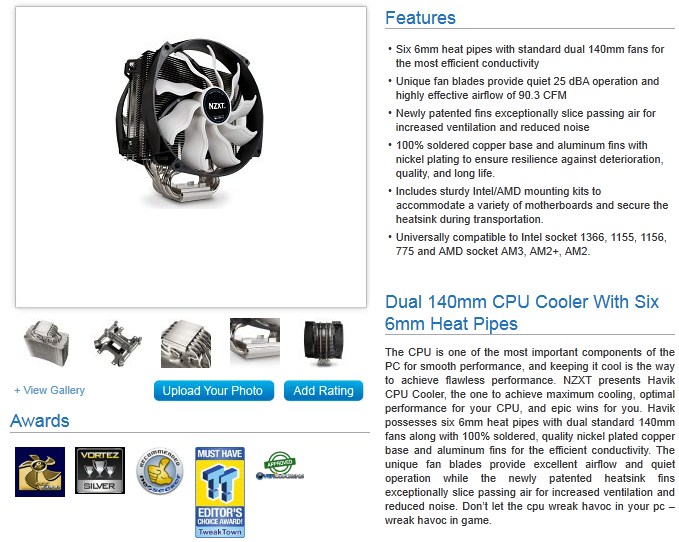 specifications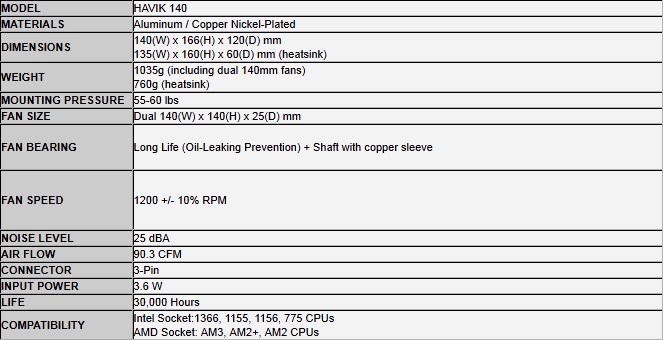 unboxing & first impressions
Click Image For a Larger One
The Packaging for the Havik 140 cooler is simple, clean and well laid out. That being said the sample we received was a little outdated for the packaging as maximum socket compatibility is listed as 1156, even though the cooler definitely supports LGA 1366 as packaged. The parts are well cared for in closed cell foam packaging which does a great job of protecting the parts if they have a bumpy ride.
Click Image For a Larger One
Here we get a look at what comes in the box to help with installation and function of the Havik 140 cooler. All installation hardware for the fans and pretty much any existing socket are included to ensure easy and pain free installation. Also taking a close look at the fan, we can see it has unique shaped blades with an interesting ripple on the leading edge which may help with noise as RPM increases. Also note the nice job in sleeving the cable which adds up to a cleaner looking install.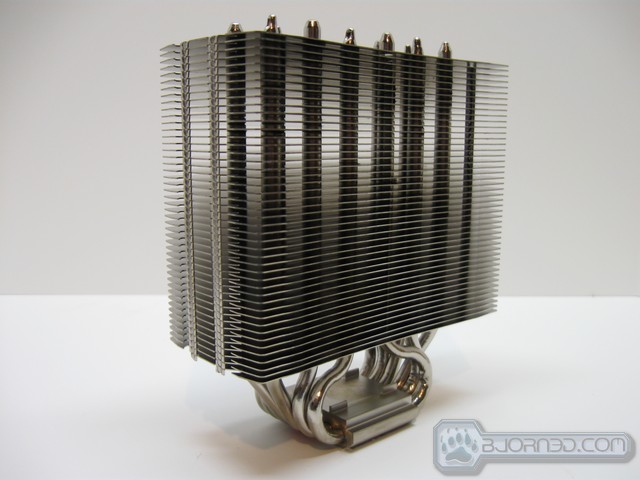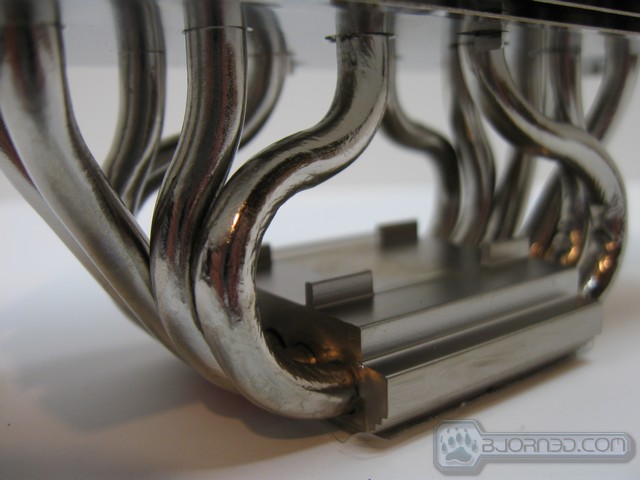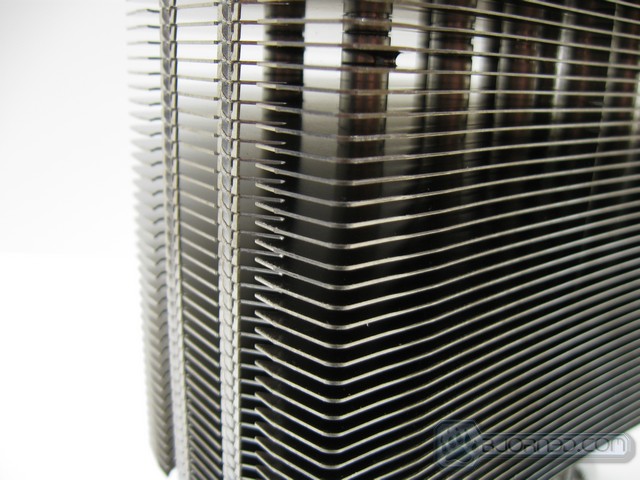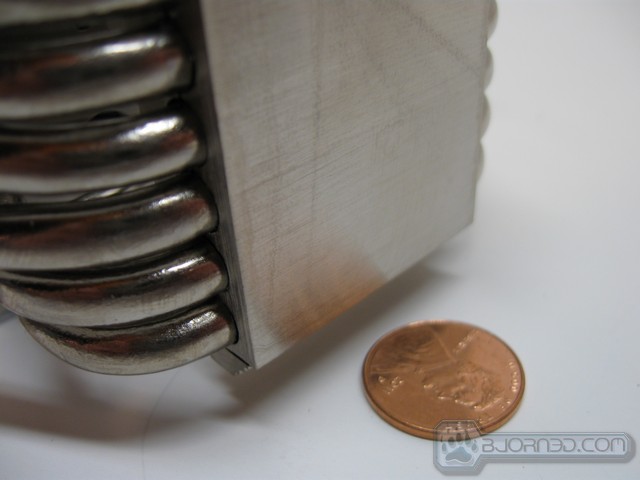 Click Image For a Larger One
Here we see the tower itself, and overall simplistic but sleek design. The fact that the heatpipes are soldered means thermal transfer should be improved as well. Unfortunately, the base is not mirror finished, and has visible tool marks, which could potentially affect heat transfer capability.
installation
Click Image For a Larger One
Here is the installation of this massive tower: we first ran the threaded screws through the motherboard itself, then the plastic retainers. After this, we placed the loading bars across the threaded studs, which created the mounting base for the cooler. These will be fastened after applying thermal paste to the CPU heatspreader. This is accomplished with the spring loaded clamping bar which adds a preload to the cooler so that the thermal contact should be at an ideal level.
Click Image For a Larger One
Here we can see the spring loaded bar which retains the cooler. Once this was installed we fit the fans to check compatibility with surrounding components. Our Corsair Vengeance DIMMs are close but should have no size  problems. However if all 6 DIMM slots were populated it is likely that there could be some interference with the installed cooler. Finally here we see it installed and ready to run with the 6870 to throw some graphics support into the mix.
Testing
TEST RIG
Test Rig

Case
Open air, desk
CPU
Intel Core i7 920 @ 3.8GHz
Motherboard
ASUS P6T7 WS SuperComputer
Ram
Corsair Vengeance 1600MHz 12GB
CPU Cooler(s)
NZXT Havik 140

Prolimatech Armageddon

EVGA Superclock

Fans
2x 230mm Cooler Master case fans
Hard Drives
1TB Seagate 7200.12

2TB Seagate 5400RPM

2x 1TB Seagate ST31000524AS

Optical
Super WriteMaster DVD-Burner
GPU

MSI GTX550 Ti Cyclone II OC
Additional Cards

N/A
PSU
Cooler Master SilentPro Gold 1200W
Mouse
Cooler Master Storm Sentinel
Keyboard
Logitech G15
METHODOLOGY
During the testing stage of this review, we will be comparing it to two coolers, the Prolimatech Armageddon, which is considered a very high end cooler, and the EVGA Superclock cooler just to have the lower mid range cooler covered as well.. Our processor is a Core i7-920 which has a stock clock of 2.66GHz. We also tested the coolers with the processor overclocked to 4.0Ghz at 1.38v.
We will use the program Intel burn test or IBT as it is a accurate stress test of the worst case scenario we would encounter even though some may say this is far in excess of what could be experienced in real life. however it is a repeatable test that bears repeatable result so this will test its handling of heat output.
RESULTS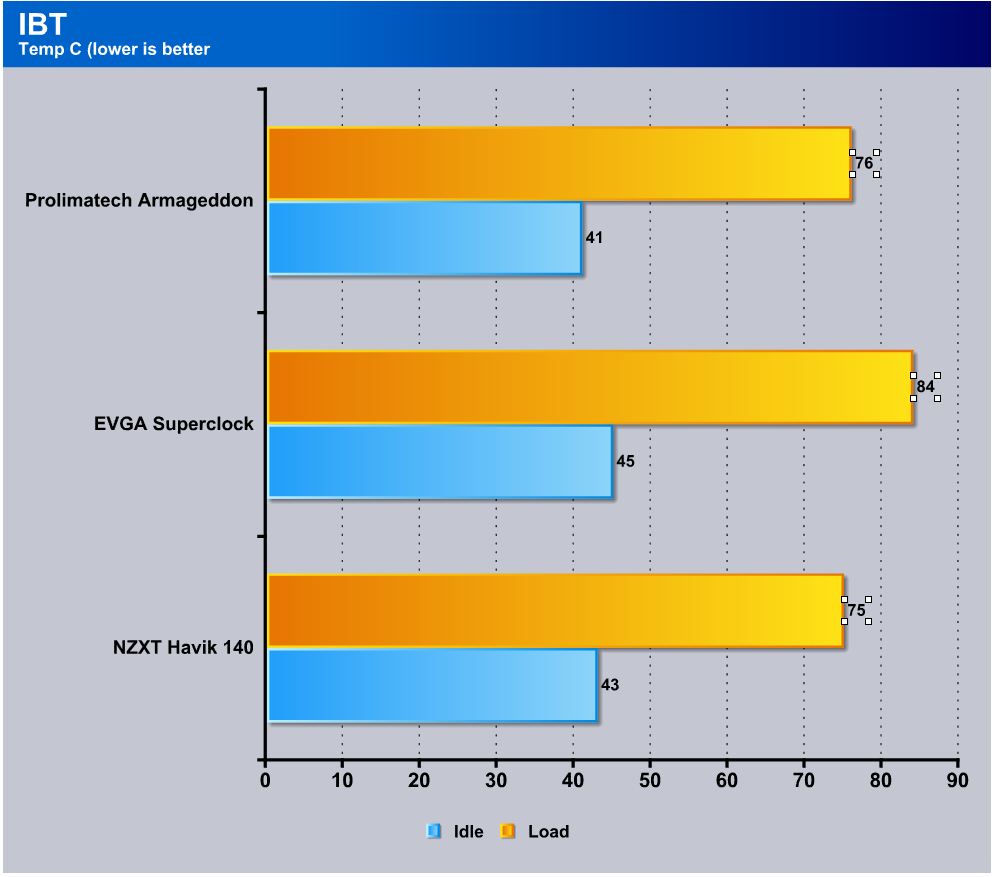 As we can see from the results above the Havik 140 really performs quite well, as it beat out the EVGA Superclock cooler by a large margin and the Armageddon by approximately 1 degree. The Armageddon is an excellent cooler in comparison, so we can consider this a notch in the Havik's belt.
Conclusion
The Havik 140 turned out to be an awesome performer with an easy to install design, a decently flat base, powerful fans that are not too loud. All of this adds up to a winning combo that knocks out one of the best coolers the Prolimatech Armageddon. This is quite a feat as the Armageddon is a very accomplished high performance cooler.
Anyone looking for a high performance CPU cooling solution without too much noise would not go wrong by taking a look at the Havik 140.
OUR VERDICT: NZXT Havik 140 CPU Cooler
| | |
| --- | --- |
| Performance | 9 |
| Value | 9 |
| Quality | 9 |
| Features | 8 |
| Innovation | 8 |

We are using a new addition to our scoring system to provide additional feedback beyond a flat score. Please note that the final score isn't an aggregate average of the new rating system.

Pros
Cons
Good overclocking potential

Good performance

Quiet solution for the cooling performance delivered

Solid mounting design

Rubber fan mounting is efficient and easy to use

Temps that rival some of the best coolers

Base has visible tooling marks which gives an unfinished appearance

Rubber fan mounting can come loose if not attached correctly
Summary: The Havik 140 by NZXT offers some great performance with a reasonably easy to install package. This kind of performance and flexibility merits the NZXT Havik 140 the Bjorn3D Golden Bear Award.