The Sapphire 6870 is definitely a high quality card with some great performance for the price.
Introduction
Today we have yet another of the high performance 6000 series video cards from AMD. As usual AMD offers a variety of 6000 series cards which range in price and performance from entry level to enthusiast level so there are always plenty of options to choose from depending on what users need. The specific card we will be looking at today is the Sapphire 6870 which is meant to be a great performer while still being an affordable card.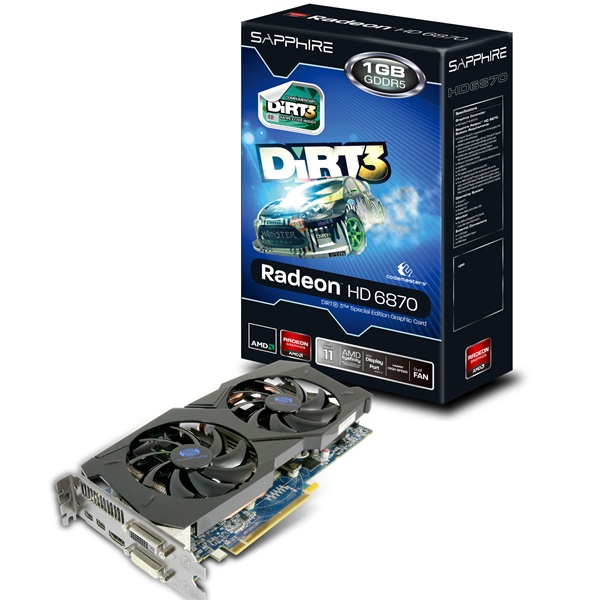 We will be taking a look at all aspects of the Sapphire 6870 to see how it performs and see how well it compares to all of the other cards on the market. Currently the Sapphire HD 6870 is available for around $180 which puts it pretty much right in the middle of the price bracket. Keep reading to see how well the Sapphire 6870 performs.
Features
Dual-Link DVI

Equipped with the most popular Dual Link DVI (Digital Visual Interface), this card is able to display ultra high resolutions of up to 2560 x 1600 at 60Hz.

---
HDMI 1.4a

HDMI 1.4a builds on previous generations of HDMI connectivity with support for Deep Color, 7.1 High Bitrate Audio, and 3D Stereoscopic support, ensuring the highest quality Blu-ray and video experience possible from your PC.

---
Mini-DisplayPort

Enjoy the benefits of the latest generation display interface, DisplayPort. With the ultra high HD resolution of 2560 x 1600 the graphics card ensures that you are able to support the latest generation of LCD monitors.

---
Single-Link DVI-D

Supports Digital monitors up to 1920×1200 resolution.

---
DisplayPort 1.2

Doubling the effective bandwidth of previous DisplayPort implementations, DisplayPort 1.2 now includes support for Multi-Stream, allowing you to drive up to four separate monitors from a single DisplayPort 1.2 connector (requires DP1.2 monitors or Multi-Stream compatible hub), Stereoscopic 3D monitor support  and adds support for high quality, lossless, 7.1 channel audio formats.

---
Advanced GDDR5 Memory Technology

GDDR5 memory provides twice the bandwidth per pin of GDDR3 memory, delivering more speed and higher bandwidth.

---
AMD Eyefinity

AMD Eyefinity technology maximises your field of view across up to three displays, fully engaging your peripheral vision.  For gamers this puts you right IN the game and for other applications it helps to increase productivity by maximising your visual workspace so that you can see more windows simultaneously.  AMD Eyefinity technology is also ideal for multimedia applications as it allows you to keep several 'palettes' or 'panels' open over a larger workspace whist you edit your images or videos.*
 

---
40nm Process Technology

Cutting edge manufacturing process allows for efficient, high performance parts which use less power than their predecessors.

---
AMD CrossFireX™ Multi-GPU Technology

Triple or Quadruple gaming power with AMD CrossFireX™ Multi-GPU Technology.AMD CrossFireX technology supports up to four graphics cards to be used in a single system.

---
PCI-Express 2.0

The latest PCI-Express 2.0 specification doubles data throughput from 2.5Gbps to 5Gbps allowing you to exploit the full performance potential of your graphics card.

---
Microsoft DirectX® 11

Get intense gaming performance and unrivalled image quality with stunning 3D visual effects, realistic lighting and lifelike imagery with SAPPHIRE graphics cards supporting DirectX®11. New features in DirectX®11 such as Hardware Tesselation, HDR Texture Compression, Multi-threading support and DirectCompute bring lifelike gaming and an experience never possible on a PC before.

---
OpenGL® 4.1

Supports the latest OpenGL API (Application Programming Interface) to accelerate performance of applications outside of DirectX®, i.e. Adobe Autodesk 2D/3D graphic design.

---
Shader Model 5.0

Supports the latest Shader Model 5.0 feature set including VTF (Vertex Texture Fetch) which is a key feature used extensively in many of the games that ship today. Without support for this feature the game will fall back to a lesser shader path resulting in the loss of cool, lifelike effects made possible by Shader Model 5.0

---
AMD Catalyst Control Center™

The AMD Catalyst Control Center™ software application gives you complete control over the performance and visual quality of your SAPPHIRE AMD Radeon™ based graphics card allowing for the best experience on your PC.

---
Dolby® TrueHD and DTSHD Master Audio™ Support

Support for copy protected, high bandwidth, 7.1 channel surround sound over HDMI. Get a fully immersive, high definition audio experience with the latest Blu-ray movies. (Requires a DVI to HDMI dongle on some models, an HD capable monitor and a Blu-ray drive)

---
4th Generation TeraScale Engine

Massive arrays of on-chip compute units offer the latest in graphics functionality and performance.

---
Display Flexibility

Offers an incredible choice of the latest display connectivity options natively on the board, including dual-link DVI-I, DisplayPort and HDMIalong with adapters to ensure compatibility with your legacy analogue VGA monitor.

---
TriXX Utility

TriXX helps users to get the optimum performance from compatible SAPPHIRE graphics cards in any application by allowing them to monitor, tune and save different settings of key parameters for the card.

---
Enhanced Unified Video Decoder 3 (UVD 3)

 

Watch the hottest Blu-ray movies or other HD content at full 1080p (and beyond !) display resolution. Enjoy a feature rich video experience with enhanced Unified Video Decoder 3 (UVD 3), offloading the bulk of the video decoding tasks from the CPU to the GPU allowing for a cooler, quieter and more balanced system.

---
Enhanced Internet Browser Applications

 

Not just for video and games, the power of your GPU can now accelerate the latest versions of some Internet browsers (IE9/Mozzilla FireFox) utilising Direct 2D rendering for a faster and more responsive browsing experience including high quality image rendering and media playback.

---
Microsoft Office 2010

 

Take advantage of improved picture and media editing capabilities in Office 2010 as well as edit and share your content in real time.

See more, and get more done. Enhanced productivity with accelerated GPU processing for Office applications.

---
Windows® 7 support

WHQL (Windows Hardware Quality Labs) Certified drivers and logos are available for all SAPPHIRE HD2000, HD3000, HD4000 and HD5000 series cards ensuring compatibility and reliability with Microsoft Windows 7.

---
AMD App Acceleration

Use the power of your AMD Radeon™ GPU to speed up everyday applications like your web browser and Microsoft Office 2010 using AMD App Acceleration. Do more, and do it faster. Watch Blu-ray movies, online streaming video and other HD content using your AMD Radeon™ GPU and get smooth – high quality playback with amazing image quality.
Specifications
Output

1 x Dual-Link DVI

1 x HDMI 1.4a

2 x Mini-DisplayPort

1 x Single-Link DVI-D

DisplayPort 1.2

GPU

920 MHz Core Clock

40 nm Chip

1120 x Stream Processors

Memory

1024 MB Size

256 -bit GDDR5

4200 MHz Effective

Dimensions

245(L)x110(W)x36(H) mm

Software

Driver CD

SAPPHIRE TriXX Utility

1 x Dirt®3 Coupon

Accessory

DVI to VGA Adapter

Mini-DP to DP Cable

6 PIN to 4 PIN Power Cable x 2
Pictures & Impressions
Click Image to Enlarge
Sapphire has once again continued to use their flashy and attractive blue and black packaging in order to make this video card jump off the shelf. This is also the special "Dirt 3 Edition" of the video card which means this comes with additional cooling as well as a copy of Colin McRae's Dirt 3 for PC. The important features and specifications are also listed on the back panel of the packaging.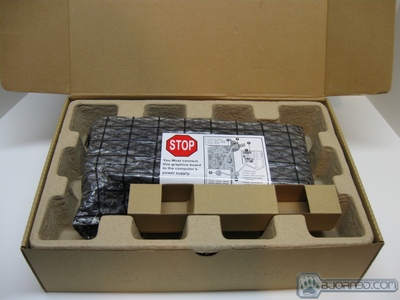 Click Image to Enlarge
The packaging quality is not only seen on the outside of the box either; Sapphire did a great job making sure that the video card would not be damaged in transport. The solid packaging and well insulated anti-static bag ensure that the Sapphire 6870 definitely will not get damaged at all.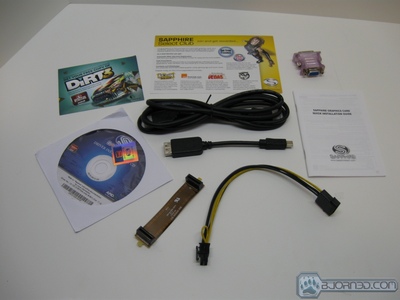 Click Image to Enlarge
Here we have all the accessories that come with the Sapphire card. Like other Sapphire video cards, this one came with an HDMI cable, a display port adapter, a power cable converter, a driver install disc, the quick installation guide, a DVI to VGA adapter, a CrossFire bridge, and a Dirt 3 CD Key. The list of included accessories is quite impressive compared to most video cards.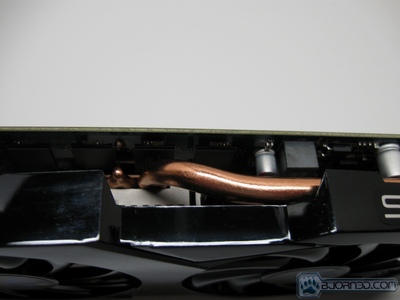 Click Image to Enlarge
Next up we can see the video card itself and some of the cooling systems used by the card. The two massive fans used by this Sapphire 6870 are quite impressive and according to Sapphire they should be quite a bit cooler and quieter than most cooling fans. The size of the cooling system is also evident from how large the copper heatpipes are in the second image.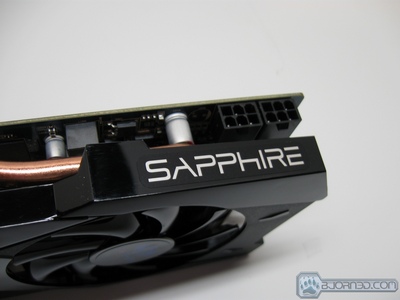 Click Image to Enlarge
As with most video cards the Sapphire 6870 uses a dual 6 pin power connection system. This is pretty much standard on all power supplies at this point so it should not be a problem for anyone really. If you do not have the necessary power ports you will still be able to make things work thanks to the included power line adapter.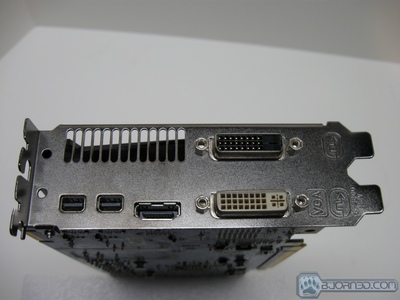 Click Image to Enlarge
Recently video card manufaturers have begun adding more and more outputs, and the Sapphire 6870 isn't any different. It has a total of 5 video outputs to choose from so users will definitely be able to connect everything to the Sapphire 6870. The available outputs include 1 HDMI port, 2DVI ports and 2 mini Display Ports. Fortunately the Sapphire 6870 supports EyeFinity which means users will always be able to use multiple monitors from this single GPU.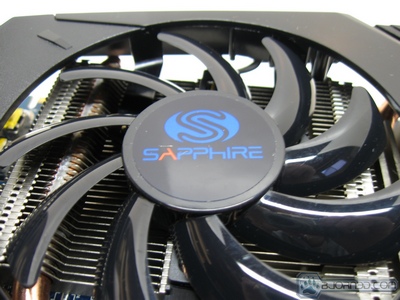 Click Image to Enlarge
Once again we have a close up of the cooling systems used by the Sapphire 6870. It is pretty clear that the heat pipes on the video card are quite large which should definitely help reduce the operating temperature and keep everything cooler when in use. We can also see the large heat sink underneath the massive cooling fans on the side of the 6870.
Click Image to Enlarge
Here we have the Sapphire 6870 installed into a system. Sapphire video cards have always had a unique and interesting looking heat sink and cooling setup and this 6870 is obviously nothing different.
Software Overview
Sapphire has once again included a bundle of software with this Sapphire 6870 which does a variety of things. Like most companies Sapphire includes plenty of software on the CD to make it easy to setup, things like drivers, manuals, and important software is always available on the included CD.
As with before Sapphire made it easy to install and update drivers for the HD 6870; the more important software is the Sapphire TRIXX utility. TRIXX is meant to be a simple monitoring and overclocking utility for Sapphire graphics cards that will give you quite a bit of control over your new Sapphire 6870. Take a look at some of the basic features below.
First we have the default info page of TRIXX. As the name implies this page simply gives you information about your video card. Everything about the card is available here including clock speed so you can easily monitor your overclocking.
Speaking of overclocking, here is the overclocking page of TRIXX. The concept is simple, just click the + or – button to change clock speeds and voltages until you reach what you consider to be an adequate speed. As always there is plenty of protection to keep you from frying anything but tinkering with things too much can cause your video card to become unstable.
After overclocking you will definitely want to keep an eye on this page as it gives information about temperature as well as complete fan control. If temperatures are too high a little bit higher fan RPM will obviously take care of that though the Sapphire 6870 does in fact get louder at higher fan RPMs.
Lastly we have the general Sapphire TRIXX settings page. This gives you control over how the program acts and operates so that you can adjust things as you see necessary.
Overall TRIXX and the included software from Sapphire is simple and effective without being overbearing. Fortunately Sapphire made everything quite simple so most users will not have any sort of problem figuring out how to make everything work together.
Testing and methodology
In the interests of thoroughness and accurate results, we ran each test at least three times, and some tests more than that. We average the total of all the tests from each benchmark then report the average here.
The OS used was Windows 7 Ultimate 64-Bit with all patches and updates applied. We also use the latest drivers available for the motherboard and any devices attached to the computer. We do not disable background tasks or tweak the OS or system in any way. We turn off drive indexing and daily defragging. We also turn off Prefetch and Superfetch. This is not an attempt to produce bigger benchmark numbers. Drive indexing and defragging can interfere with testing and produce confusing numbers. If a test were to be run while a drive was being indexed or defragged, and then the same test was later run when these processes were off, the two results would be contradictory and erroneous. As we cannot control when defragging and indexing occur precisely enough to guarantee that they won't interfere with testing, we opt to disable the features entirely.
 

Hardware Info
Case
Open Air
CPU
Intel Core i7 920 @ 3.60GHz
Motherboard
ASUS P6T7 WS SuperComputer
RAM
Corsair Vengeance 1600MHz 12GB
CPU Cooler
NZXT Havik 140
Fans
2x 230mm Cooler Master case fans
HardDrive

1TB Seagate 7200.12

2TB Seagate 5400RPM

GPU
Sapphire 6870
PSU
Cooler Master SilentPro Gold 1200W
Benchmarks Used
3DMark Vantage
3DMark 11
Heaven Benchmark
Stalker: Call of Pripyat
Metro 2033
3DMark Vantage

3DMark Vantage is still one of the most popular benchmarks even though it is getting a bit old now. It lets us get a good idea of the performance of video cards while running DX10 which is still quite common in many games.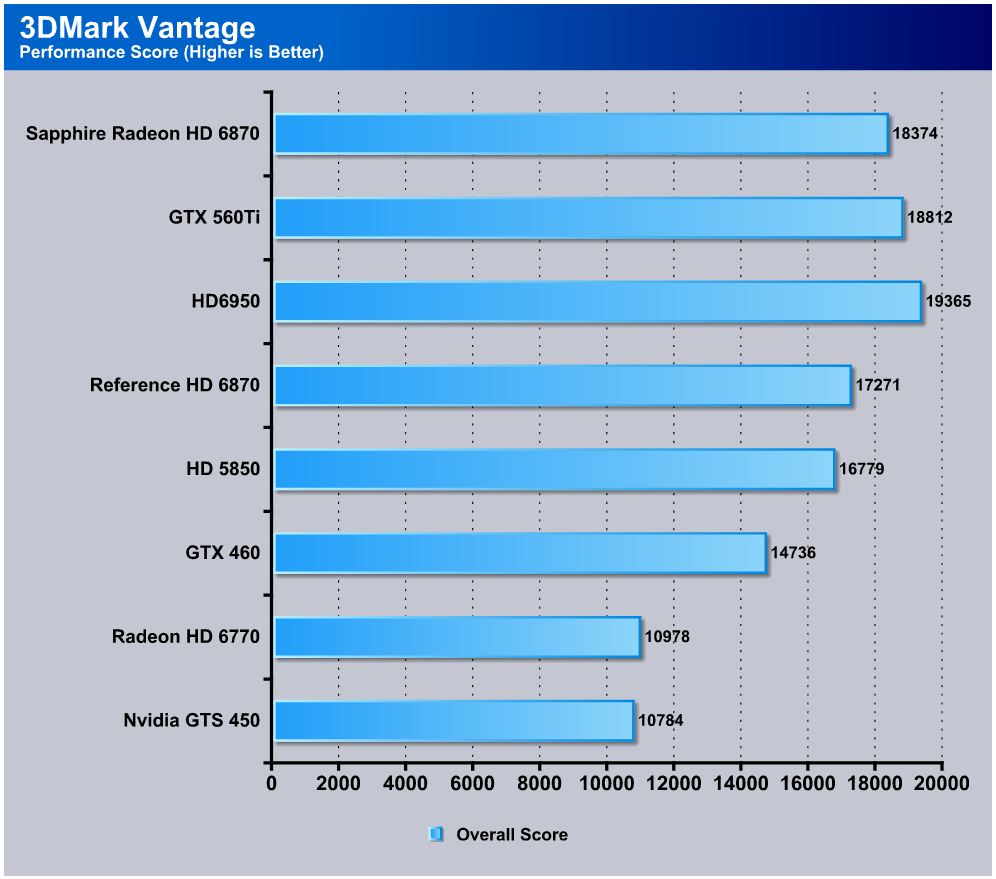 3DMark 11

"3DMark 11 is the latest version of the world's most popular benchmark for measuring the graphics performance of gaming PCs. Designed for testing DirectX 11 hardware running on Windows 7 and Windows Vista the benchmark includes six all new benchmark tests that make extensive use of all the new features in DirectX 11 including tessellation, compute shaders and multi-threading. After running the tests 3DMark gives your system a score with larger numbers indicating better performance. Trusted by gamers worldwide to give accurate and unbiased results, 3DMark 11 is the best way to test DirectX 11 under game-like loads."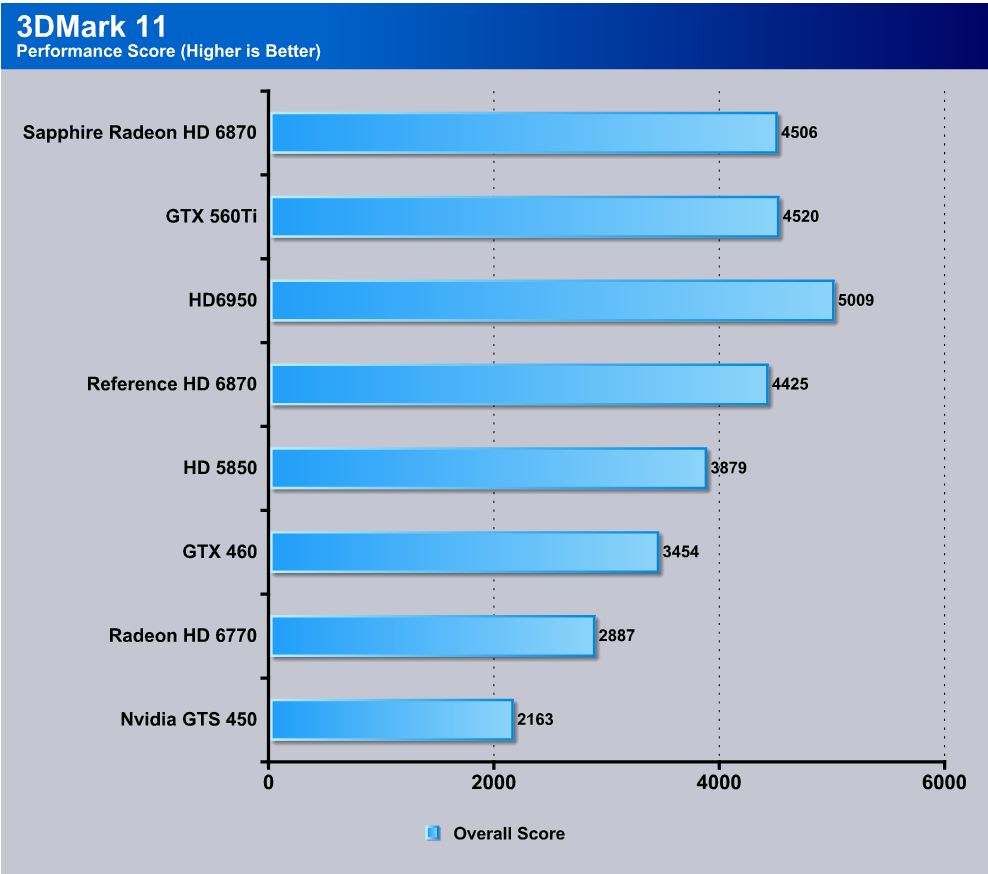 In both 3DMark tests it is clear that for the price the Sapphire 6870 performed quite well. It is a noticeable amount faster than other video cards in the same price range and at the same time it is nearly capable of keeping up with the more expensive and more powerful cards. It is also clear that the Sapphire 6870 performs well in both DX10 and DX11 testing which is great news for gamers since so many games use both technologies.
Heaven Benchmark
Unigine Heaven is a benchmark program based on Unigine Corp's latest engine, Unigine. The engine features DirectX 11, Hardware tessellation, DirectCompute, and Shader Model 5.0. All of these new technologies combined with the ability to run each card through the same exact test means this benchmark should be in our arsenal for a long time.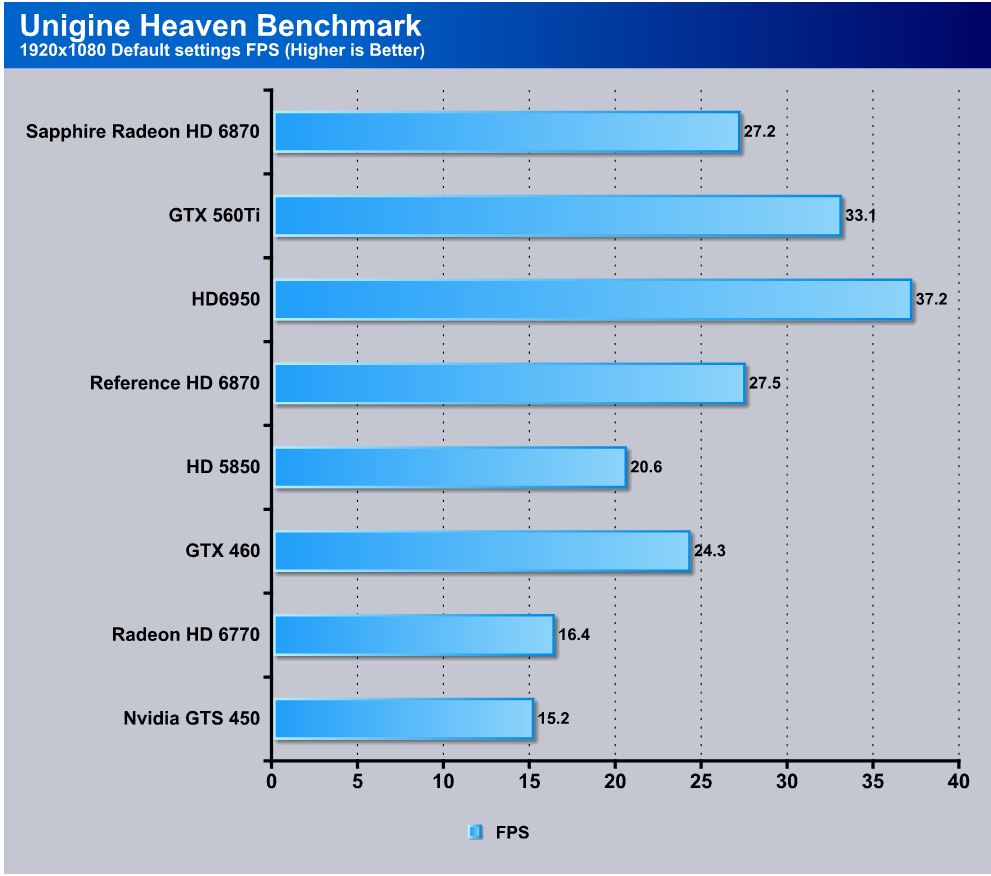 Once again the Sapphire 6870 has shown that it can hold its own with other video cards in the same price point. There are better cards available obviously but a majority of them cost a significant amount more than the Sapphire 6870. It is clear that the 6870 does quite well even at higher resolutions as it saw less of an FPS drop than many of the other cards being compared for this test.
Lost Planet 2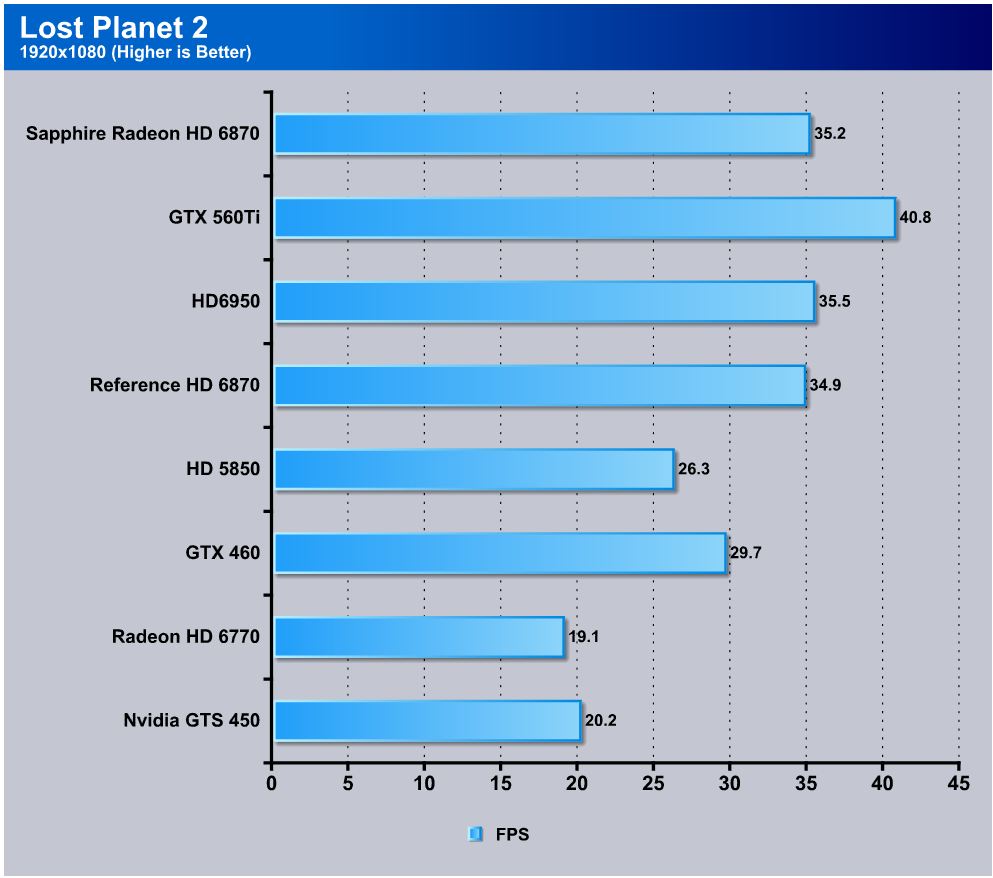 As with in the synthetic benchmarks the 6870 is once again capable of competing quite well with other video cards. The Sapphire 6870 offers more than enough in terms of processing power which makes it great for gamers looking to get the best performance without having to spend an outrageous amount of money. It is clear that the 6870 obviously does better when running lower resolution though overall the 6870 is definitely quite comparable to the higher end video cards.
Metro 2033
Metro 2033 is somewhat like Crysis was when it first debuted–no single card can run it at maximum settings. Metro 2033 tests video cards heavily which makes it a great equalizer when it comes to high performance video cards.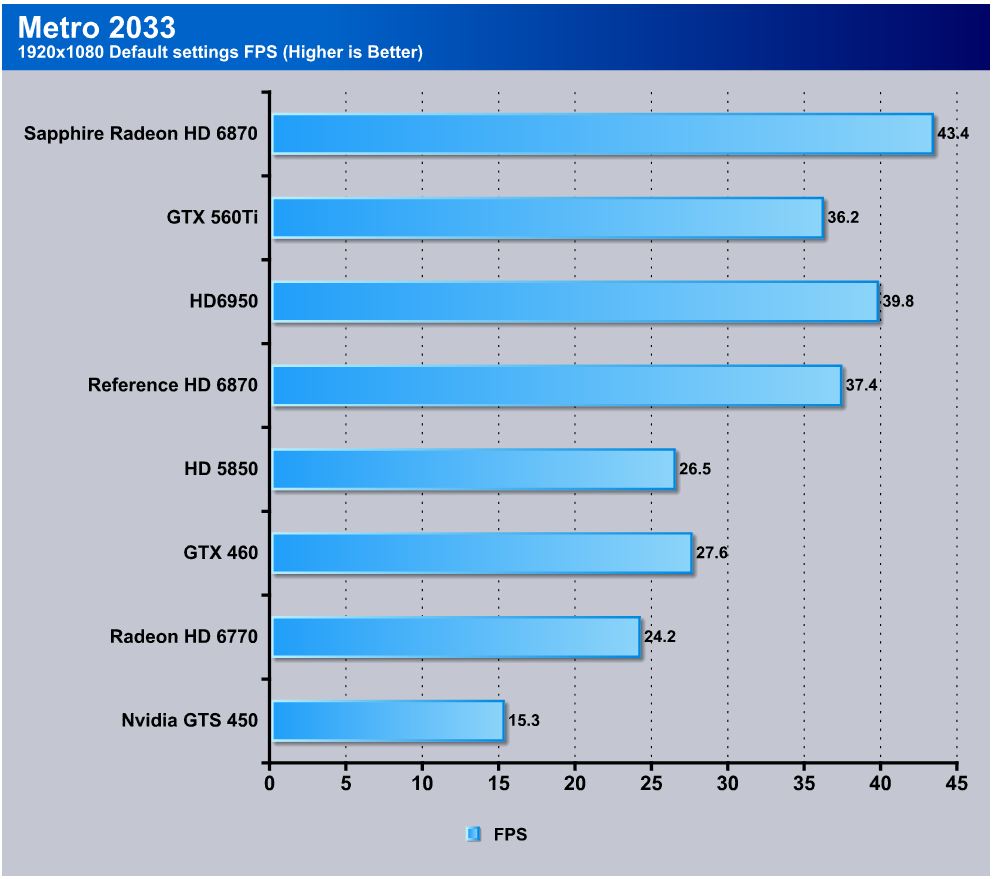 Yet again the Sapphire 6870 performed on par with what we expected. It is able to nearly keep up with the high end video cards and at the same time it managed to beat the lower performance cards. The fact that this test shows a much smaller range of results indicates that many of the less expensive video cards (including the Sapphire 6870) are more than capable of holding their own against the bigger and more expensive options. This is particularly why the Sapphire 6870 is a popular choice; few other cards perform this well while still being affordable. 
Just cause 2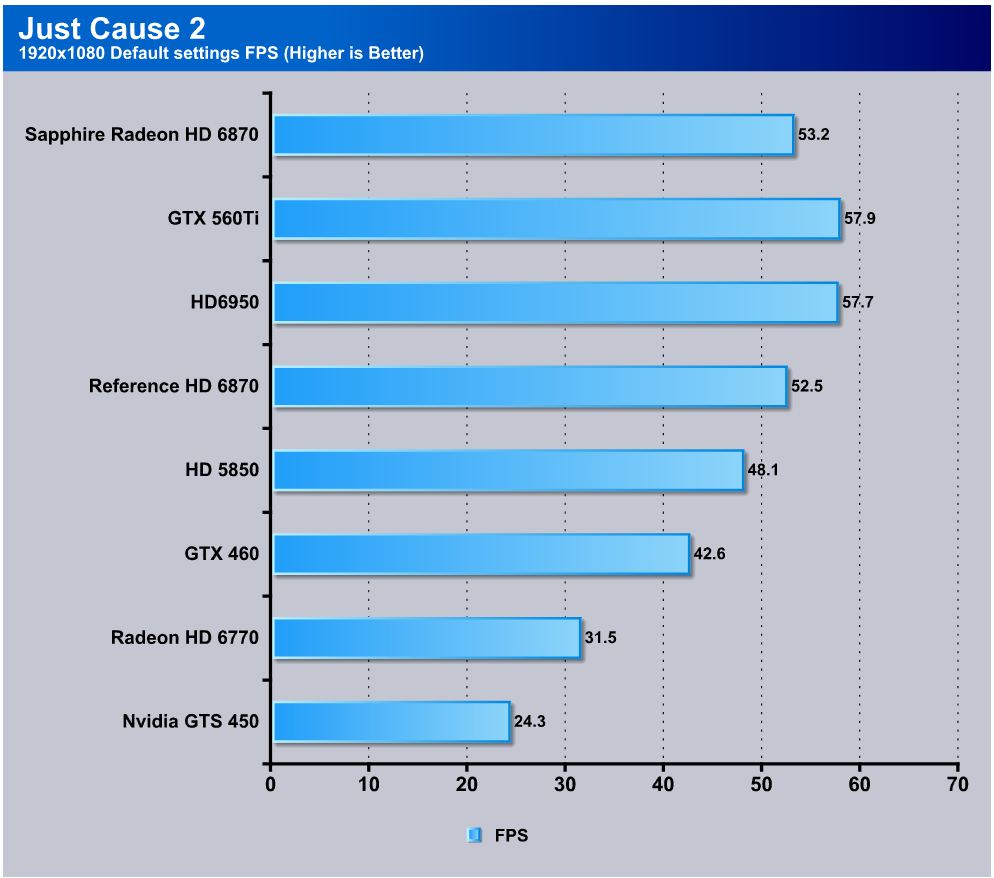 Yet again it has been shown that the Sapphire 6870 performs admirably when it comes to real world gaming. The results are more than acceptable for this 6870 and it actually performed quite well in Just Cause 2. In terms of gaming performance the Sapphire 6870 performed just as expected which is always a good thing.
Overclocking
Overclocking is important to everyone, regardless of what they plan to do with a computer. Nearly all enthusiasts end up overclocking a computer at one point or another so it is always good to know what kind of performance each piece of hardware can achieve.
Fortunately this Sapphire 6870 overclocks fairly easily to over 1000MHz, which is definitely enough to see some decent performance gains. Both the memory and core clocks were able to overclock relatively easily thanks to Sapphire's TRIXX utility, and with a little bit of tweaking most of the mild overclocking was more than stable enough for standard usage. Of course when overclocking it is also important to keep an eye on temperatures.
Temperatures
The temperatures were recorded using Sapphire's TRIXX monitoring and overclocking tool. In order to stress the card and reach a load temperature numerous 3D benchmark programs were run for 30 minutes. The maximum temperature was then recorded for the "load" temperature; the idle temperature was taken prior to any benchmarking or testing of the GPU.
| | |
| --- | --- |
| GPU Configuration | Temperature (Idle/Load) |
| Overclocked | 40º/71º |
| Stock Speeds | 39º/66º |
Obviously there is a difference in temperature when overclocking but the difference is far from a significant increase. For the slight performance increase it is definitely a trade-off. As with most video cards the slight performance gain from a little bit of overclocking is not huge but at the same time it is incredibly simple to do so this is definitely something most users will want to take advantage of.
Power Consumption
The power consumption was tested while running 3D stress tests and benchmarks in order to load the entire system. The maximum power used during an extended time period test is what was used for the load values and the idle values were recorded immediately after booting up the computer into Windows.
| | |
| --- | --- |
| GPU Configuration | Power Usage (Idle/Load) |
| Standard Clock | 225W/375W |
| Overclocked | 245W/395W |
Power consumption suffers from the same issue as temperature when overclocking. There is a noticeable increase in power consumption even when only experiencing a slight overclock. Fortunately, in the grand scheme of things this Sapphire 6870 is quite efficient compared to much more powerful cards so this really is not an issue.
Conclusion
Overall the Sapphire 6870 is a great graphics card with plenty of power for what most people do. There are obviously more powerful and more expensive video cards available on the market right now but in nearly all cases they perform only slightly better than the Sapphire 6870. In terms of real world testing through games as well as synthetic benchmarks the Sapphire 6870 performed more than adequately which is is great news for gamers looking to save a little bit of money without sacrificing performance.
Sapphire also did a great job with the dual cooling fans, though as mentioned they can be quite noisy when the card is really running hard. This is not necessarily a big deal though it can get annoying at times. It was also impressive to see all of the accessories included with the Sapphire 6870, very few companies include this many additional items so it was nice to see that somebody still does.
OUR VERDICT: Sapphire 6870
| | |
| --- | --- |
| Performance | 8.5 |
| Value | 9 |
| Quality | 9 |
| Features | 8 |
| Innovation | 8 |

We are using a new addition to our scoring system to provide additional feedback beyond a flat score. Please note that the final score isn't an aggregate average of the new rating system.

Pros
Cons

Overclocks Well

Performs Well

Great Performance for the money

Included Accessories

Free copy of DiRT3

Noisy at times

Not as fast as some other cards

 

 

 

 
Summary: The Sapphire 6870 is definitely a high quality card with some great performance for the price. Sapphire has done a great job with the 6870 in every way. Despite being a bit noisy, it packs a punch for a low price. It earns the Bjorn3D Golden Bear Award.