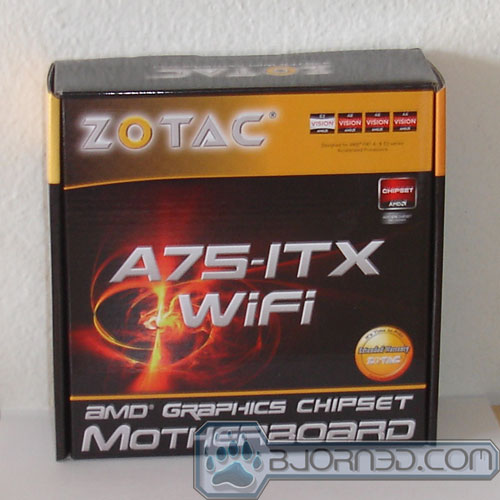 If you plans to build an ITX system with latest AMD Llano processor, be sure to check out the Zotac A75-ITX Wifi board.
INTRODUCTION
Zotac has a very unique strategy when comes to products. Rather than competing against big companies like Asus, Gigabyte, and MSI for the high-end performance motherboards, Zotac focuses on small form factor boards. This is a smart move for Zotac because they seem to be doing quite well with the small form factor systems like the Zbox and various mini-ITX bords it carries.
We previously reviewed the Zotac Z68 ITX board designed for Intel Sandy Bridge processors. Today we will be looking at another Zotac mini-ITX board, this one designed for AMD's mainstream APUs. The board is aptly named A75-ITX Wifi as it is designed with AMD A75 chipset. AMD Llano is one of the best HTPC processor architectures out there, especially for users who will take advantage of the HD 6550D integrated graphics. While its CPU performance may not able to compete against Sandy Bridge, it makes up the performance in the GPU department.
Zotac A75-ITX WiFi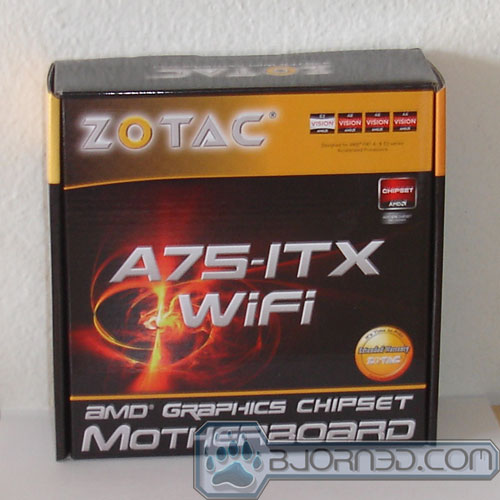 The Zotac board is shipped in a very attractive black and yellow box. We can see the box's lower right hand corner has a icon with text say "It's Time to Play Extended Warranty." It extends the standard 2 year warranty to 5 years. In order to enjoy the extended warranty, the owner needs to register the product within 14 days of purchase and keep the original sales receipt. We really do not like it when manufacturers require registration for a warranty, but Zotac at least allows the standard 2 year warranty for users who do not choose to register.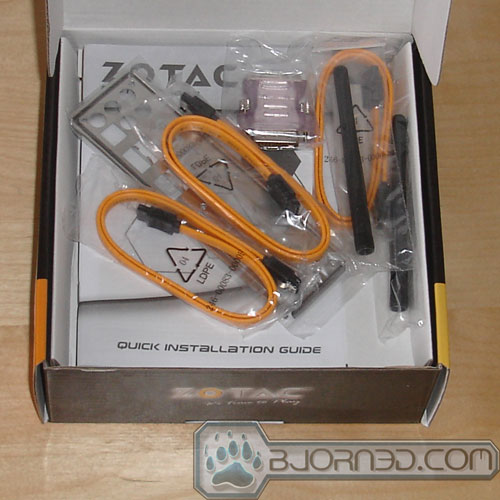 The board is very well-packaged. Zotac places the accessories on top of the board so they will not damage the board.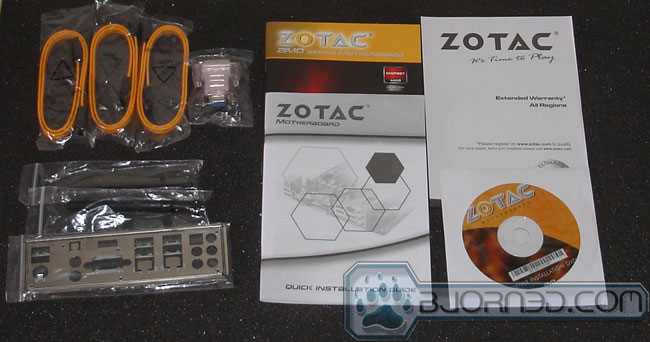 The board comes with three SATA cables, a DVI to VGA adapter, I/O shield, and two wireless antennas. In addition, we get a driver disk, quick installation guide, and an user's manual. We are not sure why Zotac decided to include only three SATA cables as there are four SATA ports on the board.
Specification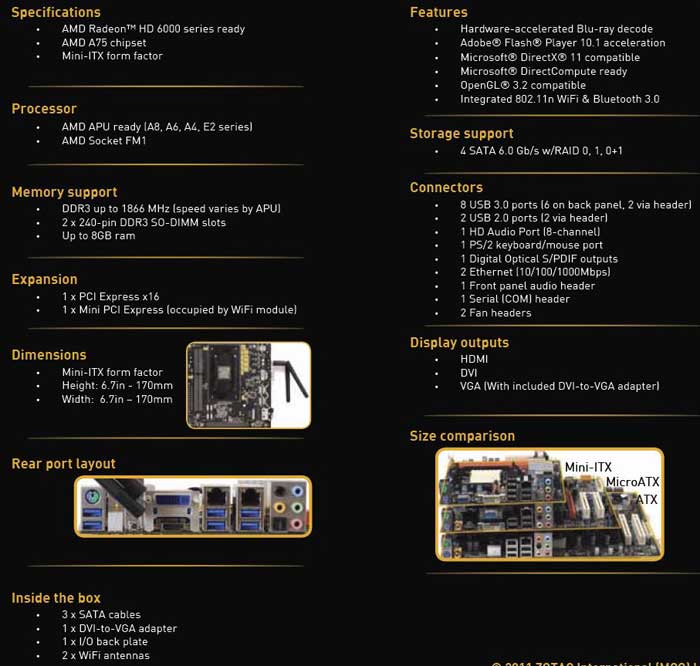 Zotac A75-ITX Wifi
Here is the board in all its glory. At 170 mm x 170 mm, it is just a tad bigger than a CD.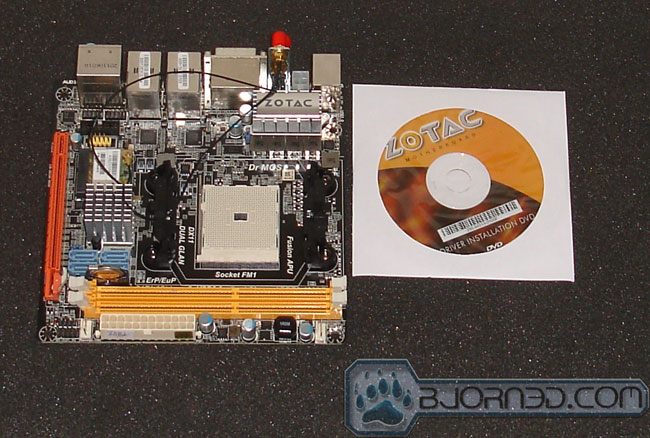 Zotac A75-ITX Wifi (left) and a CD
Zotac A75-ITX Wifi (left) and full ATX board (Gigabyte Z68)
Another size comparison as we put the board next to the full ATX board. The Zotac board is about as big as the CPU area in the full ATX board.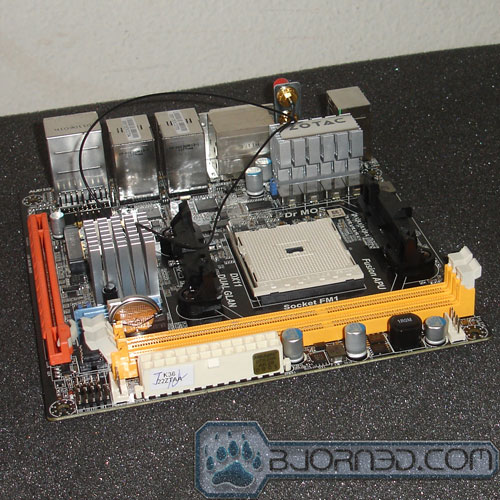 Despite its size, the board actually comes with plenty of ports. We can see that there are two DIMM slots available supporting up to 8 GB of DDR3-1066/1333/1600/1866. DDR3 is very cheap nowadays, and users can easily find 2x4GB for less than $50, so two DIMM slots should be plenty. We are glad to see that Zotac is able to squeeze in enough space for desktop DDR3 as opposed to the SoDIMM modules on their Z68 board.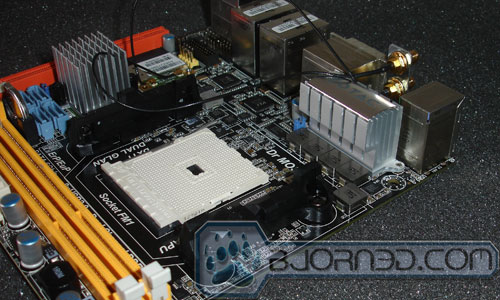 A small heatsink sits above the A75 chipset and another small heatsink is above the PWM. As we can see from the picture, there is not a lot of space around the CPU area but we do not envision anyone installing a gigantic cooler on the board, so there should not be any clearance issues. In fact, we installed a Thermalright SI-128 heatsink and did not encounter any issue at all (though the heatsink is actually bigger than the board so it extends over the edge of the board slightly).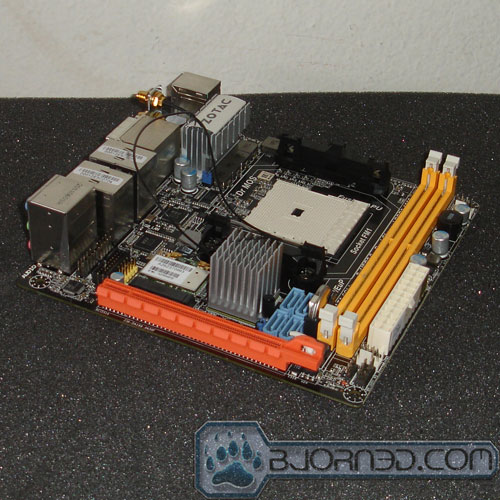 Four SATA 6 Gbps ports are next to the chipset and just in front of them is the CMOS battery. Due to space constraints, the battery is placed vertically as opposed to horizontally. The four SATA ports are very close to each other but there is no clearance issue with the PCI-E slot. Also, the battery is very close to the two SATA ports, so it can be very difficult trying to push the metal tab that is holding the SATA connector. Spacing is always going to be an issue for small systems like this and there is not much Zotac can do. However, we have seen Asus's mini-ITX board, which switched the CPU and the chipset positions in order to place the SATA ports on the edge of the board. This is definitely something that Zotac can try to implement in a future release.
For expansion, the Zotac board has a single PCIE x16 slot. There is simply not enough space for any other slots available. Luckily Zotac inlcluded a wireless 802.11b/g/n and Bluetooth v3.0. The wireless connection is handled by the AzureWave mini PCI Express card next to the orange PCIE x16. Instead of relying on internal antennae, the board uses two external antennae for better signal reception. Unfortunately, Zotac did not manage the cabling as well as we would've liked. It dangles off the board and can easily be ripped apart if you are not being careful.
There is also one USB 3.0 and USB 2.0 front panel header found on the board. The AMD A75 chipset supports only four USB 3.0 and the board actually comes with a total of 8 USB 3.0 ports, double the number supported. Rather than relying on third party chip like NEC or ASMedia, Zotac splits one of the USB ports with hubs from VIA. The VL810 hub splits one USB port into four ports. Using an USB hub may bottleneck the board's USB performance as the bandwidth is shared among the devices connected to the same channel. In addition, a hub often operates at the slowest speed of among the devices connected to the same chip, meaning that if you have an USB 3.0 device and USB 2.0 device connected to the same hub, the USB 3.0 device will operate at USB 2.0 speed. The manual, unfortunately, did not specify which USB 3.0 ports are connected to hub.
The audio on the board is handled by Realtek ALC892. The board has two additional fan headers but one of them is for CPU, so users have extra fan header left for additional cooling.
Rounding the back and we have the PS/2 keyboard/mouse port, six USB 3.0 ports, a single link DVI-I port, an HDMI port, and the standard 8 channel audio ports with optical SPDIF output. Surprisingly the there are two Gigabit LAN ports on the board which are again controlled by a Realtek controller. We are not certain that people would need two Gigabit LAN ports for a board of this size; instead of dual LAN ports, we probably would prefer to see an eSATA port or maybe a couple of extra USB 2.0 ports.
Notice that little CMOS button tucked underneath the antennae connectors. For a board of this size, getting access to the internal header can be extremely difficult, so this button is definitely appreciated. We can also see the four pin auxiliary power connector next to the keyboard connector.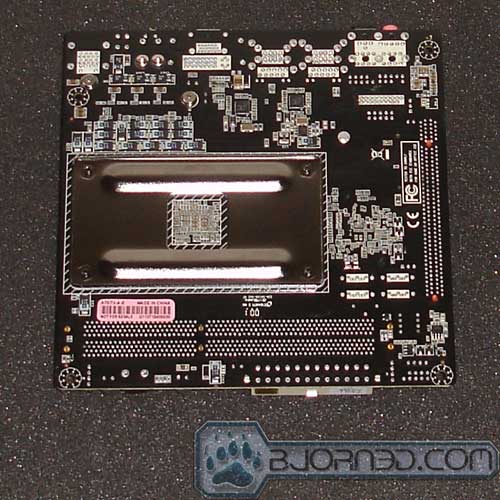 On the back we can see a big metal backplate covering almost half of the board.
BIOS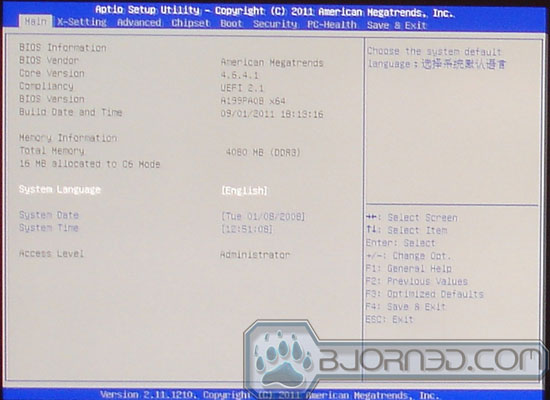 The A75-ITX WiFi uses American Metatrends, Inc BIOS. While the board supports UEFI, it is not the flashy type with a beautiful graphical interface and mouse support that we have seen with the Asus boards. It is still the old keyboard only and text-based UI.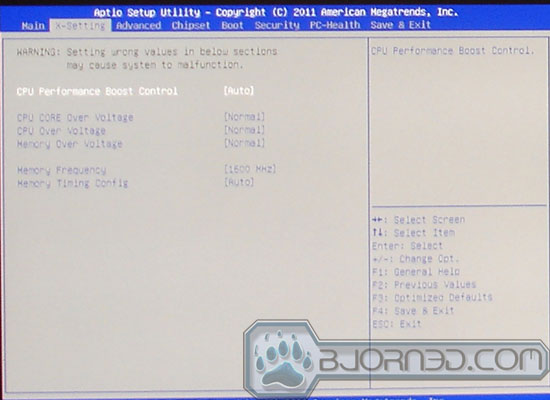 The familiar interface makes it easy to navigate and find the right settings quickly. The X-setting is where all of hte overclocking adjustments are located. While I think most people who purchase this board will probably not going to overclock the system since ITX system is often geared toward lower power consumption, it is nice to see that the board at least has some overclockign potential.
Overclocking Configuration

CPU Core Over Voltage
Auto, 0.05~0.30 V at 0.05V increments
CPU Over Voltage
Auto, 0.05~0.30 V at 0.05V increments
Memory Over Voltage
Auto, -0.30~+0.30 V at 0.10V increments
Memory Frequency
Auto, 800, 1066, 1333, 1600, 1866
tCL
Auto, 5~14 at 1 increments
tRP
Auto, 5~14 at 1 increments
tRCO
Auto, 5~14 at 1 increments
tRAS
Auto, 15~35
tWR
Auto, 5~8, 10, 12, 14, 16
tWTR
Auto, 4~8
tRRD
Auto, 4~8
tRTP
Auto,4~8
t
Auto, 4~8
tRQ
Auto, 16~40
trfc0
Auto, 9, 110, 160, 300, 350
trfc1
Auto, 9, 110, 160, 300, 350
The settings are not as expansive as what we have seen from Asus or other vendors but again the essentials are here. We are able to raise the CPU voltage and the memory voltages up to 0.30V higher than the stock voltage. The memory frequency supported is only up to 1866MHz which is what the Llano processor's controller can handle. The board simply won't let you go higher than that.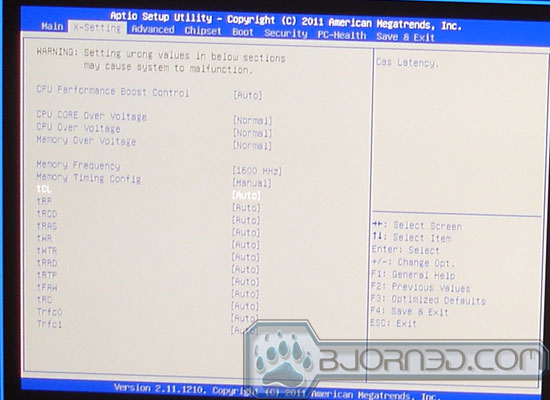 The Advanced setting is where userswould adjust the integrated peripherals like the USB, SATA, and the PCI Express.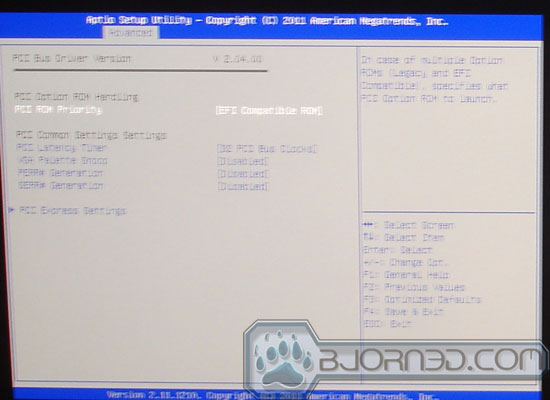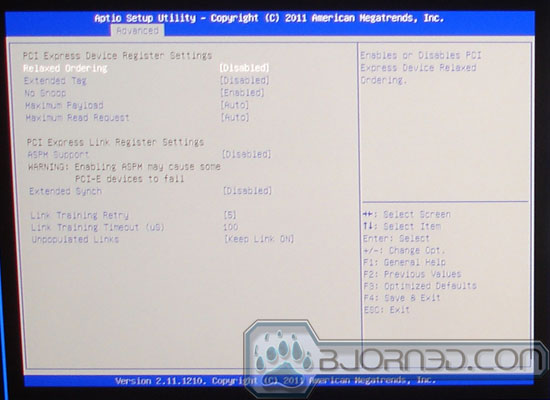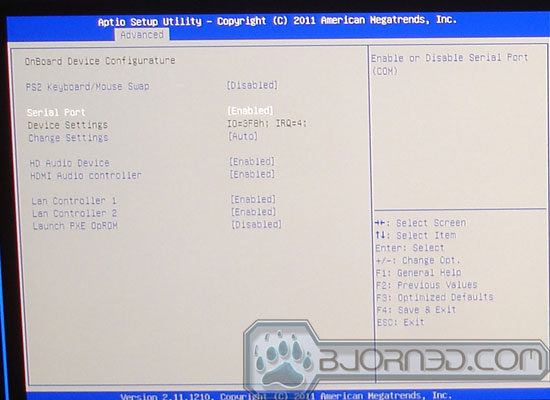 This is a rather interesting setting. When looking at the Primary Video Device, we get an option of setting it to IGD Video (which set to the integrated video on the processor), NB and SB PCI-E slot video. We are not quite sure what is the difference between the two as most motherboards have only one device in addition to the integrated video.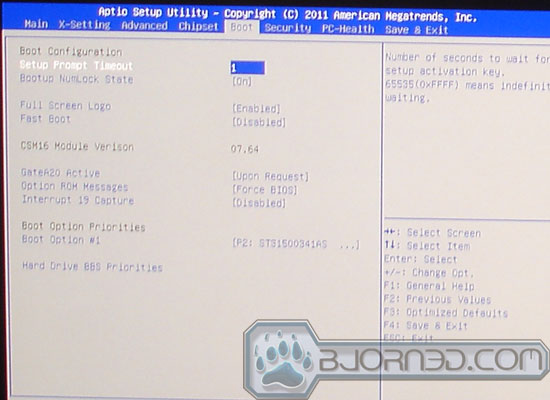 The boot menu is where users can adjust the boot setting and the boot order.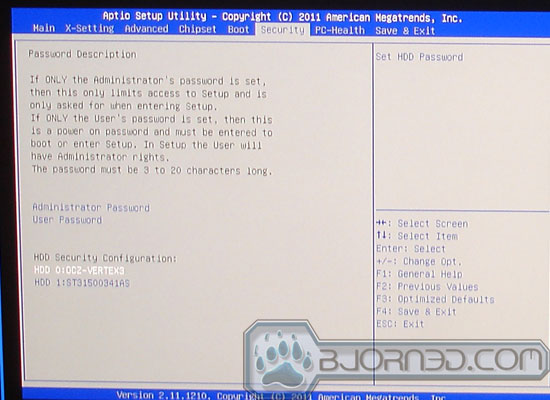 Users can also set an administrator password under the Security tab to secure your hard drive.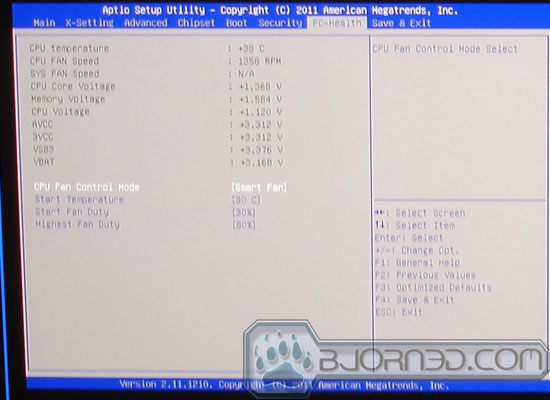 Under the PC Health, we can see that the board has a limited fan setting adjustment. Here we can adjust the CPU fan setting.
TESTING & METHODOLOGY
We did a fresh load of Windows 7 64 bit on the test rig, then once we updated the software and drivers to the latest versions, we made a clone copy of the hard drive because we're going to run this beast like we stole it. We ran each test a total of three times and the average of each test is reported here.
Test Rig

Case Type
None
CPU
Intel: Core i5-2500KAMD: A8-3850
Motherboard
Intel System: Asus P8Z68-V ProAMD System:

Gigabyte A75M-UD2H
Gigabyte A75-UD2H
Sapphire Pure Platinum A75
Zotac A75-ITX WiFi

Ram
Kingston HyperX 1600
CPU Cooler
Thermalright SI-128
Hard Drives
Seagate 7200.11 1.5 TB
Optical
None
GPU
ASUS HD 6870
ase Fans
120mm Fan cooling the MOSFET area
Docking Stations
None
Testing PSU
Cooler Master UCP 900W
Legacy
None
Mouse
Microsoft Intellimouse
Keyboard
Logitech Keyboard
Speakers
None
aida64 v1.50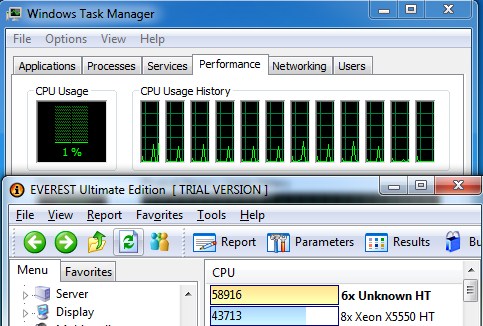 "AIDA64 Extreme Edition is a streamlined Windows diagnostic and benchmarking software for home users. AIDA64 Extreme Edition provides a wide range of features to assist in overclocking, hardware error diagnosis, stress testing, and sensor monitoring. It has unique capabilities to assess the performance of the processor, system memory, and disk drives. AIDA64 is compatible with all current 32-bit and 64-bit Microsoft Windows operating systems, including Windows 7 and Windows Server 2008 R2."
CPU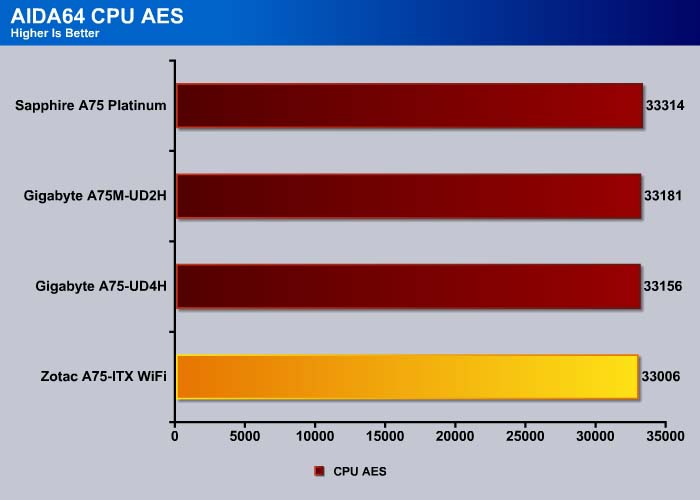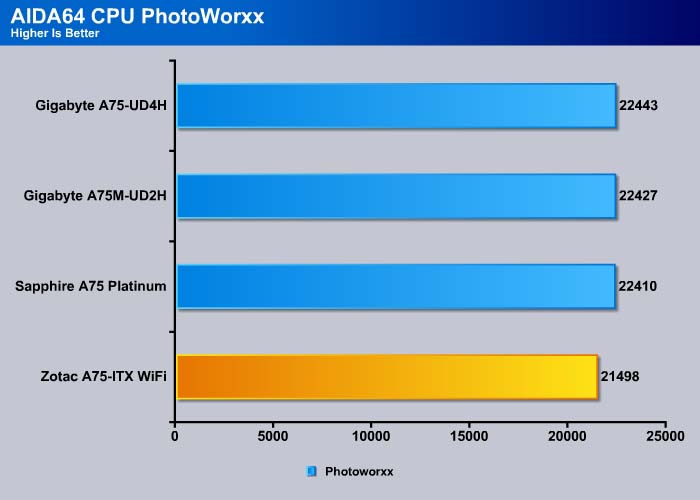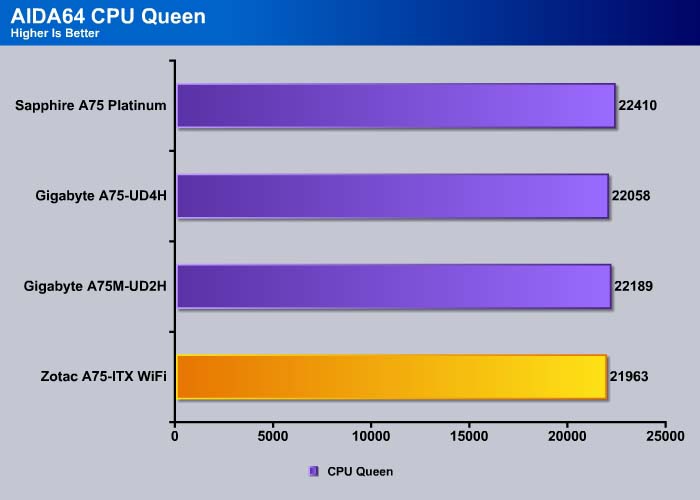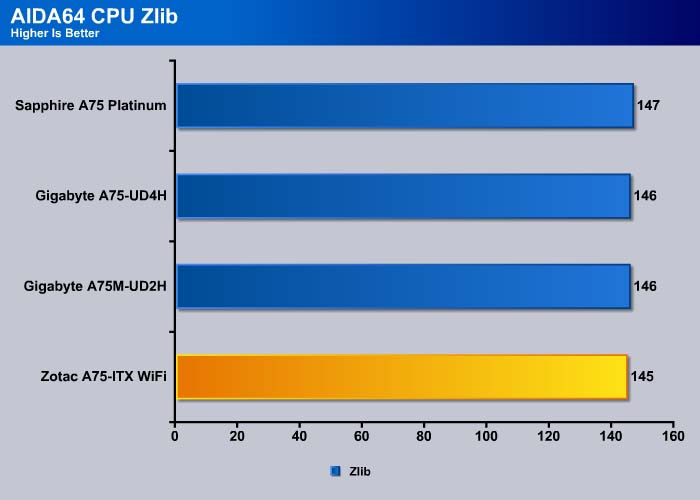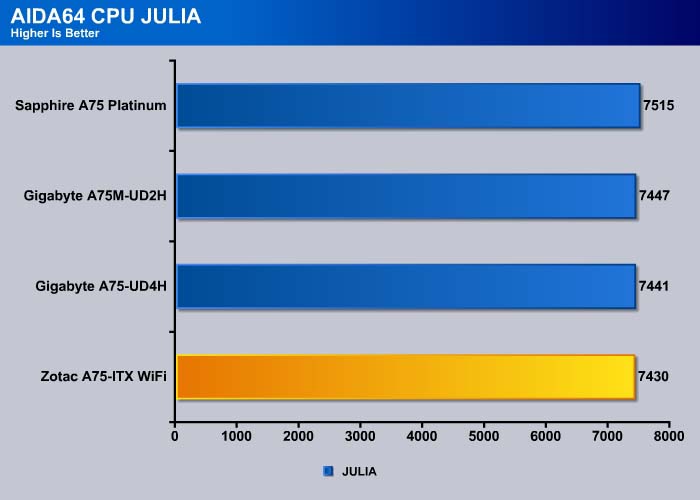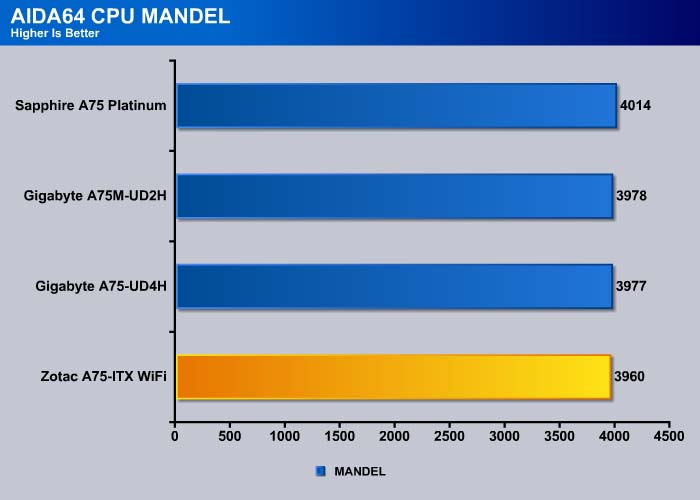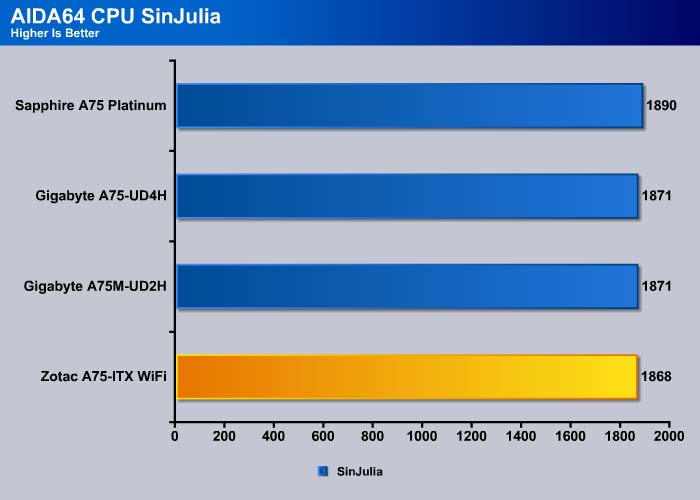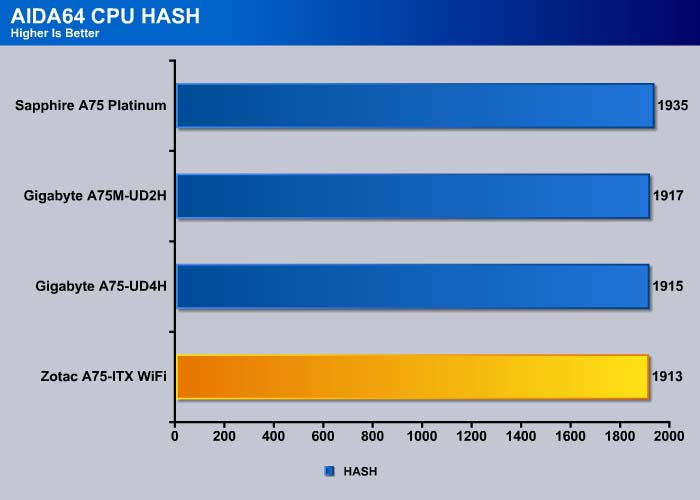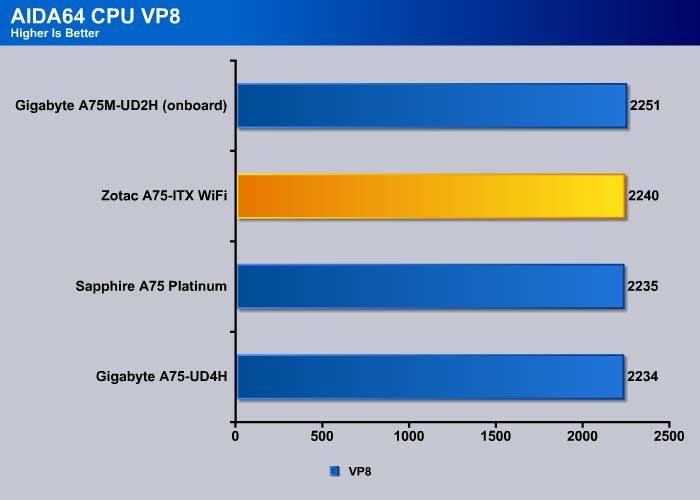 With the exception of the VP8, the Zotac A75-ITX WiFi board performs just a tad slower than other boards tested.
Memory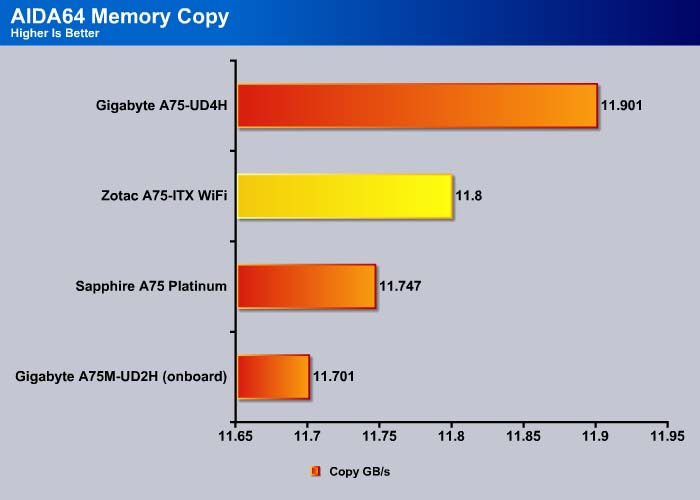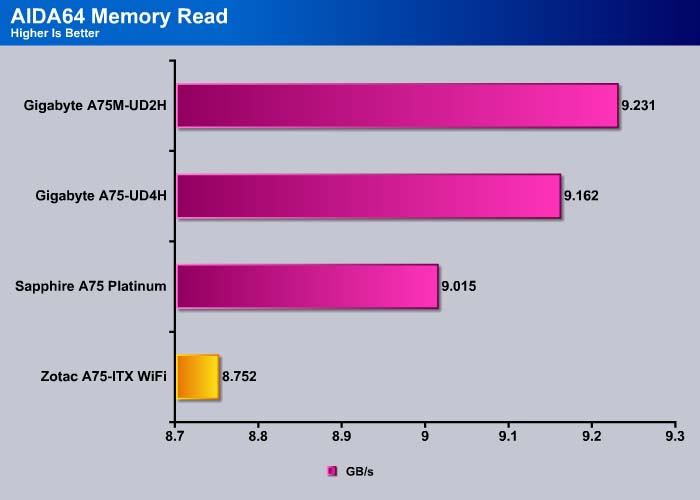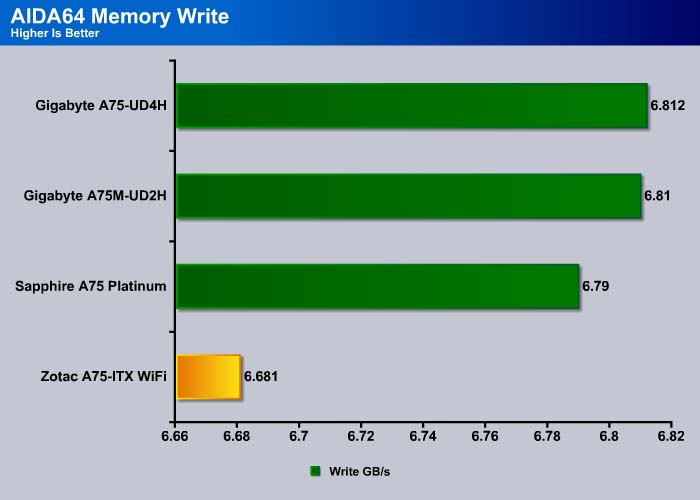 The memory read and write for the Zotac board is slower than other boards. In addition, the latency for the board is also noticeably slower than other boards.
Cinebench R11.5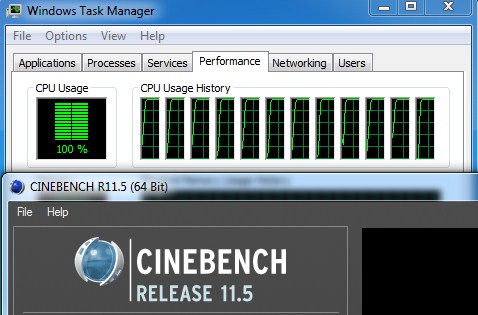 "CINEBENCH is a real-world test suite that assesses your computer's performance capabilities. MAXON CINEBENCH is based on MAXON's award-winning animation software, CINEMA 4D, which is used extensively by studios and production houses worldwide for 3D content creation. MAXON software has been used in blockbuster movies such as Spider-Man, Star Wars, The Chronicles of Narnia and many more. MAXON CINEBENCH runs several tests on your computer to measure the performance of the main processor and the graphics card under real world circumstances. The benchmark application makes use of up to 16 CPUs or CPU cores and is available for Windows (32-bit and 64-Bit) and Macintosh (PPC and Intel-based). The resulting values among different operating systems are 100% comparable and therefore very useful with regard to purchasing decision-making. It can also be used as a marketing tool for hardware vendors or simply to compare hardware among colleagues or friends."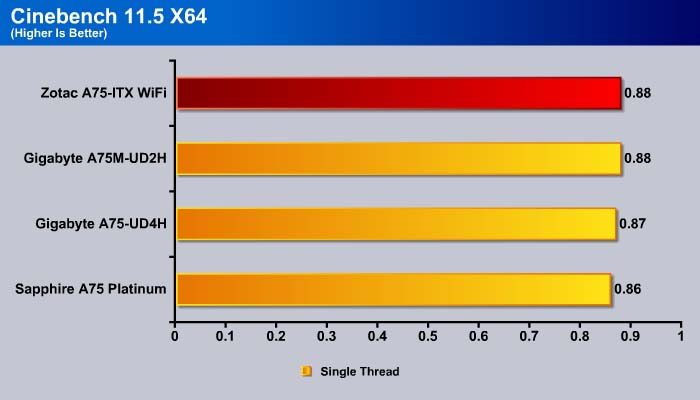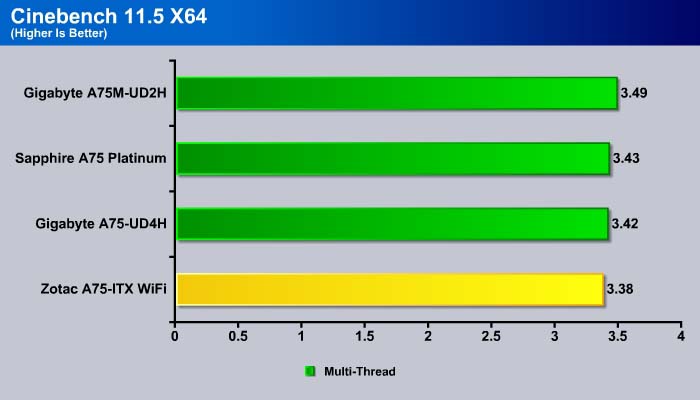 When comes with 3D rendering, Zotac did well in the single thread test but fell behind in the multi-thread performance.
PCMARK 7
The latest benchmark Suite–PCMark 7, puts a greater stress on the system than the PCMark Vantage. Contrast to the PCMark Vantage, the latest edition stress type of workloads rather than individual tasks. It consists of Lightweight, Productivity, Productivity, Entertainment, Computation and Storage benchmark. Readers can refer to the PCMark 7 whitepaper for the detailed list of applications and tests run for each suite.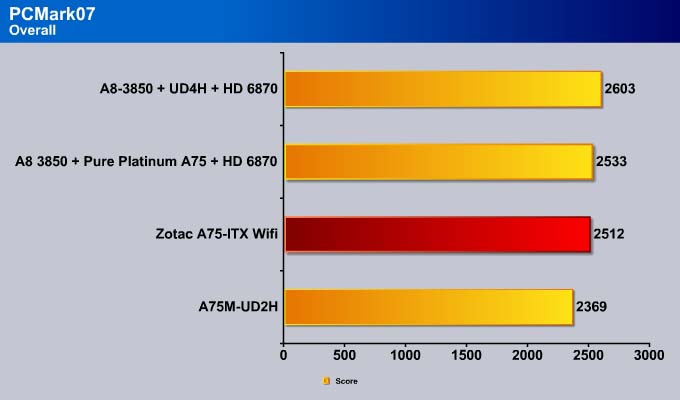 With PCMark7, the Zotac board shows the same result as what we have seen. Overall, the board is just a hair  slower than the competition. With the exception of the Lightweight test where we see a 2% difference in the performance, the Zotac board is often within 1% of its closest competitor.
Bear in mind that the overall score here with the A75M-UD2H was taken with the integrated graphics; hence it is slower than other boards tested with a dedicated HD 6870.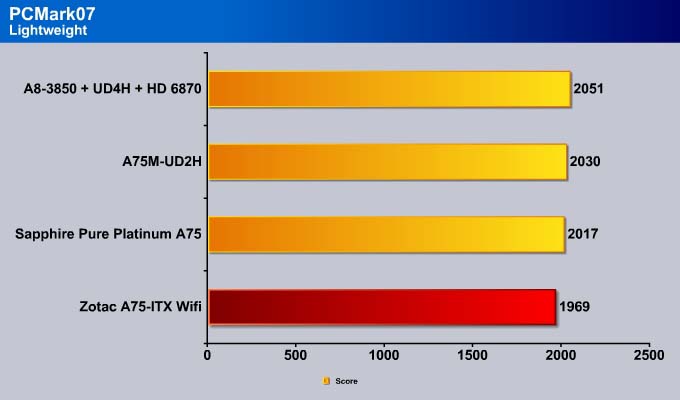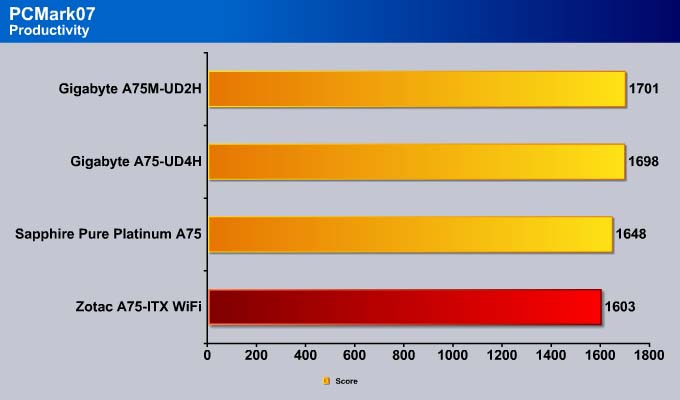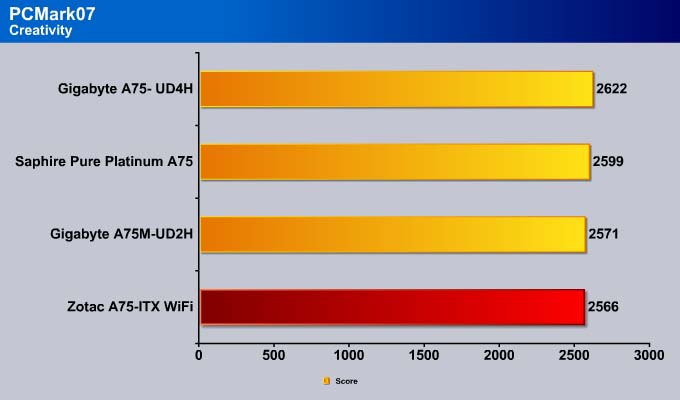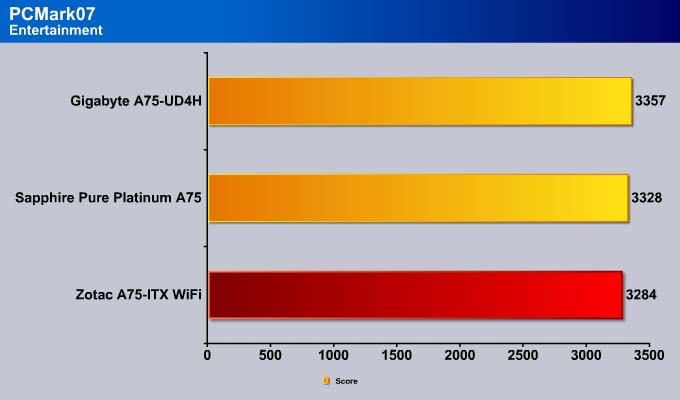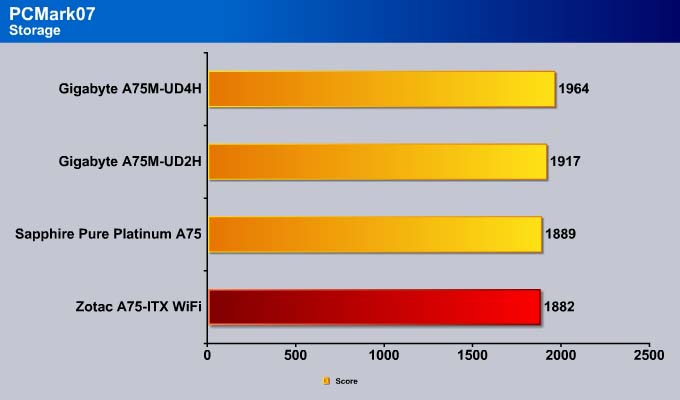 3DMark Vantage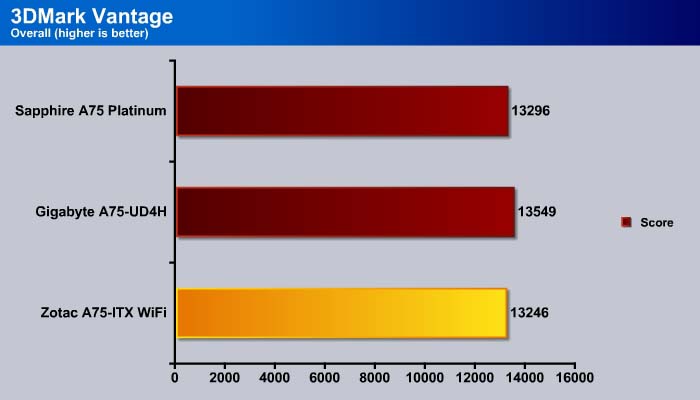 The Zotac once again is just a tad slower here.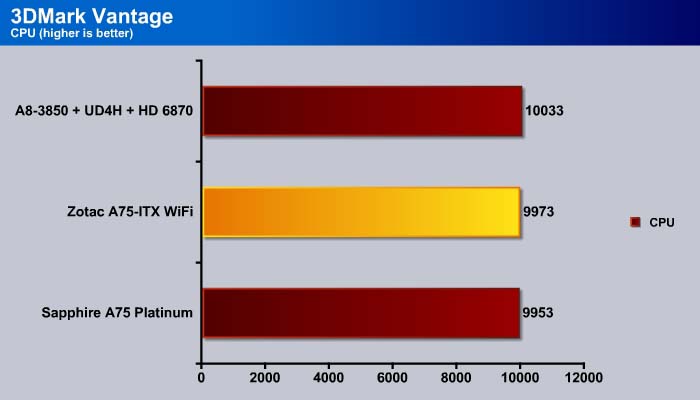 However, the GPU and CPU score are actually a tad better than the Sapphire A75 Platinum.
3DMark11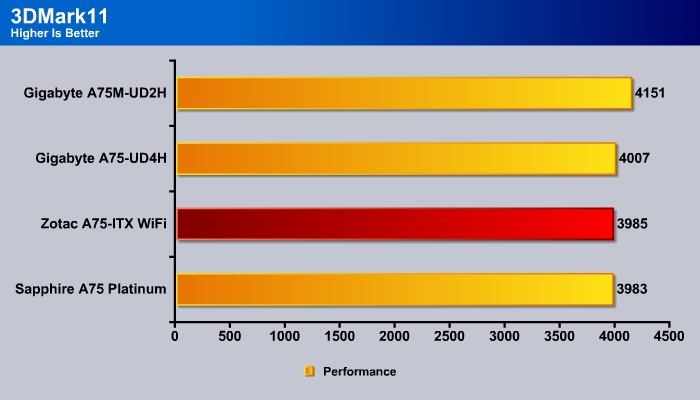 In 3DMark 11, the board is just a tad slower than Gigabyte's boards but is 2 points higher than Sapphire's board.
Crysis Warhead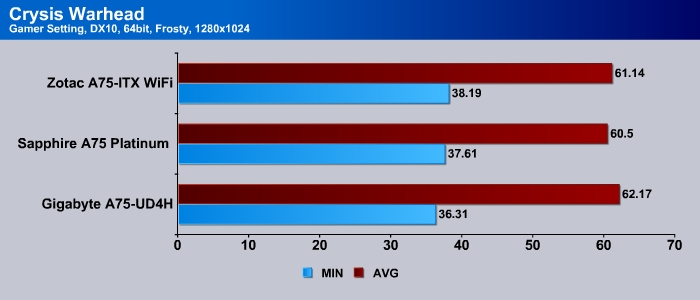 Unigine Heaven 2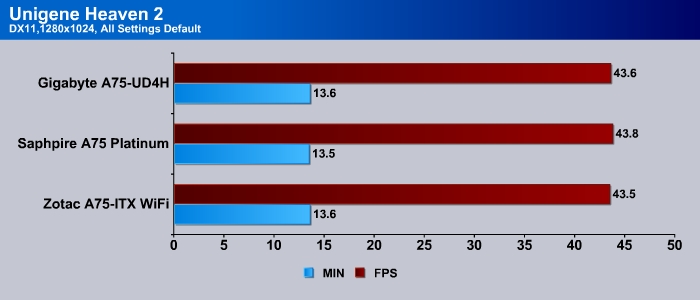 Dirt 2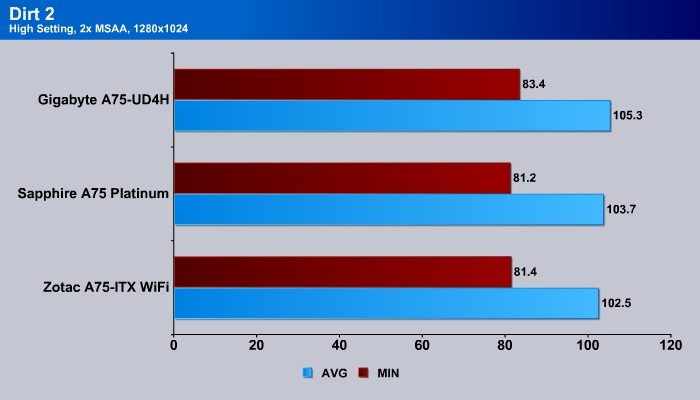 As long as the games are not CPU bound , the Zotac board performs just like other A75 boards. However, with a game like Dirt 2 where CPU has an impact on the performance, the slightly lower CPU power that we observed with the Zotac will result in a slight performance hit.
STORAGE
SSD: SATA III
| | | | | | |
| --- | --- | --- | --- | --- | --- |
| | Burst (MB/s) | Random (ms) | CPU (%) | Avg Read (MB/s) | Avg Write(MB/s) |
| GIGABYTE A75-UD2H (A75) | 418.0 | 0.1 | 8 | 337.2 | 296.2 |
| ASUS P8Z68-V Pro (Z68) | 407.4 | 0.1 | 5 | 378.7 | 381.9 |
| GIGABYTE A75-UD4H (A75) | 397.9 | 0.2 | 2 | 353.4 | 272.3 |
| Sapphire Pure Platinum A75 (A75) | 240.9 | 0.2 | 3 | 200.3 | 198.4 |
| Zotac A75-ITX WiFi | 239.8 | 0.2 | 3 | 189.7 | 188.3 |
Like with Sapphire's A75 board, the Zotac board's SATA III performance is not as fast as the Gigabyte's board. In addition, we can also see that the A75-ITX WiFi is actually a tad slower than the Sapphire board
USB 3.0
| | | | | | |
| --- | --- | --- | --- | --- | --- |
| | Burst (MB/s) | Random (ms) | CPU (%) | Avg Read (MB/s) | Avg Read (MB/s) |
| Sapphire Pure Platinum A75 (A75) | 162.1 | 17.2 | 12 | 111.1 | 109.9 |
| GIGABYTE A75-UD4H (A75) | 162.4 | 17.2 | 13 | 111.1 | 109.5 |
| GIGABYTE A75-UD4H (Etron) | 169.2 | 17.1 | 16 | 111.1 | 100.4 |
| Zotac A75-ITX WiFi | 136.7 | 28.4 | 0 | 86.0 | 89.5 |
We tested the USB 3.0 transfer speed with a USB 3.0 enclosure with Seagate Barracuda LP. Unfortunately for Zotac, the USB 3.0 performance is also much lower than that of other A75 boards. We are not sure if the problem is due to the USB hub that was used.
POWER CONSUMPTION
We ran Prime95 to stress the CPU in order to measure the overall system power consumption. All of the power saving features (C&Q and SpeedStep) have been enabled, as we envision this is how most people will be running their system.
| | | |
| --- | --- | --- |
| | Idle | Load |
| A8-3850 + A75-UD4H | 65 W | 173 W |
| A8-3850 + Sapphire Pure Platinum A75 | 70 W | 164 W |
| Zotac A75-ITX WiFi | 61 W | 156 W |
The Zotac A75 board consumes 4 watts fewer than other boards idle and under load it consumes 8 watts fewer than the ATX board from Sapphire. Compre to the Gigabyte's board, there is 17 watts power saved under load.
Overclocking
The Zotac A75 does not really offer any overcloking potential. AMD Llano has locked multiplier and in order to overclock the processor you would have to raise the bus frequency. Unfortunately, the board lacks the ability to do so. Honestly, I do not feel anyone will be bothered by the lacking of such option since it is highly unlikely that anyone who purchase the board is planning to do any overclocking. Mini-ITX form factor are designed to fit into very small system where large cooler is often not an option.
conclusion
Despite the slower CPU and memory performance of the Zotac A75-ITX WiFi, we do not think that everyday use will suffer greatly. However, we are more concerned about the poor SATA and USB 3.0 performance. To be fair, if the system is bundled with a mechanical drive, the slower SATA performance is probably not going to be an issue.
In addition, we are not a fan of the BIOS, though it does get the job done. For its market, we really think it would not be a major issue for lacking the pretty UEFI interface and the mouse support. The limited overclocking potential is also not going to be an major issue either.
The thing we liked about the Zotac A75-ITX WiFi is the bundled Bluetooth and WiFi and the fact that it uses desktop DIMM as opposed to SoDIMM. While the use of USB 3.0 hub may has its drawback, it does provide more USB 3.0 ports which in the long term may come in handy.
At retail pricing of $146, the Zotac A75-ITX WiFi is certainly worth considering if you plan to build a small foot-print  media PC. By pairing this up with a 65W AMD A8 or A6 APUs, you can have a very nice system that is able to handle your multimedia streaming and HD encoding with the HD 6650D that is found on the Llano APU.
OUR VERDICT: Zotac A75-ITX WiFi
| | |
| --- | --- |
| Performance | 7 |
| Value | 7.5 |
| Quality | 8 |
| Features | 8 |
| Innovation | 9 |

We are using a new addition to our scoring system to provide additional feedback beyond a flat score. Please note that the final score isn't an aggregate average of the new rating system.

| | |
| --- | --- |
| Pros | Cons |
| Good featuresEight USB 3.0 portsWireless and Bluetooth suportDesktop DIMM slots | Performance lags behind the competitorsUSB 3.0 and SATA performance is not as good as other boardsOld traditional based BIOS |
Summary: The Zotac A75-ITX WiFi is worth considering if you are looking to build a small system with an AMD A8 Llano processor. However, keep in mind that the board has poor SATA and USB 3.0 performance when you consider your building components.