Introduction
The NH-D15 was built in the image of its now famous predecessor the NH-D14. Noctua set out to improve on their previous model by making what they refer to as the "ultimate quiet cooling performance" fan. Let's see how it stacks up against its younger sibling.
The two changes instantly recognizable are the expanded heat pipe layout and the two premium grade NF-A15 140mm fans with PWM support. The PWM support offers automatic speed control that further improves the NH-D14's efficiency. This fan is considered a deluxe item fit for users who are looking for a fan that runs very quietly while still being useable for overclocking.   
Features & Specifications
Specifications 

Socket

compatibility

Intel: LGA1150, LGA1155, LGA1156, LGA2011AMD: AM2, AM2+, AM3, AM3+, FM1, FM2
Height, Width and Depth

(without fan)

160 mm

X

150 mm

X

135 mm

(with fan)

165 mm

X

150 mm

X

161 mm

Weight

(without fan)

2.2

lb

(with fan)

2.9

lb

Material

Copper

(base and heat-pipes),

aluminium

(cooling fins), soldered joints & nickel plating

Fan compatibility

140x150x25 (with 120mm mounting holes), 140x140x25 (with 120mm mounting holes),

120x120x25

Fan Speed
300 – 1500 RPM(with LNA) 300 – 1200 RPM
Fan Airflow
82.5 CFM68 CFM (w/LNA)
Fan Model
NF-A15 PWM
Bearings
SSO2
Warranty
6 years
MSRP
$99.99
6 heatpipe dual tower design
As compared to conventional single tower heatsinks, the NH-D15's fine-tuned six heatpipe dual tower design provides more surface area, better heat-distribution and superior airflow efficiency in dual fan mode.
Widened fin stack and expanded heatpipe layout
Compared to the NH-D14, the NH-D15's fin-stack has been widened from 140 to 150mm and its heatpipes are now spaced further apart, which allows for a more uniform heat distribution over a larger surface area and thus contributes to the NH-D15's superior efficiency.
High RAM compatibility in single fan mode
Thanks to its recessed lower fins, the NH-D15 provides 64mm clearance for tall memory heatsinks in single fan mode, making it compatible with most high-end RAM modules on the market. In dual fan mode, the NH-D15 should be used with standard height RAM (up to 32mm).*
NF-A15Dual NF-A15 140mm fans
The NH-D15 features two of Noctua's premium class NF-A15 140mm fans. Complying with Noctua's AAO standard and featuring sophisticated aerodynamic design measures such as Flow Acceleration Channels, the NF-A15 has quickly built up a reputation as one of the best 140mm fans on the market. button
PWM support and Low-Noise Adaptor
The NF-A15 premium fans supplied with the NH-D15 support PWM for convenient automatic speed control through the mainboard. In addition, the maximum fan speed can be reduced from 1500 to 1200rpm using the supplied Low-Noise Adaptor for even quieter operation.
Excellent component cooling
Extending below the fin-stacks, the large NF-A15 fans not only contribute to the NH-D15's superb CPU cooling capabilities but also provide massive airflow over surrounding motherboard components and heatsinks, thus ensuring excellent component cooling performance.
SecuFirm2™ mounting system
Noctua's SecuFirm2™ mounting systems have become synonymous with quality, safety and ease of use. Supporting Intel LGA115x (LGA1150, LGA1155, LGA1156), LGA2011 and AMD (AM3(+), AM2(+), FM1, FM2(+)), the SecuFirm2™ mounting included with the NH-D15 guarantees perfect contact pressure and maximum convenience on all current sockets.
Compatibility with past and future sockets
Complying with the open SecuFirm™ standard, the NH-D15 can be made compatible with the older LGA1366 and LGA775 sockets using the optional NM-I3 mounting kit, which is provided by Noctua free of charge. If technically possible, Noctua will also provide upgrade kits for future sockets.
NF-A15NT-H1 thermal compound
Having received more than 100 awards and recommendations from hardware journalists around the world, Noctua's NT-H1 is a proven professional grade TIM solution that provides minimum thermal resistance, excellent ease of use and outstanding reliability. button
6 years warranty
Noctua products are renowned for their impeccable quality and outstanding longevity. Like all Noctua fans, the supplied NF-A15's feature an MTBF rating of more than 150.000 hours and the entire NH-D15 package comes with a full 6 years manufacturer's warranty.
Product Overview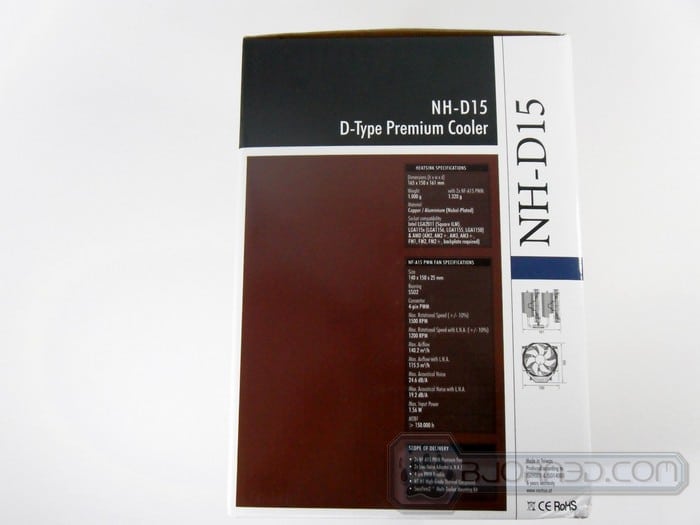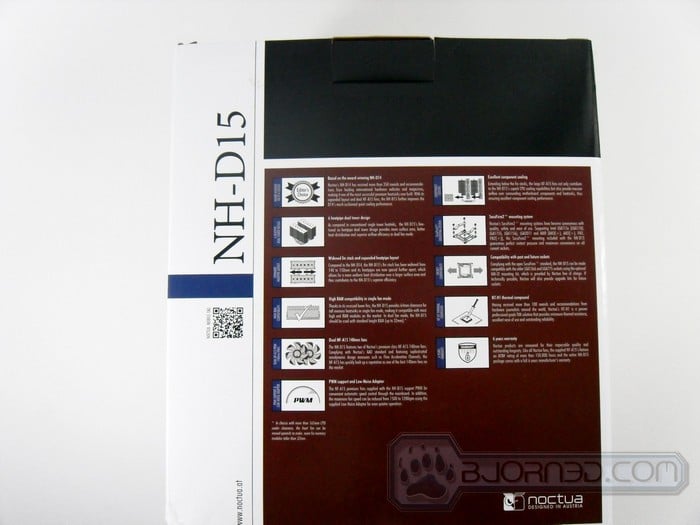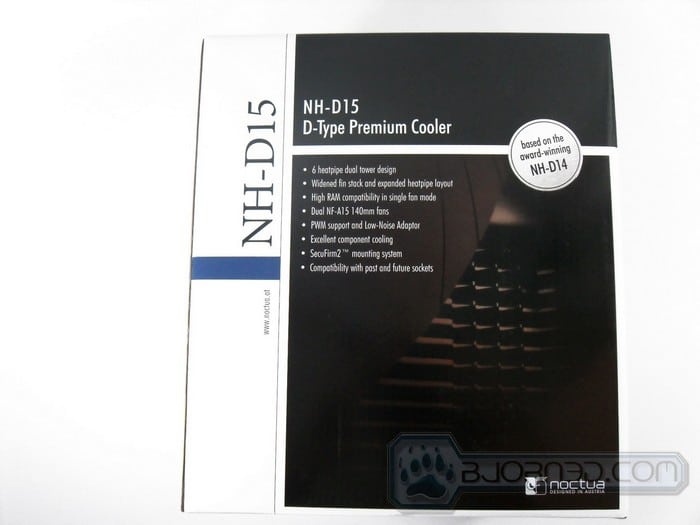 Click Images to Enlarge
The NH-D15 was packaged very nicely and neatly, along with a lot of protective Styrofoam to keep from damaging the thin metal blades of the heat sink.The first thing that I noticed was how huge this thing is, but  it's actually only a little bit bigger than the NH-D14. The center fan is also a little further away from the blades rather than right up against them. According to the specs, it's a little over 6 inches high, almost 6 inches wide and a little over 5 inches deep without the fan. With the extra fan, it's almost 6 ½ inches high, almost 6 inches wide and a little over 6 inches deep. It always weighs a little over 2lb without the fan and almost 3 lb with the fan.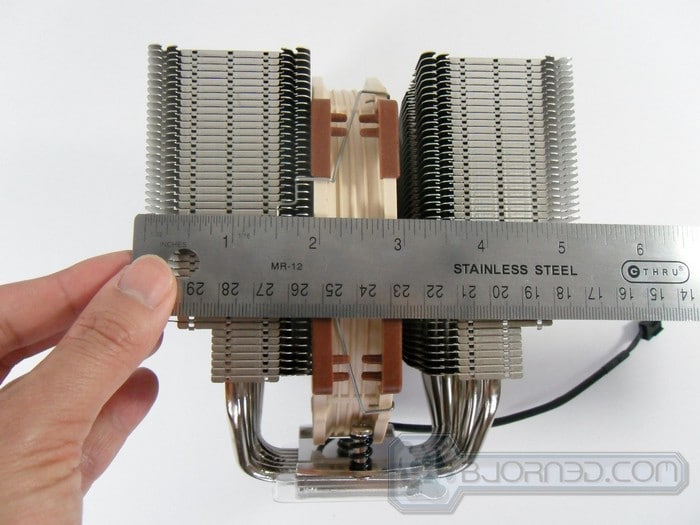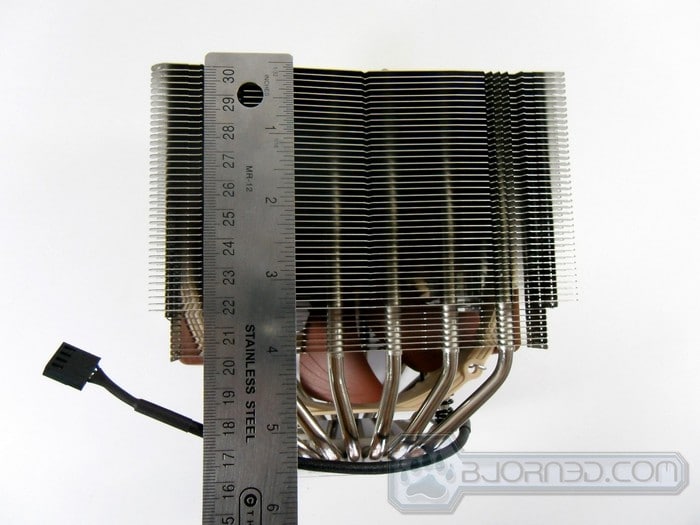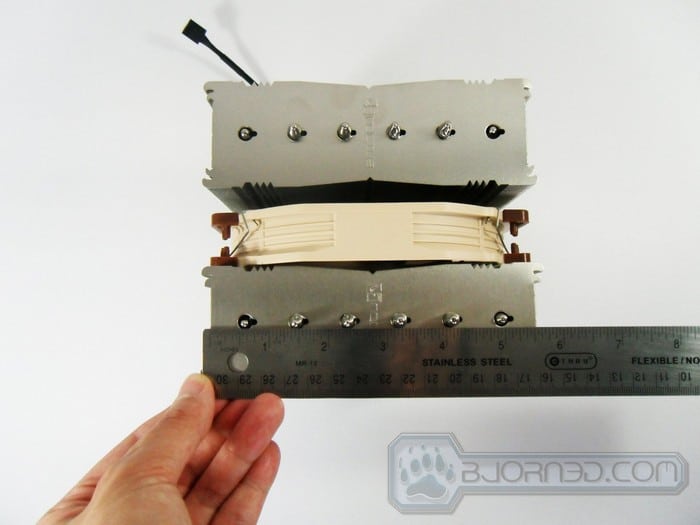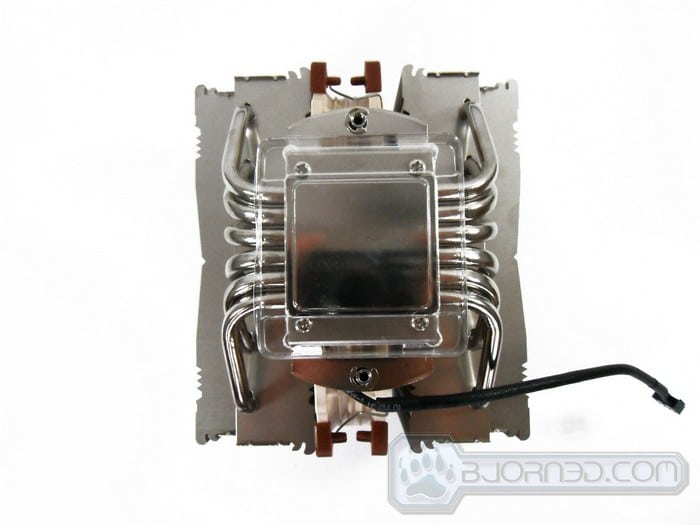 Click Images to Enlarge
I found in that in doing my own measurements, the device was slightly smaller than the manufacturer's measurements. This is mostly likely due to them measuring in the different way. The pictures are to serve as a visual guide of the dimensions of the fan. The size of this can be a big deterrent for a lot of people. If you have a mid-tower sized case and a standard ATX sized motherboard (like I do), you may run into issues installing it. More details to follow. Noctua did design this with the height of RAM modules in mind, so it does appear that it's tall enough to allow most RAM with heatpipes to sit under it.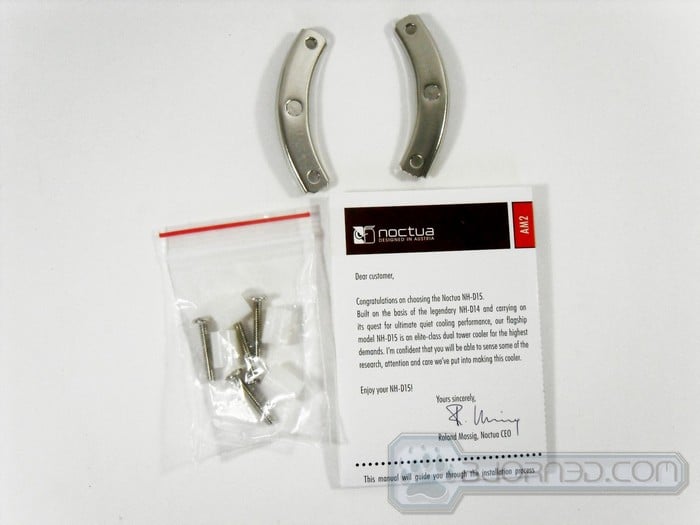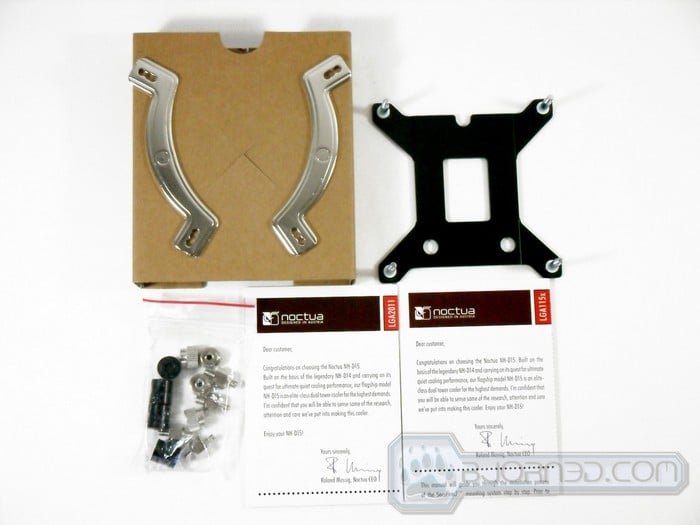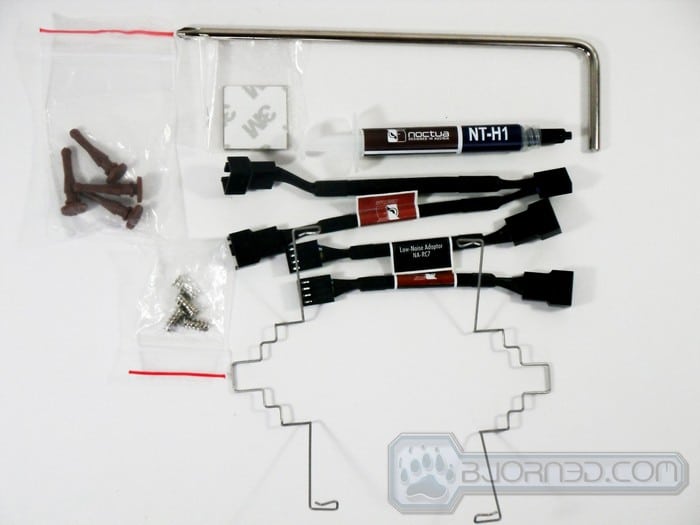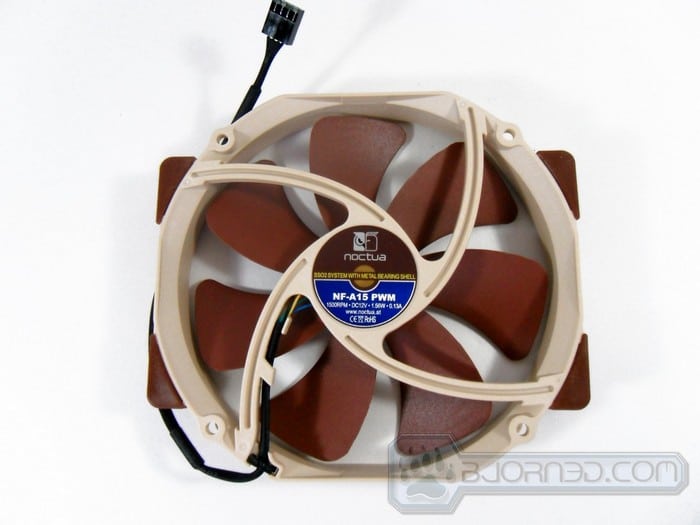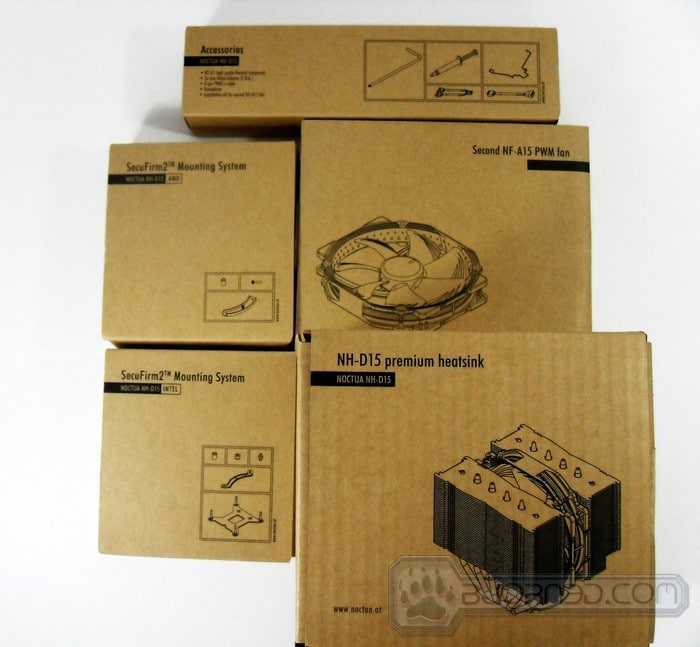 Click Images to Enlarge
A lot of accessories also came with it:
4x Rubber fan mounts
4x Fan screws
4x LGA2011 mounting screws
4x AMD mounting screws
4x AMD spacers (white)
4x Intel spacers (black)
4x Thumb screws
4x Fan clips
2x AMD mounting arms
2x Intel mounting arms
2x 140 mm x 150 mm x 25 mm NF-A15 fans
2x L.N.A adapters
1x Intel backplate
1x Tube of NT-H1 thermal paste
1x Phillips screwdriver
1x Metal Noctua badge
1x PWM Y-cable
As far as aesthetics goes, the color of the fan is not flattering at all. The pinkish beige frame along with the lighter brown fan blades and combined with the size, it comes across as old and bulky.
Review Overview
Value - 8
Quality - 10
Features - 10
Innovation - 8.5
9.1
Noctua NH-D15
The Noctua NH-D15 is easy to install and it lives up to its reputation, but the size is extremely encumbersome and is not aesthetically pleasing. This is great for overclock enthusiasts who have a full tower and maybe even larger than a standard ATX motherboard, which probably most do.