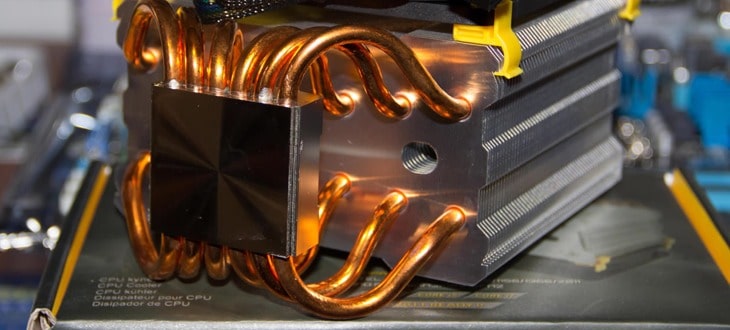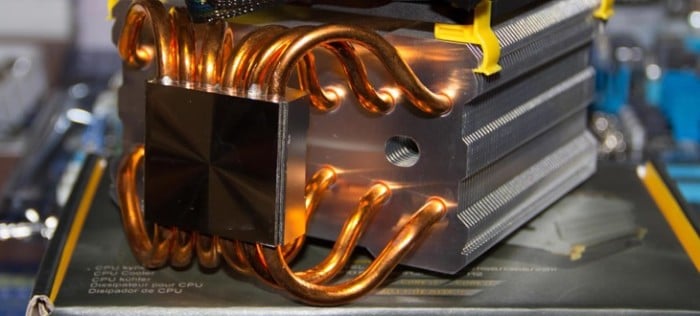 Reeven is a new company that has a wide range of coolers and accessories for coolers. Today we are testing one of their products, the Justice RC-1204. This is a fairly large cooler with a 120 mm fan that can be fitted to basically any type of CPU-socket. Can it compete with coolers from more known companies like Thermaright and Noctua? Read on to find out.
FEATURES AND SPECIFICATIONS
Model Number:
RC-1204
Socket:
INTEL:
LGA 775 / 115X / 1366 / 2011
AMD:
AM2 (+) / AM3 (+) / FM1 / FM2 (+)
Overall Dimension:
131x99x162mm
Fan Dimension:
120x120x25mm
Heatpipe:
Ø6mmX6
Fan Speed:
500 ~ 1500 RPM PWM
Air Flow:
27.6 ~ 82.1 CFM
Static Pressure:
0.008 ~ 0.067 inch H2O
Noise Level:
4.3 ~ 29.8 dBA
Weight:
930g (with Fan)
This is a fairly large cooler. It can fit on any type of CPU-socket regardless if it is on a AMD- or Intel-motherboard. There are 6 copper heat pipes that help move the heat away and lots of aluminum fins. To top it off it comes with a 120 mm Coldwing fan.
CLOSER LOOK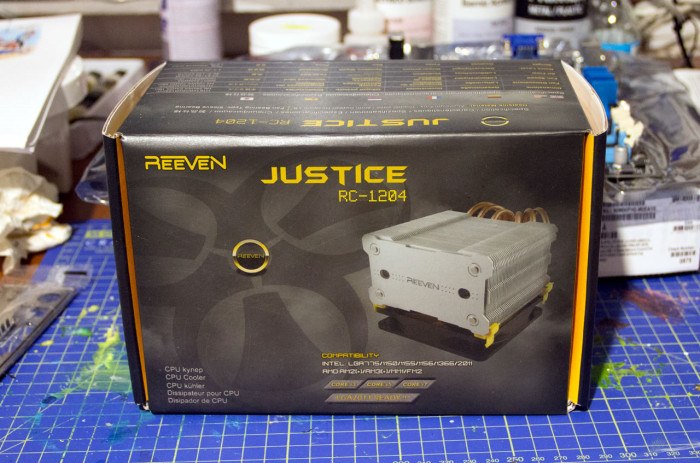 The cooler comes in a small compact box. Inside you find the cooler and the accessories.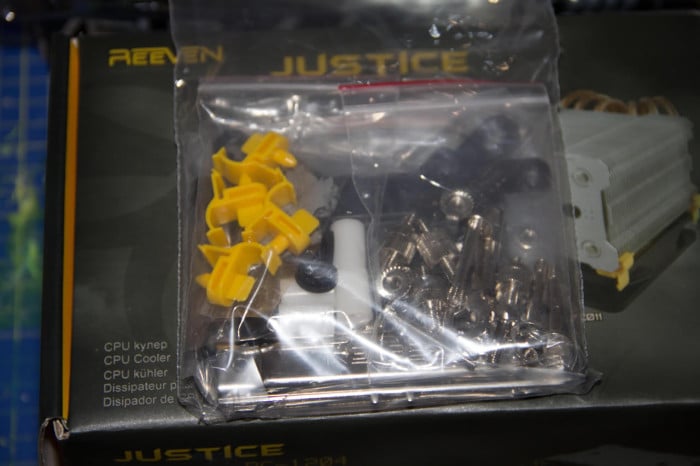 The accessories consist of a back plate, screws, stand-offs and the yellow plastic clips which allows you to fit a second fan to the cooler. We also find a small plastic container of paste.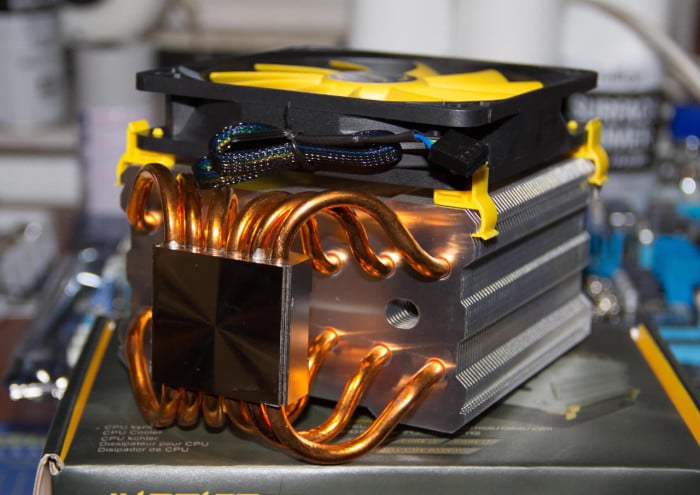 The cooler comes with a fan pre-attached. 6 copper heat-pipes come out from the CPU-socket and goes through the aluminum-fins.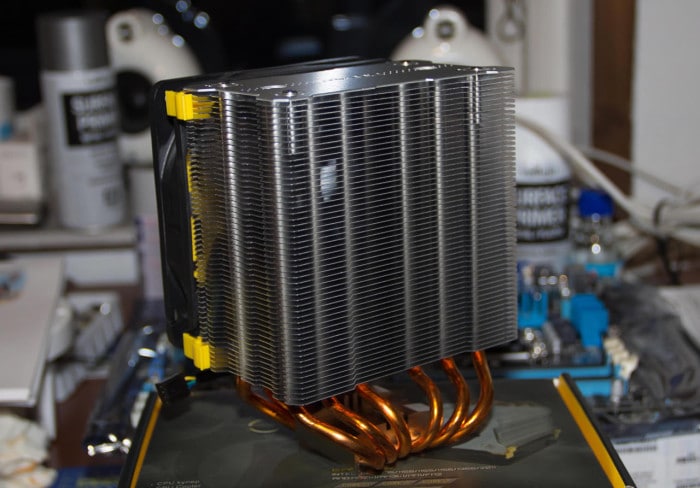 Here we get a good look of the cooler and all the fins that allow air through to cool the copper heat-pipes that goes through the cooler. These fins are 0.5 mm thick except for the last fin at the top which is 1 mm thick. The cooler is not perfectly even and instead and instead offers a bit space in the middle of the cooler where the fins are a bit shorter creating a bit of a space between the fan and the cooler. This is supposed to be good for the airflow. Both sides of the cooler are equal and as we mentioned Reeven has included a set of plastic mounting clips that allows you to mount another fan to the cooler. This gives you the opportunity to use a push-pull configuration of fans.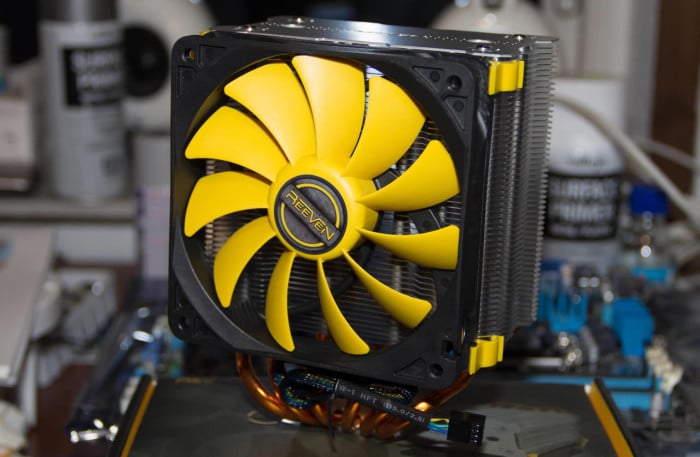 The 120 mm Goldwing fan has a max rated noise-level of 28.9 dBA which is pretty low. The speed of the fan can be varied between 500-1500 rpm.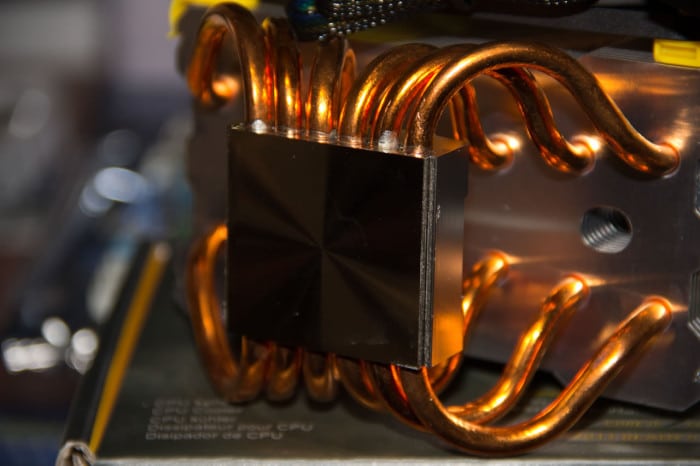 The bottom plate has one solid block of aluminum at the top where the copper heat-pipes go through and a nickel-plated copper-bottom which has contact with the processor. The surface was nice and smooth without any visible imperfections.
Review Overview
Quality - 8
Performance - 9
Features - 8
8.3
The Reeven Justice RC-1204 is great cooler that not only runs silent but also can keep your CPU cool.