The Enermax Fulmo model ECA892AG comes with an SATA Dock port, USB3.0 ports, and 5 installed fans, three of which are cool to look at, but can it keep a multi GPU system cool? We'll find out as we examine it.
Introduction
The foundation of a good system isn't the PSU. It isn't the CPU or even the motherboard. It's the case. Without a good case to keep all the other components cool, clean, and protected, systems can get messy quickly.
When looking for the right case users look at whether or not it will fit the parts they wish to use, how well it cools, what can be added to it, and what it may have or lack in features. Consumers will consider many offerings from many different companies, most often the ones they hear others discussing on forums, or in other "tech" related gatherings places. The smart ones also consider products from companies that aren't necessarily known for their cases but for other gear, like Enermax. Today we are going to examine the Fulmo mid tower to see if it's worth considering.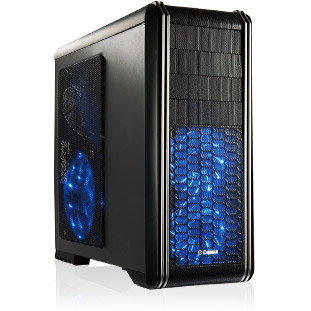 The case we are reviewing is the Enermax Fulmo mid tower, model ECA892AG which is available from several retailers at prices ranging from $99 USD w/free shipping to $137 USD also w/ free shipping.
Features & Specifications
 
Embossed-honeycomb mesh for maximum airflow and fresh style
 
Integrated speed & light control for 3 fans
 
Easy installation
 

| | |
| --- | --- |
| • | Tool-less design for easy and quick installation |
| • | Easily removable top cover for fan installation and dust removal |
| • | Cut-outs on M/B tray for easy CPU cooler installation |
| • | Rubber grommets to provide extra protection for cables and water cooling tubes |
| • | Bottom mounted PSU slot with removable dust filter |
| • | Velcro cable tie for extra PSU securing |

 
Extreme expandability
 

| | |
| --- | --- |
| • | 8 expansion slots to support triple graphic cards |
| • | Top hot-swap dock and internal USB 3.0 ports for the fastest data transfer |
| • | Innovative vertical HDD mounting brackets for high-end graphic card installation (up to 410mm) |

 
Supreme cooling performance
 

| | |
| --- | --- |
| • | ECA892AG supports up to 10 fans |
| • | ECA892BG supports up to 14 fans |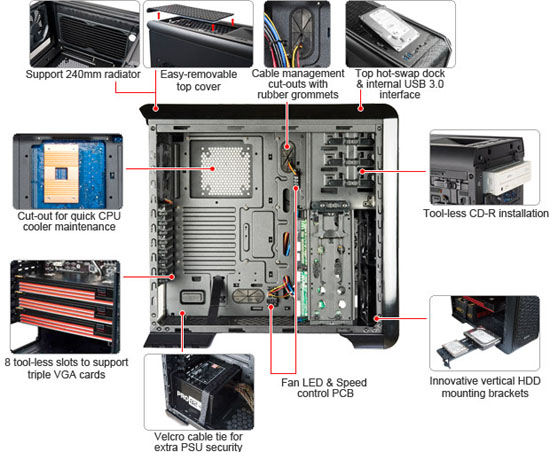 | | |
| --- | --- |
|   | Integrated LED & Speed control |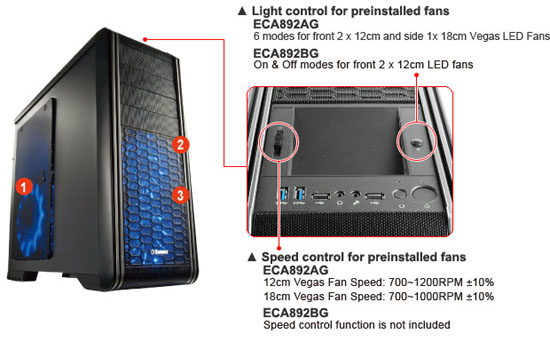 | | | |
| --- | --- | --- |
|   | ■ | 6 Switchable LED Modes of Vegas Fan (ECA892AG) |
Note: Each fan may have slight difference in response time for changing LED mode. Therefore, each fan's LED mode might not be synchronic occasionally. Press the light control button for 3 seconds to OFF mode, then press it again to choose the mode you prefer.
Having watched the fans do their thing, we can say that the flash video above is a very accurate representation of the patterns.
Specifications
Model Name

ECA892AG
ECA892BG
Dimensions (D)×(W)×(H)
520 x 221 x 505 mm
Material
0.7mm SGCC
Drive Bays
5.25″
4
3.5″
6 x Hidden
2.5″
6 (converted from 4 x 3.5")
Top hot-swap dock
Yes
M/B
ATX, mATX
Power Supply
ATX 12V (Optional)
Front I/O
2x USB 3.0, 2x USB 2.0,
Audio HD+AC'97
1x USB 3.0, 2x USB 2.0,
Audio HD+AC'97
Cooling
Front
2x 12cm Vegas fan
2x 12cm Blue LED fan
Left Side
1x 18cm Vegas fan
6x 12cm fan (Optional)
Right Side
1x 12/ 9cm thin type fan (Optional)
Top
1x 12cm fan
2x 14/12cm fan (Optional)
Rear
1x 12cm fan
Bottom
1x 12cm (Optional)
1x 14/12cm (Optional)
Fan Speed Control
Yes
No
Fan LED control
6 switchable modes for 3 x Vegas fans
On & Off modes for front 2 x 12cm LED fans
Expansion Slots
8
Water cooling holes
5
options vary by countries or regions
Length of VGA card
 

Height of CPU cooler

 
ECA892AG
 

ECA892BG
Packaging & Exterior
    The Fulmo showed up in a box plastered with "Fragile Package" stickers. It was a nice change to open one that had no damage to the polystyrene for once.
The front of it shows the Fulmo on a dramatic background in a night scene with lightning bolt. The left side has the specs for both models available in this box, while the right side has an image of the top front of the case and lets consumers know which model is inside, as well as if it has a PSU and which one if so. The back of the package shows off the features Enermax has packed into this case to separate it from the rest of the field, and the company web addresses. The top has the Enermax and Fulmo logos, while the bottom is just black. Opening the box we see a fairly standard shipping protection of a polystyrene cradle and plastic bag.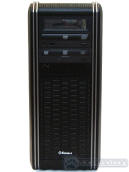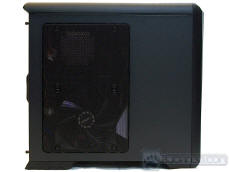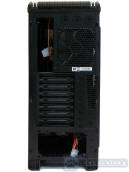 >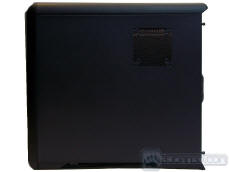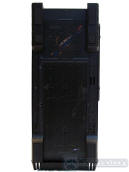 CLICK IMAGES FOR LARGER VIEW
The front of the Fulmo is a honeycomb frame covered by a form fitted mesh as well as 2 120mm LED "VEGAS" fans (included on this model), as well as 4 mesh covered 5.25″ bays. The mesh look continues up as the front curves back to the top. The left side of the case features a large mesh opening with mounts for 2x 180mm fans (one 180mm "VEGAS" fan included on this model). On the rear of the Fulmo we find 3 openings with grommets for LCS or wire pass through at the top, as well as 2 more just above the PSU opening next to the lowest of the 8 PCI slot openings. There is a small passive vent just above these 2 openings and a mount for a 120mm fan that Enermax has already filled with one of theirs. On the right side  we find a smooth panel with a fan mount location that sits right where the backplate of the CPU mount is. Moving to the top we see the Hot Swap Dock, controls, and ports as well as another mesh area. This one is removable to give access to the fan/radiator mounts underneath. The bottom of the case has filters for the PSU and any fans one might mount there. Even if fans aren't used here the filters keep the other case fans from pulling dust up into the case through the bottom. The top and front bezels are easily removed for cleaning or other needs, and the manual warns users NOT to pick the case up using the top, as it will come off. Even knowing this we did it twice, and were lucky to have not caused any damage.
Here's a shot of the top with the mesh off showing the stock fan (black) and the NZXT 140mm (white) we added. The ports include 2x USB 2.0, 2x USB 3.0, and the industry standard 3.5mm audio jacks for headphone and microphone. The other end of which fits AC '97 or HD audio. The fan speed control, and "Vegas" fan LED control are both mounted here as well. The Hot Swap Dock requires that users enable the "AHCI" function in BIOS to support hot swapping drives. This wasn't tested as this motherboard will not boot from SATA when this function is enabled, at least not when the Boot drive isn't plugged into the SATA 1 port. We can confirm that the dock does function, we just had to restart the system to change drives due to our BIOS configuration.
  At this point we are going to break with tradition, and put the accessories and manual here with the exterior stuff, just to break the monotony. The accessories contain all the necessary hardware that one would need to complete a system installation in this case. The notable additions are a system speaker, and 2 Enermax branded Velcro wire straps. The bag with the motherboard standoffs also contains a tool for installing them. All the screws are black and the HDD, PCI slot screws are a pan head, not hex head. There is an included side panel lock loop if one should feel the need for it, as well as a set of fan screws for adding in extra fans. The manual covers all this, and every aspect of installing a system in the case using easy to understand visual instructions.
Interior & Installation
Moving to the inside of the Fulmo we find some unusual features.
On the inside of the left panel we find a 180mm "Vegas" fan. If we move the panel we see the interior for the first time. Pretty standard fare, except for the vertical HDD racks, the PSU strap, and the pre-wired fan controllers (one for speed control, one for the Vegas LED's). We can also see the front "Vegas" fans, and looking closer there are rubber vibration dampeners for the PSU, as well as included Molex to 3 pin adaptors for the non LED fans included with this case. The accessory box is wired in to the case to keep it from shifting in transit. The vertical HDD racks are held in place by 2 thumbscrews at the top and a small screw at the bottom. Removing the screws allows us to open it. Note the handy built in stand (we aren't sure what the wire frame is for), and there is a slide latch to lock it in place at the top of the rack. Once open we can see another HDD rack at the back, and one in the center for two 3.5 inch drives. The vertical racks hold either 3.5 or 2.5 inch drives. The center rack is removable which makes room for ridiculously long video cards, or a pump for an LCS, or anything else the end user can think of to put there. On the motherboard tray we also find there are 2 grommeted wire management holes and 3 without grommets that can be used for wiring.
Putting a system in this case was easy enough. The case came with the side fan already mounted in the lower position, if it were in the upper one we would have had to move it to use this cooler. There is a 160mm clearance with the fan , this cooler is 161mm. Without the fan in the way there is 182mm clearance (the other model has 151mm & 172mm clearances). With a shorter cooler we could mount a second fan. The 5.25″ bays have tool-less locks, as do the PCI slots. for those concerned about installing heavy cards there is the option of using screws to secure them.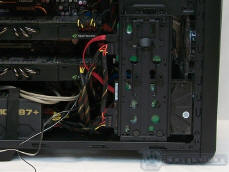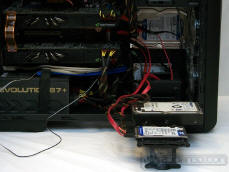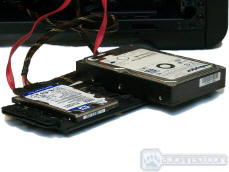 >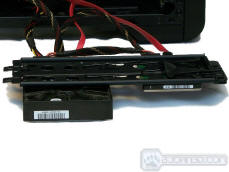 CLICK IMAGES FOR LARGER VIEW
The vertical HDD racks can hold two 3.5″ drives each, or one 2.5″ and one 3.5″, or three 2.5″ drives. The racks are detachable, and easy to put back in place. This makes mounting drives very easy. There are vibration dampeners for the 3.5″ drives, but they need to be removed to mount 2.5 inch models. This case can hold a total of six 3.5″ drives. If using 2.5″ drives on the vertical racks, it can mount a total of 8 drives without using any of the 5.25″ bays
The right side is just as easy to work with having more than enough room for wire management, as well as the other vertical HDD rack. There is a large opening allowing us to replace the CPU cooler if we choose to. The front and top are easy to remove when one needs to work under them. The front has one hidden feature, room for an additional fan behind the 4 mesh covered 5.25″ bays. The breakout panels can be remounted using screws. The top screws holes for the extra fan were at the top of the second bay down. The top bay does not have a panel blocking it, and is ready to use right out of the box. One thing to note is that the mesh 5.25″ bay covers have to be removed from the inside of the bezel due to their design. If they are pried off from the outside they will be damaged.
Testing & Results
Test System
Case
Enermax Fulmo mid tower (ECA892AG)

Processor

AMD Phenom II X4 9500 (Agena)

Motherboard

Asus M3N-HT Deluxe (bios 3401)

Memory

4 GB Patriot 8500EL series PC2-6400

Drive(s)

Maxtor 7H500F0, WDC WD 1600BEVT, WDC WD5000AAKX

Graphics

Video Card 1:   Nvidia GTX 480 (reference)

Video Card 2:   Nvidia GTX 480 (reference)

Video Card3:    Gigabyte GTX 560 OC

Power Supply

Enermax Revolution87+ 1000w

Operating System
Windows 7
CPU cooler
Evercool Transformer 3 w/ a Noctua NF-F12 PWM fan
Case fans
2 included 120mm Vegas, 1 included 180mm Vegas, 2 included 120mm, 1 added NZXT 140mm
    Our tests are very straight forward. We load the system as much as possible and measure the temperatures on various components.
 To load this system we ran a torture test in Prime95 (In place large FFT's, maximum heat, power consumption, some RAM tested) to load the CPU at 100%. This was allowed to run for about 10 mins to heat up the CPU and get the MCP to warm up also.
 We ran Stanford's Folding @ Home distributed computing application* to load the GTX 560 at an average of 97-98%.  This was the first thing we started.
 Furmark was used to overheat the GTX 480's at an average load of 97-99%. Furmark settings
The CPU was overclocked to 2.51GHz, the two GTX 480's at a core clock of 800, shaderclock of 1600, the GTX 560 at a core clock of 925, shaderclock of 1850. All GPUs overclocked using MSI afterburner, with fans on auto. CPU fan controlled by motherboard PWM circuit.  GTX 560 VRM temps have no sensor to report the info, it is therefore unavailable.
 *information on Stanford's Folding @ Home app can be found HERE & HERE
Temperatures obtained via  HWiNFO64. All temperatures are in Celsius, ambient temperature during testing was 20.5°C (69°F)
The tests were run in three stages measuring temps at full load and again after letting the system idle for 20-30 minutes.
 The first stage was done with all case fans running at full speed.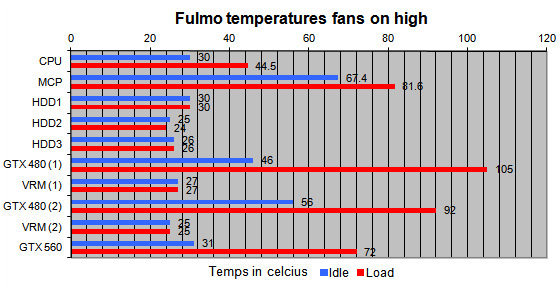 With the system running full blast the and the Fulmo's fan control on full along with the other fans at 100%, the system temperatures are well within acceptable limits. The GPU temps are pushed above what we want under normal conditions but this is to be expected when running Furmark.
Stage two was done with all  fans running at mid speed.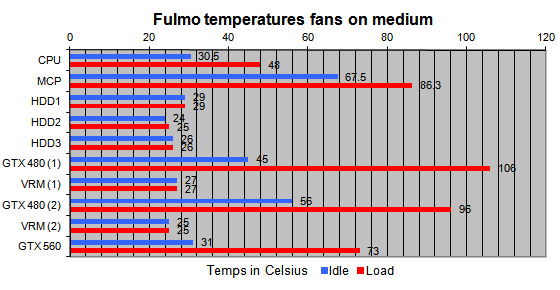 With the Fulmo fan control at the mid point and the NZXT fan controller at 70% (its mid point) We see a very slight rise in system temps. These results speak tto the airflow of this case which seems to be much better than we were expecting. The GPU temps stay very much the same. The GPU idle temps are not a surprise when one considers the 180mm fan aimed at them.
Stage three was done with all  fans running at low speed.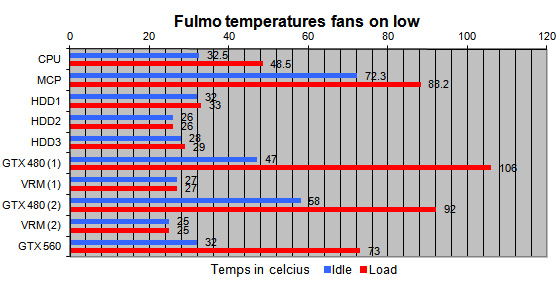 With the case fans on low it took noticeably longer for the system to return to idle temps, especially the MCP which on this system doesn't have a fan of it's own. From mid to low there is another slight increase. The increase from full to low is more drastic but shows the importance of airflow.
While Furmark rendered the GPU readings all but useless, the high temps of the video cards did serve to prove that this case can handle the heat. As the above charts show there is a difference from setting to setting, not as much as one might expect but noticeable. The fans should be adjusted according to need. The hotter the component the more critical the need for air flow. Even on the lowest settings this case was able to keep everything to a decent level.
And now for those that are concerned that this testing at 20.5°C (69°F) is a bit unfair as most homes and offices are not kept quite that cold. These results were obtained at  23°C (74°F) using the Folding at Home APP to drive the GPU temps for a more real world test environment. The current Work Units for [email protected] run the GPU at a steady 97-99 % using the CUDA cores of these GPU's to run scientific simulations. They are known to use more power and work the cards harder than any of the previous Work Units, and will generate as much or more heat than any games currently available.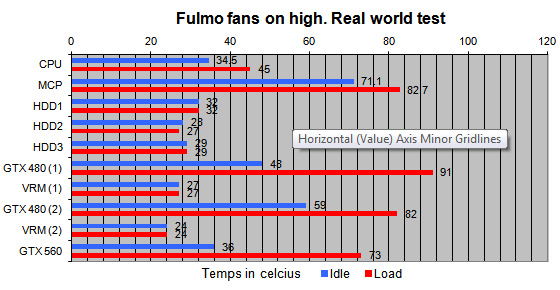 The GTX 480 's are considered to be room heaters by many users. For this case to be able to keep a pair of them down to this level at this ambient temperature is no small feat. The difference in system component temps is on par with the difference in the room. No complaints from us there.
Conclusions
 The Enermax Fulmo mid tower was bit bit surprising. Not just because we weren't expecting it when it arrived (clerical error on our end), but because it proved to be far more capable than we thought it would be. It handled a 3 GPU system without breaking a sweat. It has many great features, and looks good also.
It has great airflow, comes with 5 fans installed, can handle liquid cooling, internal, external or a blend, has a built in fan controller, cool looking fan lights with their own control and built in filters so all that air doesn't bring a full on dust bunny invasion. We wonder why the controller doesn't allow all the fans to be connected instead of just 3, but that's how they built is so we will deal.
It has space for more drives than most users will ever install, keeps them out of the way of the airflow and allows easy access to them. The top dock is a nice touch allowing the temporary addition of a drive without having to open the case. This would also be useful to anyone who stores a lot of data on multiple drives. The Fulmo also features very good wire management as well as the ability to customize the internal layout to meet differing needs.
The Fulmo ECA892AG has a design style that splits the difference between elegance and energy making it as at home in an office as at a LAN party. The Vegas fans are a nice touch, though we found that after playing with them we left them at the full on setting (or off, but not for long) as the flashing was a bit distracting (to us at least).
When it came to keeping the system cool the Fulmo passed with flying colors. The case is solidly constructed, and well crafted. We would have liked the top to be attached by a screw or two, but that is a minor nit-pick. The instructions were well thought out and will allow anyone to use this case even if they don't speak any of the languages in the manual.
While we have seen most of the features included in this case incorporated into many others, finding them all in one case is at this price point is unusual. The one truly unique feature is the Vegas fans. This fact doesn't detract from the Fulmo's value in anyway.
Enermax has been known for cooling products, at least that's how we have always thought of them, and they aren't one of the companies we hear about a lot as we cruise the web. However the products we have been reviewing from them are quality, and so is this case. And if this company hasn't been on the radar for most enthusiasts then perhaps they should recalibrate their radar. This case is definitely one to consider.
OUR VERDICT: Enermax Fulmo Mid-Tower Case (ECA892AG)
| | |
| --- | --- |
| Performance | 10 |
| Value | 10 |
| Quality | 9.5 |
| Features | 10 |
| Innovation | 9.5 |

We are using a new addition to our scoring system to provide additional feedback beyond a flat score. Please note that the final score isn't an aggregate average of the new rating system.

Pros
Cons

Vertical HDD racks
Good wire management
Included filters
Fan speed controller
Top HDD dock

Top comes off too easily
Fan controller limited to 3 fans
 
Summary: The Enermax Fulmo Mid tower model ECA892AG is an excellent option for enthusiasts, gamers, overclockers, or any one else in the market for a mid tower case. It keeps components cool, has room for a 3 GPU system, and many HDDs.  For it's overall performance, good looks, features, and quality we award it the Bjorn3D Sliver Bear Award.