Antec brings something more then just performance case fans.  Read on to discover the secrets! 
Introduction 
Antec specializes in cooling, specifically for their case line-up, power supplies, as well as a variety of computer mod parts. The Antec Advance TrueQuiet series 120mm case fans is a very special type of add-on (or replacement) that is available now for approximately $25 (due to a higher demand) for either unit. Suggested MSRP is $19.99 but both the Pro and LED units can often be found on sale for between $15 – $20.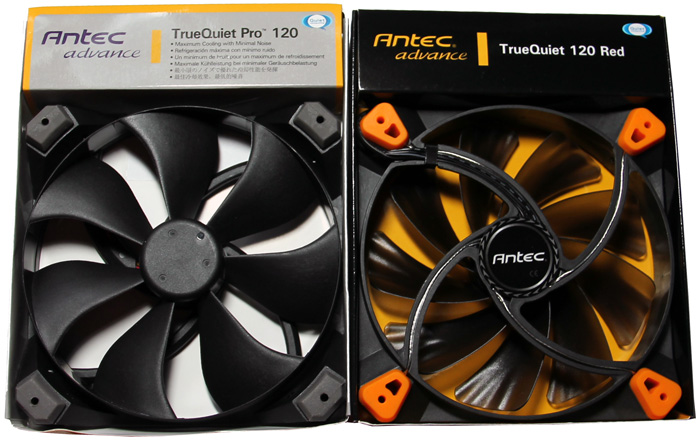 A Closer Look
Before revealing the unique features between the two case fans, here is what the back of the boxes look like, stating some basic features in multiple languages.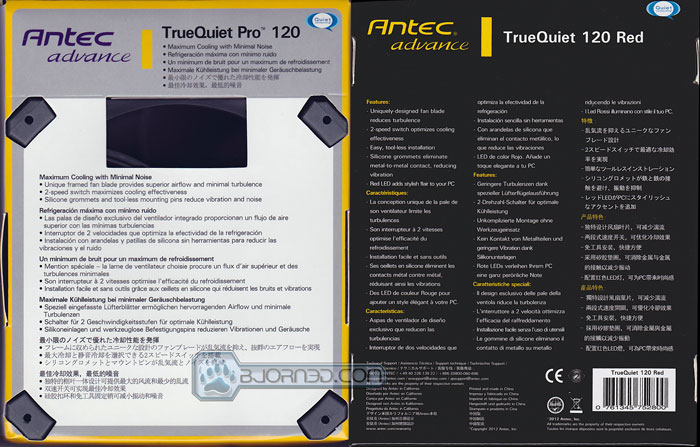 The Antec TrueQuiet Pro series comes with a full ensemble of noise-cancelling goodies, including custom made fasteners insuring that none of the plastic shrouding even physically contacts the case. Also note the unique small speed switch, allowing a more fine control over the RPM's of the fan. A multi-Molex adapter guarantees any type of power configuration may be routed to the fan (if there is not enough fan-headers on the motherboard).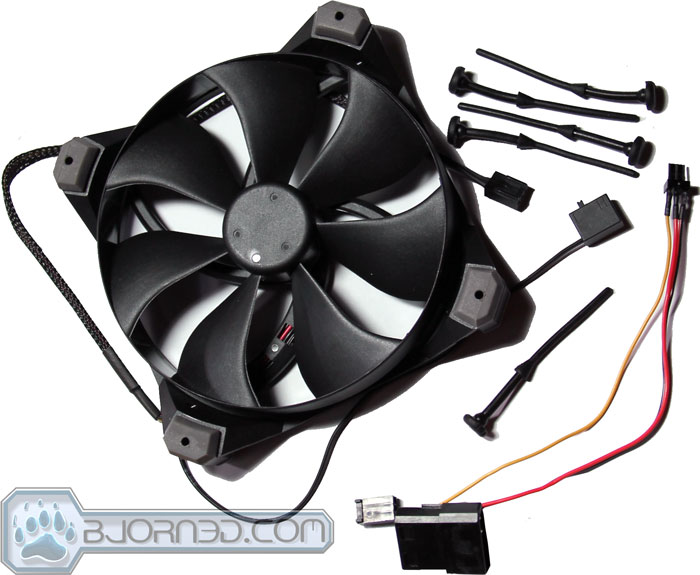 The Antec TrueQuiet Advance series fan is a very similar setup as the Pro, with the exception of the anti-turbulence shroud on the fan tips. Instead the inner fan is of a translucent material to show off the glowing of the 4 LED's. The rubber grommet-like corners (which are accented orange on this model) are slightly more firm then the Pro model but doesn't affect the silencing performance.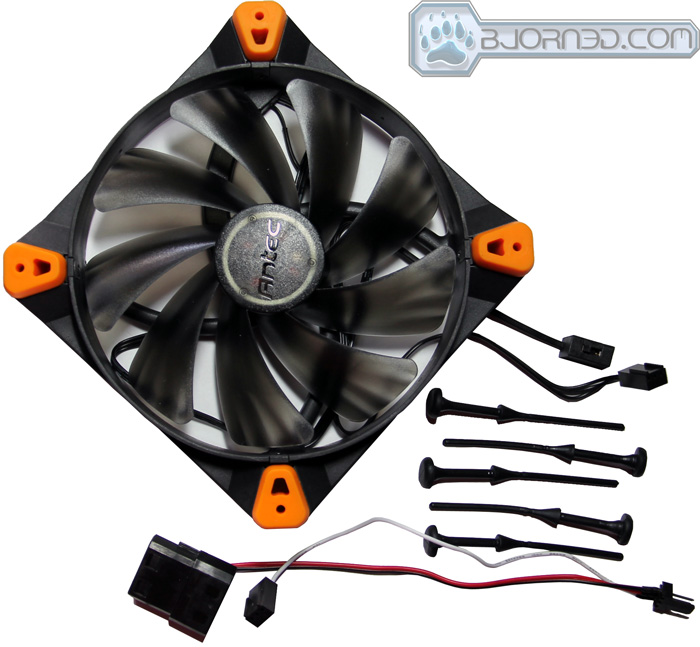 A unique feature of the Antec Pro is the cylindrical turbine design which attaches the tips of the fan blades to an inner round shroud. This increases stability and decreases turbulence. The Antec Advance LED sports the choice of a blue, green, red, or white LED accents light.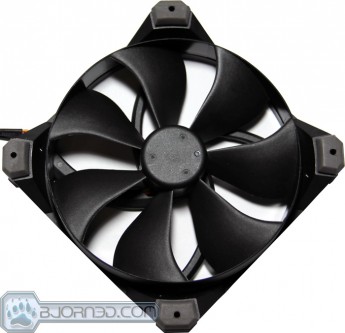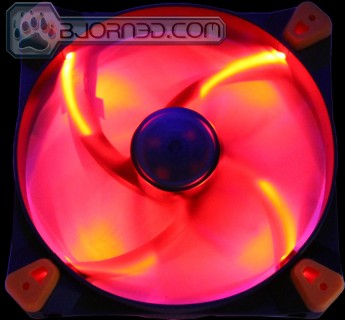 Specifications
The common characteristics that both 120 mm fans share are bullet marked below, where the chart highlights the differences:
2-way switch to select fan speed.
Uniquely designed fan blades increase air flow while reducing turbulence and noise.
Silicone grommets to reduce vibration (x5 included per package).
Tool-less mounting pins.
3-pin to Molex multi-adapter included.
| | | |
| --- | --- | --- |
| Specifications | Antec TrueQuiet Pro | Antec TrueQuiet Advance LED |
| Speed RPM High / Low | 1200 / 600 | 1000 / 600 |
| Noise dBa High / Low | 18.8 / 10.8 | 19.9 / 8.9 |
| Air Flow CFM High / Low | 46.3 / 21.1 | 46.3 / 21.1 |
| Size mm | 122 x 26 | 120 x 25 |
| Weight grams | 138.9 | 138.9 |
| Unique Features | cylindrical turbine | LED (blue, green, red, or white) |
Testing and Results
The case being used is a Cooler Master Sniper which was originally outfitted with 3 x 200 mm fans (2 blowing in / 1 exhaust), 2 x 140 mm fans (1 in / 1 out), and 2 x 120 mm fans on the heatsink in a push-pull configuration.  With the 200 mm fans set at 30% the entire system is barely audible above the standard ambient room noise. It took a very long time to create an almost completely silent rig on air that was stable with an overclock of 4.0 across all cores (i5 3570k). An evolution of no less then 4 towers and perhaps 24 fans in total was investigated before settling on this configuration:  this is why this setup was selected to test how these fans stood up.
The massive 200 mm fan on the side door was removed and replaced with both Antec Advance TrueQuiet fans, side by side (a dedicated Molex power line was run from the power supply). Both low and high settings were tested simultaneously on both fans.
On the low setting, I had to actually visually confirm that the fans were, in fact, running. Even with the other main case fans completely off, there was absolutely no discernible noise. Granted, there is a small price to pay for this and that is air-flow. The ambient temperature of the case did increase a whole 2 degrees Celsius (with all other fans running normally – the 2 x 200mm fans locked at 30% as before).
On the high setting the fans did an admirable job of cloaking what tiny noise they did make and with the other fans running there is no way you could hear them above the others anyway. The TrueQuiet fans did a much better job at pushing air on high and the ambient temperature of the case did not increase from the original baseline at all.  Impressive job indeed, even though keep in mind that both fans are pushing as much air as 1 x 200 mm fan — but in golden silence!
Conclusion
Being totally smitten by the silence factor vs. performance, these products get the highest scores. Please keep in mind that if you are a serious gamer or enthusiast, more air-flow is going to be needed. But for "regular" use and perhaps even a mild to moderate overclocking, these fans will fit the bill nicely. Prices do fluctuate around $7-$9 on these models, so compared to other fans that sport features such as LED's, the price range is a decent fit for the pristine quality of silence you receive. Overall the advance features accompanied with the unique approach to eliminating fan and air noise makes both of these fans total winners.
Antec Advance TrueQuiet Series 120 mm Case Fans
| | |
| --- | --- |
| Performance | 9 |
| Value | 8 |
| Quality | 9 |
| Features | 9 |
| Innovation | 9 |

We are using a new addition to our scoring system to provide additional feedback beyond a flat score. Please note that the final score isn't an aggregate average of the new rating system.

Pros
Cons

Unique anti-vibration system the actually works.
2 speed RPM selector for fine control.
Blades designed in such a way that even air movement is not audible on "low" setting.
Summary: The Antec Advance TrueQuiet series fans truly brings a decent design to case fans, providing a more then adequate air-flow in absolute silence.