Introduction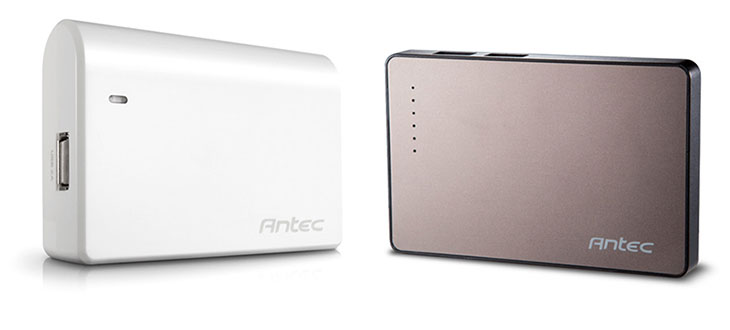 AMP branding is expanding into the mobile market with various peripherals such as speaker, headphone and power adapter for mobile devices. Among the power adapters, Antec has shipped us the 4-port USB Charging Station (model number UA4-25) and the external battery pack, the PowerUp Slim 2200 (model number APS-2200) that we will take a quick look here.
Antec 4-Port USB Charging Station
I am sure that many household are facing the same issue where there is a pile of cables and chargers somewhere near a wall socket designed to charge many electronics that we use daily. The power adapter mess for the mobile devices is much better than it used to be as currently pretty much all mobile devices are using micro-USB connector as the de factor connector for charging except Apple (and a few tablets) that still are doing things their own way with the Lightning connector. The micro-USB standard across the industry means that you can simply use any cable and power adapter that came with any device and use for charging. Despite the fact that that some devices many charge faster with the manufacturer provided adapter, we are glad to have the the convenience of using any cable available.
If you are like me, the it is likely that the first thing you do when you got home is take out all of our mobile devices and plug it into the wall socket. It is quite common that a typical household have probably have 5 or 6 devices plugged in charging. Finding an available socket and the charger can sometimes be a difficult task. This is where the Antec's 4-Hub USB charger is designed to make our life a bit easier.
For a small portable hub, the UA4-25 comes in rather large packaging. Though, the physical device is rather small at 3.6" (H) x 2.5" (W) x 1.1" (D) and weighs 4.1 ounce. the box is a bit excessive but it helps to protect the device during shipping.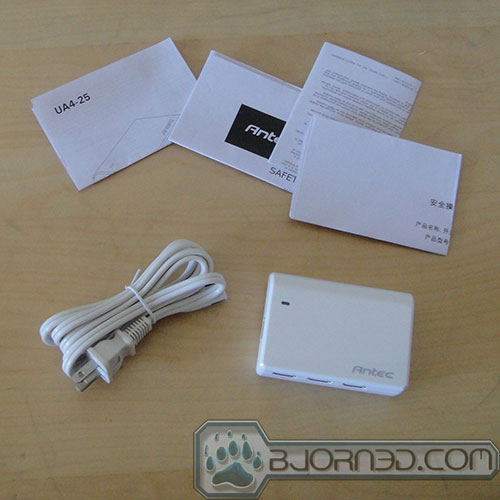 Inside, we get the power hub, the power cable and the manual and the safety instruction.
The charging hub is a simple concept where it is like a power stripe or your USB hub except instead of multiple power connector, you get multiple USB port to charge your devices.The UA4-25 we received is white and that is the only color available. The exterior of the hub has a glossy coating. A single cable connect to the wall socket that accepts 100 to 240 Vac 0.8A input power so it will work universally across all different wall socket in the world. On the top is an LED light indicator that lights up blue LED when teh power cable is plugged in. Four USB ports are located on the HUB where three ports line up on one side and a single ports on the other. We noticed that the USB ports are a bit tight which makes it a bit hard to insert and remove the cable. Though, given time, we are sure that it will loosen up.
Features
Simultaneously charges up to four mobile devices at once
Dual 2A USB ports provide fastest possible charging for Tablets (such as iPad®)
Dual 1A USB ports provide fastest possible charging for Smartphones (such as iPhone®)
Slim Form Factor, excellent for travelers
Tne (1) year parts and labor warrant
Two (2) years warranty on parts and labor (Europe only)
Specifications
AC input: 100Vac – 240Vac
DC output: 5V
USB output: 2 x 2A, 2 x 1A
Total output wattage: 25W / 5A
Over Voltage Protection (OVP)
Industrial-grade Safety Protection:

Short Circuit Protection (SCP)
Over Current Protection (OCP)
Over Temperature Protection (OTP)
Over Power Protection (OPP)

Safety Approvals: CE, RoHS, cTUVus, TUV, C-TICK, CCC, BSMI, Gost-R
Unit Dimensions:

3.6" (H) x 2.5" (W) x 1.1" (D)
90.5 mm (H) x 63 mm (W) x 27 mm (D)

Packaging Dimensions:

9.4" (H) x 5.7" (W) x 2.0" (D)

Net Weight: 4.1 oz / 115 g
Gross Weight: 7.1 oz / 201 g
238 mm (H) x 144 mm (W) x 52 mm (D)
The four USB ports are able to deliver up to maximum of 25 watts (5V x 5A) of power. The power deliver is split among the four ports where two of them are able to deliver up to 2 amps and other two are able to deliver up to 1 amps of power. If you done the math, you will notice that all four ports together are 6 amps but since the device can only outputs 5 amps maximum, you will be sharing the power when all four ports are active. In fact, despite the amp labeling on the ports, we noticed that if we only connect one device (Samsung Galaxy Note II) to the hub, it will draw 2 amps of power (10 watts) no matter which port we use. Interestingly, if we use the iPad 2, we notice that each port is delivering correct amperage according to the label. When we plugged in all four ports, the device draws 27~28 watts of power so the internal power management in the device will appropriate the power delivery according to the ports labeling without going beyond the maximum wattage.
The hub comes with various standard protection such as over voltage protection, over current protection, over power protection, and over temperature protection. Retailed at $29.99, the UA4-25 comes with one year warranty except Europe where it carries two year warranty.
Not much we can say about the UA4-25 except it just works as it advertised. It is a little neat gadget that can simply the hassle of finding multiple chargers and wall sockets for all of our gadgets. Frequent travelers would find it useful as you can just bring one device that let you charge four devices as oppose to bringing four chargers. The only thing that I would love to see from the device would be retractable cables or a cable management of some sort. Also, while the device is small, it is still a bit larger if you are going to be carrying it for traveling so if Antec can reduce the size a bit more, it would also be great for the frequent flyers. It would also be great if Antec can include a mount of some sort so that the hub can be secured onto a stand or wall.
Anetc PowerUp Slim 2200
The other product we get from Antec is the PowerUp Slim 2200, an external battery pack for your mobile device. External battery comes in variety of form factors. Some are built into the protective case while others are simply in a small form factor casing with ports for charging the mobile device. The Antec PowerUp Slim 2200 falls on the latter category.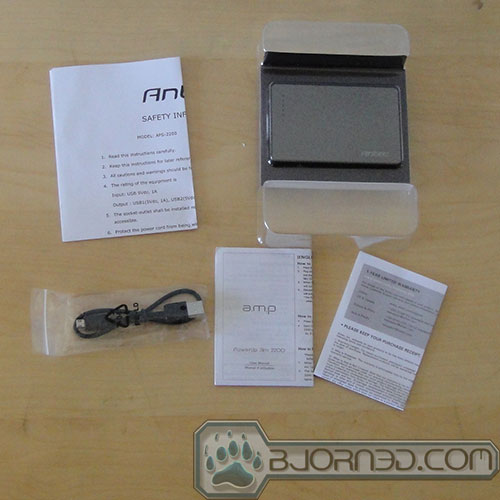 The Slim 2200 comes with safety instruction, a manual, and short micro USB cable.
The Slim 2200 have a very good build that despite it is made with plastic, it feels sturdy. At 4.1×2.7×0.4 inches (HxWxD) and weighs 3.2 ounce (or 90 gram) which is relatively light that it can easily be toss into your bag or purse. I like just how slim and light-weight it is. As you can see from the image, it is about the size of a 2.5" drive but a bit thicker. The completely flat design is also great as you can stack it flat on top of your phone or tablet. While our model is metallic gray Antec has other more exciting colors for those who love colorful accessories: red, blue, green, or purple.
Features
Slim Form Factor: Easily slides into backpacks, purses or pockets.

Multiple Colors: Cool colors to match you mobile devices.

Auto Shut-offL Intelligent device shuts off automatically when fully charged, conserving battery charge for future use.

Power Indicator: Easy to read blue LED display clearly shows remaining charge available.

Dual 1A USB ports: Quickly charge up to two devices at one time using rapid 1A power transfer.

Industrial Grade Protection: Protect your device against power surges and imbalances with a full range of current protections that work on any power grid.

Lightweight Design: Slim form factor fits easily into bags and pockets making it the ideal travel companion while impact resistant housing withstands abuse.
Specification
Micro-USB DC input: 5V
USB DC output: USB*2.5V / 1A Max.
Protections: Over Charging Protection, Over Discharge Protection, Short Circuit Protection, Over Current Protection, Over Temperature Protection
Safety / Certifications: CE, RoHS, WEEE, FCC, C-Tick, PSE
Unit Dimensions: 4.1" (H) x 2.7" (W) x 0.4" (D)
Gross Weight: 7.1 oz / 200 g
Net Weight: 3.2 oz / 90 g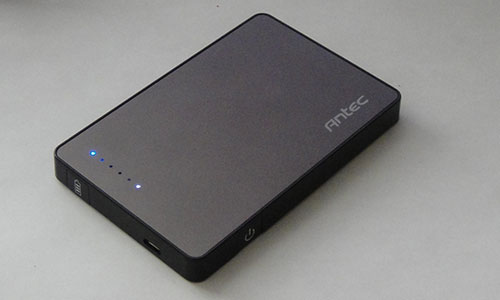 The front of the Slim 2200 has six LED indicator. One of them is for the power that lights up blue LED when the device is turned on. The second indicator is for the charging that lights up red when the device is being charged. The last four indicators are for the power level that will lit up white LED depending on the level of the power.
All of the buttons are located on the side of the device. The power button is located on the left side of the device and on the right we find two USB out ports. The power button is not recessed so it is a bit easy to trigger it when the device is in your bag. Luckily if there is no device connected, the device will automatically turn itself off after 10 seconds. It will also turn off when the device is fully charged so you will not overcharge your device. The top is where the battery level indicator button and the mini-USB port for the charging the device are located.
The two USB ports are rated to be able to deliver up to 1 amp of power. However, the Slim 2200 can only deliver maximum of 1 amps (or 5 watts max) of power so if you have two devices plugged in, the power would be split between the two devices. We are a bit bummed to see it lacks support for a 2 amp output as many Samsung devices and iPads can be charged faster with 2 amps charger. You would still be able to use the PowerSlim to keep the device running or charging your mobile devices but expect it to be slower than your regular charger.
The Slim 2200 is packed with 8.14Whr or 2200 mAh of power that has a 176 hours of standby time, which works out to be little over 7 days.  Interestingly, Antec rates the device to deliver up to 5 hours of talk time over 3G and 7 hours over 2G and 11 hours of internet use with 3G or WiFi. The device also has a rated 58 hours of audio playback and 7 hours of video playback. The battery of choice is Lithium polymer.
Antec provides a relative short micro USB cable to compliment its lightweight for extreme portability. The cable can be used to charge the device as you simply plug in the micro USB connector to the Slim 2200 and the A male connector to the PC. Reverse the cable and you would be able to use the same cable to power any devices that uses micro-USB port for charging. While the Slim 2200 does not come with a wall socket power adapter, you can use the one that came with your mobile device to charge it. We are a bit sad to see the Slim 2200 did not came with the flat cable design that Antec includes with their SP1 Bluetooth speaker as we are quite fond of the flatten cable design.
Though the Slim 2200 may not come with the largest battery pack, the 2200 mAh is pretty decent size. Putting in perspective, many midrange smartphones on the market such as the HTC One S or Galaxy Mini come with less power than 2200 amps. Even the flagship device like the HTC One is packed with only 2300 mAh. So with the Slim 2200, you can expect to extend the usage of the smartphone close to double of what you would typically get.
We fully charge the Slim 2200 and then connect to the Galaxy Note II that is also fully charged. Then we proceed of using the phone with WiFi enabled and Bluetooth enabled (and used intermittently throughout the testing). We use our phone normally using various common tasks that users would be using such as playing music, browsing web, watching video, playing game etc. When the device is playing music, the screen is often turned off but other times like watching video clips, the screen is on. Periodically, we monitor the Slim 2200's battery level and let it run until it no longer is able to keep charging our phone. The battery lasted about six hours before it runs out of any juice. Obviously, your mileage may vary depending on how you use your device as well how efficient your device is at charging the internal battery. Putting in perspective, the Galaxy Note II is packed with 3100 mAh of battery and I often is able to last a full 24 hours of moderate use or about 12 to 16 hours of heavy use.
The Slim 2200 carries a retail price of $39.50 and it carries same standard 1 year warranty in the US. It is slightly more expensive than other battery pack of the same capacity. For those who often may need that extra bit of battery to last a whole day, the Antec APS-2200 is certainly a very nice little tool to toss in your bad or purse to give you that little oomph of power when you need it. The device is small and portable that will not add much to weight. The dual USB port is neat as you can charge two devices at the same time since it's quite common nowadays that people are carrying a phone and a tablet.