Mobile accessories, especially Bluetooth accessories are all the rage these days ever since mobile revolution exploded. Bluetooth speakers come in various shapes and sizes and carries price tag ranges from $50 to $200. Antec has launched the SP1 speaker we had reviewed a few months ago targeting at those who need a portable speaker. The company has recently launched the little brother of the speaker, the SPZero, that it has sent us a unit to review.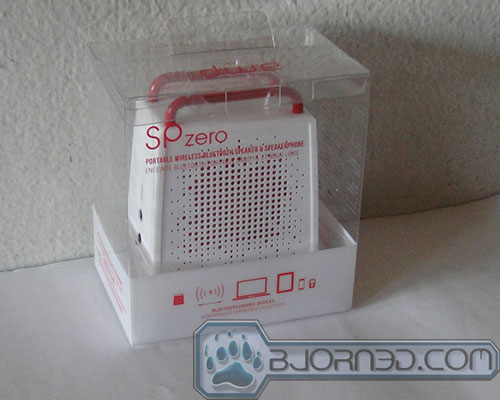 The SPZero features very similar design as the SP1 except that it is smaller, about ½ of the size of the SP1. The SPZero has a dimension of 86mm(L) x 57mm(W) x 94mm(H) and weighs 218 g. While the SP1 is small and light enough to be portable, the SPZero is even more portable, making it even easier to tag alone with your purse or gym bag.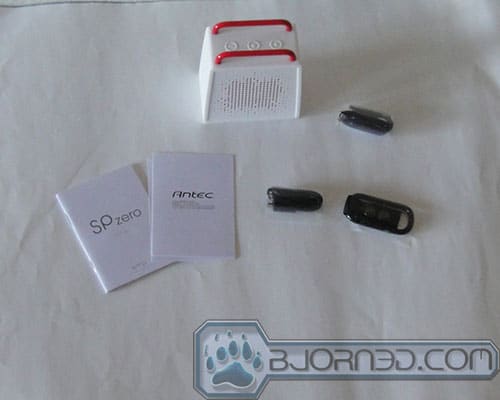 The SPZero is shipped with USB charging cable, 3.5mm audio cable, a D-ring key-chain hook, a manual, and some marketing booklet.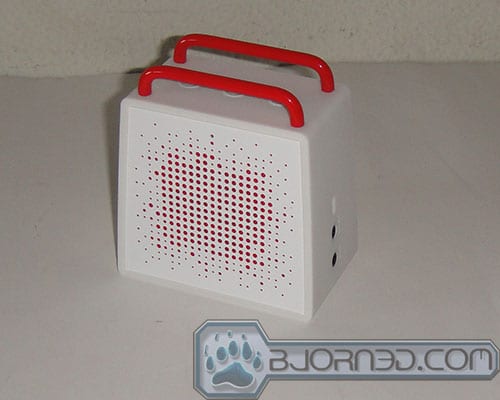 Continuing with Antec's tradition of good design and build quality, the SPZero has a soft, smooth silicon and plastic exterior. The front and the back of the speaker grille are made with plastic while the four sides are covered with smooth silicon. It feels rather nice in the hand. However, the smooth silicon material does make the speaker a tad slippery in hand. Luckily, the weight helps to secure the speaker when it is placed on the table so it does not slide back and forth when it is operating. As the SPZero is meant to be a fashion statement, it looks cute and reminds us of the coin purse that some women carry with them. It looks nice without being too conspicuous.
Our review unit sports milky white color with red accents.  The white does attract dirty rather easily. Antec has other playful combinations of colors for those who wish to have a bit more flare. You could choose a combination of black with red accent, red with black accent, orange with black and red accent, or blue/green/pink with white accent. Interestingly, the accents are not consistent throughout the different variations. Some of the milder colors (blue and green) seem to have the speaker grill with different shades than the rest of the speaker. 
The top of speaker features two metallic bars where you can use with the included keychain hook to clip it onto your purse or bag to carry around.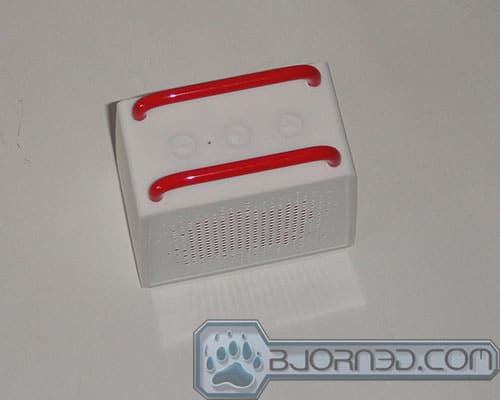 All of the buttons are also located on the top of the speaker. Here we have the volume up and the volume down placed on either side of the power button. The power button carries multiple tasks where in addition to turn the SPZero on and off, it also serves other functions. Pressing the button for 5 seconds will power the speaker on and off and 8 seconds will trigger the pairing mode. A voice prompt will help you to indicate the operation mode.  We had no trouble getting the SPZero to pair with our Samsung Galaxy Note II.  It worked out well and very straight forward.
Additionally, press the multifunctional button once will answer/end calls and press it for three seconds will reject an incoming call. It even serves to activate voice command with two quick presses. In addition, a single press during the playback will pause/resume music during playback. While it may seem like there are too many command to remember, it is actually easy to get used to once you have used them a couple of time. The only function that is missing here is the ability to skip songs that we get from some speakers. The large buttons work quite well and we had no trouble using the special functions. They are easily triggered without any trouble. Even the voice command activated rather quickly and registered our command without any trouble.
The SPZero can function as a speakerphone with the single microphone hole located on the top. It obviously will not give you the best voice quality but it is nonetheless a convenience to have it if your phone is not next to you. With the voice command support, you can use it to make call without physically taking the phone out of the purse if your phone supports such function, ie Siri, S-Voice, Google voice command among others. During testing, we had no trouble using the microphone and the receiving end has no complain with the voice quality except that it sounded a bit distance and hollow. 
All of the ports are located on the one side where we have a micro-USB port for charging, a 3.5mm audio out port, and a 3.5mm AUX audio in. You maybe wonder why would there are two 3.5mm audio ports. Well, the SPZero is packed with one unique feature where you can daisy chain multiple speakers together via the 3.5mm audio port (which is flattened like the charging cable that we loved). Simply plug in the one end of the included 3.5mm cable to one SPZero's audio out port and the other end to the second SPZero in port and you are able to expand the audio range. You can hook up to 12 SPZeros together for a relative wide range of coverage. While you are still only able to get output mono audio, you are nonetheless able to have a greater coverage with multiple speakers. A neat feature for sure if you need to expand the sound across a large room. However, we would love if Antec is able to link multiple speakers together wirelessly so that there will not be any wires running between them. Also we would love to see the ability to output stereo or even surround sound with multiple speakers.
A single dual color LED graced the front of the SPZero. It flashes white or red at various time intervals depending on the status of the speaker. For example, it will flash white at every 1 second when is powered on and standby and 0.1 seconds when in pairing mode. Red flashes at every 1 second means it is power off and 0.1 seconds means it is low on power. When charging the SPZero, the LED stayed solid red. While the LED light is not super bright, we are not a huge fan of the continuous flashing when the SPZero is in operation. Rather, we prefer just a solid light.
Internally, the SPZero supports Bluetooth v 3.0 with support for A2DP, AVRCP, HFP, HSP profiles. The speaker features proprietary high-response driver where it will enhance bass. Though, given to the size of the unit, it can will not able to output stereo sound which its bigger brother SP1 is able to do. It is some trade off that you would have to do to gain the portability. 
The SPZero sports a relative small 750 mAh rechargeable lithium-polymer battery. Though it has a rated battery life of eight hours of playback, which is pretty standard for many portable Bluetooth speaker. Like the 3.5mm audio cable, Antec includes the flattened micro USB charging cable that we absolutely loved. We tested the speaker and were able to get over 12 hours of continuous playback with the mid volume setting. For most people, eight hours of continuous playback should be sufficient and unless you got one of the phone that is packed with a huge battery, it is likely that the phone will die before the speaker runs out of juice. Tablet users possibly would love to see slightly longer battery life as many of them are able to deliver 10+ battery life. Still, it is not too bad for it to deliver about a day use of battery life. The recharging time for the SPZero is a little under two hours from a full discharge which is not too bad. The good news it that the unit is fully functional while it is charging so you can still use it to blast music across the room.  
The SPZero carries IPX-3 certification so that it can withstand  water spray at angle up to 60 degrees from vertical for up to 5 minutes. Though, none of the ports are covered so you probably still have to be careful if it gets wet.  Given to the fact that the SPZero is meant to be tag along a backpack or a purse, having a bit of water resistance is good. It gives you some protection against accidentally spray and enough time to put the SPZero in your bag when it suddenly rains. 
Sound quality
The SPZero is surprisingly loud considering its size and the audio quality is actually decent. It is obviously not going to compete against more expensive unit but it definitely provides a much richer and fuller sound than what is coming out of your phone or tablets. While the bass may not yield the earth moving vibration that we come to expect from high end speakers, it does provide you with a bit of a punch that you would appreciate. The mid sounded good albeit slightly distant and hollow and the high is a bit teeny.
Still listening to the music and watching movies with the SPZero is a much more enjoyable experience than from the phone's speaker. Unless you got one of the phones like the HTC One with its BoomSound speaker or the NVIDIA Tegra Note's dual speaker, you would find that many phones and tables speakers are subpar that delivers just so-so sound. This is especially evident when you crank up the volume to the highest level where majority of the devices will produce distorted and flat sound. With SPZero, you at least are able to still enjoy a good sound even at the highest level without any distortion. 
Conclusion

The SPZero is a handy little tool to carry with you if you to augment your audio experience as it provides a bit extra oomph and punch with fuller sound than what you typically get from your smartphones.  Granted, it will not compete with more expensive portable speakers such as Antec's own SP1's stereo output; it is nonetheless a good addition to your phone. Its ability to daisy-chain multiple units to expand the coverage is a neat feature although we kind of wish it would be able to do so wirelessly and possible even provide us with stereo or surround sound. Maybe it will happen with the next iteration.
Retailed at $49 at amazon, the SPZero is about $20 cheaper than the Antec SP1. For the $20 cheaper, you are losing the stereo output and better sound that is provided by the SP1. On the other hand, you are gaining portability, durability, and the ability to daisy-chain multiple units. The trade-off maybe worth it for those who just need a portable speaker on the go to supplement the speaker that came with their mobile device. If you need better audio, spending a little bit of extra for the SP1 is certainly worth it but for those who just need a portable speaker on the go, the SPZero certainly delivers a good sound at its price. 
Pros
Cons

Small and portable
Bluetooth and 3.5mm audio jack support
Good battery life
Good build quality
Good audio output
Ability to daisy-chain multiple unit
Flatten cables

Sound a bit distance and hallow
No stereo out
Bass is not as strong as some of slightly more expensive unit
Review Overview
Performance - 7.5
Value - 7
Quality - 8
Features - 8
Innovation - 8.5
7.8
Antec SPZero: A Portable Bluetooth Wireless Speaker
Antec SPZero is a portable Bluetooth speaker that is aimed to deliver better audio on the go from our mobile devices.