Marshall Major II Bluetooth Headphones
Marshall is a well-known brand going back decades whose name has become synonymous with the music industry. It is well known for guitar amplifiers that have been used by many great artists throughout history, including ones found in the different music halls of fame. Marshall branched out to build onto its heritage by creating a line of headphones and speakers to continue its long legacy. Marshall offers a wide selection of headphone styles ranging from over-the-ear, on-ear and in-ear headphones. The pair featured in this review is one of their on-ear types of headphones and comes in several different colors and accents.
The Major II Bluetooth series headphones utilize a 40mm Driver and feature a microphone and include a selector switch to play, pause or mute your phone or another device that has Bluetooth. The headphones have an around-the-head design that is wrapped in black leather on the top and underside and is stitched together with ample padding for a nice professional fit and finish.
Special thanks to Marshall Headphones for sending a pair of the Marshall Major II Bluetooth Headphones.
Specifications
| | |
| --- | --- |
| Color | Black with White and Gold Accents |
| Bluetooth | Bluetooth aptX |
| Battery Life | 30 Hours |
| Platform | PC, Android, iOS |
| Driver Unit (MM) | 40mm Moving Coil |
| DTS Certified | NO |
| Channel | Stereo |
| Frequency Response | 10Hz-20kHz |
| Sensitivity | 99dB SPL |
| Impedance | 64 Ω |
| USB Connector | Yes |
| 3.5 Gold Connector | Yes detachable |
| Plug and Play Microphone | Yes on Android and iOS |
| Mic Directivity | Omni-Directional |
Packaging
The Marshall Major II Bluetooth Headphones went for a simple formed pressed cardboard box that is constructed very well and lends a professional industrial look with matte black graphics and print. On the front of the box, the first thing that stands out is the Marshall name and a picture of the headphones.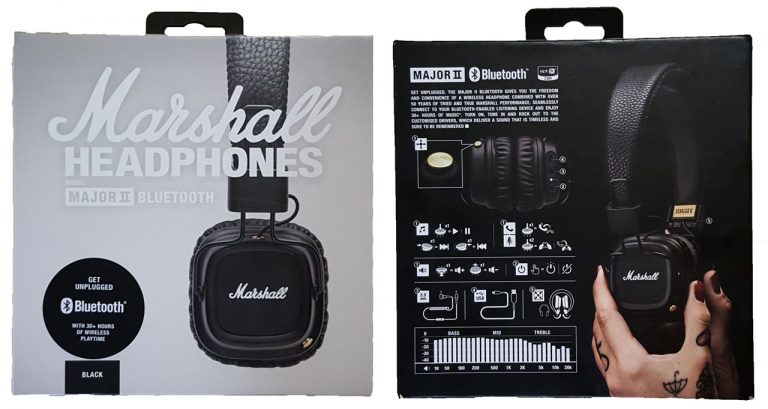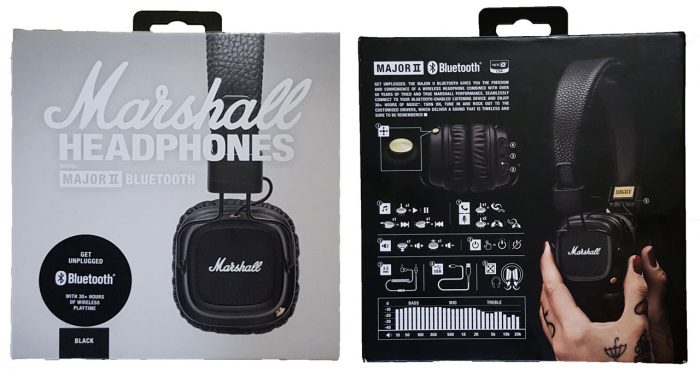 As mentioned before, the Marshall Major II Bluetooth headphones feature a professional look and feel that is classy, while not being too bold or eccentric. The use of black textured leather with a white Marshall logo and gold accents further amplifies the feel as if you are about to listen to something as groundbreaking as when Jimi Hendrix rewrote rock and roll history using a Marshall Amplifier. The headphones use an over-the-head on-ear design that is constructed from high-quality materials and construction.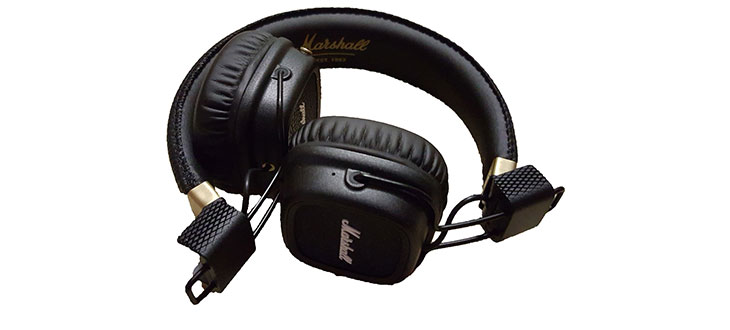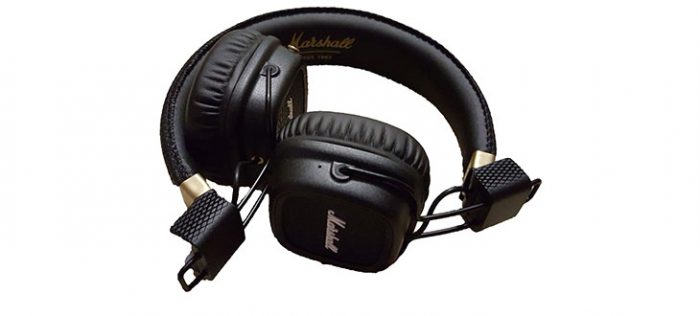 Upon closer inspection, you find the top side of the band wrapped in textured black leather with padded leather on the interior finely stitched together. In addition to this, the Marshall signature is printed on the interior piece of leather that provides a nice accent to the overall look of the headphones.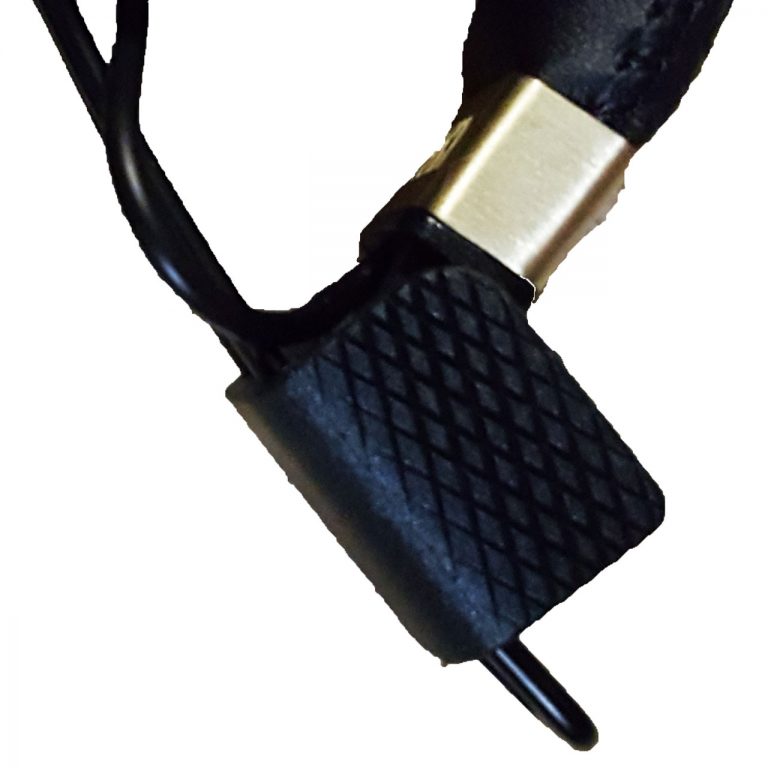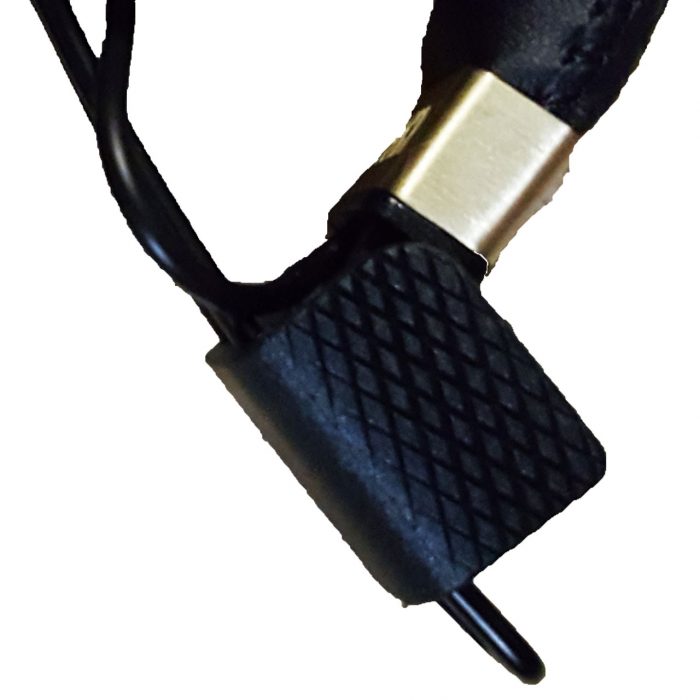 The hinge section that allows the headphones to fold up to be more compact when not in use is made of hardened ABS plastic with cross cut grooves that give it a distinguished look and feel. The inside of the hinge features what looks like a brass plate with Right and Left embossed on it.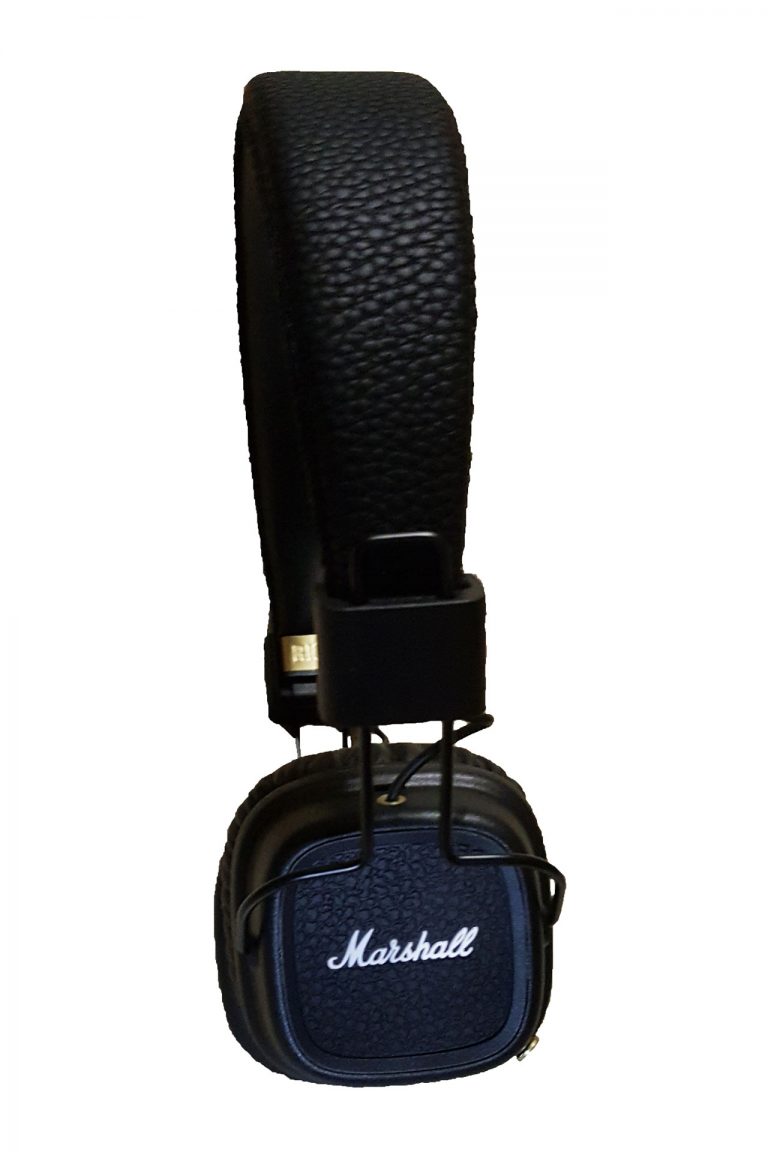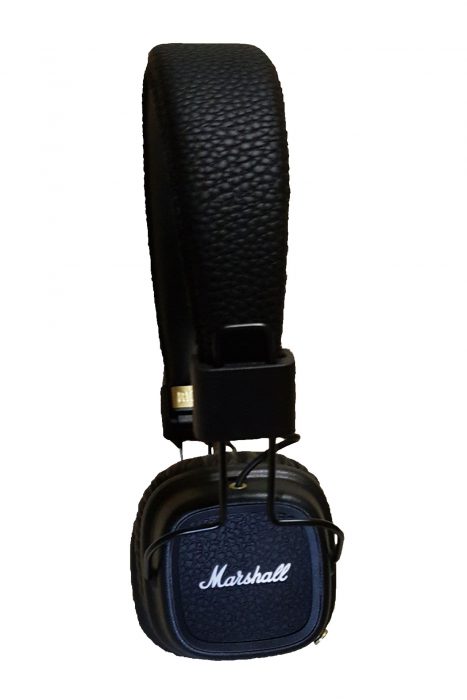 For attaching the headphone parts to the headband, Marshall uses heavy gauge metal wire that is powder coated black and that is fully adjustable by simply sliding it up or down to fit comfortably on your head, there is also a swivel axis that allows them to automatically adapt to the shape of your head for optimal comfort.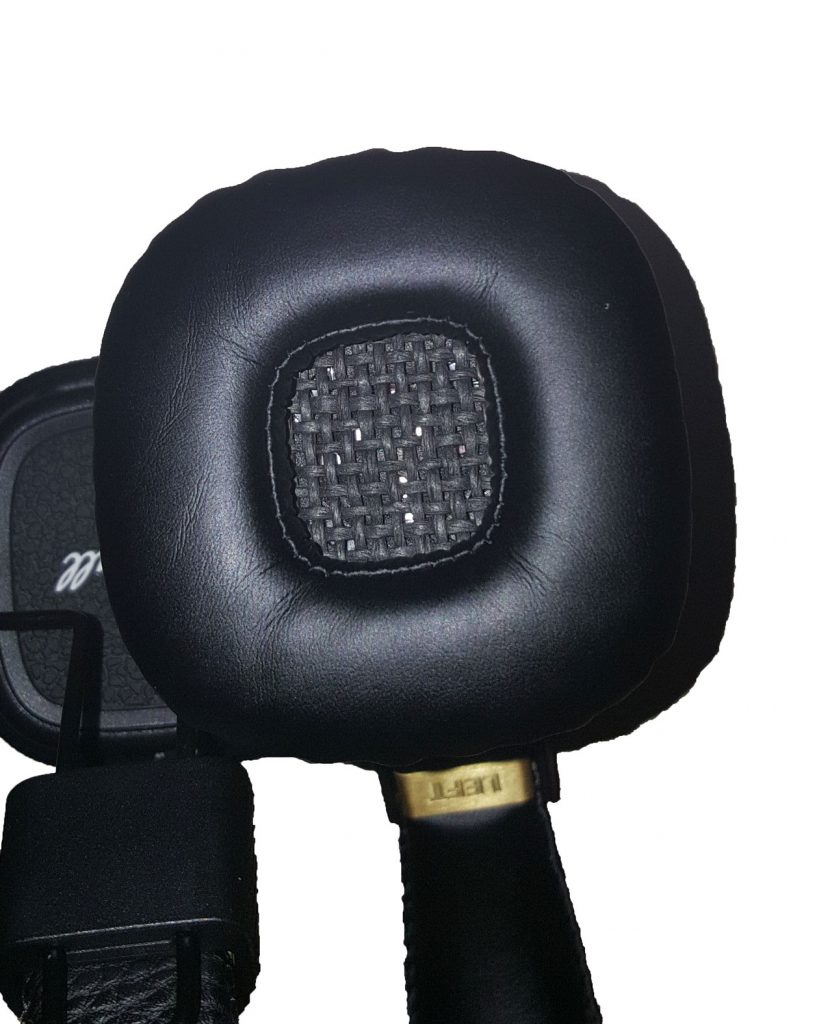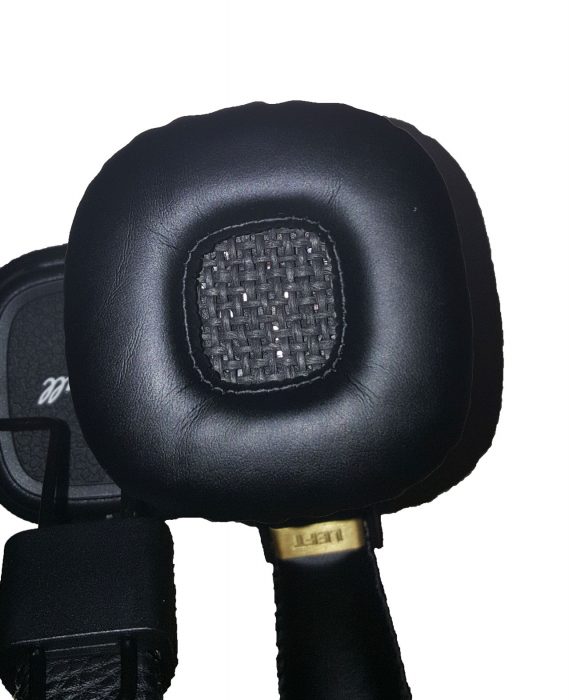 Taking a closer look at the interior part of the headphones, we see the square shaped ear cup with about a half inch of plush padding that is covered in leather. On the inside is the 40mm Moving Coil driver that is covered by hardened ABS plastic with fine fabric mesh protecting the driver.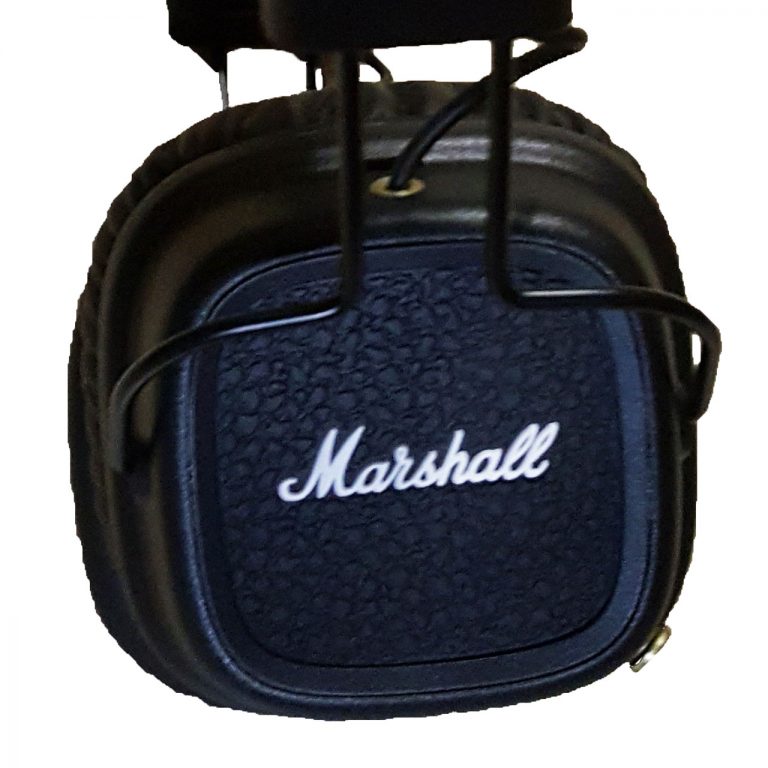 The exterior of the ear cup is a textured Matte finish ABS plastic with raised white lettering with the Marshall logo that adds a touch of sophistication to the aesthetics of the headphones.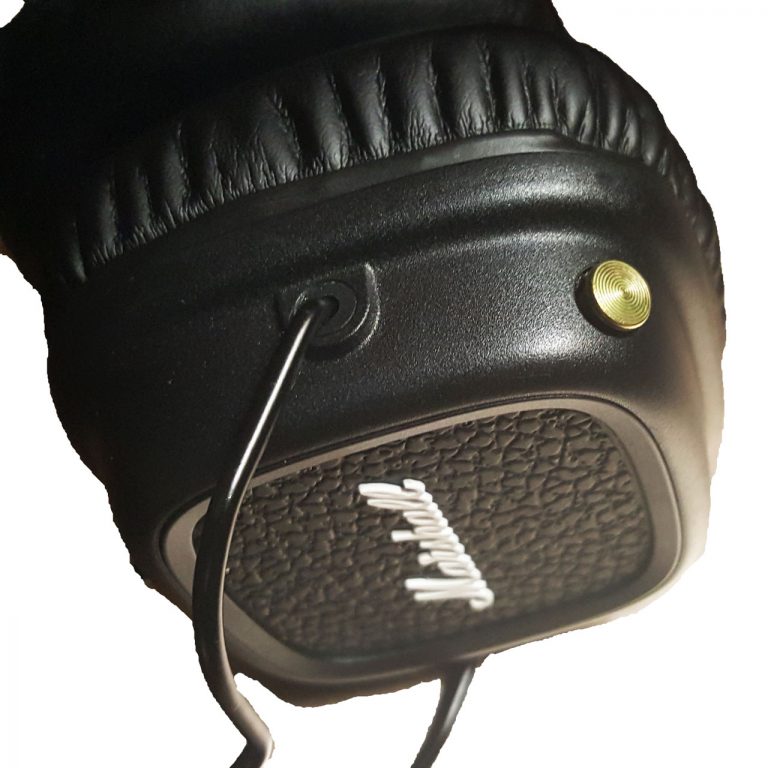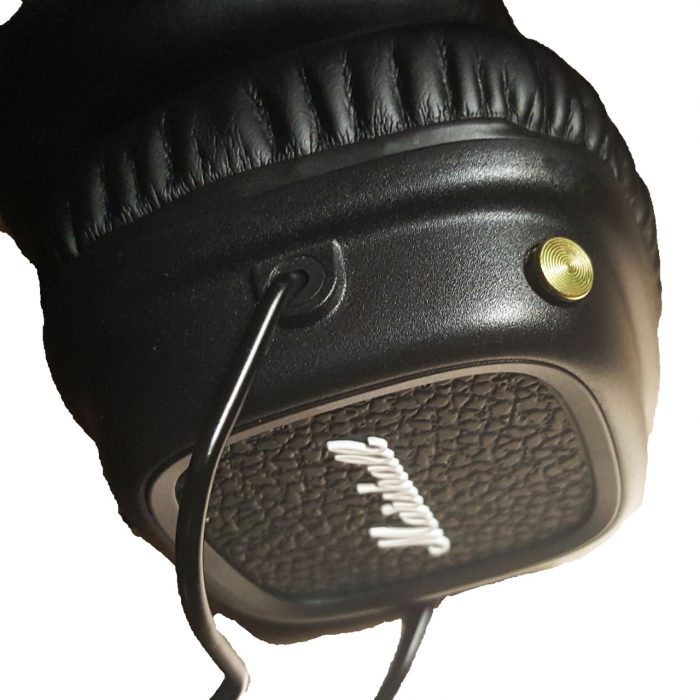 On the left side of the headphones on the lower ear cup, you will find the selector switch that we found very intuitive.

Usage and Testing
Setting up the Marshall Major II Bluetooth Headphones is extremely simple and as easy as plug and play. But maybe plug and play is a bad way to describe how easy they are to set up since there is nothing to plug in, so I guess it's more like push and play. Powering on the headphones is as simple as pressing and holding the power button. When you first pair it, you will need to press and hold the button until the light turns white, then two rapid presses and it will pair it with your device. However, Marshall also gives the option of plugging in the included 3.5-inch jack and using it in wired mode if you have an older device that is lacking Bluetooth or if you have to have it disabled and only allowed to use wired. We have been using this headset for about a month now and it has become one of my favorites and has replaced my previous headphones. When I first put it on and properly adjusted it to fit my head, it just felt perfect and this took minimal adjustment.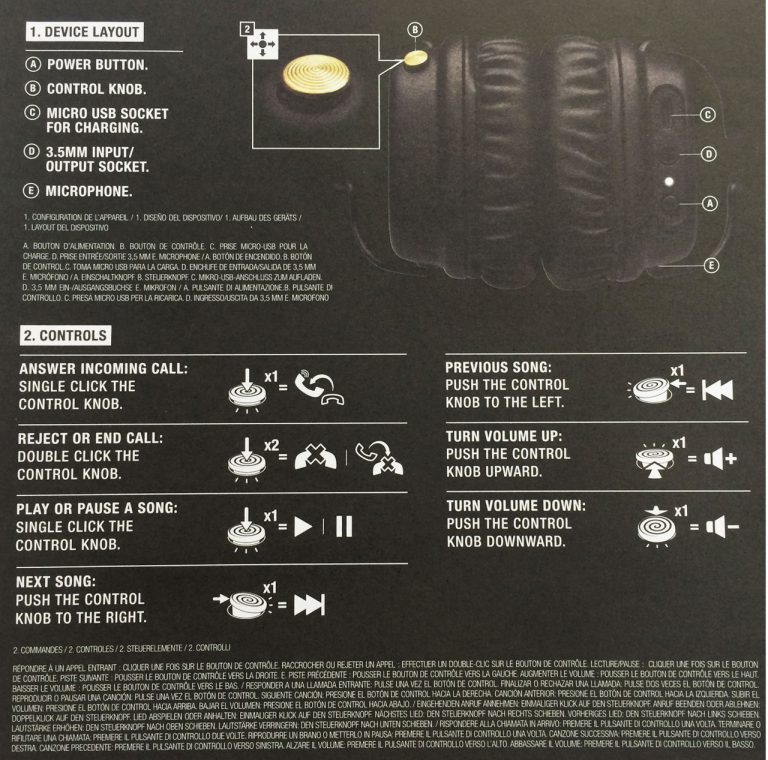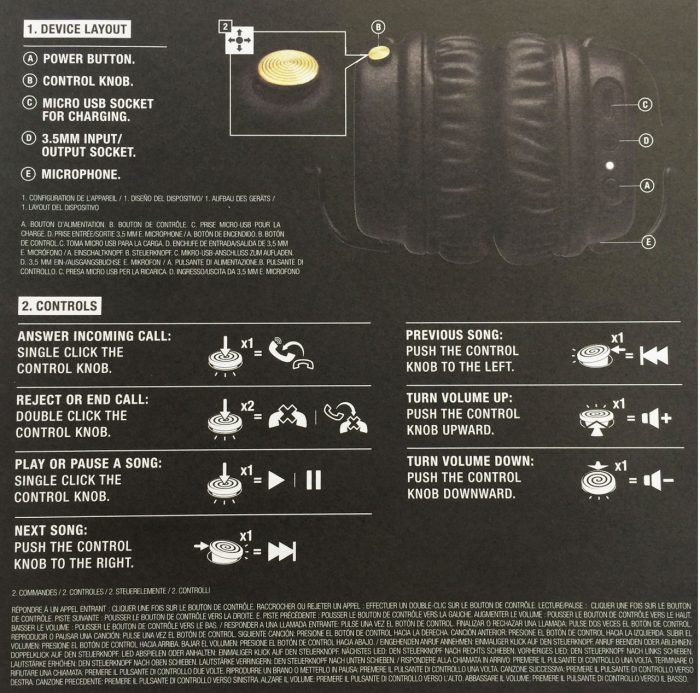 We were pleasantly surprised and delighted by the new control system that allows you to play, pause, change tracks, adjust volume and take phone calls, all of which is  elegantly done with a simple control knob that is finished in a textured brass finish. The knob is located in the back corner of the left headphone that is ergonomically placed for easy control via your thumb.  We were amazed how well the control knob functioned and how intuitive the design was so that you almost didn't need to put any thought to locating and utilizing the controls. We were also impressed by the overall simplicity of the knob and how aesthetically elegant it looks, giving the headphones a simple and uncluttered look.
Upon hitting play, you become immersed and taken away by the sound quality that the smaller 40mm drivers are producing.  I have listened to headphones that have used larger and in some instances had multiple drivers that didn't sound as good as these Marshall Major Headphones. The sound quality of these headphones has excellent highs, mids, and lows without being overly focused on one aspect such as the fairly common practice with headphones being overly focused towards bass. We tested them on all types of music genres and movies and we were impressed with the overall performance. In several songs, I have found myself noticing subtle vocals and interments that I had never heard before that only added to the song and the enjoyment of listening to the music or watching a movie on my phone or tablet. In addition to the excellent sound quality that allows you to become immersed in what you are listening to, they were extremely comfortable to wear for extended periods of time.
Final Thoughts
We found the Marshall Major II Bluetooth headphones to be an absolute delight and the audio quality was crystal clear. To put it in context, the Major II Bluetooth headphones were such a well-rounded design that we have made them our primary headphones that we use on a daily basis. For a product to become the primary headphones for our mobile devices speaks to its design and quality.
Besides the amazing sound quality that the Marshall Major II Bluetooth Headphone offers, also important is the forethought that Marshall puts into minor things like the media switch that we discussed and the materials and construction. Other things like the ability to also use them wired with your non-Bluetooth devices help take them over the top and allow the user more options. Another aspect of these headphones that we absolutely love is the aesthetics of the Marshall Major II Bluetooth Headphones. The design aspects and accents are subtle and sophisticated with a touch of flair that gives these headphones a professional look that transforms them into a fashion accessory.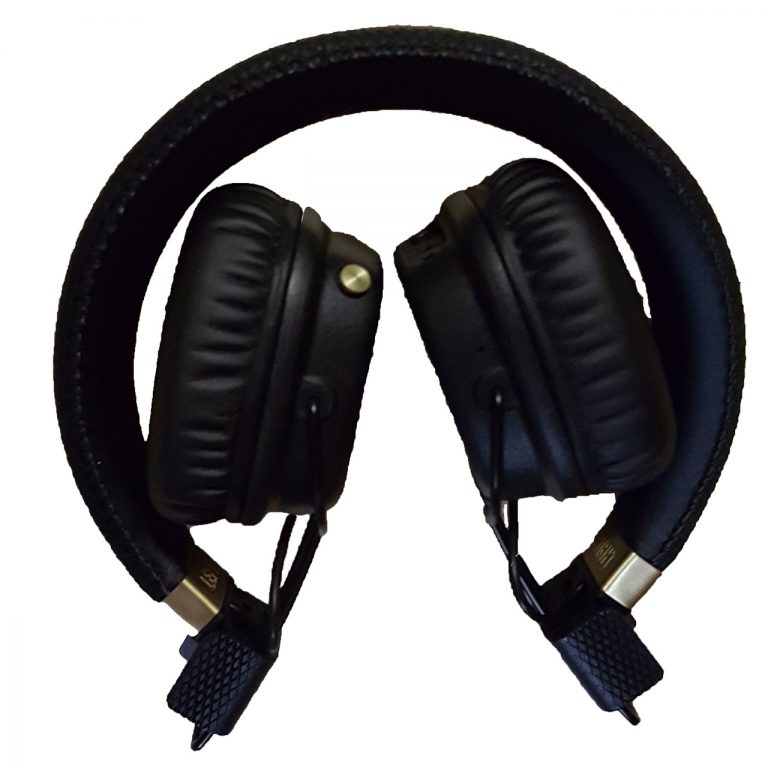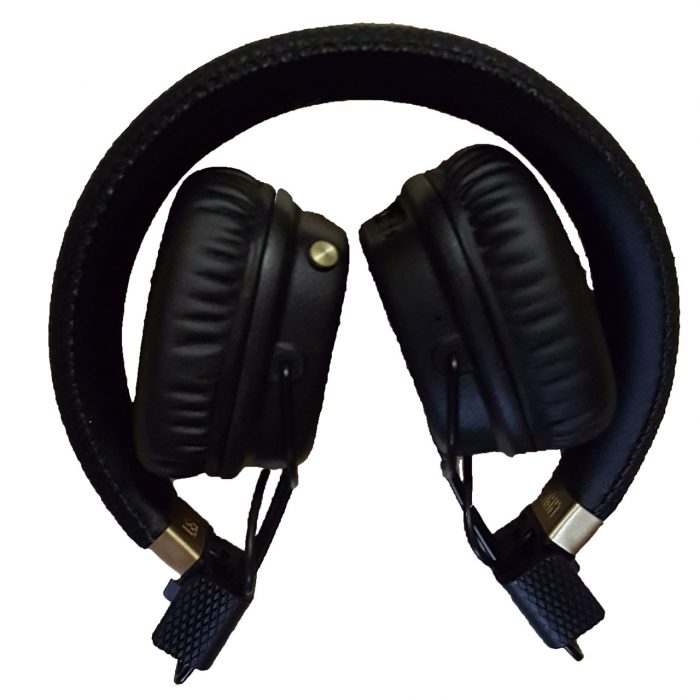 We honestly cannot say anything negative about this headset. For what the Major II Bluetooth offers, the headset is almost as groundbreaking as Jimi Hendrix was to Rock and Roll and continues Marshall's long legacy of making outstanding products.
Right now you can find the Marshall Major II Bluetooth Headphones on Amazon for around $149.98. Honestly for a pair of headphones that sound and look this good, we feel that they are a pretty good value for what they offer. Generally, we don't gravitate towards a product, but this is a must have to use with your mobile devices and we would recommend them to anyone that is looking for a good, scratch that, an amazing pair of headphones and as a result we give the Major II Bluetooth the legendary Bjorn3D Golden Bear Award.

Marshall Major II Bluetooth Pros

Marshall Major II Bluetooth Cons

Amazing sound quality
Incredibly comfortable
Elegant design that looks profesisonal and fashionable
High-quality materials and craftsmanship
Excellent user controls

You can have any color you want, as long as it is black