Six years have passed since Battlefield 2 was released for the PC. Today we take a look at its successor, Battlefield 3, and determine whether it has truly surpassed its predecessor.
Battlefield 3
The Battlefield series can be traced all the way back to 1999 when the Stockholm-based game studio Refraction Games released Codename Eagle for Windows 95/98. The game featured first person shooter action mixed with vehicle gameplay in an alternate timeline centered on 1917 Russia.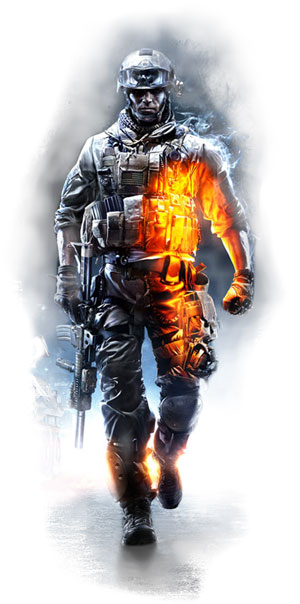 Nearly twelve years and nineteen Battlefield iterations later, we have Battlefield 3–a first person shooter mixed with vehicle gameplay much like Codename Eagle. Fortunately for us, Refraction Games was later integrated in to EA Digital Illusions CE (hereafter referred to as DICE), and did not spend the last twelve years simply rehashing the same old formula—they've absolutely perfected it.
The Battlefield games have always been popular but never really breached mainstream gaming until the release of Battlefield: Bad Company 2. Along those lines, the Battlefield franchise has almost always been exclusively developed with PC gamers in mind, a mindset which has ceased to be with the release of Bad Company and Bad Company 2. The most likely reason for this happening is the exploding popularity of their originally PC-based primary competitor Call of Duty. In sharp contrast to Battlefield multiplayer, Call of Duty tends to favor frenetic fast-paced firefights contained within a very small area. Battlefield games, on the other hand, are known for their gargantuan sense of scale, enormous maps, and tremendous vehicle battles, all of which make the player feel as though they are caught in a real warzone rather than a shootout.
Battlefield 3 certainly has perfected this tradition of immense multiplayer experiences, where teamwork and coordination are a necessity. However, Battlefield 3 does not simply rest on its laurels. Rather, it attempts to go toe-to-toe with its greatest competitor by offering up a story-driven single-player experience featuring explosive set pieces, a plot doused in intrigue and skullduggery, and characters to know and love. The developers have also introduced their very own version of co-op gameplay where two players can tackle story-based missions together to eventually unlock weapons they can use in multiplayer. The real question of the game then becomes whether or not DICE succeeded in these few areas that are not generally considered to be their strength.
Gameplay
The campaign mode of Battlefield 3 is not a completely new venture for veteran developer DICE, but it is one that they have not had great success with. Most recently, both Bad Company games had a single player which consisted of relatively linear missions, vehicle combat, and a squad of named and characterized individuals to become familiar with. Battlefield 3's campaign mode is similar although all of the negative aspects of the previous campaign attempts are magnified, while the positive aspects are sidelined.
Battlefield 3 primarily follows the story of USMC Staff Sergeant Henry "Black" Blackburn as he recounts the tale which brought him to be in military custody and interrogated by military investigators. If this sounds familiar at all, it's because it is very similar to the single-player campaign of Call of Duty: Black Ops which featured a protagonist who finds himself under similar duress, telling his story in a similarly fragmented way.
Without spoiling any of the relatively inconsequential plot twists and story arcs in the campaign mode, suffice to say that it is common in almost every aspect except its tremendously poor checkpoint placement and excessive use of quick-time events. Having been relevant to the gaming industry since the release of Resident Evil 4, quick-time events have certainly lost whatever appeal they once had and no better game shows this than Battlefield 3.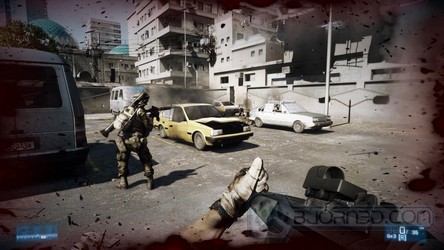 There are still games that can pull of the occasional quick-time event without frustrating the player to no end, such as the most recent Uncharted game or whatever iteration of God of War happens to be out, but the idea behind quick-time events cannot be found in Battlefield 3. Timed button presses are meant to accentuate the action on the screen and reward the player for correctly completing the sequence. Instead Battlefield 3 tends to bring quick-time events in to the fray far too often, and with dire consequences should players mistake a right-click for a left-click or hit "E" instead of "Space".
Fortunately not everything in the campaign mode of Battlefield 3 is bad. For instance, the single-player story mode really allows the sheer might of DICE's Frostbite 2.0 engine to shine. The game is among the best looking games in recent memory, assuming players have the type of rig that can handle it. Animations are generally crisp and life-like, the textures are extremely detailed with very few exceptions, and there are almost no technical issues like pop-in or unexpected framerate hitches. One tiny caveat of the otherwise beautiful Frostbite 2.0 engine though—the player character experiences lens flare effects as though he is a heavily armed and armored DSLR camera.
The single-player in Battlefield 3 also does an excellent job of getting the player acquainted with the basic mechanics of the game which transfer over well in to multiplayer. Throughout the course of the campaign players will have the opportunity to use a wide variety of weapons from rocket launchers and assault rifles to sniper rifles and the oh-so-satisfying combat knife. Players also get the chance to pilot a tank around for an entire mission and be the gunner in one of the jet fighters.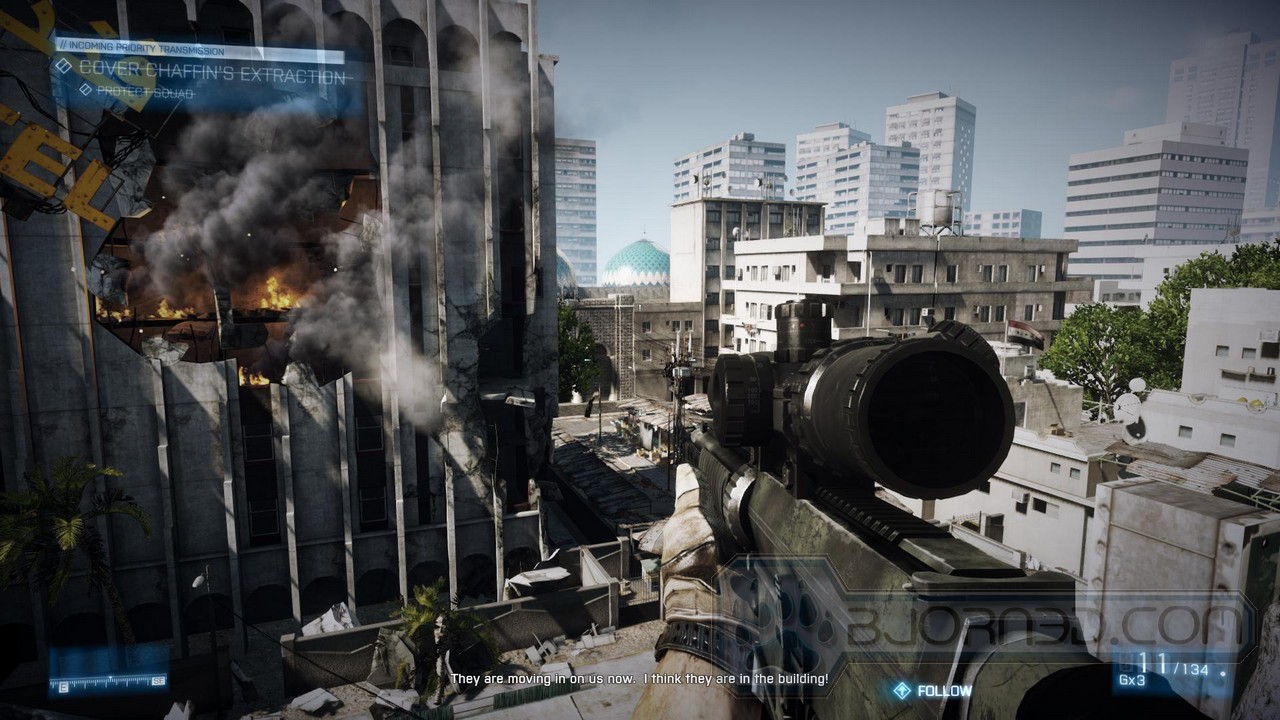 Before moving on to the meat of the game, it is worth mentioning that there is also a co-op mode in Battlefield 3 which allows players to partner up with a single friend to take on six specialized missions which allow them to not only flesh out the story mode a bit more but also unlock weapons that can be used in multiplayer. While not terribly done, the co-op section is painfully short with only a couple hours of gameplay for the six co-op missions offered. Also worth noting is that completing all of the missions doesn't unlock all of the guns available only in co-op, but rather the player must continue through the missions and replay them again and again so that they might rack up enough points to afford them. This is something most players never really plan on doing as the co-op missions are so few and so lacking in originality.
Click Image For a Larger One
Multiplayer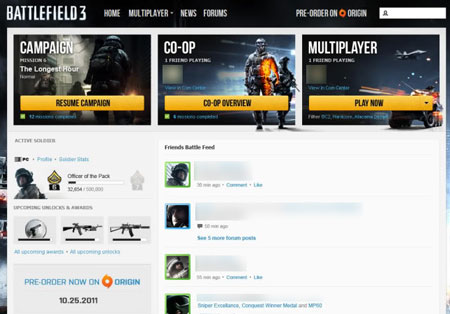 As with every iteration of the Battlefield franchise before it, Battlefield 3 truly shines when it comes to its multiplayer experience. For those many veterans that are returning for another tour of duty, Battlefield 3 will feel instantly familiar although certainly fresh enough so as to not qualify as just another rehash of the same old formula. There has been a whole lot that has changed since Battlefield 2 was released, and the developers at DICE haven't let the past six years pass them by.
Battlefield 3 follows the same sort of multiplayer model that has dominated their past few games and has become an industry standard, which is that of proficiency with weapons allowing various treats every so often to keep the player wanting more. Instant gratification is the name of the game when it comes to MMOFPS' these days (as though shooting people with shotguns isn't already enough of that) and Battlefield has it in spades. Players cannot go a single round without scoring some sort of special pin, badge, ribbon, or candy. While considered a negative aspect by some of the more staunch Battlefield fans, this sort of compromise with the rest of the gaming industry can do nothing but good for the Battlefield franchise and we all know that they're giddy with excitement every time they get the Ace Squad pin too.
Also to the dismay of many hardcore Battlefield fans, players will recognize first and foremost a change in the sense of scale on each individual map. There are huge expanses of terrain to explore around and strategize in, but there are also maps that seem to give a more focused, corridor-like experience. The best example is one of the maps that was featured in the open beta–Operation Metro.
Operation Metro takes place immediately outside and then down inside a subway station. Subway stations aren't exactly known for the sprawling fields or dense forests so the combat inside is fast, furious, and deadly. What maps like Operation Metro and Seine Crossing manage to accomplish is to bring the appeal of other popular games like Call of Duty to the Battlefield arena which really helps in keeping the game fresh as players rotate between maps during extended play sessions. This truly is an argument for going 'above and beyond the call' as  players get the authentic and traditional Battlefield experience in many of the maps and also exercise their itchy trigger fingers.
The other great thing about the multiplayer in Battlefield 3 is that everyone has a role to play. Due to the four different classes available to players and the multitude of weapons, vehicles, and tactics, any player of any skill level can be useful to their team. No matter which class players choose, there are a number of tools to either make or break the team and therefore the outcome of the match. Even the most basic assault player has the ability to throw down health packs to heal his teammates faster than their health could naturally regenerate, and even the most lackadaisical engineer can fire rockets from his RPG into a tank's hind quarters.
The following video was recorded during the Beta, but, the multiplayer gameplay is very similar to what it was like in the Beta. The full game does include several other maps, but this is the Operation Metro map:
Battlefield 3 Collector's Edition Razer Products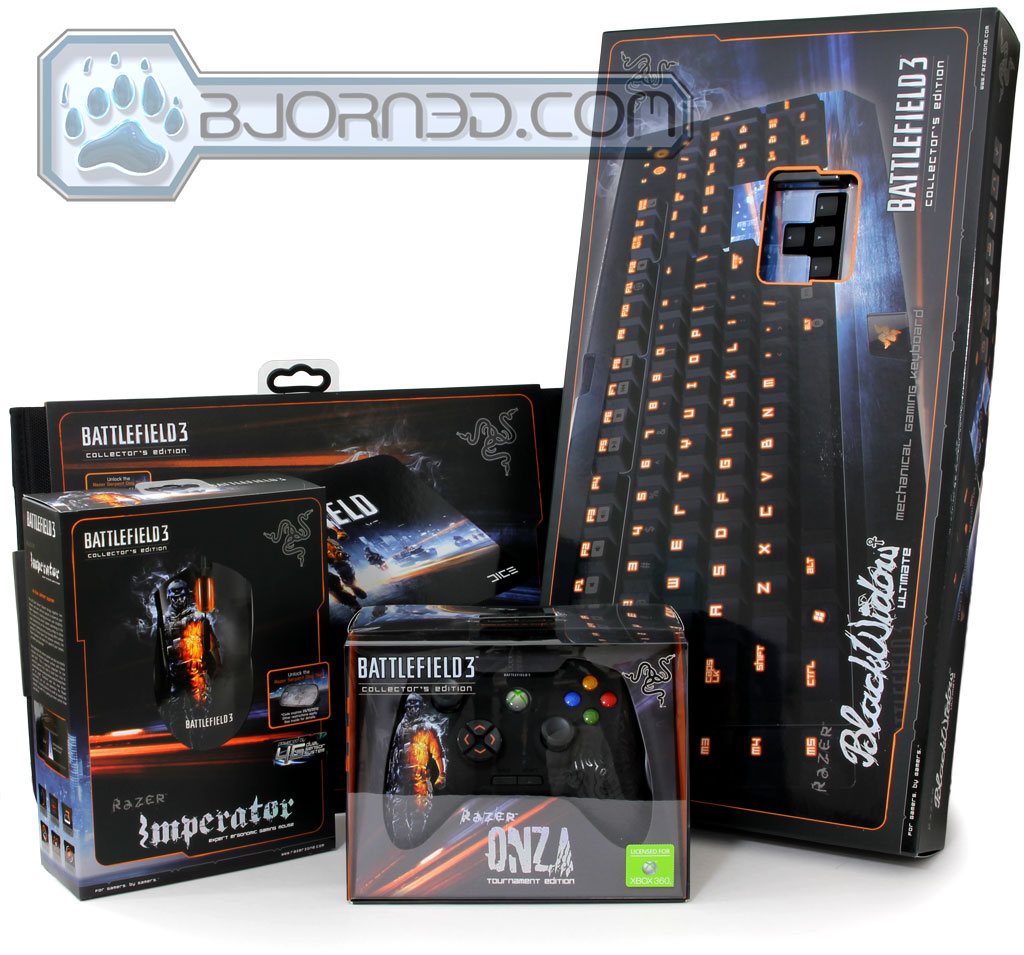 Razer has released a complete set of Battlefield 3 gaming goodies for their fans. The collector's edition kit we are taking a look at today is not the full set, but a pretty good start for those that would like to try out the new mechanical keyboards, like the RAZER Blackwidow (Review of the Stealth Edition), or the Razer Onza Tournament Editon XBOX 360 controller (Review) that comes with adjustable resistance analog sticks and with additional two fully programmable buttons. We can also see the Razer Imperator gaming mouse, which comes with a dual 4G sensor that is able to provide the user with up to 6400 DPI. Finally, Razer also included their Scarab mouse pad, which has a fairly nice hard top surface for good tracking during gameplay. The collector's edition comes with a special case as well which will protect the mousepad from getting damaged during transit. All-in-all, the whole kit comes with the Battlefield 3 custom design paint and logo which looks very nice. The LEDs on each product also shine up nice orange colors to follow the same color theme that Battlefield 3 has. Here are a few additional pictures of each products fully set up on a high-end gaming system. Check out all the products at Razer's website HERE.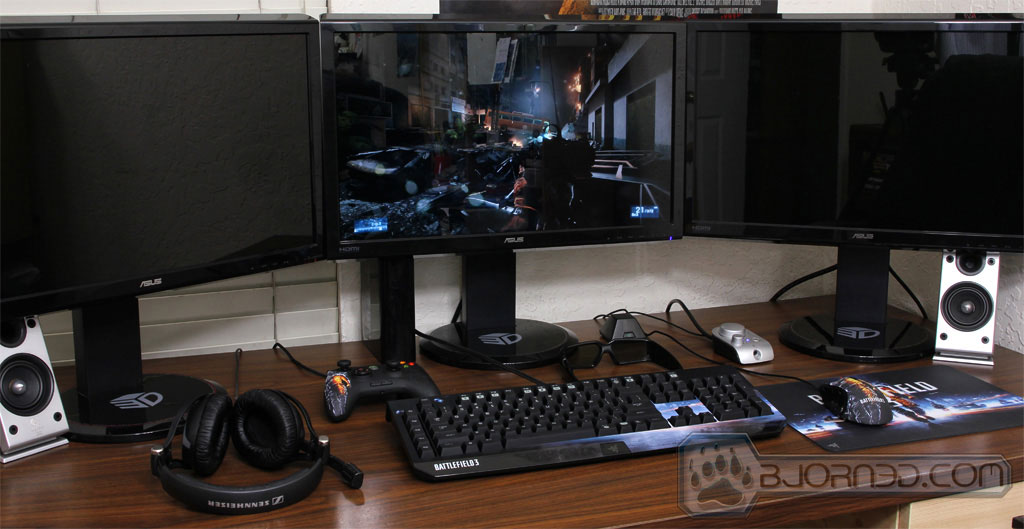 Click Image to Enlarge
System Requirements
Minimum System Requirements
OS: Windows Vista (Service Pack 2) 32-Bit
Processor: 2 GHz Dual Core (Core 2 Duo 2.4 GHZ or Althon X2 2.7 GHz)
Memory: 2 GB
Hard Drive: 20 GB
Graphics Card (AMD): DirectX 10.1 compatible with 512 MB RAM (ATI RADEON 3000, 4000, 5000 OR 6000 series, with ATI RADEON 3870 or higher performance)
Graphics Card (NVIDIA): DirectX 10.0 compatible with 512 MB RAM (NVIDIA GEFORCE 8, 9, 200, 300, 400 OR 500 series with NVIDIA GEFORCE 8800 GT or higher performance)
Sound card : DirectX compatible
Keyboard and Mouse
DVD ROM Drive
Recommended System Requirements
OS: Windows 7 64-Bit
Processor: Quad-Core CPU
Memory: 4 GB
Hard Drive: 20 GB
Graphics Card: DirectX 11 compatible with 1024 MB RAM (NVIDIA GEFORCE GTX 560 or ATI RADEON 6950)
Sound Card: DirectX compatible
Keyboard and Mouse
DVD ROM Drive
Testing Systems
Test Rig #1 (Z68 System)
System Specifications
Case
CoolerMaster HAF 912
CPU
Intel® Core™ i5-2500K 3.30 GHz 6M
Motherboard
Asus P8Z68-V LX Intel Z68 Chipset DDR3 ATX Mainboard
Ram
8GB DDR3/1600MHz Dual Channel Memory Module
CPU Cooler
Asetek 120mm Liquid Cooling System
Hard Drive
1TB 7200RPM HDD
Optical
12X Blu-Ray Player & DVDRW Combo Drive
GPU
NVIDIA GeForce GTX 560 1GB PCIe Video Card
Case Fans
    -Front: 200mm fan
-Top: 120mm fan
-Side:120mm
PSU

700 Watts Power Supply

Mouse
Razer Imperator Battlefield 3 Collector's Edition
Keyboard
Razer Blackwidow Battlefield 3 Collector's Edition
Test Rig #2 (X79 System)
System Specifications
Case
Cooler Master Storm Trooper
CPUs
Intel Core i7 3960X (Sandy Bridge-E – LGA2011 – X79)
Motherboards

ASUS

P8P67 WS Revolution P67 Chipset Motherboard
Ram
Kingston HyperX Genesis 32GB (8x4GB) DDR3-12800 1600MHz 9-9-9-27 Quad-Channel Memory
CPU Cooler
Noctua NH-D14 Air Cooler
Hard Drives
2x Western Digital RE3 1TB 7200RPM 3Gb/s Hard Drives
SSD
1x Kingston HyperX 240GB SATA III 6Gb/s SSD
Optical
ASUS DVD-Burner
GPU
Nvidia GeForce GTX580 Video Card
PSU
Cooler Master Silent Pro Gold 1200W PSU
Mouse
Razer Imperator Battlefield 3 Collector's Edition
Keyboard
Razer Blackwidow Battlefield 3 Collector's Edition
Benchmarks and Results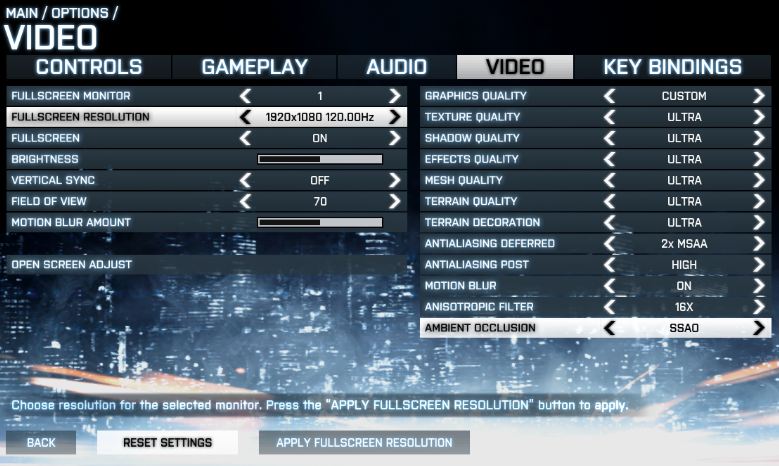 (Settings used to benchmark each system for game's performance)
| Resolution/Settings | Z68 System | X79 System |
| --- | --- | --- |
| 1920×1080 – Ultra | 41.55 FPS | 56.81 FPS (4x MSAA, HBAO) |
| 1680×1080 – Ultra | 47.193 FPS | 64.635 FPS (4x MSAA, HBAO) |
| 1280×720 – Ultra | 74.113 FPS | 93.18 FPS (4x MSAA, HBAO) |
Battlefield 3 at first was thought to stress the PC extensively on high settings, however, there are a few tweaks that can be done which will grant a smoother gameplay without taking away from the graphical experience. In our main graphics settings, for the GTX 560 Ti video card, we have set the Antialiasing Deferred settings to 2x MSAA instead of 4x MSAA, and for the Ambient Occlusion settings to SSAO instead of HBAO. These settings did not show us much improvement in graphics, so we have taken them off. Even on Ultra settings, a mid range video card like the GTX 560 scored a 41.55 average FPS at 1920×1080. Of course, setting the game to High Settings will grant even more drastic gain in frames per second, and from what we have seen it also does not have a significant change in overall looks.
Nvidia's 3D Vision, and Surround Options
As of yet, there is no Nvidia 3D Vision support for Battlefield 3, however, we have heard that DICE is working on fixing this issue and allowing users to take advantage of 3D Vision.
The Nvidia 2D Surround option is available, though players that want a 5760×1080 resolution must spend quite a bit of money, as the game needs at least 2GB of video memory to avoid glitches. Players who are planning on maxing out the game with 4X MSAA Antialiasing and HBAO Ambeint Occlusion should get a card that has at least 3GB of video memory. We have tested the game with a different Z68 system that we have not mentioned in our main system specifications. That system used three reference card GTX 580s that came with 1.5GB video memory. Once surround was enabled, we had to downgrade our settings to no AA, and SSAO ambient occlusion. Sometimes even with those settings we had to disable high resolution textures to save on some video memory, because once the 1.5GB limit is exceeded, the game crashes or freezes, and the only way to restore it is by resetting the system.
Conclusion
In summation, Battlefield 3 offers up an extremely run-of-the-mill single player campaign and a nearly nonexistent co-op mode, but absolutely hits a home run where it all counts–the multiplayer. Battlefield has always been known for its unique blend of vehicle and infantry combat that actually makes the game feel like a warzone and the player's squadmates feel like their lifelines. There is absolutely no better multiplayer experience on the market, and no feeling can possibly compare to the feeling of your squad/team moving with strategy and purpose towards a goal and to have the plan come together. Despite its standardization in some aspects such as map size/scope and unlockable trinkets at every turn, Battlefield maintains its dominance in the multiplayer sphere and absolutely cannot be ignored by anyone who even occasionally refers to themselves as gamer.
OUR VERDICT: Battlefield 3
| | |
| --- | --- |
| Performance | 8.5 |
| Graphics | 9.5 |
| Gameplay (Single Player:Multi Player) | 6:9 |
| Fun Factor (Overall) | 9.5 |
| Story | 7 |
| Length of the Game | 8 |

We are using a new addition to our scoring system to provide additional feedback beyond a flat score. Please note that the final score isn't an aggregate average of the new rating system.

Pros
Cons
Multiplayer will keep you playing for hours without noticing the time.

Excellent Graphics

Performance quite good even on mid-range video cards.

Massive maps and great interaction with vehicles

Lots of customization for weapons.

Falls Short on Single Player and Co-op.

Will need a 2GB+ video card for glitch free gameplay on a Surround (3 monitor) setup. 3GB Recommended.

Green screen flickering glitch that DICE needs to fix.
Summary: Though its Single Player and Co-op fall short, Battlefield 3 is one of the best developed Multi-Player games available right now with amazing graphics and sound effects, which is why it earns the Bjorn3D Silver Bear Award.