Not everyone needs the best components available, or wants to spend time building a gaming system. How do pre-built gaming systems compare with their custom built counterparts? We examine one today.
Introduction

There are quite a plethora of computer vendors that provide premade and ready-to-go computer systems, however only few are truly oriented to cater to the gaming audience. CyberPower is one of the fastest growing companies that not only gives the consumer a wide variety of choices for the computer, but also provides a rather fair price for the performance of their systems. The neat thing is that all of the components retain their original vendor design, so the components are exactly identical to the ones that we review on the daily basis. Therefore, the heating capability retains the same characteristics allowing for the consumer to select the most optimal system for them, whether they are looking for the most powerful, quietest or the best-cooled gaming system.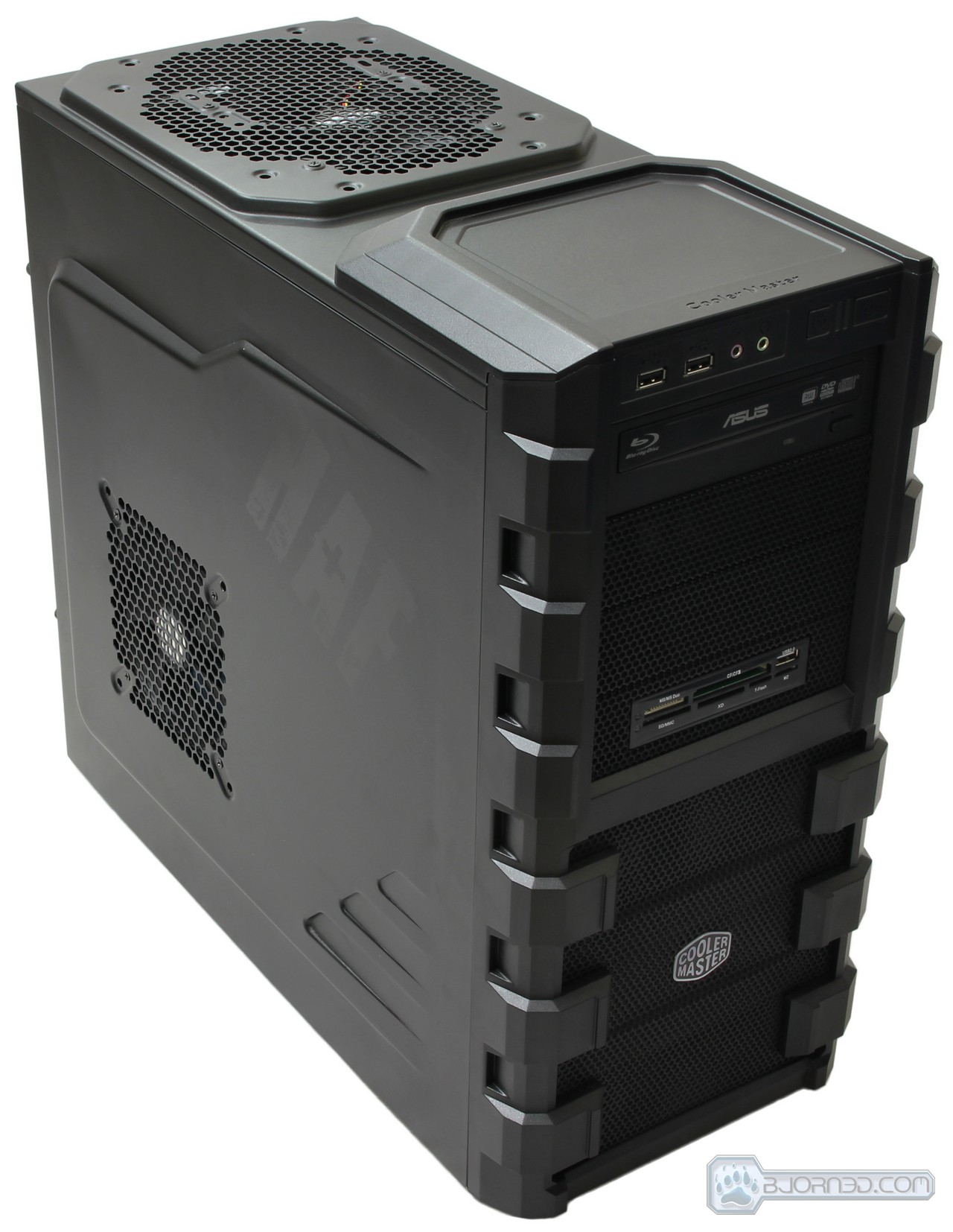 Previously, we have published an article on how to build the quietest gaming computer system explaining what it takes in order to meet such characteristics. Out of all of the factors gaming desktops have, this is perhaps the greatest advantage, due to the fact that all of the systems are designed to be well-cooled allowing for a much longer component life. However, not all systems are made the same and a lot of factors influence whether the system is fit to be a gaming desktop. Since gaming imposes a larger amount of strain on both the processor and the graphics card, both need to be able to provide optimal performance with the minimal irradiation of heat. Fortunately, with the latest release the newer generation Sandy Bridge processors are clearly the best contenders for an ultimate gaming. It is important to note that many games are not designed for multi-threaded processors, so performance in-game for a Core i5 with 4 cores is almost identical to that of Core i7 with 4 cores and HyperThreading. In addition, since in-game performance is measured by frames per second, the primary role falls on the graphics card. Of course this does not mean that graphics card is superior to the CPU since the processor can easily bottleneck the performance of the system. When looking for the right graphics card one must really think as to what it is that they are looking for in the system. The cost of the card comes with it's performance, so if your taste extends to being able to play all of the latest games maxed out on 3 monitors then you will probably have to invest close to a thousand dollars just in video cards in order to get what you want. For those that are looking for a good card on a rather low budget, the newest generation cards like GTX560 or GTX560 Ti will fit the task. Remember, that all of the cards starting from the 400 series for Nvidia and 5000 series for AMD are also able to support Direct X11 which is definitely worthwhile.
Today we will take a look at Gamer Xtreme 1000 SE desktop by Cyberpower. It is a second generation PC equipped with the the Sandy Bridge i5 processor, which is renowned for its performance to price ratio. Overall, this desktop system is currently priced at $999.00 and is equipped with everything required to run any of the latest games smoothly as any fair-budget system would. In terms of cooling, the system is placed in very well-designed CoolerMaster HAF 912 Mid-Tower case complemented by the Asetek 120mm liquid cooling system for the processor which should provide great cooling for this particular system. Game Xtreme 1000 SE comes with a single Nvidia GeForce GTX 560 with 1 GB of GDDR5 memory. The system also comes with 8GB of DDR3 memory, making it possible to have multiple applications open at the same time without sacrificing performance from games. 8GB memory should be plenty as most games only use about 1-3GB memory in total during gameplay. For storage, the system is equipped with a 1 TB 7200 rpm hard drive which should be plenty for storing lots of images, vidoes, games, and much more. Overall, the system seems rather well-rounded, but without making any further assumptions let's get to the actuall overview as well as testing.
Features
UEFI BIOS (EZ Mode)
LucidLogix Virtu
Intel Smart Response Technology
TPU
EPU
USB 3.0 & SATA III 6Gb/s
Specifications
System Specifications
Case
Cooler Master HAF 912
CPU
Intel® Core™ i5-2500K 3.30 GHz 6M
Motherboard
Asus P8Z68-V LX Intel Z68 Chipset DDR3 ATX Mainboard
Ram
8GB DDR3/1600MHz Dual Channel Memory Module
CPU Cooler
Asetek 120mm Liquid Cooling System
Hard Drive
1TB 7200RPM HDD
Optical
12X Blu-Ray Player & DVDRW Combo Drive
GPU
NVIDIA GeForce GTX 560 1GB 16X PCIe Video Card
Case Fans
-Front: 120 mm fan x 2, 1200 RPM, 17 dBA (one is optional,can be swapped for one 200mm fan)
-Top: 120 mm fan x 2 or 200mm fan x 1(optional)
-Rear: 120 mm fan x 1, 1200 RPM, 17 dBA
-Side:120/140 mm fan x 1 (optional)
PSU

700 Watts Power Supply

Mouse
Not included
Keyboard
Not included
CoolerMaster HAF 912 Mid-Tower
Cooler Master HAF 912
Model
RC-912-KKN1
Type
ATX Mid Tower
Color
Black
Case Material
SECC/ ABS Plastic
Motherboard Compatibility
Micro ATX / ATX
With Side Panel Window
No
External 5.25″ Drive Bays
4
External 3.5″ Drive Bays
1 (converted from 5.25″ bay)
Internal 3.5″ Drive Bays
2 + 2 (converted from 5.25″ bay)
Expansion Slots

8 (7+1)

Front Ports
 2 x USB 2.0, 1 x Audio, 1 x Speakers
Dimensions (L x W x H)
19.50″ x 9.10″ x 18.90″
Weight
17.80lbs
Features
 Front I/O for easy access
Top platform for personal belongings
CPU Retaining hole
Water Cooling outlets
Supports two 120mm radiator fans
Backup screw holder
7+1 slots for increased expandability
Two 3.5″ or 2.5″ / 1.8″ HDD/SSDs
Supports high-end graphics cards like ATI HD 5970 and nVidia GeForce GTX
Removable dust filters on the bottom and front cover
Packaging and Accessories
Click Image For a Larger One
The packaging in which the system arrived was rather simple, clearly lacking in the looks department, but definitely safe and sturdy. Considering that all of the orders go through online, placing a design on the box seems rather redundant, so the lack of looks is justified and not something to be looked down upon. Inside of the box there are two additional boxes: one with the premade computer system as well as the motherboard box with all additional auxillary items. As we can see, there was plenty of cushioning provided inside the shipping box to make sure that the system arrives without any damage.
Click Image For a Larger One
The actual system was inside of the original Cooler Master chassis box, which is what CyberPower is using for this system. There is nothing to worry about, because all the components and cables are already preattached . In order to avoid internal damage CyberPower placed a non-conductive pad around the graphics card which not only prevented graphics card from movement, but also made sure that no other components on the motherboard were harmed. The pads are rather interesting. When the system is built, they place a bag like material into the case which inflates into the areas where there are no components. This makes sure that the system has plenty of security during shipment. Overall, the risk of hardware sustaining a serious injury during transportation seems rather minimal considering that there several layers of packaging. The white paper on the side of the system provides a warning to the buyer that there is an additional padding to be removed before the system is turned on.
Click Image For a Larger One
Auxillary items found inside the packaging include the power cord for the power supply, additional modular power leads for hardware with SATA power connectors. There are also a total of 5 tool-less sliders for the hard drives, 5.25″ form factor front bezel, 2.5″ form factor slider for the solid state driver. Finally, additional screws and zip ties are provide if the user decide to install additional hardware. The zip ties can help tie loose cables to the sides of the chassis for better cable management.
Click Image For a Larger One
Users purchasing the CyberPower PC will also receive the user manual for the ASUS P8Z68-V LX motherboard as well as other manuals. All of the drivers come on the CD making reinstallation of Windows really simple. The Windows serial can be found on the side panel. Finally, there is a 3-year warranty that comes with the system which includes service and technical support.
The Computer System
Click Image For a Larger One
The CoolerMaster HAF 912 Mid-Tower case gives the system somewhat of a tank-like look which is clearly befitting of a gaming system. At the very first glance we can see that there is plenty of mesh to ensure proper air circulation. The black color chosen in this system is one of many options that CyberPower has on their website. While the case itself is one of the older releases, the architecture and tool-less design do not fall behind modern standards. The front bezel is detachable allowing for an easy insertion of the 5.25″ form factor compatible devices. The side panels on the back of the case are held in place by both tool-less and regular screws, with the panel containing a 120mm fan having the tool-less and easily removable screws.
Click Image For a Larger One
After removing the side panel users will finally be able to take a first glance at the actual system. The cable management for the system is rather impressive and makes the system look really neat. As you can see all of the cables are nicely tucked in behind the motherboard tray and fixed in by the zip ties. The basic case architecture of the case is up to the latest standards. The cutout for the motherboard tray makes the placement of the CPU cooler nice and simple. Since the case is a mid-tower, there is some issue with space with longer full lenght video cards. While the GTX 560 is a perfect fit, for those that wish to go with higher caliber cards, the width of 280mm may not be enough and using the CyberPower customization option might prove to be a better investment.
Click Image For a Larger One
The most unique thing about the motherboard tray is Asetek CPU liquid cooling system that leads to the 120 mm radiator located on the back of the case. The motherboard has a total of 4 channels for the DDR3 memory which is rather typical of the Z68 chipset. The memory provided has a total of 8 GB which should be plenty for supporting any game as well as other additional applications. The EVGA GTX 560 is mounted into the top PCI-E slot leaving a second PCI-E open if the consumer decides to go with an SLI configuration. As mentioned earlier all of the components retain the original design, so if you wish to learn more about the components you may find reviews about them as well refer to our "Components Overview" page.
Click Image For a Larger One
The case has a nice tool-less system making installation of the 5.25″, 3.5″ and 2.5″ form factor devices nice an simple. Previously, we mentioned in accessories section that system comes with additional 5 pairs of rails in order to support 3.5″ form factor drives which could be either hard drives or fan controllers. The hard drive cages are also removable if the consumer decides to go with an SSD/water cooled configuration and replace the hard drive cages with the radiator. In addition, the SSD cage currently attached to the bottom of the case can be placed instead of the  hard drive cage leaving even more room for customization.
Click Image For a Larger One
Here we have a close up on the CPU cooler from both front and back. As you can see the case and motherboard are not limited to supporting the neat Asetek water cooling system and can easily accommodate a larger high-end cooler. The backplate cut-out is large enough to make the cooler installation nice and simple.
Click Image For a Larger One
The CyberPower Gamer Xtreme 1000 SE computer system also comes with an optional card reader. This comes very handy for those that transfer a lot of images from their cameras making it much easier to back up your photos instead of having to connect your camera to the computer with a cable. The top of the case comes with a 120mm fan instead of a 200mm fan, because due to the radiator on the back, there was a leftover 120mm fan which CyberPower decided to use on the top of the system as an exhaust fan. This helps airflow inside the case.
Click Image For a Larger One
Finally, on these pictures we take a closer look at the connectors. There are up to 4 USB 2.0 connectors available, 2 USB 3.0, a standard PS/2 Keyboard and Mouse connector, eSATA, Digital SPDIF connector, DVI and VGA onboard Sandy Bridge connectors if no discrete graphics are used, Realtek 1Gbit LAN connector, and Realtek 7.1 audio connectors. On the GTX 560, there are two DVI ports and a HDMI display port.
Component Overview
CoolerMaster HAF 912 Mid-tower case
Cooler Master's HAF 912 further enriches the HAF series by adding a compact, yet fully featured, mid-tower solution for enthusiasts and budget conscious gamers alike. Its seemingly small exterior supports a plethora of interior features such as twelve devices, high end GPU cards like the ATI Radeon HD 5970 and the NVIDIA GTX 480, large CPU coolers, two 200mm fans, and six 120mm fans. The HAF 912 embodies the rugged aesthetic and qualities of its brethren while remaining attractively priced. Its traits more closely resemble that of a mid to high-end case than that of other cases in its price range. The HAF 912 pays tribute to the legacy of HAF 932 & HAF 922 in ease of installation, high airflow, and compatibility with water cooling hardware.
Asus P8Z68-V LX Intel Z68 Chipset DDR3 ATX Mainboard
This motherboard supports the latest Intel® second generation Core™ i7/Core™ i5/Core™ i3 processors in the LGA1155 package, with memory and PCI Express controllers integrated to support 2-channel (4 DIMM) DDR3 memory and 16 PCI Express 2.0 lanes. This provides great graphics performance. Intel® second generation Core™ i7/Core™ i5/Core™ i3 processors are among the most powerful and energy efficient CPUs in the world. The Intel® Z68 Express Chipset is a single-chipset design to support socket 1155 Intel® second generation Core™ i7/Core™ i5/Core™ i3 processors. It provides improved performance by utilizing serial point-to-point links, allowing increased bandwidth and stability. Additionally, the Z68 chipset provides 2 SATA 6Gb/s and 4 SATA 3Gb/s ports for faster data retrieval at double the bandwidth of current bus systems. Moreover, the Intel® Z68 Express Chipset also supports the iGPU function, letting users enjoy the latest Intel integrated graphic performance. Intel® Smart Response Technology boosts overall system performance. It uses an installed fast SSD (min 18.6GB available capacity) as a cache for frequently accessed data. Harness the combination of SSD-like performance and response with hard drive capacity, that's 4X faster than a HDD-only system. Exclusive to ASUS motherboards, UEFI (Unified Extensible Firmware Interface) is the first ever mouse-controlled graphical BIOS interface designed with dual selectable modes. It delivers a user-friendly interface that goes beyond traditional keyboard-only BIOS controls to enable more flexible and convenient input with quick scrolling. Users can easily navigate the UEFI BIOS with the smoothness of their operating system. Quick and simple overclocking and setup sharing is facilitated by the F12 hotkey BIOS snapshot feature.
Intel® Core™ i5-2500K 3.30 GHz Quad-Core 6M L3 Cache Processor
Part of Intel's family of 2nd generation Intel Core computer processors, the Intel Core i5-2500K Processor delivers speed and smooth performance –whether you're uploading and editing home videos or checking your e-mail. This quad-core processor runs at 3.30 GHz and uses the LGA1155 socket. It features a 6 MB L3 cache, Intel Turbo Boost Technology 2.0, and Virtualization Technology to improve speed and computing productivity. It's also fully unlocked for extra performance and flexibility. Built-in visual technologies, like Clear Video and InTru3D, support high-definition and Blu-ray playback.
EVGA GTX 560 1GB GDDR5
Utilizing the newly optimized GF114 Fermi Architecture GPU, the GTX 560 has demonstrated outstanding performance. While the stock GPU of the GTX 560 Ti is set to 822 MHz, new architecture allows for these lower-end high-performance cards to clock at frequencies of over 1 GHz, closely approaching the performance of the GTX 570 and GTX 480. However the most definitive feature of these cards is efficiency, showing the highest performance/watt out of all GeForce 500 series cards.
CoolerMaster Silent Pro M700 Power Supply
Silent Pro series is a new range of single rail power supplies from Cooler Master that's addressing a growing market demand for powerful single rail PSU. With up to 50A on the 12V rail, the Silent Pro series delivers where it counts and won't have any problems powering even with the most demanding SLI or CrossFire systems. The Silent Pro series is also the first power supply from Cooler Master to feature flat modular cables for improved airflow and cable management. It also comes with anti-vibration silicon pads to remove possible vibrations from the PSU to reverberate into the case.
Testing & Methodology
We've expanded our testing suite considerably since the Z68 chipset release, and will continue to use the same methods for most of the motherboards and CPU's we test. In the interests of thoroughness and accurate results, we run each test at least three times, and some tests more than that. We average the total of all the tests from each benchmark then report the average here.
The OS we use is Windows 7 Pro 64bit with all patches and updates applied. We also use the latest drivers available for the motherboard and any devices attached to the computer. We do not disable background tasks or tweak the OS or system in any way. We turn off drive indexing and daily defragging. We also turn off Prefetch and Superfetch. This is not an attempt to produce bigger benchmark numbers. Drive indexing and defragging can interfere with testing and produce confusing numbers. If a test were to be run while a drive was being indexed or defragged, and then the same test was later run when these processes were off, the two results would be contradictory and erroneous. As we cannot control when defragging and indexing occur precisely enough to guarantee that they won't interfere with testing, we opt to disable the features entirely.
Prefetch tries to predict what users will load the next time they boot the machine by caching the relevant files and storing them for later use. We want to learn how the program runs without any of the files being cached, and we disable it so that each test run we do not have to clear pre-fetch to get accurate numbers. Lastly we disable Superfetch. Superfetch loads often-used programs into the memory. It is one of the reasons that Windows occupies so much memory. Vista fills the memory in an attempt to predict what users will load. Having one test run with files cached, and another test run with the files un-cached would result in inaccurate numbers. Again, since we can't control its timings so precisely, it we turn it off. Because these four features can potentially interfere with benchmarking, and and are out of our control, we disable them. We do not disable anything else.
Test Rig
System Specifications
Case
CoolerMaster HAF 912
CPU

Intel® Core™ i5-2500K 3.30 GHz 6M

Motherboard

Asus P8Z68-V LX Intel Z68 Chipset DDR3 ATX Mainboard

Ram

8GB DDR3/1600MHz Dual Channel Memory Module

CPU Cooler

Asetek 120mm Liquid Cooling System 

Hard Drive

1TB 7200RPM HDD 

Optical

12X Blu-Ray Player & DVDRW Combo Drive

GPU

NVIDIA GeForce GTX 560 1GB PCIe Video Card

Case Fans
-Front: 200mm fan
-Top: 120mm fan
-Side:120mm
PSU

700 Watts Power Supply

Mouse
Not included
Keyboard
Not included
Test Suite
The following Benchmarks will be used to asses the performance of the CyberPower Gamer Xtreme 1000 SE gaming computer system. Do note that we have used FRAPS on many of the games to get an average frames per second score from each game.
Benchmarks
Alice: Madness Returns
Battlefield 3
Battlefield Bad Company 2
Lost Planet 2
Metro 2033
BulletStorm
Crysis 2
The Elder Scrolls V: Skyrim
HD Tune Pro
3DMark Vantage
3DMark 11
Cinebench R11.5
Overclocking

The CyberPower Gamer Xtreme 1000 SE system comes with a pretty nice overclock when you first boot up your system. Instead of the stock 3.7GHz Turbo that the Intel Core i7 2500K comes with, the system is set up to automatically turbo up to 4GHz. Also, thanks to the Asetek 120mm Liquid Cooling System, the system is able to run at a very low CPU temperature. Lets take a closer look at these numbers.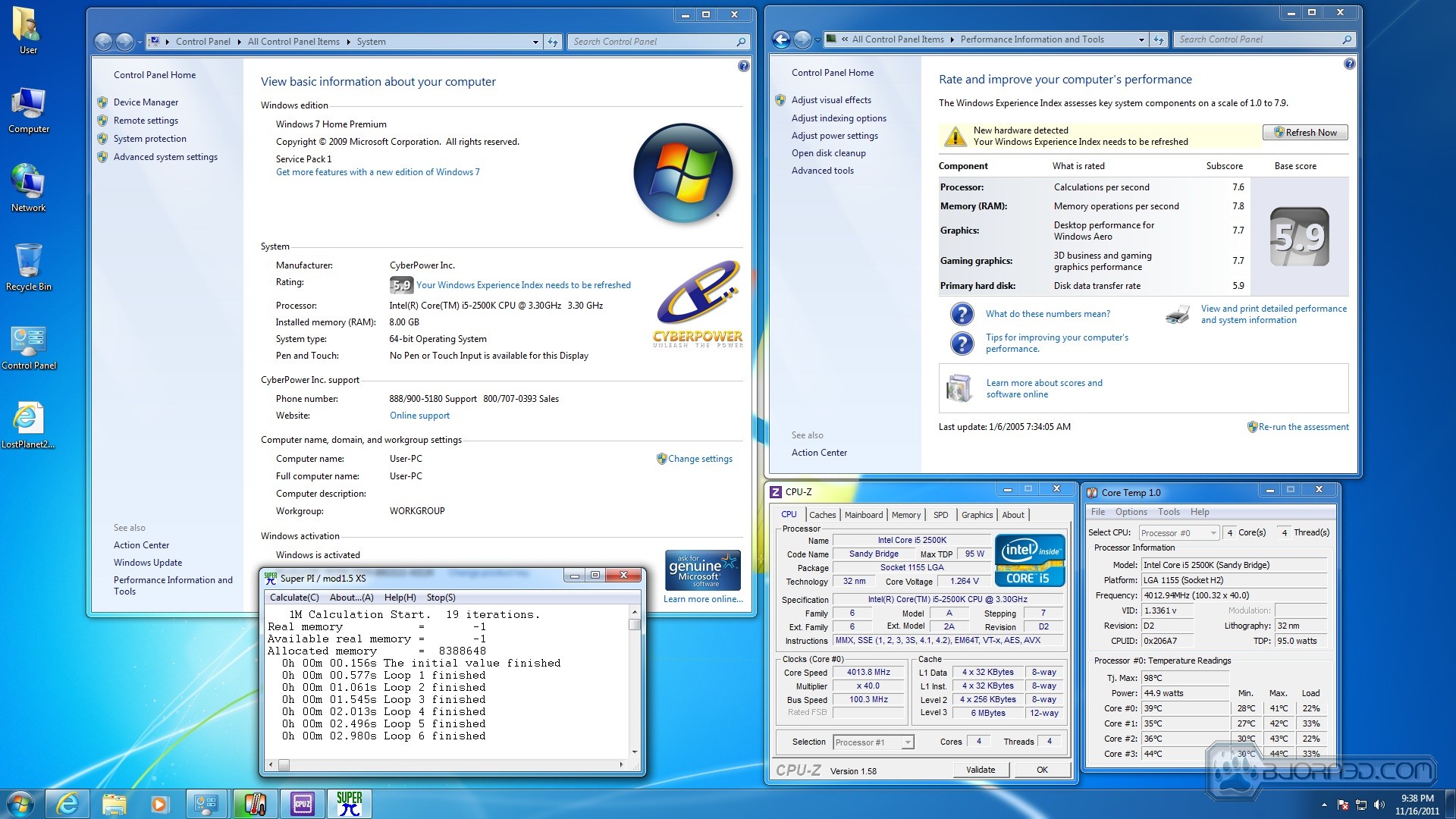 (Click on Image for a Larger One – CyberPower Stock Settings)
Here we take a look at the stock overclock the system was set to when we received it. Because the Sandy Bridge processors have excellent power management options, they are able to downclock to 1.6GHz when the system is idle. This will help save lots of power while giving the user 4GHz at load. Here we can also see the Genuine Windows 7 copy that comes with the system, along with the CyberPower logo, and 5.9 Windows Experience Index score determined by the hard drive, which is the bottleneck of this system. Upgrading the system to a SATA III SSD would definitely bring this number up in the high 7 range.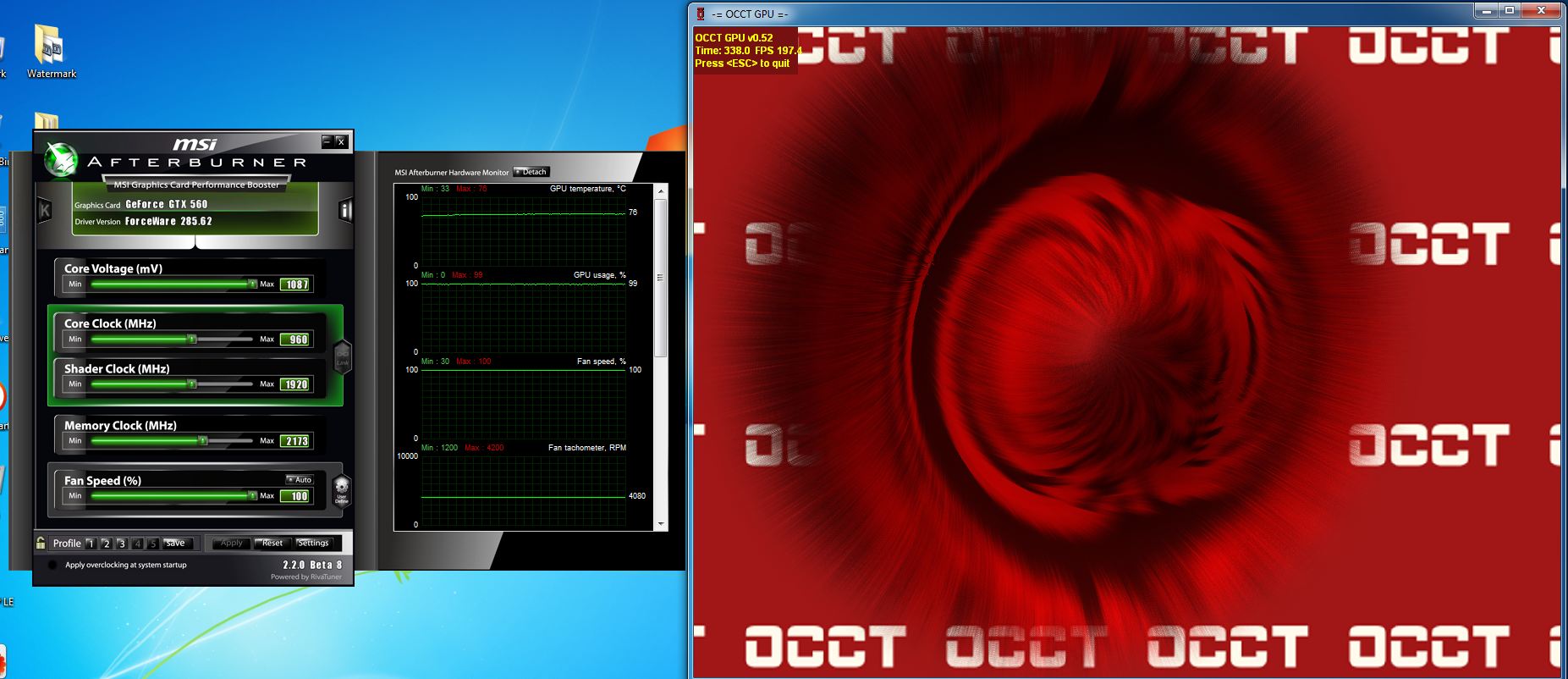 Here we were able to overclock the GTX 560 to a Core clock of 960MHz, Shader Clock frequency of 1920MHz, and a memory clock speed of 2173MHz within just a few minutes. It is very likely that it is possible to get even higher possible stable overclock frequencies if the user plays around with the frequencies and voltages a bit more. With this we reached a 76C at full 100% fan speed, but we are able to gain a few more frames per second in games and applications as we'll show in the following pages.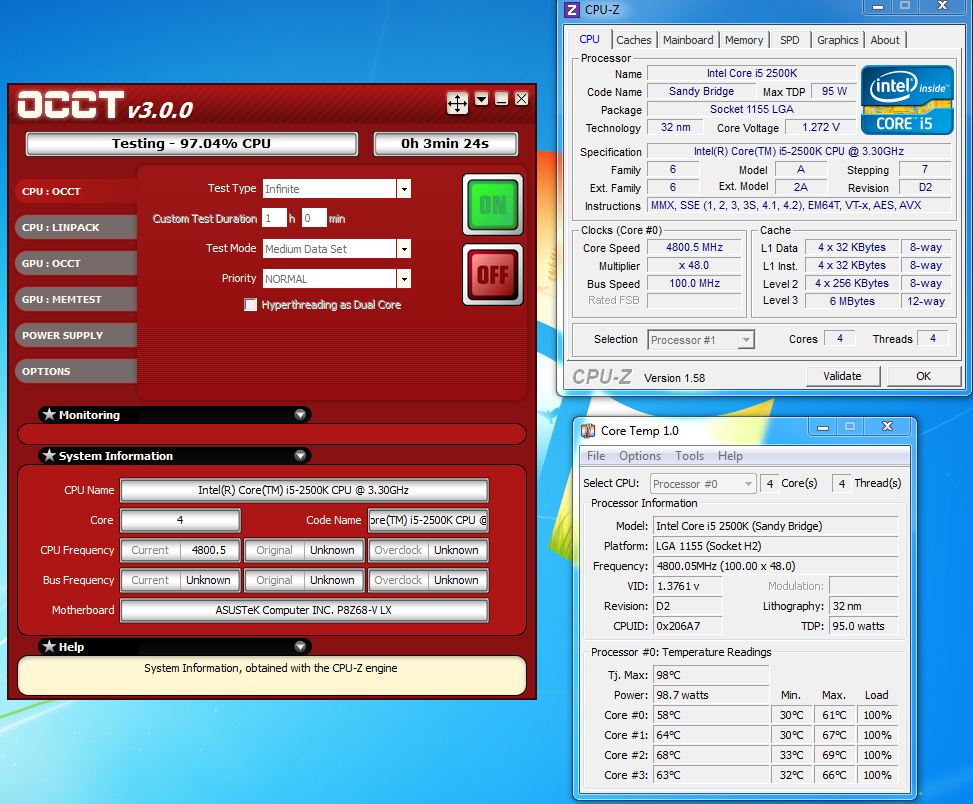 Finally, after just 3 minutes of playing around in the BIOS and changing the multiplier of the CPU to 48x, and slightly adjusting the voltage on the processor, the system boot into Windows at 4.8GHz. This was a very quick overclock that didn't require much knowledge about computers. If we would play around with the system longer, we are pretty sure we could easily reach the 5GHz range. The Asetek 120mm Liquid Cooling System managed to keep the processor fairly cool, but this picture is only a picture of the stress test running for 3min and 24sec. We'll have final temperatures below.
Temperature
To measure temperature in our system, we used CoreTemp for the CPU, and MSI Afterburner for the GPU. We used OCCT to run the CPU and GPU stress tests to make sure we have a stable overclock for our system when we tested overclocking. Then after 20 minutes of running the benchmark, we have written down the results in the table below.
| | | |
| --- | --- | --- |
| Component | Idle Temperature | Load Temperature |
| CPU | 28C 27C 30C 30C | 58C 62C 65C 62C |
| GPU | 32C (Auto Fan) | 78C (Auto Fan) |
| CPU OC | 30C 30C 33C 32C | 64C 70C 72C 69C |
| GPU OC | 35C (Auto Fan) | 76C (100% Fan) |
As we can see the temperatures are well within the range of optimal operation. The Tjunction (limit) design for the 2500K processor is 98C, and we are barely reaching 72C at a full 100% load at a 4.8GHz overclock. The system at the standard stock 4GHz overclock that CyberPower had it set to gets the CPU running at 65C max at full 100% load after 20 minutes of stress  testing. The GPU shows similar results, but it runs slightly hotter at 78C. This is completely fine as modern video cards run in the 80C-90C range. When we overclocked our system, we had to set the video card fans to 100% in MSI Afterburner to prevent damage to the video card, especially because of higher heat output.
Power Consumption
For measuring our Power Consumption, we have used a Kill-a-Watt power measuring tool. We ran OCCT and ran the Power Supply test, which puts the whole system under very high load to create a realistic full load scenario. It is important to understand that OCCT might use more power during this test because of the linpack design benchmarks it performs which stresses the computer hardware past their design specification.
| | | |
| --- | --- | --- |
| Component | Idle Power Consumption | Load Power Consumption |
| Stock System | 72W | 246W |
| Overclocked System | 77W | 361W |
The power supply consumption for the system is very impressive. We did not expect the Gamer Xtreme 1000 SE to have such low idle power consumption. At stock settings the whole system was using only 72 Watts. At full 100% load in OCCT Power Supply's test, we got up to 246W, and 361W when the system had an overclocked CPU and GPU. Overall these are very low numbers for a system with such performance.
Modern Game Benchmarks
In order to see how well the CyberPower Gamer Xtreme 1000 SE system is able to perform in latest game releases we have taken 8 of our favorite games and tracked the performance using FRAPS on 3 different resolution dependent upon which type of monitor the consumer will decide to use. The goal of this testing is to ensure that all of the frame rates are above 30 fps, which is perceived fairly smooth by the human eye and provides a smooth image throughout the gaming experience. The setting were set to high avoiding the highest and in some instances the DX11 option in order to make sure that the card is tested properly. It is important to note that change between high and ultra setting in most cases are not noticeable, and often times will be avoided by casual gamers. Some games we have also tested maxed out to see how it would perform at each resolution.
Game Settings:
Game Benchmarks: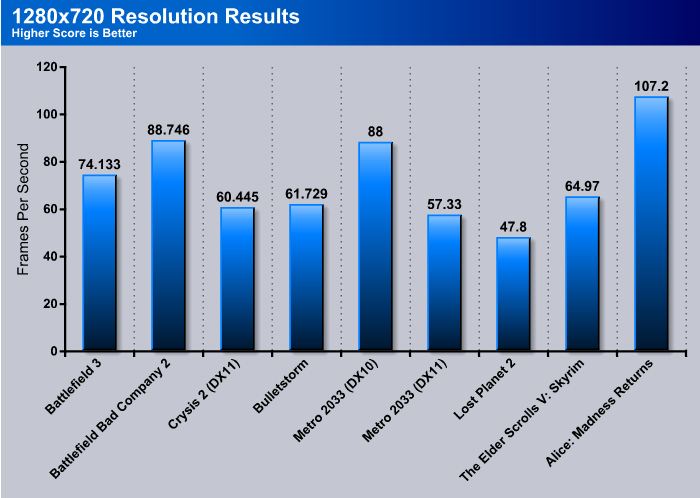 On the lower resolution which can be found on smaller monitors the system performs flawlessly providing adequate amount of frames in all of the games. In fact, all games except Metro 2033 (DX11) and Lost Planet 2 demonstrate rates above 60 fps which would make the gameplay viable for recording. Concerning the performance on the Metro 2033 (DX 11) and Lost Planet 2 it comes as no surprise that the performance is lower due to the high demand for PhysX calculations. Of particular concern is the fog in the Metro 2033 which in most cases destroys even high-end systems when maxed out. This is partly because the actual game does not have a lot of hardware optimizations, and does require a lot of computations.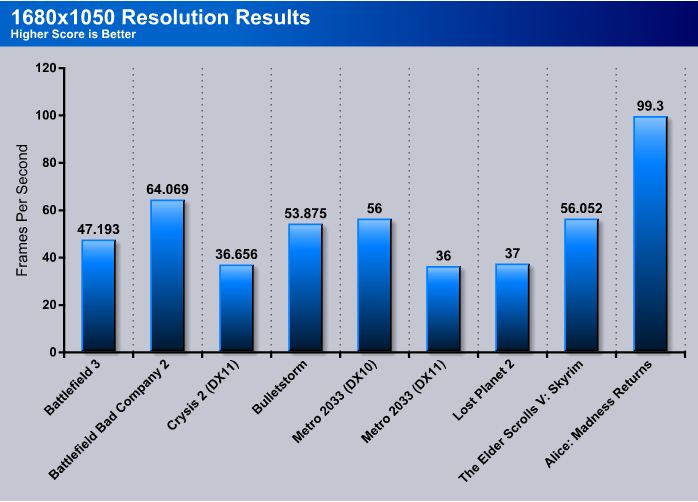 At 1680×1050 resolution the performance of system drops significantly, which is expected since the amount of pixels in order to produce a single frames has increased. However, all of the games are still able to provide a frame rate of 36 frames and above which still means that the consumer will be able to enjoy a smooth gameplay experience without any glitches.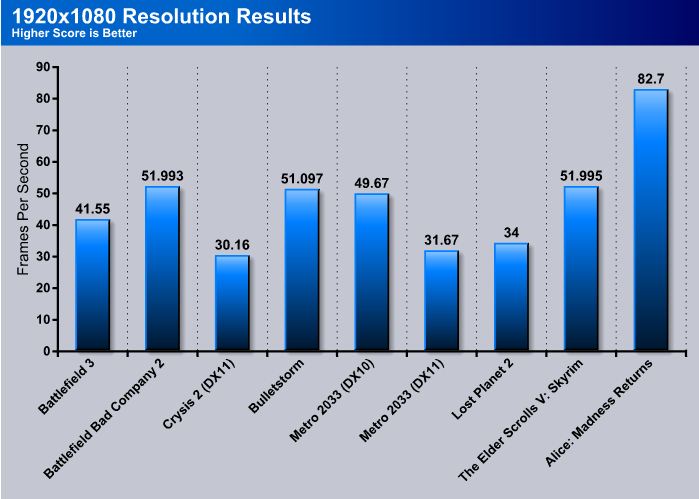 Finally at 1920×1080 (a common resolution for monitors between 23″ and 27″), the fps still remains viable and does not fall below the 30 frames per second mark. The in-game recording will definitely become a problem at this rate for the latest first person shooters, but surprisingly a well-optimized game like Alice would be still allow for the smooth recording. Also note that settings for all games were set to high, so adjusting the setting to lower quality would definitely improve the frame rate,
Synthetic Benchmarks
3DMark 11
"3DMark 11 is the latest version of the world's most popular benchmark for measuring the graphics performance of gaming PCs. Designed for testing DirectX 11 hardware running on Windows 7 and Windows Vista the benchmark includes six all new benchmark tests that make extensive use of all the new features in DirectX 11 including tessellation, compute shaders and multi-threading. After running the tests 3DMark gives your system a score with larger numbers indicating better performance. Trusted by gamers worldwide to give accurate and unbiased results, 3DMark 11 is the best way to test DirectX 11 under game-like loads."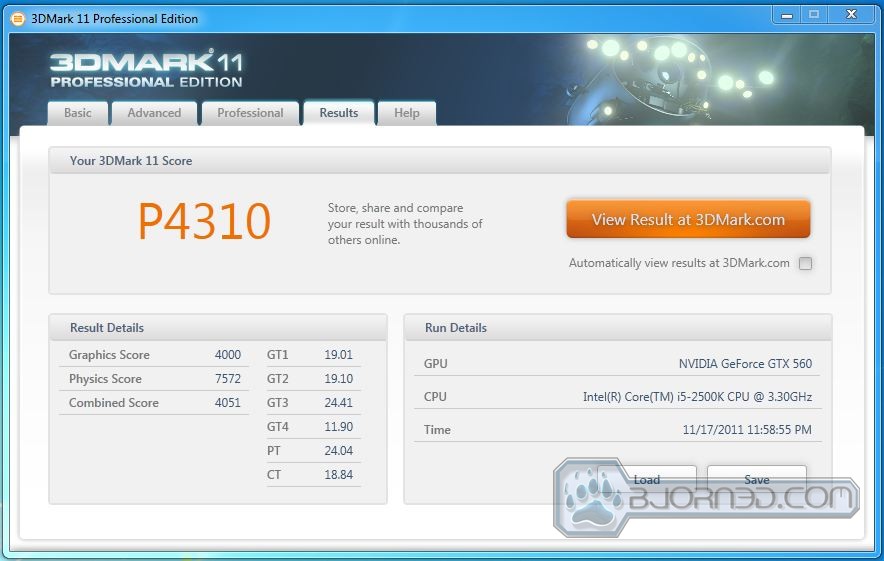 As the result of 3D Mark11 testing we have received a score of 4310 which within the normal range for the GTX 560 with the second generation Core i5 processor. Note that we have not overclocked the processor at this point so the result may be slightly lower in comparison to the reference results observed in our other reviews. Considering that 3D Mark11 is a serious stress test to the CPU and the GPU, the result overall is decent and definitely places this system in the mid-range class.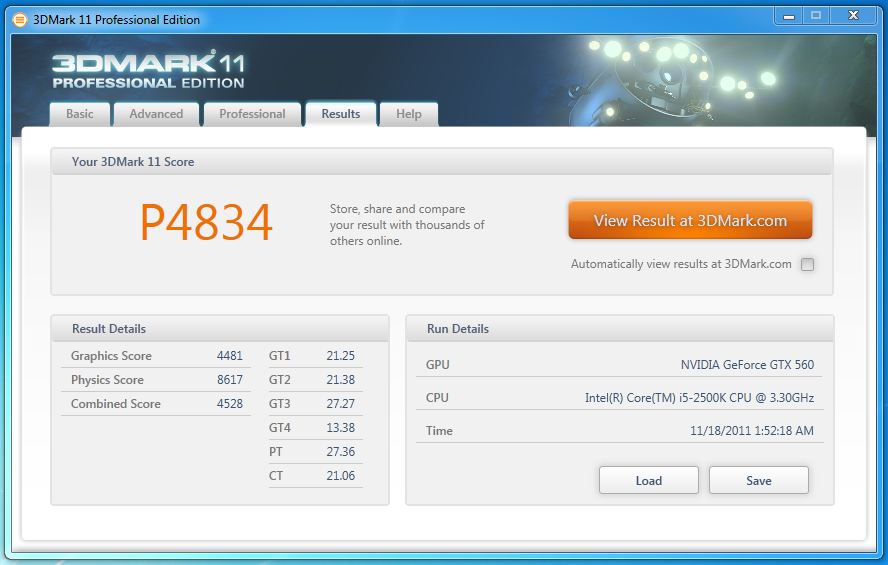 Here we have the score after we have overclocked our processor and video card. If we compare the results from the previous stock settings, we can see a 2-3FPS increase in the benchmarks. While this is not much in 3DMark 11, other games and benchmarks could show a lot more depending on what the initial score was. Usually a higher stock score will have a higher overclocked score as it will overclock in performance percentage wise instead of strict fixed number FPS form.
3DMark Vantage
The newest video benchmark from the gang at Futuremark. This utility is still a synthetic benchmark, but one that more closely reflects real world gaming performance. While it is not a perfect replacement for actual game benchmarks, it has its uses. The tests were performed on "Performance" settings.
3DMark Vantage gives us a score of 17560, which is slightly lower than if the system would be running GTX 560 Ti, but nevertheless still what we expected. It is nice to see the system performance completely match our custom built systems. This clearly tells us that the quality of the product is in no way different from the individual components that we receive from vendors.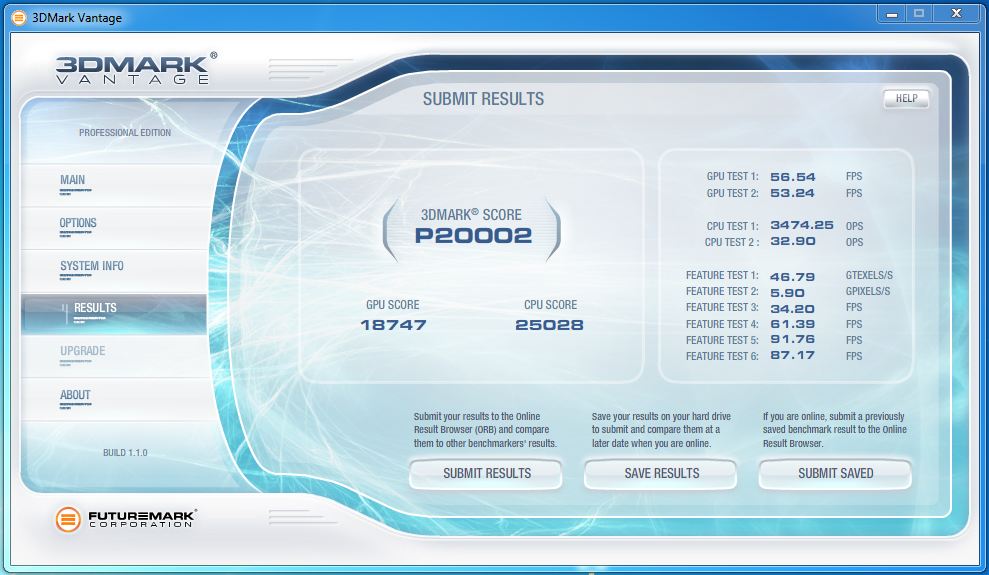 Just like we have mentioned in the previous overclocked results, a higher stock score will allow us to see a higher overclocked difference. In this case there is about 6FPS difference between the stock GPU scores and the Overclocked GPU scores, and we managed to gain additional 2500 points in 3DMark Vantage.
HD Tune Pro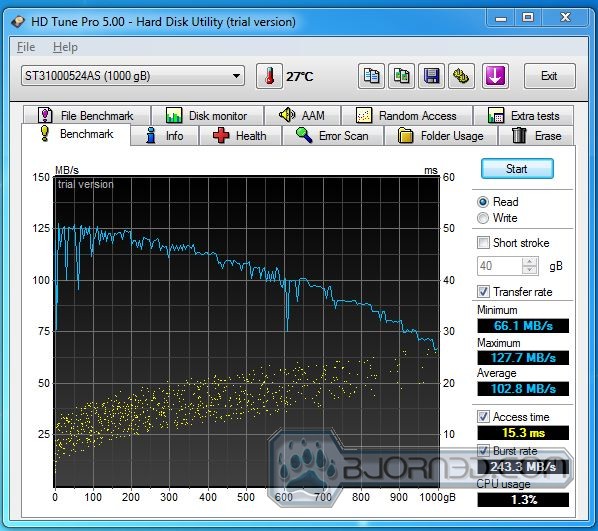 After running HD Tune Pro in order to assess the speed of the hard drive we were able to receive an average speed of 102.8 MB/s. This result is rather common for a 1 TB hard drive running at 7200 RPM and provides a fairly objective assessment of the file transfer if the transfer is sequential. As with any hard drive, the performance of the drive during transfer declines due to its architecture. The access time is yet another important parameter that is more important for transfer of smaller files and here we see a delay of 15.3ms between each of the files which is also rather typical. Generally we would expect a delay of 12-19ms for any 7200rpm HDD.
Cinebench R11.5
"CINEBENCH is a real-world test suite that assesses your computer's performance capabilities. MAXON CINEBENCH is based on MAXON's award-winning animation software, CINEMA 4D, which is used extensively by studios and production houses worldwide for 3D content creation. MAXON software has been used in blockbuster movies such as Spider-Man, Star Wars, The Chronicles of Narnia and many more. MAXON CINEBENCH runs several tests on your computer to measure the performance of the main processor and the graphics card under real world circumstances. The benchmark application makes use of up to 16 CPUs or CPU cores and is available for Windows (32-bit and 64-Bit) and Macintosh (PPC and Intel-based). The resulting values among different operating systems are 100% comparable and therefore very useful with regard to purchasing decision-making. It can also be used as a marketing tool for hardware vendors or simply to compare hardware among colleagues or friends."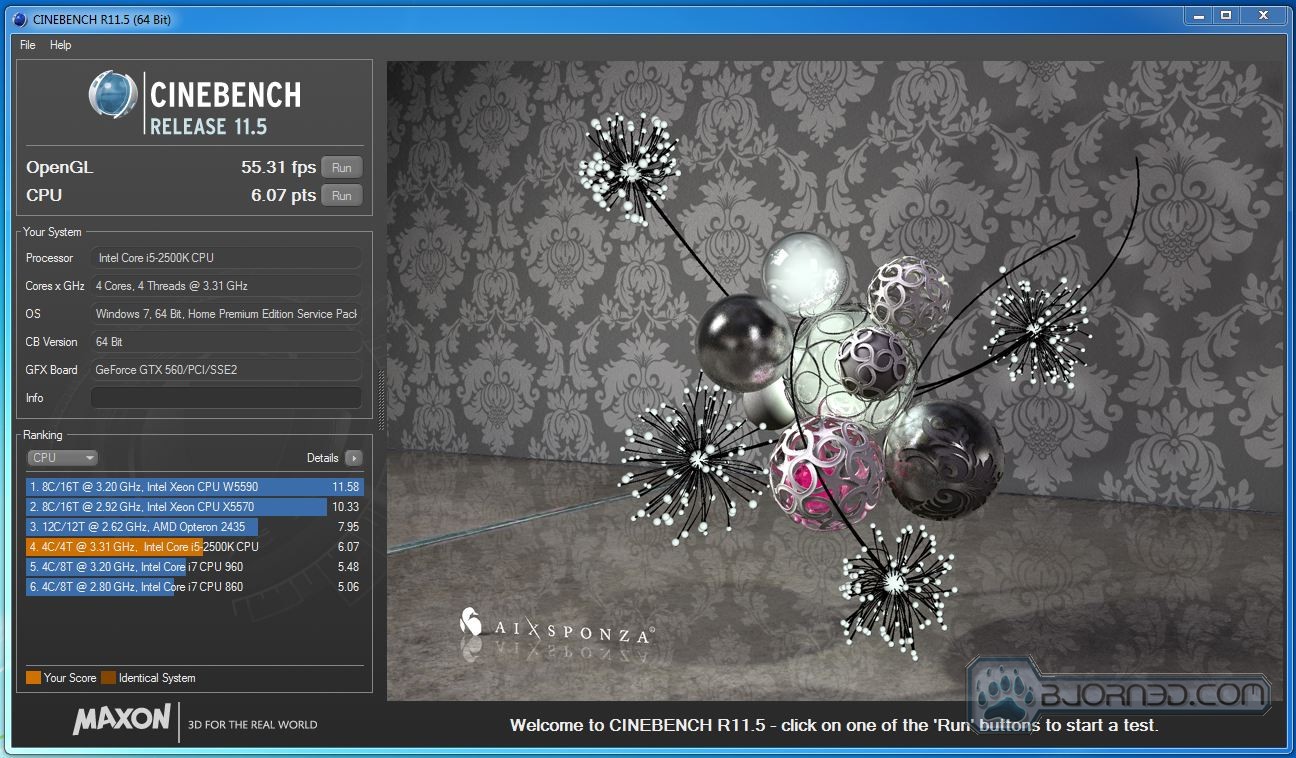 The purpose of this benchmark was to test out the performance of the processor. Since our system is equipped with second generation Core i5 2500K processor we have high expectations from this benchmark. As the result, processor does show an impressive display of performance surpassing the first generation processor Core i7 960. However, unlike first generation Core i7 CPU's, it is important to understand that 2500K is a processor capable of extensive overclocking and has a significantly higher potential in terms of performance. Please refer to the overclocking section in order to see just how well the Core i5 2500K performs.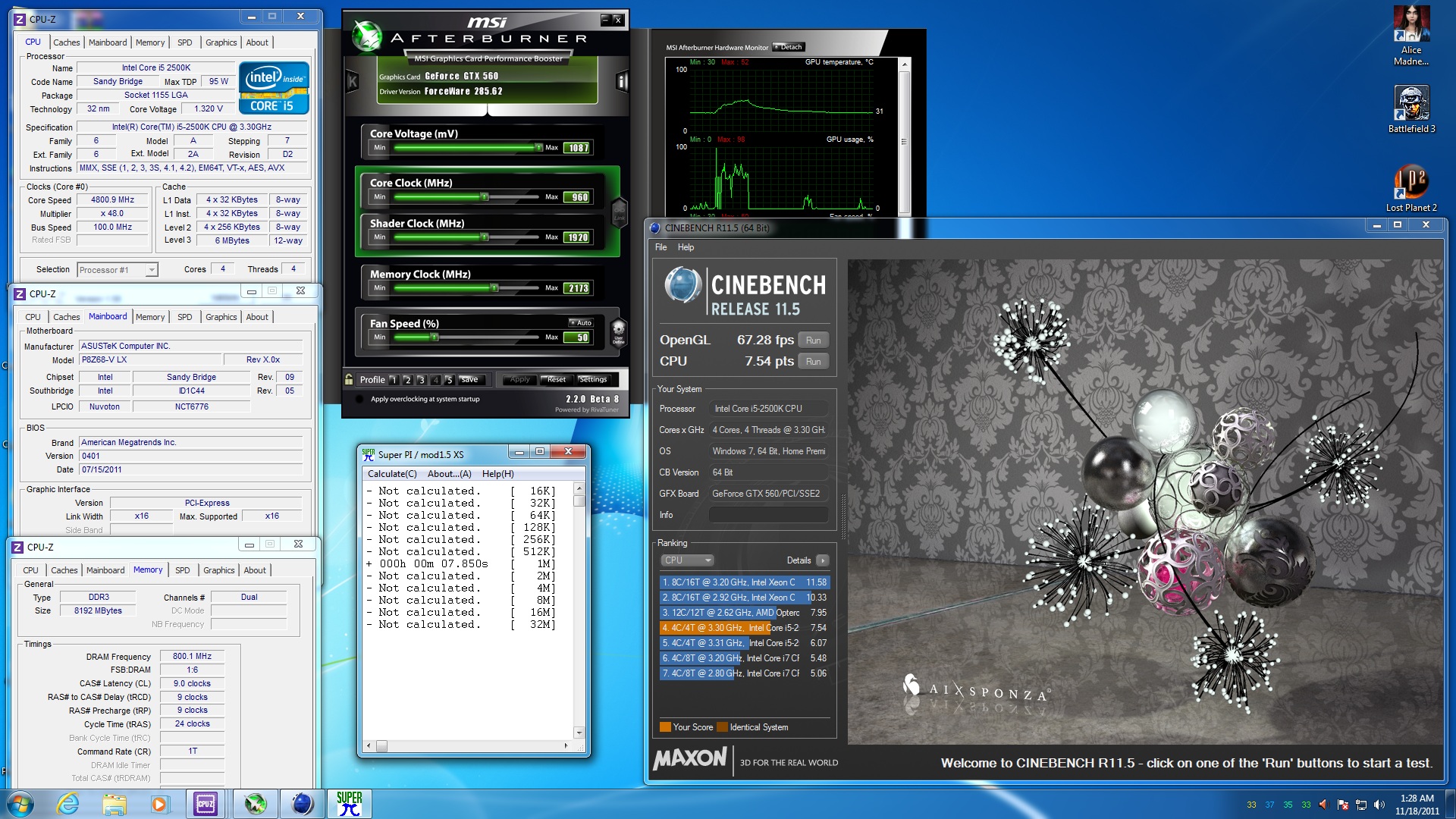 Finally, we see a drastic difference in OpenGL scores, and a much higher CPU score as well, since we increased both the CPU and GPU core frequencies. The cooling that CyberPower includes with their systems allows us to tweak the computer a little, and achieve much higher scores without having to spend more on new hardware.
Conclusion
The few things that we were looking while testing and assessing the system were obviously the looks, ease of set-up and finally performance to price ratio. Since this is a mid-range gaming system oriented for people that want to get the most for their money the performance is obviously slightly lower than a high-end gaming system. However, as the results of benchmarks confirmed both the CPU and GPU of CyberPower Game Xtreme 1000 SE gaming system are capable to deliver good experience on the latest game release even on higher settings. Overall system performance was rather impressive and demonstrates the consumer does not necessarily require a large investment. In terms of future perspective the user always has the option of adding an additional graphics card in order to increase the frame rate. In terms of value the $999 price mark is actually the lowest when you compare it to other vendors. For example, purchase of a similar system from Alienware would actually cost consumers about $1549.
The quality of the product does not fall below our standard and in fact all of the product are able to retain their original vendor quality ensuring that consumer receives a set of durable and long-lasting components. Generally the problem with ordering a premade system is that the quality of components is severely downgraded as seen in more generic computer brands like Dell and HP. In this case, the products are identical to what you would normally get if you build your own custom-made system, but in addition you get a legitimate version of Windows and a 3-year warranty. Users that already have their Operating System do not need to spend extra and can save roughly $100 on their purchase. One additional very nice feature is that CyberPower does not load the system with unwanted software that will buy you in the future to buy their product.
The system does take a little dive in terms of features which is reasonable considering its price. The neat perk of the system is definitely a presence of the water cooling system which is definitely better than a stock CPU cooler and provides some overclocking capabilities. However it is not a high-end cooling system so extreme overclocking of the processor is not advised and may cause severe damage to the components. Finally, the innovation somewhat goes along with features and really does not draw awe. The system is solid and does get the job done, but certainly requires a creative touch to make it draw attention.
Reviewer's Opinion:
From a personal standpoint I would definitely recommend this for anyone that is looking for a smart buy. If you consider the cost of components and the 3-year warranty the overall system cost is definitely worth the price. Additional components like LED light kits or glass side panels can be bought separately and will cost next-to-nothing in comparison to other vendors. Finally, as the time goes on the system can easily updated, unlike Dell or HP systems, which already put somewhat outdated hardware in the system which would required a complete overhaul for upgrades.
OUR VERDICT: Cyberpower Gamer Xtreme 1000 SE
| | |
| --- | --- |
| Performance | 8 |
| Value | 9.5 |
| Quality | 9 |
| Features | 7 |
| Innovation | 7 |

We are using a new addition to our scoring system to provide additional feedback beyond a flat score. Please note that the final score isn't an aggregate average of the new rating system.

Pros
Cons
Outstanding value for the performance3-year warranty and technical supportEasily customizable and upgradable

High quality of components that will last for years

Good gaming performance easily supporting even the latest game releases on high settings

Wide variety of customization options on the website

Lack of additional features and innovation

May require addition of a graphics card for recording in-game.
Summary: For the performance vs. price ratio the CyberPower Gamer Xtreme 1000 SE Gaming System is definitely one of the best value deals available for customers looking to buy a pre-built gaming system. It is simple, cool, and fast, and that's what an average gamer should be looking for! It earns the Bjorn3D Silver Bear Award, and the Bjorn3D Value Award.