To wrap up Computex 2011, we went ahead and wrapped up some of the latest motherboards, video cards, tablets, and memory products from MSI, GIGABYTE, and Kingston.
MSI
We're back with some extra late coverage of COMPUTEX 2011. In this article we'll take a look at some of new products that we should expect from MSI, GIGABYTE and Kingston in the following months. These products include some of the latest socket motherboards for the next generation Intel and AMD processors, as well as other multimedia and touch based devices.
Click Image For a Larger One
On the MSI wall we saw several new goodies. To start off, MSI's latest Z68A-GD80 (G3) motherboard has integrated support for PCI-Express Gen 3 slots. Going back in time, I'm sure all of us remember the first PCI-Express 1.0 slots. Then came the PCI-Express 2.0 which provided extra bandwidth to the lanes and showed extra performance especially in SLI based systems. Now even though the board still runs on PCI-E 2.0, MSI introduced the new specification, the PCI-Express 3.0. While this board does not quite yet use the true PCI-E 3.0, MSI stated that they already saw some performance increases according to their tests. The Z68A-GD80 follows the same specifications that previous Z68 based motherboards came with, including VIRTU Switchable Graphics Technology, and Intel Smart Response Technology. With OC Genie II, users can easily overclock and push the frequencies of their systems.
The Z68MA-ED55 motherboard on the other hand is a small uATX based motherboard that still has high performance capabilities with up to 2 PCI-Express 2.0 slots, 2 SATA III ports and up to 2+2 (R+F) USB 3.0 ports. For those looking into having special features, the ZM68MA-ED55 still comes with the features seen on other high-end motherboards including, Military Class II components, DrMOS, OC Genie II, ClickBIOS, THX, Multi-BIOS and Super Charger.
Click Image For a Larger One
The next two motherboards are quiet interesting. The first one is the X79A-GD65, which is the Next-Generation high performance desktop based platform for enthusiasts waiting for the new Sandy Bridge-E processors running on the new Socket LGA2011. It is hard to tell from the picture, but when we saw the LGA2011 socket in person, it was massive. But if we think about it, fitting 2011 pins is difficult so there has to be a massive socket to support the next-generation Sandy Bridge Enthusiast series processors. The memory slot configuration is also different on this motherboard that we have not seen till now. The reason why it is divided up this way is to provide proper quad-channel support. It is expected to see 10 SATA III 6Gb/s connectors and PCI-Express Gen 3 slots.
We've read some rumors on other tech sites mentioning that there are some Intel Extreme boards for X79 which will also support older LGA1366 processors, though how much truth there is in that statement, we don't know.
Finally, lets take a look at the 990FXA-GD80 motherboard. We'll only take a look at it briefly, since we will have a review out on the 990FX based boards very soon and it will be worth reading about. It looks like the 990FXA-GD80 will come with extremely similar components like Hi-C CAP, SFC (Super Ferrite Choke) and Solid Capacitors which fall into the Military Class II components section and other features as the Intel boards. It will also have 3-way SLI and 4-way CrossFireX support. Once Bulldozer comes out sometime later on in August or September, these boards will be quite interesting.
Click Image For a Larger One
Another interesting feature seen from MSI this year at COMPUTEX 2011 was the N580GTX Lightning Xtreme Edition 3GB video card, which had fans covered by a special color compound that changes colors depending on the heat. When the ambient air temperature raises to high temperatures at around 45C, the fan will turn white. This warns the user that the card is operating in high operating temperature conditions. The N580GTX Lightning Xtreme video card is mainly designed for high-end gamers and overclockers due to its Triple Over-Voltage technology. It comes with a Dust Removal Technology which spins the fan in reverse direction to ensure that the heatsinks do not build up dust and to provide optimal cooling performance.
Click Image For a Larger One
Finally, in the video card category, we were also presented with a new way of controlling and monitoring our overclocked settings on our video cards. MSI presented us with an Android based Afterburner, similar to what most VGA overclockers use currently to overvolt and overclock their video cards. It's totally touch based and communicates real-time with MSI Afterburner on the PC through wireless connection.
Click Image For a Larger One
Now to the tablets–it looks like MSI has a new contender on the list of tablets, the MSI WindPad 120W. The Windpad 110W that was previously showed at Cebit and COMPUTEX 2011 this year is using the AMD Brazo platform. The WindPad 100A was using Nvidia's Tegra 2 chip and running an Android based OS. The WindPad 120W tablet on the other hand is using Intel Cedar Trail based platform. Both the 110W and 120W systems run on Windows 7, and also have an ISP wide view multi-touch displays. This means that users can use multiple fingers to perform actions, much like the iPad or the MacBook Pro based laptops with their multi-touch based finger swipes. The WindPad tablets have a 10″ display with a 1280×800 resolution. For those that have larger fingers and have problem working on touch screen monitors, MSI also provides a Smart Tracker mouse devices on the right side of the black border on the tablet. This little button works somewhat like the button type mouse in the middle of the keyboard on a laptop. It allows users to maneuver around the screen with easier operation.
Just like the iPad, the Windpad tablets also have a rotation function for their screen depending on the position the tablet is turned. However, the nice feature on the Windpad is that the screen rotation function can be locked and unlocked depending on what the user wants.
Click Image For a Larger One
Here we have a closer look at the Windpad 120W, where we can see the volume buttons, the headphone jack, and SDHC card reader, and the monitor luck switch. Unfortunately,  the SD card reader does not support the latest SDXC memory cards, which is a bummer, because devices  that support and use SDXC cards are becoming more popular as time goes by. Finally it looks like there is GPS suppport and HSPA 3.5G Wirless support for the Windpad 120W.
GIGABYTE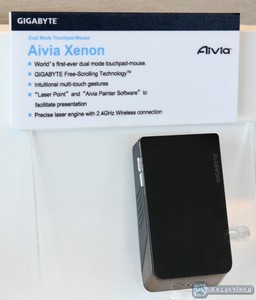 Click Image For a Larger One
Just like MSI, GIGABYTE has some exiting new motherboards, but before we get to that, GIGABYTE also had to show us an interesting new mouse, the Aivia Xenon. The Aivia Xenon is not your average mouse, Instead of the normal buttons, it has a fully sensitive Touchpad top which allows users to navigate through windows and presentations easily with finger swipes and gestures. Although it is possible to switch over to mouse mode and use the Xenon as if it was a normal mouse.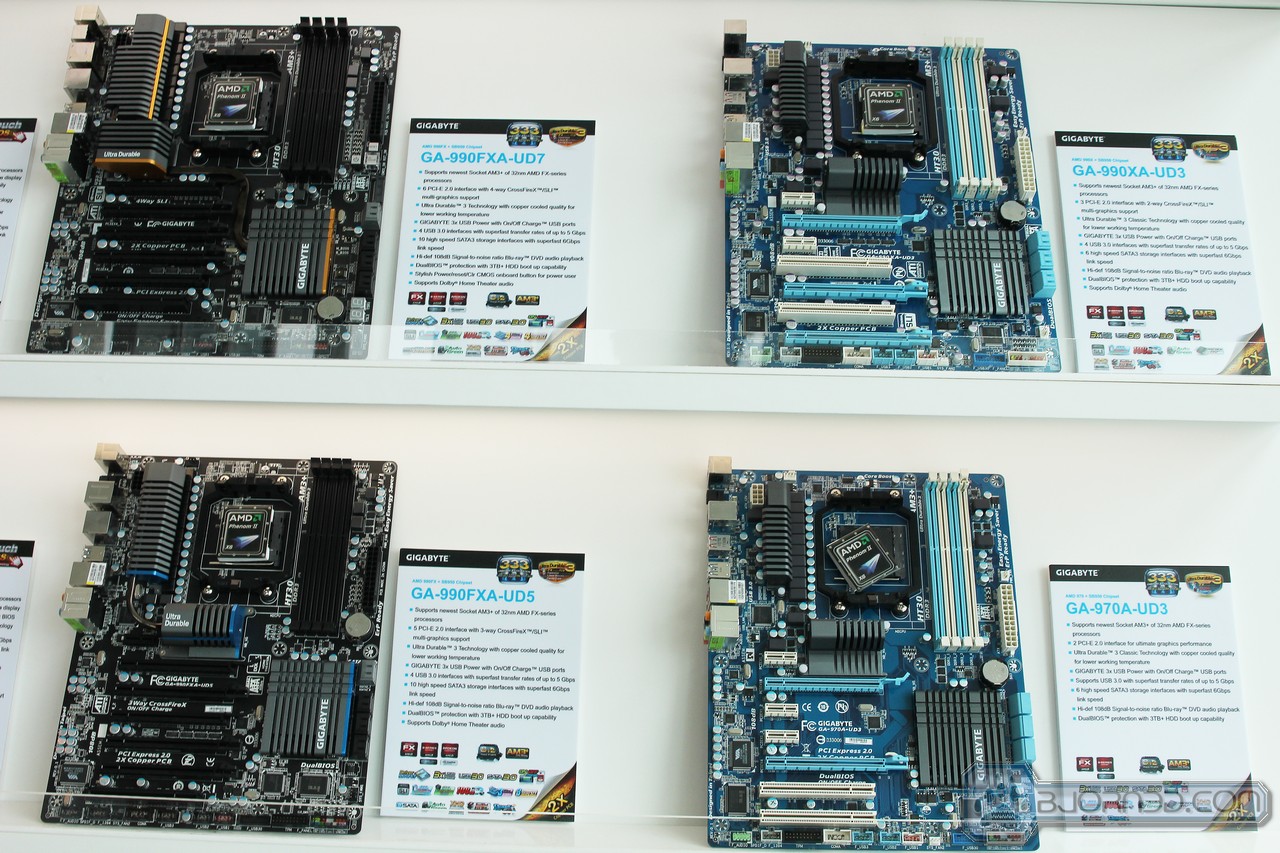 Click Image For a Larger One
We saw a full line-up of new AMD Socket AM3+ 32nm FX-Series processor based motherboards from the top of the line 990FXA-UD7 model all the way down to the 970A-UD3. The UD7 and UD5 motherboards can be considered the high-end gaming and enthusiast motherboards, while the UD3's are more for the general average consumer level users. The UD7 looks like a Multi-GPU beast considering that it has up to 6x PCI-E 2.0 slots, that support up to 4-way CrossfireX or SLI multi-GPU configuration. Also with
Silverstone's new TJ12 case prototype
, we never know, but the 990FXA-UD7 could end up being a motherboard that will be supported for up to 6 video cards for ultimate GPU supercomputer performance. For GIGABYTE it looks like they will have advantage over MSI in the SATA ports. MSI's latest 990FX board only has up to 6 SATA III ports, while the UD7 will have up to 10 SATA III 6Gb/s ports. One step lower from the UD7, the UD5 is more like the motherboard MSI can compete with. The 990FXA-UD5 has 5 PCI-Express 2.0 slots for up to 3-way SLI and Crossfire configuration. While we are not quite sure about prices yet, the UD5 seems to be the board for enthusiast gamers that don't want to spend too much money on a motherboard, but would still like to have the features enthusiast motherboards feature.
The 990XA-UD3 can be considered a mid range contender, and would most definitely fit even most gamers that don't need support for 3-Way SLI. Without the NF200 chip, the UD3 can only achive up to 2-Way SLI and CrossFireX support. We can see a decrease of USB 3.0 ports up to 6 SATA III ports, though most of software and hardware features and component quality should still be there from the high-end motherboards from GIGABYTE. Finally, the 970A-UD3 motherboard is designed for entry-level AM3+ FX-series processor users that don't want to spend too much money on hardware but still want to have nice features that other motherboards also support.
Click Image For a Larger One
Here comes the exciting part. In the next few days we will have a review of the GIGABYTE Z68X-UD3H-B3 motherboard which supports VIRTU technology for hybrid graphics support and while also having Quick-Sync and Intel's Smart Response (SSD Caching) technology. At COMPUTEX 2011, GIGABYTE showed us a new motherboard, the GA-Z68XP-UD3-iSSD, which comes with Intel's mSATA 20GB SLC 311 SSD. Just like we have covered how Smart Response works in the
GIGABYTE Z68X-UD7-B3 motherboard review
, the Z68XP-UD3-iSSD should come with the same feature except it already comes enabled and ready to go the moment the user turns on the PC. This means that there is no setup needed to get the system up and running with SSD Caching and there is no need to set it up manually with a separate SSD and Windows based drivers. The moment the system is turned on, a window message should pop-up asking the user if they wish to enable Smart Response Technology. After it is enabled the system will automatically set up all the settings in the BIOS so SSD Caching would work. The GA-Z68XP-UD3 model of the same motherboard comes with the mSATA slot, however there is no SLC SSD installed. This should lower the cost of the motherboard, and if the user ever wants to upgrade, they can easily just snap the mSATA SSD into spot and the system will ask the user if they would like to configure their system to run with Smart Response. The con to this is that if the user already has files on their system, they will have to be formatted in order to enable Smart Response.
The 2nd image shows a motherboard we have been waiting for for a long time. When the
G1.Killer series motherboards
first hit the market running on the X58 chipset, their Audio and LAN performance blew us away. With dedicated Creative X-Fi processor and audio codec, 256MB of audio memory, high-quality audio components and amplifiers, as well as a dedicated LAN processor and 1GB memory for just networking, the G1.Killer motherboards turned out to be one of a kind. But now GIGABYTE is ready to show us the GA-Z68-Gaming motherboard. We got the same high-quality components integrated on a Z68 motherboard for the ultimate Sandy Bridge Gaming experience. Even though there is a nice spacing between the two PCI-Express connectors to provide good air circulation between the two video cards, it is a bummer that there is no 3-way SLI support on a Gaming motherboard. If GIGABYTE would have added the NF200 chip on this motherboard just like the Z68X-UD7 motherboard has it, and have 3-way SLI support, then it would have been the ultimate Sandy Bridge gaming motherboard. On the other hand, no many gamers have a 3 video cards to put in 3-Way SLI, and 2-way SLI seems to be a popular option right now, so the Z68-Gaming motherboard should still be one heck of a motherboard.
On the last picture, GIGABYTE Technical Marketing Manager Colin Brix, is holding the next-generation GA-X79A-UD3 motherboard, that will run the X79 chipset with the new Socket LGA2011. the X79 chipset is designed for the next Intel Sandy Bridge-E series enthusiast processors. As the processor naming series says it, this platform will be designed for the enthusiast users looking into building high-performance systems in multimedia, 3D, and gaming. While at the moment it seems that the UD3 is just a prototype design and not a final version, it looks like it will have quad-channel memory support and PCI-Express 3.0 specifications as well. For now, GIGABYTE only showed us the UD3 model of the X79 chipset motherboards, though from what we've seen from the past, GIGABYTE will most likely also have a UD5 and UD7 model motherboard later on in the year.
Click Image For a Larger One
We've taken a quick look at the GA-X58A-OC motherboard when it first came out, so we'll just quickly skim through and remind everyone of the features the motherboard comes with. The X58A-OC motherboard is specifically designed for overclockers, with components that are designed to be pushed at much higher frequencies than other components. The 12-phase OC-VRM can be push all the way up to around 50A to provide up to 1500W of CPU power. Is this really necessary? We asked Product Manager Hunter Lee. Hunter replied, "believe it or not, it is necessary for extreme overclockers….plus having a bit extra is always best to make sure the motherboard stays as stable as possible during overclocking". The components on the motherboard are designed to be easily sealed to prevent condensation while using extreme cooling solutions like Liquid Nitrogen (LN2) and there is a nice spacing between the PCI-Express slots to make sure there is support for 4-way SLI and CrossFireX.
The buttons on the bottom of the motherboard provide precision tweaking to the users. With processors above the i7 950, users can take advantage of the 4G button which automatically puts the user at 4GHz without any tweaking in the BIOS. The plus and minus buttons allow precision tweaking real time while the system is running. The Gear button allows the user to move down to 0.1 BCLK precision tweaking in cases the motherboard reaches the maximum BCLK. This way overclockers can achive slightly higher frequencies.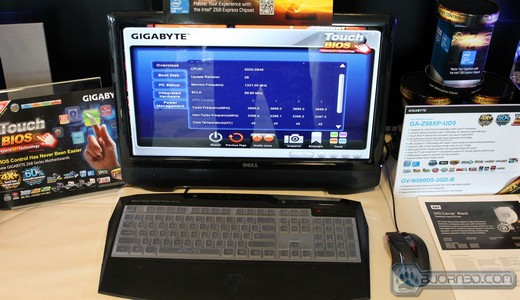 Click Image For a Larger One
Most of us should also know about GIGABYTE's Touch BIOS. We were able to try it out on a touch screen monitor and it is definitely interesting, however, we still find it a tad bit ridiculous. We believe more time should have been put into developing a GUI based BIOS instead of a software that runs within Windows. More information about Touch BIOS can be found
HERE
.
Kingston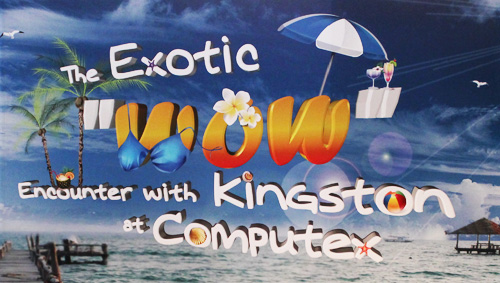 This year, Kingston invited us to their exotic product lunch during COMPUTEX 2011. At the product lunch, Kingston kindly showed us what they have been working on in the past and what they are working on for future products. They started off talking about their latest urDrive pre-loaded application on their USB flash drive devices.  urDrive helps organizing, exploring and acquiring content like applications, games, and music. The plan for Kingston with their next urDrive 2.0, expected to be released around Q3 of 2011, will be to transform Kingston USB drives into Active and Interactive storage devices, rather than the standard traditional passive devices used only to store and transfer data. With the urDrive 2.0 application, Kingston will provide users the option to download free games, free applications, free PC-Scan and a fast USB browser that leaves no trace on the PC.
Next we heard about Kingston latest devices called the Wi-Drive. The Wi-Drive is Kingston's latest USB flash products to provide extra storage for devices like the iPod Touch, iPhone, and iPad. The Wi-Drive comes in two different sizes, including 16GB and 32GB. What's special about this devices is that it uses Wi-Fi connection between the Kingston Wi-Drive and the Apple handheld devices, and with the help of the Wi-Drive application, users can get access to all the files on the Wi-Drive.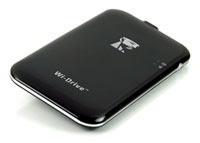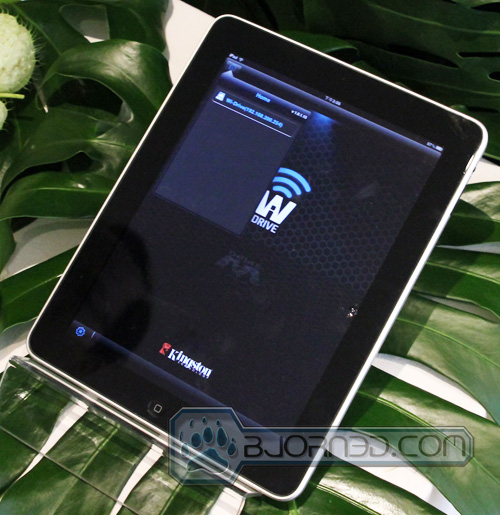 This helps extend the storage capacity of the apple products and makes sharing data between users much easier. With the Wi-Drive, several users can join the network easily with the free Wi-Drive application that can be downloaded from the Apple App store. Once users joined, they can watch their favorite movies, videos, share photos, or listen to music together all from their own Apple devices.
Besides the Plug n Play memory modules that we will be taking a look at later on this month, Kingston also announced their latest HyperX series 2nd Generation SandForce based SSD drives. Running the SF-2281 Controller, the drive is able to run at a full SATA III specification at 6Gb/s.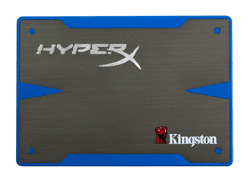 The SSD uses Intel 25nm Compute NAND flash memory and utilizes Advanced Wear Leveling to ensure that individual flash memory blocks are consumed at a balanced rate enabling maximum endurance while maintaining optimal performance. The SSD will come in 120GB and 240GB capacities, though pricing is not yet determined. Average Sequential Read and Write speeds go up to 525/480 MB/s and Power Consumption will be at around 0.455W Idle and 2.0W Active.
To add to the "WOW" experience at during the presentation, Kingston brought out their exotic girls to show off their latest products.
Click Image For a Larger One