Corsair Force LE 480GB TLC SSD
The Corsair Force LE 480GB TLC SSD sports a Phison PS3110-S10 controller and Toshiba's 15nm TLC NAND flash, a formula we've seen on other drives from vendors that don't produce their own controllers and NAND. Set as an entry level drive series with less expensive TLC (Triple Level Cell), the Corsair Force LE 480GB comes in at a bargain price of . SSD's are becoming a more attractive alternative to platter drives, and with high storage capacities at lower prices, we can heartily recommend swapping the old platter drive out for an SSD and relegating the old platter drive to data storage or non-speed gobbling applications. All of the different sizes of Corsair Force LE offer the same speeds at read (560 MB/s) and write (530 MB/s), but as the size increases, so do the attainable IOPS.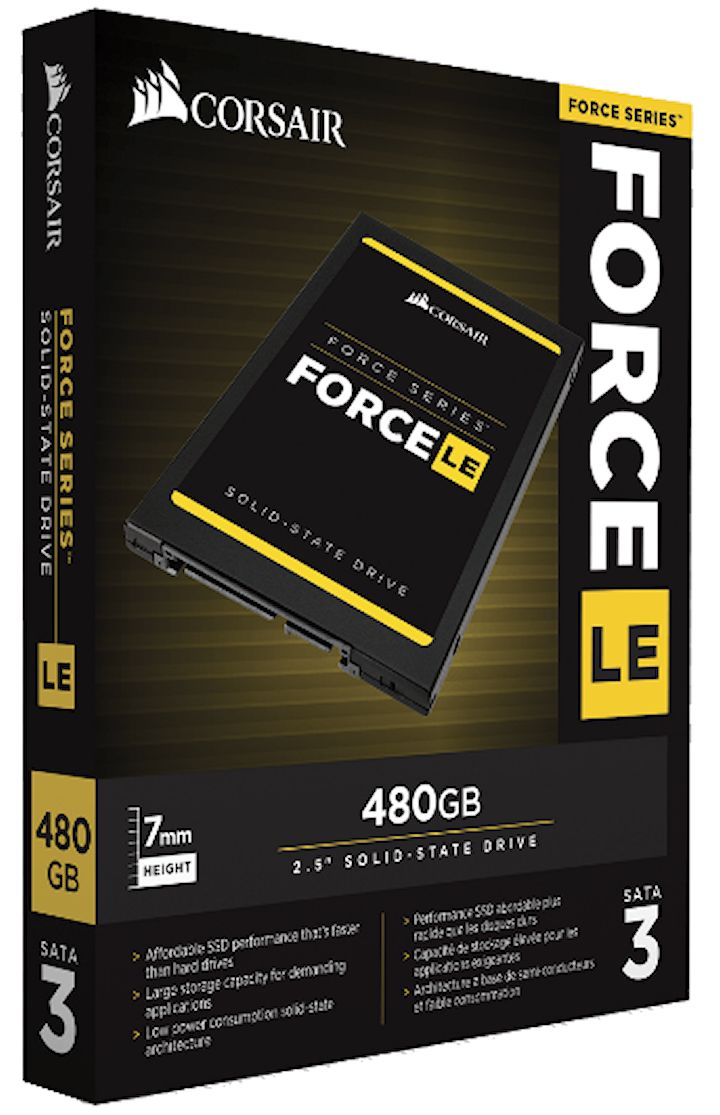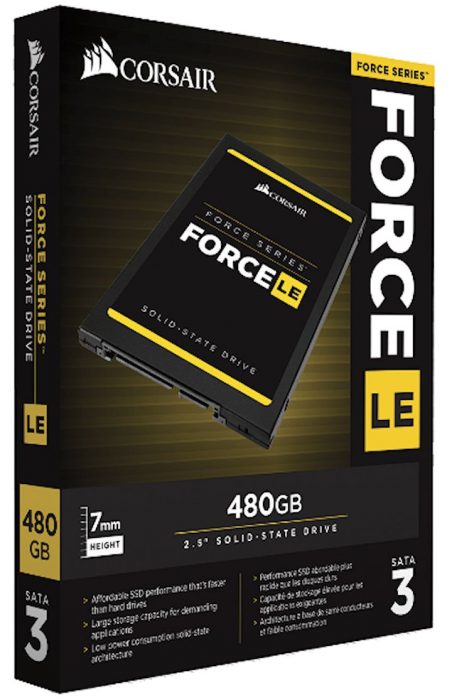 Here's the breakdown on IOPS vs storage capacity:
IOPS/Capacity Corsair Force LE Drive Series
240GB – 83,000 random read IOPS and 40,000 random write IOPS
480GB – 83,000 random read IOPS and 55,000 random write IOPS
960GB – 85,000 random read IOPS and 60,000 random write IOPS
The TLC (Triple Level Cell) portion of the drive deserves some explanation:
SLC (Single Level Cell) NAND stores one Bit a 1 or a 0 per cell
MLC (Multi Level Cell) NAND stores two Bits a 1 and a 0 or any combination of both per cell
TLC (Triple Level Cell) NAND stores three Bits again 1 and 0 in any combination
The price of the different NAND flash types corresponds with its reliability and performance; SLC provides the highest price and reliability, MLC the second most expensive and second most reliable, with TLC being the least expensive. Moving from SLC (Enterprize Class) to MLC results in 10 – 20 times less Read/Write cycles per cell and TLC has a corresponding drop in write life.
Corsair Warranties the Force LE series drives at 3 years and/or the stated Endurance Life:
Endurance Specifications
240GB – 60 terabytes written (TBW)
480GB – 120 TBW
960GB – 240 TBW
Now we know the advantages and disadvantages of the different types of NAND as far as endurance goes and how the storage on each type handles data but there are other considerations. SLC and MLC thus far tend to bog down on compressed format data (Images, Music, Video and other compression schemes) and performance will bog down slowing the operation of the drive. The TLC drives don't utilize compression to make operations faster and require a stronger controller like the Phison PS3110-S10 controller. What does that mean to us as consumers you ask? When a TLC drive hits compressed data it doesn't try to re-compress it to make speeds faster it takes it and shoves it through the data pipe and doesn't slow down.
On the flipside of the equation, SLC drives are recommended for enterprise-class operations, data farms, servers, and high read/write operations. eMLC (Enterprise MLC) is also suitable for lighter heavy data intensive operations. MLC is suitable for light business and consumer level including operating systems but not really recommended for mission critical situations. TLC is recommended for consumer level (non-mission critical) operations and some reporting sources say not for operating systems and data-intensive users. Thus far we have had no trouble with TLC drives running operating systems as the primary drive, but it is worth noting that if you are running mission critical OS or programs you may want to spring for an MLC or eMLC drive.
Ordinary end users shouldn't be put off by TLC, and with expected wear and tear your TLC drive should give you years of service.
Specifications (Per Corsair)
Technical specifications
Form Factor: 7mm height, 2.5″
Interface Type: SATA 6Gbps (SATA 3)
Max Sequential Read (ATTO): Up to 560MB/s
Max Sequential Write (ATTO): Up to 530MB/s
Max Sequential Read (CDM): Up to 510MB/s
Max Sequential Write (CDM): Up to 480MB/s
Max Random Read QD32 (IOMeter): 83K IOPS
Max Random Write QD32 (IOMeter): 55K IOPS
DWPD (Drive Writes Per Day) : 0.43
TBW (Total Bytes Written ): 120TB
Operating Temperature: 0°C to +70°C
Storage Temperature: -40°C to +85°C
Operating Humidity: 90% RH (40° C)
Storage Humidity: 93% RH (40° C)
Shock: 500G
Vibration: 20Hz~80Hz/1.52mm, 80Hz~2000Hz/20G
Features
Static and dynamic wear-leveling with advanced garbage collection
Smart wear-leveling with fast and efficient data management improves drive lifespan, reliability, and performance.
Owners of Force Series LE solid-state drives get access to Corsair SSD Toolbox, a powerful suite of tools for getting the most out of your SSD.
Low power consumption with DEVSLP support.
Force Series LE solid-state drives use dramatically less power than traditional hard drives, for better power efficiency for desktops and longer battery life for laptops.
Enhanced error correction.
Protecting your data is essential. Force Series LE has built-in SmartECC™ and SmartRefresh™ technology for reliable data retention and error correction.