The Software – Corsair Utility Engine (CUE)
CUE is one of those software applications that some will love to death and some will hate for its complexity. Let us start with saying it's not the most intuitive interface, but if you spend some time learning it you will be repaid with a much richer lighting and macro experience than if you just stare at the pretty lights.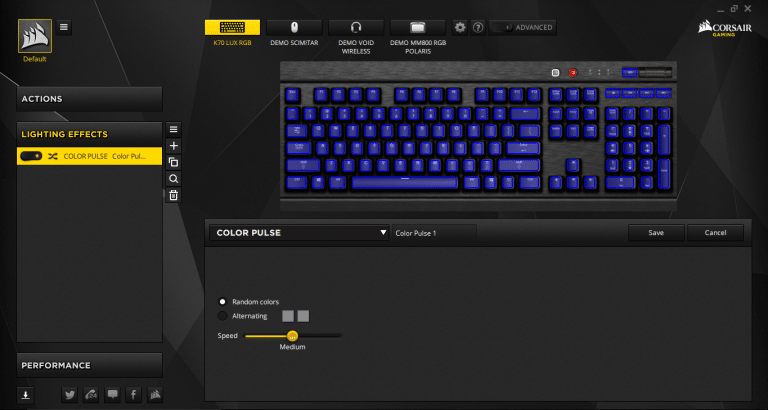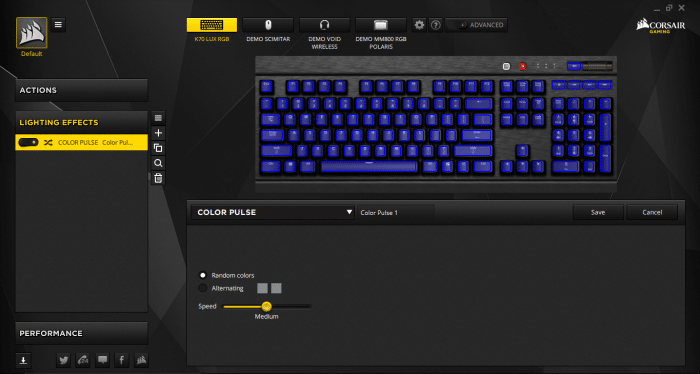 When you first load into CUE you have three buttons to choose from. We dropped into Lighting Effects first and you can literally create any pattern you want. Just click Lighting Effects then the "+" and start tinkering or download the long manual (it's over a hundred pages) and start designing away. You can also download patterns others have designed with a quick Google search. The possibilities are endless here.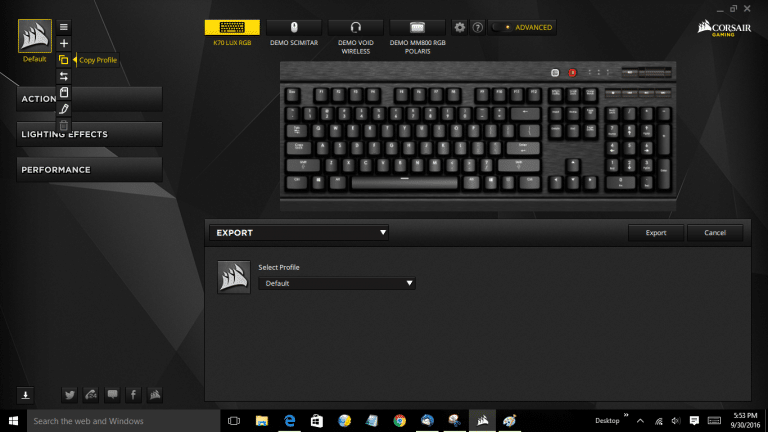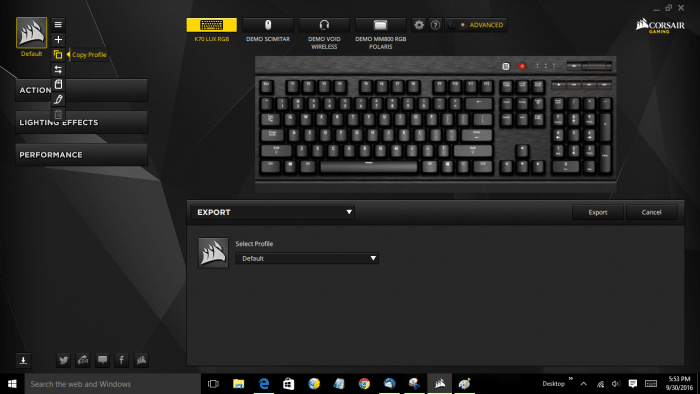 Something we found extremely helpful is that you can copy a profile and store it then safely modify the profile. That gives you the chance to get wild and experiment and if freaky Friday gets out of hand, simply reload the original profile and go again. Trust us, you can get lost inside the full features CUE, but be aware it's not the most intuitive software, so Google a couple of tutorial videos and it will lessen the learning curve quickly.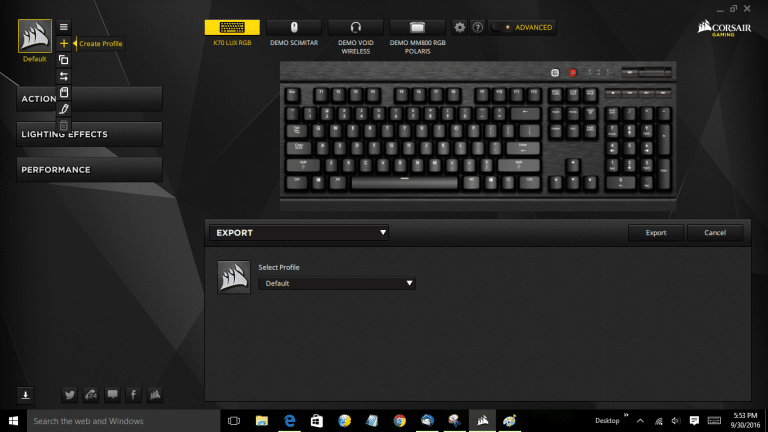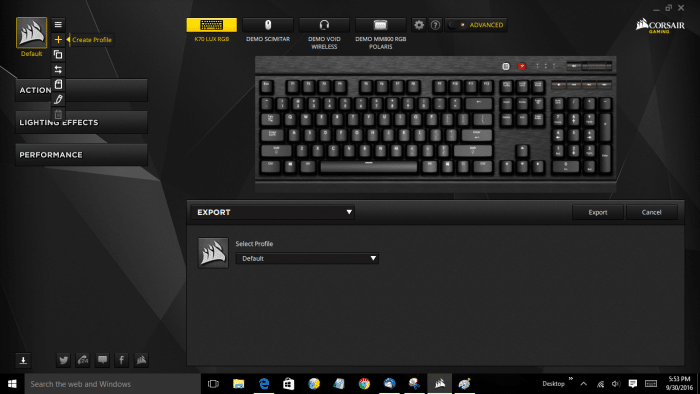 Create Profile is where you should be before starting into your favorite games. Go into your game and make notes of the keys you need highlighted and back out of the game. With notes in hand, go to Create Profile and use the lighting effects to highlight the game-specific keys you use to achieve victory in your favorite game. This feature is found on some top end keyboards and time spent in Create Profile is well spent and leads to victory road. Neglect this feature-rich area and your gaming performance will suffer while you look on and say "Ooooh shiny".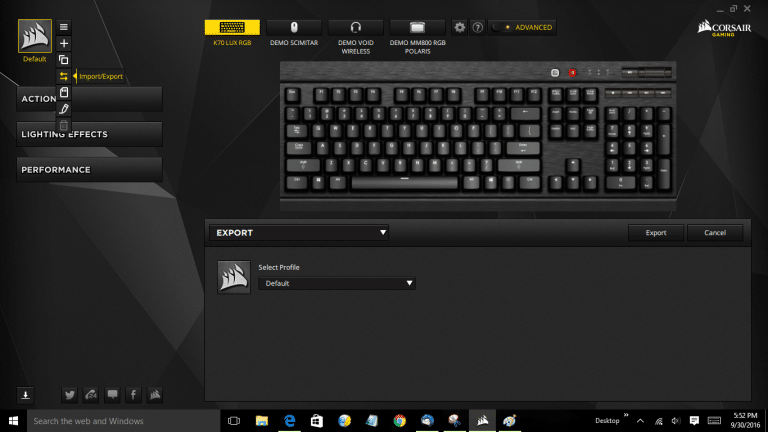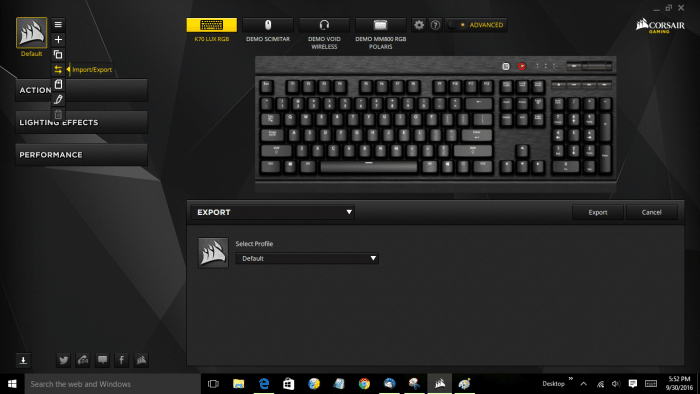 Import/Export profile is where you can export a profile and share it with friends or import custom made profiles and tweak them to your needs. This area is a luxury and you can find extensive pre-built profiles on Corsair's forum and chat with other enthusiasts and plan world domination in the gaming arena.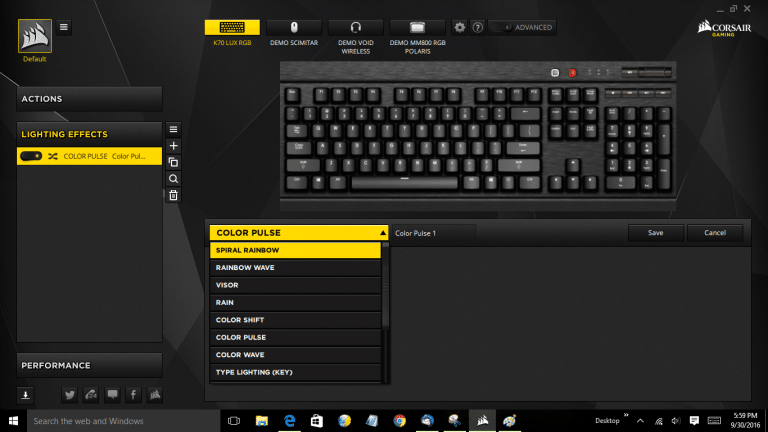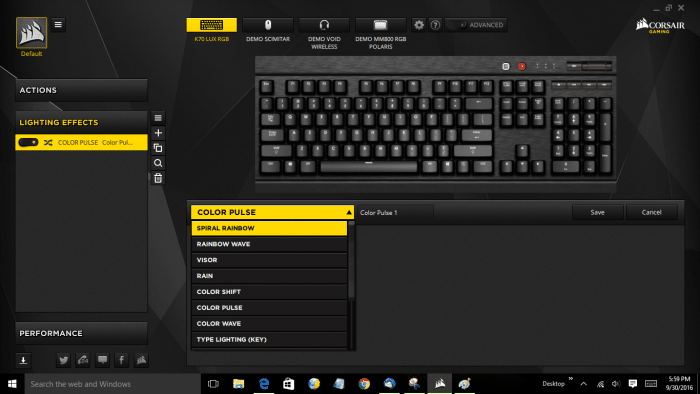 The list of preset lighting effects is longer than this, but you can explore the bounty when you pick up your K70 LUX. On this screen shot you have Spiral Rainbow, Rainbow Wave,  Visor, Rain, Color Shift, Color Pulse, Color Wave and Type Lighting (key).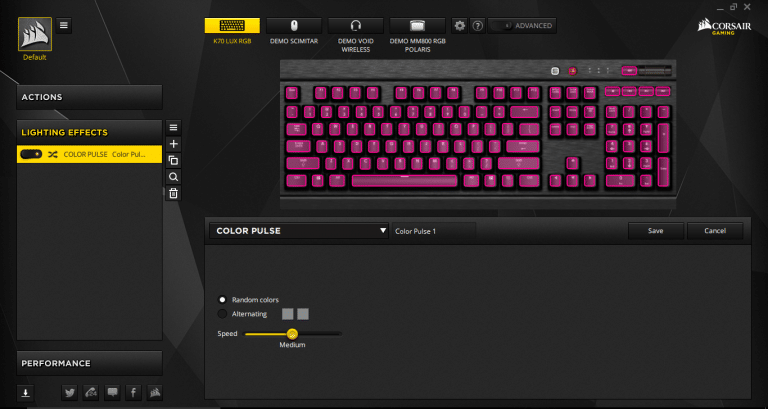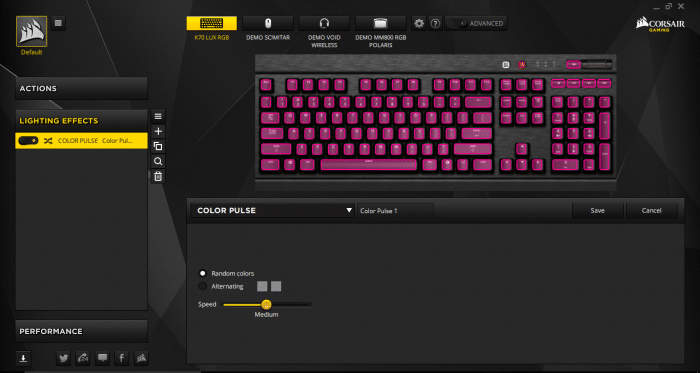 Even the preset patterns are adjustable so you can tweak them any way you want, then a save button pops up and you can rename a sub-profile that suits your creative skills.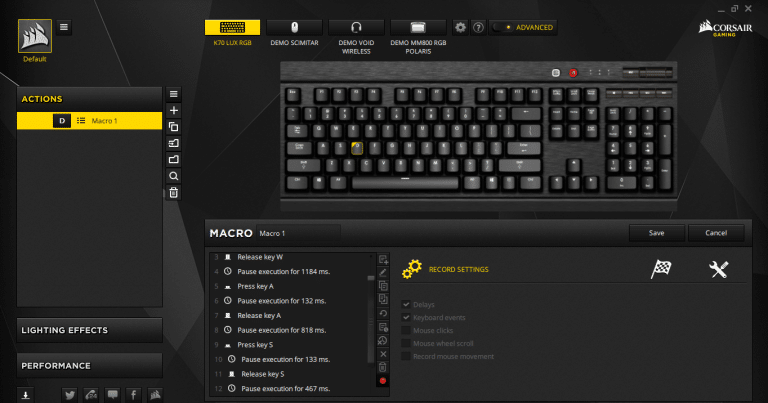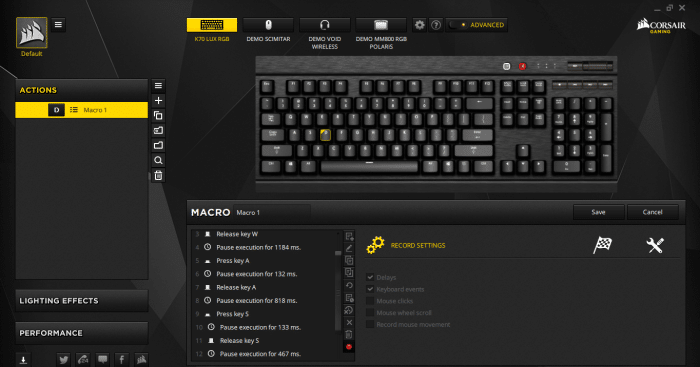 Macros on CUE aren't the most intuitive, but play with it a little bit and you will quickly understand how rich of an environment it really is. We just went in and clicked Record and hit WASD and got this macro. You can set the software to record mouse movements, time delays between clicks and create any macro your mind can conceive. Here's a tip: click record and click the on-screen keyboard and not the keyboard in front of you. We had a "D'oh" moment figuring that one out. It wasn't long before we had laid plans for a new macro system for benchmarking video cards. Most sites don't macro benchmarks but a set macro to test a video card produces much better results. Every pass at the benchmark is exactly the same without small human errors creeping in.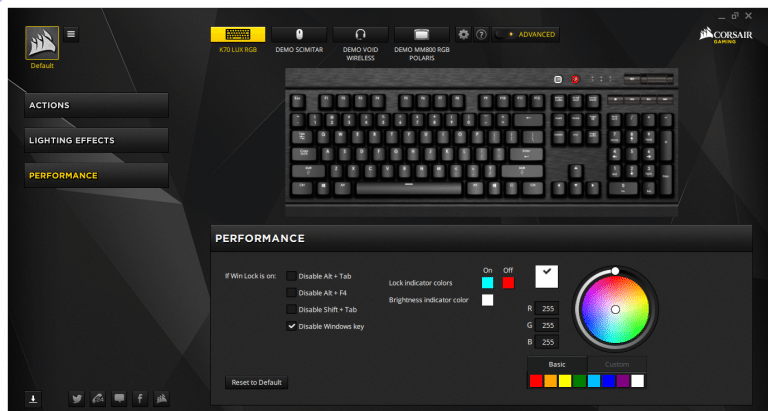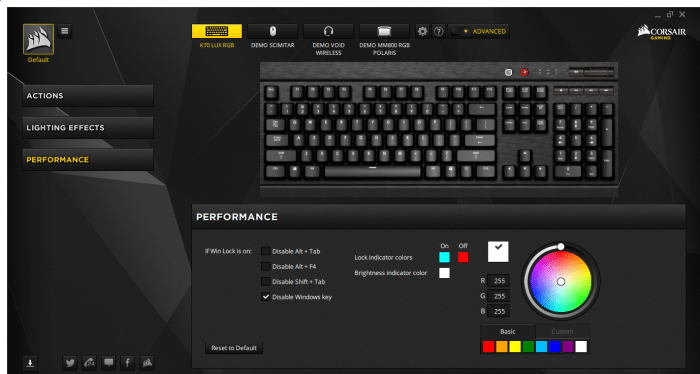 In the Performance area you can tweak the way the keyboard handles games. We especially like the disable Windows key feature, as we have unexpectedly jumped back into Windows far to often while struggling to hit the right game key. We did notice one thing while playing in this window. The MX cherry switches are unable to produce a true white color and you get all three colors turned on (Red, Green and Blue) and the ghosts of those lights shine on the key above it. It's not a really big deal, as most RGB products have a problem with true white.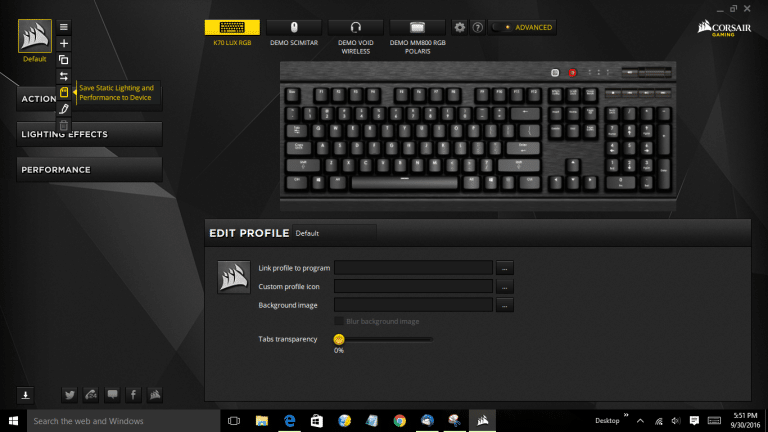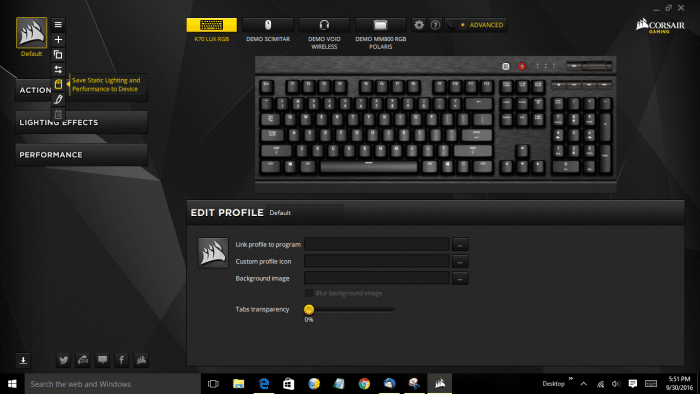 Now keep in mind that CUE is such a rich environment that we can't possibly cover all of it in this format and we apologize for anything important that we left out that's important to you. This screen is just a little selection on the drop down menu with the three bars, it's save lighting and performance to device. This is where you click to save your hard work, lighting, and performance preferences.