The Pyrotechnics
In this section we fire up the Corsair Utility Engine (CUE) application and get screenshots of the pyrotechnic lighting on the Corsair K70 Lux RGB. The software is very representative of the actual keyboard lighting.
Color Pulse
In Color Pulse, the color fades in and out and we would suggest this pattern for when you are away from the computer and not during gaming.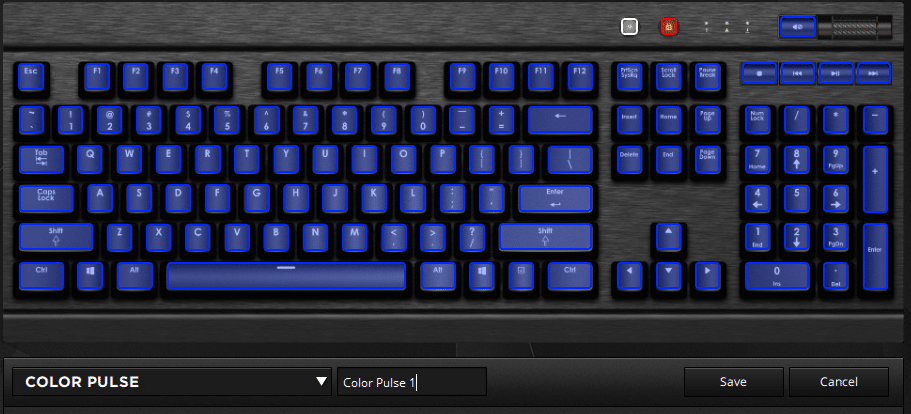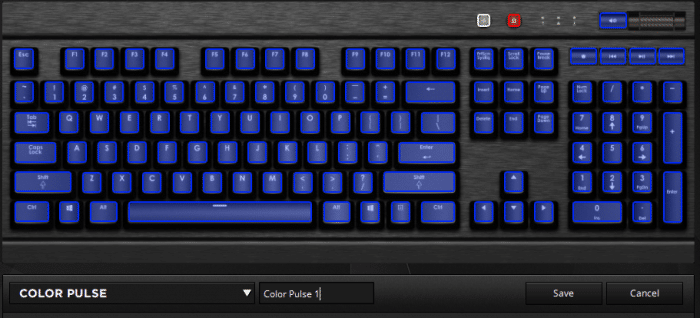 Color Shift
Color Shift cycles through different colors, and it's an interesting pattern if not a little distracting during gaming. It's hard to get past the beauty of the pattern and keep a heads up for snipers and opponents.


Color Wave
Color Wave is another eye catcher; a color sprouts out of the left side of the keyboard and races across the keys and the color to the left changes and again races across the keyboard.


Rainbow Wave
Rainbow wave is a pretty pattern a rainbow of colors that race from right to left on the keyboard and change as each wave starts over.

Lighting Link
Lightning Link allows you to synchronize all of your CUE-enabled devices to match their lighting schemes.


Rain
One of our favorite effects is called Rain, where colors just seem to drip down the keyboard and captivate your eyes.


The are some other color profiles stored for the Corsair K70 LUX, but you get the idea. You can also sync it to music playing and to a microphone which is kind of cool. If you own other Corsair RGB products you can sync it to those products as well.