Corsair: ML120 PRO LED White 120mm Premium Magnetic Levitation Fan
Fans are often an overlooked component in computer builds. We order a case with the features we need and hope for the best on the fans included with the chassis. Now there are cases that come with great fans and cases that come with ordinary cheap fans. It's fine to start with chassis fans but we highly suggest if you want good controllable airflow to dump the included fans on most cases, decide what your future airflow needs are and spring for good wide RPM range that are PWM controlled and give you the flexibility to adapt with them as your build grows and ages.
Corsair has a great lineup of fans and we don't normally just do a fan review but in some cases you see something genuinely unique like he Corsair ML120 Pro LED White 120mm Premium Magnetic fan. The come in three colors, patriotically enough Red White and Blue. We received 5 of the masterpieces all 120mm and from the look, feel and specifications forward we are impressed. You get used to dealing with whatever came with the chassis then one day a fan like the ML120 Pro LED White PMLF (Premium Magnetic Levitation Fan) and you are ruined for life.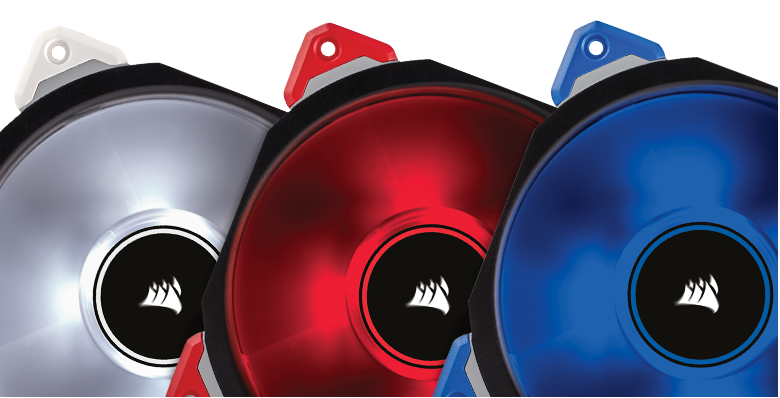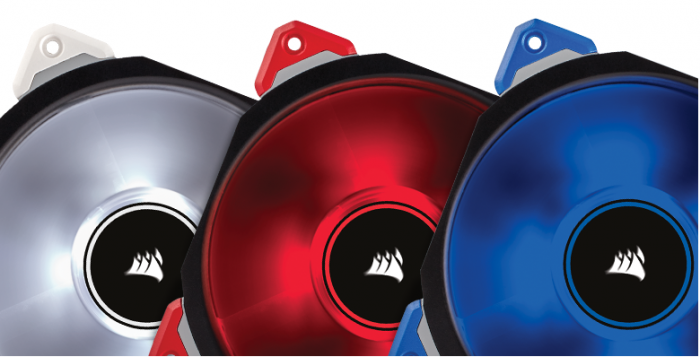 Now those are some beautiful fans but we have to dig down below the beauty and get into the guts of these Magnetic Levitating fans.


Corsair puts a generous 5 year warranty on their fans and we opted for the 120mm version most chassis are geared for. Some chassis have a 140mm or two spots for fans but unless its high end enthusiast it's rare to see a chassis laid out for all 140mm fans. The Corsair ML120 PRO LED White 120mm Premium Magnetic Levitation Fan uses a static pressure flow design capable of 12 – 75CFM at a pressure of 0.2 – 4.2mmH20. Here's the kicker in our eyes 400 – 2400RPM so you can go from dead silent to dead serious with a few bios adjustments and in many BIOS you can set fan ramps to desired levels. You can even let a GTX 10xx series video card control two PWN fans and let the GPU ramp them up and down as heat increases and decreases. Fans have long been ignored as those colored spinning devices that move air inside the chassis.
A well designed airflow can make for a cooler build with little to no noise that can be ramped up to dead serious heat removal in an instant.