EVGA GeForce GTX 1080 FTW GAMING ACX 3.0 (08G-P4-6286)
It's been a couple of weeks since the release of Nvidia's Founders Edition GTX 1080 and we've eagerly been waiting for the custom cards to hit the bench. Luckily the first one to hit our bench is the EVGA GeForce GTX 1080 FTW GAMING ACX 3.0. Completely packed with geeky goodness the EVGA GeForce GTX 1080 FTW GAMING ACX 3.0 is pushing a Pascal GP104 core running a base clock of 1721MHz and boost clock of 1860MHz. Thanks to the shrink from the 28nm process to the to the 16nm FinFET process Nvidia fielded a more efficient massively powerful GPU. How much more powerful you ask? Nvdia stuffed 7.2 billion transistors on a 314mm2 die for GTX 1080 on the Pascal GP 104 core. Looking back at what seems to be yesterday they stuffed 5.2 billion on a die 398mm2  for GTX 980. Doing a little spitball math that's 2 billion more on a 84mm2  smaller die. EVGA took the GTX 1080 design and put it on steroids on it using two 8 pin power connectors and ACX 3.0 cooling. That wasn't enough they had to double the phase power of the reference design and pop the FTW edition on the shelf with 10 power phases. The think tank was on double duty and the 1080 FTW runs a dual BIOS system and to up the bling factor put the card out with a semi industrial look backed with adjustable RGB lighting.
Lets talk geek for a bit. To reiterate the EVGA GTX 1080 FTW packs a 314mm² Die with 7.2 billion transistors on the Pascal core dubbed GP104 but how is that hardware deck stacked? The GP104 core on the EVGA GTX 1080 FTW is actually a GP104-A1 core variant with 2560 Stream Processors or single precision Cuda Cores and currently the worlds fastest consumer GPU design. (circa June 2016). The card has 160 texture units and 64 ROPS all on an un-compromised core with nothing snipped or clipped the GP 104-A1 core is fully enabled. The EVGA GTX 1080 FTW uses an unprecedented 8GB of GDDR5X from Micron and snubbed it's nose at the fledgling HBM features on last generation AMD Video Cards. The GDDR5X memory looks to be a much higher clocked version of GDDR5 and runs at a mind-boggling effective 10000MHz. The memory is pushed through a 256-bit memory interface and reaches a sky-high 320GB/s bandwidth.
That isn't a compete picture of GTX 1080 but it gives you a good idea of the hardware packed on the EVGA GTX 1080 but we still don't know how that deck is stacked. This isn't a reference design review, of which there are plenty to boggle the mind, so we'll keep it short and sweet on stacking the deck. There are 128 Cuda Cores per SM, 7.2 billion transistors on a 16nm FinFet process die, 160 texture units, 64 ROPs, 2MB L2 cache, with a 256-bit memory bus pushing 8GB of GDDR5X at an effective clock of 10000MHz.
So what does all that add up to? A peck and a passel tossed on top of a ton of geeky goodness fit to cross the eyes of the hardest core geek on the planet. It's enough to make a grown geeks knees weak and make him rush to a wedding chapel with the EVGA GTX 1080 FTW 8G GDDR5X. Will you Geek take this EVGA GTX 1080 FTW to be your lawfully installed Video Card…..
Why all the commotion? The EVGA GTX 1080 FTW and indeed all GTX 1080 will beat the Titan X's performance at a much lower cost. So now you can have your dream Titan X performance at a fraction of the cost. Beware that variants will emerge and a Titan XI is likely on the horizon, but that horizon is probably to expensive for most of us. You won't have buyers remorse with an EVGA GTX 1080 FTW, it rocks games and is packed with technology it will take game developers years to master.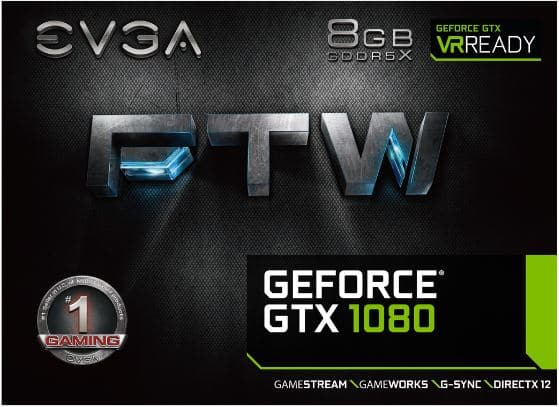 GPU Comparison Table
 GPU
EVGA
GeForce GTX 1080 FTW
Nvidia
GeForce GTX 1080 8GB
Nvidia
GeForce GTX Titan X 12GB
Nvidia
GeForce GTX 980 Ti 6GB
Nvidia
GeForce GTX 980 4GB
Architecture
Pascal
Pascal
Maxwell
Maxwell
Maxwell
Codename
GP104
GP104
GM200
GM200
GM204
Base
Clock
1721MHz
1,607MHz
1,000MHz
1,000MHz
1,126MHz
Boost
Clock
1860MHz
1,733MHz
1,075MHz
1,075MHz
1,216MHz
Stream
Processors
2560
2,560
3,072
2,816
2,048
Layout
4 GPCs, 20 SMs
4 GPCs, 20 SMs
6 GPCs, 24 SMMs
6 GPCs, 22 SMMs
4 GPCs, 16 SMMs
Rasterisers
4
4
6
6
4
Tesselation
Units
20
20
24
22
16
Texture
Units
160
160
192
176
128
ROPs
64
64
96
96
64
FP64
Performance
1/32 FP32
1/32 FP32
1/32 FP32
1/32 FP32
1/32 FP32
Transistors
7.2
Billion
7.2
billion
8
billion
8
billion
5.2
billion
Die
Size
314mm2
314mm2
601mm2
601mm2
398mm2
Process
16nm
16nm
28nm
28nm
28nm
Memory
Amount
8GB
GDDR5X
8GB
GDDR5X
12GB
GDDR5
6GB
GDDR5
4GB
GDDR5
Frequency
1.25GHz
(10GHz effective)
1.25GHz
(10GHz effective)
1.75GHz
(7GHz effective)
1.75GHz
(7GHz effective)
1.75GHz
(7GHz effective)
Interface
256-bit
256-bit
384-bit
384-bit
256-bit
Bandwidth
320GB/sec
320GB/sec
336GB/sec
336GB/sec
224GB/sec
Card Specifications
Power
Connectors
2 x 8-pin
1 x 8-pin
1 x 6-pin, 1 x 8-pin
1 x 6-pin, 1 x 8-pin
2 x 6-pin
Stock
Card Length
267mm
267mm
267mm
267mm
267mm
TDP
215W
180W
250W
250W
165W
Pascal is getting a major Core speed bump over Maxwell and by major we mean 5, 6, or 700 MHz more core speed and the top end 1080 gets 8GB GDDR5X running at an effective clock of 10GHz where Maxwell pushes 7GHz  on its GDDR5. Each 8 pin power connector pushes 150 W and the PCI-E slot pushes 75 W (for Video Cards, other cards pull 25 W) so EVGA is opening up the voltage to the 10 phase power giving the possibility of 375 W and while the TDP on the 1080 FTW is 215W one connector and the PCI-E slot would put it at 225W dangerously close to the 215W TDP. There may be other reasons like feeding the 10 phase power well-regulated unstressed power or just overkill but we like overkill. Overkill is highly underrated.
Now lets talk Die Size. The Maxwells (not including the Titan and Ti variants) got a die size of 398mm² while Pascal gets 314mm² and packs 7.2 billion transistors on that small die while Maxwell pushed 5.2 billion on it's larger die. Size does matter a lot in the manufacturing process, now more dies can be cut from each wafer reducing manufacturing costs. According to Nvidia the GeForce GTX 1080 packs more punch than the Titan 10 which had a massive die size of 601mm² so we are in effect looking at more than an evolution more like an evolutionary explosion.
Key Features
Simultaneous Multi-Projection
VR Ready
NVIDIA Ansel
NVIDIA SLI w/ HB Bridge Support
NVIDIA G-SYNC
NVIDIA GameStream
NVIDIA GPU Boost 3.0
Microsoft DirectX 12
Vulkan API
OpenGL 4.5 Support
PCI Express 3.0
Max Digital Resolution – 7680×4320
HDMI 2.0b, DisplayPort 1.4 and Dual-Link DVI
Built for EVGA Precision XOC