Features and Specifications
This version of the Strafe RGB features the new Cherry MX silent mechanical switches that are 30% quieter than other mechanical switches. We would compare the noise to that of rubber dome switches.  However, they still maintain the same reliable build quality like gold contacts and pressure resistant metal springs to give you the competitive advantage that Cherry MX switches have given gamers for years, but in a silent package.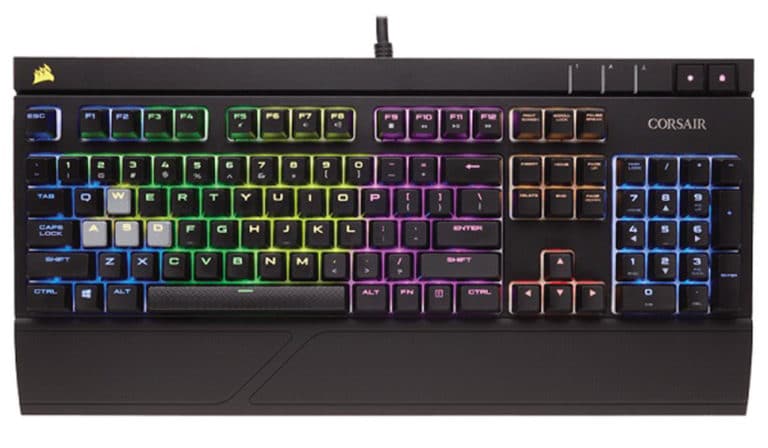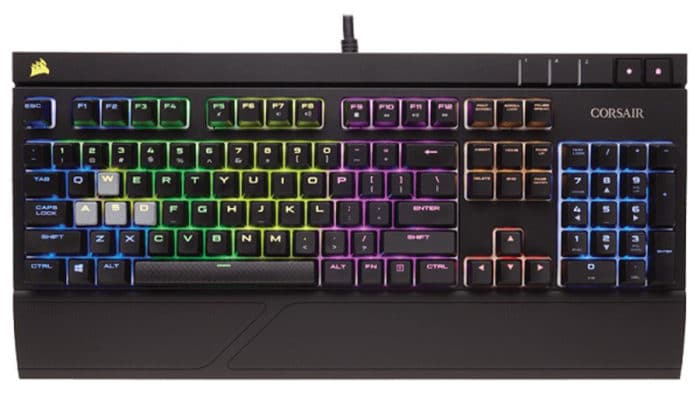 The RGB lighting in each switch gives you virtually unlimited adjustability with more colors than you could ever find in a box of Crayola crayons. The software allows users to customize and configure these colors to their hearts' delight. We played with some of the colors and profiles for different games.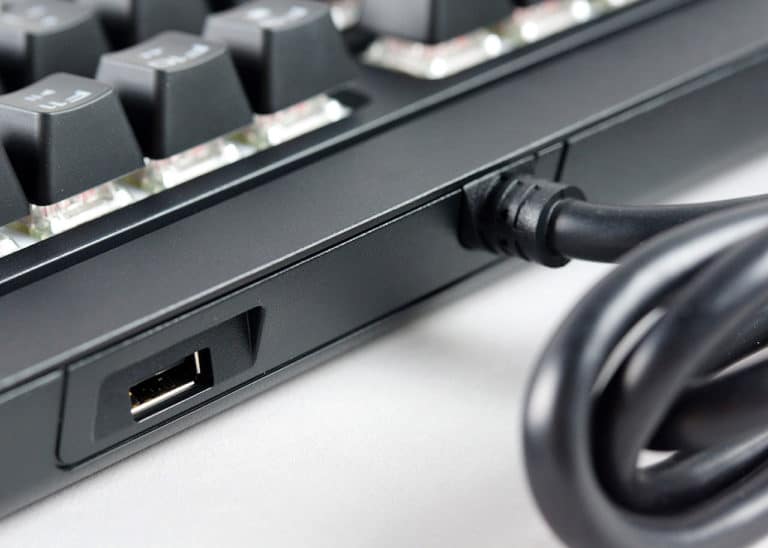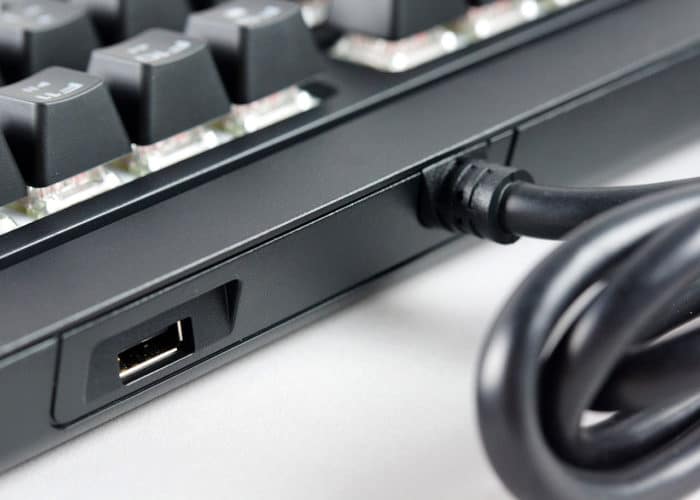 The Strafe RGB also features a USB pass through port. Some of you might wonder why this is so important and crucial. To us at Bjorn3D this is a must have for any gaming keyboard, since you are almost always using a wired gaming mouse. So being able to connect it closer to where you will be using it can reduce snag points.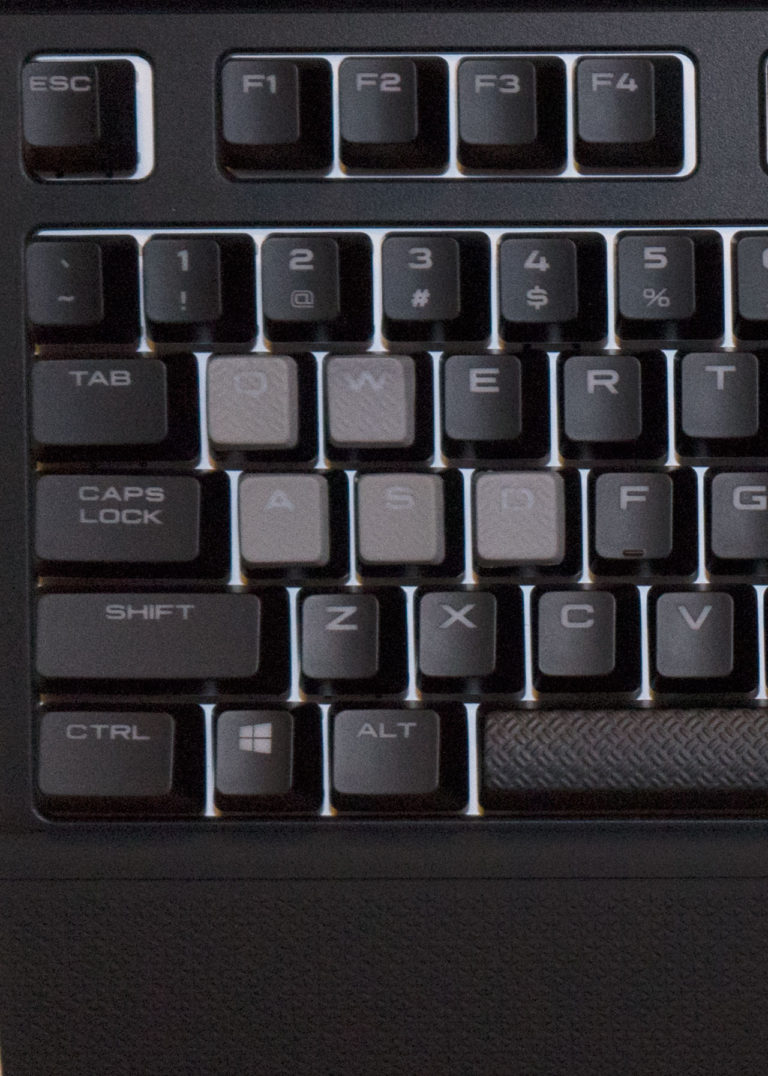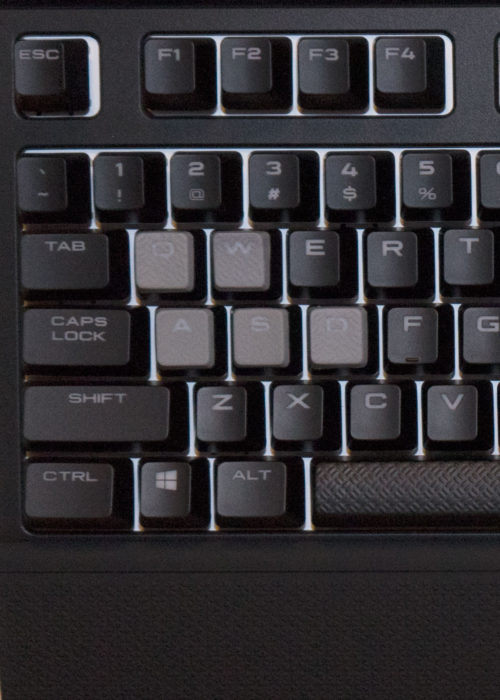 When it comes to interchangeability, the Strafe RGB is a step ahead of most of the competition. Not only does it feature replacement key caps that are not only different colors but also have a unique texture and contour that allow you to easily navigate off of feel. In addition, there is a quick-detach palm rest that has a rubberized checkering that provides ample support. Corsair designed the Strafe RGB with gaming grade circuitry that gives the user 100% anti-ghosting with 104 key rollover, so every key press registers. The Corsair CUE software allows you to configure your Corsair keyboard, mouse and headset in a single software application that allows you to configure the RGB lighting in unison.
Specifications
Warranty – Two years
Weight – 2.02 pounds
Key Switches – Cherry MX Silent Mechanical
Keyboard Backlighting – RGB LED
Dimensions – 448mm x 170mm x 40mm
Macro Keys – All Keys
Report Rate – Selectable 8ms, 4ms, 2ms, 1ms and BIOS mode
Matrix – 100% anti-ghosting and 104 Key Rollover
Keyboard Size – Standard
On-board Memory – Yes
Media Keys – FN key multimedia keys
CUE Software – Enabled
Cable Type – Tangle-free rubber
WIN Lock – Yes
Keyboard Layout – NA
Strafe RGB Silent
When the lighting is turned off and the interchangeable keys are not mounted, the Strafe RGB Silent is a total wolf in sheep's clothing. Granted, it looks as if it is an incredibly well built keyboard, but once you turn on the lighting and change the keys to your preferences, it comes alive. The keys and color options are mesmerizing, and when paired with the textured keys and profiles, it really makes for a class act. Then, when you pick it up and get a feel for it, you find out just how well built the Strafe RGB actually is. We tried to flex the keyboard and found very little flex when we used all our strength. This is impressive considering we have had to hold back on other keyboards in the past.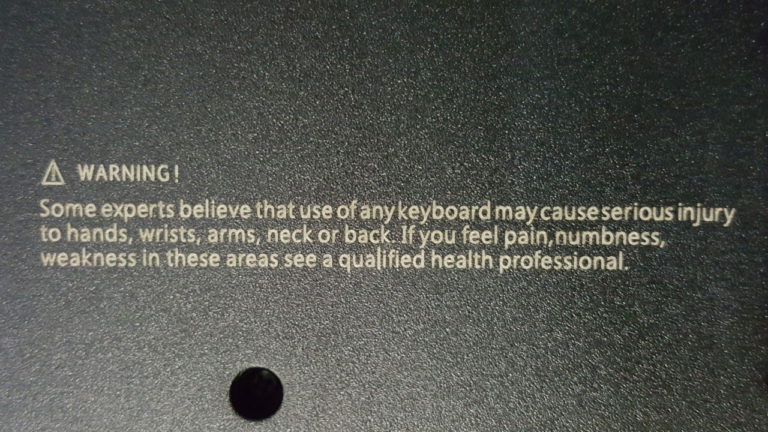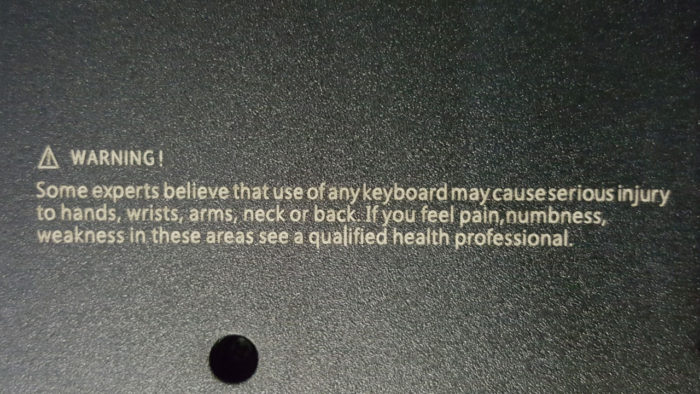 So when we get to flipping over the keyboard, we see what we described in our appearance section. Here is where we get to the rather hilarious medical health warning that baffles us as to why it is even put on a keyboard. We hope this is not a new trend for Corsair products, although we did find it rather comical, what's next a warning that hardcore gaming might effect your chances of finding a partner that isn't online?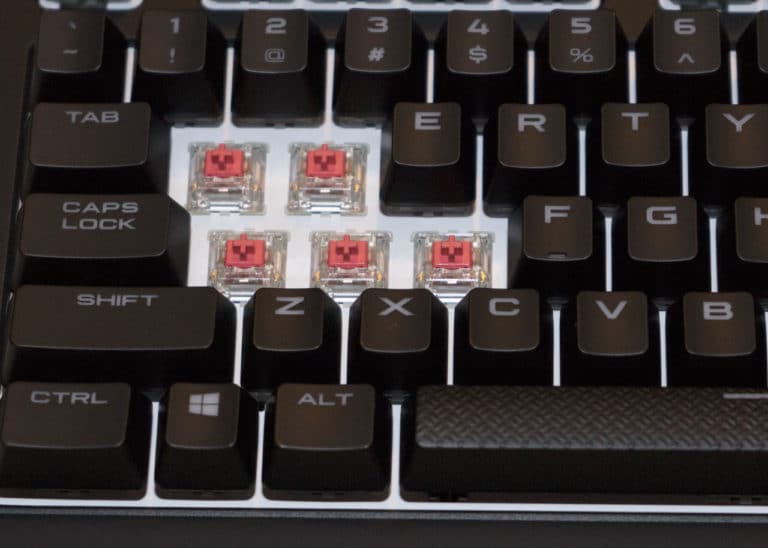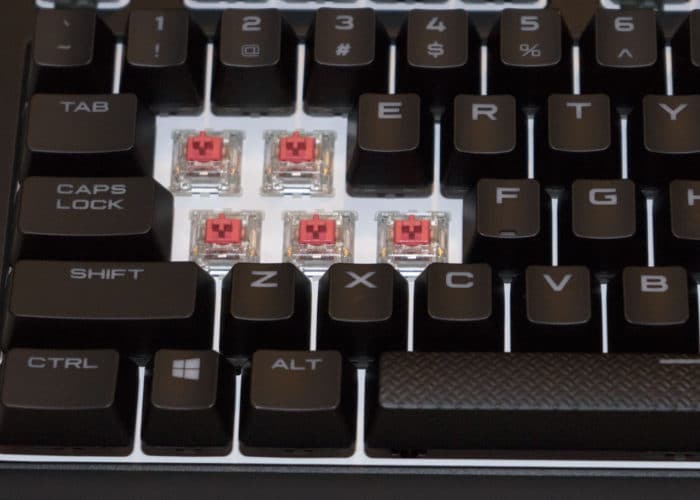 Removing the keys gives you a very clear view of the new Cherry MX Silent mechanical switches. The Strafe RGB uses these switches on all keys, which is unique considering we often see manufacturers use high end switches on only the main part of the keyboard, but will use traditional rubber dome switches for F-keys and the numeric pad and select other keys. So to see Corsair use these switches universally across the entire keyboard shows how high the quality of the construction of the Strafe is.