Introduction
Corsair had its humble beginnings producing computer memory and evolved to become a leader in high performance memory products. Then, in 2009, Corsair decided to break away from its mold and enhance its product offerings with other components; the first foray into components shocked the industry with its 800D case. After taking the industry by storm with its ever expanding product line centered on gamers and enthusiasts, Corsair has continued to innovate and refine its product line. So when Corsair reached out to Bjorn3D and asked us to take a look at the new Strafe RGB Silent mechanical gaming keyboard, we were curious to see how well it lives up to Corsair's prestigious reputation.
The Strafe RGB Silent is part of their new Strafe RGB series that features the new Cherry MX Silent mechanical switches. The Strafe RGB is also available in the other Cherry MX switches, so if you have a favorite switch type you can also order the Strafe RGB with your favorite Cherry MX switch. So does it Strafe the competition and live up to Corsair's prestigious name is something we will explore in this review.
Packaging and Contents
The packaging features Corsair's black and yellow livery packaging that we have become accustomed to with Corsair peripherals. We rather enjoy the universal color scheme because if you are looking at your local Fry's or Micro Center, it allows you to instantly pick out Corsair among the other products.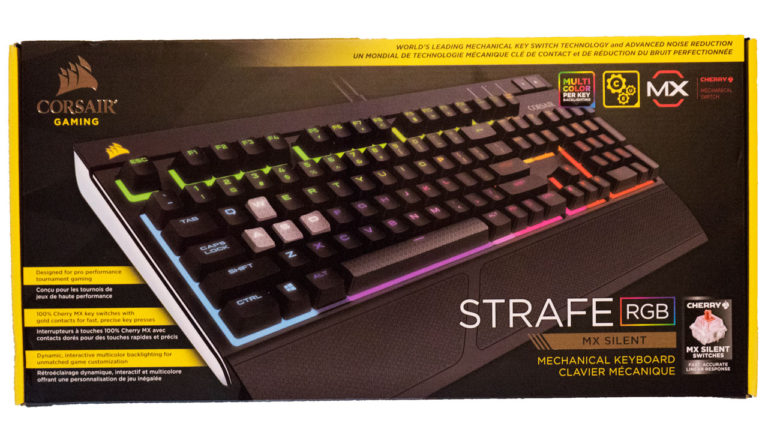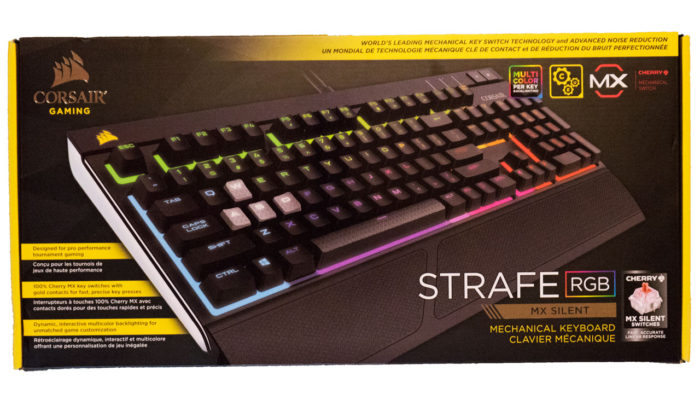 The front of the box features a large product picture that is nearly life sized and key information about the switches and other key features.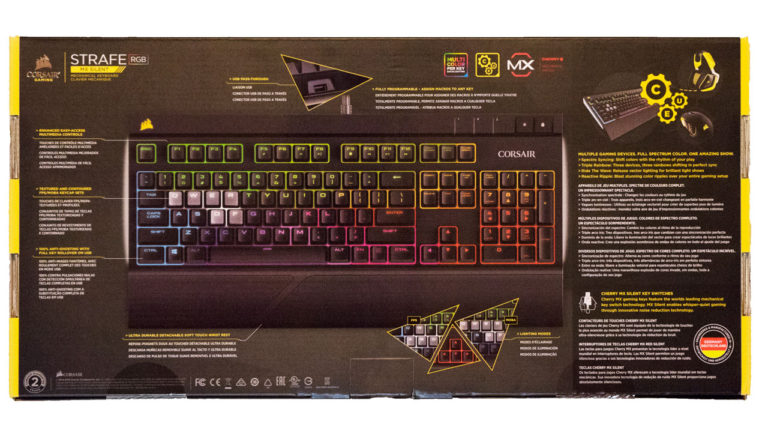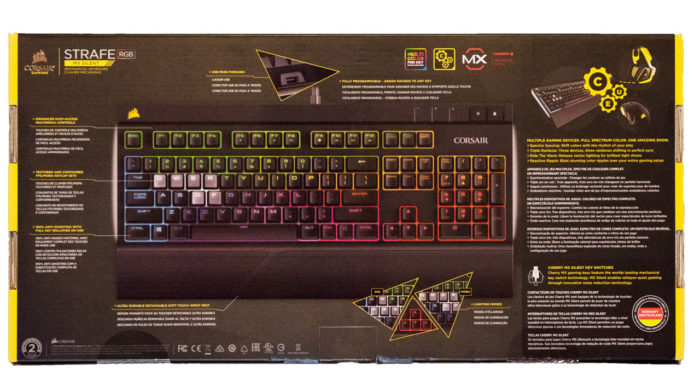 On the rear we find a more in-depth breakdown of the individual features such as the Cherry MX silent switches and textured and contoured key caps that make the Strafe RGB Silent a major contender among the other brands.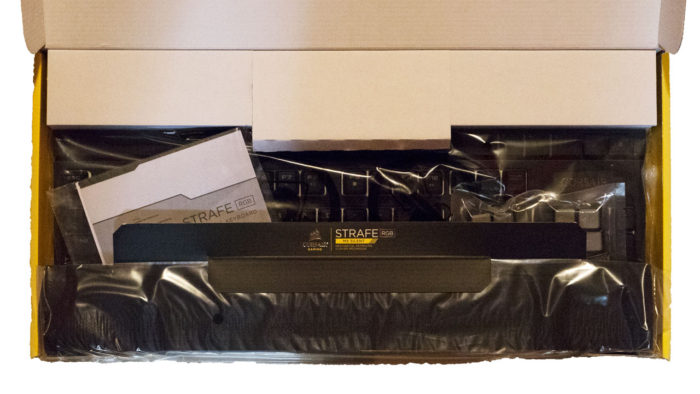 Opening the box is much like opening a Christmas gift from someone who always gives amazing gifts. Once you open it you find the new Strafe keyboard, the small owner's pamphlet, warranty card and sealed plastic bag with the textured keys and a key puller to remove and replace the keys.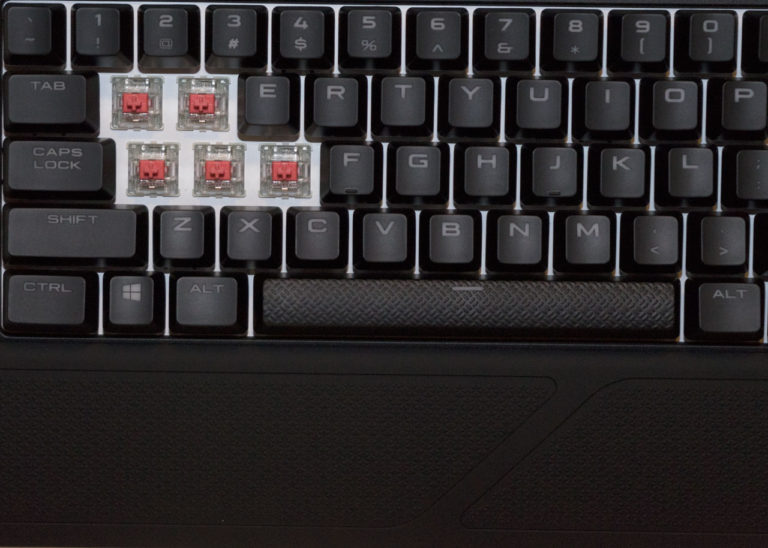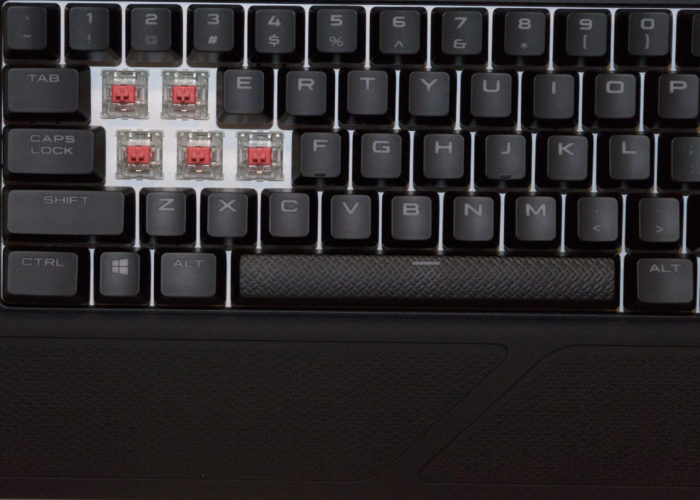 Using the key puller removes any hassle of removing the key caps. All the user has to do is push down until it clicks over the keys and then pull up in a linear fashion and the key cap will come off.  Once you have removed the ones you want, you will see the new Cherry MX silent switches and then line up the new textured key and push it down until it seats into place.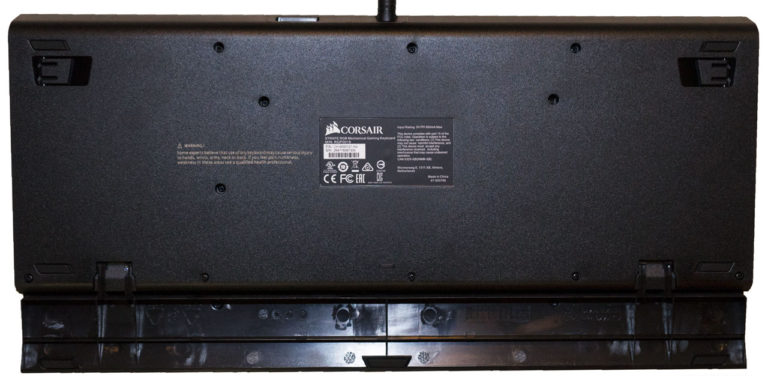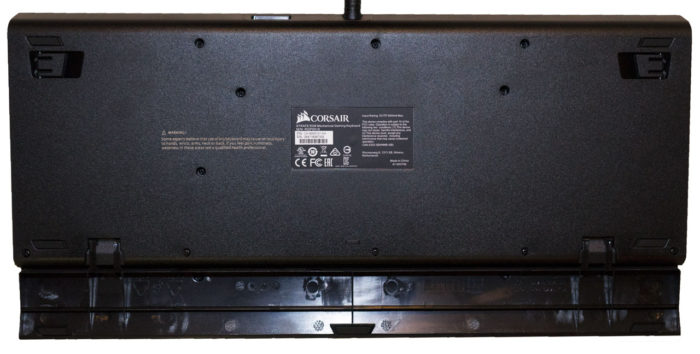 On the back side we find the rubberized anti slip pads, two flip up risers and a rather comical warning label that we were amazed to see and makes one wonder why.