In september 2015 we reviewed the Samsung Portable SSD T1, an external drive that offered incredible speeds when compared to most other external drives, something it owned to the fact that it was based on an SSD instead of an regular spinning drive. Today we are looking at the follow-up drive, the Samsung T3 (yes, we also wonder where the Samsung T2 went). While the speed offered is the same the T3 now comes with an USB3.1 connector. Is it a worthwhile upgrade? Read on to find out.
Specifications
Product Type
Portable SSD
Interface
 Compatible with USB 3.1(Gen.1, 5Gbps), 3.0, 2.0
Capacity
 250 GB, 500GB, 1 TB, 2 TB
Data transfer speeds
 Up to 450MB/sec.
(* Performance can vary depending on host configuration and test software)
 Encryption
 AES 256-bit hardware encryption
Security
 Password setting (Optional)
(*User can set password when it is necessary.)Requires Windows 7 or higher, Mac OS 10.7 or higher and Android KitKat (version 4.4) or higher.
 UASp Mode
 Supported
 Dimensions (W x D x H)
 74 x 58 x 10.5 mm (2.91″ x 0.41″ x 2.28″)
 Weight
 Up to 51 g (1.80 oz)
(* Exact weight of the product may vary depending on capacity.)
 Warranty
 3 Year Limited
At first glance not much has changed. The T3 is slightly bigger and heavier and comes with a USB3.1-connector instead of USB3.0. It also now comes with a 2 TB option compared to the max size of 1 TB with the T1. Speed-wise we get the same "up to 450 MB/sec" speed as the T1.
Closer Look
The Samsung Portable SSD T3 comes in a small box that still protects the drive well.
And here it is. The Samsung Portable SSD T3. It has changed its appearance a bit compared to the T1.
The Samsung Portable SSD T3 is a bit larger and heavier than the Samsung Portable SSD T1. This is due to the T3 having a metal frame. It does sport a  internal frame so it should be quite shock resistant (Samsung claims up to 1500G).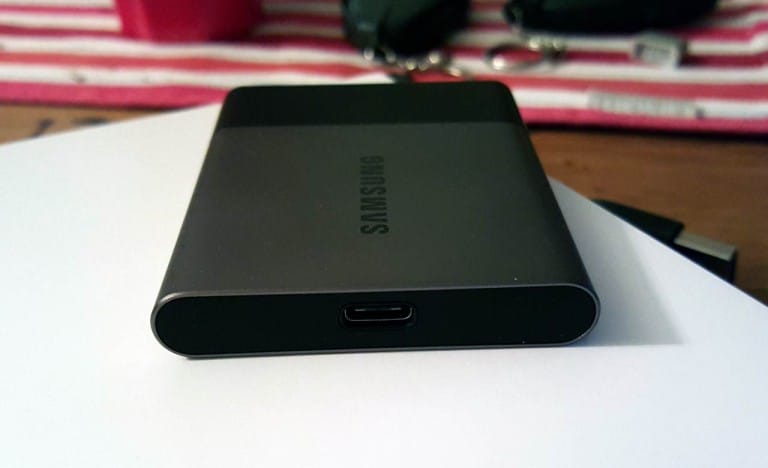 Another difference compared to the T1 is that the Samsung Portable SSD T3 comes with a USB3.1 connector.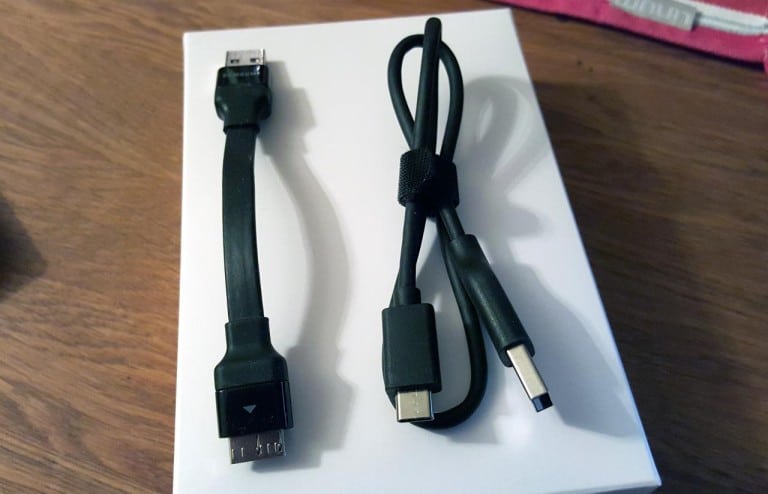 In this image we see the cables that we get with the Samsung Portable SSD T1 (left) and T3 (right). While the T1's cable was very short, the USB3.1-cable for the T3 is a bit longer.