Even though many of us are using more and more cloud storage for things like images and music there still is a need for local storage on our desktops and laptops. On a desktop it usually is quite easy to just pop in another SSD or regular hard drive but this is not always the case for a laptop. Most laptops come with just one SSD or hard drive and upgrading to a large one can be a chore and also cost a lot. A better solution is to use an external drive to store non-OS-files but these drives more than often use a regular hard drive, either at 5400 rpm (slooow) or 7200 rpm (faster but still slow). Luckily we are starting to see more external drives that use faster SSD's and the external drive we are reviewing today is one of these; the Samsung Portable SSD T1. This is a tiny external drive that uses an SSD to give us exceptional speeds over USB3.
Specifications
| | |
| --- | --- |
| | Samsung Portable SSD T1 |
| Capacity | 250GB / 500GB / 1TB |
| Interface | Compatible with USB 3.0, 2.0 |
| Dimensions (W x H x D) | 71.0 x 9.2 x 53.2 mm |
| Weight | Max. 30gram |
| Transfer Speed** | Up to 450MB/sec. |
| UASP Mode | UASP Mode |
| Encryption | AES 256-bit |
| Security*** | Password setting (Optional) |
| Certification | CE, BSMI, KC, VCCI, C-tick, FCC, IC, UL, TUV, CB |
| RoHS Compliance | RoHS2 |
| Warranty | Limited 3 yearMore Information >> |
*    1GB = 1,000,000,000 bytes, 1TB = 1,000,000,000,000 bytes
**   Performance can be vary depending on host configuration and test software
*** User can select security option in initial registration process (For more details, please refer to the manual)
The Samsung Portable SSD T1 is available in three sizes: 250 GB, 500 GB and 1 TB. While not as big as external drives using regular drives you get plenty of storage space for all of your data. The transfer speed is rated up to 450 MB/sec even though we do not know if this is both for reading and writing or just one of them. While not as fast as the fastest internal SSD-drives it is plenty fast enough in our opinion.
Just as cool is the fact that this is handled by a drive of the size of a credit card. It is the perfect drive to bring along to a presentation or to just use to expand the storage of your computer. Samsung is calling the drive "My Portable Portfolio" and we can understand why.
On the security side we get support for AES 256 bit encryption and password protection. This can be turned on as you set the drive up. Just be warned though, we can't seem to find a way to do it later.
Closer Look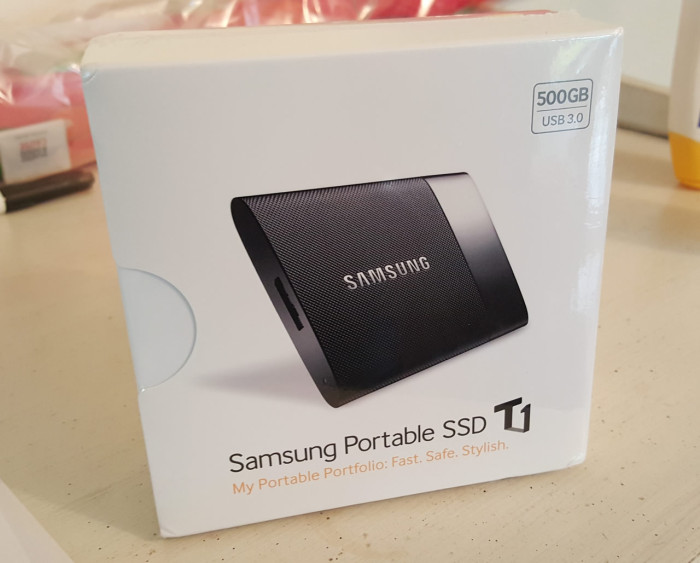 The drive comes in a small stylish box that contains the Samsung Portable SSD T1, a quick guide and a small cable.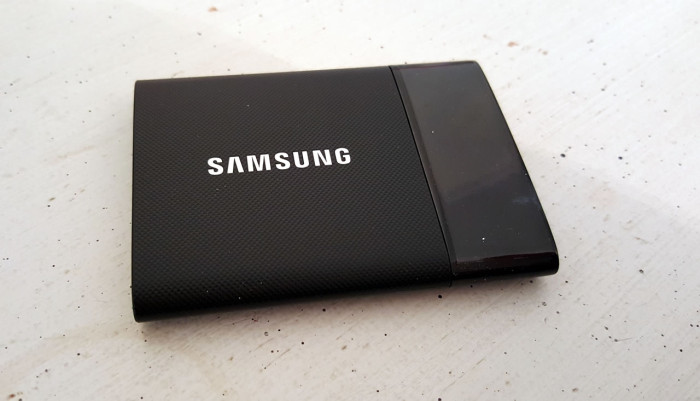 Here we get a first look at the small drive. It is a really stylish drive and while it is wider than regular flash drives at is quite thin and definitely smaller than regular external hard drives.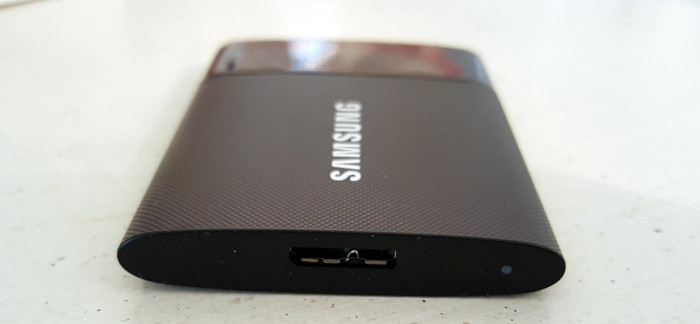 The drive gets its power from a USB3.0-port. USB3.0 can transfer up to 5 GB/s so we do not have to worry that it will be a limiting factor for the drive.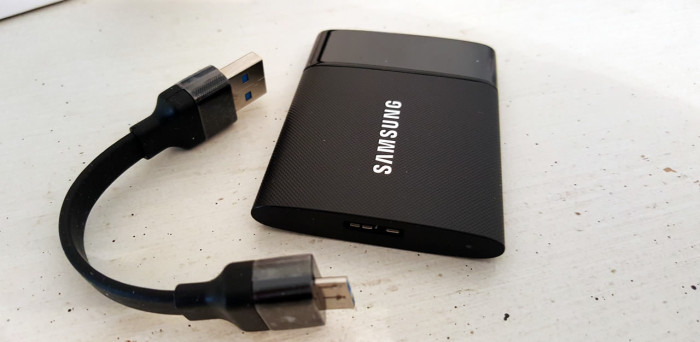 Here is the first sign on how small the drive is. Compare it to the short small USB3.0-cable supplied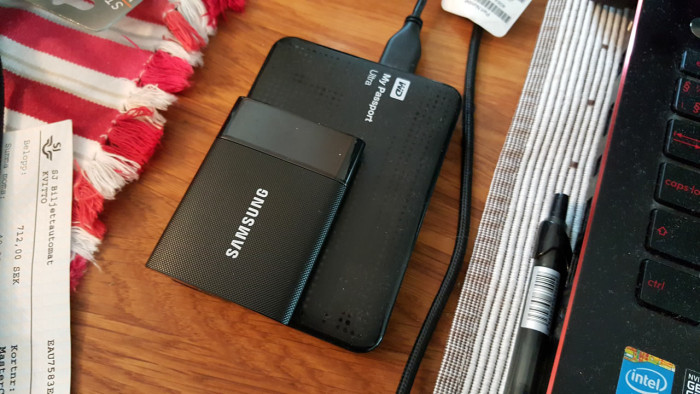 Here is another size-comparison, this time between the WD My Passport UItra that we have used with the laptop and the Samsung Portable SSD T1. It's tiny.