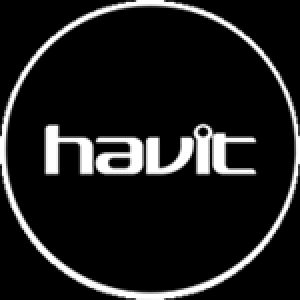 About HAVIT
"After being liberated from the shackles of machines by advancing technology, weary people finally get time to pursue their ideal life – this is what Thoreau said in his masterpiece Walden.
HAVIT has realized that what we should seek is not technology itself, but a more beautiful life. HAVIT is among the leading PC and electronics enterprises in the world. Rather than follow trends,HAVIT stays ahead of the pace of industrialization. The company's spiritual core is to focus on how people experience technology.
In the field of PC and mobile internet, HAVIT provides a more interesting way for people to communicate with each other. HAVIT integrates technology with art and intelligence through global cooperation, ensuring exceptional visual, auditory and tactile experiences.
Havit has millions of loyal users in more than 160 countries. With its trademark registered in over 60 nations, HAVIT has become a world-renowned brand in fashion and technology. The company has made huge strides in global business relationships, exhibiting at the China Import and Export Fair, GITEX Dubai, CeBIT Germany, CES/ASD America and UK's NEC Display, and has received an excellent reputation among its customers. HAVIT is attempting to fulfill each client's ideal of perfection with unremitting effort.
Human beings have gone from a shortage to an abundance of tools to enhance their lives. "ENJOY WHAT I HAVE" is HAVIT's motto; seeking a wealthy future while enjoying today. We, at HAVIT, are looking forward to sharing our insights with colleagues and friends all over the world."
We were scrolling around the internet a few days ago and stumbled upon an entry on Google we hadn't seen before so we followed the link and it took us to the HAVIT website and we scrolled by a couple of their pages and immediately decided HAVIT was a company we want to review product from. Many times you see revolutionary new products stacked with a ton of features but they lack style.HAVITt goes above and beyond to produce high quality equipment that has a snazzy look and performs well. HAVIT doesn't conform to the given expectations of "how products look" and pioneers performance and style melded together.
We are going to take a look at HAVIT's Lammergeier LED Definable RGB 7 Backlit Programmable Gaming keyboard and Mouse Combo Set which is priced at . Running at $89.99 for keyboard and mouse you're looking at quite a reasonably priced gaming set that's sure to draw some raised eyebrows at your next LAN party.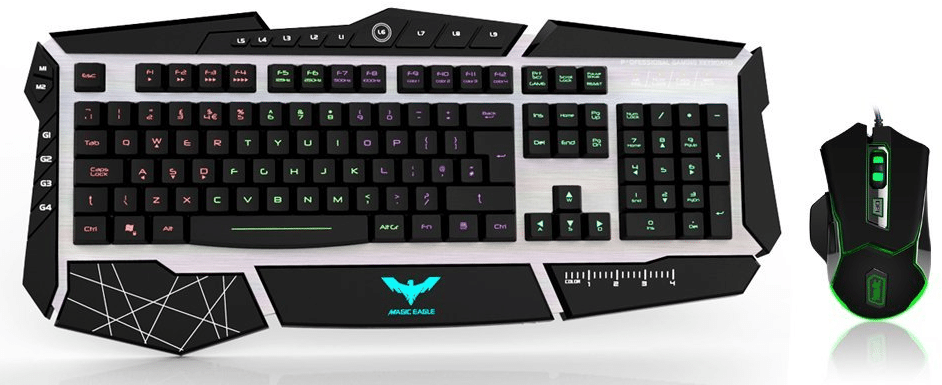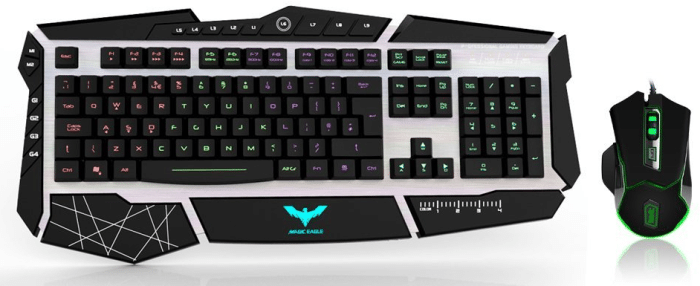 Now we can hear those wheels turning in a lot of heads at this point and they are clicking out a clear message "What is a Lammegeier?"
That is a Lammergeier, a bearded Vulture.  "The bearded vulture (Gypaetus barbatus), also known as the lammergeier or ossifrage, is a bird of prey and the only member of the genus Gypaetus. Traditionally considered an Old World vulture," (Wikipedia). To us that spells a majestically powerful Vulture ready to swoop in on its prey and the Lammergeier LED Definable RGB 7 Backlit Programmable Gaming keyboard and Mouse Combo Set embodies that philosophy. Silently swoop in on your opponents and overwhelm them with your pro keyboard and mouse using your hardware as an extension of your body.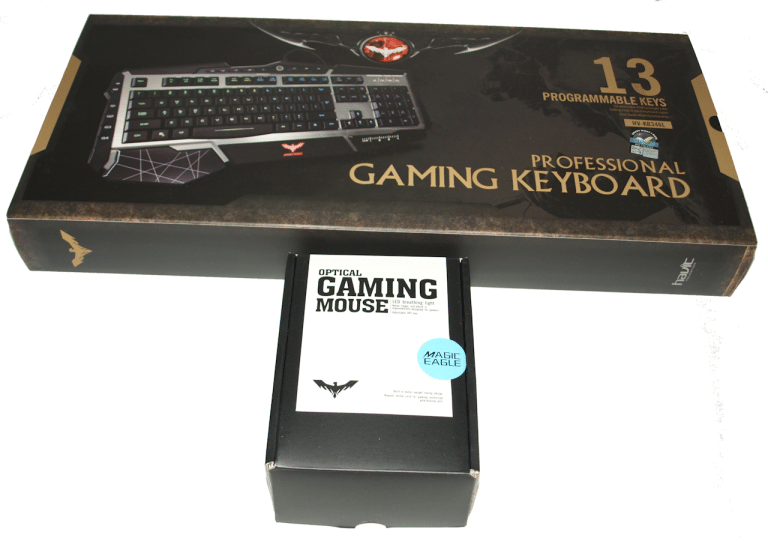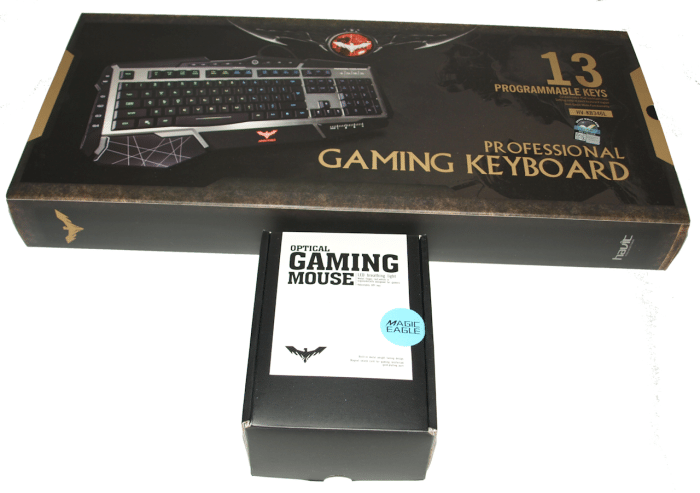 The packaging for the keyboard was quite nice and eye-catching and we found the mouse nestled inside the box and a little less flashy probably because it was inside the keyboard box and there really was no need to increase costs with a fancy outer shell.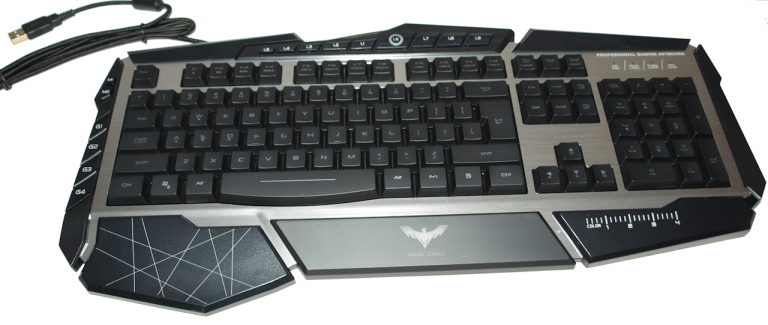 The keyboard itself is a well-built sturdy design which is one of the first things we look at when opening a gaming peripheral is look at how it feels in our hands. The keyboard just had the feel of quality and sturdiness that gives you the confidence that it's not going to fall apart the first time it slips off your lap during an overheated battle.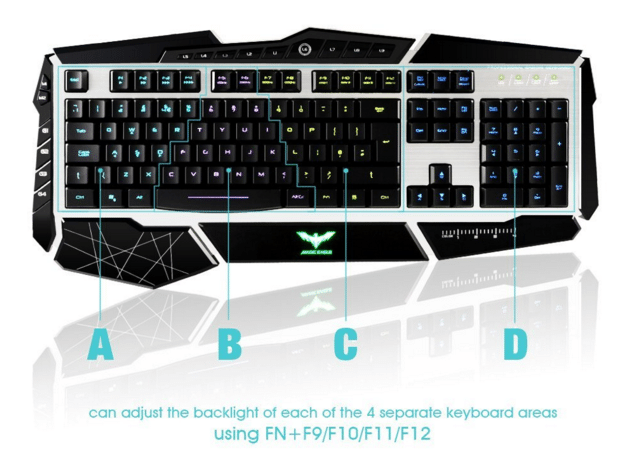 The keyboard is split into 4 different color zones and you can easily switch the colors of each zone using the FN key and F9, F10, F11 and F12 to customize the color scheme to your liking.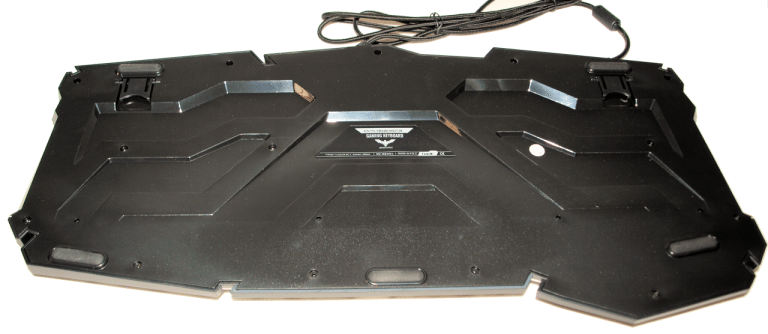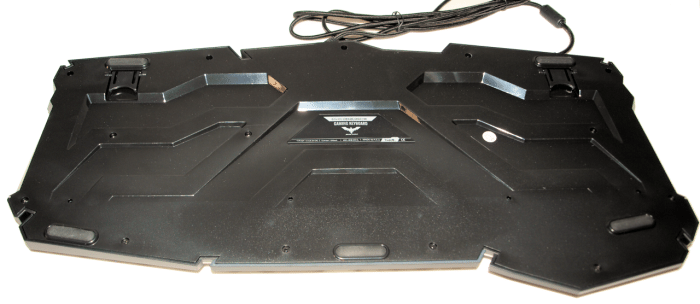 Even the back of the keyboard shows style and has a couple of fold-able feet which felt good and sturdy. Then we noticed the cord covered USB cord that led to a gold plated USB connector and we were beginning to suspect that HAVIT was a serious gaming company providing good value products at prime prices.
Over on the left side of the keyboard you find 6 keys that are programmable G1 – G4 so we are up to 4 programmable keys so far.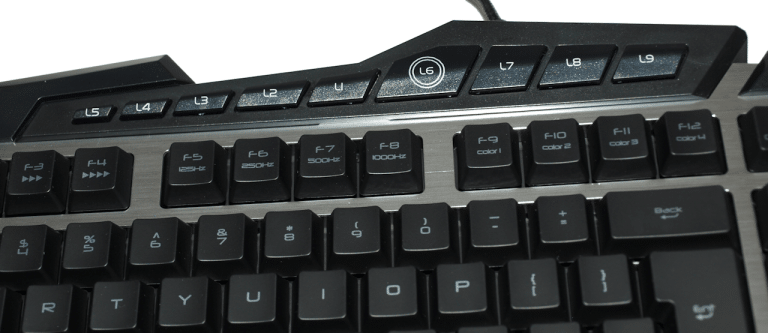 Across the top we have 9 more programmable keys giving 13 keys you can custom program for your gaming needs.


Shown together and lit up the photos don't really do justice to the HAVIT® Lammergeier LED Definable RGB 7 Backlit Programmable Gaming keyboard and Mouse Combo Set. Up close and personal with the backlighting it's much more brilliant that the photos can show.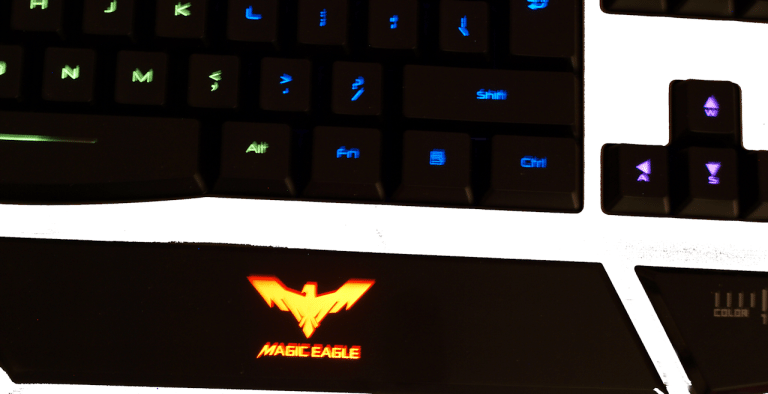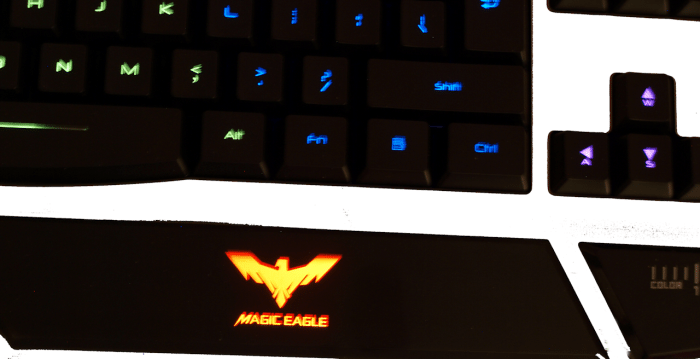 The keyboard and mouse are well lit and even in a darkened room it's easy to make out the keys but it a little bit of an omission not to have the 13 programmable keys backlit.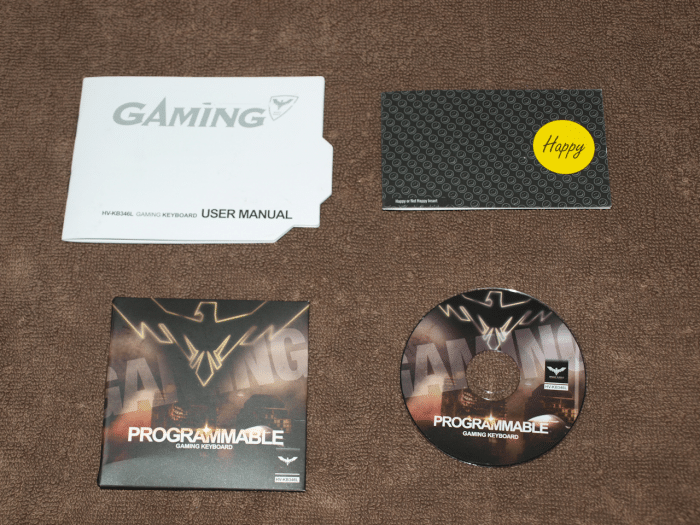 In the bundle you find a users manual, a Happy/Unhappy card that gives the contact information if you are unhappy with the product and a disc containing the keyboard software we'll take a look at in a little while.
Keyboard Specifications
Connectivity: Gold, high-powered USB
Cord Length: 1.8 m/70.87 inches
Power Supply Voltage: +5V+/ -0.5V
Power Consumption: 300mA MAX
Keyboard Layout: 5 key zones (119 keys)
Standard Keys: 104
Programmable Keys: 13
Not Mac Compatible