INTRODUCTION
Gaming keyboards and mice have really taken off in the last few years, with the current keyboard trends being related to mechanical keys and RGB lighting. Today we are taking a look at the HAVIT HV-KB378L, a 104-key mechanical keyboard with customizable lighting. Let's not waste any more time on introductions and get right into the heart of the review!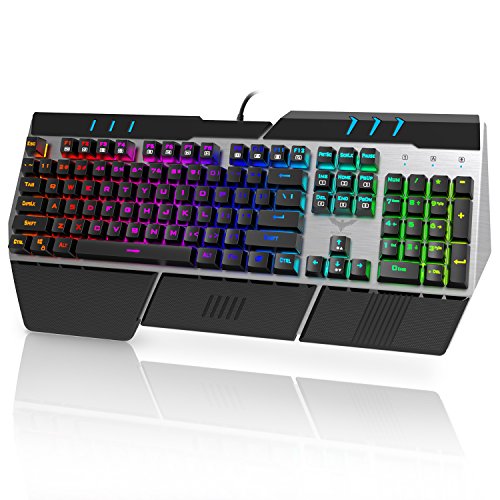 STANDOUT FEATURES
There are only so many features and functions you can add on to a keyboard before it becomes overwhelming to a user. HAVIT has taken that to heart, as there are no overzealous bells and whistles on the HV-KB378L keyboard. While this keeps things simple, it also means there is no USB pass-through for connecting a mouse or other USB peripheral.
Gaote/Otemu Blue Switches – Designed to be like the original Cherry MX blue switches, the Gaote/Otemu blue switches offer that "clicky-clacky" tactile response that many gamers and old-school typists love. Their clear upper shells allow the LEDs below to illuminate each key individually.
LED backlighting – While HAVIT touts the HV-KB378L as having RGB lighting, the true nature of the LEDs is a bit different. While each key can be individually customized with a different color, there are only seven colors to choose from. Most keyboards touted as RGB offer a staggering 16.8 million colors that allow for precise customization. There is no need for drivers for this keyboard, and thus there is no additional software to customize its functionality either. The "brains" of the keyboard are contained within the keyboard itself, so compatibility with nearly any system is a nice feature.
SPECIFICATIONS
HAVIT HV-KB378L SPECIFICATIONS
Model
HV-KB378L
Dimensions
447.5mm x 217mm x 39.3mm
Cord Length

1.8m/70.87inches
Standard Keys

104
Key Switch

Gaote/Otemu Blue
Operating Force

60g +/- 15g
Travel(Total)
4.0mm +/- 0.2mm
Net Weight

1117g +/- 15g
N-Key-Rollover

Supported
USB Interface

USB 2.0
Operating Voltage

5V
Compatibility

Windows Vista/7/8/10, Mac OS, Linux
CLOSER LOOK
Packaging
The HV-KB378L comes in a nice black box that is wrapped in a white sleeve showing off the keyboard and some of its features. It's nothing too fancy, but it gets the job done.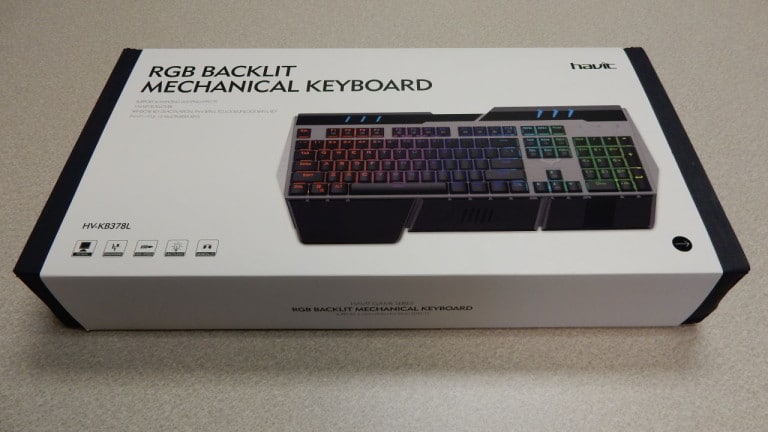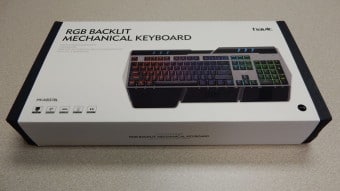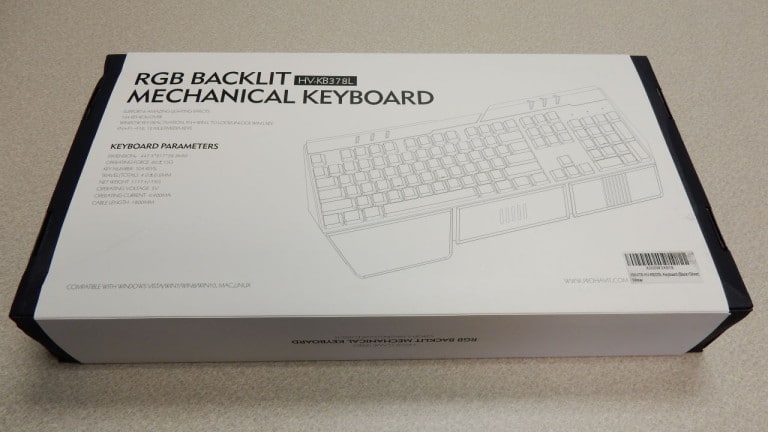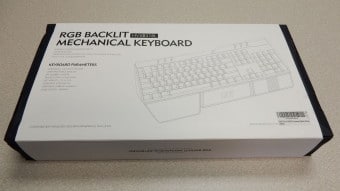 The keyboard itself was wrapped in your standard foam bag and secured inside the box via two foam end pieces.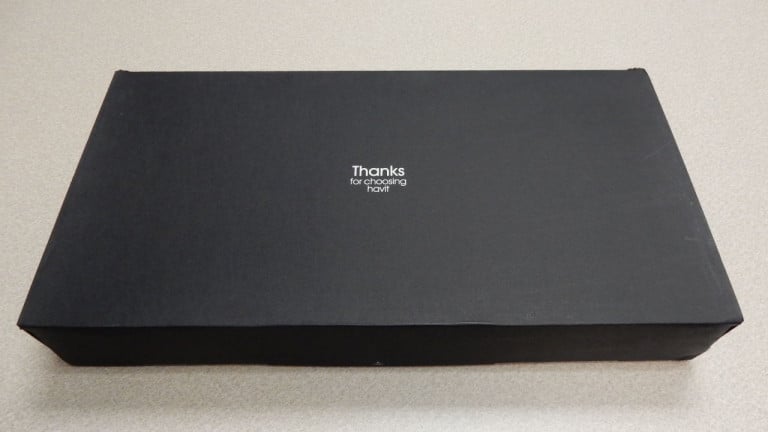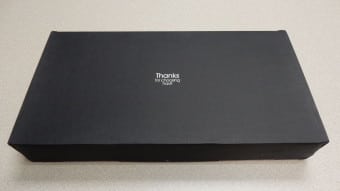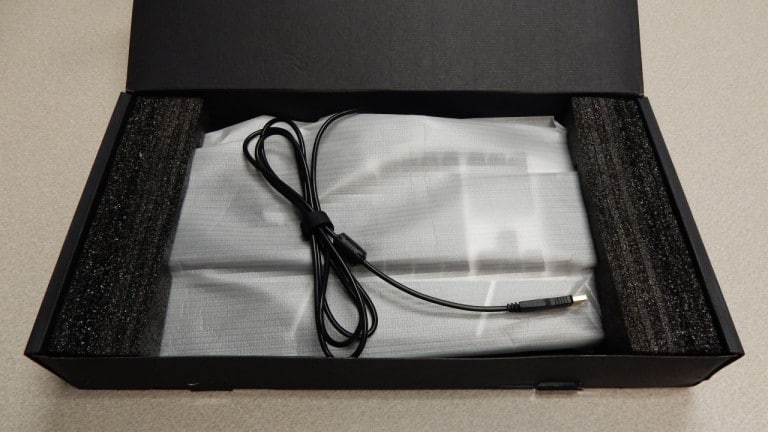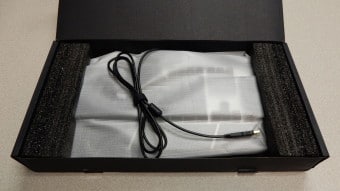 HV-KB378L
Upon removing the HV-KB378L from its packaging, you will see that this is a full-sized, 104-key keyboard that fits a more traditional definition of a keyboard. While smaller, 60% sized keyboards are all the rage right now, HAVIT has designed this model to fit the standard sizing that most users are used to. Across the top of the keyboard are two molded plastic pieces, each with three blue LED light slots. These lights are always on when the keyboard is plugged in, and are not adjustable. We really wish there was a way to turn these off, or at least dim them, as they are very bright. In this case, more lighting is not better. Flipping the HV-KB378L over reveals two feet used to adjust the height and angle of the keyboard, as well as a few rubber pads to keep the unit in place.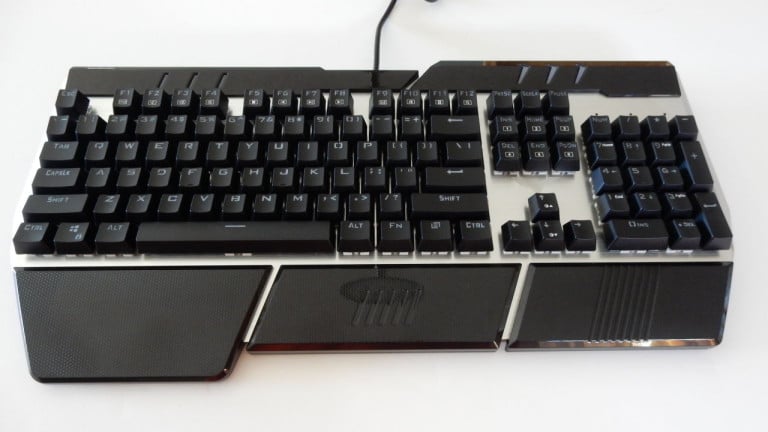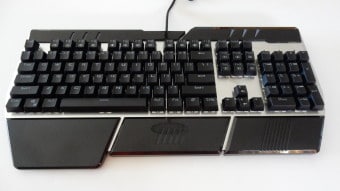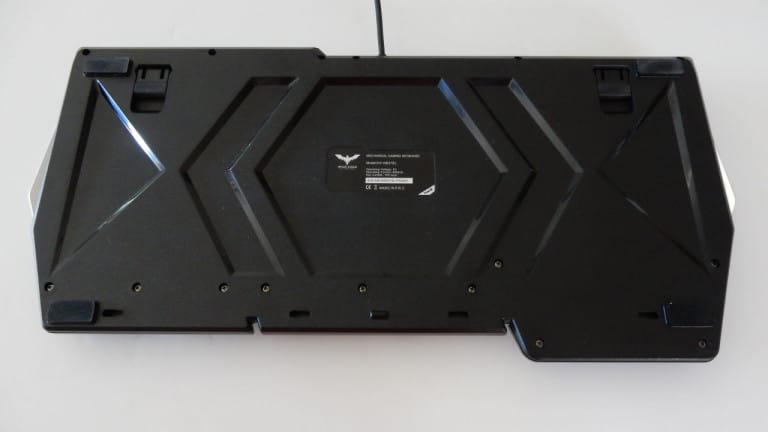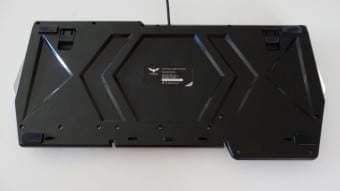 The HV-KB378L's body is comprised of  both a plastic base piece, as well as a brushed aluminum base. This aluminum base really adds a nice, higher-end look to the keyboard, while providing a little extra strength as well. The sides of the keyboard's aluminum base curve down towards your tabletop, a look we really liked as opposed to a straight cutoff.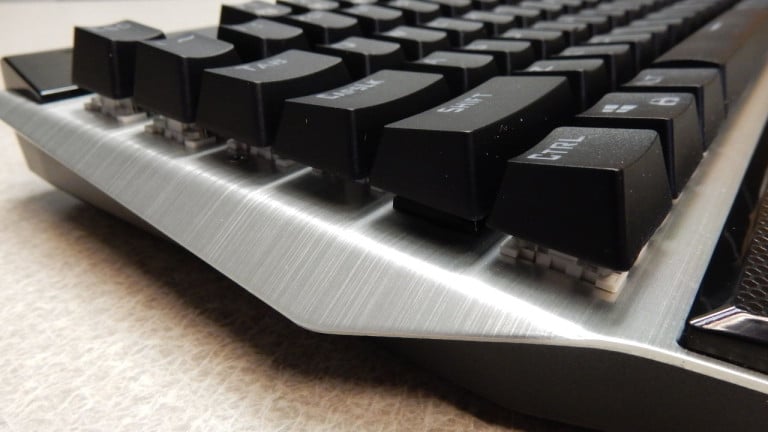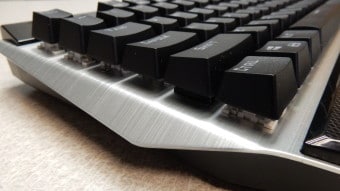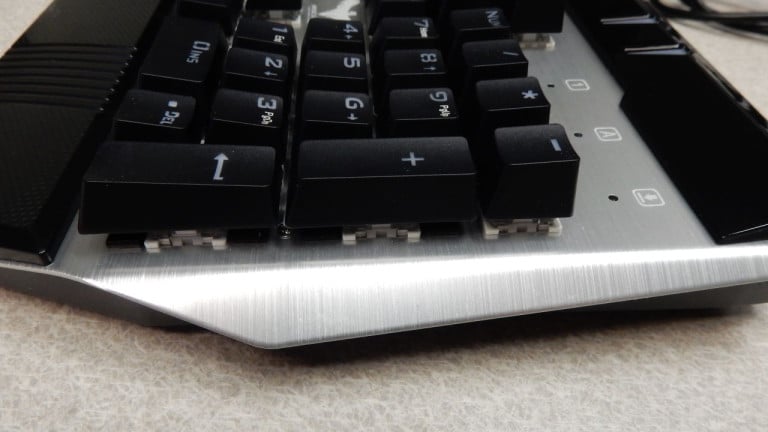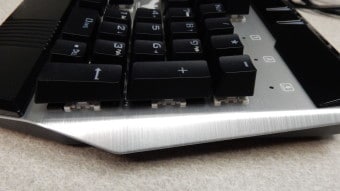 HAVIT chose a really nice looking font for the keys on the HV-KB378L, and the size of the text on each key is large enough to see in various lighting conditions. The keys have a nice curved top, and their matte texture is comfortable to the touch.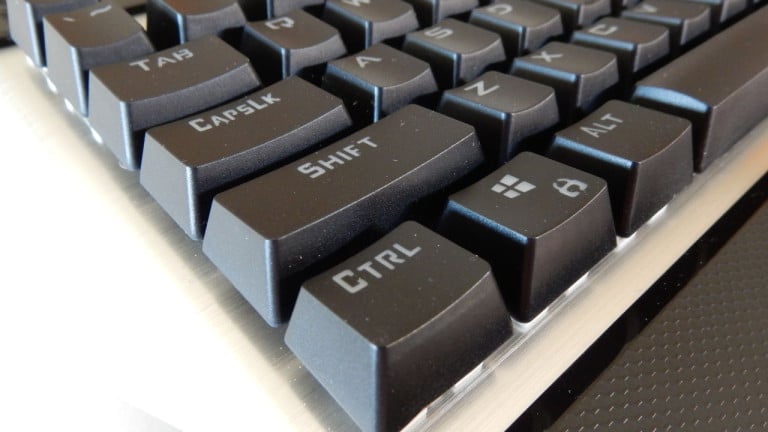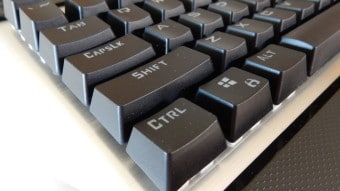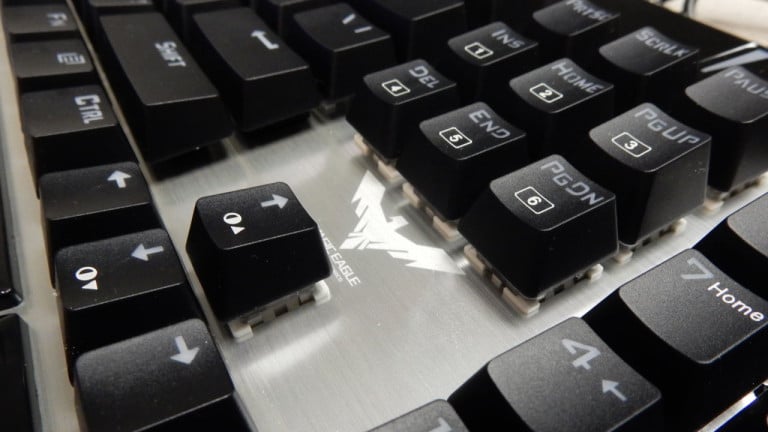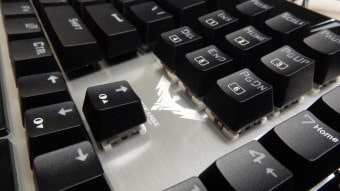 Three separate wrist rests molded out of plastic are placed at the bottom of the HV-KB378L to provide a resting spot for those long gaming or typing sessions. Unfortunately, these rests are not removable, and their sizing and the spacing between each piece is a bit uncomfortable at first. Depending on how you rest your hands when using a keyboard, this could get pretty annoying.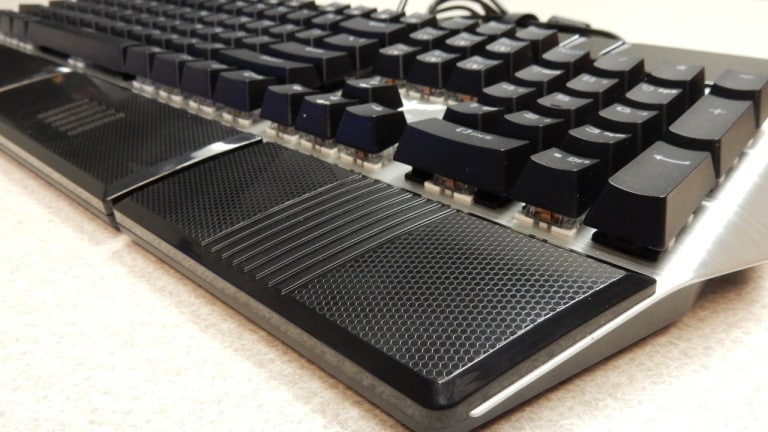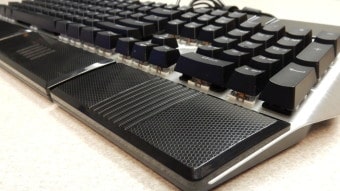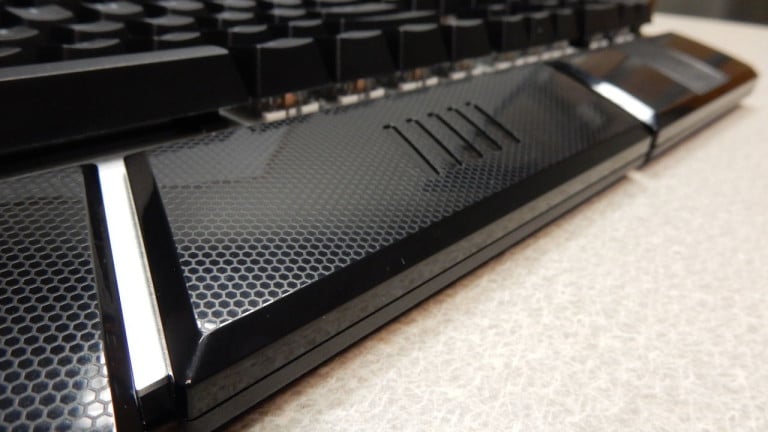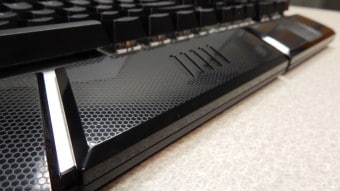 Taking the key caps off of the arrow keys gives us a good look at the blue Gaote/Otemu switches that HAVIT has chosen for the HV-KB378L. As mentioned earlier, each key features a 7-color LED that can be configured in a variety of ways to provide a customized look to your rig.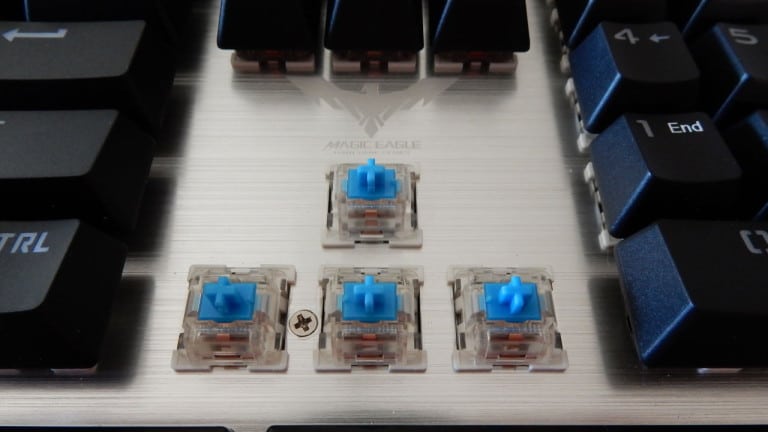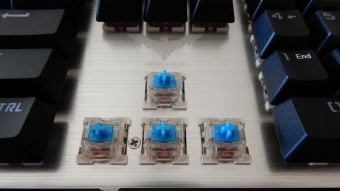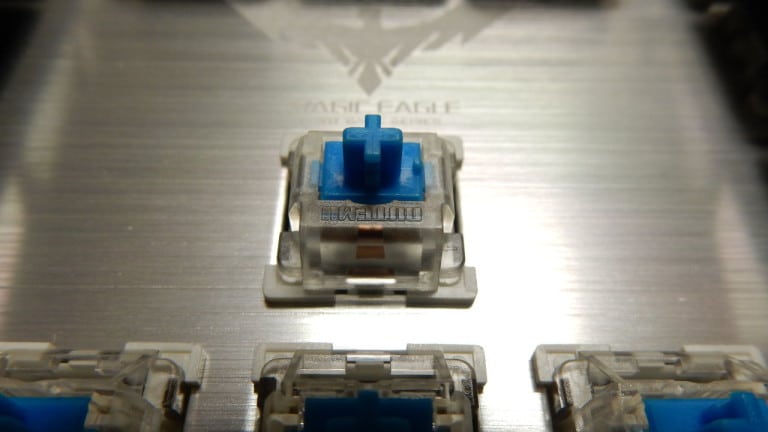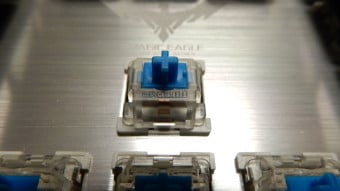 KEYBOARD USE
Usage
Getting settled into using the HV-KB378L took a little bit to get used to, as the non-removable wrist rest is quite different than what we have seen in the past. The wrist rest area is actually made up of three different plastic "pads" of different sizes, which leaves your hands resting at different angles. We would have loved to see a removable wrist rest, as HAVIT's implementation leaves us stuck with their design choices. And while the wrist rest area is not totally removable, we were able to turn the keyboard over and remove a few screws, which allowed us to take the plastic pads off, revealing a continuation of the aluminum body. The plastic base of the keyboard still stuck out from underneath the aluminum body, so this is definitely not an ideal fix, but might work for some users.
Once adjusted to the feel of the keyboard, the next thing to get used to is the amount of noise that this device produces. The Gaote/Otemu Blue keys have a very distinct clicking sound with each key press, which is pretty standard for mechanical keyboards. During our gaming use with headphones on, the added key noise really isn't too noticeable, but when using the keyboard to type this review, the amount of sound being generated under my fingertips was quite loud. While some manufacturers offer a variety of keys for their products, depending on the user's preference, the HV-KB378L is only available with the Gaote/Otemu Blue keys.
The tactile response from the Gaote/Otemu keys is what we would call "springy". While many membrane-based keyboards can feel a bit "mushy", the depression and release of the keys on the HV-KB378L is very pronounced. The keys return to their resting position very quickly, ready to be depressed again at a moment's notice.
While making our way around the keyboard, we were almost dumbfounded to see that there were no USB ports available for plugging in peripheral devices like headsets, mice and USB flash drives. Although this feature may add a little more cost to the production of a keyboard, we really appreciate when a company provides these extra connectivity options.
Having used membrane-based keyboards for the majority of our PC life, the transition to mechanical keys for gaming was quite a change. Confidently stepping into that first Rocket League match with the HV-KB378L quickly had our ego crushed, as the muscle memory from our existing keyboard, an original Logitech G15, was very strong. Just the subtle differences in key height, activation force, key return, and even texture really has us focusing more on our physical motions than on blocking the ball with crazy flying motions, or flying across the field with precision for a nice assist or goal. Taking things over to the FPS realm, we spent some time with the free-to-play Dirty Bomb and H1Z1. The quick-paced action of Dirty Bomb was noticeably less forgiving in nature, and our movements on the map were not quite a precise as we were used to. After a few rounds, our feeling for the HV-KB378L became a bit more comfortable, and we were starting to come around to this new feeling. H1Z1's survival mode is much more slow-paced, and allowed us to hone our movements at a much friendlier pace. This was helpful in becoming more adept with this keyboard, and we were thankful for the practice time as soon as we switched over to King of the Kill mode for some faster action. In the end, adjusting to a new keyboard, let alone key type, takes a bit to get used to. Just like that new pair of jeans, you know they look good and will fit well some day, they just don't feel quite as comfortable as the pair you have been wearing for the last year.
Lighting Modes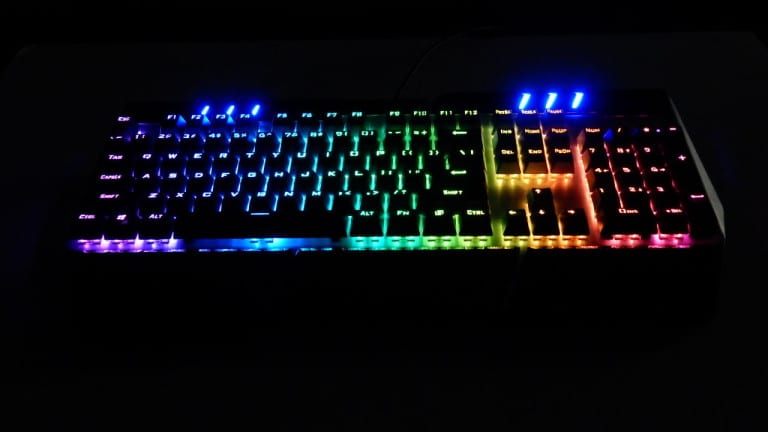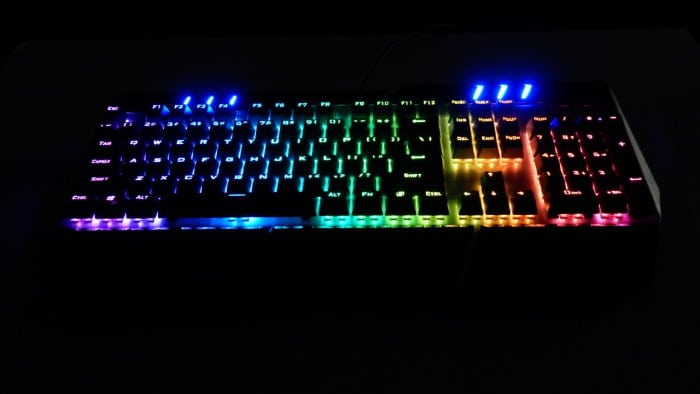 The HV-KB378L features six lighting modes that allow for quite a bit of customization for a unit that doesn't have any supporting drivers or software. The FN key that sits to the right of the spacebar can be held down in conjunction with one of six additional keys (Insert, Home, Page Up, Page Down, Delete, and End) to change lighting settings. Most lighting settings have a few sub-settings to change the speed of the mode, or lighting level. Below is a quick overview of each lighting mode.
FN + Insert – This basic setting fades the entire keyboard from one color to another. The speed of the color change can be adjusted to suit your style.
FN + Home – We found this setting to be the most unique of the options available, as it produces a "twinkling colors" effect that radiates from the center of the keyboard out to the sides.
FN + Page Up – This mode offers a side-to-side scrolling of all the available colors. The direction can be changed to move either left or right, and the speed of this effect can be adjusted as well.
FN + Delete – This mode is similar to the previous one, but it produces more of a rainbow color scheme. The same directional and speed settings are available in this mode as well.
FN + End – Offering up the most customization, this mode allows you to set the color of each key independently. While there are only seven colors available for each key, plus the ability to turn the lighting off, there is plenty of room for customization in this mode.
FN + Page Down – With each keypress, the unlit keyboard will illuminate whichever key is pressed, and then fade away. This is a really neat effect that almost shows a brief "history" of the recent keystrokes.
Below is a quick video overview of the lighting features found on the HV-KB378L.
There are also six "accent" lights across the top edge of the keyboard that are always on. Unfortunately, these only provide blue lighting, and are really quite bright. We really wish we could have had the option of changing the color or at least the brightness of these lights, as they were almost distractingly bright, and offer no function other than aesthetics.
CONCLUSION
The HAVIT HV-KB378L RGB backlit mechanical keyboard offers an affordable entry into the realm of mechanical keyboards, while still providing many of the features found on high-end units. Each of the 104 keys can have its lighting color individually configured in one of seven colors, or the whole keyboard can operate in a variety of lighting modes that offer a more "animated" look. This customizable lighting feature is quickly becoming the norm in the keyboard world, and HAVIT provides this functionality all without the use of drivers or dedicated software. While the keyboard is marketed as "RGB", the HV-KB378L doesn't offer the true 16.8 million color options, but instead uses seven colors to provide a smaller amount of color options. While the six lighting modes will probably be more than enough for most users, the lack of true color customization may turn away those users looking to color coordinate all of their case and peripheral lighting.
At a current price of $89.99 USD on Amazon, the HAVIT HV-KB378L is definitely at the lower end of the price spectrum for mechanical keyboards featuring customizable lighting. However, along with that lower price comes the lack of a few common features found on other keyboards at this level. We would have loved to see USB pass-through so that we could plug in our mouse, USB headset, or flash drive, but alas, this option is not to be found.
While the wrist rest not removable, and has an odd shape, this didn't take too long to get used to during our time with the HV-KB378L. The same can be said about our introduction to mechanical keyboards. As mentioned earlier, it's not so much that there is a right or wrong when it comes to mechanical or non-mechanical keyboards, it just takes some time to adjust to the changes that are most noticeable, primarily the sound and feel of the mechanical keys. Just like a pair of broken-in denim jeans or leather-soled dress shoes, getting used to a new peripheral like a keyboard takes some getting used to. We think the HAVIT HV-KB378L offers a decent starting point for users looking to get their toes wet with mechanical keyboards without dropping a ton of money to do so.
HAVIT HV-KB378L Pros

HAVIT HV-KB378L Cons

No need for drivers; simply plug it in and go
Six customizable lighting options
Competitive pricing

Not true RGB (seven colors instead of 16.8m colors)
Non-adjustable blue accent lights
Wrist rest not removable, oddly shaped
No USB pass-through