XFX R9 380 4G Double dissipation Black Edition
No body in the GPU manufacturing community does a Black Edition like XFX does and when they release an XFX R9 380 4G Double Dissipation Black Edition we wanted to be first in line to grab one and get it on the test bench.  The XFX R9 380 4G DD Black Edition is a sweet little GPU that pushes 1792 Stream processors with a core speed of 1030MHz across a 256-bit memory bus to 4 gigabytes of GDDR5 memory running at 5800MHz effective. This particular generation of cards XFX has been dressing in the Double Dissipation heasink / fan setup that has proven to be one of the most effective cooling solutions we've seen for GPU air cooling. If we had to go down our checklist of must haves for our personal GPU's XFX is hitting every single mush have check box we can think of.
This DirectX 12 GPU is fully Windows 10 ready and packs 180mm of whirling cooling fans pushing air across the advanced Double Dissipation Ghost Thermal 3.0 Technology. When it comes to design innovation XFX spares no expense to bring you the highest end hardware and the engineering expertise to pull it all together in an eye pleasing design that screams power at first glance.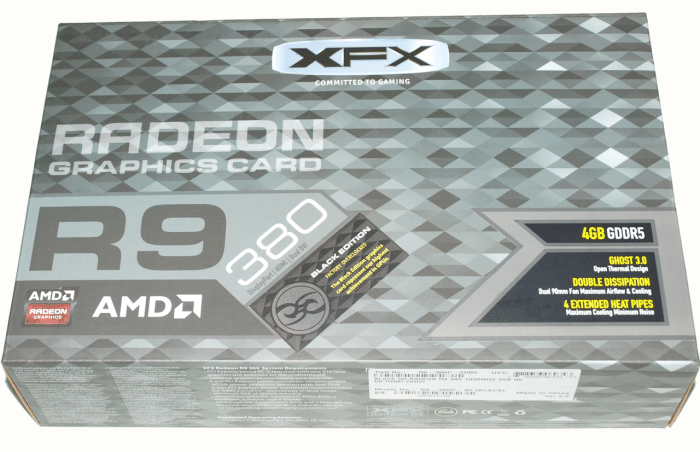 Starting with the front of the box just the words Black Edition are enough to send our blood churning through our veins. Featuring the highest binned cores and highest factory OC the Black Edition GPU's from XFX embody the finest hardware components available.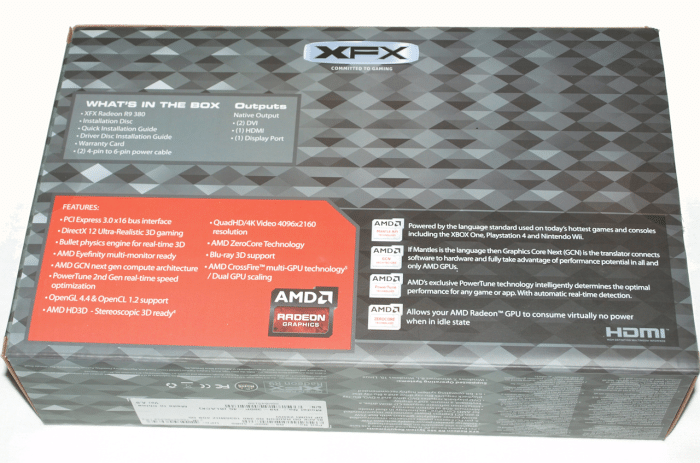 The back of the box covers some of the key features and technologies used in the XFX R9 380 4G DD Black Edition  the Mantle API the same language that powers Xbox one and Playstation 4 with the interpreter being GCN (Graphics Core Next) is the translator that connects the hardware and software together and is a proprietary feature of AMD GPU's.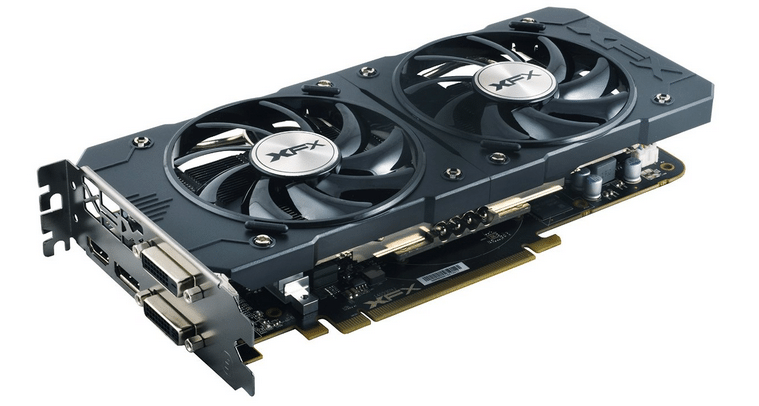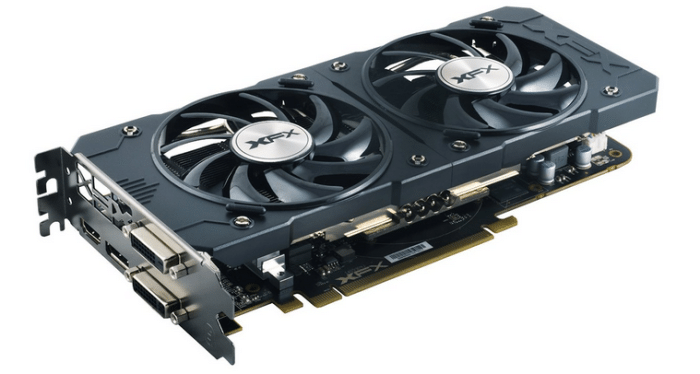 Peeking at the outer cowling of the XFX R9 380 4G DD Black Edition we see the now familiar Double Dissipation oversized fans used for the GPU air cooling solution. Lets get a couple of XFX graphics in here to highlight the cooling setup.

Ghost Thermal 3.0 Technology features an all new improved fin arrangement with lengthened electroplated heatpipes passing through the full coverage heat sink giving unprecedented cooling and efficiency. Now this graphic shows a metal backplate and unless someone forgot to put one on our card the XFX R9 380 4G DD Black Edition doesn't have the backplate but the heatsink / fan arrangement is the same.

Dual 90mm IP-5X fans and highly optimized BIOS fan profile gives you a lower noise level without losing cooling efficiency.  XFX claims a 3°C reduction in load temps as well as a 7dB reduction in noise while 3d rendering.  From our previous experience with the DD coolers we have no doubts what so ever that XFX strapped on a highly effective highly tuned cooling solution and as a result we got great thermal properties and quiet operation.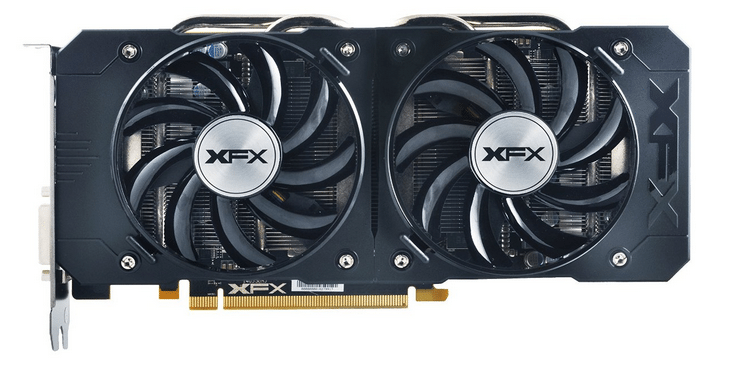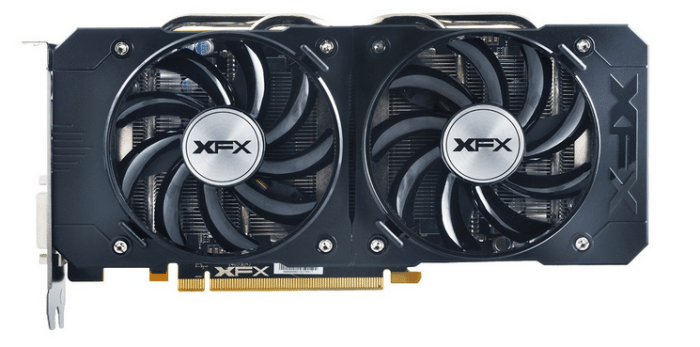 Getting a top down look at the cowling and fans the two ginormous 90mm fans cover almost the full length of the GPU and leave plenty of air space to pull in air to cool the heatsink / GPU cooling block. Dressed in typical XFX black on Black the GPU silently projects the feeling of hidden power packed under the cowling.

Looking at the business end of the GPU you find a HDMI, Display port and two DVI which should be plenty of connectors for modern systems and monitors. If you happen to be rocking an older DSUB monitor you will need to snag a DVI to 15 pin DSub adapter. Or just scrap that relic of a monitor and get something with HDMI and .or Display Port.

Looking at the card from the top down you get a peek at the all copper chrome electroplated heat pipes as well as some of the solid caps XFX is using.

Hidden under the black cowling are two rear facing 6 pin PCI-e connectors and we really wish more vendors would use this design as it prevents rooster tailed wires sticking up out of the case.
XFX R9 380 4G (R9-380P-4255)
Interface
PCI Express 3.0
Chipset
AMD Chipset
GPU
Radeon R9 380
GPU Core
Antigua Pro
Core Clock
1030 MHz
Stream Processors
1792
Memory Clock / Effective
1425 / 5700 MHz
Memory Size / Type
4GB GDDR5
Ports
 
1 x HDMI
 
1 x DisplayPort
 
1 x DL-DVI-D
 
1 x DL-DVI-I
Resolution (Max)
4096 x 2160
Cooler
DD FanSink
Power Connecters
2 x 6 Pin PCI-E