Razer BlackWidow Ultimate 2016 Edition
The Razer BlackWidow Ultimate 2016 Edition is a mechanical keyboard featuring Razers proprietary award-winning mechanical keys.  Razers put a lot of engineering into their key setup to have a tactile response on actuation and a short reset return. Normal keys take a 2.2mm ± 0.6mm stroke to actuate and a 0.7mm return to reset while Razers design is 1.9mm ± 0.4mm with a reset point at 0.4mm. Most mechanical keys are set for a 50g of actuating pressure and that's the same pressure Razer has chosen but with Razer gaming mechanical keys you get a tactile response from both the Green (Clicky) and Orange (Silent) style keys. The shorter stroke and reset on Razer keys helps ensure that when you need to rapidly tap the key you can do it faster on the down stroke and the reset is faster so you have a more responsive keyboard in the heat of battle. The only problem we can see is that during the heat of battle who stops to think about key accusation depth? Most of us here in the lab walk into an ambush we aren't thinking about lightly tapping a key, we are trying to push that key through the test table to get moving. We don't know of a way to measure the time it takes to actuate a shorter keystroke against a longer keystroke but the difference in keystroke depth and return is pretty minimal but any slight edge you can take in combat you should be taking it.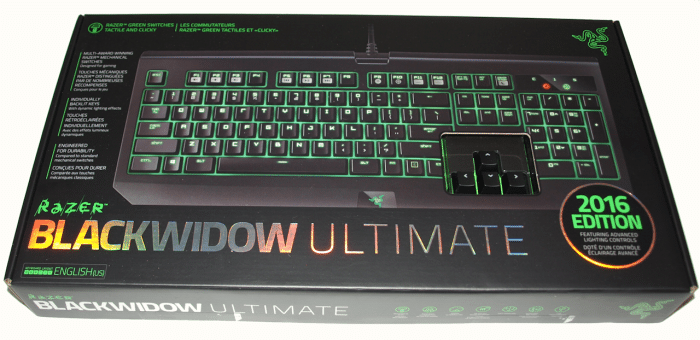 The lettering on the Razer BlackWidow Ultimate is a little deceiving in the image, it shows up as silver to the eye but if you look closely there are hologram elements that turn it rainbow when the flash goes off. The first thing we noticed is there's no Chroma and Razer has chosen to go to a lower price point so they went with individually back-lit "Razer Green". If you are familiar with Razer products from a few years back the unearthly alien green is Razers trademark color but Razer decided to give the BlackWidow Ultimate a little twist and linked it to Synapse and you can use all the Chroma effects on the monochrome green keyboard.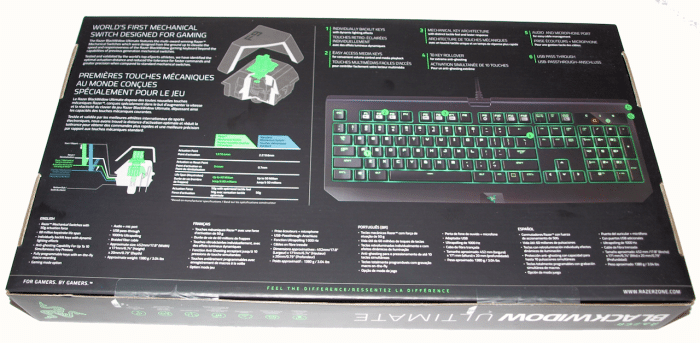 The back side of the BlackWidow Ultimate lauds the Razer designed Green Clicky mechanical key and gives the specifications for Razer Keys and what they consider normal mechanical keys. In general there's plenty of info on the box to help consumers make an intelligent choice about the purchase of the Razer BlackWidow Ultimate 2016 Edition. The information will help in a go in blind retail setting but most gamers are going to the web to make their decision.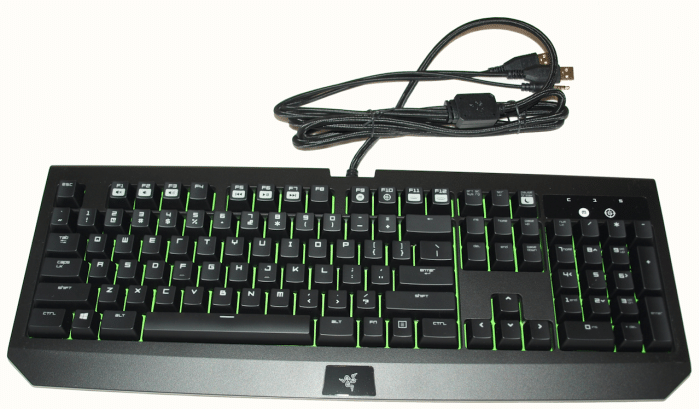 As you can see the BlackWidow Ultimate 2016 Edition has a bit of a smaller footprint and the same long braided fiber cable we see on most corded Razer products.
Specifications
Razer™ Mechanical Switches with 50g actuation force
60 million keystroke life span
Individually backlit keys with Dynamic lighting effects
Razer Synapse enabled
10 key roll-over anti-ghosting
Fully programmable keys with on-the-fly macro recording
Gaming mode option
Audio-out/mic-in combined jack
USB pass-through
1000Hz Ultrapolling
Braided fiber cable
Looking at the specifications the keys have an expected lifespan of 60 million keystrokes for a durable design and the keys are individually back-lit with dynamic lighting effects. Razer Synapse is the software that controls all the modern Razer products and serves as the hive brain for setting profiles for different games. Razer decided to use 10 key roll-over anti ghosting so up to 10 keystrokes are kept in the keystroke Que preventing key ghosting which is nothing more than some keyboards not sending the keystroke when multiple keys are hit. Every key on the BlackWidow Ultimate 2016 can be programmed and it's a simple matter of hitting FN + F9 and you can record macros on the fly. There's also a gaming mode and an Audio-out/mic in combined jack which in our opinion is a bit of a downgrade. Previous editions had an audio out and a mic in but there are products that use a 3.5mm single jack for in and out. The big swing on gaming headsets is USB in any case so a single In/out audio jack isn't to much of a show stopper. As usual Razer put in a USB pass-through which puts a handy USB right at your fingertips. Last but not least on the features we haven't covered is the 1000Hz Ultrapolling which over time has become the standard we hold all gaming devices by as low polling rates can make for lag times between keystrokes or for that matter mouse clicks.

The back of the keyboard has two keyboard stands for those that like an angle on the keyboard and it has the Razer product sticker.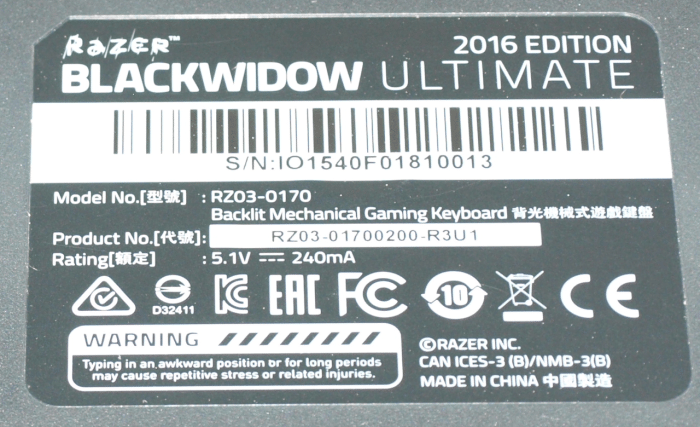 Here's a close up for those looking to ensure that they are looking at the correct product and those ordering can locate the right model easily.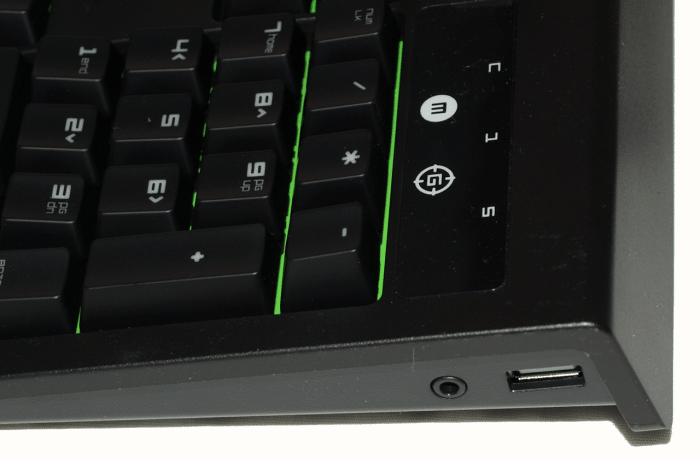 The right hand side of the keyboard you find the USB pass through and one pass through is ok but we would prefer to see the USB port split into two or 3 ports so the pass through could act like a USB hub. You also see the microphone in audio out combo port and we really feel that a $109.99 MSRP keyboard deserves separate audio in and microphone out.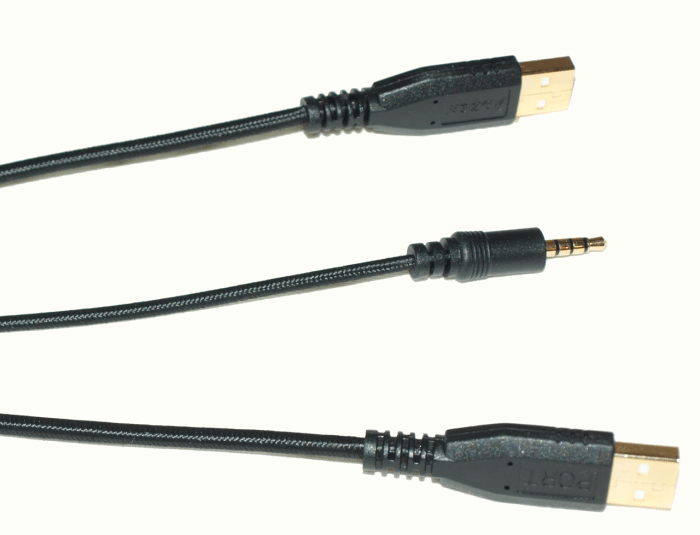 The end of the braided cable splits into three connectors, one for the keyboard and lighting, one for the pass through and one for the audio in / out. We can easily see why the keyboard itself is USB 1.0 but the pass through should be at least USB 2.0 and preferably USB 3.1 backwards compatible. We are not likely to waste a high-speed USB port on a low-speed pass through unless we just want to hook up USB headphones to the pass through.
With the Razer BlackWidow Ultimate you get a manual and a couple of Razer Logo stickers. You may want to keep the manual around until you have learned the FN key combos for the special features on the board.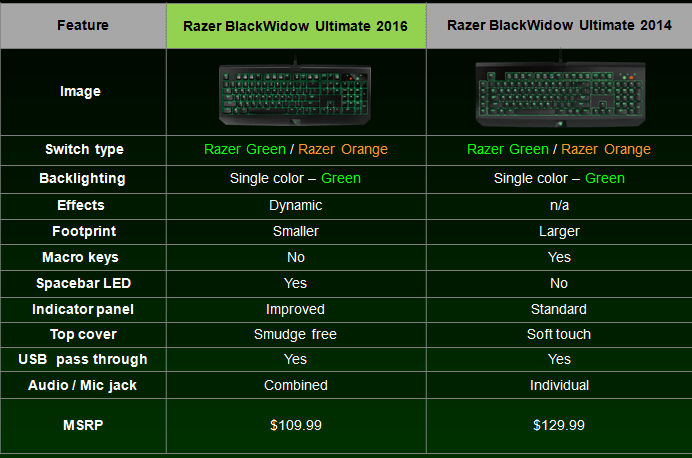 Razer has a nice diagram comparing the BlackWidow Ultimate 2014 to the BlackWidow Ultimate 2016 and for the 20 dollar drop on the price point we lost the dedicated macro keys and the individual Audio / mic ports but we gain dynamic lighting effects and it is $20 dollars cheaper so Razer struck a pretty good balance on features and programmable keys. The one thing we would note is that Razer didn't include the recently releases BlackWidow Chroma in the comparison but it's price point is up there around $150  – $160 so we suspect that Razer is pushing lower priced more affordable gaming keyboards around the holiday season. The lower price tactic around the holidays makes sense we are more liable to buy ourselves an expensive Chroma and the kids a BlackWidow Ultimate 2016. Kids tend to be a lot harder on peripherals  than adults so we'd suggest waiting on the $200 dollar gaming peripherals until they can take a little more responsibility. With Razers quality we still have and use the original BlackWidow and it functions perfectly so a hand me down Chroma after your next upgrade is defiantly a possibility.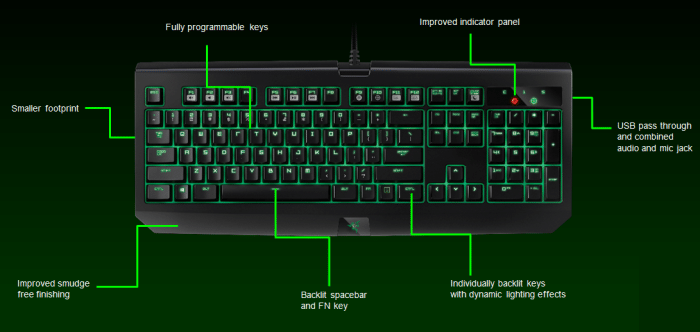 Razers diagram of the keyboard shows improved indicator lights and an improved smudge free finish the rest we have already touched on. The indicator lights are brighter and easier to see but the smudge free finish as pretty nice we've had hands on and off the Ultimate 2016 Edition for 5 or 6 days now and it's not covered in smudges or finger prints.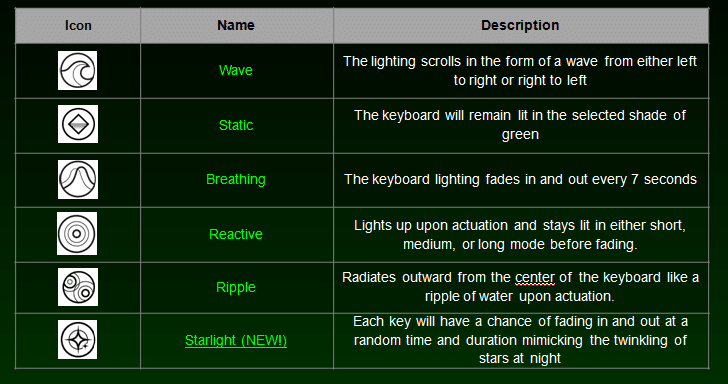 The effects work the same as any Chroma device we've seen except they are in monochrome Zombie Green and include:
The Wave lights pulsating from right to left or left to right in a continuous motion
Static just the monochrome green without any effects
Breathing the light fades in and out
Reactive the keys change from dark to green as you touch them then they fade out
Ripple you strike a key and a line of light races to both edges of the keyboard from that key
Starlight individual keys randomly light up then fade.
Lets leave this section and get on to the Synapse software but before we go here's a shot of the keyboard lit up, and trust us no photo does justice of the eerie Razer Green.

The lighting on the keyboard can be adjusted from a dim green to full-out bright green and in the photo above we have it set to full brightness and took the photo in the daytime with normal lighting in the lab. You may want to FN and F11 to dial down the brilliance during lights out and night gaming.