Final Thoughts & Conclusions
We've had a few Z170 boards in our hands so far, less than a half-dozen but testing results are similar and what differentiates the boards are the features and amenities

the board offers. The GIGABYTE Z170x offers an unparalleled level of features starting with an added PLX chip the PEX8747 which allowed Gigabyte to provide a wider PCI-E bandwidth and full 16x16x SLI or Xfire but the PLX chip adds latency to a single GPU setup so it's a tradeoff but a worthwhile one as most Z170 Intel chipset board offer 8x 8x and we'll accept a little latency on a single card to gain 16x 16x capabilities.
The Extreme Intel USB 3.1/Thunderbolt 3.0 chip uses 4 PCI-E GEN 3 lanes offering up to 32GB/s as opposed to other solutions that provide 10GB/s but there again it's using precious PCI-E bandwidth and with today's peripherals PCI-E bandwidth is the currency of GPU and HD speed so tying USB 3.1 to PCI-E is a gift on the speed end and yet sucks up PCI-E bandwidth. More and more we are seeing PCI-E bandwidth being turned to for speed enhancements so why aren't we seeing a lot more PCI-E lanes on CPU's and Motherboards. Currently two GPU's can eat up 32x PCI_E bandwidth, one SSD can eat 4 Lanes and 4 lanes for USB 3.1 not to mention Physics GPU's and other add on cards so it's pretty easy to exceed PCI-E bandwidth on a board.
The Audio Selection of the Quad Core Sound Core 3D and Burr-Brown High end 127dB Dac pushing up to 192KHz of 24-bit audio using Hi-Fi quality Fine Gold Nichicon Caps and WIMA FKP2 Hi-Fi quality capacitors was an excellent choice on GIgabytes part. The Audio on the GIGABYTE Z170x Gaming G1 is the best we've seen for onboard audio to date. We've always known HI-Fi quality computer Audio was possible and we think it's long overdue, GIGABYTE addressed that on the Z170x Gaming G1 and the audio is audiophile quality. You may well replace your stereo equipment and use the Gaming G1 without loss of audio quality.
All the Z170 boards can do 2 way SLI but most will do it at 8x 8x. The GIGABYTE Z170x Gaming G1 has a PEX8747 chip and can do 3 and 4 way SLI. Boards without the PEX8747 chip are limited to two NVIDIA GPU's. Of course you can also go with Xfire but what it boils down to is the Z170x Gaming G1 allows for more than two GPU's and that's a feature on Z170 we only expect on higher end boards.
How about gaming you ask? The Killer DoubleShot Pro X3 allows three killer interfaces to work together for the best networking by freeing the highest bandwidth to the most important traffic, allowing you to multitask without affecting your performance. Your on Wi-FI gaming? How About Wi-Fi 802.11 a/b/g/n/ac, supporting 2.4/5 GHz Dual-Band on Killer Wireless-AC 1535 that also provides Bluetooth 4.1?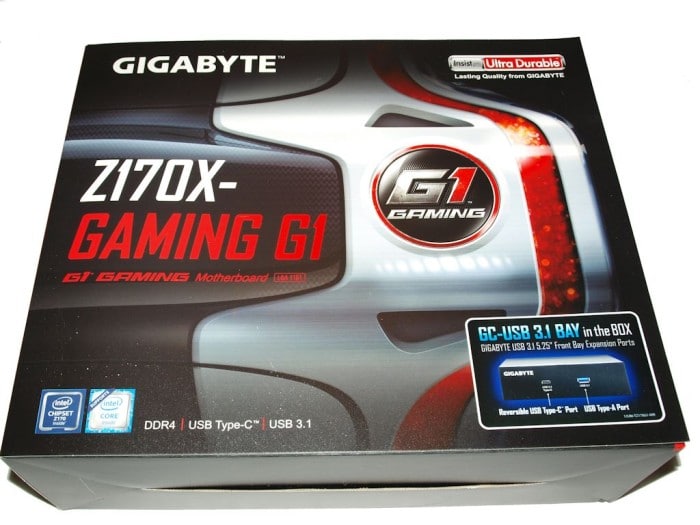 GIGABYTE didn't overlook OverClocking and we got the i7 6700K to 4.8 and the board has more headroom to go higher but with our chip at 1.45v to achieve 4.8Ghz we weren't going any farther. We did find the GIGABYTE Z107x Gaming G1 a little finicky on failed OC recovery and at times had to reset CMOS to get back into BIOS. That wasn't much of a problem as there are plenty of profiles to save your OC to so you get a stable OC save it to a profile, push the envelope and go for higher without fear of losing your good OC to a failed attempt at glory road.
GIGABYTE even tossed HDMI 2.0 on the flagship Z170x Gaming G1 but if we catch you using the IGP on this beautiful board just send us your address and we will rescue it to a GPU rich environment at no cost to you, Well we would be ganking a $500 board but if you're using the IGP you don't deserve it anyway.
You will be hard pressed to find USB 3.1 on the front of a case but GIGABYTE threw in a front panel drive bay USB 3.1 GC-USB3.1 BAY that gives you front USB 3.1 Type A and Type C oddly enough using a SATA Express port and two power connectors to pull off the trick. You would think that since the board has two handy USB 3.1 ports front and center of the board USB 3.1 would be provided by onboard connectors but at least Gigabyte has found a use for Sata Express.
There are so many features on the GIGABYTE Z170x Gaming G1 it's nearly impossible to cover every feature but GIGABYTE managed to put every feature on a motherboard that we ever had on our Mobo bucket list. Gaming on the GIGABYTE Z170x makes you feel like your gaming on the Motherboard of Kings, well Geek Kings anyway.