Benchmarks
To start the benchmark section on some charts we left the Asus Rampage Extreme, it is an X99 chipset board with a completely different CPU (5820K at its stock frequency of 3.3) and is there for platform to platform comparison only. Every other motherboard is the new Z170 chipset for Skylake.
PCMark 7

PCMark is a computer benchmark tool developed by Futuremark to test the performance of a PC at the system and component level. In most cases the tests in PCMark are designed to represent typical home user workloads. Running PCMark produces a score with higher numbers indicating better performance. Several versions of PCMark have been released though scores cannot be compared across the different releases since each includes different tests.
We left the Asus Rampage Extreme on some of the charts, be aware its a Hex core and running at it's CPU's native frequency of 3.3 – 3.5 (5820K). The X99 Chip is there for informational purposes only and not for direct comparison to the Skylake chip. We already know that heavily threaded tests will favor the Hex core and the 4.0 – 4.2GHz speed of the i7 6700K will be favored in less threaded programs. Comparison of the two series motherboards and chips is apples and oranges but we wanted to show those considering both chips the comparison.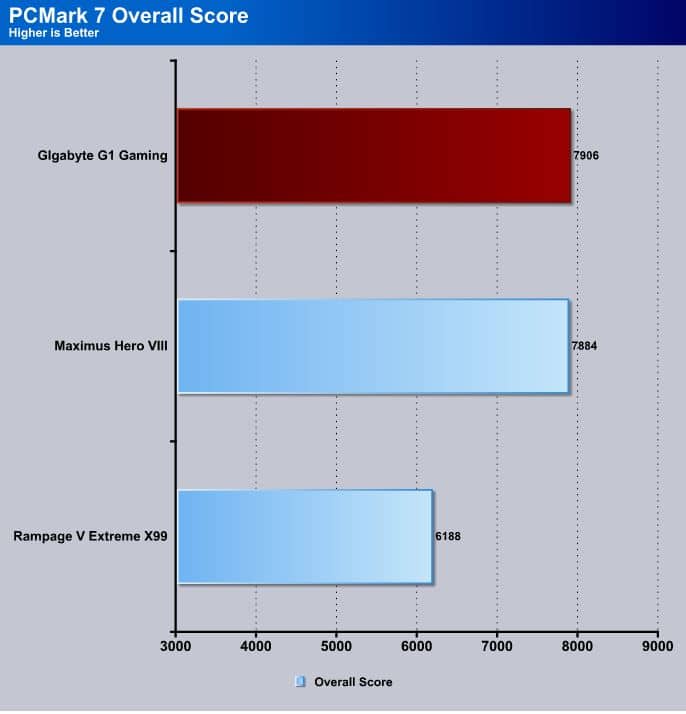 The Overall score in PCMark 7 shows the GIGABYTE Z170x Gaming G1 with a couple of points lead but not enough points to declare a definitive "faster Board". Motherboards for Intel Products all use the same Intel chipset and speeds don't differentiate the motherboards as much now as in the past. What differentiates boards are the amenities and features.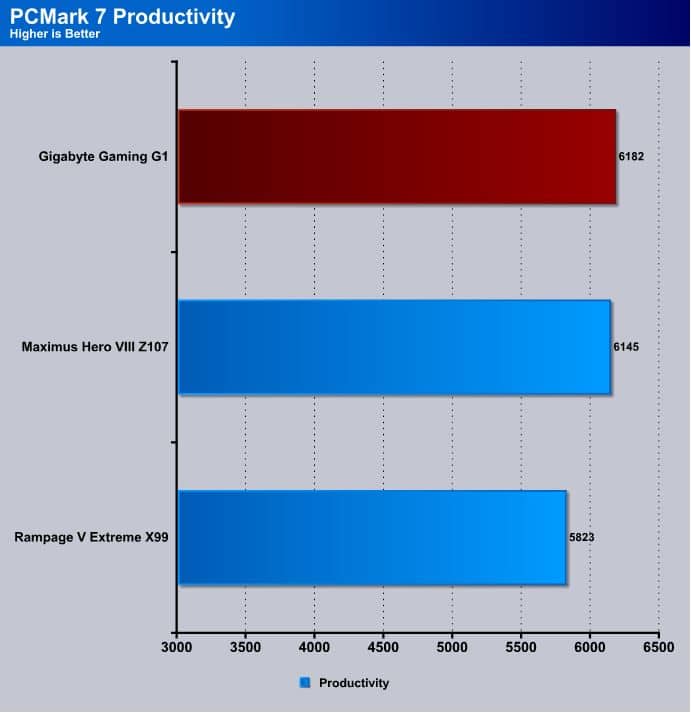 Here again we see the GIGABYTE Z170x Gaming G1 with just a slight lead but the two boards are destined to run neck and neck with the same chipset and the exact same HD, Memory, OS amd CPU cooler.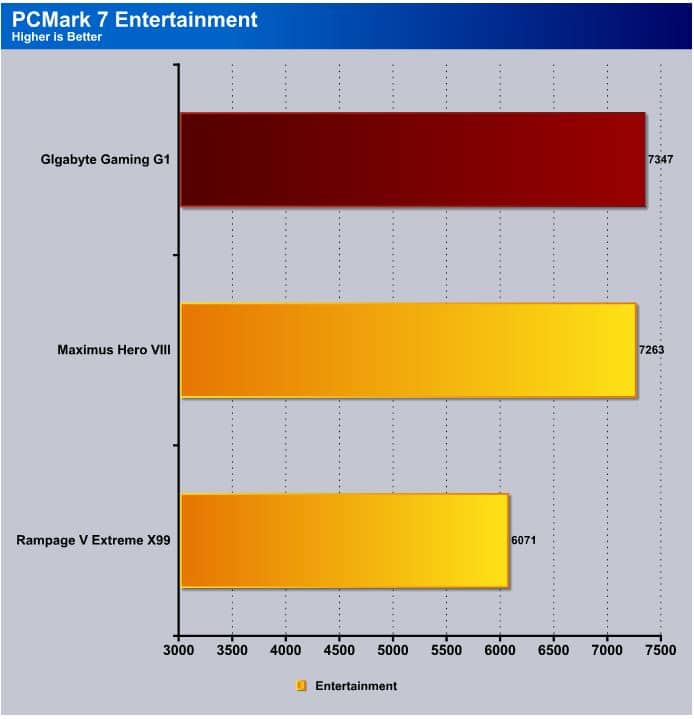 PCM & shows the GIGABYTE Z170x Gaming G1 with that same slight lead but notice the native speed of the I7 6700k far out ahead of the 5820K so you can pretty much guess PCMark is favoring speed over number of cores.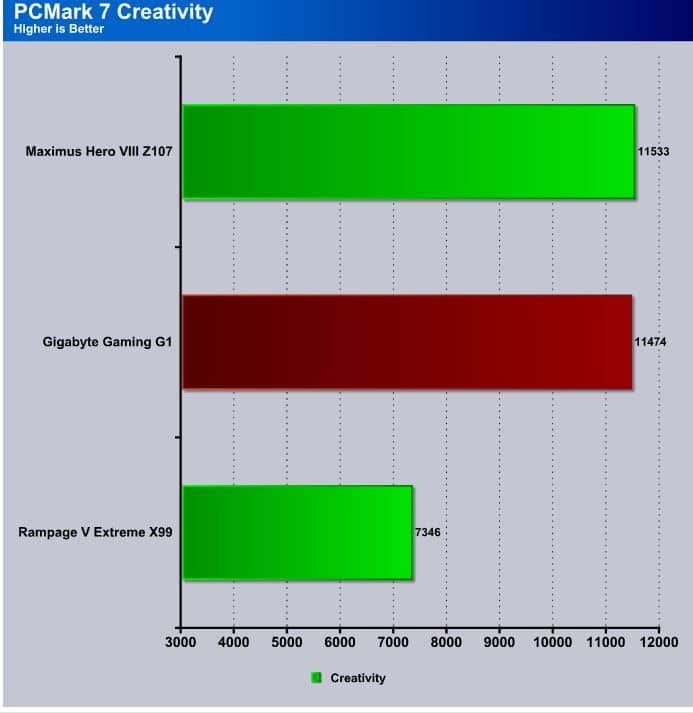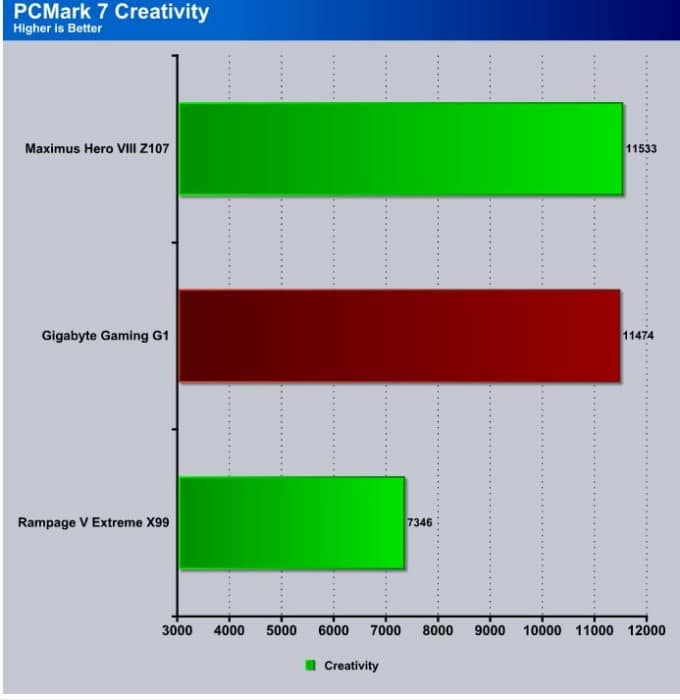 The PCM 7 Creativity test shows both the Asus and GIGABYTE Z170x Gaming G1 way up there over 11 thousand and still running neck and neck.
Super PI Mod 1.9
Super PI is a single-threaded benchmark that calculates Pi to a specific number of digits. It uses the Gauss-Legendre algorithm and is a Windows port of a program used by Yasumasa Kanada in 1995 to compute Pi to 232 digits.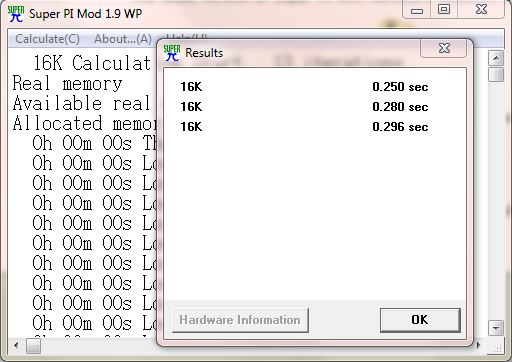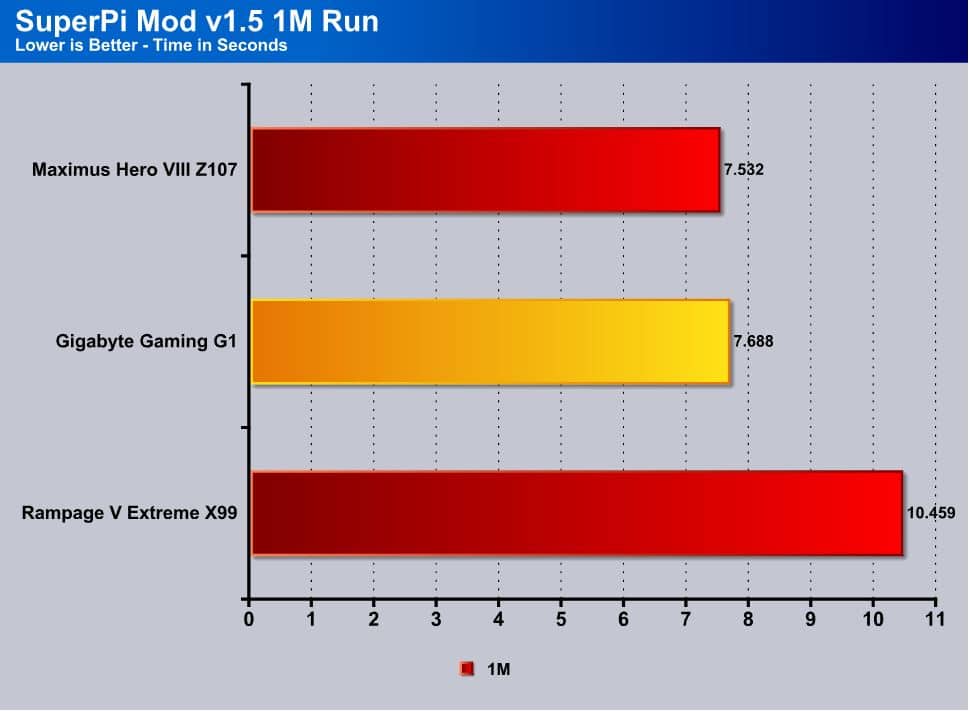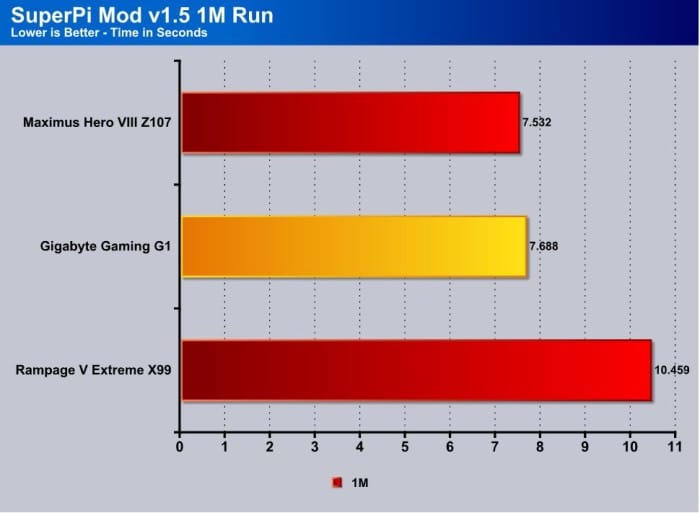 SuperPi is a single core program and shows the GIGABYTE Z170x Gaming G1 at 7.532 seconds with the difference between it and the Asus board a mere 1/10th of a second.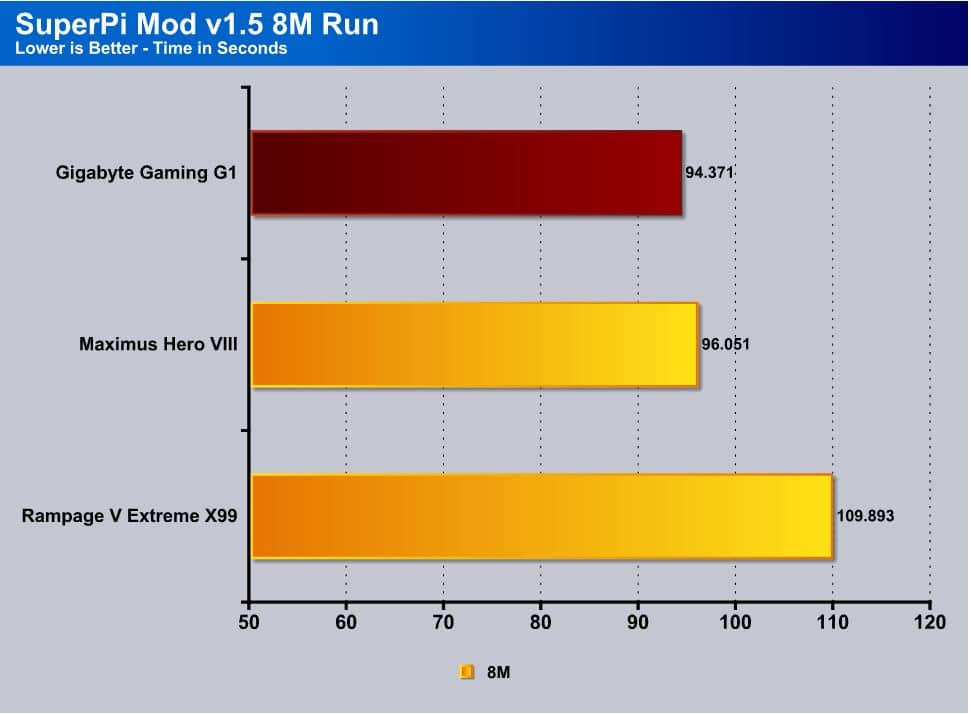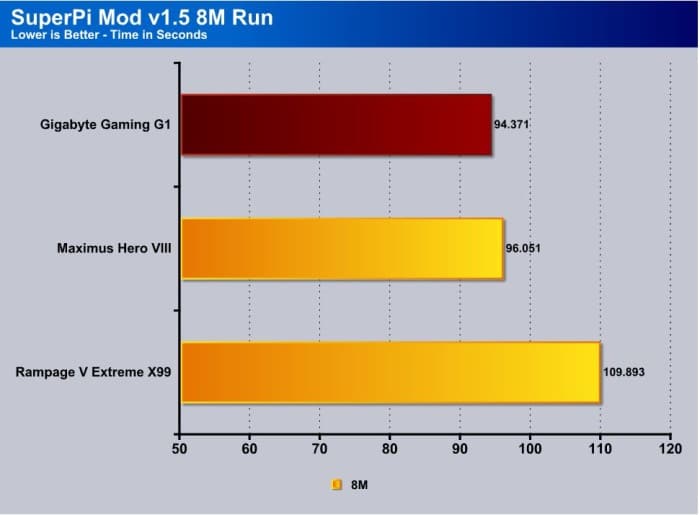 THe GIGABYTE Z170x Gaming G1 pulls out a couple of seconds ahead of the Asus board in the 8M test and the X99 chip still hasn't found it's heavily threaded home yet and remains low on the totem pole.
wPrime
wPrime is a leading multithreaded benchmark for x86 processors that tests your processor performance by calculating square roots with a recursive call of Newton's method for estimating functions, with f(x)=x2-k, where k is the number we're sqrting, until Sgn(f(x)/f'(x)) does not equal that of the previous iteration, starting with an estimation of k/2. It then uses an iterative calling of the estimation method a set amount of times to increase the accuracy of the results. It then confirms that n(k)2=k to ensure the calculation was correct. It repeats this for all numbers from 1 to the requested maximum.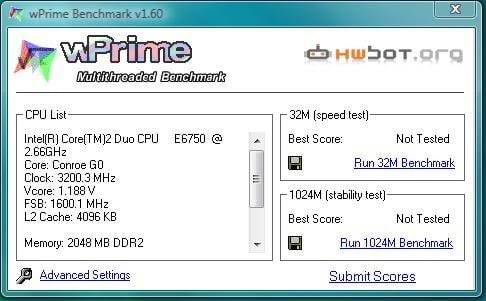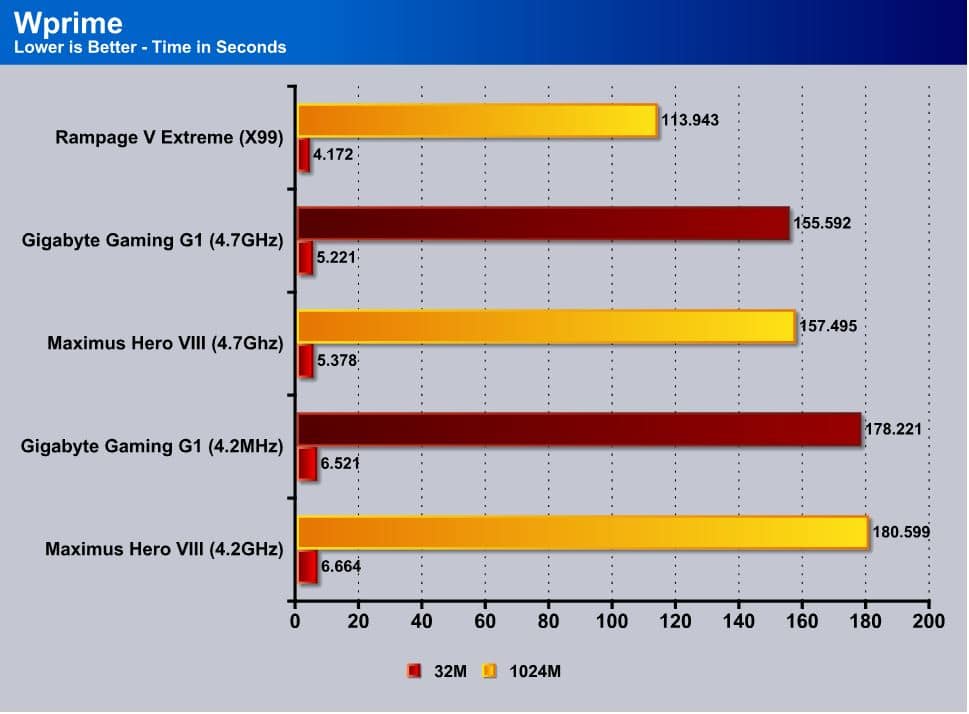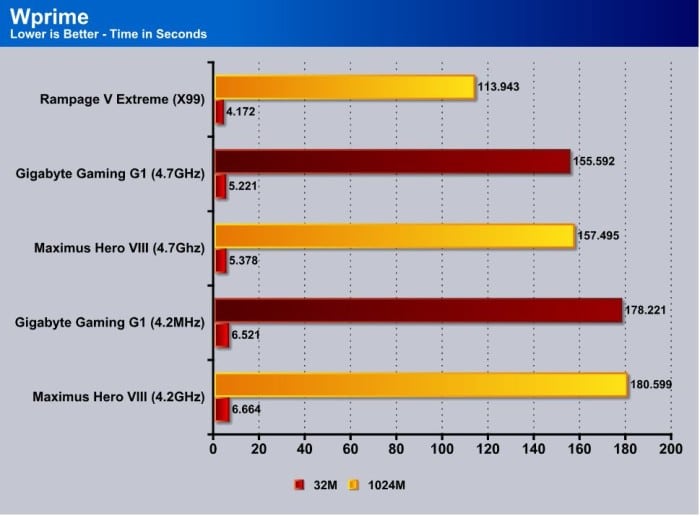 We went ahead and ran Stock Speed and OC speeds on WPrime (and a few other tests) and both the Asus Hero and GIGABYTE Z170x Gaming G1 run within one or two seconds of each other. The X99 Hex core found it's well threaded program and comes out well ahead of the native Quad cores.
CINEBENCH R15
CINEBENCH is a real-world cross-platform test suite that evaluates your computer's performance capabilities. CINEBENCH is based on MAXON's award-winning animation software CINEMA 4D, which is used extensively by studios and production houses worldwide for 3D content creation. MAXON software has been used in blockbuster movies such as Iron Man 3, Oblivion, Life of Pi or Prometheus and many more.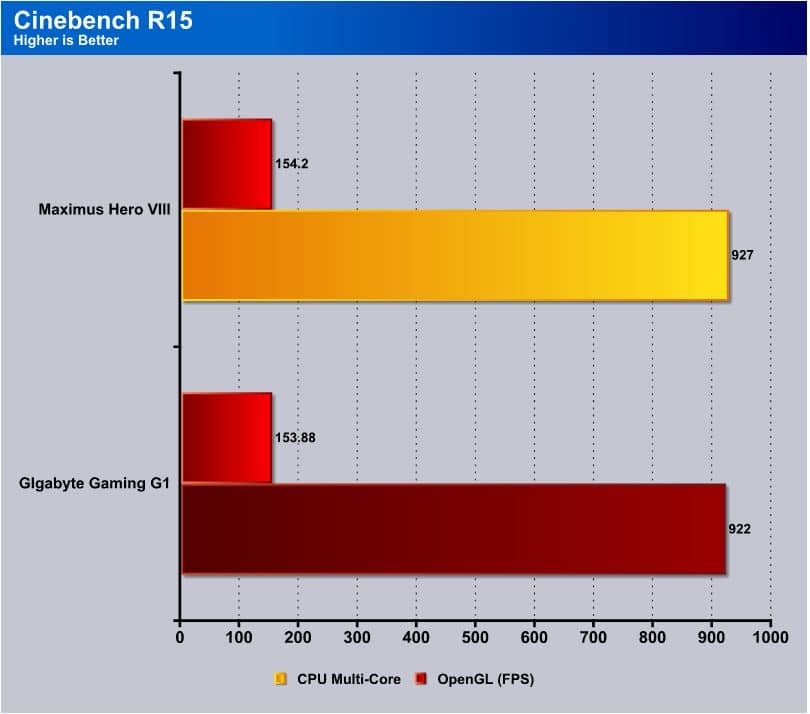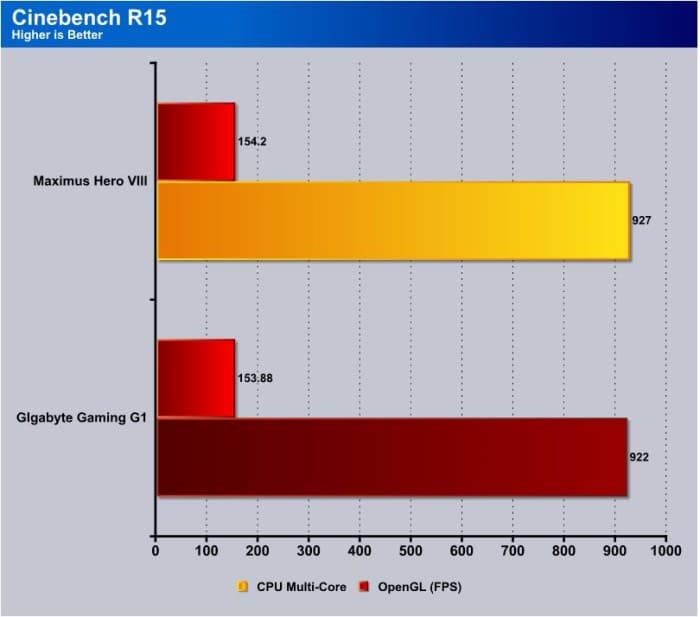 On Cinebench the Maximus Hero creeped past the Gaming G1 but there's so little difference in the scores it's not worth trying to declare one faster than the other.
x264 HD
Simply put, x264 HD Benchmark is a reproducible measure of fast your machine can encode a short HD quality video clip into a high quality x264 video file. It's nice because everyone running it will use the same video clip and software.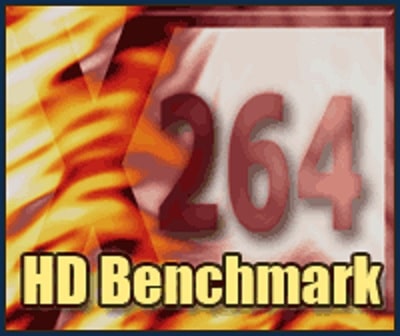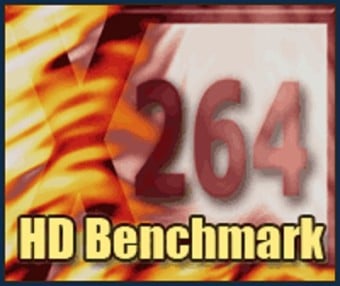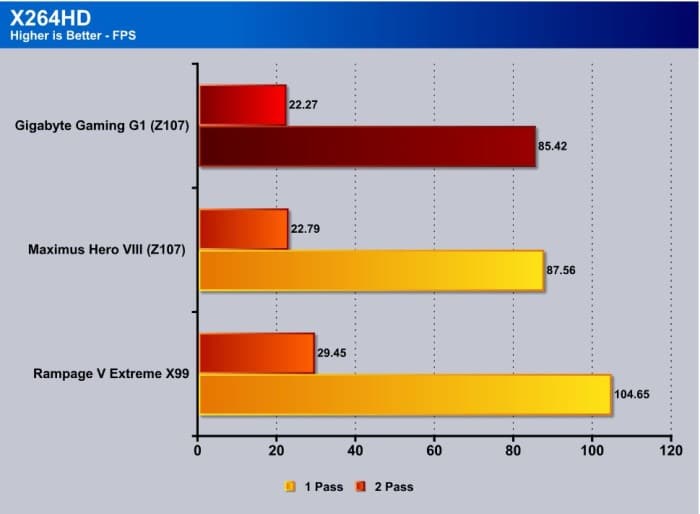 X264HD shows the GIGABYTE Z170x Gaming G1 a half second ahead of the Asus board on single pass, 2 pass shows it out in front by a couple of seconds.
Unigine Heaven 4.0
Heaven Benchmark, with its current version 4.0, is a GPU-intensive benchmark that hammers graphics cards to the limits. This powerful tool can be effectively used to determine the stability of a GPU under extremely stressful conditions, as well as check the cooling system's potential under maximum heat output. It provides completely unbiased results and generates true in-game rendering workloads across all platforms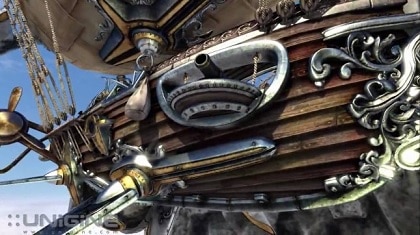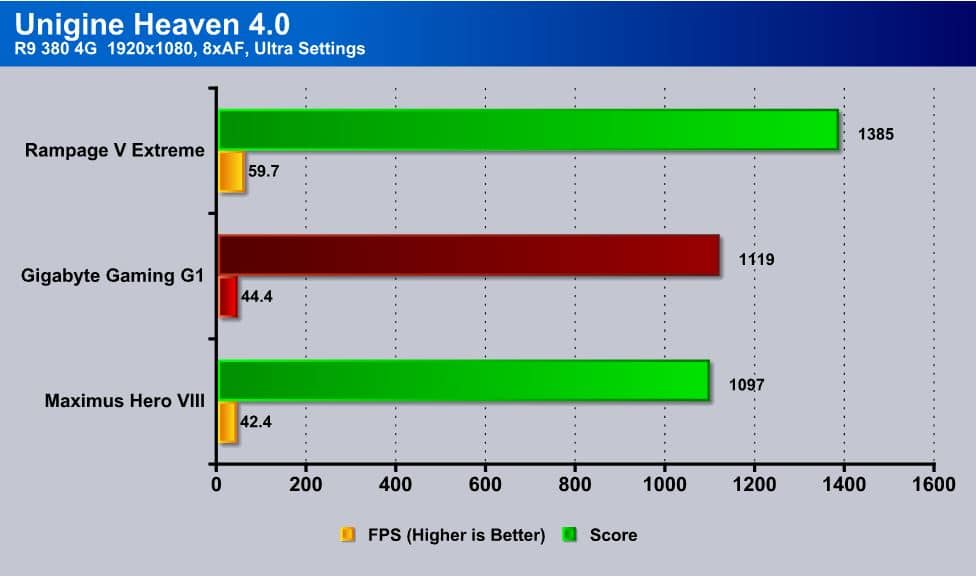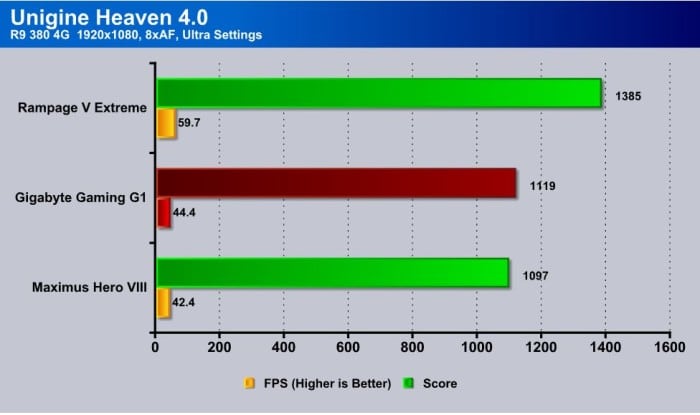 The Gigabyte Z170x sees a 2 FPS lead over the Hero board and something in Unigine Heaven 4.0 likes the 5820K as it has a commanding lead over the two SkyLake chips.
Handbrake
We used a 900K Big Buck Bunny video and trans-coded it from AVI to MP4 three times, we added up those 3 runs and averaged the scores reported here.
Here is a detailed breakdown of HandBrake's features:

Built-in Device Presets—Get started with HandBrake in seconds by choosing a profile optimized for your device, or choose a universal profile for standard or high quality conversions. Simple, easy, fast. For those that want more choice, tweak many basic and advanced options to improve your encodes.
Supported Input Sources—Handbrake can process most common multimedia files and any DVD or Blu-ray sources that do not contain any kind of copy protection.
Outputs:

File Containers—MP4 and MKV
Video Encoders—H.264 (x264), MPEG-4 and MPEG-2 (libav), and Theora (libtheora)
Audio Encoders—AAC, CoreAudio AAC/HE-AAC (OS X Only), MP3, Flac, AC3, or Vorbis/li>
Audio Pass-thru—AC-3, DTS, DTS-HD, AAC and MP3 tracks

Additional features:

Title/ Chapter Selection
Queue up Multiple Encodes
Chapter Markers
Subtitles (VobSub, Closed Captions CEA-608, SSA, SRT)
Constant Quality or Average BitRate Video Encoding
Support for VFR, CFR and VFR
Video Filters—Deinterlacing, Decomb, Detelecine, Deblock, Grayscale, Cropping and Scaling
Live Video Preview
We were a little surprized at the Handbrake results, not that both the Asus and GIGABYTE boards ran close together but that the X99 top the top of the chart by such a slim amount. The speed of the i7 6700k and the high quality motherboards we've been running it on are a daunting combination. It makes one wonder I7 6700k or 5820K as being the better choice for everyday use.
ROG RealBench
RealBench uses real, open source applications to test your PC as it would perform in RL. Although it can be competitive, it's not primarily designed to be more hardcore and time-consuming – it's a benchmark for everyone.
Select the three tests and run the benchmark to get your result. Each test uses different parts of your PC subsystem, so all areas are covered. Share the result here on the forum to compare to others, or, compare to pre/post overclocks and pre/post upgrades to get maximum value from your PC.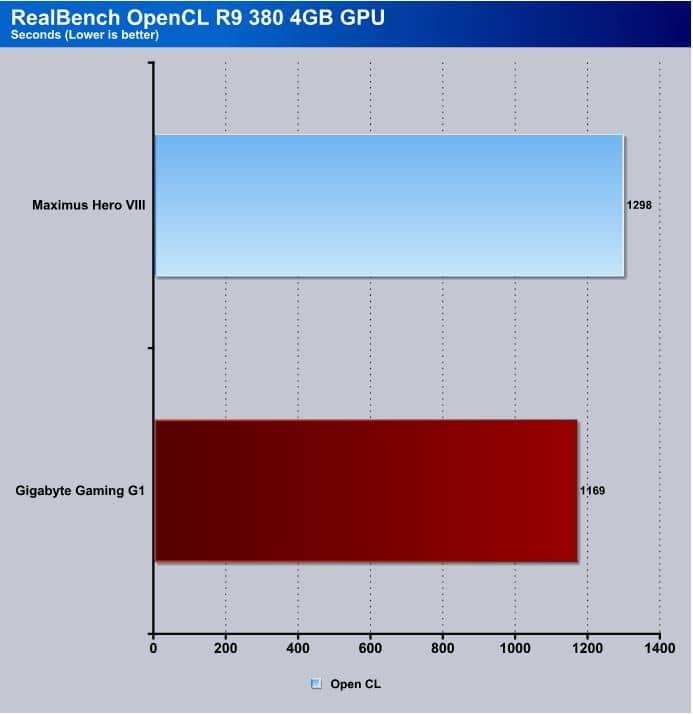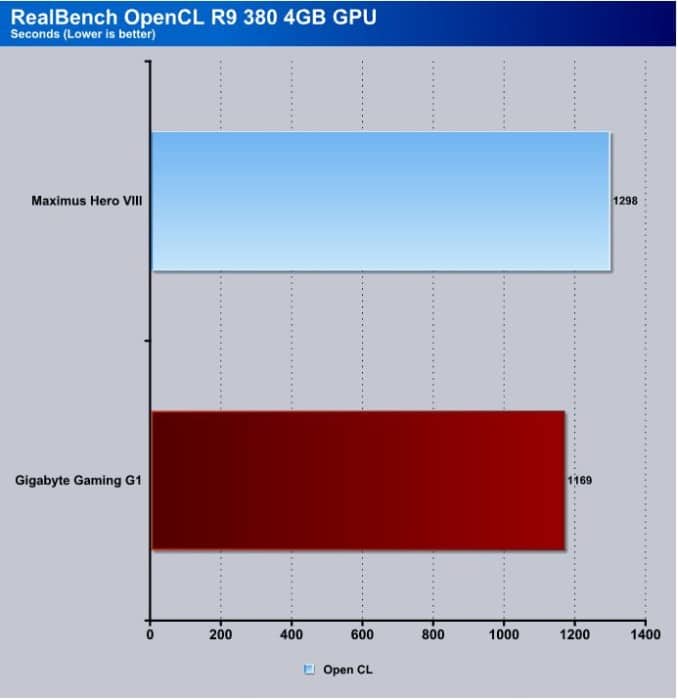 RealBench OpenCL puts the Asus board on top the GIGABYTE Z107x Gaming G1 and it's by about a thousand points in this case.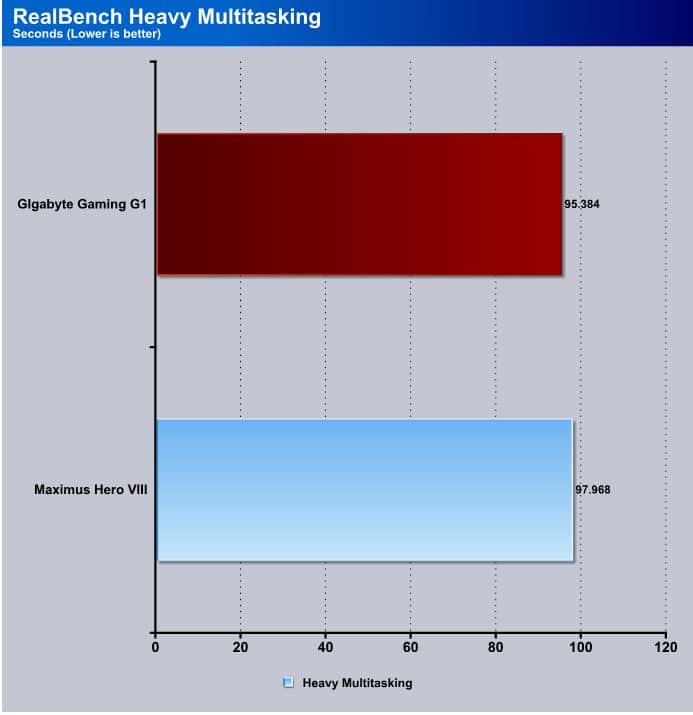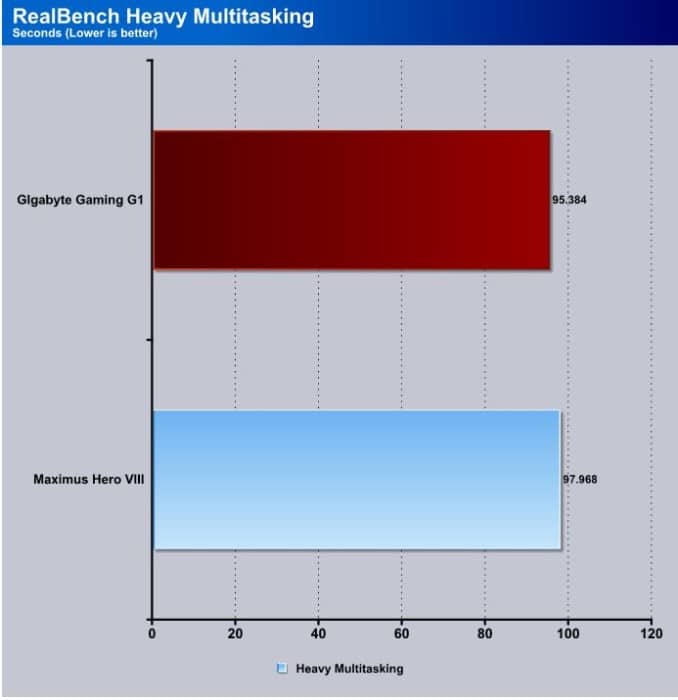 The RealBench Heavy MultiTasking shows the GIGABYTE Z170X Gaming G1 about 1 1/2 seconds ahead of the Hero board and like most of the tests so far the scores are close.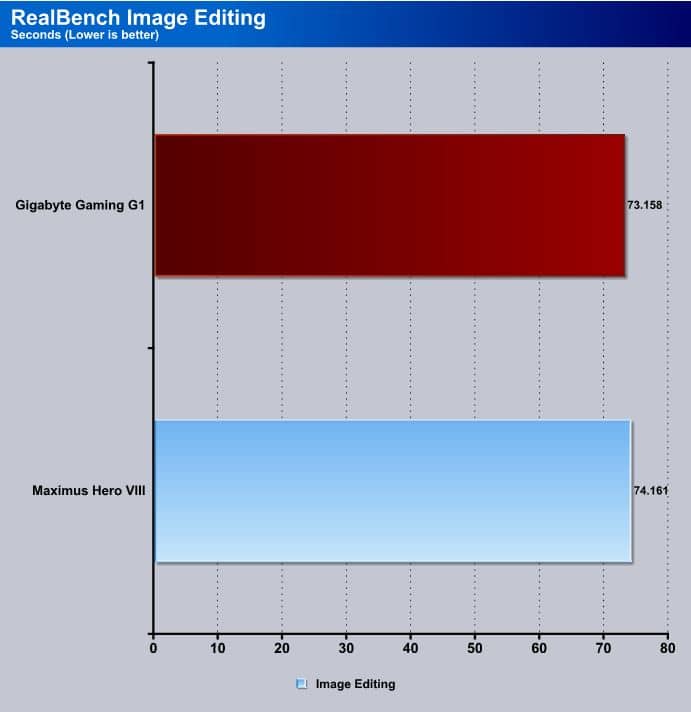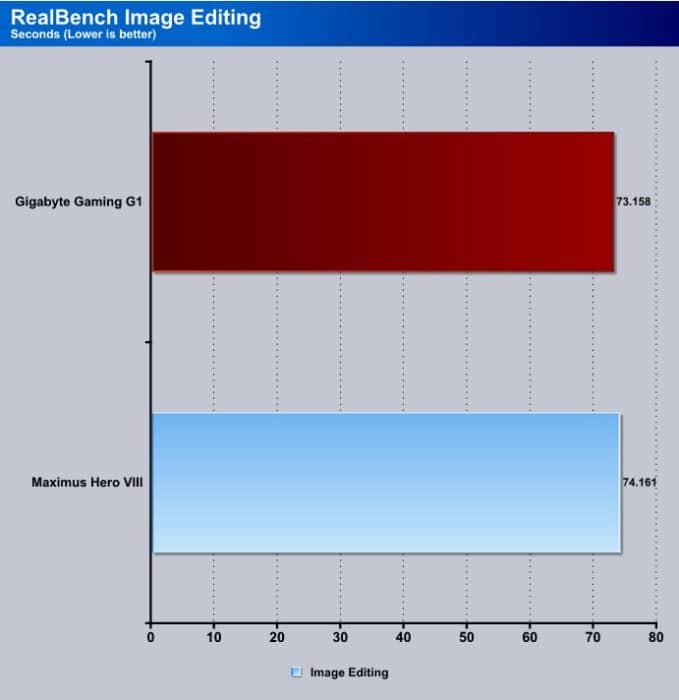 Image editing on RealBench the GIGABYTE Z170x Gaming G1 finished about 1 second faster than the Asus board and as we mentioned earlier having the same parent Intel Z107 chipset we expect similar scores from all the Z107 board given that all other factors are equal.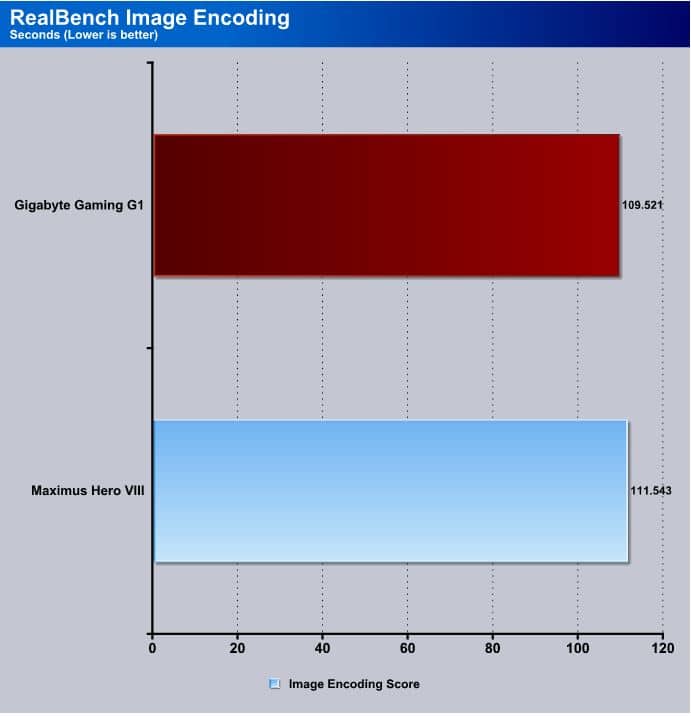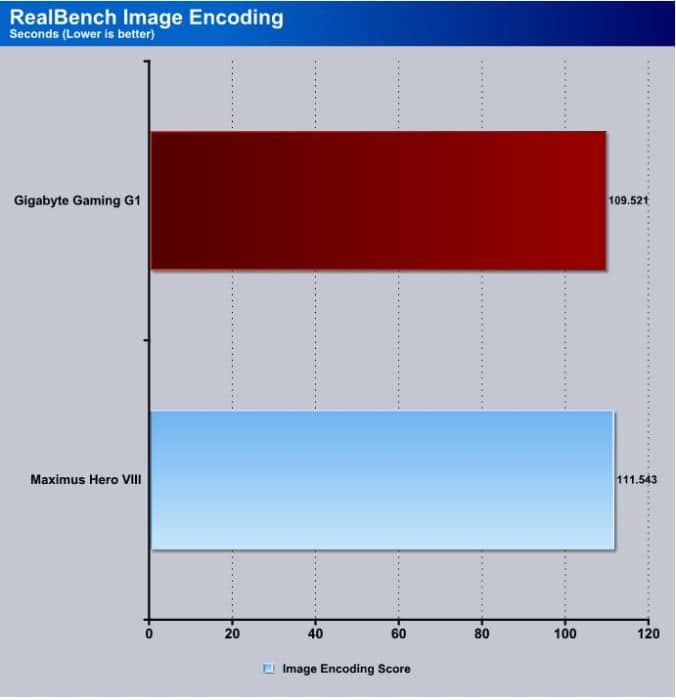 RB Image encoding sees the Gigabyte board a couple of seconds ahead of the Asus Hero but with the small differences we've been seeing it could just be minor variations in the benchmarking.
SiSoft Sandra
Designed as a complex utility for analyzing your computer's software and hardware abilities as well as running various tests to stress out components separately, SiSoftware Sandra Lite is one of the most resourceful apps in its category. It includes numerous options that require significant time to get used to if you're not familiarized with this kind of software. Suffice it to say, it targets power PC users.
When it comes to hardware data, it is possible to get a complete overview on the computer (e.g. processors, memory, graphics), storage adapters and devices (e.g. drive geometry, S.M.A.R.T.), mainboard, chipsets, busses, processors, power management, display and video adapters, GP (General Purpose) processors and accelerators, printers and faxes, and so on. Regarding software, the application shows details pertaining to the logical drives, file types, fonts, media devices, operating system, memory usage, processes, modules, services and drives, and more.
There are multiple types of benchmarks available, such as SIMD processor units, ALU and FPU processors, as well as financial analysis. Any tasks that you frequently perform can be added to a favorites list for quick access, while information from any area can be generated into a report and exported to file for close inspection and safekeeping. Modules that you don't need can be easily deactivated. In addition, it is possible to monitor the environment of your computer.