SilverStone recently sent us their SG12 small form-factor case for review, and along with it came a power supply from their Strider series, as well as a power supply cabling kit. The ST55F-G PSU resides in the Strider Gold S series of power supplies, and provides 550 watts in a compact design. The PP05-E cabling kit helps keep things tidy when it comes to PSU cabling, and is great when paired up with a SilverStone SUGO case and Strider PSU. Does this compact power source have what it takes to provide ample power to a modern SFF build, and does the cabling kit get that power where it needs to go, while at the same time keeping things organized? We think so.
STANDOUT FEATURES
One of the first things you will notice about the ST55F-G is its compact footprint, as SilverStone has taken measures to keep the depth of this PSU to 140mm. You will be hard pressed to find another fully-modular PSU with these small dimensions, outside of the Strider Gold S line. Just those two features would be enough to sell users on, but SilverStone has also achieved an 80 Plus Gold level of efficiency.
Fully-Modular: No longer are unnecessary cables in the way. Only plugging in what is required helps make cable management easier, can improve airflow, and looks great.
Compact Size: With a depth of 140mm, there is plenty of room to route cables. Even in an SFF case like the SG12, we had no problems with running out of room.
80 Plus Gold: Electricity isn't free, or even cheap in some areas. Being more efficient is not only nice on the budget, but on the environment as well.
SPECIFICATIONS
Here we see the full list of specifications for the ST55F-G, courtesy of SilverStone.
Model No.

SST-ST55F-G

Max. DC Output

550W

Power density

305W per liter

Load Range

| | | | | | |
| --- | --- | --- | --- | --- | --- |
| | +3.3V | +5V | +12V | +5VSB | -12V |
| Max.(Amps) | 20A | 20A | 45.9A | 3.0A | 0.3A |
| Peak (Amps) | / | / | / | / | / |
| Min.(Amps) | 0A | 0A | 0A | 0A | 0A |
| Range (%) | ±3% | ±3% | ±3% | ±5% | ±10% |
| Line Reg.(%) | ±1% | ±1% | ±1% | ±1% | ±1% |
| Ripple(mVp-p) | 50mV | 50mV | 120mV | 50mV | 120mV |

Color

Black (lead-free paint)

combined +3.3, +5V

120W

combined +12V

550W

Input Voltage

90V~264V

Input Frequency Range

47Hz ~ 63Hz

PFC

Active PFC.(PF>0.9 at Full Load)

Efficiency

87%~90% at 20%~100% loading

MTBF

100,000 hours

Operating temperature

0°C ~ 40°C

Protection

Over Current Protection
Over Power Protection
Over Voltage Protection
Short Circuit Protection
Under voltage protection
Over Temperature Protection

Connectors

1 x 24 / 20-Pin motherboard connector(550mm)
1 x 8 / 4-Pin EPS / ATX 12V connector(750mm)
2 x 8/6-Pin PCIE connector("550mm '"x2)
8 x SATA connector("600mm / 150mm / 150mm /150mm" x 2)
6 x 4-Pin Peripheral connector("600mm / 150mm / 150mm"x2)
2 x 4-Pin Floppy connector("600mm / 150mm / 150mm / 150mm"x2)

Cooling System

Single 120mm silent fan

Noise Level

18 dBA minimum

Dimension

150 mm (W) x 86 mm (H) x 140 mm (D)

Weight

1.9kg

Form factor
Certification

80 PLUS Gold

Other
CLOSER LOOK
Packaging
Like most retail packaging, the SilverStone Strider ST55F-G's box features a shot of the product on the top, along with a list of various features found on the goodies inside. A large 80 Plus Gold and wattage designation box help to identify the capabilities of the PSU without having to decipher the actual product name. The bottom of the box provides a few more images showing off the 80 Plus Gold specs, as well as the full-modular design and compact dimensions.
ST55F-G – Exterior

Working our way around the sides of the ST55F-G we are presented with your standard specifications sticker that most power supplies feature. This sticker gives us a quick breakdown of the wattages and voltages we can expect from this unit. Continuing our way around the PSU we come across the modular plugs that make installation and cable management a breeze. Since this is a fully-modular power supply, you wont find a large bundle of wires coming out of the body like you see on most other modular power supplies. SilverStone includes two dust covers for the plugs that are not in use, but it would have been nice to have a few more included for those builds that do not utilize many of the available plugs.
Out back things are quite simple with a mesh grille panel along with the power cord connector and On/Off switch. This perforated panel allows the 120mm fan to exhaust as much heat from the unit as needed, depending on the load. Speaking of the 120mm fan, we can get a good look at it when the unit is flipped over. SilverStone chose the ADDA AD1212MS-A71GL fan which is very quiet at low loads, only ramping up in speed when a significant load was placed on the unit.
Cabling and Accessories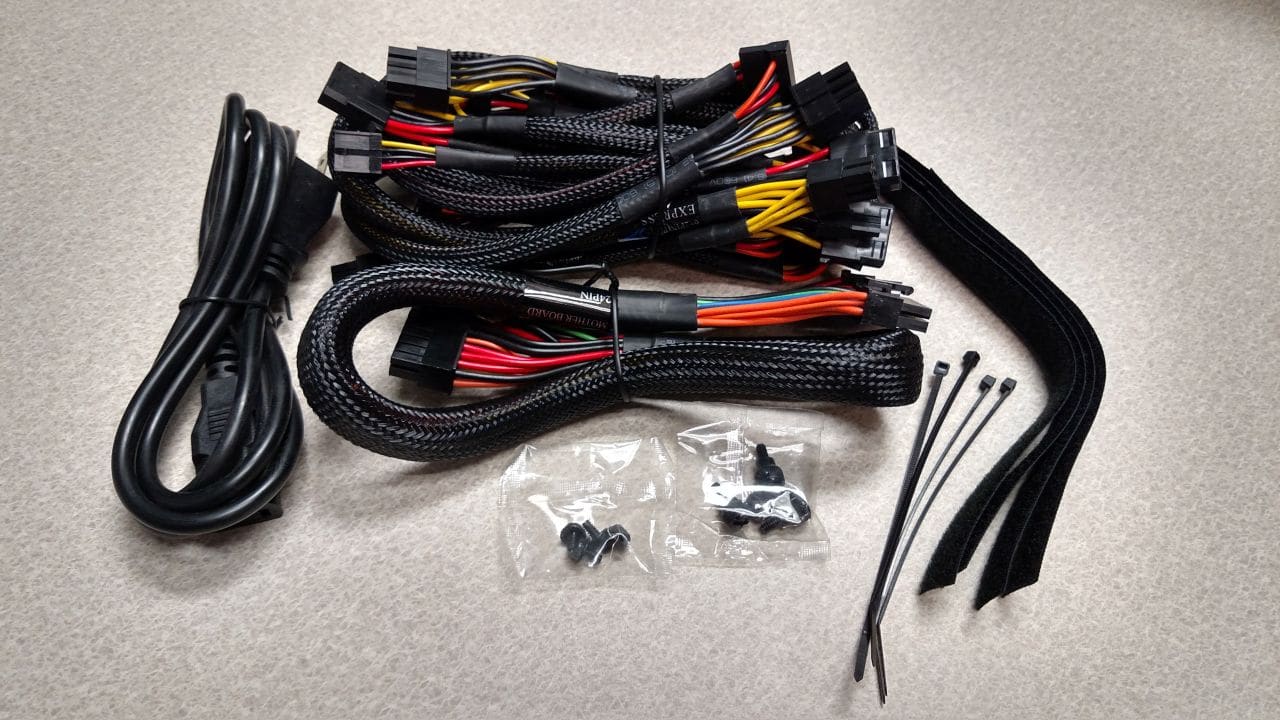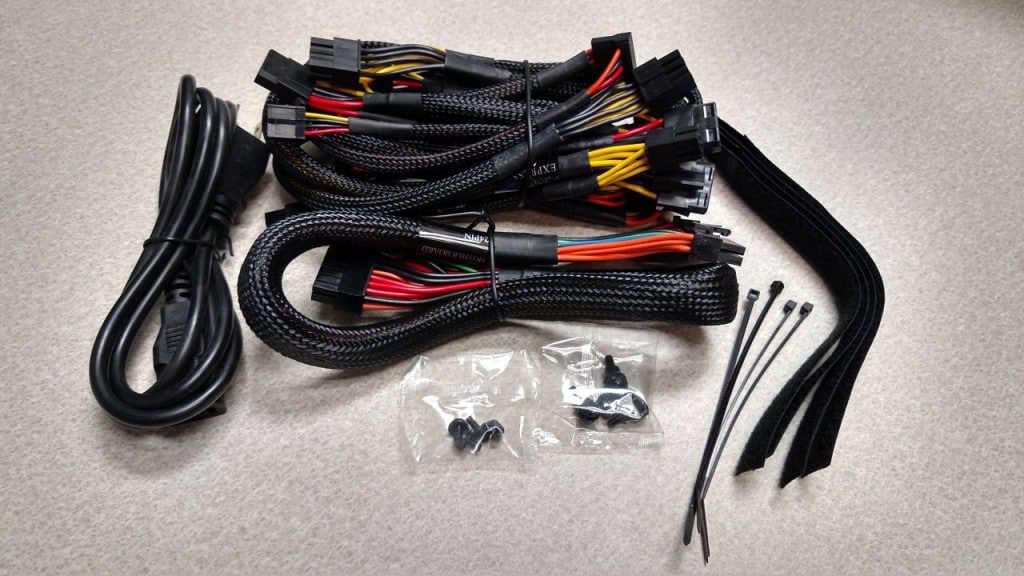 Above we see the entire bundle of accessories and cables that accompany the ST55F-G. Besides the modular cables there are some standard mounting screws along with a set of thumb screws. A few zip-ties and hook and loop straps are also provided to keep your cabling tidy.
Yuck! That's our opinion of the cables that are included with the ST55F-G. While SilverStone did cover each cord with a woven plastic sleeve, the protruding loose cables at each end of the cords just feels cheap to us. Each cord has at least an inch of loose cabling sticking out from the mesh loom that helps to keep the cabling in your case in control. In theory this is a great idea, but in reality, it could have been produced a bit better.
Thankfully for us, SilverStone was kind enough to send us their PP05-E cabling kit.
PP05-E Cabling Kit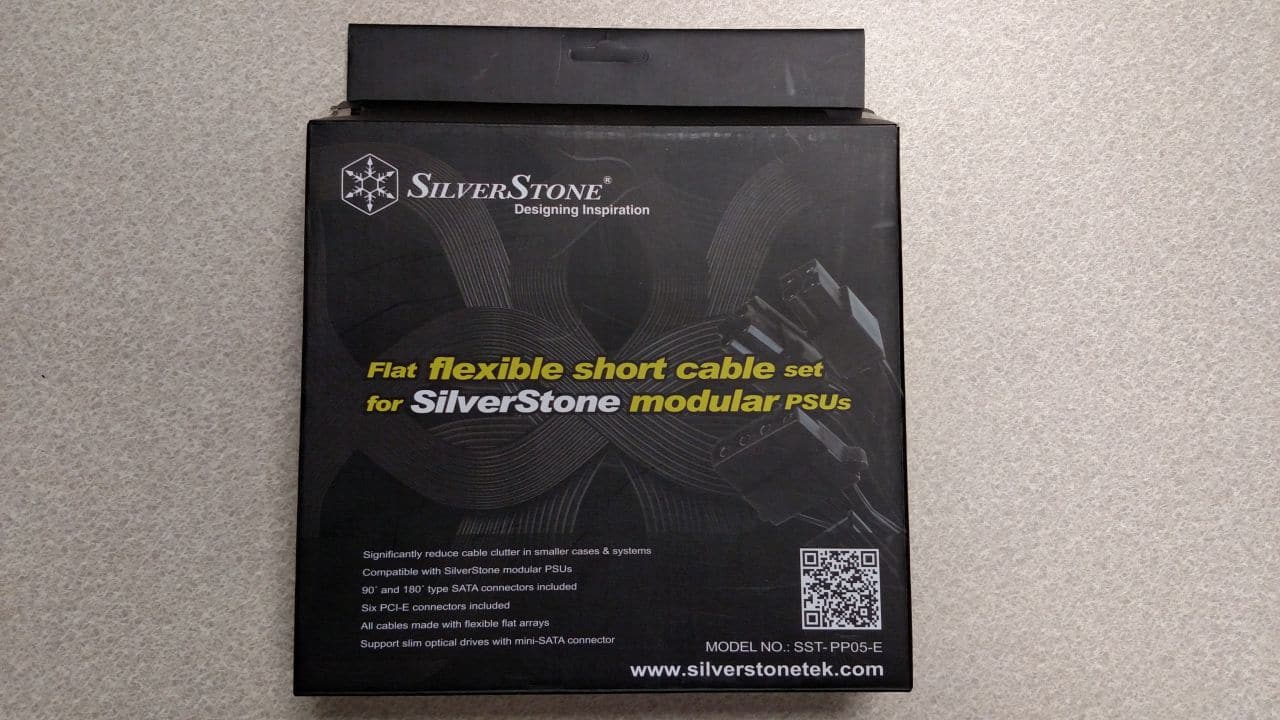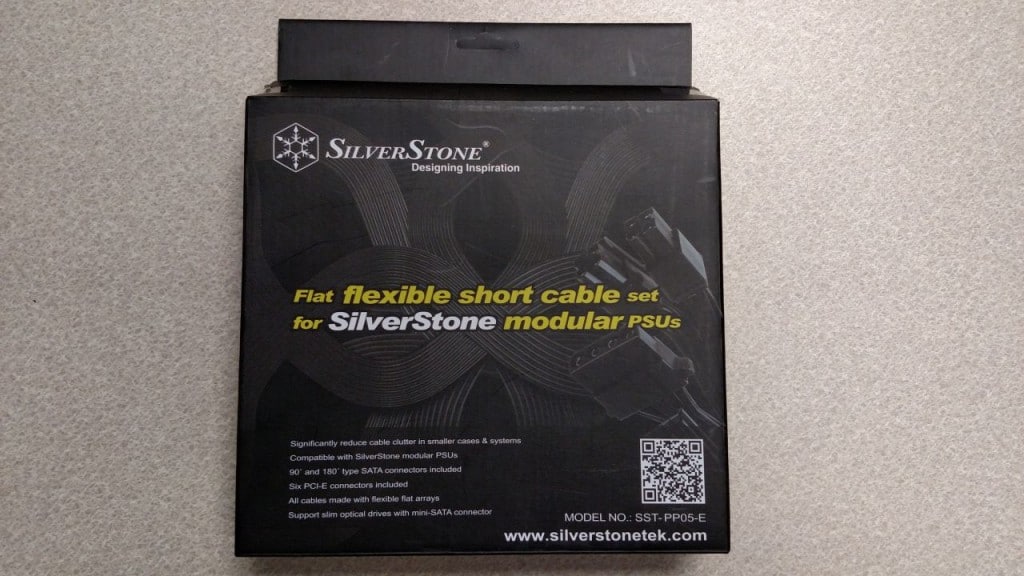 The PP05-E cabling kit is fully compatible with all of SilverStone's current modular PSUs which really helps to keep things simple when looking to upgrade your cabling. The PP05-E is intended to be used in small form-factor builds, as the cables are actually quite a bit shorter than the included cables of most of SilverStone's PSUs. Each cable features a flat, ribbon-style design and is very flexible. This high level of flexibility is really nice to have when working inside on a small form-factor build, where extra room for cable routing is hard to come by, and tight corners are abundant.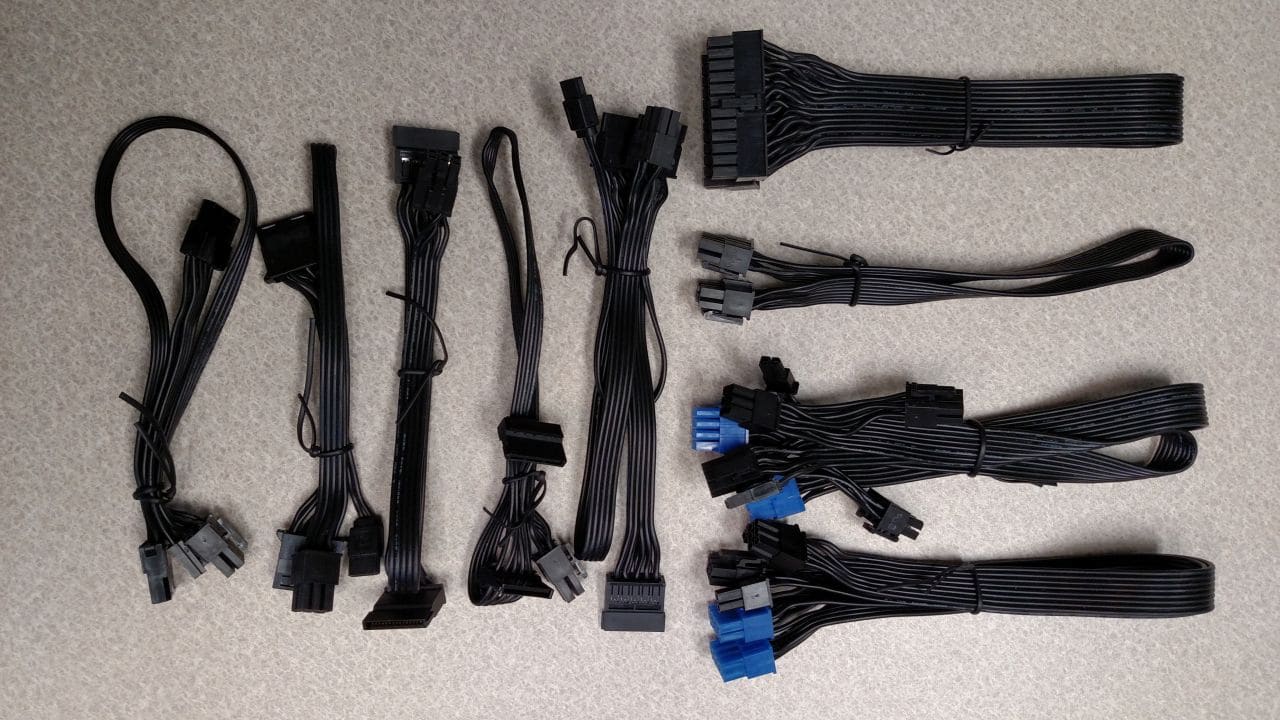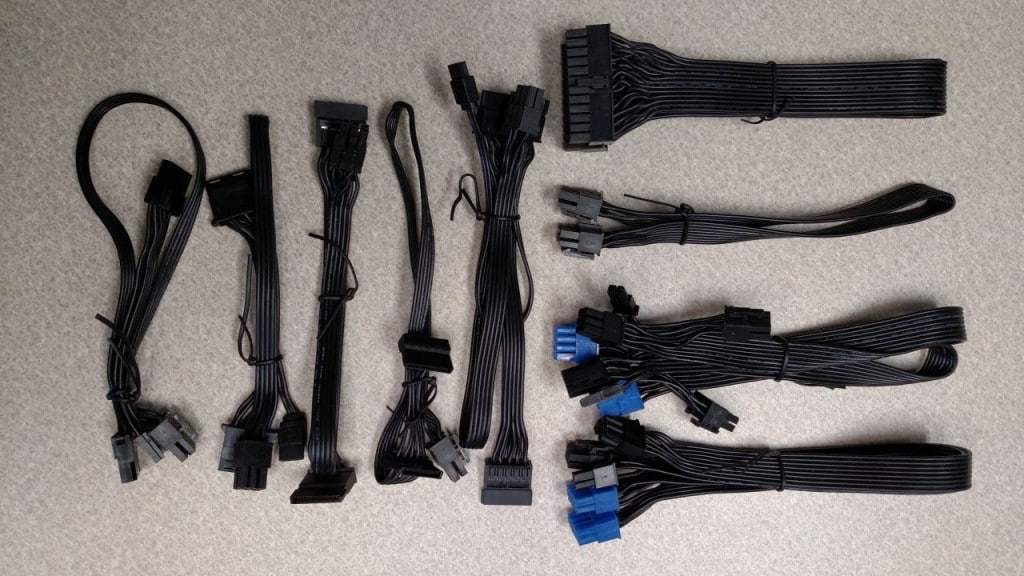 Here we get a good look at the included cables of the PP05-E kit. Included in the kit are the following cables:
1 x 20+4pin ATX connector (350mm)
1 x EPS/ATX12V 8pin(4+4) connector (350mm)
2 x PCI-E 8pin(6+2) connector (350mm)
2x PCI-E 8pin(6+2)+PCIE 6Pin Connector (350+50mm)
1 x two (2) SATA 90˚connectors (350+50mm)
1 x two (2) SATA 180˚connectors (300+150mm)
1 x two (2) 4pin +1 x Slimline SATA connectors (300+100+100mm)
1 x two (2) 4pin + floppy connectors (350+100+100mm)
1 x three (3) SATA 180˚ +1 x Slimline SATA connectors (300+150+150+150mm)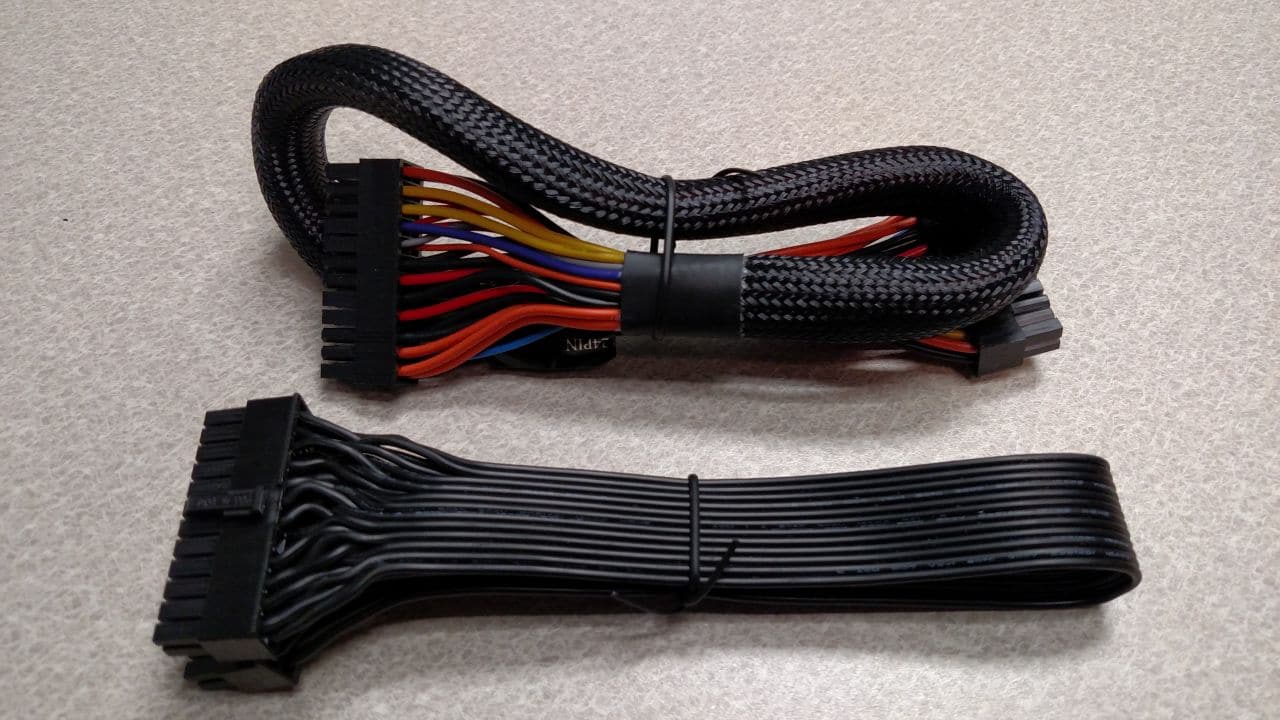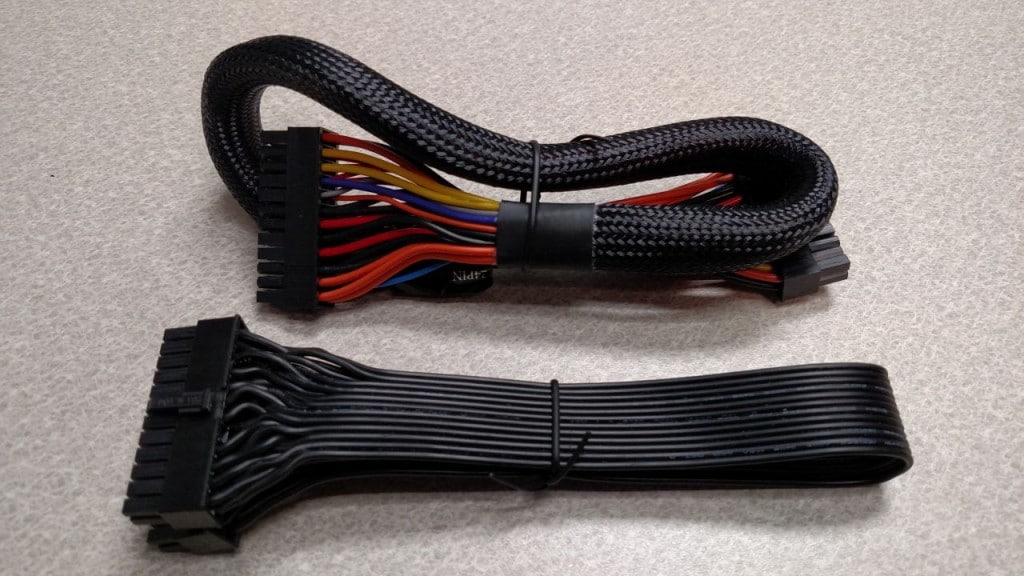 Comparing the 20+4-pin ATX connector that is included with the ST55F-G to the one that comes with the PP05-E really shows how much cleaner the custom kit is. Not only does the PP05-E kit reduce the excess cabling in your case by shortening cable lengths, it also provides added flexibility to the cabling to allow for an overall better installation experience.
INSTALLATION AND TESTING
Our latest small form-factor build resides in our recently reviewed SilverStone SG12 case. The SG12 and the ST55F-G really go hand-in-hand when put together for a SFF build. The use of the PP05-E cabling kit makes things even easier.
System Build
Test Setup
Case
SilverStone SG12
CPU
Intel Core i7 4790K
Motherboard
ASUS Z97M-PLUS
Ram
G.Skill Ares DDR3 1866, 16GB
CPU Cooler
SilverStone NT06-PRO
Storage Drives

Crucial MX200 250GB SSD
Seagate ST2000DL003 2TB HDD

Optical
None
GPU
ASUS GTX970-MOC-4GD5
Case Fans

120mm included fan
80mm SilverStone FQ81 80mm

PSU
SilverStone SST-ST55F-G
Installation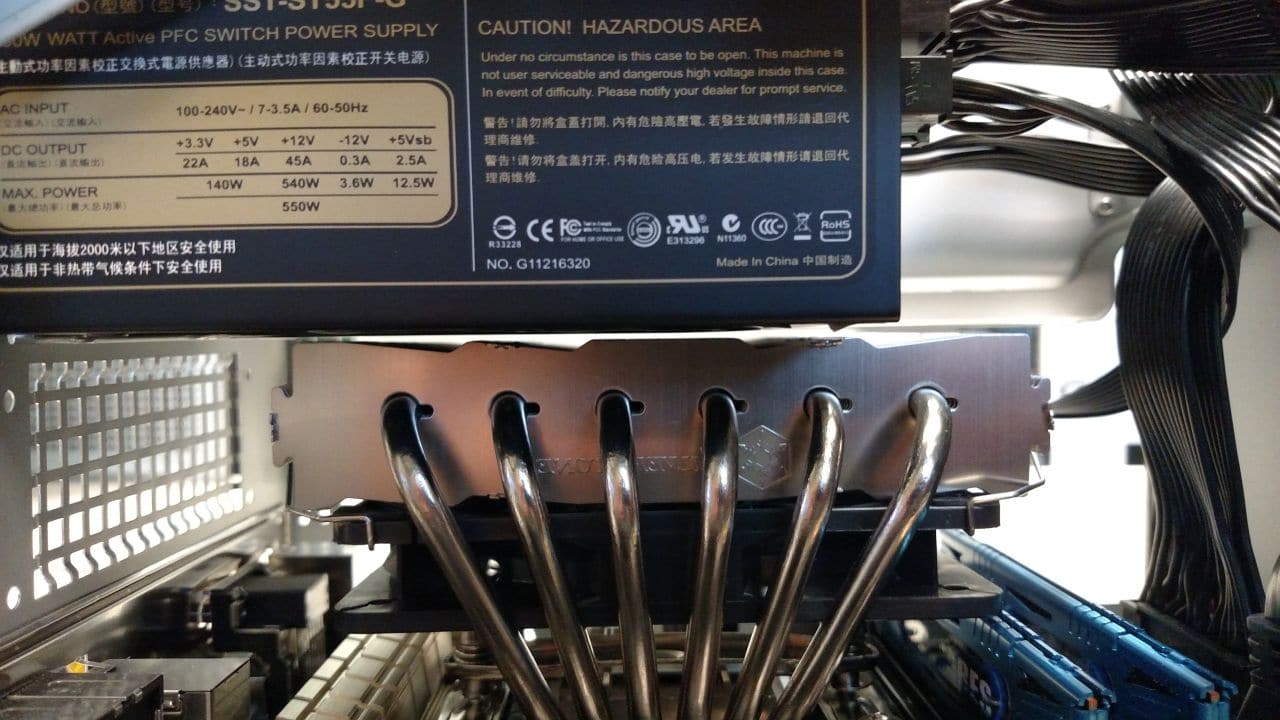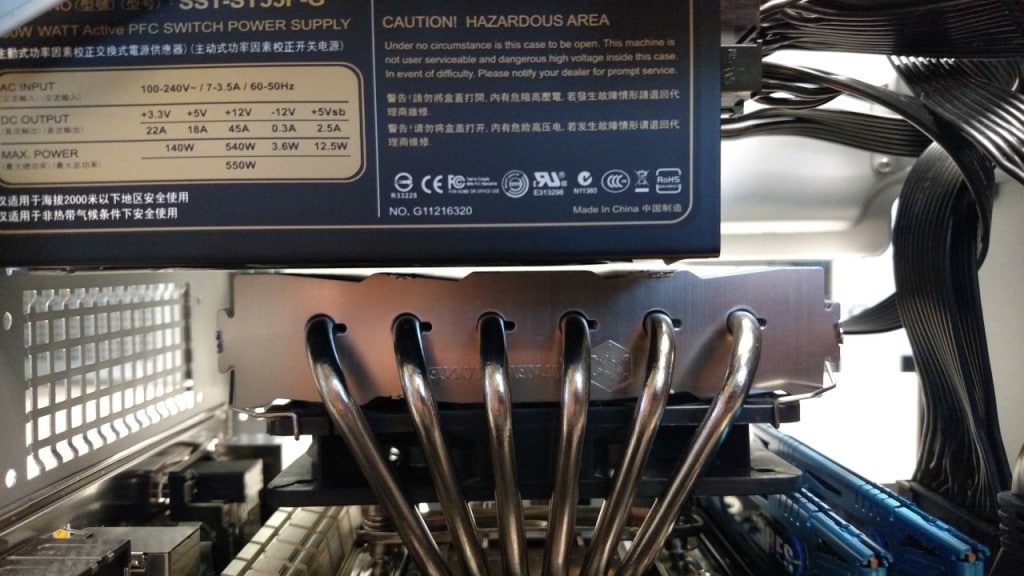 Being a small form-factor case that supports both Mini-ITX and Micro-ATX form-factors, the SG12 has limited options for what will fit inside. While it will support a full-sized ATX power supply, using the ST55F-G gave us some extra working room, thanks to its 140mm depth. Once our motherboard was installed along with the CPU cooler (SilverStone NT06-PRO) and RAM, we were able to place the ST55F-G into place, with very little room between the top of the CPU cooler and the bottom of the PSU. The NT06-PRO is designed to exhaust heat from the CPU up and into the power supply, so the ST55F-G will be getting some extra heat in our build. This did lead to some extra noise from the fan, as it was pulling double duty as both a power supply and the main case exhaust.
Cabling was a breeze thanks to the PP05-E kit that SilverStone provided. As you can see above, there was plenty of room between our SSD and the front of the ST55F-G. Our build does not include an optical drive, but we did a test fit of one to see how tight the build might be. Depending on the ODD used, there should still be plenty of room for cabling and connections when using this power supply in the SG12.
Testing
During our time with the ST55F-G, we have been very happy with its performance. While our build does feature a pretty beefy CPU, our GPU is a bit more moderate when it comes to power consumption. According to the handy Wattage Breakdown tool over at PCPartPicker, our components will utilize between 90 and 350 watts at idle and load, respectively. We have seen a reading of 55 watts at the wall when idling, and load readings not far off from the estimates from PCPartPicker.
When idling or under a small load, the ST55F-G is nearly silent. One drawback of many SFF systems is that they tend to produce a little bit more noise and heat, and this is no different for the ST55F-G when installed in the SG12. This extra heat that the ST55F-G is dealing with causes the 120mm fan to speed up when under a high load during tasks like playing Witcher 3, when both the CPU and GPU are working hard. Getting that heat out of the PSU becomes audible over the rest of the components in the case, but not overly loud. This noise is quickly reduced once the load is removed and the fan spins down.
Overall, we have had no issues using the ST55F-G in our SFF build, and using it in a larger ATX build would probably allow it to be even more noise friendly, as it would not be forced to work double duty.
CONCLUSION
Small form-factor builds have really taken off as the latest "it" build in the past few years. Trying to cram a ton of computing horsepower into a small area is just another challenge that many PC builders have accepted as their next conquest. Thankfully, vendors like SilverStone have taken note of this, and have even led the charge. SilverStone's ST55F-G power supply provides up to 550 watts of power in a 140mm deep PSU. Adding onto that already great start is the fact that this unit is fully modular, allowing you to connect only the needed cables for your build. While the included modular cables will work just fine, they are a bit unruly in a SFF build due to their length and stiffness.
Fortunately for us, SilverStone included their PP05-E cabling kit for review as well. This kit features shorter, more flexible cables that really help out in a SFF build. Reducing the amount of extra cabling in a case really improves both installation tasks and air flow within the case. This is almost a "must have" accessory for the ST55F-G.
SilverStone's ST55F-G is a great power supply that provides efficient power with minimal noise, all in a fully modular and compact offering. This is a definite contender when considering a new PSU for a SFF build.
ST55F-G Pros
ST55F-G Cons

Fully Modular
80 Plus Gold Rating
140mm Depth Helps With Small Form-Factor Builds

Warmer Temperatures May Be Experienced; Common With SFF Builds
Included Cables Could Be Higher Quality
PP05-E Pros
PP05-E Cons

Shortened Cables Help In SFF Builds
Flat Cables Are Flexible And Help Increase Airflow