Final Thoughts & Conclusion
The Cooler Master Silencio 625S with it's sound dampening material and Silencio FP 120mm fans was indeed silent with a tower

cooler using a moderately quiet fan designed more for air pressure than silent operation. With a dual radiator SilverStone TD02-E and open panels, we did hear a slight fan noise during start-up and heavy load periods. The sound dampening material is effective but forms a barrier against thermal dissipation. When buttoned up with all sound dampening panels in place, the Silencio has limited exhaust airflow. When the top panel is in place, the only exhaust is through the rear-mounted Silencio FP 120 fan.
Being designed for silence and having removable panels for exhausting heat, you can adjust the thermal properties with the noise level you desire. With the panels removed, in order to achieve better thermal properties, you need to choose your additional case fans carefully and specifically for quiet operation if you expect complete silence.
We like the wiring amenities of the Silencio and wiring it reasonably was fairly easy using our flat cable SilverStone Silver Strider 750. Using a power supply without flat cables and routing all the wiring behind the rear panel of the chassis would be quite a challenge. Case designers and engineers need to get off the AutoCAD bench and onto the testing table and try to wire these chassis with normal, non-modular, partially modular and fully modular power supplies. In 90 percent of cases they will find that they have not allowed adequate cabling space behind the motherboard tray. The Silencio 625S is no exception here, but with flat wires we didn't have a problem. With round power supply wires we would have had a challenge wiring the Silencio 625S well. There are few chassis that do allow space behind the motherboard tray, so we don't know how much to alter the score for the Silencio based on that alone.
We had problems with mounting 2.5 inch 9.5mm drives in the tool-less drive bays.The posts that hold the drives in place required to much force to insert so we mounted with screws making it a tooled drive bay not a tool-less drive bay. We had three skilled people try the drive bay setup and most loved the adjustable nature of the design; none appreciated the posts designed to go into the drive without tools. All the volunteer testers didn't seem to mind using screws on the drives instead.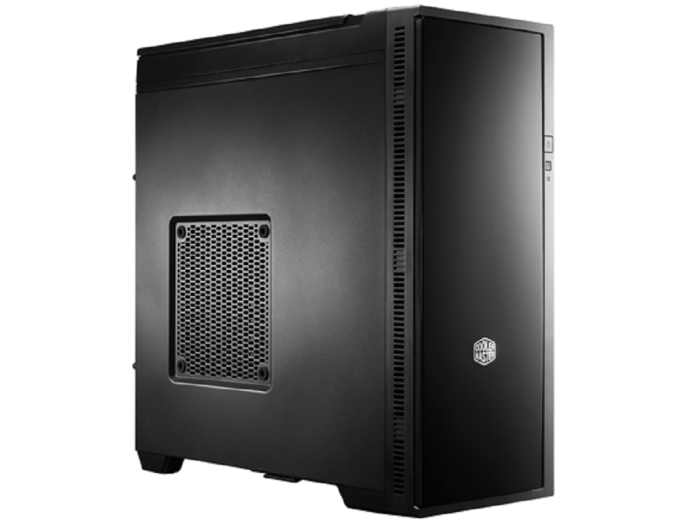 The Bear Facts: The Cooler Master Silencio 625S has its quirks, but it is a silent chassis that can be tweaked for silence vs cooling needs and that makes it somewhat of a rare creature. Unfortunately, that rare creature has its DNA flaws but it's evolution shows promise. For silence and wiring amenities in a mid tower case, the Silencio 625S is a good choice but you will have to live with its quirks and possibly forgo tool-less drive installs.
Pros
Cons

Silent operation attainable
Wiring amenities are second to none
Up to 5 180mm fans
Drive bays galore
Sound & thermal qualities adjustable
Dual radiator mounts in two places

Sound dampening material hinders thermal release
HD Tool-Less drive bays required tools
Air flow is restricted when all panels are in place