Computer cases used to be hit or miss and you just had to buy a chassis and mod it for what you wanted. Now you can buy super towers, modular chassis systems, water cooling behemoth chassis and silent operation chassis like the Cooler Master Silencio 625S. The list of types of chassis you can buy grows with each year, thanks to the latest fads. Outside of being just plain beautiful, a silent chassis is probably one of the most sought after.
A quiet chassis has a lot of uses like shared dorm rooms, small apartments with people working different schedules or just a HTPC to keep distracting noise from interfering with your entertainment hours. Cooler Master's latest offering in the quiet chassis realm is the  Silencio 625S mid tower. Silencio is Spanish for silent, so the name implies utter silence and that should be the standard we hold to a case that bears the name Silencio.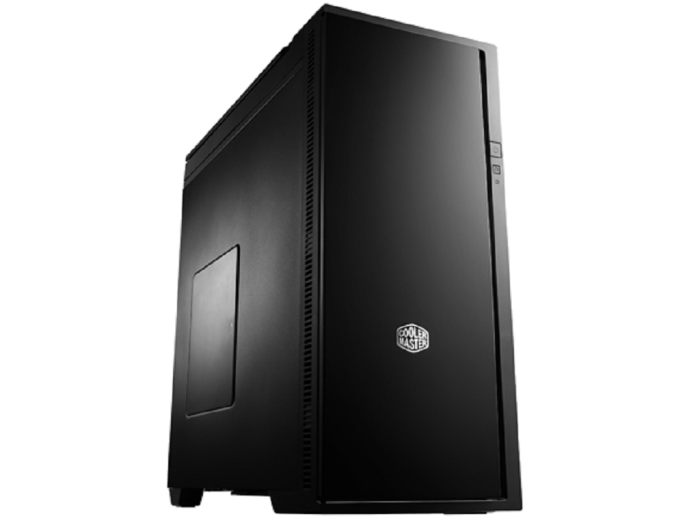 Computer cases seem to come in two colors these days, black and not black, with black being the largest portion on the color palette.  The Silencio is no exception to the black wave of computer cases, and matte black is the order of the day. The Silencio is promoted as supremely silent with sound canceling material and three 120mm "Silencio FP 120" fans for absolute silence and excellent airflow.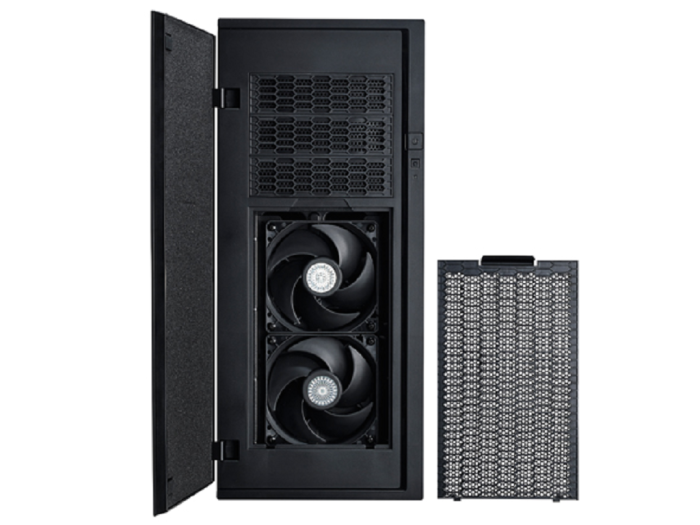 Two of the 120mm "Silencio FP 120" fans are on the front behind the door and you can mount a dual radiator water cooling system on the front, but we wouldn't suggest that unless you plan on leaving the door open. There is of course a removable filter that covers the fans, and you can just run it under a faucet to clean it. If you are in a colder climate, we would suggest a hair dryer on low to dry and prevent any possibility of mold after washing the filter.
You'll see them in a picture or two but the right side of the case has vent holes to let air be drawn into the fans when the door is closed. The door itself is covered in a noise-reducing material which seems to have a double-edged quality to it. It does dampen sound but imagine glueing a thin wool blanket with a very micro-fine weave inside all the major exterior surfaces of a chassis. It's going to dampen sound but it will without a doubt effect the thermal properties of the chassis negatively. Sure there will be air flow from a minimum of four fans if you use a single fan CPU cooler, but the heat dissipation from the metal of the chassis is hampered by the noise dampening material.
Having chosen a silent chassis, you should be choosing it for its silence not its excellent thermal properties. We expect the thermal properties of the chassis to be OK for most applications, but don't count on a 4.6GHz 24/7 overclock unless you use a major cooling solution on the CPU. As stated, it's designed for silence, not maximum overclocking, so we see it's market position as more of a silent desktop for gaming, a quiet work environment or a larger HTPC chassis.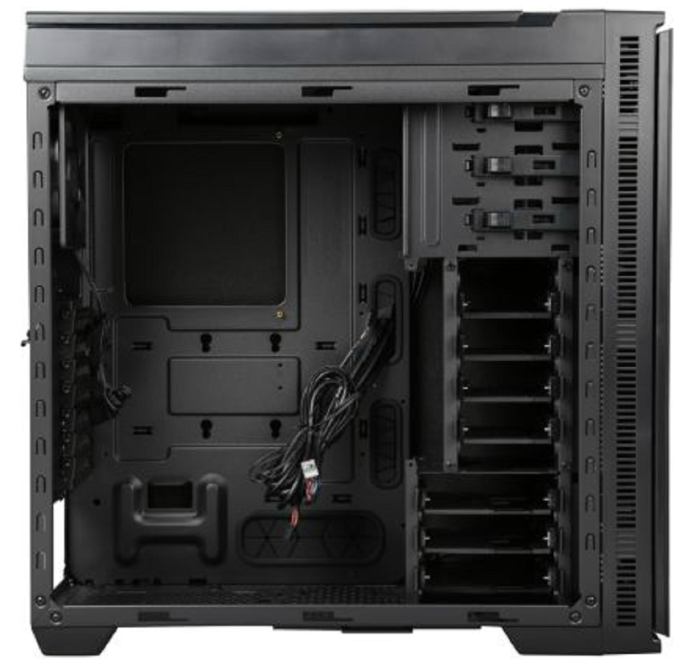 Here's a side view of the Silencio with the side-panel removed; notice the air vent slits on the front right. These slits provide an intake air source for the two front-mounted fans. The third 120mm "Silencio FP 120" fan is a rear-mount exhaust fan. All the drive bays are tool-less drive bays. We had a problem with the 2.5 inch solid state drive bays. Quite a large one actually. We first tried a Crucial MX 100 standard 9.5mm SSD and the metal bars that go into the screw holes of the SSD would require some hammering to make them fit. We refused to do that. Hammering on electronic components is generally frowned on in the Bjorn3D lab; unless of course, the product has an apple on the back with a bite taken out, in which case, hammer away.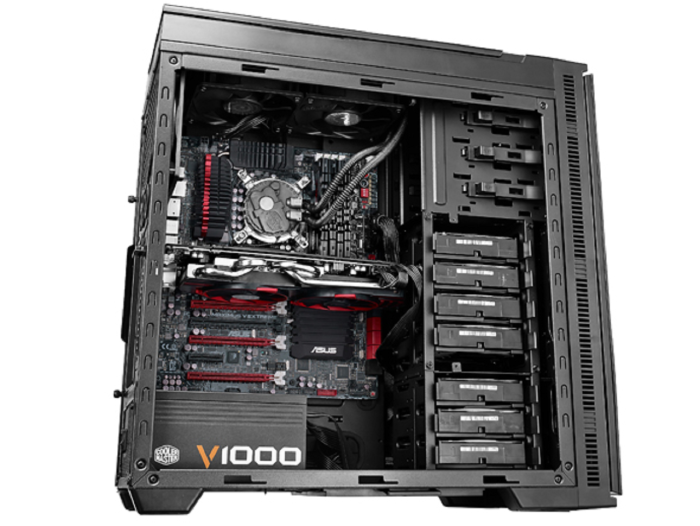 We'll be going back to the previous side shot in just a moment but without this image the next section wouldn't carry nearly as much impact. Notice here that you see minimal cabling visible. While we are here, the Silencio 625S supports up to 10 SSDs or 9 HDDs with the HDD/SSD combo cage and the 5.25"-to-3.5" adapter. Now back to our full open side image for a moment.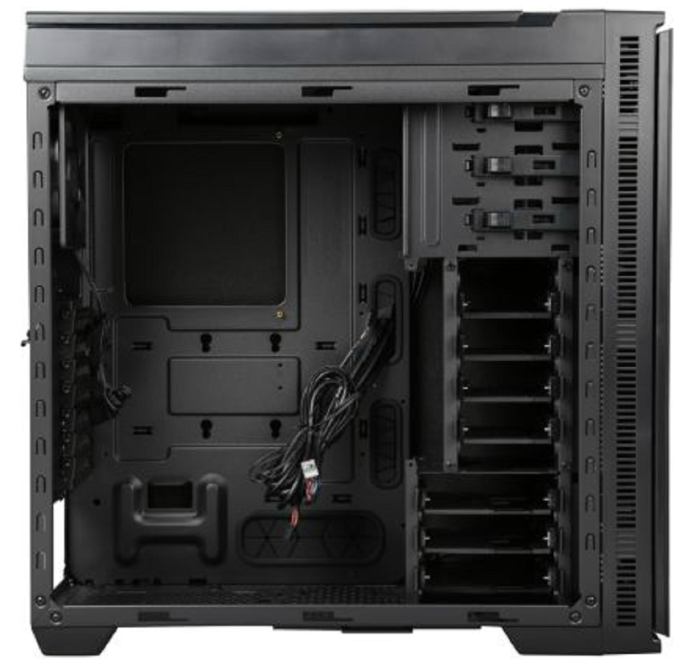 On to the smart portion of the design of the Silencio 625S. There is plenty of great, well thought out engineering here. The 2.5 inch SSD bays can move out to become full-sized drive bays if you want 9 full-sized 3.5 inch hard drives. If you want 10 SSDs, you can do that too. The case also has three optical drive bays. Many systems forego optical drives these days and depend on flash storage to replace optical. We tend to use a Blu-ray player/DVD Burner and a DVD burner. Some games and software are appearing on Blu-ray, and it's handy for hard copying Blu-ray discs, but optical are hard to beat when it comes to installing motherboard driver disks. Approximately 90% of all end users install the motherboard drivers from disk and if auto updates are set by that install disk they just happen by accident and the end-user never knows. Very few initial users download every driver and install from those initially, so optical is handy for us to evaluate the average end user's experience.
Take note of the four rubber grommets to run your wiring. Those are key to getting a wireless look in your chassis, which offers better airflow and a more streamlined look. The wiring amenities on the Silencio should be the model for all chassis to aspire to and improve towards. Depending on the motherboard and manufacturer, as well as processor choice, the large open backing for the back of the CPU is a much appreciated addition. Many an evening has been spent on wrenching the motherboard out of the system to install a different cooling solution. The open CPU back plate eliminates a lot of that CPU cooler changing hassle.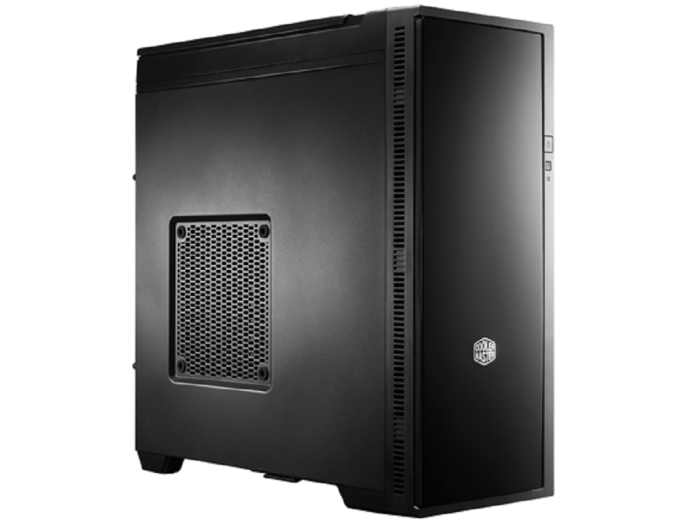 This is the motherboard side of the Silencio 625S, and by that we mean the side you open to get at the motherboard and there's room for high-end CPU coolers up to 168mm in height. Cooler Master realizes that there may be a need for greater cooling, and the side shown here has a bolted-on, removable panel to allow better airflow. Keep in mind opening the panels allows more noise to escape, so it's a trade-off; you lose some silence for better cooling. The 120mm "Silencio FP 120" fans only generate 11dBA (plus or minus 1) so those aren't a really big noise issue. Since we use a EVGA GTX 960 specially engineered for silent operation, we have no problem there. We will get to another minor problem in a few images.