Testing
Testing chassis is pretty easy in concept, but actually labor intensive and hard when it comes to cabling. Cabling is entirely dependent on what you throw into your chassis, how much time you spend at it, and who is doing the wiring. Therein lies the trap. When it comes to choosing how to review a chassis, you can do a dry review and just describe the chassis, give specifications and show images of the chassis. The other path requires you to build into the chassis. The second option is what we prefer, unless we are being crushed by the never-ending pile of product. There has to be a compromise in time, labor and building when it comes to reviewing, which is indeed the case (pun) here. We spent about 6 hours building and wiring the Silencio 625S, which is a good amount of time when you only have two spare hours to do it. The cabling amenities in the Silencio are plentiful, but you have to take into consideration that we don't have the resources to build, pull the motherboard, rewire and tweak the design of the wiring.
Test Rig
Test Rig
"Hexzilla"
Case Type
Cooler Master Silencio 625S
CPU
Intel Haswell-E 5820k 3.3GHz
Motherboard
Asus X99 Deluxe
Ram
G.Skill RipJaws 4 2600 MHz (15 – 15 -15)
CPU Cooler
Noctua NH-D14 (W/2011v3 Hold down kit)
SilverStone Tundra TD02-E
Hard Drives
Kingston M.2. SM2280S3 120GB M.2. SSD
2 x Crucial MX 100 SSD
1 x Two TB Seagate Platter Storage Drive
Optical
Asus Quiet Trac BR
Liteon DVD Burner
GPU
EVGA GTX 960 SSC
Case Fans
3 X Silencio 120 9 dBA (+ – 1)
Docking Stations
None
Testing PSU
SilverStone Silver Strider 750W
Legacy
None
Mouse
Razer Lachesis
Keyboard
Razer BlackWidow Chroma
Any Attempt Copy This System
Configuration May Lead to Bankruptcy
Results
We stuffed a lot of gear into the Silencio 625S, including two optical drives, two SSDs and a two terabyte storage drive. For cooling we went with the Noctua NH D14, but later swapped out to the SilverStone TD02-E dual-radiator cooler.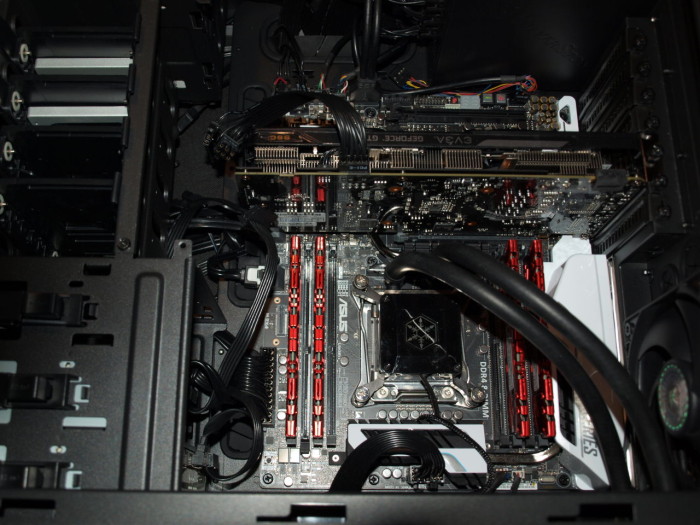 The worst part of our cabling, and we take the blame for this ourselves, is the optical drive setup. Some systems don't use optical drives and just use a flash drive to load software. That's not expedient reviewing, when reviewing motherboards and video cards and for that matter any product that comes with a driver disk we load from the factory disk. We do that to experience what the average end-user will experience to better report on the product in its entirety. Short of including a specially designed power cord for optical or doing a docking port type connector, manufacturers can't design around optical drives. The fault lies with the optional drives design which is meant for older, completely closed chassis.
As per usual, we have a CPU power cord, a mainboard 20 + 4, and a GPU power cord. The wiring amenities on the Cooler Master Silencio 625S are excellent: the need to replace a motherboard every week or two with a new review model require us to leave a little slack in the cords to migrate onto the next board for testing. Given those constraints, the Silencio passes our wiring amenity requirements.
We ran our decibel meter on the Silencio 625S with both the Noctua Dual Tower cooler and the SilverStone dual radiator water cooling kit. The decibel meter will only detect sounds 30dBA and up, the Silencio 625S never hit that level of noise so it wouldn't register on the decibel meter.
With the Noctua Dual Tower cooler and the chassis completely buttoned up with all panels in place, it was indeed completely silent. With a top mounted radiator cooling system with two quiet fans, we could hear the fans during start-up and during heavy CPU load, but that was with the sound dampening panel removed to allow airflow for the radiator.
With the radiator front mounted, the fans on the radiator were barely audible, even during high load operations. Modern Haswell-E systems with no BIOS preset will fire the fans at maximum during boot and extremely heavy overclocked load periods. Running a highly overclocked 5820K at 4.5GHz on a dual radiator system gets pretty toasty. We dropped the OC to 4.2 and again the Silencio was completely silent.