CoolerMaster G650M 650W PSU, A Closer Look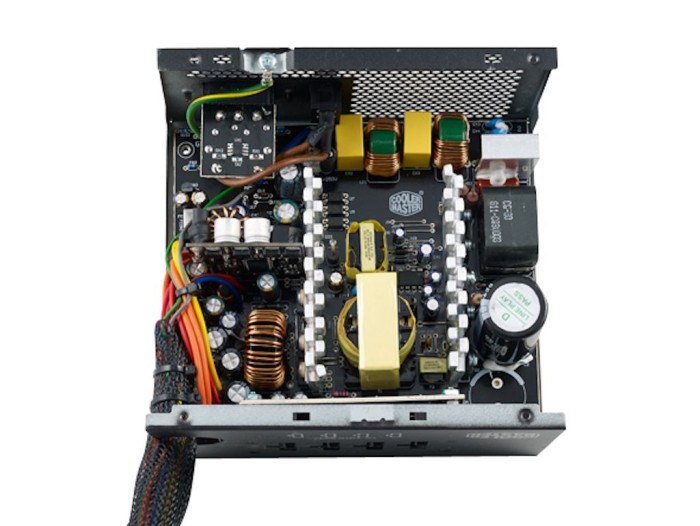 Since CoolerMaster is pushing the 3D design here's a shot of the interior of the G650M. As described there is a decided lack of wiring running willy nilly through the power supply and we'll test the thermal output a little later. We borrowed CoolerMasters Graphic to explain some of the features a little better.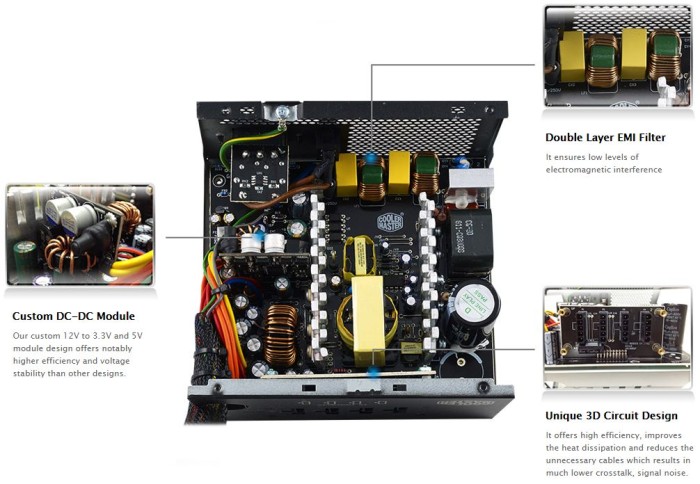 The Custom DC – DC 12V to 3.3V and 5V module design offers notably higher efficiency and voltage stability than other designs. The Double Layer EMI Filter ensures low levels of electromagnetic interference. The unique 3D Circuit design offers high-efficiency, improves the heat dissipation and reduces the unnecessary cables which results in much lower crosstalk, signal noise.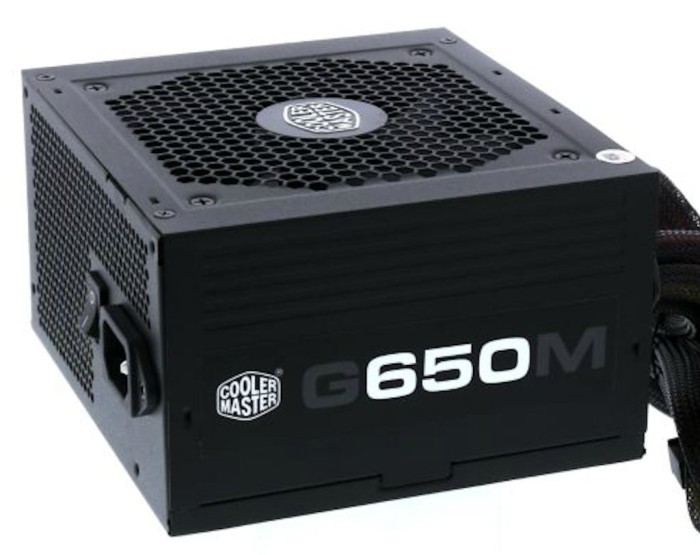 The CoolerMaster G650M 650W PSU is strictly matte black with honeycombed gratings and is an active PFC power supply. If you don't know if you have an active PFC power supply or not look at the back of the PSU and if there's a slider switch for 115 – 230V it's a passive PFC model. You should kill every breaker in the house and perform a PSU exorcism before running down to your local shop to buy an active PFC PSU but on an upscale note we hear passive PFC power supplies make awesome D&D maces when wrapped in tinfoil.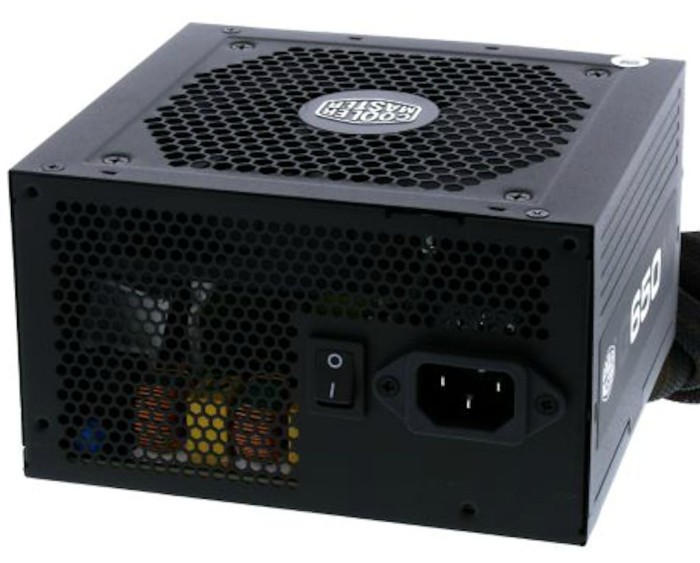 There's a shot of the honeycomb grate for exhausting the excess heat and a peek at the Dual EMI Filters. Some years back engineers decided a honeycomb design was the most efficient design for improved air flow. Since almost every Power Supply manufacturer has adopted the standard we suspect they were correct.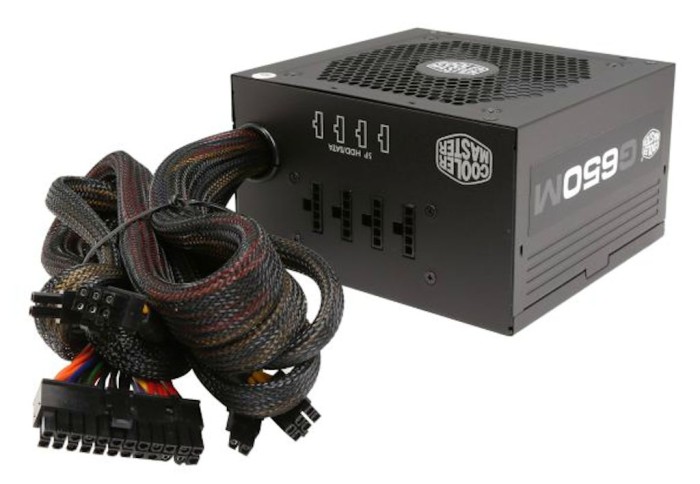 Here's a look at the hard-wired cables and as you can see it's quite the knot, six hard-wired cables and four modular so it argues the question is it partially modular or partially wired?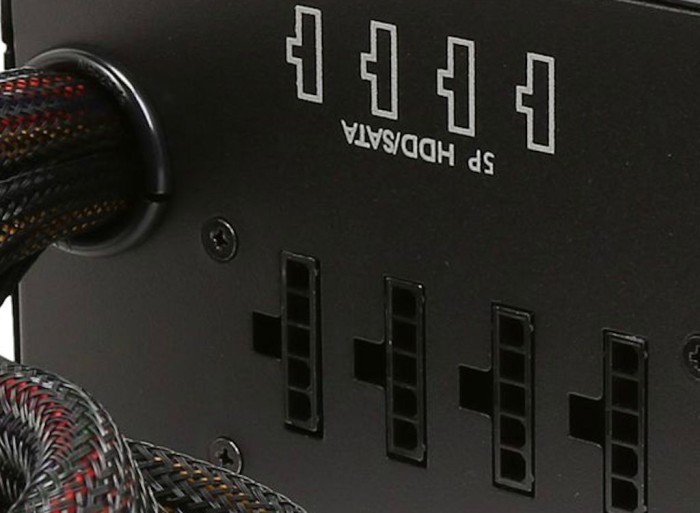 It's hard to see the connectors unless we hit a close up shot and this is the first PSU we've had hands on with that type modular connector. Almost makes you wonder what that 6th wire has been doing all these years.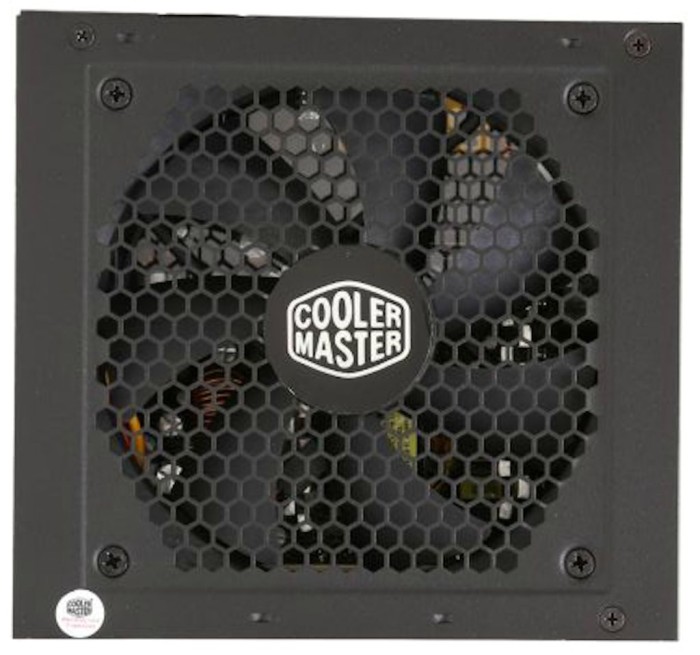 The single 120mm fan is intelligently wired so that as load / heat increases so does the fans speed to increase heat dissipation.  Not only is the fan intelligent, the CoolerMaster G650M supports Haswell C6/C7 support & zero load operation.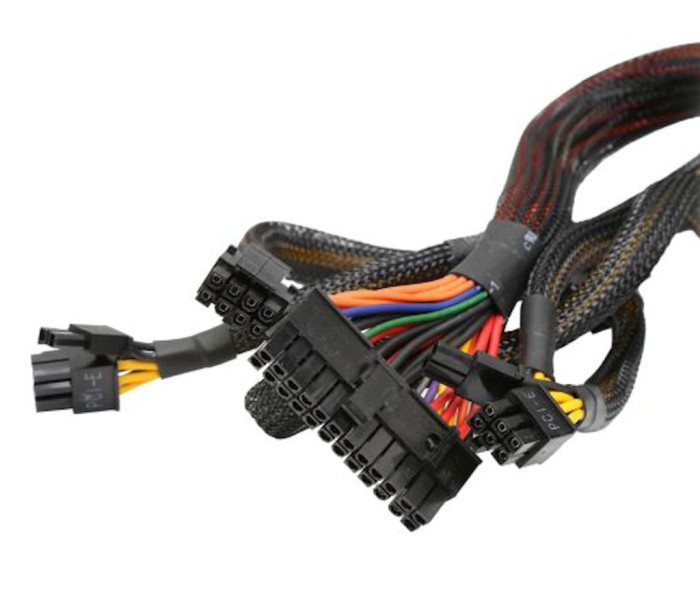 Here is a look at the hard-wired cables. They are nicely sleeved in diamond mesh which is a little stiff. We found that if you are going for a difficult connection bend the wire back and forth for a couple of minutes then curve it to the approximate shape you need and hold it for a few seconds. The mesh will loosen up a little and be much easier to make that tricky connection.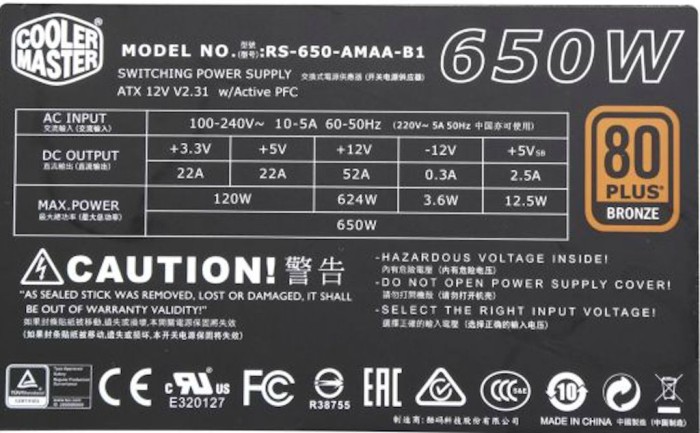 There's a look at the specifications on the side of the CoolerMaster G650M.