Picking the proper power supply is just as critical as picking any component in your custom build, more so if you consider the Power Supply is the life's blood flowing through your components. Today we're taking a look at the CoolerMaster G650M 650W Bronze rated PSU. Partially modular in design the CoolerMaster G650M is a large single Rail PSU fully capable of driving most single GPU systems. The CoolerMaster G650M is equipped with 4 PCIe connectors but you would be talking light power usage GPU's to run SLI. CoolerMasters long reputation of providing high quality equipment at affordable prices make the modestly priced PSU ($89.99 NewEgg) fit most budgets.
CoolerMaster G650M 650W PSU
Built with a unique 3D Circuit design the CoolerMaster G650M offers high-efficiency and improved heat dissipation due to the unique design.  The 3D Design eliminates much of the cabling clutter inside the PSU reducing crosstalk and signal noise. The single large +12v Rail provides superior load balancing and VGA compatibility, CoolerMaster claims the GM series supports up the Nvidia Titan but we would suspect if you spring close to 3K on a Titan you will probably buy a much larger PSU. The partially modular design will make it somewhat easier to wire your system tightly but CoolerMaster decided to leave 4 PCIe cables hard-wired so there are still 6 cables hard-wired to deal with. Six wires are quite a bundle to deal with but it is a partially modular PSU so we really can't knock it for having PCIe cables hard-wired.
Model No.

RS650-AMAAB1-xx

Max. DC Output

650W

| | | | | | |
| --- | --- | --- | --- | --- | --- |
| | +3.3V | +5V | +12V | +5VSB | -12V |
| | 22A | 22A | 52A | 2.5A | 0.3A |
| | 0.5A | 0.2A | 0A | 0A | 0A |

combined +3.3, +5V

120W

combined +12V

624W

Input Voltage

100V~240V

Input Frequency Range

50Hz ~ 60Hz

PFC

Active PFC.(PF>0.9 typical)

Efficiency

85% Typical

MTBF

100,000 hours

Operating temperature

0°C ~ 40°C

Protection

Over current protection
Over power protection
Over voltage protection
Over Temperature Protection
Under voltage protection
Short circuit protection

Connectors

1 x 24 / 20-Pin motherboard connector(550mm)
1 x  4 + 4-Pin EPS / ATX 12V connector(600mm)
4x 8/6-Pin PCIE connector(500mm / 120mm'x 2)(600mm / 120mm x 2)
8 x SATA connector(400mm / 120mm / 120mm /120mm x 2)
6 x 4-Pin Peripheral connector(400mm / 120mm / 120mm x 2)
1 x 4-Pin Floppy connector(400mm / 120mm / 120mm / 120mm x 2)

Color

Black (lead-free paint)

Cooling System

Single 120mm

Noise Level

18 dBA minimum

Dimension

150 mm (W) x 86 mm (H) x 140 mm (D)

Type

   Partially Modular

Form factor

ATX

Certification

80 PLUS Bronze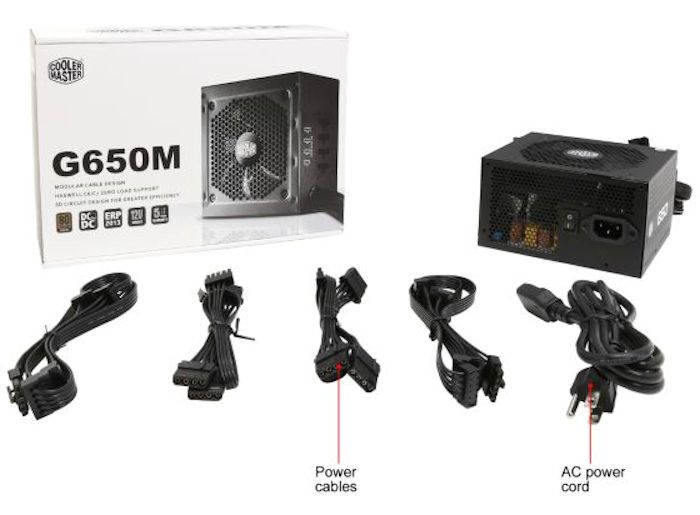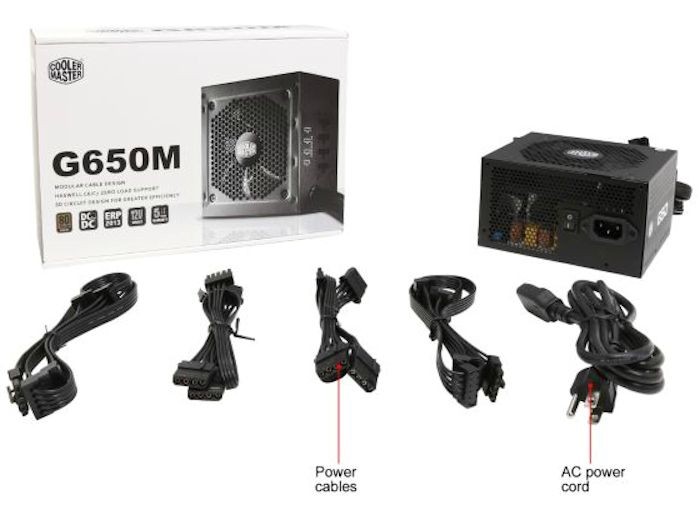 The CoolerMaster G650M bundle is strictly no frills. There's the PSU, AC power Cord, and the power cables described in the table above.but for a 650W large single Rail PSU with good voltage regulation the $69.99 – $79.99 price doesn't leave a lot of bundle room.