The HyperX Cloud II headset has landed and landed chock full of a quality you can't expect in a sub $100 Pro-gaming headset. From the powder coated brushed aluminum to the memory foam ear cups you'll be hard pressed to find one thing on the Cloud II not geared toward quality.  With 53mm neodymium rare earth magnets capable of 15Hz on the low side to 25000Hz on the high side these cans scream quality.
Kingston HyperX Cloud 2 Headset
…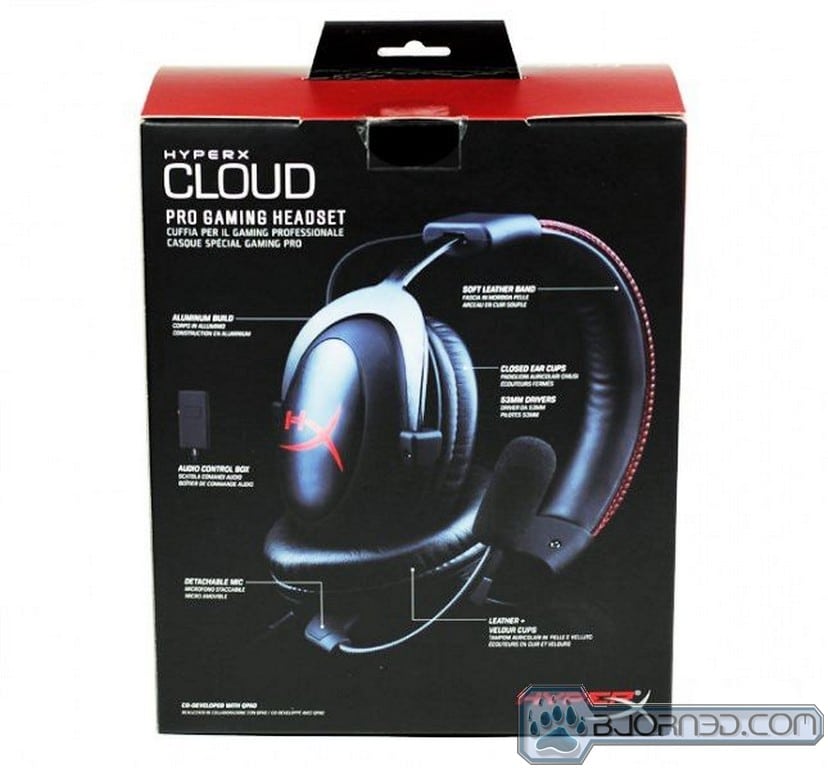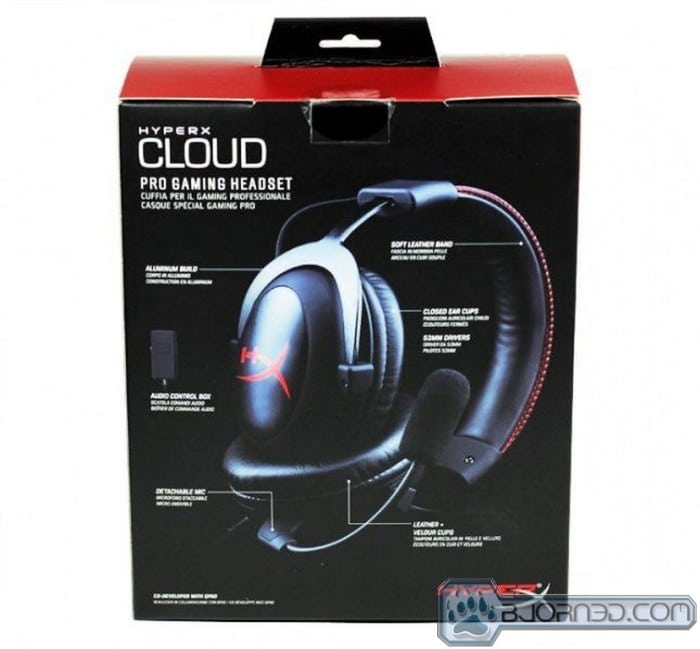 The long awaited Kingston HyperX  Cloud II Pro-Gaming optimized Headset is here and frankly I am more excited about it than a new X99 motherboard.  Kingston previously released a highly acclaimed HyperX Cloud Headset in the sub $100 dollar price range that blew a lot of audio enthusiasts away.  The HyperX Cloud 2 shares many of the same specification as the Cloud one but boasts some improvements.  The HyperX Cloud II features an advanced USB audio control box with built-in DSP sound card for virtual 7.1 surround sound. Virtual 7.1 surround sound that will enhance your gaming experience and take it to the next level. Kingston went above and beyond, don't just leave the Cloud II attached to your PC, since it has USB for PC and 3.5mm for microphone and headset you can enjoy it on mobile devices, Xbox One1, tablets, and Ps4. The HyperX Cloud II  might well be the most versatile headset to date.
We'll give the HyperX Cloud II a throrough shakedown, make it do things it was probably never intended to do then sacrifice ourselves to days of endless gaming trying to bring the HyperX Cloud II headset to it's knees. Kingston branded this set of cans with the HyperX trademark so bringing it to it's knees might be more of a chore than most of us think.
.
Features & Specifications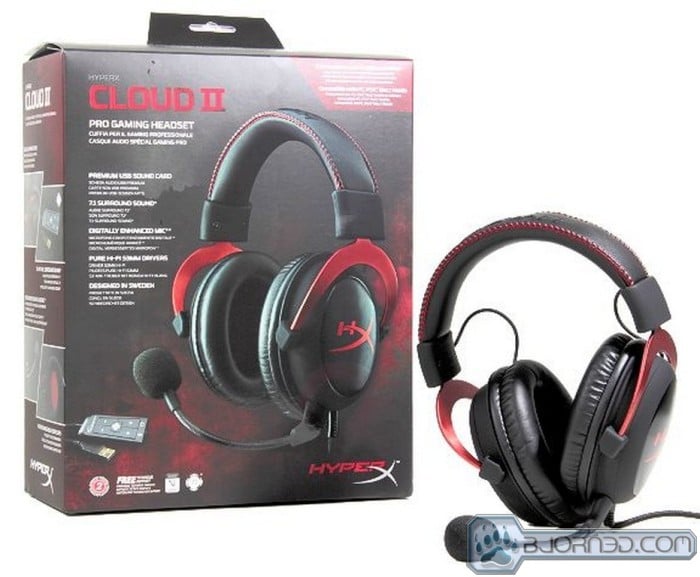 Specifications: Headset
| | |
| --- | --- |
| Transducer type: | Dynamic Ø 53mm with neodymium magnets |
| Operating principle: | Closed |
| Frequency response: | 15Hz–25,000 Hz |
| Nominal impedance: | 60 Ω per system |
| Nominal SPL: | 98±3dB |
| T.H.D.: | < 2% |
| Power handling capacity: | 150mW |
| Sound coupling to the ear: | circumaural |
| Ambient noise attenuation: | approx. 20 dBa |
| Headband pressure:  | 5N |
| Weight: | 320g |
| Weight with microphone and cable: | 350g |
| Cable length and type: | 1m + 2m extension |
| Connection: | single mini stereo jack plug (3.5 mm) |
Specifications: Microphone
| | |
| --- | --- |
| Transducer type: | condenser (back electret) |
| Operating principle: | pressure gradient |
| Polar pattern: | cardioid |
| Power supply: | AB powering |
| Supply voltage: | 2V |
| Current consumption: | max 0.5 mA |
| Nominal impedance: | ≤2.2 kΩ |
| Open circuit voltage: | at f = 1 kHz: 20 mV / Pa |
| Frequency response:: | 50–18,000 Hz |
| THD: | 2% at f = 1 kHz |
| Max. SPL: | 105dB SPL (THD≤1.0% at 1 KHz) |
| Microphone output: | -39±3dB |
| Length mic boom: | 150mm (includes gooseneck) |
| Connection: | single mini stereo jack plug (3.5 mm) |
Just glancing at the specifications a couple of things jump out at me, Kingston chose neodymium rare earth magnets.  Neodymium magnets are permanent magnets made from alloys of rare earth metals. They are made of an alloy of neodymium, iron and boron, none of which is particularly rare but they are the strongest type of permanent magnet and a good indicator of quality components in audio equipment. The frequency range on the Cloud 2 headset is off the hook. Normal hearing range is 20 to 20,000 Hz but this headset goes 15 to 25000 Hz which is typical of high end audio gear but only the highest high-end gear boasts those stats.
The weight of the headset is 320g but add in the cord and extension 350g while that sounds like a lot to non metric people that's a hair over 3/4 of a pound so there's no need to go to the gym and work up Schwarzenegger sized neck muscles. The thing that really jumps out at me is the circumaural sound coupling to the ear. For those worried about something coupling with your ear that only means that this is an over ear headset. If you've ever gamed with on ear headsets be very glad Kingston made the Cloud 2 over ear.  On ear or Supra-aural headphones have pads that press against the ears and in a short time can become uncomfortable to the point of unbearable.
Review Overview
Value - 9.5
Performance - 8.5
Quality - 9
Features - 8.5
Innovation - 9
8.9
The HyperX Cloud 2 performed extremely well in Dolby 2.0, the solid construction and comfortable over the ear design combined with a sub $100 MSRP makes it an affordable tool for your gaming arsenal.