Overclocking

The new Maxwell architecture requires not as much power as previous cards which I think is great and this sometimes means more OC headroom as well. The boost clock does make it a bit more difficult to figure out final clock as the card dynamically boosts depending upon thermals and power.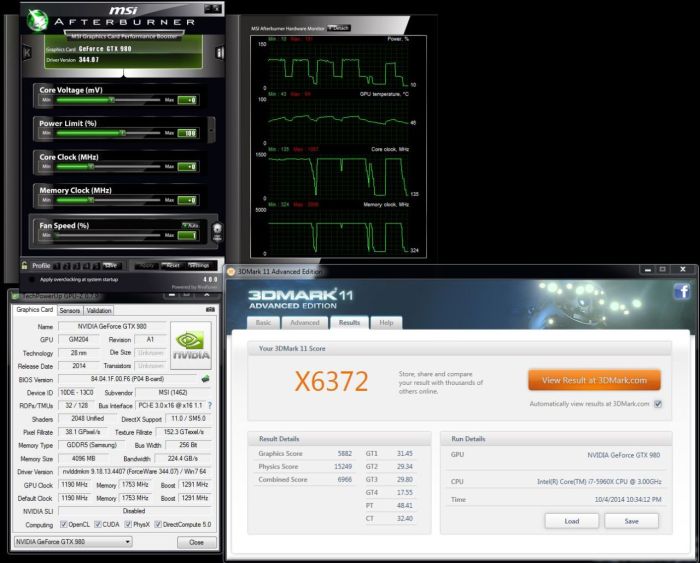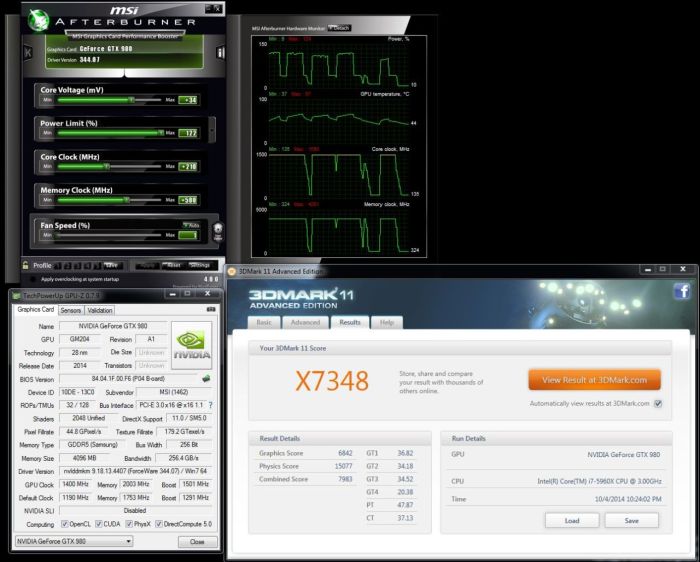 The MSI Gaming 980 4G card like the 970 comes out of the box overclocked but we were still able to push it further. The card comes out of the box at 1190MHz and we were ablr to get it to a solid 1400MHz on the core. This is a gain of 210MHz and even more on the boost!
Memory is what we have come to expect hitting 8012MHz effective clock rate and as much as we wanted more it simply was not happening. but be that as it may we got some very nice performance increases as you can see above from the 3DMark 11 Xtreme runs!
TEMPERATURES

To measure the temperature of the video card, we used MSI Afterburner and ran Heaven Benchmark in a loop to find the Load temperatures for the video cards. The highest temperature was recorded. After looping for 10 minutes, Heaven was turned off and we let the computer sit at the desktop for another 10 minutes before we measured the idle temperatures.
| | |
| --- | --- |
| GPU Temperatures | Temperature (Idle/Load) |
| Nvidia GTX 690 | 32C/81C |
| Nvidia GTX TITAN | 31C/67C |
| Nvidia GTX 780 Ti | 31C/72C |
| Nvidia GTX 780 | 30C/65C |
| Nvidia GTX 770 | 34C/79C |
| MSI GTX 780 Ti Gaming | 32C/68C |
| MSI GTX 970 Gaming 4G |  49C/70C |
| MSI GTX 980 Gaming 4G |  43C/64C |
The Gaming edition 980 Fan runs in off or silent mode until it gets around 60C so I was very surprised to see that once it kicked on it never exceeded 64C under normal out of the box clocks even running gaming for many hours non stop.
POWER CONSUMPTION

To get our power consumption numbers, we plugged in our Kill A Watt power measurement device and took the Idle reading at the desktop during our temperature readings. We left it at the desktop for about 15 minutes and took the idle reading. Then we ran Heaven Benchmark for a few minutes and recorded the highest power usage.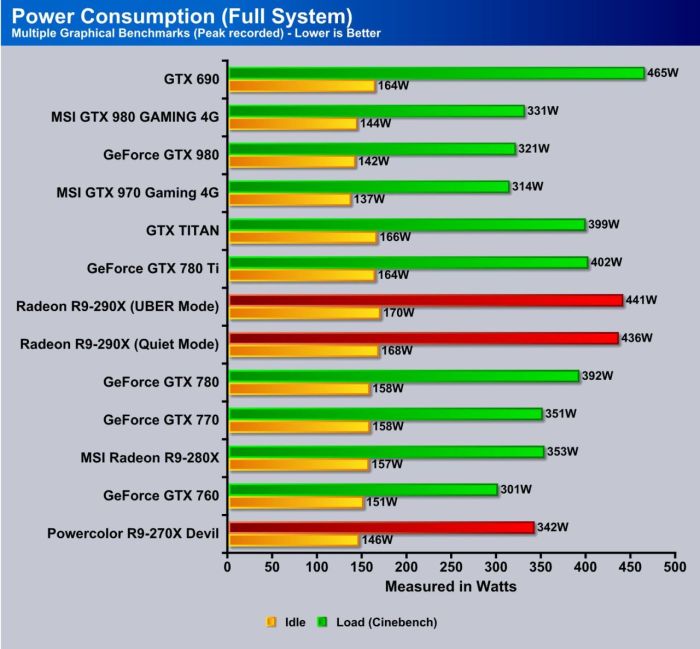 Here the MSI GTX 980 Gaming 4G pulls ever so slightly more power than we saw from the reference 980 and with the super low power consumption of Maxwell this also translates to some of the better temps we saw which is a win win for gamers.
Review Overview
Performance - 9.5
Value - 9.5
Quality - 9.5
Features - 9.5
Innovation - 9
9.4
The MSI GTX 980 Gaming 4G is an amazing card with performance, thermals and acoustics all taken into consideration for an amazing gaming experience!